Timothée Chalamet's new cannibal movie Bones & All is a romance, actually
Director Luca Guadagnino has given us more details about his next big movie that reunites him with the 'Call Me By Your Name' star.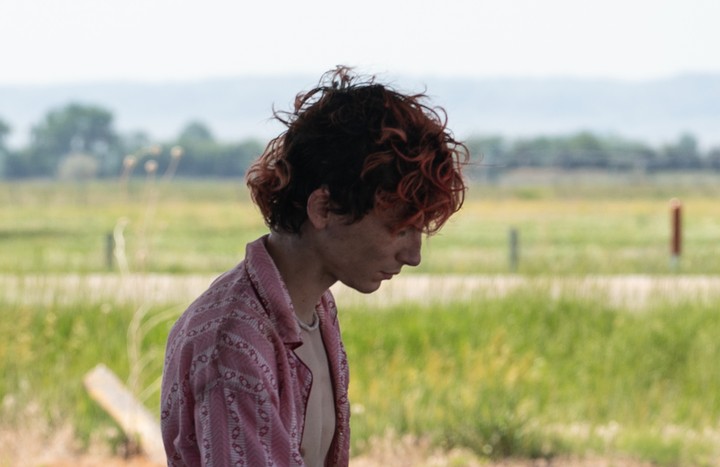 Still from Bones & All
Say the names Timothée Chalamet and Luca Guadagnino and the first images to come to mind are probably the sun-soaked Italian countryside and a very teary visit to your nearest fireplace. Cannibalism probably wouldn't be your first, second or even third identifier — but that's what the duo's next film together, the highly-anticipated Bones & All, is going to contend with. What's more, we've finally caught wind of a sniff of a release date. According to Luca, in an email conversation with World of Reel, he's hoping the movie will finally premiere at Venice Film Festival this September.
Bones & All functions as something of a much-needed reunion for Timmy with his acclaimed Call Me By Your Name director — a victory lap of sorts, considering that film's early acclaim and subsequent Oscar campaign really solidified him as a mainstream talent to watch.
So what do we know about it? And for god's sake, when can we see it? Here's all we know about Bones & All.
What's the plot of Bones & All?
Adapted by Suspiria writer David Kajganich from the novel of the same name by Camille DeAngelis, the film follows Maren (Waves' Taylor Russell), a young woman-slash-flesh eater learning to live on the outskirts of society who embarks on a cross-country trip with Lee (Timothée's character) to find her absent father and understand why she feels the need to eat the people that love her.
Will Bones & All be gory?
Speaking to Fantastic Man, Luca argued that though the movie is about cannibalism, it's not necessarily extreme in the same sense as other movies in the genre, such as Raw or Fresh. "I like to think that Bones and All is an extremely romantic movie, addressing the romanticism that lies within us and within relationships in general." The director says. "Of course, there's the literal aspect of it being a movie about cannibal lovers, which is extreme in many ways, but I think the more extreme aspect of the movie is the intensity of the feel­ings that these people go through – the impossibility of love." He does note, though, that he's unsure if others might find the movie extreme upon viewing: "I've learned that you can only tell once you start showing the mov­ie to people."
Who's in the movie's cast?
It's reunions all around for cast and crew alike. Call Me By Your Name patriarch Michael Stuhlbarg has joined the project, and a duo of stars from the recent TV project We Are Who We Are in the form of Kids icon Chloë Sevigny and Francesca Scorsese.
Oscar-winner Sir Mark Rylance rounds out the cast with the additions of André Holland, Jessica Harper and Halloween director David Gordon Green in his acting debut.
The film is "totally influenced" by American culture
Bones and All is also a first in the A Bigger Splash filmmaker's oeuvre since it's his first set in the US, and the film's setting served as a massive source of inspiration for the director.
"I've been totally influenced by the American culture, American cinema and now, American landscape," he told Deadline. "I'm very happy and proud that I've finally come to this shore."
As for his reunion with the future Young Willy Wonka, the film will give him something to really sink his teeth into. "[The character] is something very different for him," the director continued. "Both endearing and heartbreaking."
When will Bones & All be released?
Venice Film Festival is famously a launchpad for many Oscar contenders, and Timmy attended last year in support of Dune. Similarly, Luca has a longstanding relationship with the festival, with several of his previous films, including Suspiria, having bowed there. Luca's clearly loyal, having ruled out a bow at Cannes Film Festival in May despite swirling rumours of that being a possibility — he'll still be shooting Challengers, his Zendaya collab at the time. Expect Bones & All to hit theatres officially in late 2022 or early 2023.