Images courtesy of Courrèges
Courrèges presents a wardrobe for SS22's liberated man
All while nodding to the house's esteemed archive, Nicolas di Felice presented a confidently racy menswear collection in his sophomore show.
Images courtesy of Courrèges
When things get off to a good start, it's always worth carrying that momentum forward, right? Watching Courrèges SS22 presentation yesterday, that's apparently the maxim that Nicolas di Felice chose to live by preparing for his sophomore outing for the storied Parisian house. "This is a continuation of the first show I did back in March, I really wanted work with the same identity I did then," the Belgian designer tells us, a fact you quickly clock on seeing the skirt the malls of the same cavernous white cube in which presented his confident debut.
Where the clothes themselves are concerned, this was indeed a collection that built on what we saw back in March, filled with slick, abbreviated silhouettes, workwear shapes, and vinyl cut-outs. Here, though, it wasn't a simple series of addendums to a pre-established theme -- there was plenty of newness, too.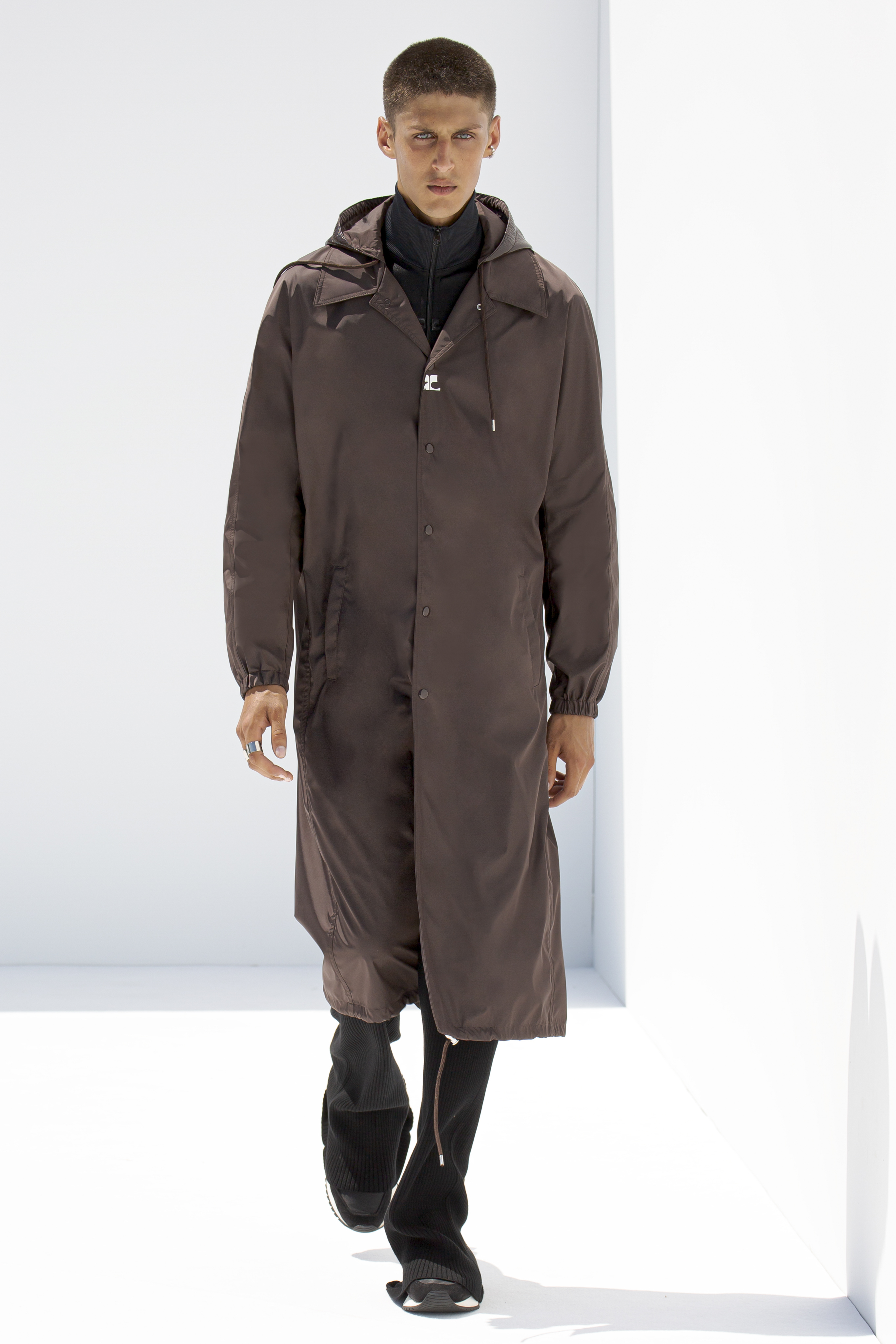 Where that was most evident was in the presentation of the house's first fully-fledged menswear offering in 35 years. Utility and comfort were high on the agenda -- the collection's opening look, for example, was a columnar knee-length raincoat in chocolate eco-nylon styled with puddling ribbed knit trousers; it's closer, a vest-strap overall in a naked-effect écru rib. Car coats in archival checks were sloped at the shoulder, and workwear archetypes were Courrèges-ified -- the pockets of vinyl and denim trucker jackets were satisfyingly rounded, for example, while those of a scintillating black crepe five-pocket became neat, zip-up slits.
The attention-to-detail exhibited here speaks directly to Nicolas' passion for the category, which he equates to his love for Courrèges' founding métier, haute couture. "I love one as much as the other, really!" he proclaims, vaunting workwear's intrinsic sense of purpose-driven precision. "They make the same pieces over and over again, and It's always about the right finishing for the right fabric for the right fit -- it's perfect! I guess that's the common point with couture, they're both perfect in their own ways."
Of course, Nicolas' couturier's sensibility, well-honed during his time spent working in senior positions at Nicolas Ghesquière-era Balenciaga and Louis Vuitton, and a spell at Raf Simons-era Dior, also made itself felt here. On both the men's and women's sides, masterful cutting skills yielded dainty cropped, collarless square jackets with sharp set-in sleeves, and the back of a broad-collared white coat with vertical welt pockets was fashioned from a single, seamless drape.
When you think of Courrèges, clothes like these, seductive in their elegant simplicity, are what most often pop into mind. As important as it is to show reverence to the archive, though, it's just as crucial to push things forward. Where Nicolas did that with verve was in the looks that leaned into the liberated -- libertine, even -- spirit that's washed over menswear this season; riffs on the instant party-girl classics he fielded in March. Vinyl trousers with geometric cut-outs punctuating the side seams, an A-line leather trench coat imbued with just the right measure of sleaze, and a snap-fastened ab-cut-out vest -- your new Hot Boy Summer uniform, basically.
Of course, pieces like these won't tickle every customer's pickle, but the overall impression one's left with here is the range of Nicolas' vision for Courrèges. Looking for an ever-so-slightly bootcut jean? Check! A zip-up polo-neck track jacket? Check! A knit-backed PVC vest top? "I don't really think about one man when I create, I'm really more focused on the way how it's gonna be worn," Nicolas says, basing his approach on the words of the house's founding father. "André Courrèges said, 'I'm trying to create clothes that will make you look like a free man.' I think that's what I've tried to do here, to create looks really express the freedom of now." Here, he's managed to do just that.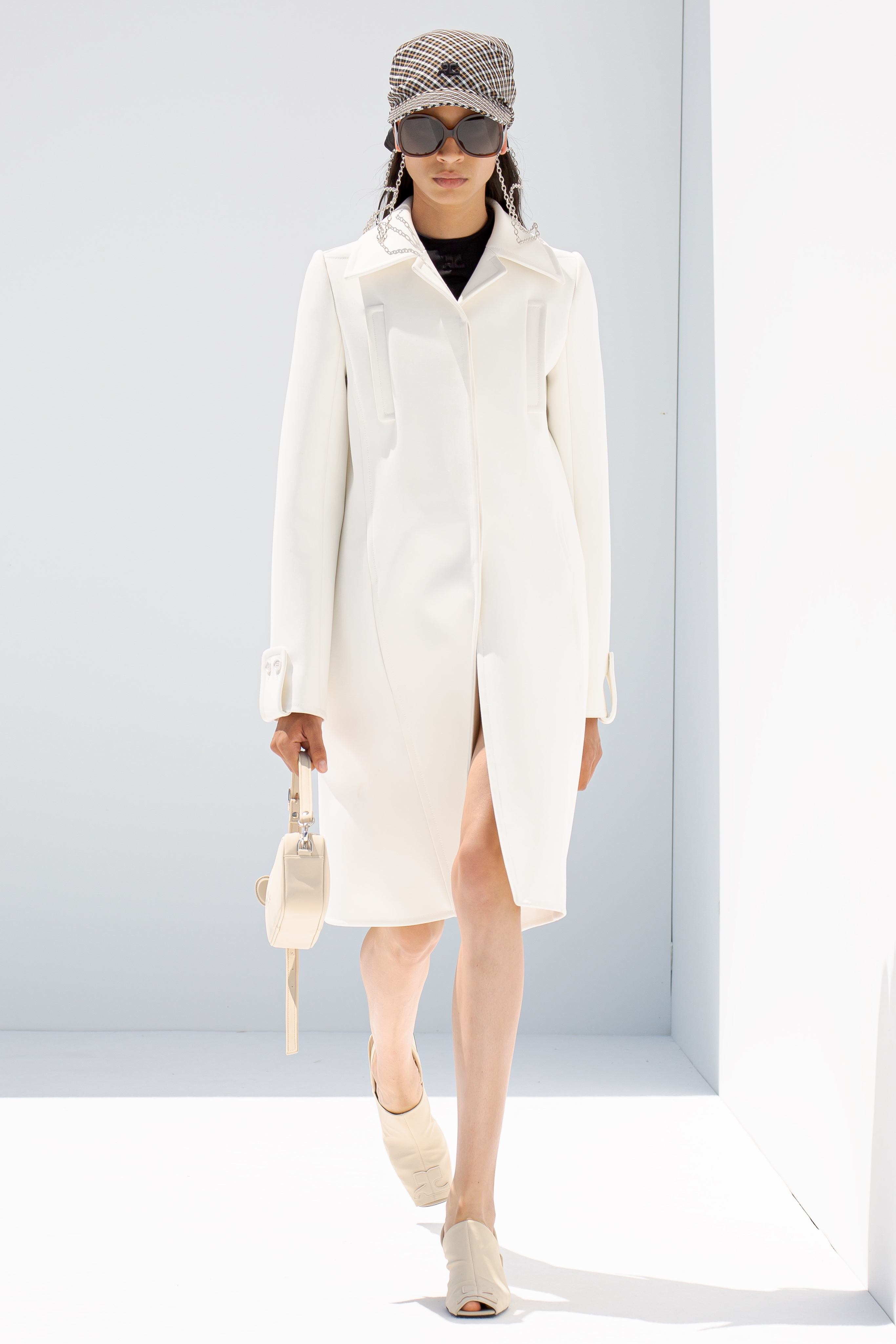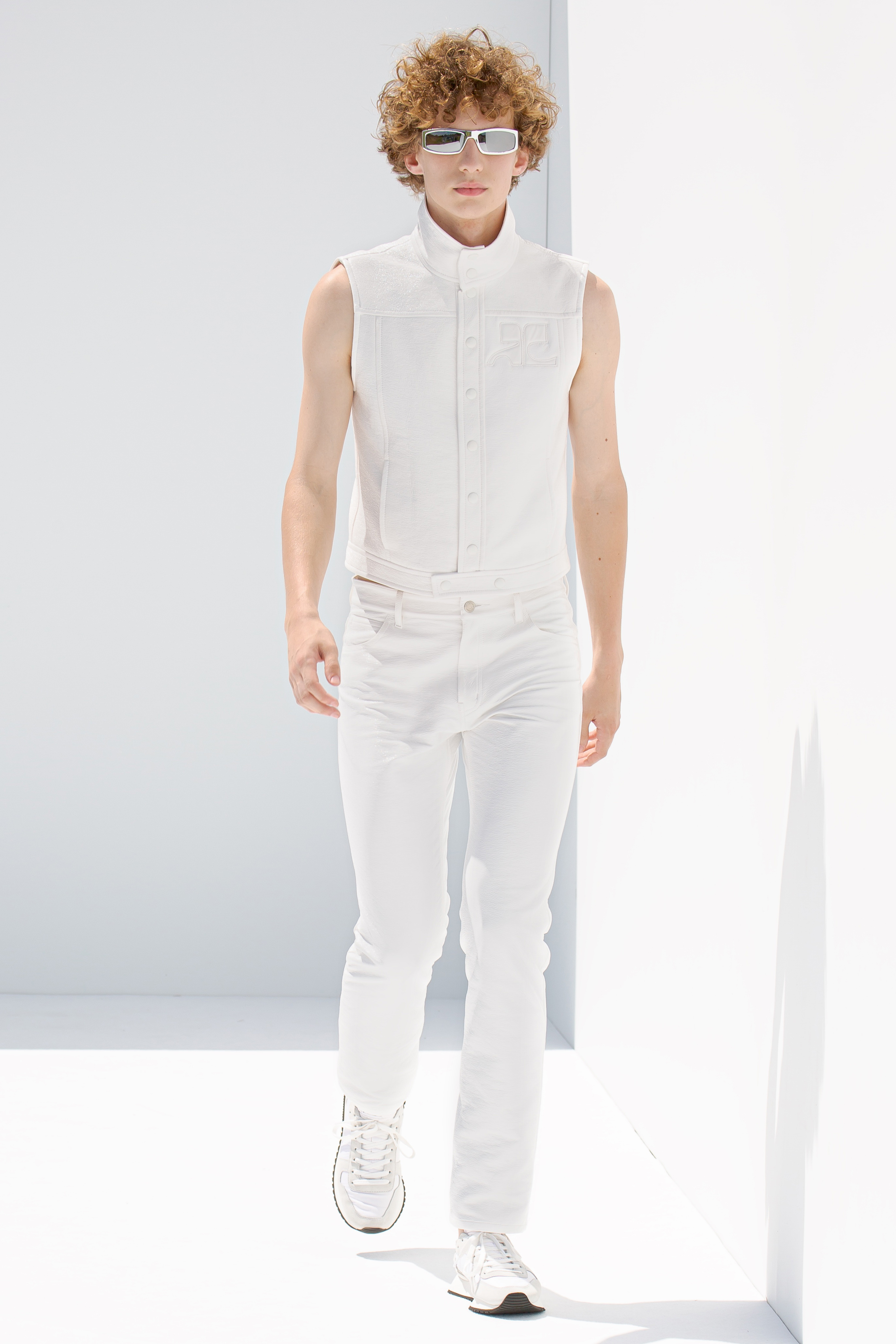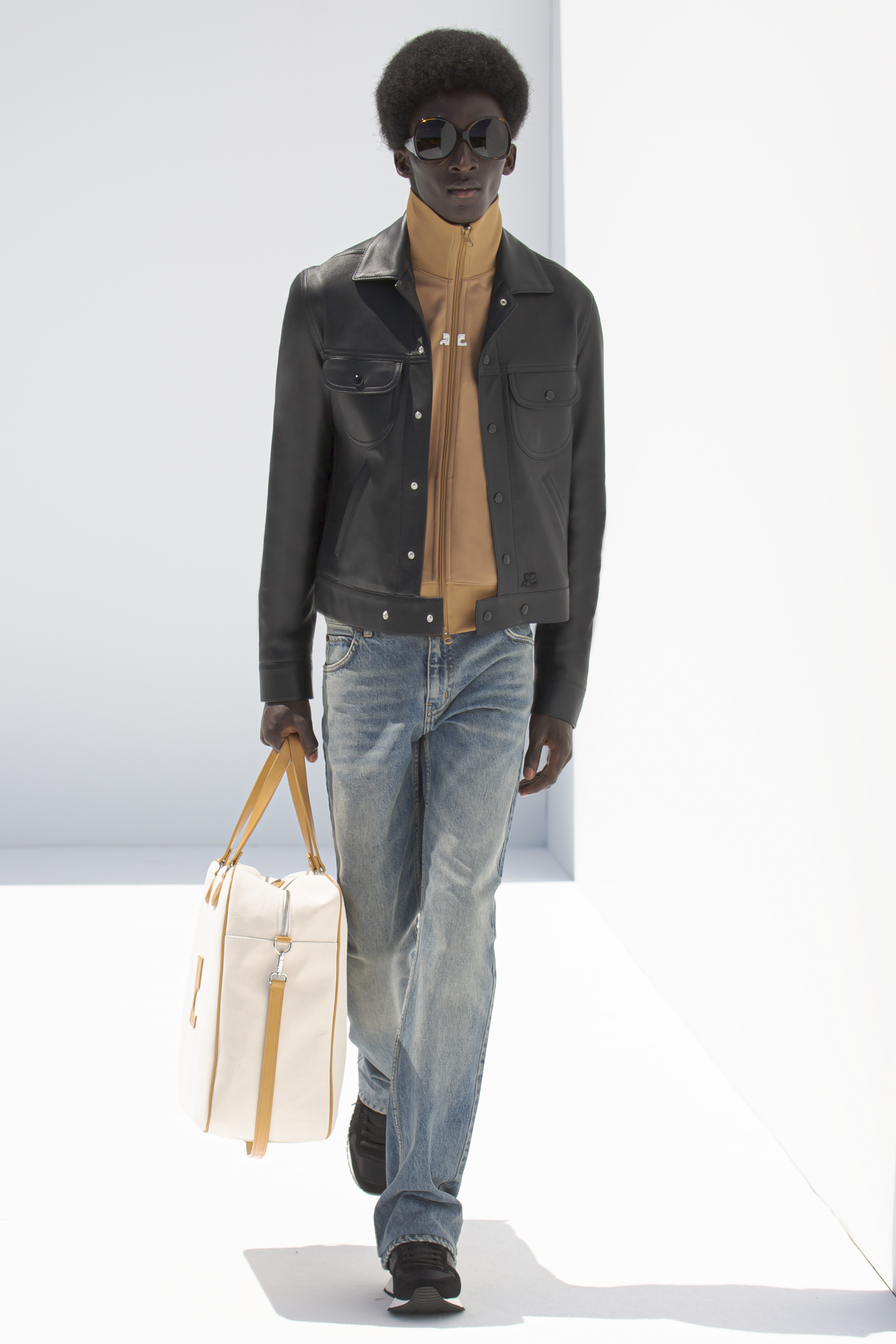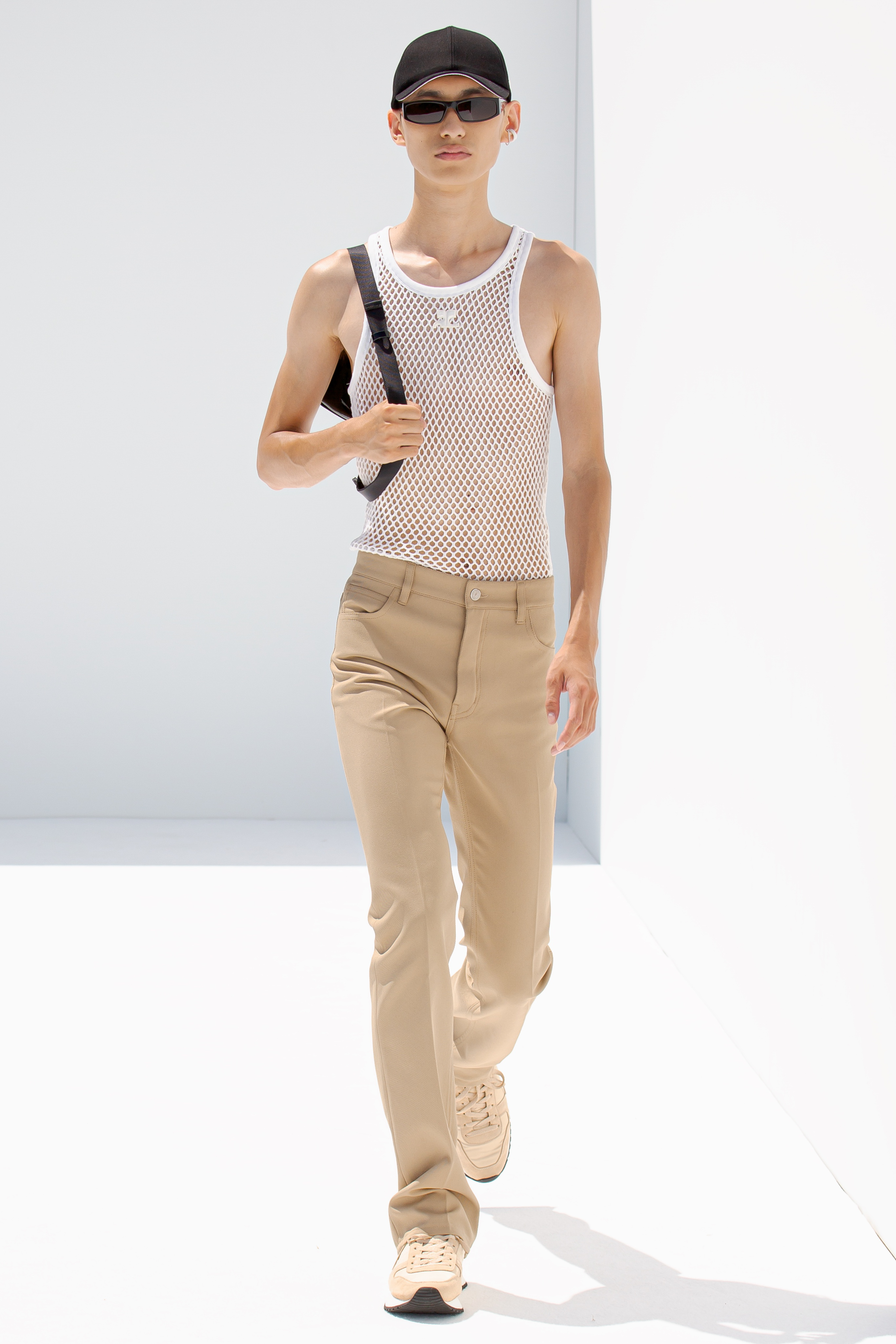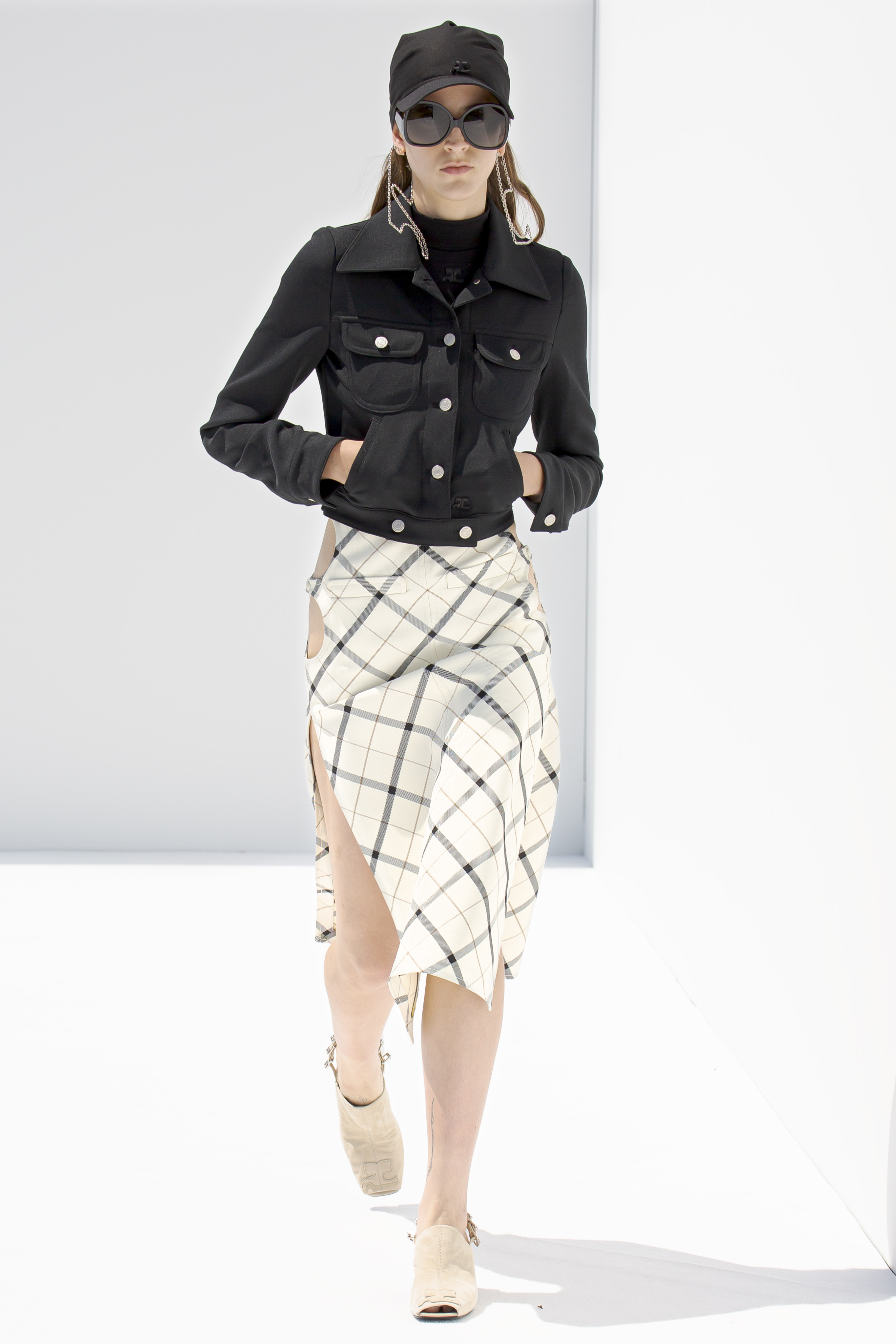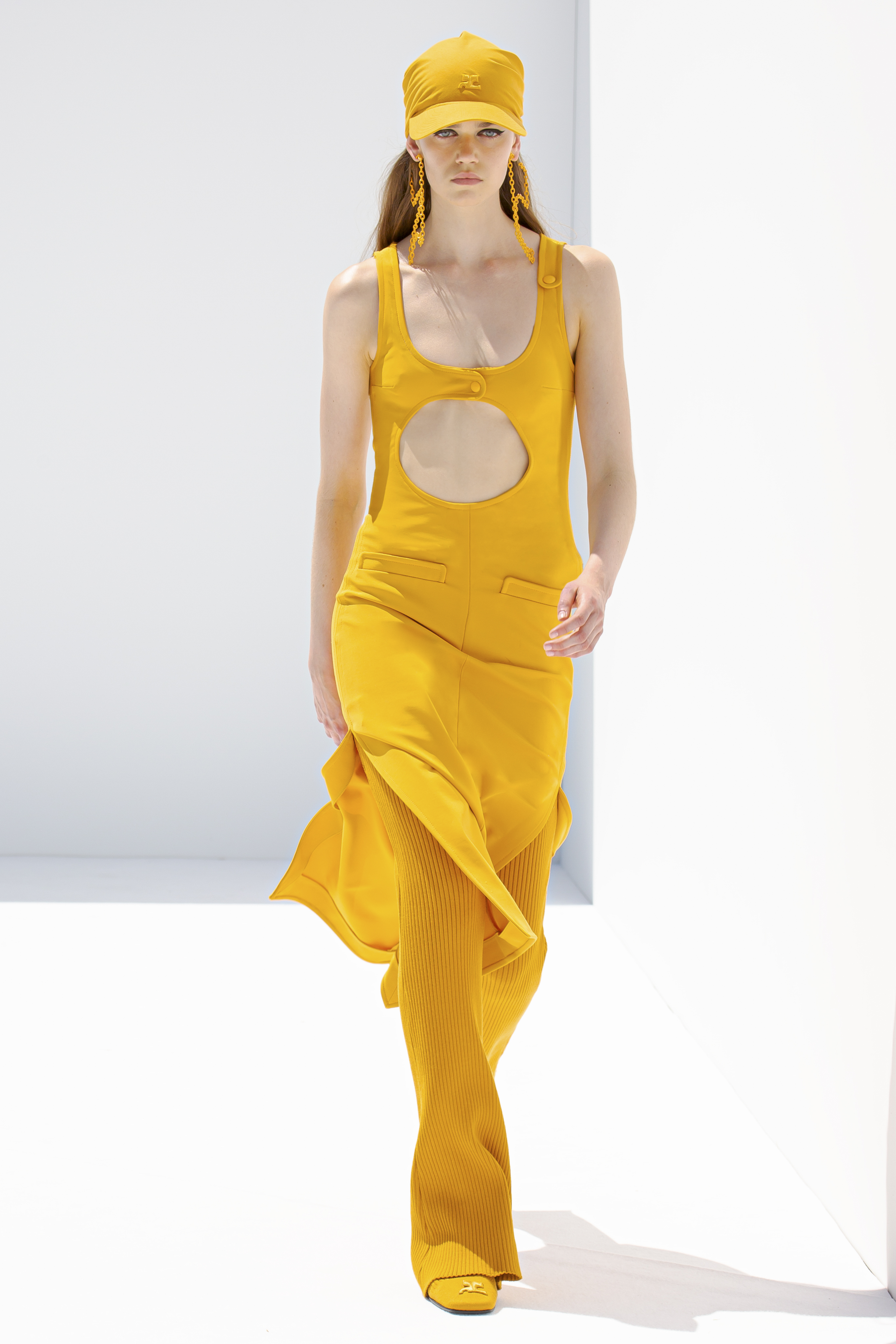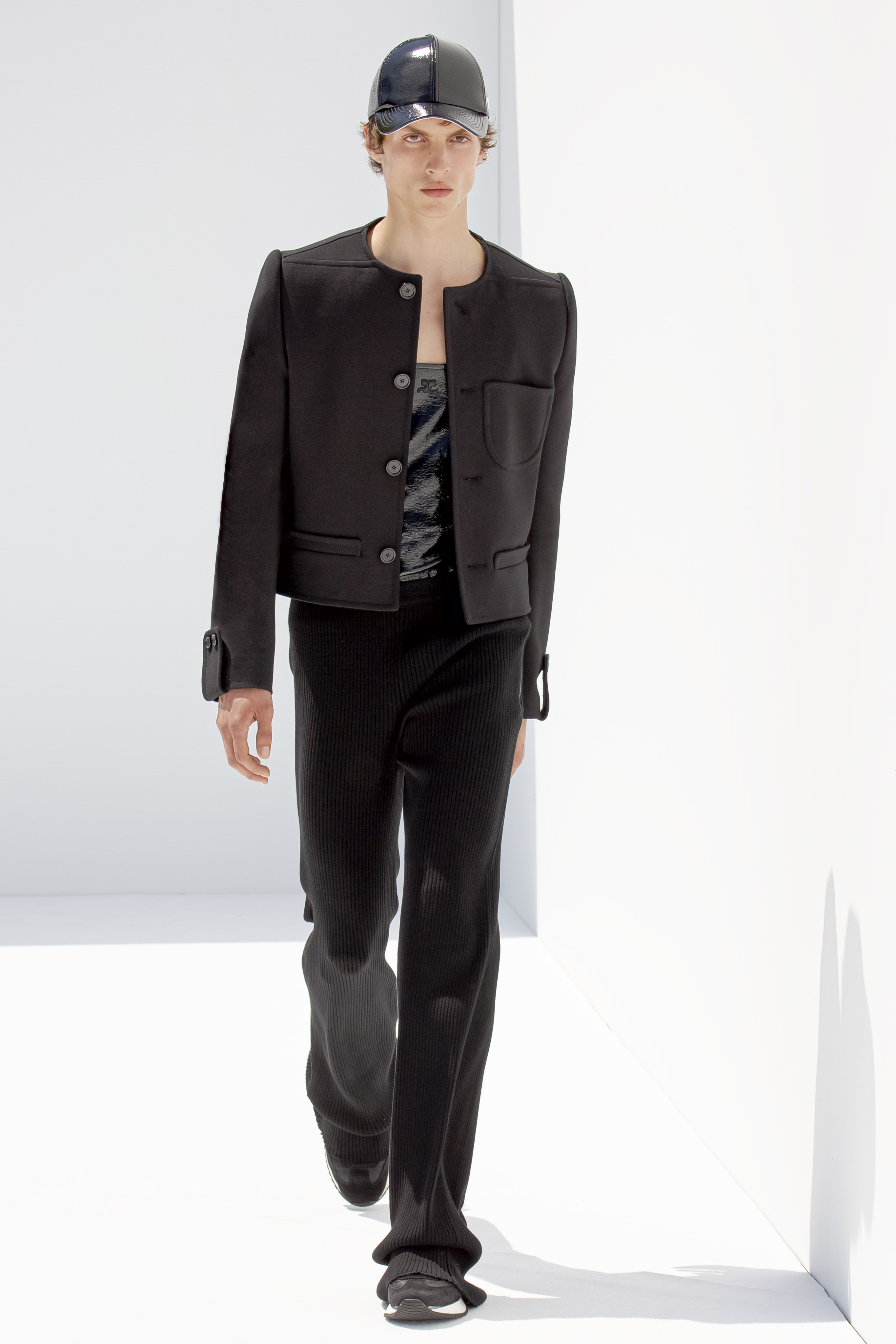 Tagged: