Meet the Gen Z creatives making bank off Y2K Bratz art
On Instagram and TikTok, the girls 'with the passion for fashion' are back in a big way.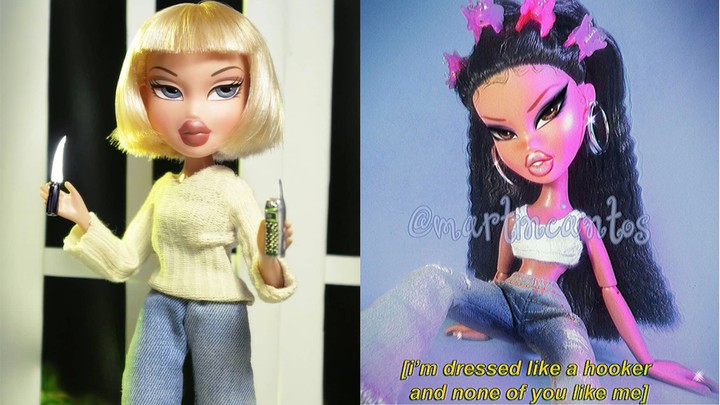 There's no doubt we're living through a Y2K renaissance. In the midst of the chaos of the past year and a half we harken back to the seemingly simplistic days of techno-futuristic aesthetics, Paris on our TV screen and pop-punk dominating the charts. On the internet there seems to be no better place for that dose of nostalgia than the creatives using toys to reimagine pop culture moments from the early 2000s. Whether it's Cruel Intentions -esque dramas with Sylvanian Families taking over our TikTok FYPs; pop star album covers chaotically recreated with Furbies; or, most recently, the myriad of creatives celebrating the noughties with Bratz dolls.

"The girls with the passion for fashion", as the mantra goes, have been taking over social media as we emerge from the pandemic into hot girl summer. The #bratz hashtag alone has over 1.1 billion (!) views on TikTok from videos of makeup artists recreating the dolls' signature faces and outfits on themselves to the theme tune of the 2005 Bratz TV show. But our favourite Y2K dolls don't just reign on TikTok. On Instagram, young creatives use the dolls to recreate the icons, trends and most beloved pop culture moments of the Y2K era such as Cher and Dionne in Clueless (1995), The Cheetah Girls in their cheetah print trackies and Drew Barrymore with her cable knit sweater in the first five minutes of Scream (1996).
"There's a big community of artists who love and photograph Bratz dolls. Many of them are incredibly talented and have so much knowledge about fashion and trends," says Mar, a 25 year old LA based creative who makes commissioned Bratz imagery, often for the official Bratz account itself. "In college I did a photo series with Bratz dolls, and the CEO's daughter started following me on Instagram." But it was in 2019 after her posts of Madison Beer and Ariana took off online that she realised she'd started a trend ("suddenly everyone was recreating my photos") and the Bratz account reached out to her for content on their social media and website. "I've been working with the company ever since," she adds. "I'm a long-time fan and so I know the brand inside out."
Mar's art features highly accessorised looks, cute slogans and fun hyper backgrounds. In one post a block-fringed doll wearing a bralette, fluffy jacket and polka-dot satin shorts lounges on magenta sheets with a teletubby (tinky-winky) in one hand and a silver corded landline in the other. Written across the picture is the not-that-innocent phrase "oops I did it again". "I am self-taught in photography, design and animation and that's all thanks to Bratz dolls," says Mar. "They were my first models as they're so visually striking."

It was their visually striking appearance that caused the dolls to be both immensely popular and hugely controversial when they first hit shelves in 2001. The creative child of an ex-Mattel worker, from the get-go Bratz were everything leading toy at the time, Barbie, wasn't: diverse, cool and contemporary. Parent company MGA were unsure whether racially-diverse dolls that emulated the styles of Lindsay, Beyonce and TLC, would sell in conservative America, even giving each doll intentionally ethnically-ambiguous names. However, making over 97 million dollars in its first year, Bratz proved a strong opponent to the industry monopoly Mattel once held. In their 2007 heyday, Bratz was reportedly the number one doll on the market.

But with dramatically exaggerated proportions, heightened make-up and equipped with the fashions du jour; "the girls with the passion for fashion" were quickly accused of making kids grow up too fast. "I wasn't allowed any Bratz growing up but I was always obsessed and would sneakily buy one or two which then grew to a collection of hundreds" Mar says. Interestingly, a 2013 Israeli study found young girls were more likely to own Barbie dolls -- presumably bought by their parents -- but preferred Bratz dolls. But for many kids at the time, especially those from minority backgrounds, the Bratz were exciting and, with 75% of their original dolls being PoC, representative. It was the first time they saw themselves accessible in toy form alongside the styles of their favourite celebrities.

Others, such as 19-year-old Mexico-based digital artist Kev, admired them from afar. "When I was six, I took my sister's 'Magic Hair Cloe' to school and was terribly bullied. It was only around 2017 that I started collecting Bratz dolls and taking photos of them," he tells us. Now, his Instagram account is an ode to the dolls whilst expressing his own style, with Bratz in vintage Chanel looks, Gaga-esque fem-bot aesthetics and gritty fetish fashions. "I do everything. There's only me behind the photos. I sew most of the dolls' clothes and make the sets. One post can take about a week and most of the dolls end up bald and destroyed afterwards!" he continues. For both Mar and Kev, those same dolls they loved as kids have become their business.

In both their work, the era in which Bratz invaded the doll scene is entwined with contemporary culture. From photo's of Euphoria's Alexa Demie reimagined with crimped hair and butterfly clips, to a Gaultier-inspired 90s cone boob dress coordinated with a face mask. "I find myself always looking back at rare Y2K magazines, print ads and noughties celebrities and designers like Lindsay Lohan, Marc Jacobs and Baby Phat. Japanese fashion from that era also inspires me a lot," Mar says. "But at the same time, I keep myself invested in current trends."
Even the makers of Bratz dolls have now realised their customers want trendy looks with noughties nostalgia, though it took some time and during the 2010s Bratz struggled. The company was hit hard by a lengthy legal battle with Mattel over intellectual property while multiple rebrands, and a decision to make the dolls' wardrobe more contemporary, proved unpopular. Fans didn't care to see the dolls in the skinny jeans and #selfie tees of the new decade. But unsurprisingly, their fashion power was cyclical. Recently, in the midst of the Y2K nostalgic revival the brand has made a concerted return to its original Y2K style with the company just last month releasing a 20th anniversary line that replicated the fashions of their first ever dolls, with a new logo designed by Mar.

"I dare say Bratz were ahead of their time in the 2000s and they're now a pop culture phenomenon," says Kev. These diverse dolls with the styles their younger selves wished to emulate, clearly hold a special place in the hearts of Mar, Kev and all the Bratz creatives. They're more than just a tool of their trade or a childhood toy but a means of self-expression. "The Bratz aesthetic is anything bold, funky and unapologetic. It's a mindset of confidence. As a trans woman, they represented everything I wanted to be but felt out of reach growing up in the early 2000s," says Mar. She has used her Bratz art to celebrate her Latina and trans identity, creating posts with the official Bratz account that celebrate Tejano music star Selena, revolutionary trans sex worker Christina Ortiz and the late producer SOPHIE.
Other accounts such as @melanin_bratz are a dedicated space for the celebration of Black pop culture and styles through Bratz, with odes to the East Compton Clovers and the "WAP" music video. In creating their Bratz images, the Gen Z artists pay tribute to the cultures that raised them and made them feel seen. For Kev, showcasing iconic Mariah moments has been particularly special, recreating her famous sexy santa look and the cover of her 1999 single "Heartbreaker". "It was such an honour to make Mariah into a Bratz doll. I'm a big fan of hers and her music, especially the song "Outside", made me feel understood."

For these creatives using the dolls as an outlet, the pieces of digital art they make are incredibly personal, visible in the way many posts also feature themselves. Mar is seen alongside Cady Heron performing the Jingle Bell Rock, while Kev is pictured in the posters decorating a doll's bedroom, almost as if he and the dolls he once loved from afar switched places. On TikTok too, after beauty creators pretend to deliberate between Bratz and Barbie, inevitably picking the former, they overdraw their eyes and brows and lips before donning crop tops, chokers and an excess of hair barrettes to finish off their metamorphosis into their favourite childhood toy.
Over 20 years, a generation of kids used Bratz dolls as an extension of themselves to explore their identities and cultures from the comfort of their bedroom. For artists like Mar and Kev, they never stopped, now taking their creativity and expression online and sharing it with the world. "I truly believe the Bratz values and aesthetic shaped an entire generation towards the political shift in feminism we're witnessing," says Mar of the Bratz renaissance. "A freer mindset and identity that celebrates womanhood in all its forms." Even women whose feet click on and off.