saorise ronan agreed to show her acne in "lady bird" for the best reason
Is "Lady Bird" the year's most honest movie?
|
22 November 2017, 5:42pm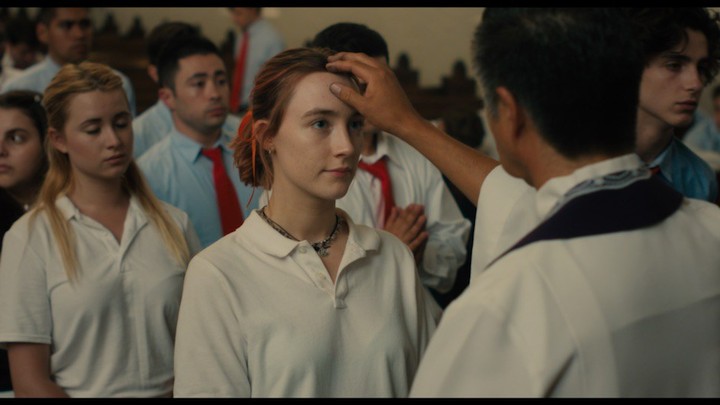 Still via YouTube
Greta Gerwig's Lady Bird is a masterpiece made of subtle details. The director's coming-of-age saga stars Saorsie Ronan as a wanderlust-stricken teen who feels disenchanted by suburban life in Sacramento. Financial anxiety sneaks in through a fight scene about using two towels after a shower. Too-cool rich kid Kyle is painted as a fraud by an offhand comment about hating money. This realism also drove some of the Lady Bird crew's makeup and costume choices. Costumes are repeated throughout the film. Lady Bird, played by Saorsie Ronan, has visible acne. This wasn't a conscious pre-shooting aesthetic decision by Gerwig or Ronan but something that literally just happened. Ronan explained to Racked that she "had a crazy 12 months" before filming began, and started breaking out pretty badly. Makeup artist Jacqueline Knowlton asked her if she would mind not covering it up so much. She agreed not only for her skin's sake but also because acne is so rarely shown on-screen.
"I just felt like it was a great opportunity to show someone as they really are at that age," Ronan said. "Because most young people do get bad skin! And I don't think that's something you get to see much. Growing up, a lot of of the teenage girls I saw in movies and TV shows were played by these fully formed 30-year-olds with great skin. I hope it helps young people — and anyone who struggles with their skin — to connect with the character."
Earlier this year we asked if acceptance of acne was the next step in body-positivity, and a vital one in proving the inclusive movement isn't just skin deep. Model Starlie Smith and photographer Petra Collins have recently been lauded for spotlighting their imperfect skin on Instagram, earning appreciative comments from young fans. Cinema is generally thought of as the fantasy to social media's realness, at least when it comes to what women look like, so it's cool to see young actors paving the way for change. Making characters feel relatable can be a lot more simple than it sounds.