BLOODROOT by House of Aama. Photography Jordan Tiberio.
house of aama, the mother-daughter brand exploring southern creole spirituality
Akua Shabaka and Rebecca Henry celebrate the strength and resilience of African Americans with their new collection BLOODROOT.
|
27 November 2017, 10:24pm
BLOODROOT by House of Aama. Photography Jordan Tiberio.
House of Aama is a fashion brand merging personal history and spirituality, with modern results. Akua Shabaka and her mother Rebecca Henry started upcycling vintage clothing in 2013, when Akua was 16 years old, but they quickly moved on to creating their own designs. Their debut capsule collection, Urban Nomad (released in 2014), combined contemporary cuts with Ghanaian Kente cloth and Kenyan tartan fabrics, as well as symbols from the East African Maasai and West African Ashanti regions.
The youth-oriented work caught the attention of the organizers of Afropunk, who invited the brand to be a vendor at their New York festival. But when Akua and Rebecca arrived at the festival, they saw how many other designers were also utilizing African fabrics, so they decided that from then on they would take a more nuanced approach to expressing their cultural identity. "There were certain stories that we wanted to tell that didn't involve just using Kente cloth, but might involve modern pieces, and trying to show that there's a story within that that pertains to black people," Akua explains.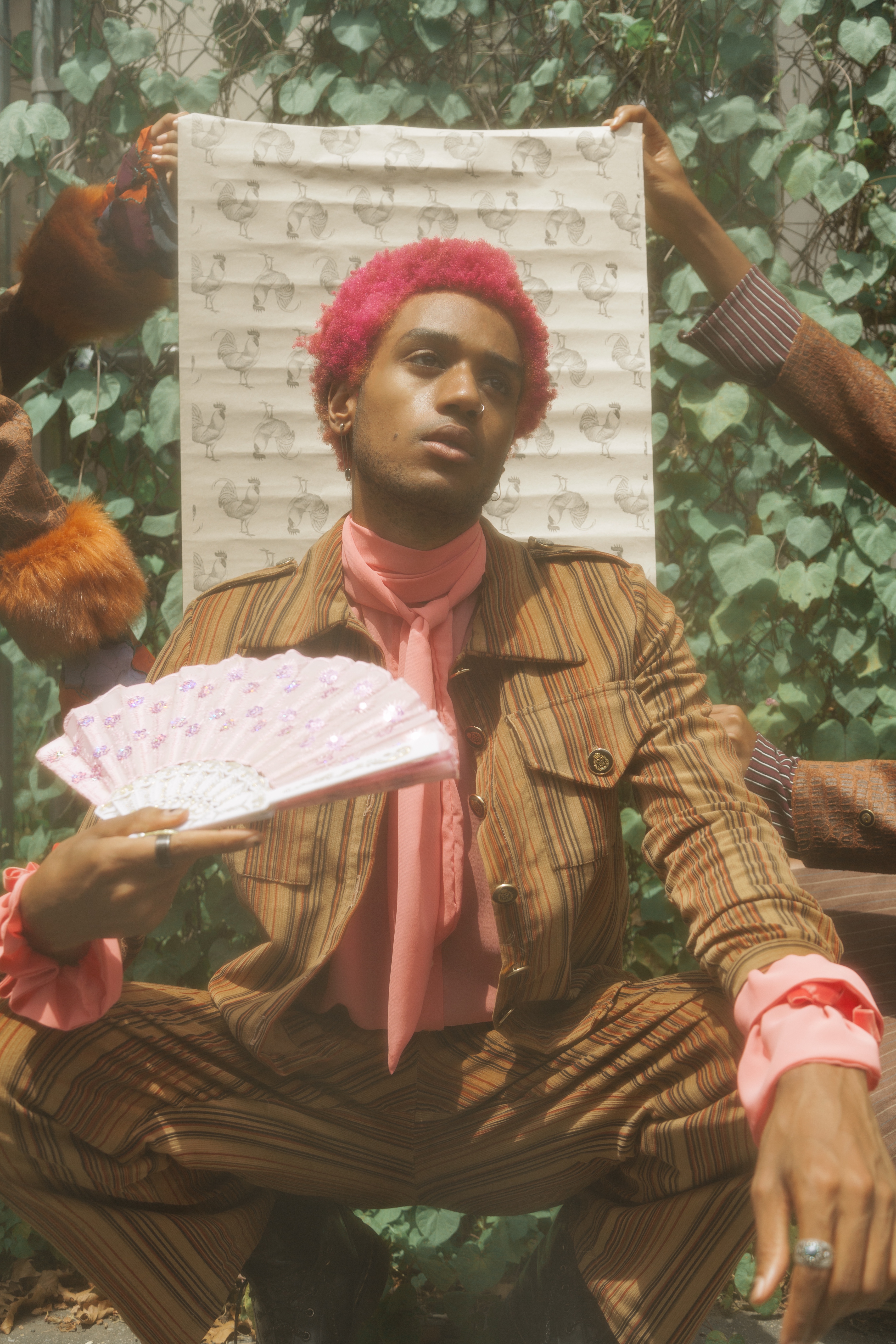 They worked on refining this approach while Akua finished high school in Los Angeles. It wasn't until Akua moved to New York in 2015 to attend Parsons School of Design — leaving Rebecca back in L.A., where she works as an attorney — that things really started progressing for the brand. But the duo never let their geographical distance or their 30-year age gap deter them. "We have different perspectives, as well as different taste in fashion. But because of our strong connection, we find a way to incorporate that into the brand really well," Akua says.
The pair dove headlong into rebranding the label and designing a new collection, with Rebecca crafting the clothes and Akua helming creative direction and business duties. The fall/winter 17 collection launched on their website on Monday. Titled BLOODROOT, it takes inspiration from Southern parlor ladies, conjurer women, and bluesmen through vibrant Victorian dresses, striped corduroy suits, halter-necked crop tops, and silk pussy-bow blouses. But there's a deeper spiritual element at play, too, exploring southern Creole spirituality and the designers' African roots.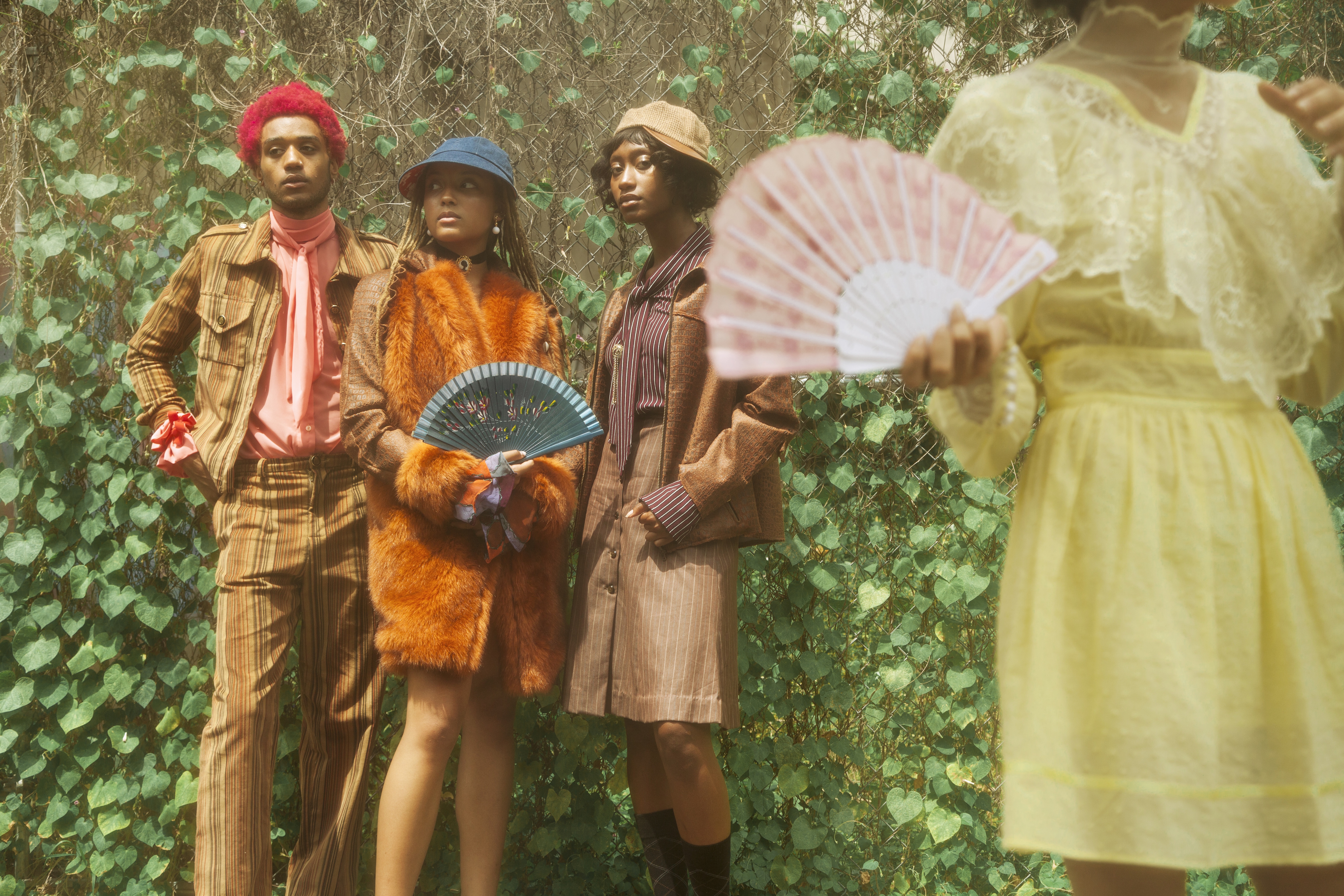 Helping the brand portray this cultural history is Akua's longtime friend and former Los Angeles performing arts high school classmate Ashton Sanders. The 22-year-old star of Moonlight features in House of Aama's film campaign, which was directed by Los Angeles-based filmmaker Kanya Iwana and devised by Akua during downtime while she was working as a model. (Since moving to New York, Akua has appeared in campaigns for Gucci and Valentino.) "Me and Ashton are really good friends. I was 14 when I met him. I've seen his whole life change, it's pretty crazy! We're super proud. But he's always supported House of Aama, and he's just as excited as we are," she says. The six vignettes depict various parlor/conjurer women and blues/military men in the Deep South, as they rove around bayous, practice rituals, and revel in their newfound freedom.
The collection's name comes from the rare herb bloodroot, which Akua says has historically been used "by old-time conjurers and rootworkers" as an alternative medicine. As a child in Louisiana, Rebecca's mother would give her the tincture daily, to ward off illness. Akua says bloodroot was considered "a powerful guardian for the family," but that she wasn't aware of her own family's history with it until her mom came across it while flipping through a conjurer book for inspiration.
"There were names for different herbs that were used in spiritual practices in the South, and when bloodroot came up she was like, 'Oh, wait! This is what my grandmother would give me!'" Akua says. "It was like, wow, we really do come from this long line of rootworker witch women who were doing all of this in the South."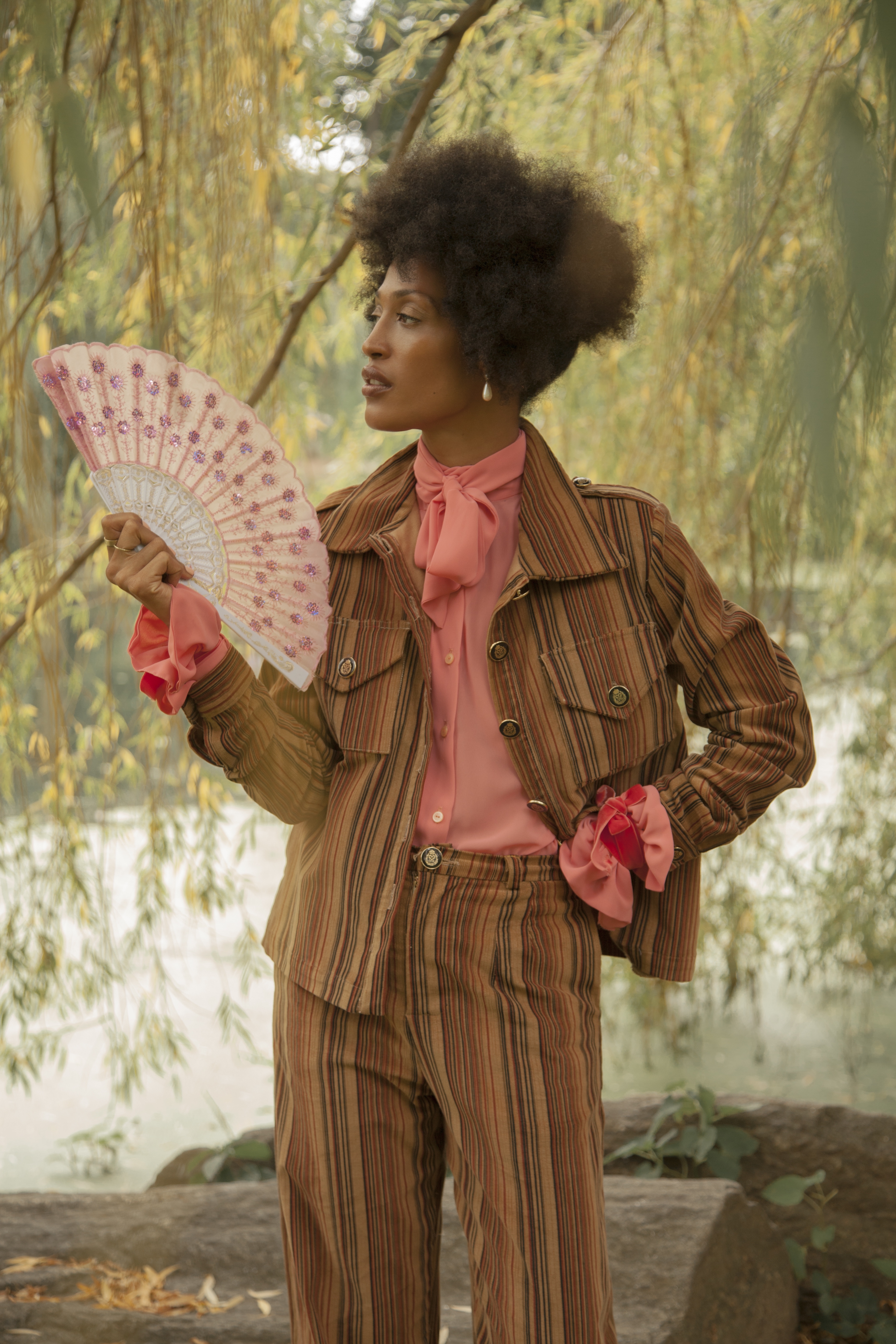 Rebecca didn't continue that particular tradition with her daughter, but Akua says her upbringing did include aspects of her spiritual ancestry. "We definitely were a home that practiced a lot of different traditional African practices, as well as voodoo and conjurer work. I didn't have a typical black American experience; it was definitely more Southern-based, African-diaspora-based, working with nature and spirituality."
It's no coincidence that her father, Jamaiel Shabaka, is also an artist. As a celebrated avant-garde drummer (who once played with the jazz great Sun Ra), he also brings a spiritual element to his work. Akua says, "A lot of my cultural identity has come from him, especially in terms of being true to yourself and having a strong sense of identity. Because my dad, he walks in a room and you know where he comes from and what he's about. I think that's really important, especially as a black person, because we have to have some sort of identity and some sort of knowledge of ourselves and our history. So I owe that to him."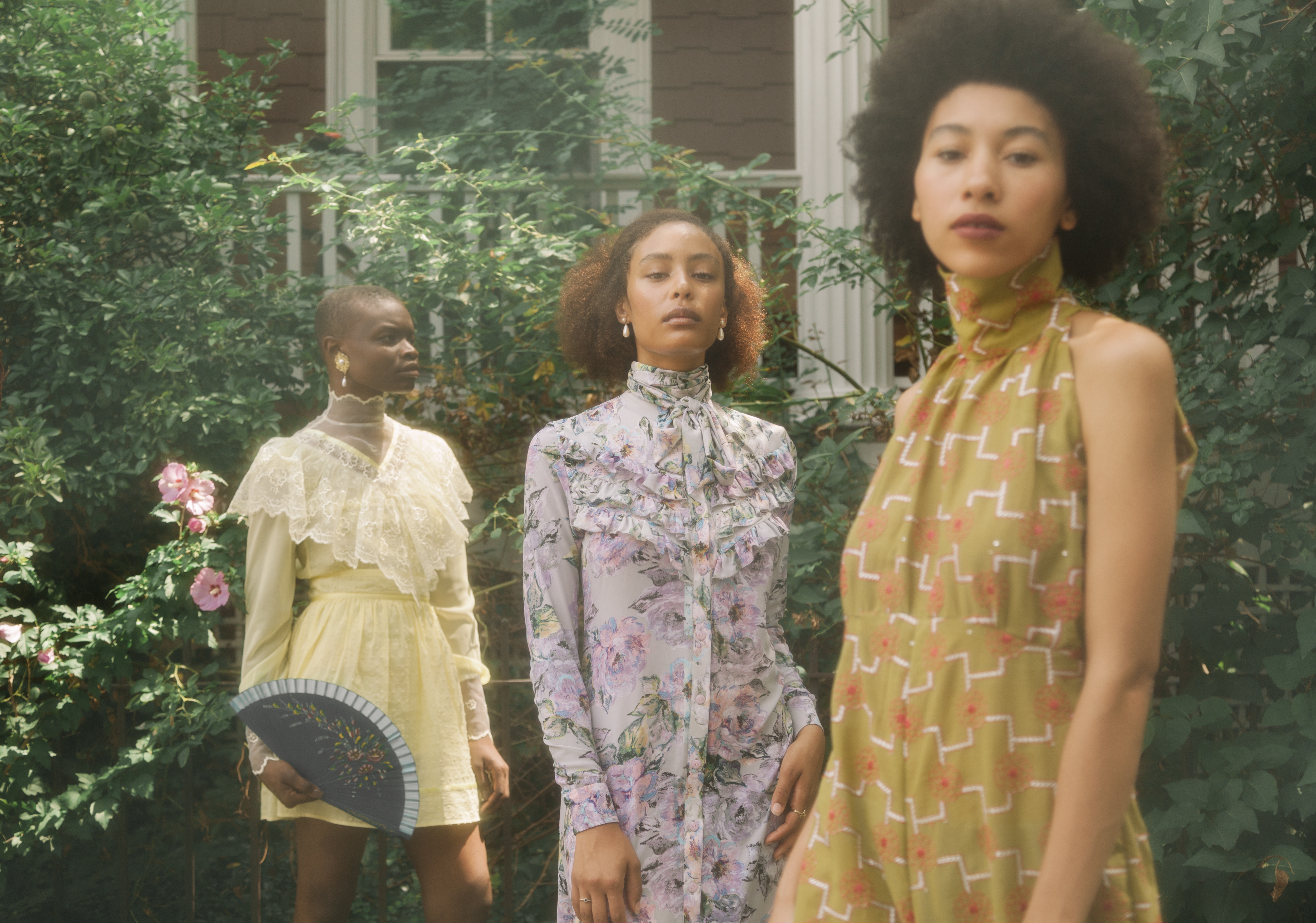 Black pride is a big part of BLOODROOT. Akua says the designs are reflective of the postbellum Southern United States — a time when her ancestors "had been emancipated from slavery and were striving to claim their rightful place with forward determination and dignity." The designers wanted to focus on this period because it "was really important for black people." Akua explains, "I come from a very African-influenced household, a very Caribbean background, and on that side of my heritage, things are very apparent. But I feel like in black American culture there's a lot of things that are lost within our culture, and elements of who we are that we kind of overlook. I wanted to show that we have such a duality as people, and although we're in these very aesthetically pleasing pieces, there's also a rich culture behind them."
BLOODROOT is deeply personal, but it's also political. For Akua, there is a sense of urgency in the need to uplift and celebrate African Americans. "It's about more than just this time period; our representation in general is just necessary in the industry. Without it, what would the industry be?" By telling their stories, the designers of House of Aama are portraying the dignity of their ancestors, and empowering their peers.