Giggs wears jacket Versus Versace. Hat, T-shirt, jeans, watch and shoes model's own.
giggs is an inspiration for an entire generation of rappers, trappers and drillers
Whether melancholy street anthems or exuberant party starters, Hollowman's ice-cold flow has taken him from underground hero to undisputed champ of the UK scene.
Giggs wears jacket Versus Versace. Hat, T-shirt, jeans, watch and shoes model's own.
This article originally appeared in The Sounding Off Issue, no. 350, Winter 2017.
The more things change, the more they stay the same. Nathaniel Thompson may be an (almost) chart topping rapper who headlines festivals and works with Drake, but his arrival in the i-D office is as low-key as ever. He's alone, a can of KA and car keys in hand, black Versus jacket, blue jeans. There are, however, signs – small ones – that betray his upbringing as one of six from Gloucester Grove, Peckham, South London. There's the jacket for one, and he's also wearing a shiny gold Rolex. "A gift," he grins, mischievously and mysteriously.
His star may be burning brightly (and his accessories shining a little brighter) but Giggs is resolutely still the same guy he was a decade ago when " Talkin' The Hardest" made him a certified street star. Over the years he's had deals, lost deals, and worked with everyone from Mark Ronson to Wiley, Skepta to Stormzy, Mike Skinner to Ed Sheeran. He's remarkably resilient, especially when you consider the fact that until 2017 he wasn't allowed to perform in London. "The police," he sighs – but these days he's shaping up into one of the UK's best live acts. Yet he can still be a man of few words; when asked about upstaging Drake at the Canadian rapper's own O2 show back in May with a scene-stealing performance of "Whippin' Excursion," followed by their "KMT" collaboration, he's immediately bashful. His eyes and chin drop to his chest, a reluctant grin just visible under his wide-brimmed cap. "I don't really look at it like that. I'll just be waiting to go onstage and then I go on and come off. The only thing that goes through my head is, 'It's not crazy enough, I've got to work harder.'" Watching Giggs live, whether at a sweaty 200-capacity club in Leeds or headlining his own show at the Hammersmith Apollo, his onstage energy is utterly at odds with his everyday persona.
"I'm shy," he readily admits. "When I'm singing, I'm not shy cus I love music so it's just singing songs that I love. So shyness is out the window, but if you stopped the music and I tried to speak? It's not happening. It's like," he stops to mimic himself mumbling. Why is he so shy? There's another self-conscious smile. "I dunno. It's not worth going into."
Yet despite the shyness, Giggs is stepping into his role as a genuine leader of the UK rap scene, and he's looking increasingly comfortable. Following the success of 2016's number two album, Landlord, his recently released mixtape, the utterly brilliant Wamp 2 Dem is further solidifying his status as both rap OG and mouthpiece, of sorts, for a generation who are disenfranchised, distrusted and dismissed. The more music Giggs makes, the more interesting a proposition he becomes. So, over the course of a sunny September afternoon, we asked Giggs about the important things in life, from parenthood to politics to fame and education.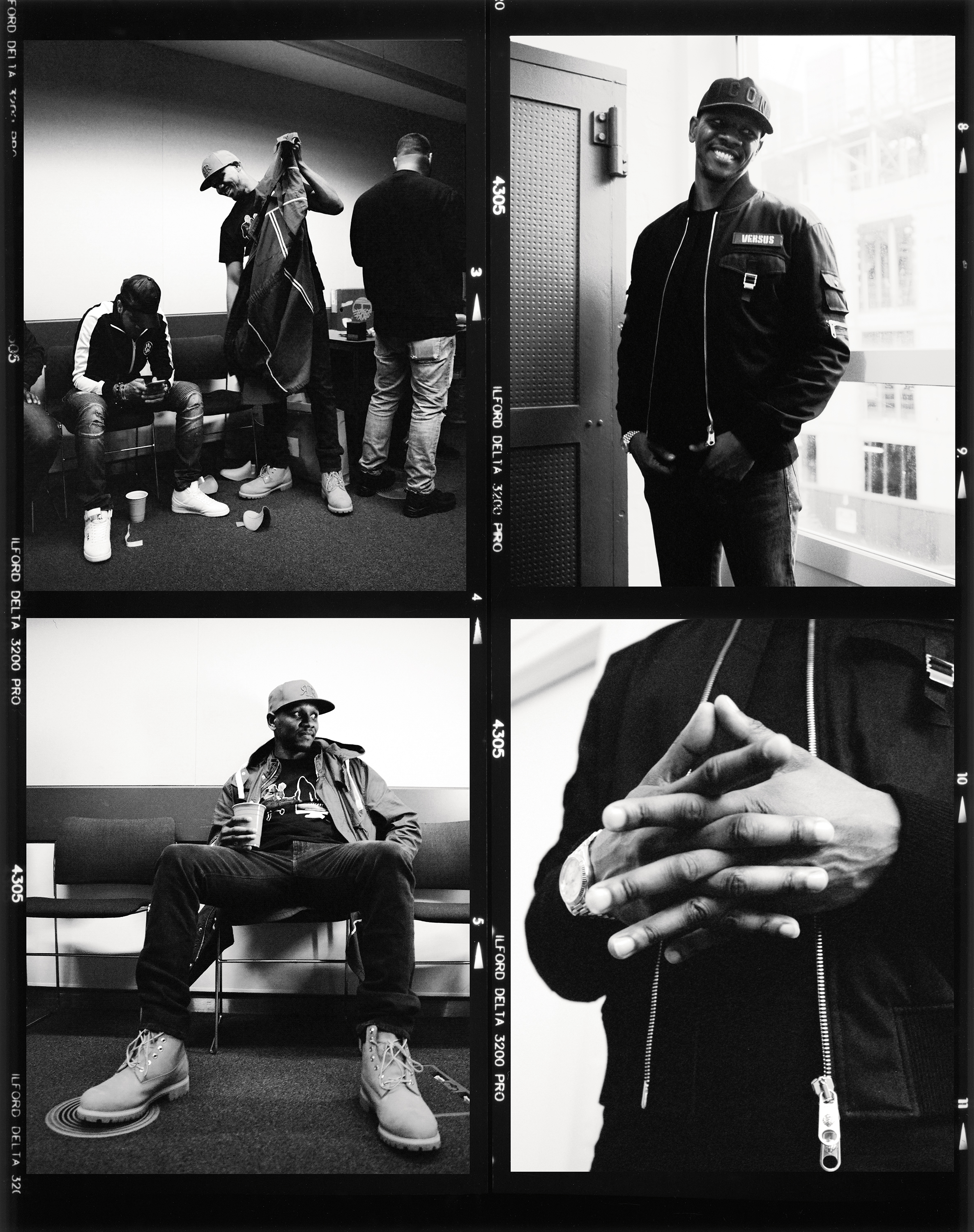 The Landlord: "I was in a place in my career where I realized that no one does what I do. No one. There's no one in the world making music like this. I'd evolved and I was in the best shape of my life musically. Now, I'm in even better shape [grins]."
Wamp 2 Dem: "What do you mean, what's it about? Hmm. You haven't been paying attention. You haven't done your research. You haven't, cus you're asking me what it's about. This is bad. Next question. Don't worry it's alright. All I'm saying is it's a hard mixtape. Hard."
Fame: "I don't know about all that cus I feel like everything's the same. I just notice it's a bit different when I look at people's behavior. People have been acting weird. Family, friends, people, whoever. They look at man different and they're up man's butt a bit. I'd rather people just be normal. So now I talk to people a bit less. The only people that stay the same is people that I work with, like [manager and long-time friend] Buck, cus he's in it. We just work and then we move onto the next thing. And is it really fame? What is fame? When I think fame, I'm thinking plastered up all over the place, billboards, tele. For me, it's just a few people who know who I am. It's not really famous, is it?"
The UK scene: "I take inspiration from everyone and what they do. You have Skepta and BBK playing the O2 so we know we can do that now. Every day you see something new and learn from it. We took control. We know who we are. We're enjoying things more, and we're mature, whereas before, everyone was learning. There's also different people in power at labels, television, distributors, TV. Back then [2007-2012], they had power and they weren't trying to help no one. We were told, 'This is how it's done, if you don't do it this way, we won't support you.' We had that to go up against. Then people caught on and now everyone wants a bit."
Drake: "Our friendship, obviously, it's music. When Landlord dropped he messaged me like, 'That's a bad boy album, it's cold.' Then when he was doing More Life, before it was called More Life, he said, 'I've been recording bangers, I don't know what they're for, but I want to do something with them. What do you reckon? Can I send you a banger?' I was like, 'Send that you joker, what are you talking about!' We made "No Long Talk" first, " KMT" was second. We started talking more, then come January 2017, we went on the [The Boy Meets World] tour with him for three months. So every day, man was together laughing, pissed off, talking... you proper get to know someone. And not just him, the whole team traveling around Europe together. It was a proper sick three months and watching the whole process was sick. It started with us recording the song last year, to going on tour, then right at the end of the tour, More Life dropped and we performed " KMT" here in London at the O2. It was like the end of the chapter, having been a part of the process from beginning to end. But it carries on. He flew out just to perform " KMT" at Reading with me. That was a mad one. I just saw hands all the way up to the back, tens of thousands of people. I couldn't get more buzzing than that. We went on and did BBK after, something for the mandem, and then I went home, smoked a few zoots, and slept. It was a busy day."
Breaking America: "There would be plans in place if I was allowed go there… [Giggs isn't allowed to work in the US due to a previous firearms offense]. I'm trying to work it out, legally. But even the amount of progress I've made from here makes me realize I just have to keep doing what I'm doing because we've got them paying attention. A few of them said some shit online about " KMT," but that's ignorance. The only thing I wasn't really feeling was that they don't think we've got black people here, or problems, or real poverty. That bothers me. I don't know what they think we've got over here. But if they don't know what's going on, we've got to show them what's going on."
Money: "Money is a distraction. The thing with money is you don't even know what to do with it. Ok, you buy an apartment, you buy a car, you buy clothes, you give some away to family, then what? You don't know what to do with it cus you haven't had it before. So then you probably do stupid stuff. I did that before, with the first lot of cash I made. I did stuff like jumping in jets. Stupid shit like that. So now I just give it away cus I don't really know what to do with it, to be honest."
Fatherhood "[Shows video of daughter at Peppa Pig World with Peppa Pig] I don't think I've changed really. I'm probably a bit softer, but only with her. No one else. My son is 16 in November. He used to say I was wet, but he's into my stuff more now. For him, all this is normal. He's like Buck. It's just work."
Peckham: "You know how it goes. It's still Peckham for man. It might look different outside, but it's still the same inside."
Politics: "I don't pay attention to politics and all that cus they're burning down buildings and getting away with it. Grenfell was mass murder. They killed a bunch of people and they got away with it. If one of us ran into a block and fucking burned it to the ground, they'd find us quick enough and make a big example of us. A whole block full of people getting burned alive, little kids, teenagers, old people. So I don't pay attention to politics cus things just are the way they are, no matter who's in charge."
Interviews: "I didn't used to speak in interviews. We were taught not to talk to authority from before we could talk. Growing up in the hood, all you get taught is not to talk to the police. You don't talk to social services. You don't talk to teachers. Everyone's a fed. So I didn't talk for 28 years, and all of a sudden, interviews. After 28 years. I didn't understand. I was watching the Paul Morley interview I did [in 2010 for the Guardian] the other day. I must have looked like a nutter [laughs]. He asked me, 'Why did you have a gun?' I said, 'I don't know, I just had one. Everyone has one. If someone's gonna get me, I'd rather go out fighting.' The way I was talking about it though was calm [laughs]. They must have thought I was nuts! That's how normal it was to me. There's a society of youths out there shoved to the side, and this isn't normal, it shouldn't be normal. But hopefully my growth helps others, they can see what I've done and see what's possible."
Education: "They need to change the education system. They teach you that you need to be able to do a few set things in life, and if you can't do them, you're stupid. Times are changing and education doesn't recognize or reflect the different ways in which kids are smart. If they made things like music or management or building a platform or directing videos part of school, a lot of kids would ace that and then that gives them confidence. With confidence, they might take a bit more interest in other subjects. When you're achieving in one area, you're encouraged to work harder in all areas because you see what's possible. You've got [rapper] S L, a 16-year-old kid, on stage at Wireless. These little kids are making a grand a show – a thousand dollars! That's nuts. How is that not big enough? What he's done is create his own business and that should be recognized in schools. Teach the kids about entertainment, entrepreneurship, management. Give them a qualification for that. These kids are making more money than people training to be doctors or lawyers and they're not leaving education in debt. The school system needs to be changed. I tried to get into Westminster College to do sound engineering but I didn't have the right qualifications, so I couldn't get in. What did I do instead? We already know what happened to me. I got there in the end, but my path could have been different if education had been more open to me and my skills. Education needs to look at the individual and recognize different kids have different skill sets."
The future: "I'm just trying to look after the kids coming through. Build. No one helped us, we just got told, 'That won't work.' If I was weak-minded, I would have just gone back to the streets, so it's about trying to prevent that happening for the next generation of kids. It's lucky that I was so stubborn. I was like, 'How dare you disrespect me,' [laughs]. That's what kept me going. Worked out alright in the end, didn't it?"