these girls waited in line for six days to see harry styles
Teen girls from across the world have been camped outside the Hammersmith Apollo for the past week. It's a "Sign Of The Times."
|
01 November 2017, 6:40am
This article was originally published by i-D UK.
It's 1pm — eight hours before showtime — and Harry Styles has just sent a load of takeaway pizza and hot chocolate to the hundreds of fans already lining up outside his second London show. Some have just arrived, others showed up six days ago, but everyone seems hellbent on being in Harry's line of vision when he takes to the stage tonight.
The 23-year-old millennial rockstar, who just kicked off his first solo European tour that sold out in a matter of seconds, is no stranger to this level of fandom. Five years as a key member of One Direction has earned him hundreds of thousands of screaming fans and "ride or die" followers from around the world.
"If you meet Harry, you need to tell him that I love him."
But while most people in the public eye would come to resent such a strenuously loyal fanbase, Harry seems to embrace it wholeheartedly; appreciating how faithful and friendly his fans are, both towards him and his music. Appropriately, the crowds are peppered with pride flags, tote bags, and t-shirts emblazoned with his motto: "Treat people with kindness." On stage that night in front of an ear-piercingly loud crowd, he sticks to that mantra.
"If you meet Harry, you need to tell him that I love him," one Italian fan gushes. "I wouldn't even want a photo — I would just want to hug him and thank him!" Another shows off her new Harry Styles tattoo: his handwriting on her forearm. Another shows hers: a cursive 'H' on her wrist. The boundless love for Britain's most charming young star is real, even if the idea of coming face-to-face with Harry Styles is, for these people, nothing more than a distant fantasy.
i-D headed to the show's Hammersmith venue to ask Harry Styles's die-hard fans why they crossed continents and queued for days to get close to their rockstar sweetheart. We started with a team of Spanish fans, who headed up the serpent-like queue through the streets outside the venue!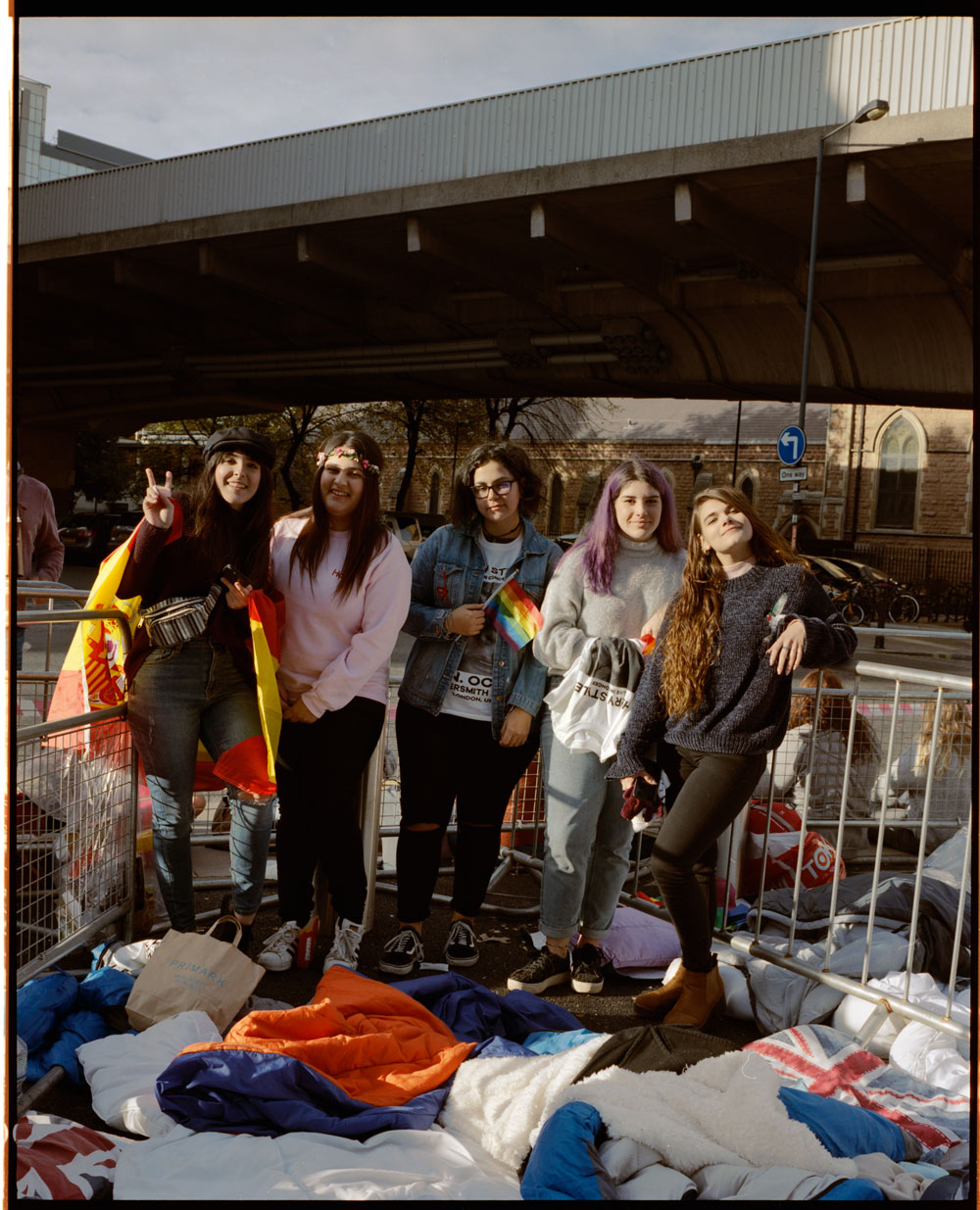 Alicia (19), Irene (21), Tania (17), Andrea (18), and Ariana (18). All from Spain.
You're all from different parts of Spain, how did you come together as Harry Styles fans? Through Twitter, WhatsApp, and Instagram! How long have you been here? Since Wednesday. Six days. And where have you been sleeping since then? In the street, under a bridge [by Hammersmith Station]. Woah. Who else would you do this for? Alicia: Any of the One Direction boys, and Ed Sheeran! Can you explain why you love him so much? Alicia: Because he's such a good person. I can't explain much — it's hard to! Ariana: Yeah, his voice is amazing. Andrea: He's beautiful, and so, so kind. Tania: He makes me feel like I can be whoever I want. That I can love whoever I want. Were you fans of One Direction before? Yeah! And have you seen them live? Ariana: I've seen them before, but never front row. And I saw Harry Styles at the BBC live in May. I came especially to the UK see him. Alicia: This is my first time! I came to the UK for the Dunkirk premiere, but only saw Harry from far away. What do your parents think of your Harry Styles obsession? Alicia: My parents think I'm crazy, that I'm too old to do this, but I don't care! Tania: They don't like that I go to concerts alone — but I make friends in the link!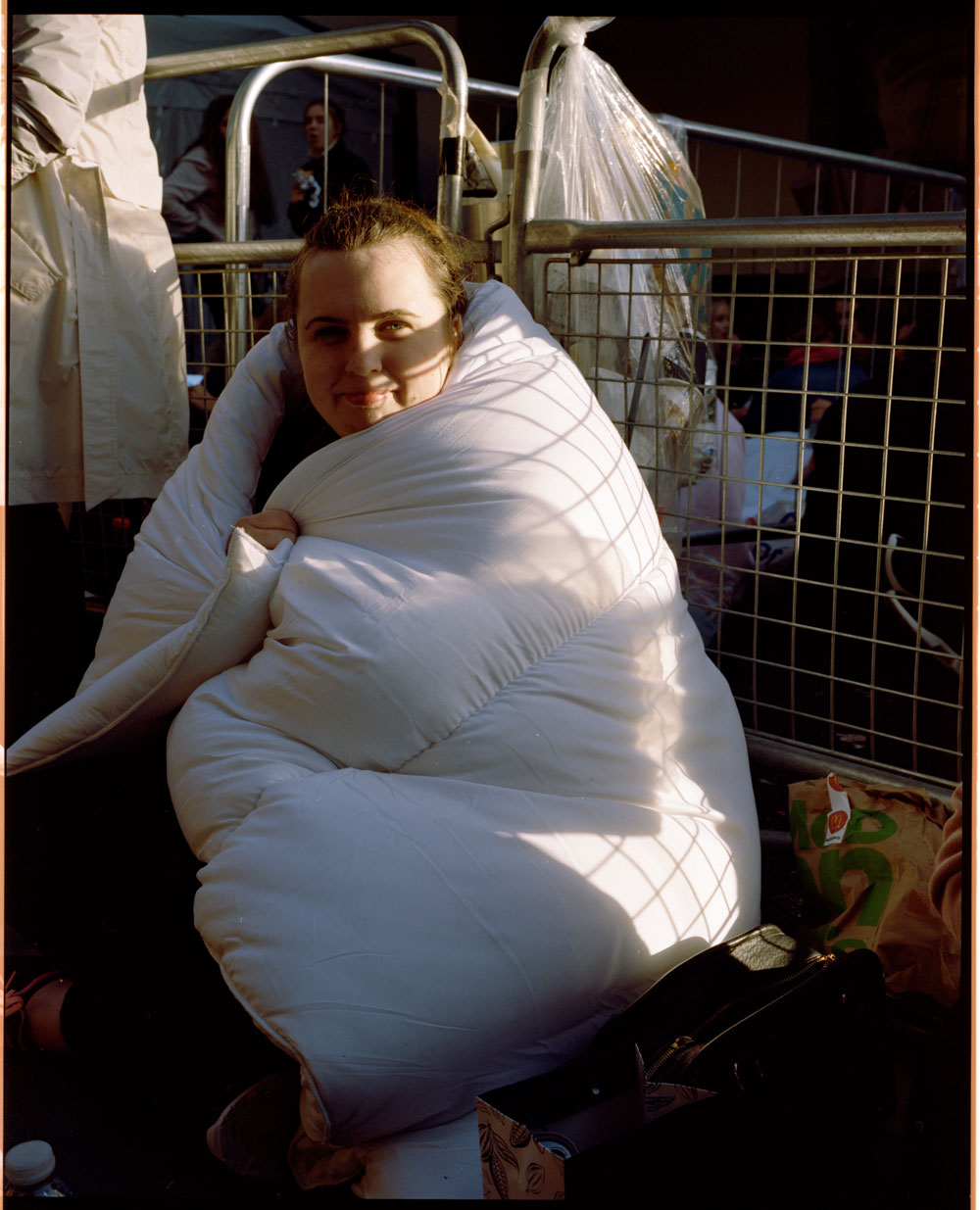 Megan, 22, Australia
You came here for both shows, right? Yep. How long have you been waiting here? About four hours now — three to go. I left Australia on Friday and arrived Saturday — 26 hours of traveling! Why do you love Harry Styles so much? I love the message he gives: to treat people with kindness. Not enough words describe how much I love that boy. Are there any other artists you'd camp out for to see them live? Nope. Only Harry. What's your favorite song of his? "Little Things." It gets me every time! What do your parents think of your love for Harry? They think I'm an absolute idiot, but they've learned to keep their mouths shut! I'm getting his initials tattooed on my ankle on Wednesday, so I don't think they'll be happy about that either. Do you think he's changed your life at all? Definitely. I've met so many new people because of Harry. I used to be that depressed kid that wouldn't leave their bedroom, and now I've traveled across the world. It wouldn't be possible without him.
Lara, 21, Spain

How long have you been waiting here? Since yesterday, but my friends have been waiting a long time — three days! What do you love about Harry? I've loved him since I was 16. He's taught me so many things. I have a tattoo of his initials on my wrist! He's literally my everything. He taught me to be a good person. I've camped three months for him before. Three months? Yeah. Three years ago, I camped outside the stadium in Madrid for three months, because there were so many girls there for the One Direction show. I had to study, and I failed all my exams for Harry. Did you re-sit them? Yeah. And you did okay? Yeah! My parents were like "Are you mad?!" Who else do you like besides Harry? Shawn Mendes, Justin Bieber, but Harry's my idol and he always will be.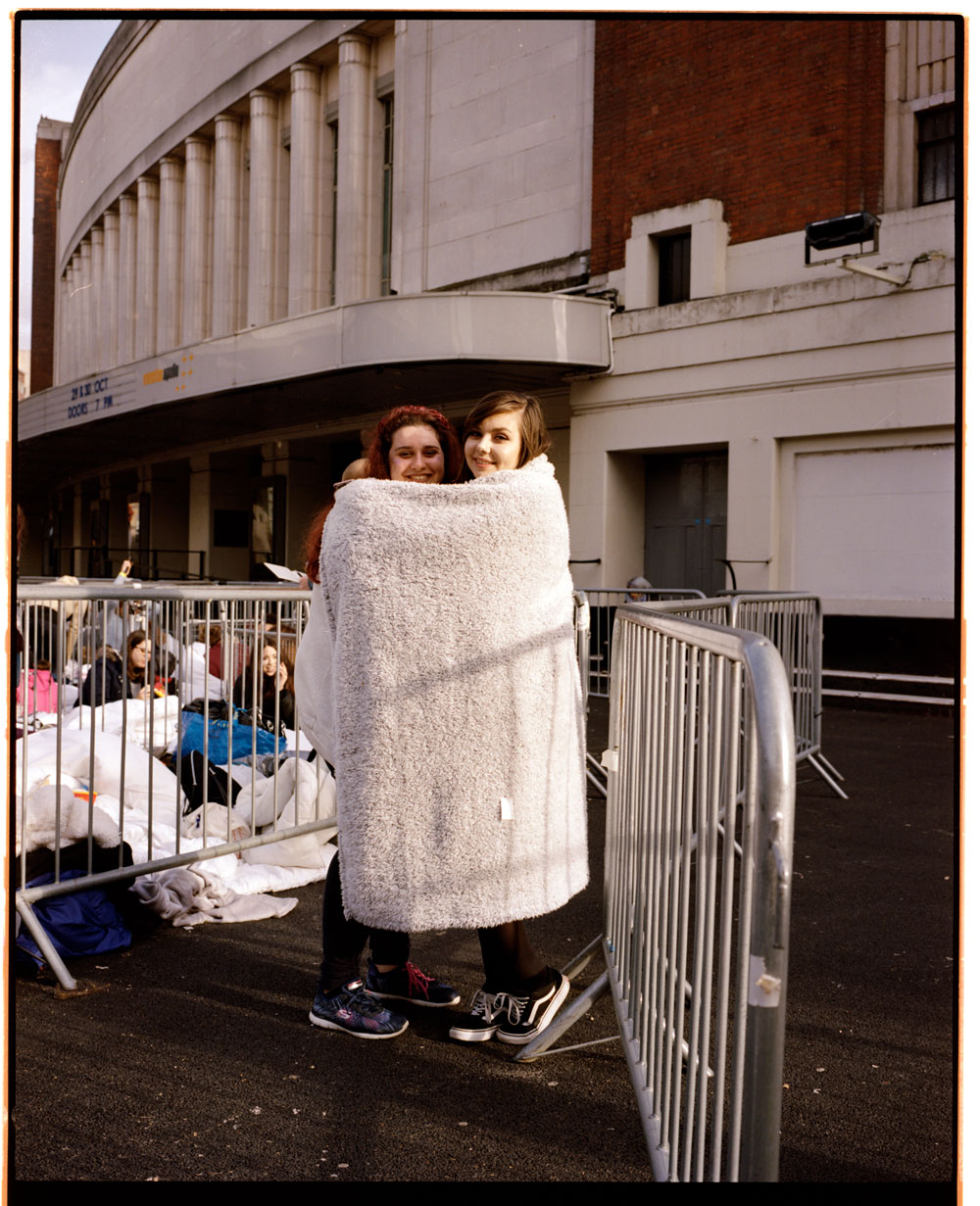 Robyn, 24, Newcastle (right) and her friend Rosella, Spain
How long have you been waiting here? Since Thursday for last night's show, then I went back to the hotel for a few hours and then came straight back here. And where were you sleeping? Under the bridge. It was a sea of white Primark duvets! Why do you love him so much? Why wouldn't you love him so much? He just wants everybody to be who they want to be! How long have you been a fan? Since The X Factor! And how many times have you seen One Direction since then? Once on the Up All Night tour, once on the Take Me Home tour, once on the Where We Are tour, and then seven times on the On the Road Again tour. And I've seen Harry twice on this solo tour and then two more in April. How much has stanning for Harry Styles cost you? The four solo shows alone cost me £300. I think somewhere around £2000 in total, with travel and accommodation. Totally worth it!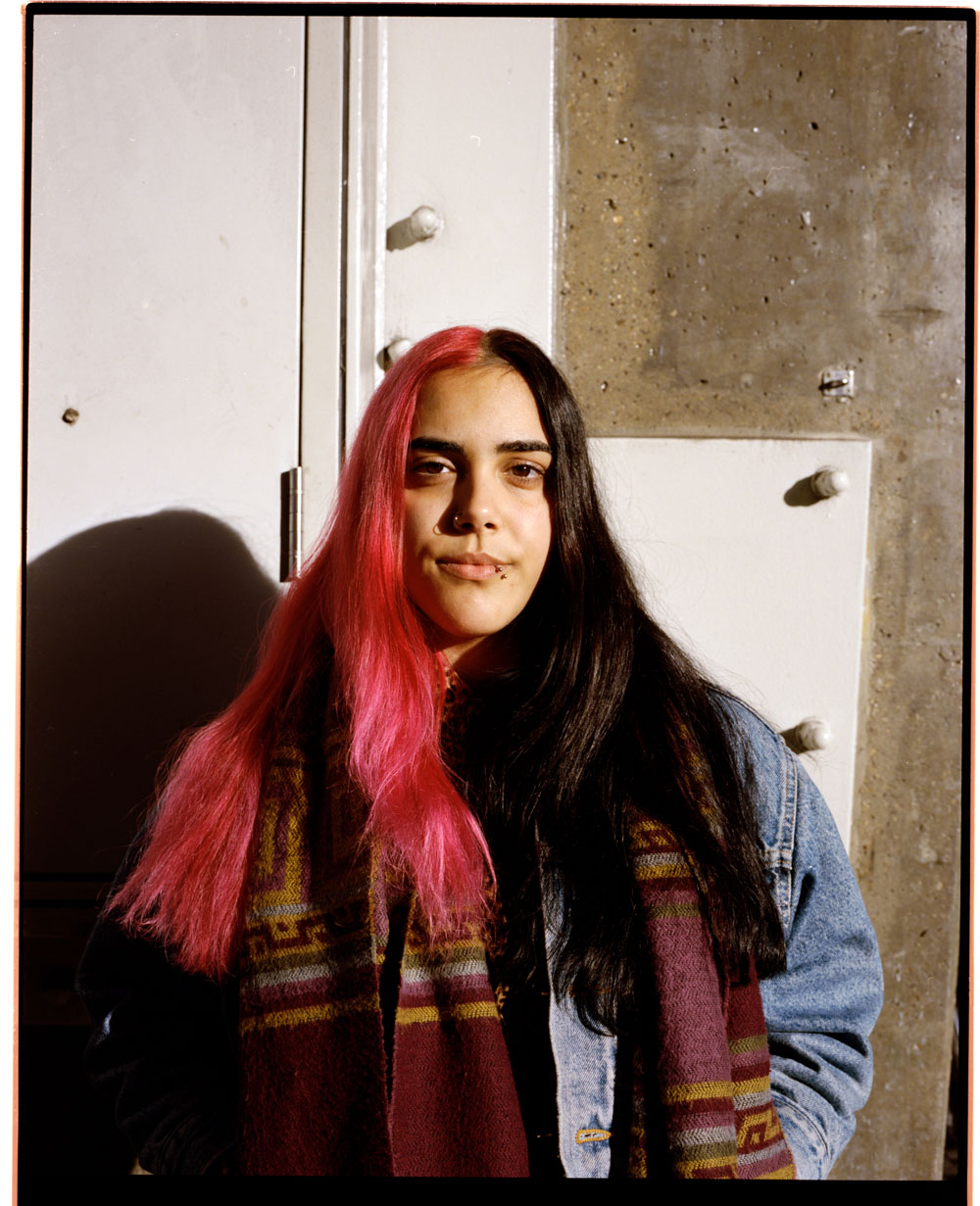 Jessica, 19, Italy
How long have you been waiting for Harry? Since 5am. Why do you love him so much? He's just Harry — he's fantastic! I've been a fan since 2010. Is this your first time seeing him? No, the third time! If Harry could sing one song to you, which one would it be? "Sweet Creature." Do you think you're going to cry tonight? Yes, a lot! I think when I see him I'm going to cry. What do your parents think of your Harry Styles obsession? They're okay with it, because it's part of me. They don't mind me flying around the world to see him — it's worth it!