goat girl are feeling murderous in their new video – watch it here
What's black and white and blood-red all over? The new video from the best up-and-coming band from South London, of course.
|
30 October 2017, 11:57am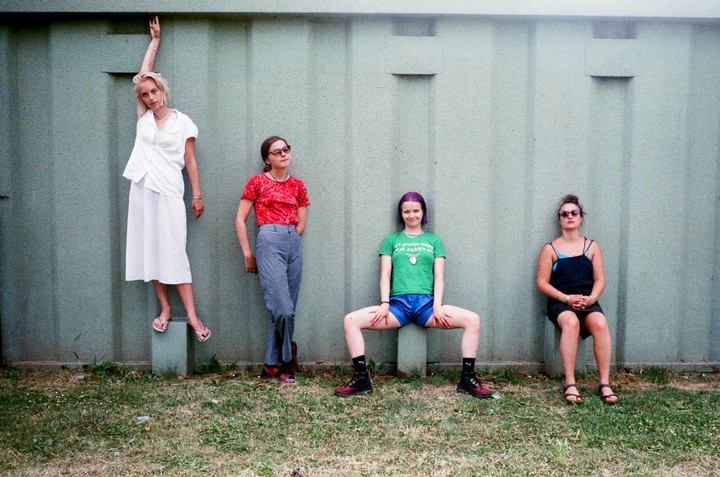 When Frank Ocean played Way Out West festival in Sweden this August, he did so with a string orchestra that included two members of Goat Girl. Clearly a fan, the i-D coverstar flew half the band out to accompany him on tracks like Nikes, Ivy and Forrest Gump.
Anyone who knows the band know they've got a gross/dark/disturbing streak (Scum , anyone?) so it'll come as no surprise that to celebrate this All Hallow's Eve eve, they called on us to help share their fourth and most deadly music video yet, Cracker Drool. Directed by Paraic and Michael Morrisey, the girls strapped a camera to the front of a nice old car and drove deep through the woods. Where are they off to? Well, if our now memories are to be believed, this particular country road trip will likely end with the disposal of a body... but there's only one way to find out.
If you still have no plans for the 31st, you'll find Goat Girl at The Windmill in Brixton (duh) playing the annual Halloween Ghostfest alongside all manner of freaks. Trusting their taste in all things horrific, to get you in the mood we asked the goats to give us some last minute scary movie recommendations for the big day.
Rosy: The Visit
"It's such a relatable fear. And Killer Klowns From Outer Space, cos what more could you want?"
Lottie: The Shining
"The Shining remains one of my all time favourites, although I'm not quite sure if it constitutes 'horror' in the classic sense, it's more of a psychological torment. I love all the subliminal messages incorporated and the nonsensical elements which I think is the creepiest part of it for me, you leave the film over-thinking and analysing everything you've just seen. The cinematography is also what I love about this film. It's all so beautifully shot with striking colour schemes and set designs."
Ellie: House
"I would describe House as a very weird, almost comedic art horror film. It's full of interesting ideas and scenes that make it one of my favourites. The CGI effects in it are incredible, the director uses very old-school, abstract visuals that make you feel as though you're in a strange dream state. The best example of this being when one of the female guests of the house gets slowly eaten by the piano she's playing, while colourful strobes of lightning come out of the keys and the cats eyes that watch her."

Naima: Don't Look Now
"Truly terrifying. I love all of Nicholas Roeg's films. I went to Venice just after watching this and have never been that scared before."
Cracker Drool is out now on Rough Trade and available on vinyl here
Tagged: