exclusive: watch john galliano and nick knight's trippy short film for maison margiela
Billed as an interactive and immersive experience, the film was presented at a two day event at London's Serpentine last weekend.
|
16 February 2019, 10:00am
This article originally appeared on i-D UK.
If you can't make it over to Maison Margiela's Reality Inverse presentation at the Serpentine this weekend, then fear not. You can enjoy Nick Knight's accompanying short film right here.
Premiering exclusively on i-D, Reality Inverse is a visual conversation between photographer Nick Knight and Maison Margiela creative director John Galliano. Drawing inspiration from Margiela's aesthetic and philosophy, the film imagines a new era of decadence, as well as a nomadic, virtual reality future.
Oversaturated and presented in computer-generated imagery, Reality Inverse is a feast for the eyes. Shot through an inverted lens, it challenges our expectations of light and darkness, giving us an overstimulated, three-dimensional idea of the future. A new ideal of glamour, if you will.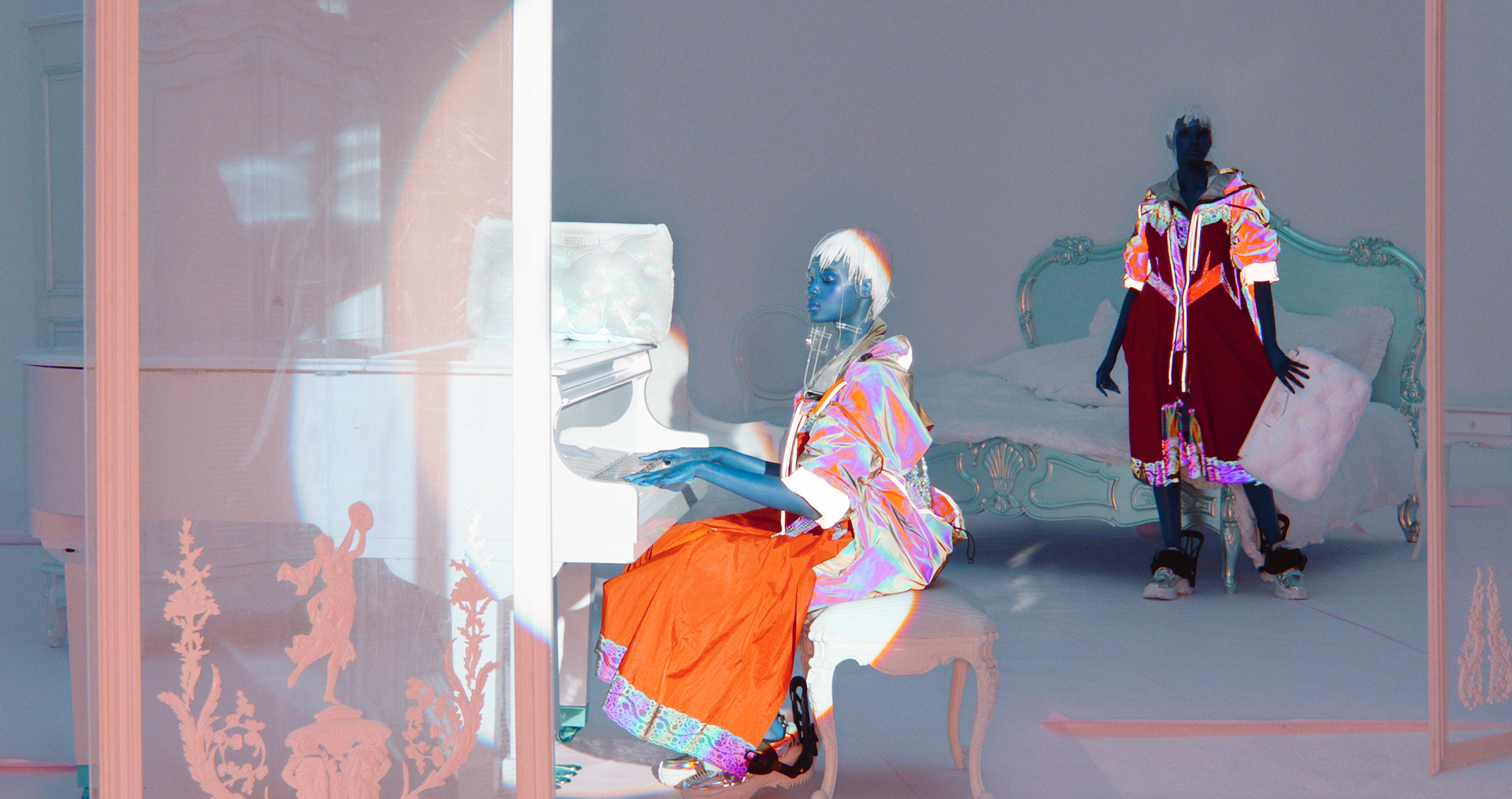 Speaking to i-D, Nick described the piece as a new visual language. "This project was the first time that we had an opportunity to work together in 10 years, and we set about making a new language for the world of John and Margiela", he says. "Margiela is a brand with its own prospects, desires, history, and language. So I had to respect that and follow that and try to work out not only the house's language, but also that of John within the house."
"I saw the collection, and the clothes were so beautiful and sensitive to light. It was this fantastic Chinese material, which when you shine a direct light on it, it changes colour completely. So we looked at the materials of the collection which is often a good way to start because that's the words if you want that he's creating the clothes out of. So the idea of switching and inverting a fabric from one colour to another colour just by the addition of light became the key to unlocking this language."
The resulting film, starring model Duckie Thot, turns science fiction into science reality, and is released in standard and 360-degree vision, meaning the viewer can move freely around the image with just the click of a mouse. This allows audiences to experience the film twice essentially, once on a conventional LED screen, and another in a VR headset. "With the VR headset you're seeing the 360 space all the way around you," explains Nick. "Not only are you seeing the coloured world and the world of paint and light of dark, but also the world that was wrapped all the way around us. So actually you're living in that space. You put the VR headset on and you can see Duckie Thot or the image of Duckie Thot appear in front of you, but then there's also something going on behind you, underneath you and above you. I think it's a very interesting experience and I think it's where viewing is actually heading at the moment. It's a very different proposal visually."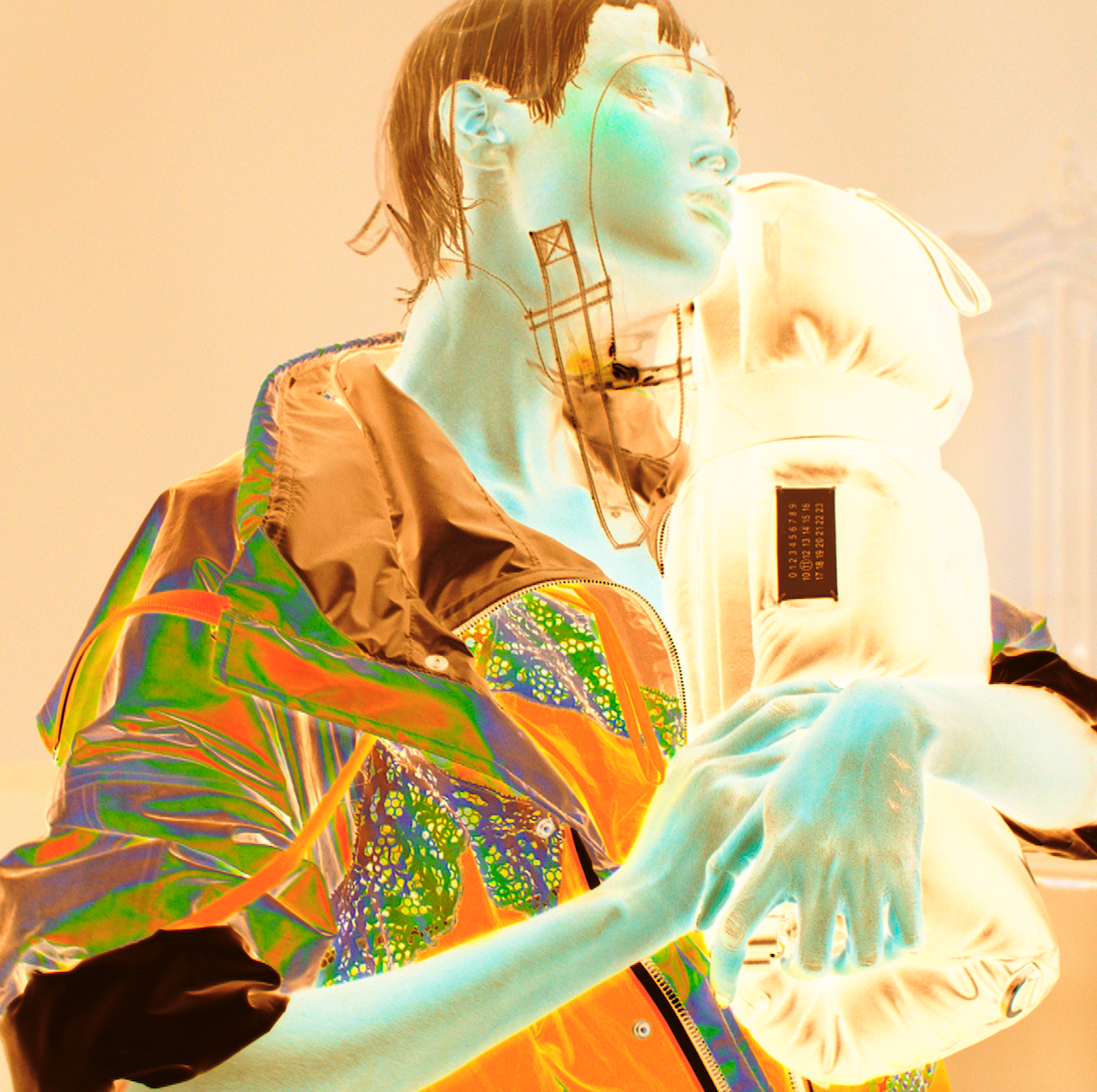 As well as the innovation of presenting the piece in 360-degrees, Reality Inverse was filmed as an actual inverse -- in negative, which flipped the colours of the collection and presented an entirely new way of seeing and experiencing John's vision for Margiela. Throughout all the trippy visuals, Maison Margiela's signature bag -- the Glam Slam -- is illuminated: its form anchoring the fantastical to reality.
"All of my photography, my image making and filmmaking has always been about composing a different world to the one we live in, and proposing a different set of values," Nick tells i-D. "I think that's the role of fashion, to present fantasy and to present dreams and to present things we can't see but want to. Fashion is a hugely predictive medium, therefore it's saying what you will want to have in three months, six months, whatever it is, so it's predicting your desires, very different to a lot of other art forms which are sort of reflective if you want. So if you're doing a painting, you're kind of looking at the world as it is now and trying to show that. But what fashion does and fashion image does is to predict a world that you will desire in the future."
Billed as an interactive and immersive experience, Reality Inverse will be showcased at a two day event at London's Serpentine this weekend. For anyone who can't make it, check it out exclusively below.
Maison Margiela's 'Reality Inverse' takes place at the Serpentine Gallery during LFW on Saturday 16 February and Sunday 17 February from 10am until 5pm. Tickets are free.
This article originally appeared on i-D UK.