Photography @mitchell_sams
the autumn/winter 19 trends worth knowing about
From grunge to shoulders for days.
Photography @mitchell_sams
This article originally appeared on i-D UK.
The biannual circus of international fashion weeks might have just come to an end, and the trends they sparked are still stuck on your Instagram feeds and six months away from hitting the stores -- and this season, it's a wildly eclectic bunch, from billowing ballgowns to grunge-inspired granny knits -- but for those looking to navigate the fashion minefield, we present our rundown of the key trends to look out for over the coming months. Bucket hats at the ready.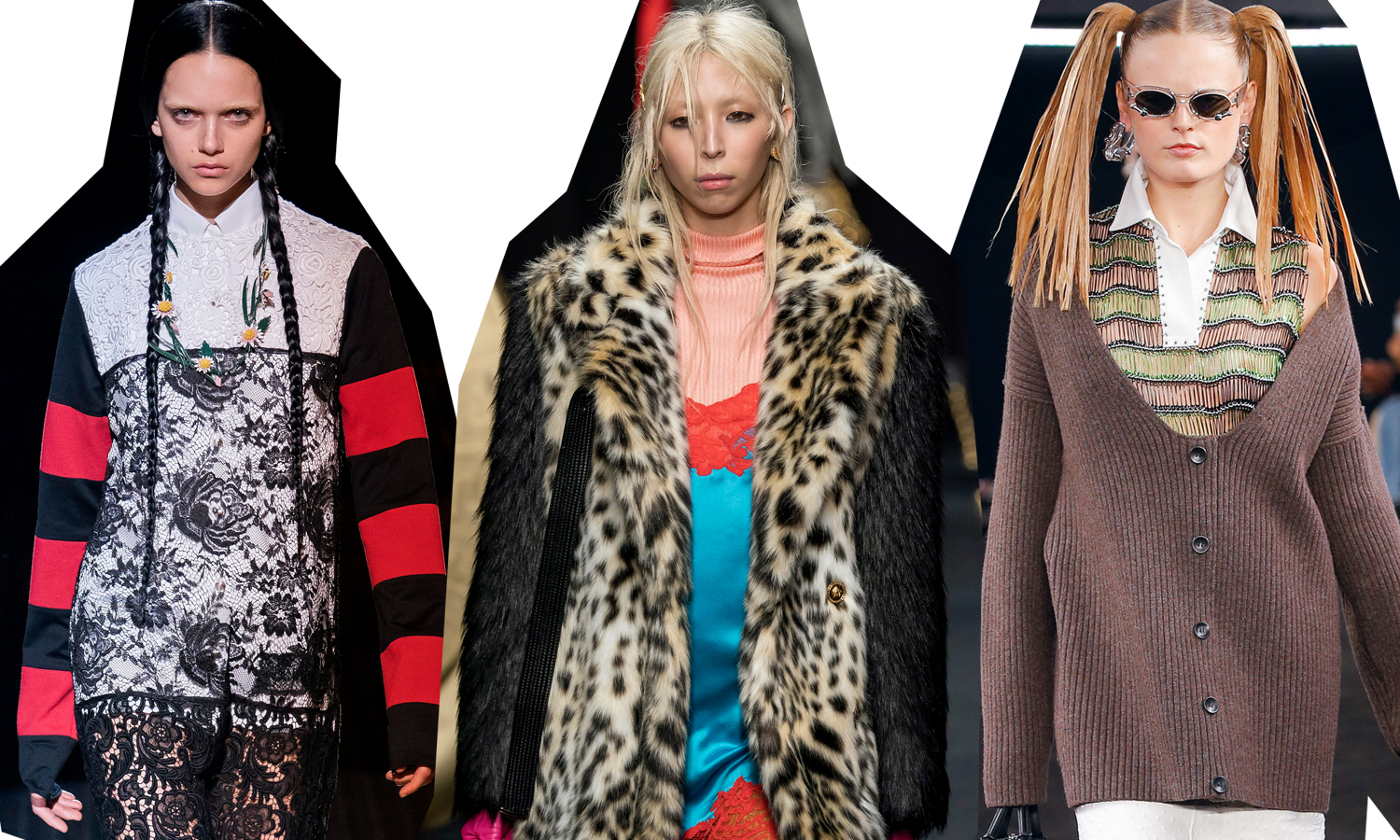 The grunge comeback is here to stay
Back in the autumn of 1992, Marc Jacobs, then four years into his tenure as creative director of Perry Ellis, sent the collection down the runway that would make his name. For a house firmly associated with refined tailoring, the decision to stage a tribute to the grunge scene was met with horror by the fashion press, as supermodels Kate Moss and Helena Christensen walked the runway in deshabille beanie hats, Dr Martens and racy slip dresses. It might have marked the death knell for Jacobs's short-lived moment at the helm of Ellis (he was fired immediately afterwards), but it was the beginning of an illustrious career that would see him ascend to the top position at Louis Vuitton and build a multi-million dollar brand of his own.
16 years later, Jacobs dropped a 'grunge redux' capsule collection in November featuring the infamous collection's greatest hits; this time, it seems he hit upon exactly the right moment, as designer after designer this season followed his lead. At Prada, goth girls with Wednesday Addams pigtails came out scowling in black lace and combat boots, while at Versace, in place of the high-octane glamour we might expect, models wore dishevelled silk slips and oversized faux furs, with more than a touch of that greatest of grunge muses, Courtney Love. Even if the movement's scruffy charm might not carry quite the same shock value in 2019, it was easy to see why the time felt right for a revival: grunge's anarchic, defiant spirit feels like the perfect sartorial two-fingers-up to today's moment of political instability.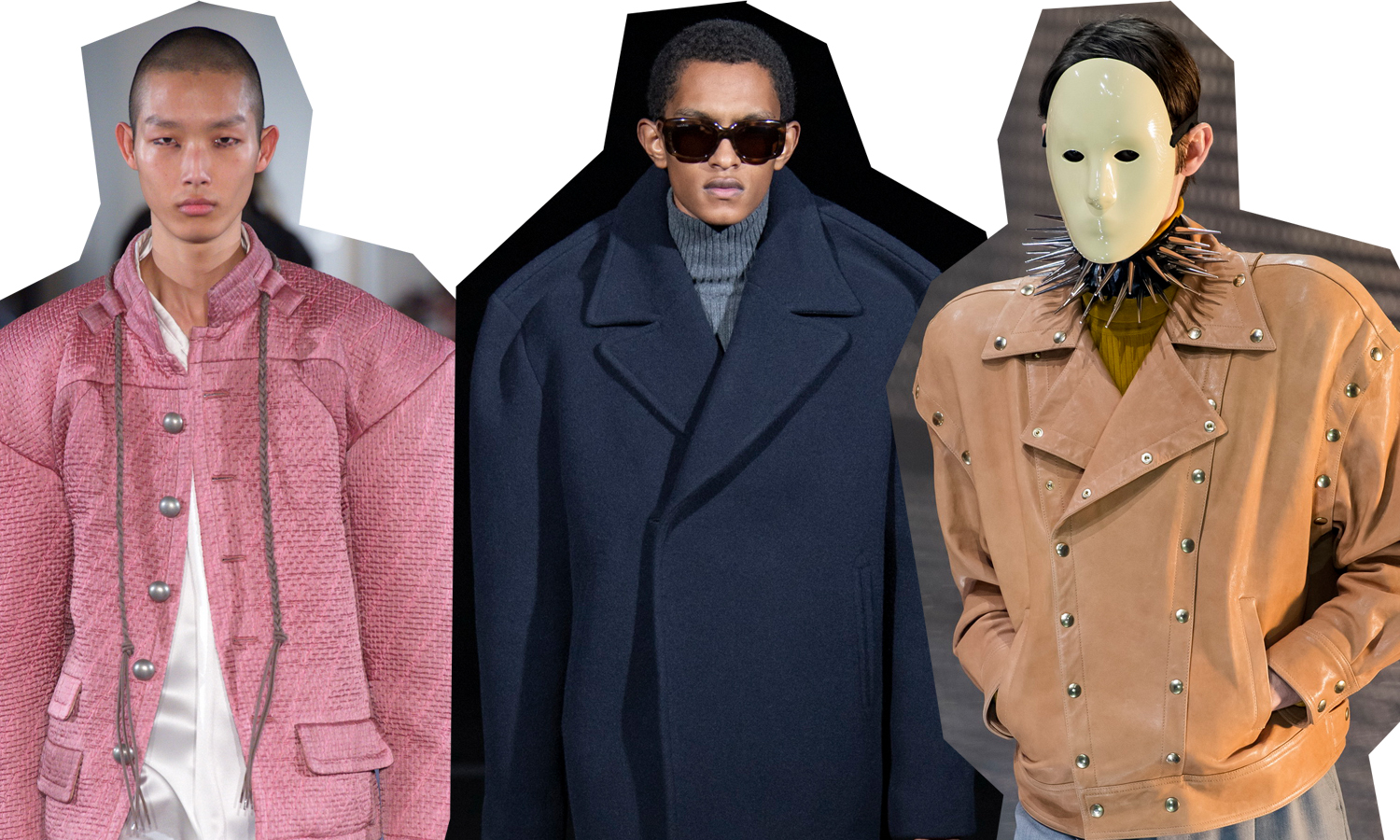 Shoulders that won't quit
If you thought the trend for Claude Montana-esque power shoulders had already reached its peak at Balenciaga, you thought wrong: this season it seems your inner Joan Collins will have more options than ever to choose from. At Saint Laurent, Anthony Vaccarello's woman can always be relied upon to turn a look for the nightclub, but this time she was ready to show up for work the next morning too: opening the show with a series of boxy woollen coats and impeccably-cut trousers inspired by the house's illustrious tailoring heritage, it was a sharp (in both senses) vision of professional dressing that seamlessly merged those overblown silhouettes with something you might actually want to wear.
Vaccarello wasn't the only one recasting power shoulders in a new and playful light. Those seeking a more outré take on the trend need look no further than Andreas Kronthaler's topsy-turvy mandarin jackets for Vivienne Westwood, while at Balenciaga, Demna Gvasalia recast his signature maxi-coats in a kaleidoscopic palette of neon green and Ferrari red. It was Gucci, however, where the trend reached its final form: supersized three-piece suits and studded suede jackets hung from shoulders, while fetish collars and Friday the 13th hockey masks gave the dangerously exaggerated proportions a more sinister undercurrent. Keep your wits about you, or those razor-sharp shoulders could have your eye out.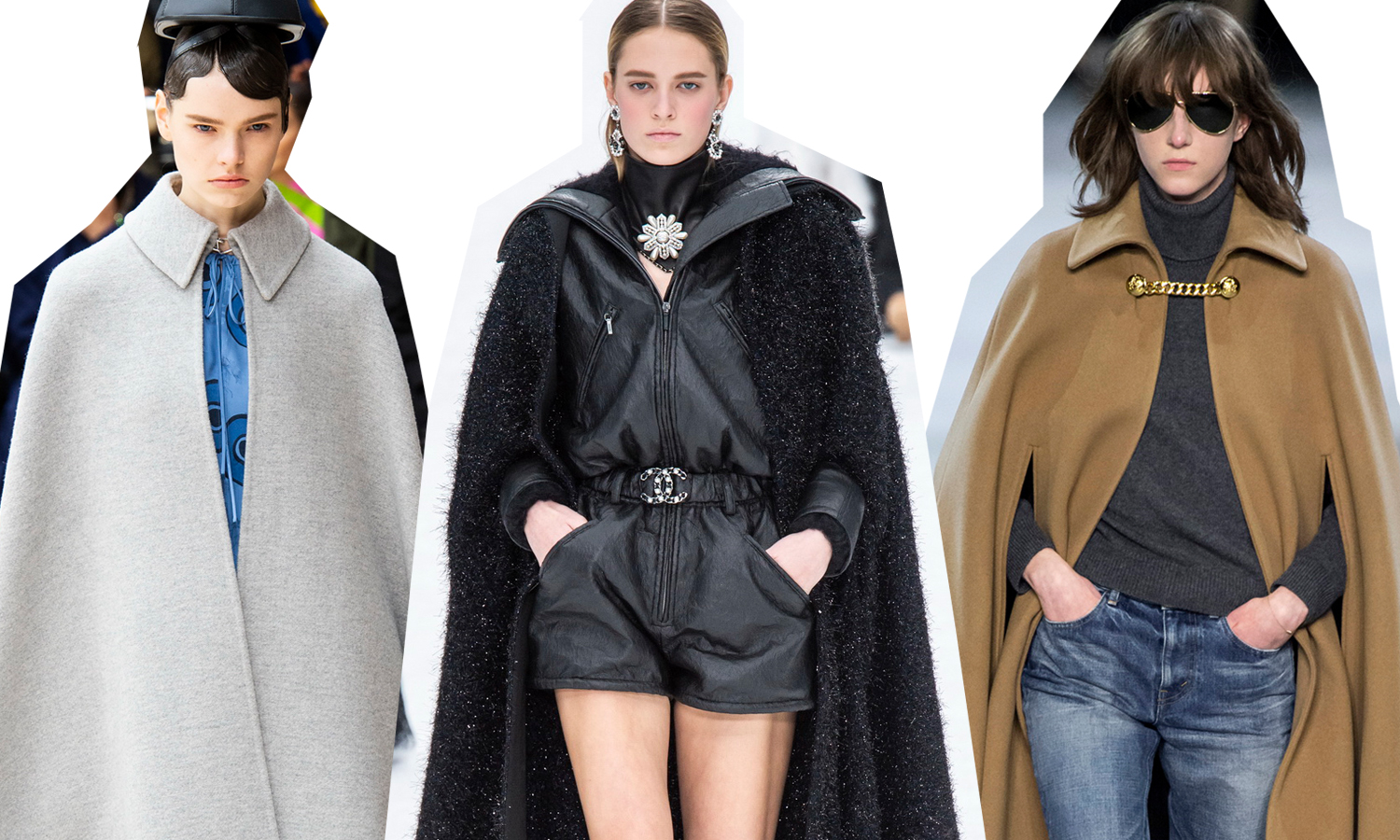 The classic cape made a very tasteful return
It's fair to say that capes have earned something of a bad reputation: get them wrong and you're in grave danger of looking like the prank victim who showed up to the party in a Halloween costume. Thankfully, some of the biggest designers were on hand this season to give them a supremely chic update -- most notably Hedi Slimane at Celine, whose sophomore collection more generally saw him present a newly mature, focussed vision for the house. One of the first looks out was a camel cape in thick wool, cut with perfect precision to ripple elegantly below the knee, while later in the show, a belted high-neck cape dress of gold jacquard leopard print was sure to get the pulses of Slimane acolytes racing.
At the more playful end of the spectrum, JW Anderson debuted a series of architectural capes in grey wool, styled with Magritte-esque suspended bowler hats for a touch of the surreal, while at Karl Lagerfeld's final collection for Chanel, capes were showed at their most full-blown and fantastical. A set inspired by a quaint mountaintop village served as the perfect backdrop for a show-stopping number in speckled black, floating across the artificial snow covering the floor of the Grand Palais. Once again, it was testament to Lagerfeld's extraordinary instincts that -- even at the grand old age of 85 -- his designs were still at the agenda-setting forefront of the fashion world.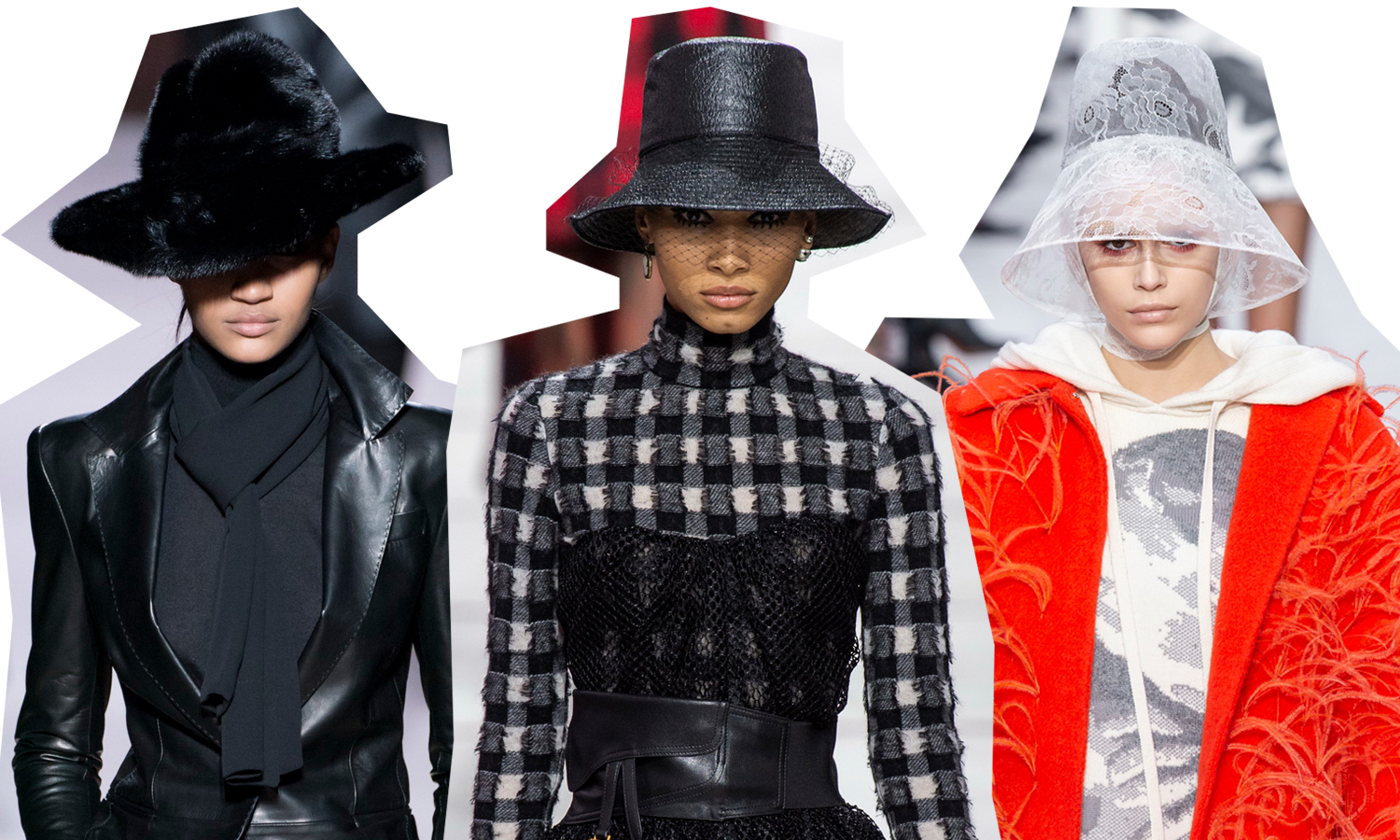 Bucket hats were given an unexpected luxury twist
Think of bucket hats, and you'd be forgiven for picturing a teenager in a sodden field, shuffling to the distant thump of techno during the twilight years of British rave. In 2019, however, it looks like bucket hats are set to make a more glamorous return. Props here to Prada for being one step ahead: their version crafted from the house's signature 'pocone' nylon has been flying off the shelves for a while now.

The first sighting this season of the ritzy new bucket hat was at the Tom Ford show in New York, with the first three looks coming out in riffs on the design covered in fluffy, pastel-hued faux fur. But the moment the humble headwear truly arrived was at Dior, where Maria Grazia Chiuri sent out all 89 looks in Stephen Jones-designed twists on the bucket hat. Black leather with birdcage netting, colourful plaids, leopard print; you name it, they had it.
The inspiration behind Chiuri's latest collection was the Teddy Girl movement, a generation of young women in 50s Britain whose elegant skirts and Edwardian-era suit jackets were a revolt against post-war austerity. As one of the earliest countercultural youth movements, the Teddies were in many ways the predecessors of the 90s ravers hunting down warehouses and squats to get their kicks on a weekend: whether the bucket hat could be part of the uniform of a new generation of rebels today remains to be seen.
This article originally appeared on i-D UK.
Tagged: