we ask four london designers about their favourite objects
Ahead of London Fashion Week Men's autumn/winter 18, Christopher Raeburn, Daniel W. Fletcher, Matthew Miller and Tourne De Transmission's Graeme Gaughan share an object of significance.
|
04 January 2018, 12:28pm
Photography Mads Perch
On the eve of the autumn/winter 18 men's show season, Dalston-based content creators Document Studios divert our attention away from the catwalk to focus on the inner workings of four London-based designers and four objects. "We were keen to share the story behind the story," Document Studios' David Hellqvist explains. "These designers present their collections, we like them and buy the garments six months later. End of story, right? But there's more to it than that. What inspires them, how do they work, what objects influence them, what's their design process like?" All questions that we'd like to ask during seasonal fashion week fanfare but designers just don't have the time to answer fully.
Christopher Raeburn
"This is a cowhide military mountain troop bag, with incredible leatherwork, and a mix of metal cotton blend on the internal fabric. They were made in Switzerland but also in Germany, fairly extensively through the 1930-50s … So they're a real piece of history. The troops jokingly called them hair monkeys, as they looked like a monkey on
your back."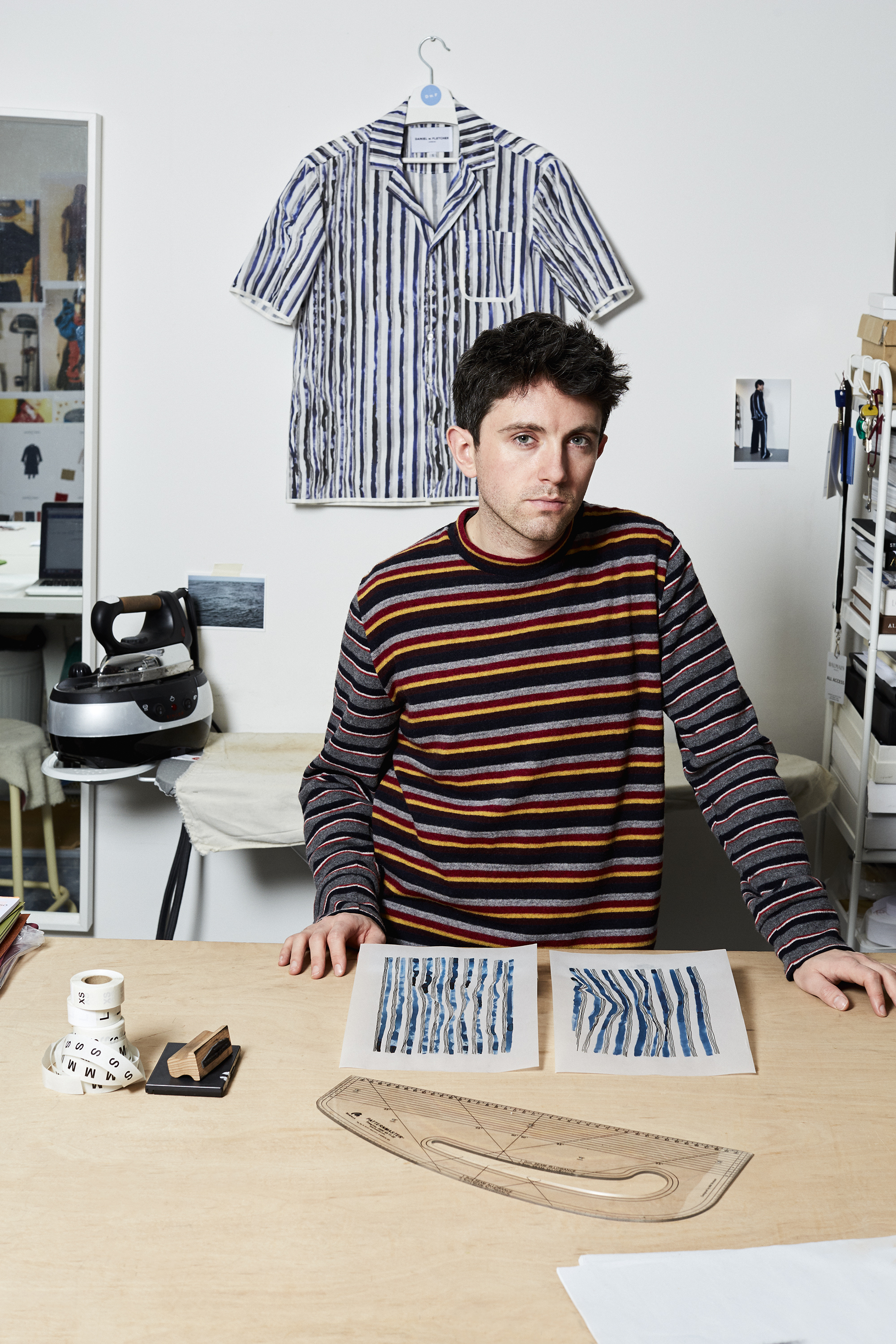 Daniel W. Fletcher
"These two drawings became the starting point for my spring/summer 18 season. In my very first collection, I had these striped pyjama shirts, and I drew all the stripes for those as well. They have become a signature of the brand, really. Why stripes? They are so traditional; everyone has seen or owned something stripy before. With mine, I liked that they weren't so rigid and precise. I use them all the time: it's the simplest form of print, but there are endless
possibilities. With this new print, it was like I'd taken the pyjama shirt from my first collection and just scrunched it up."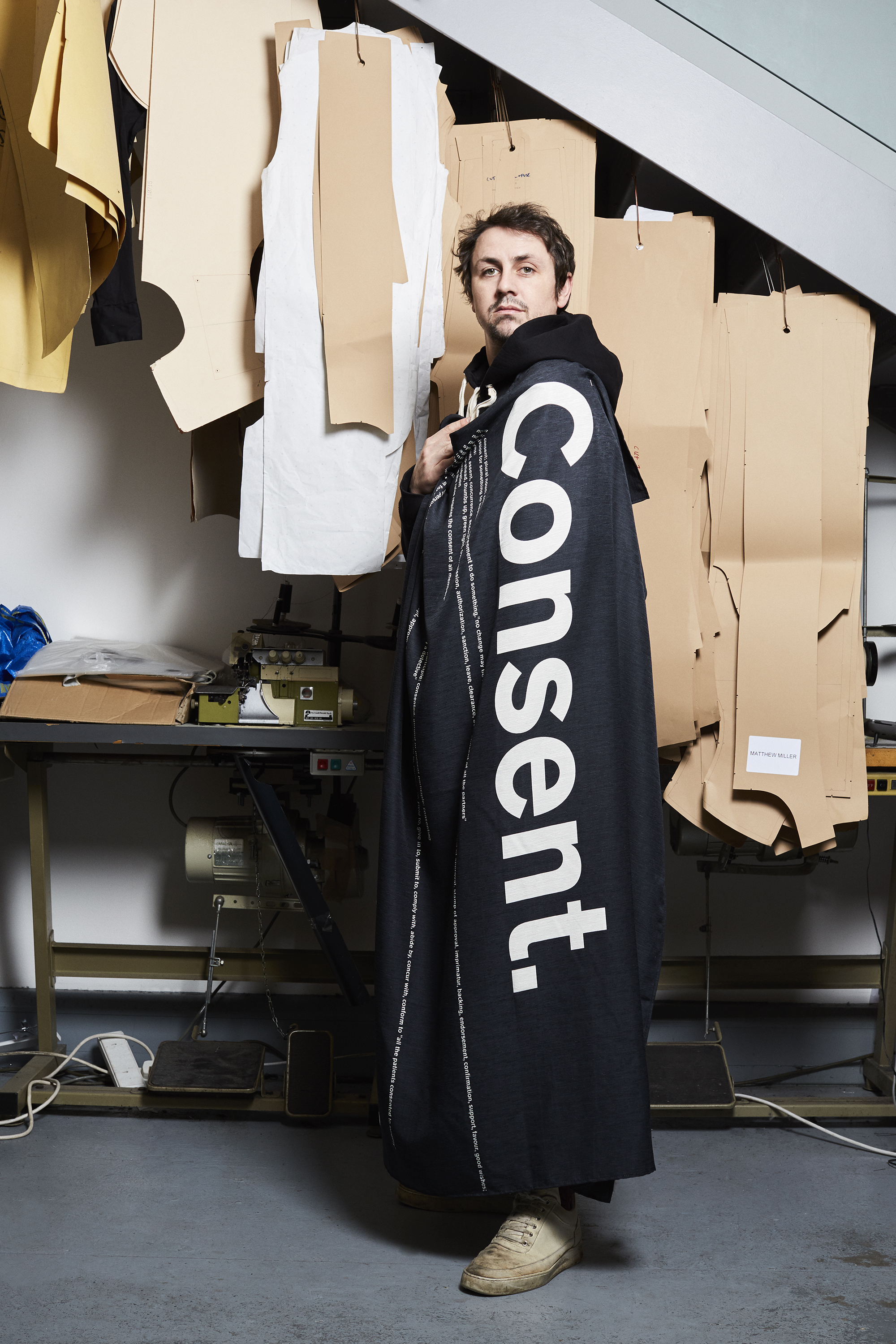 Matthew Miller
At the moment, I feel that the anarchy of last year and certain words that the press used over and over are really affecting people. I picked out those words I came across in my research and I printed them and their dictionary meaning on giant black flags. With this particular one, it's consent in regards to anyone who's forcing themselves on to your life. There's a plethora of the different things it can mean; I think it's quite nice that it means something different for everyone."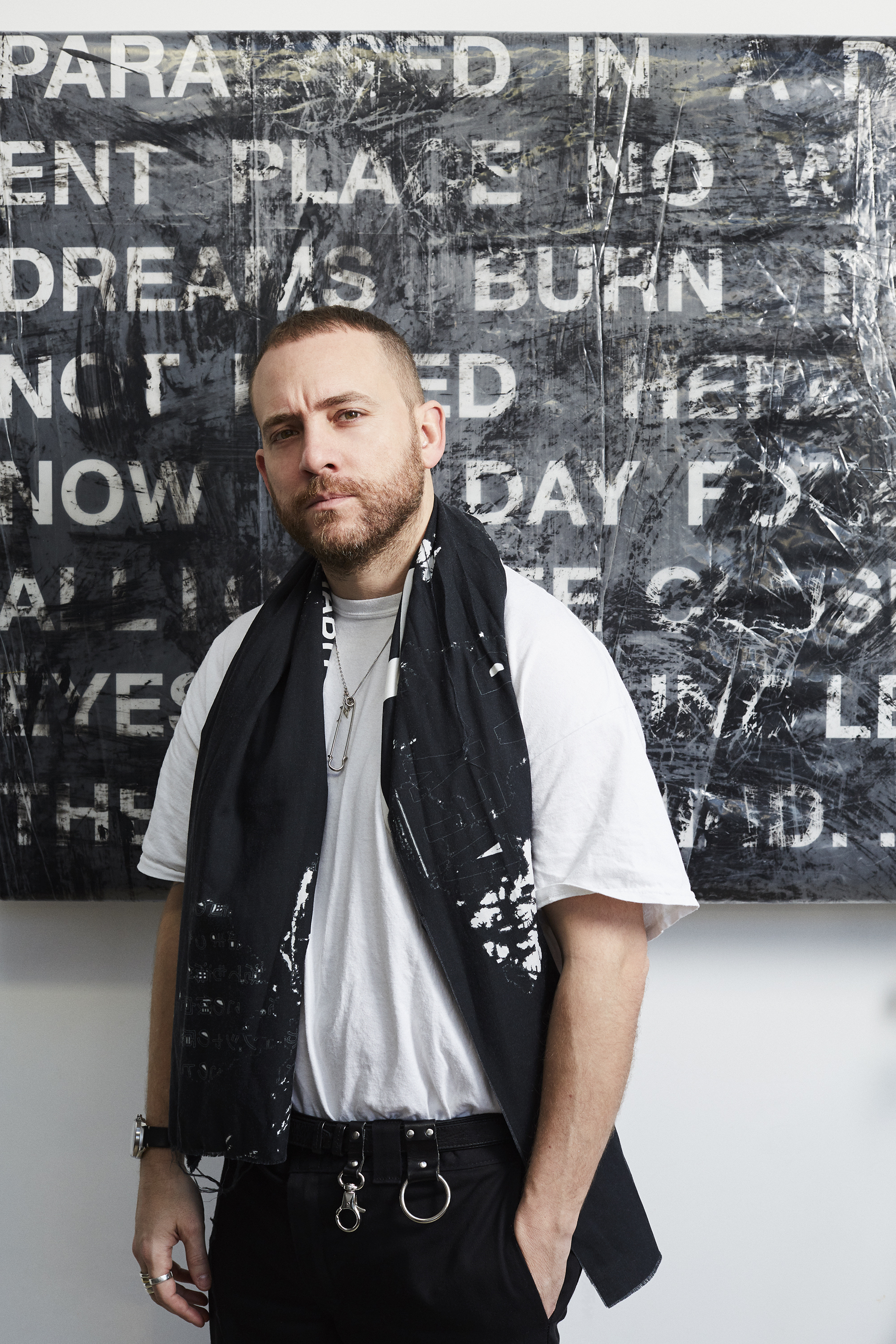 Graeme Gaughan
"This is a reclaimed collaborative piece between myself and artist Johnny Brophy. It combines graphics, large-format text with painted mixed-media elements of plastic and card. All layered and mounted on a canvas frame. I worked with Johnny on the LFWM presentation set last January, and he carried the collection narrative across into bigger-stage elements, with hand-painted large-scale plastic and PVC dustsheet-style drapes. I always try and incorporate the sets he creates into later projects within the season. With this, I wanted to create a piece that could be wall-mounted and kept as a memento of sorts. So we took the set apart in the studio… recut, re-aligned it and mounted it on to a frame. And then layered one element over the other until we were happy with the mise en page of the piece."
Object opens 4 January at Ace & Tate, 10 Earlham Street, Soho