how symonds pearmain became the most buzzed-about brand for fashion insiders
Anthony Symonds and Max Pearmain only launched their seditious new label two years ago.
|
13 November 2018, 8:00am
This article originally appeared in i-D's The Superstar Issue, no. 354, Winter 2018
Symonds Pearmain's autumn/winter 18 collection opened with Edie Campbell in a blue and red Breton striped top with an elegantly relaxed swooping shoulder, a white pencil skirt with a romantically kitschy rose in needlepoint embroidery, vertically striped red socks and gold shoes.
It closed with the boisterous and exuberant music of the can-can, Jacques Offenbach's overture from the Orphée aux Enfers. The music, a little earlier, a little anachronistically, had been a megamix of early NYC hip-hop, featuring The World's Famous Supreme Team and Malcolm McLaren's Buffalo Gals, tracks a world apart from, but just as boisterous and exuberant as Offenbach's overture.
On Edie's head as she walked out was a T-shirt wrapped up like a headscarf. Some words from the collection's press release were printed on it, just about visible. It was written by video artist Ed Atkins in a stream of impressionistic nonsense – "Imagine a cabal of ad execs dry-humping in the dark?" it read, "Ragging on one another to weft some meagre measure of I think rayon or ham" – that mimicked the impressionistic nonsense of the usual fashion show press release.
Those various stylistic references and aesthetic nods just about sum up the world designer Anthony Symonds and stylist Max Pearmain have created with their brand. Symonds Pearmain is fun, spirited, a little satirical maybe, in that it is against the empty banality of a lot of luxury fashion. It is as comfortable with referencing 80s NYC streetwear as it is with French Second Empire Romanticism. The collection was titled Matchy Un-Matchy, a reference to their magpie-ish sensibility to pick and chose and find inspiration in a thousand places – high and low, good and bad taste, the kitsch and the beautiful, the prim and the sexy – and build something that felt complete and honest out of those fragments. Most importantly, the show cemented them as creators of incredible fashion – fashion that feels a world apart from so many dominant and boring trends in the industry. It didn't look like anything else happening at that moment in London fashion, and it felt confident and assured in its difference.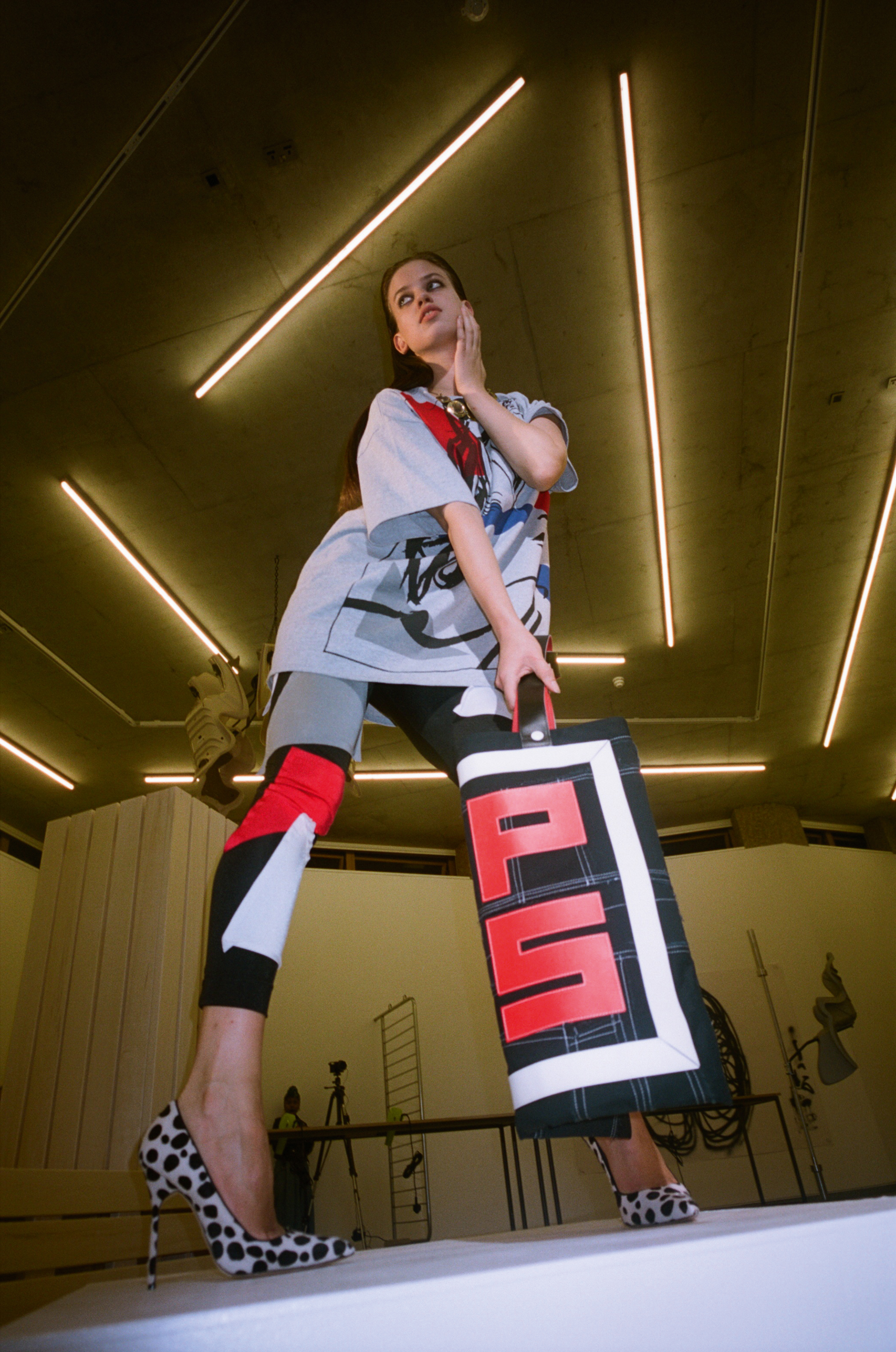 Max and Anthony met and started working together in 2016 after Max saw an item of clothing Anthony had designed, fell in love with it, and tracked him down. Both have been part of the fashion industry for a lot longer than that, though. Anthony had worked as a designer for John Galliano and Vivienne Westwood, before releasing editioned fashion items under his own name via Cabinet Gallery in London and Isabella Bortolozzi in Berlin. Max is a very talented stylist, who started his career on team i-D many moons ago and who works with Burberry and Chloé and just about every great photographer you can name.
They had already tentatively sketched out what Symonds Pearmain was, but that autumn/winter 18 show fleshed it out and made it come alive. The brand had begun by tiptoeing across a tightrope between the worlds of art and fashion; like Anthony had been, they were selling their clothes through Cabinet Gallery and Isabella Bortolozzi and in small editions and as quasi-couture one offs. They had staged two presentations off schedule during London Fashion Week, and held a catwalk show at Isabella Bortolozzi during Berlin Art Week. They had, at first, existed adjacent to the fashion system, people unsure exactly whether it was an 'art project' or actually a 'proper' fashion brand making clothes you could buy. "People always ask if it's art – and it's not, it's fashion," Anthony says.
We're sat in the penthouse at the top of Cabinet Gallery's building in Vauxhall. Max and Anthony are preparing to launch their spring/summer 19 collection. The clothes sit on a rail in the middle of the space, overlooking the Pleasure Gardens below. This season they are presenting their collection via a film they've made instead of hosting a full-on catwalk spectacular. Earlier in the day they launched their website and e-commerce platform to sell their autumn/winter 18 collection. It feels like a landmark in the development of the brand, an aesthetic coming-of-age for the duo, as well as more closely aligning themselves within the fashion landscape.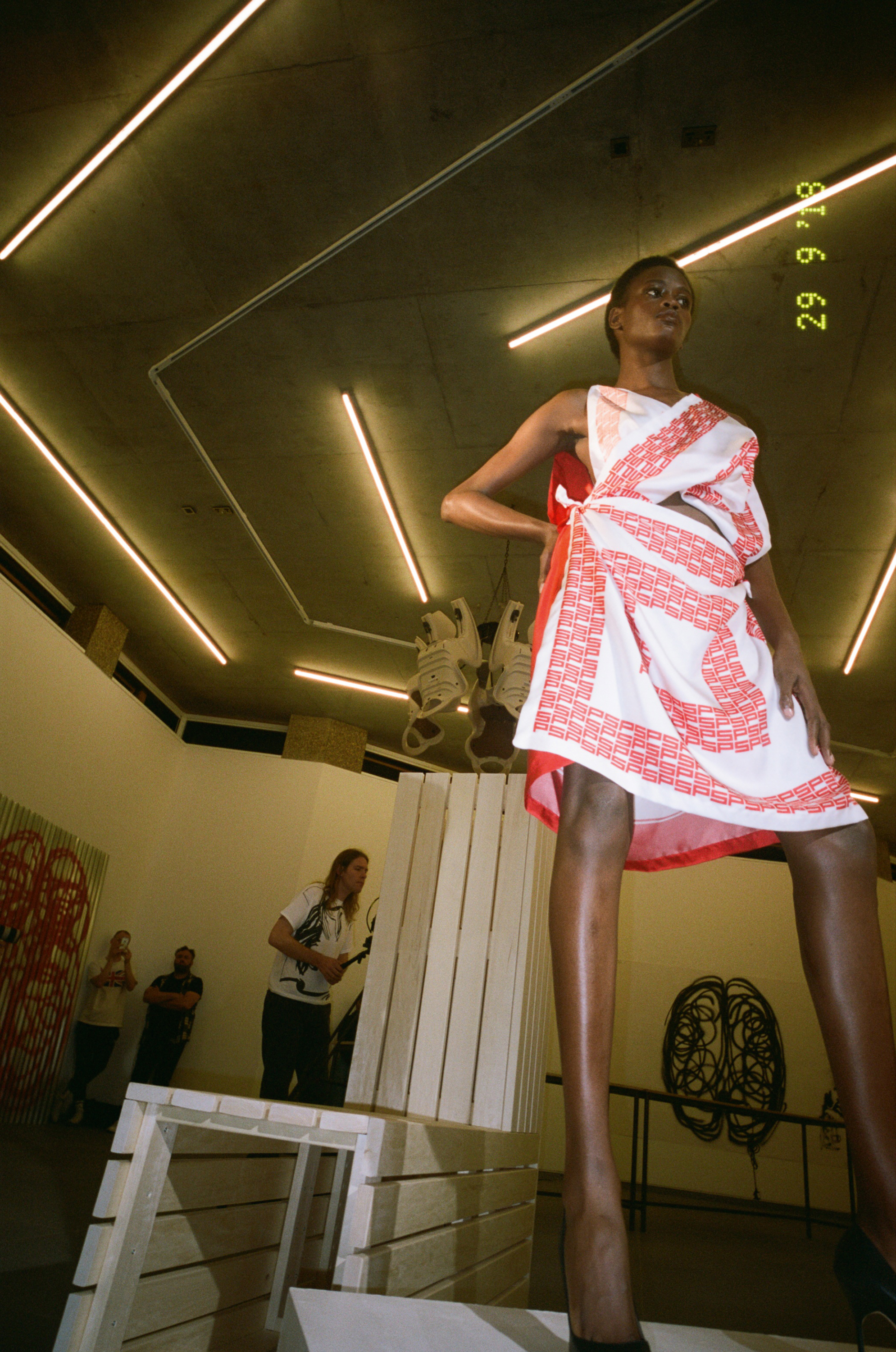 "It's interesting for us to engage in that problematic intersection between art and fashion because people really struggle with things that don't follow a very set and understood rhythm," Anthony says, and you get the sense that they've enjoyed confounding expectations of how fashion brands should operate, but that partly, the way they've operated has been forced on them by circumstance.
"Everything we've done and how we've done it, where and how we've shown, it's really been out of necessity," Max begins. "It was kind of the same with showing our autumn/winter 18 collection with Fashion East, with Lulu Kennedy being so kind as to invite us in. Ultimately we're still trying to make what we do work economically."
"It's very easy to be an outsider, and that will get you so far," Anthony continues. "But it's more interesting to be inside the system, to infiltrate it. It's much more seditious." It's partly for this reason they chose Edie to open the show. "She's of a status and a standing that we felt very pleased to have access to," Max explains. "Edie isn't a big model for nothing, she's got such skill. She carries clothes beautifully. When Edie wears a jacket it transforms. A basic-looking garment becomes something else entirely – a ripple of beauty surfaces from something quite ordinary."
"The beauty of fashion is that you can start again each time," Max continues. "I like the joy of failure in fashion. Fashion sells you this idea that you could be something else, but really you're still you. But equally fashion encourages something in you – that relationship between your body and the garment you wear and who you want to be."
They are quick to emphasize that Symonds Pearmain is not about critiquing the structures of fashion, but finding new spaces of expression within them. They seek a little more intellectual rigidity. Something more permanent, personal and inventive in an endlessly scrolling, repetitious world. Everything is made and manufactured in the UK, for example. They utilize generic materials so that the cut and shape and silhouette become everything. To see the garments laid flat, photographed for their ecommerce site, they look like abstractions of clothing, cubist reinterpretations of garments.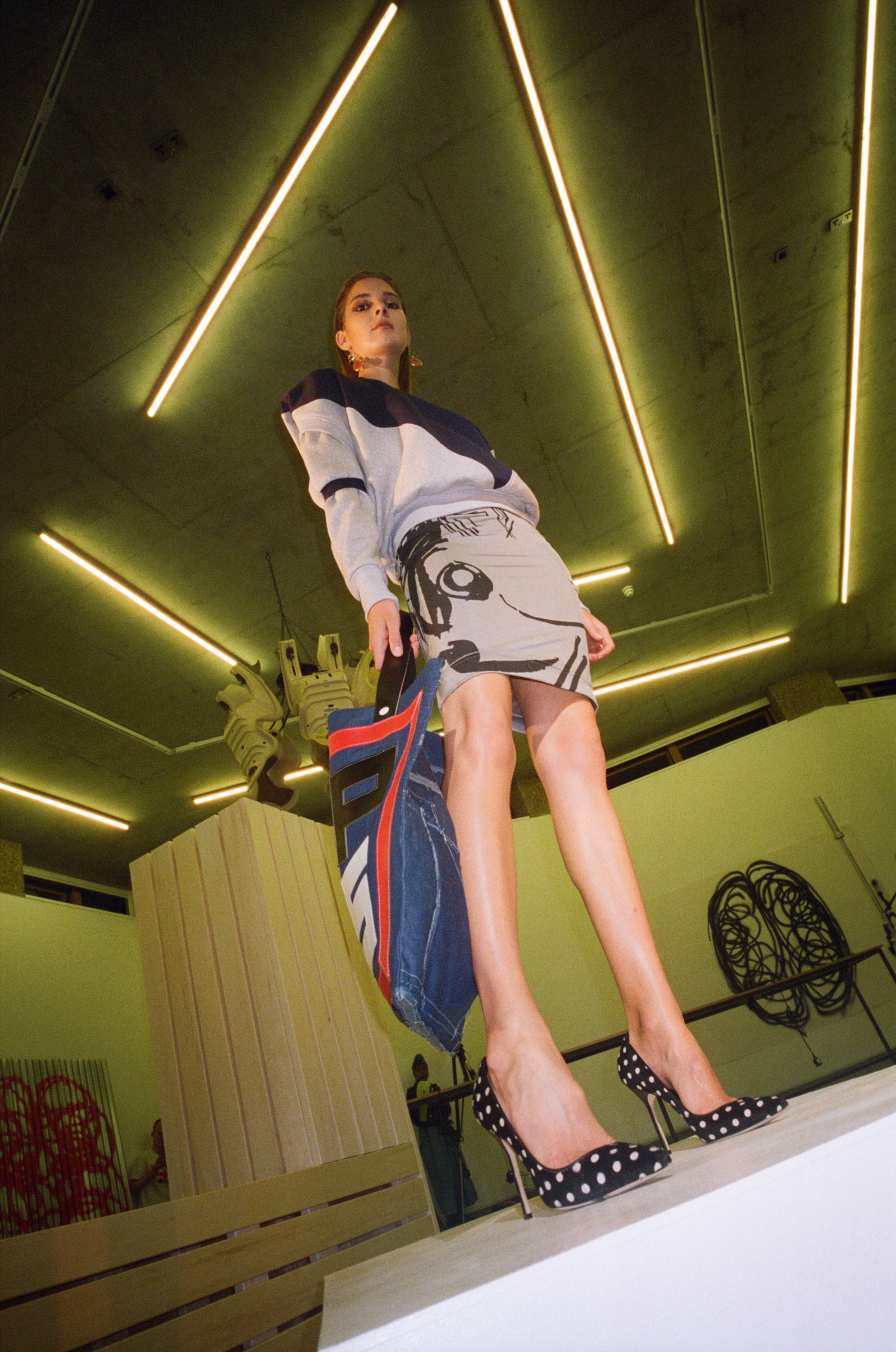 The clothes are made predominantly out of denim, silk twill, cotton twill, and cotton jersey. Mainly they come in primary colors. It's partly out of necessity, partly because it's all Anthony needs. "When you get into using those expensive fabrics you have to really ask yourself why?" he says. They talk about clothing and fashion in a romantically pessimistic way. Demanding more of it because they love it. They have no desire to make another boring sweater covered with a boring print, with no love or thought put into it. "I think it's really important to reimagine the simple building blocks of fashion," Anthony says. "There's an awful lot of fashion at the moment that is simply about putting things on top of other things. It's very two dimensional."
By now we are looking over their new collection. Max's fashion week schedule prevented them hosting a public runway event for spring/summer 18. Instead they did one at Cabinet and filmed it and photographed it; the models walking through the Keith Farquhar exhibition in the gallery, the artist's paintings and sculptures providing the audience. Edie walked again, alongside their other long-term muse, Lily McMenamy.
The collection is titled Sincere Casual , a reference to Prada's spring/summer 00 Sincere Chic show. A Prada show that made the stereotypes of middle-aged bourgeois taste into something exciting and modern, sexy and youthful. For Symonds Pearmain, replacing 'chic' with 'casual' refers to the moment fashion finds itself now; the monotonousness of bourgeois casual wear, all those boring 'luxury streetwear' sweaters.
"We thought we'd use the catwalk to propose casual wear as high fashion, because that is what we're selling," Anthony says. "There's this formal idea about casual wear, in terms of the fabrics and the utility of it, but we're reaching for a much higher aspiration in terms of cut and product. Usually brands use the catwalk to sell you casual wear and make you think you're buying high fashion. We want to do the opposite. Casual wear can be high fashion! It's all about the cut of the clothes. We asked ourselves what we can do with the physical language or form of casual wear to make it interesting, to take it to the next level. We want to make a cargo pant elegant." And, yes they're sincere about it.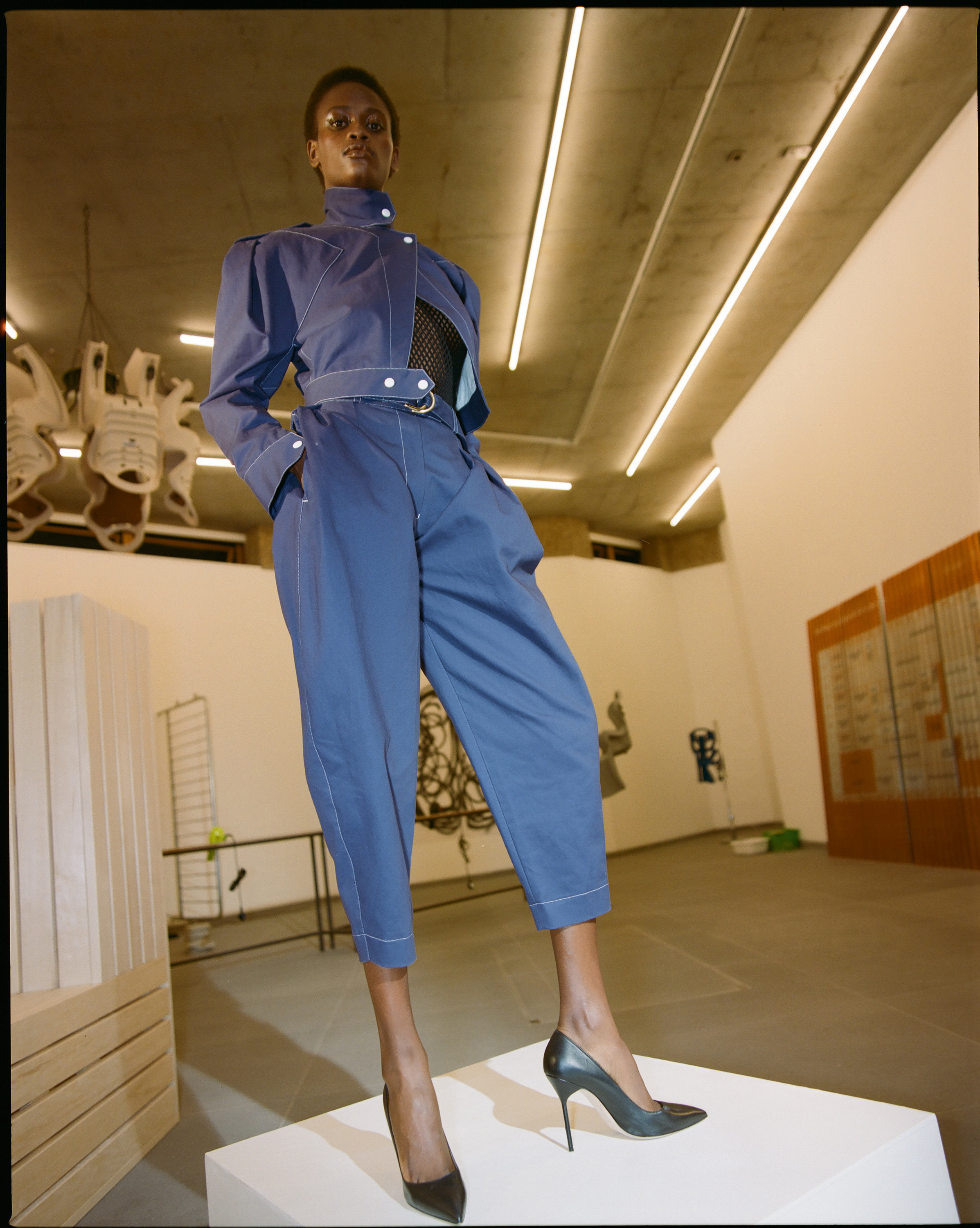 Credits
---
Hair Neil Moodie at Bryant Artists. Make Up Lauren Parsons at Art Partner. Models Lily McMenamy at Next. Christine Willis at Storm. Georgiana Zloteanu at Elite. Special thanks to Martin McGowan and Charles Asprey. Models wear all clothing Symonds Pearmain spring/summer 19. Shoes Manolo Blahnik. Images Courtesy of Symonds Pearmain and Cabinet Gallery
This article originally appeared on i-D UK.