stitch, bitch! magazine aims to make fashion better and fairer for young people
From unpaid work placements to abused models, the debut issue of this self-financed publication focuses on fashion industry exploitation.
Ilustrations by Bailien

Instead of just moaning about the problems facing young fashion creatives, a talented collective of up-and-coming London-based writers, illustrators and graphic designers have joined forces to devise, produce, self-finance and unleash Stitch, Bitch!, a print-based magazine on a quest to make a positive change.
Combining carefully researched historical references with contemporary themes, the debut issue focuses on fashion industry exploitation. This is explored through a range of hard-hitting undercover investigative features, satirical exposes, finely-honed gossip and piss-taking, as well as witty cartoons -- unpaid fashion work placements and teenage fashion models living in unsafe squalor, among other subjects, are all scrutinised under the Stitch, Bitch! microscope. There's even a handy Charter for Interns, which suggests practical ways to make work placements fairer and mutually beneficial. i-D caught up with the Stitch, Bitch! team to find out more...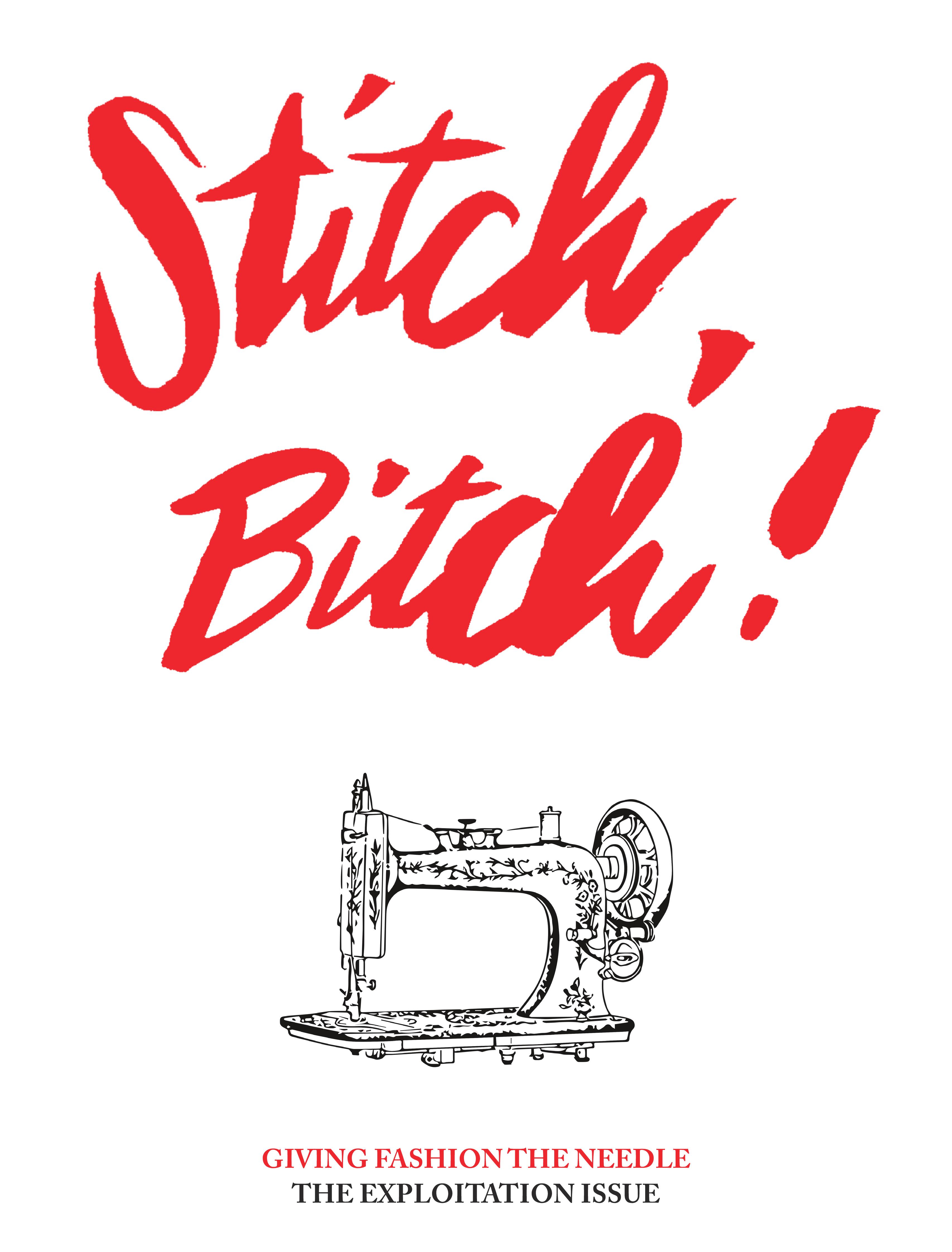 What initially prompted the team to launch Stitch, Bitch!?
Stitch, Bitch! was born when a group of us making disparate zines and newspapers brought our stories together, realising they shared the common theme of exploitation -- namely, in the form of unpaid, exploitative internships.
Tell us more about the core theme of the debut issue...
Exploitation comes in all shapes and sizes in the fashion industry, unlike its models! But we've homed in on unpaid internships for the first issue f because it's so important, but secondly, because it seems to be on public conscience at the minute. In order to make change, we wanted to strike while the iron's hot.

The publication has a very specific look and feel, through its use of newsprint and illustrations...
We were inspired by Punch magazine's December 1843 issue. It published Thomas Hood's poem The Song of the Shirt, about the rag trade's mistreatment of garment workers. You'll see illustrations from Punch dotted throughout the magazine -- many of them frighteningly relevant to now. It was a triumph of investigative fashion journalism, and a
torch we were eager to carry forward.
MThere's a strong feeling of satire and spoofing -- why is it so important to you to use humour?
The fashion industry is a goldmine for satire; it can be so insular and ridiculous, which sometimes takes an outsider to point out. That said, we wanted it to be funny without being facetious -- these are serious issues we're covering. Something like Punch really struck the right balance between humour and investigative reportage. Hopefully we've done that too.
What do you feel are the most vexing and pressing issues facing today's generation of young fashion writers and communicators -- particularly those not from a wealthy background?
Being unable to live in London, unpaid, while being expected to work the hours of a full-time, paid employee.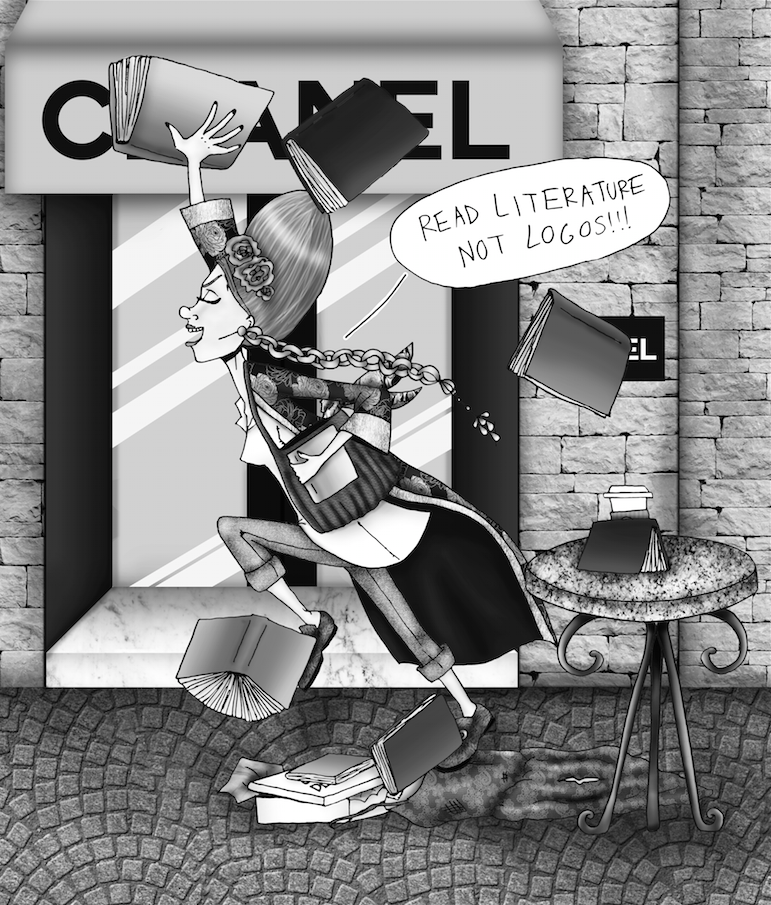 What would you say to those who believe unpaid internships are a 'necessary evil' on the ladder to success?
In an ideal world, it'd be mutually beneficial: a paid apprenticeship or training scheme. As we've said in our charter, it must be a two-way interaction. But that's just not the case with most internships. So what happens to a large portion of young talent who can't afford to work for free? It's the industry that's missing out, really. It's going to become more insular; less diverse.
Younger designers are perhaps not yet in a position where they can adequately pay interns. What could they do, from their end, to make the situation fairer to those who are providing their time and energy often for little or no money?
We understand that many young designers can't pay their interns. What we're trying to address is the culture that dictates that in order to get a foot in the door, you must work for months -- even years -- unpaid. For those designers who can't pay, interns should be taught and mentored in exchange for their work. Expenses -- food and travel -- should be paid, especially when working late into the night, as is common practice. The individuals we've targeted are either financially lucrative businesses, capable of paying, or those who exploit their interns through ill treatment. It's a cycle that needs to be broken.
How can someone undertaking a work placement within a fashion design company or fashion publication ensure they get the best from this experience?
Squeeze as much out of it as possible -- ask questions, take everything as a learning opportunity. Be aware of your rights and call out anything you think is unfair.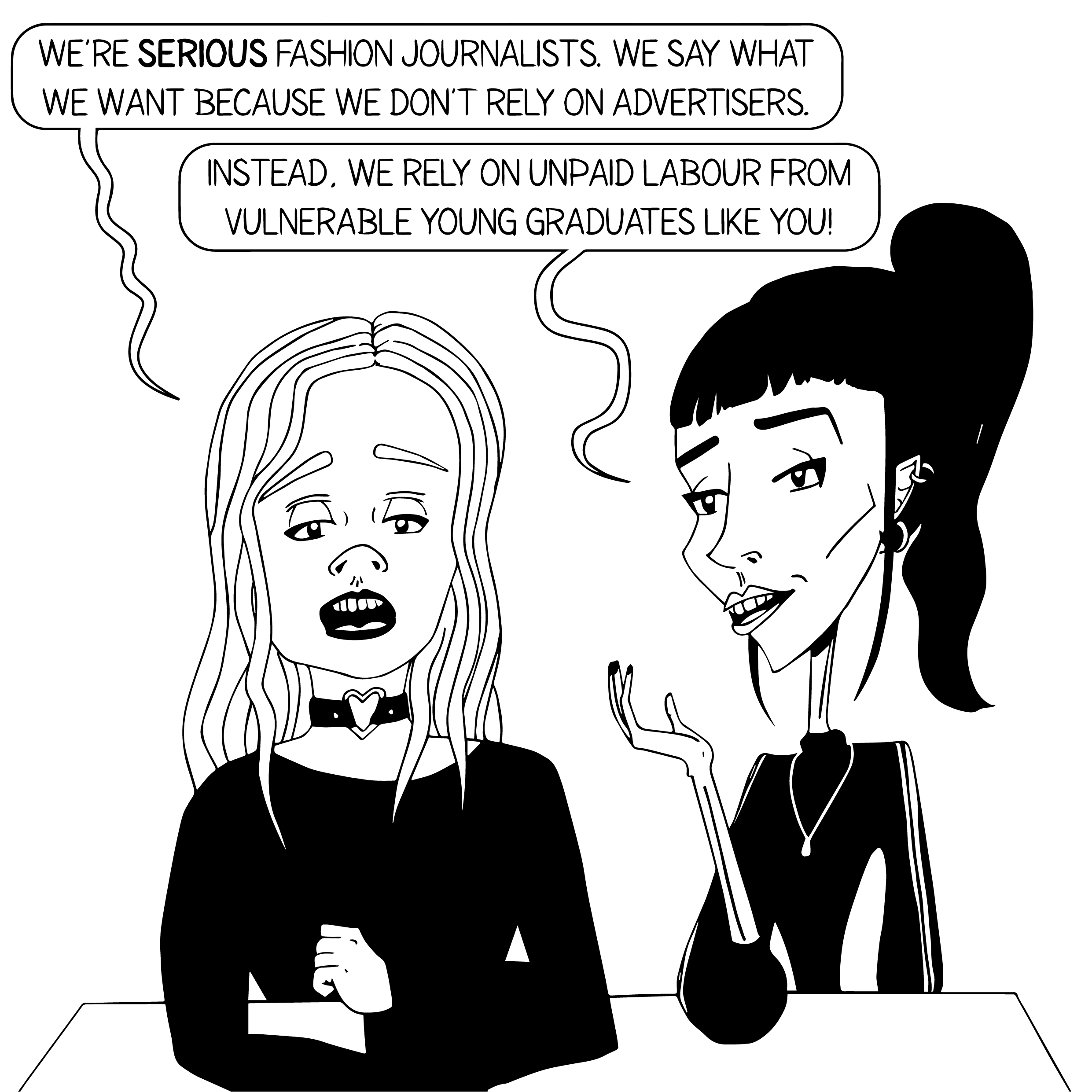 What's the most hideous work placement scenario you have heard of?
All of them are a bit grim: 18-hour unpaid work days, verbal and emotional abuse, just your run of the mill fashion stuff. Not a work placement per se, but the model apartments are horrendous. Lulu (the name has been changed) talks about the cramped, dilapidated apartments promoters use to house vulnerable young women, exploiting their ambition.
What can we expect from the next issue of Stitch, Bitch!?
A digital platform to make the publication more accessible. More investigation, more fashion, more satire and more scintillating gossip. Stay tuned.
For further info, or to contribute to Stitch, Bitch!, contact givingfashiontheneedle@gmail.com
This article originally appeared on i-D UK.