munroe bergdorf opens up about facial feminization
Ahead of the launch of her new Channel 4 special 'What Makes a Woman?' the trans activist reflects on the politics of facial feminization and the controversy surrounding her recent appearance on Channel 4's 'Genderquake: The Debate.'
"What Makes a Woman?" It's the question at the center of trans activist and model Munroe Bergdorf's new hour-long special airing on Channel 4 this week as part of its "Genderquake" season. In it, we follow Monroe through the grueling process of undergoing facial feminization surgery in Belgium, strutting down a genderqueer catwalk for Gypsy Sport at New York Fashion Week, and then back to the UK to investigate why some people hold so much prejudice against trans people.

For those who know Munroe through her other TV appearances, her tireless activism or her ever-growing Instagram account, the show has got her personality and humor written all over it. Not least because of the level of control she requested, asking to approve the narration (her voice, of course) and pick the songs (there's lots of ANOHNI).
"I was quite adamant I wanted to get it right," she admits over the phone a couple of days before What Makes a Woman? airs. "There's an organization called All About Trans and they basically look at how trans people are represented in the media. They found that 78% of people that are trans think the public are misinformed about them through the media and press. So there's a huge need for accurate programing about our lived experience."
For Munroe, the show was a chance to "educate the public about what trans people really go through," but the road to landing it has been a convoluted one. Last year, she experienced several big, public scandals. She was signed to be the first trans face of L'Oreal, but the brand quickly dropped her over a Facebook status about structural racism that the they deemed offensive. Then, when she was asked to be on a Labour Party LGBT advisory panel, some old and somewhat homophobic Tweets she had posted surfaced, causing her to stand down.
With all of this going on, Munroe received unprecedented amounts of transphobic and racist abuse online, but also earned a growing fanbase under the hashtag #ImWithMunroe, consisting mostly of LGBT and QTPOC people who see her work around trans visibility as vitally important. With all the attention also came an email; it was from a surgeon in Belgium who specializes in facial feminization surgery, a type of cosmetic surgery that reduces typically male features and emphasizes those that are typically female.
Munroe says she had wanted the surgery for seven years. "He's one of the best surgeons in Europe, he was really interested in what I was doing and it felt like a really good match," she explains of why the timing was finally right. "I threw it out there to my management that I was going to get the surgery and that I wanted to do a show about it. I thought it was important to highlight the effects of gender dysphoria and Channel 4 was super behind me."
The show holds nothing back. We see Munroe actually undergoing the surgery, which she had in February of this year, as well as the recovery. For her, it was firmly a personal decision. "I did it for myself, not anyone else. It's what I needed to do to make myself feel more harmonious with my body and my mind. The way I was looking at myself, I could only see male features and I guess there's a whole lot of personal trauma that I've attached to that, but how I view myself is not going to be how I view other trans people who haven't had facial feminization."
The surgery is expensive, usually costing upwards of £6,000 (around $8,000 USD), and therefore not accessible to everyone. It can also reinforce beauty ideals that some people might not want to conform to. Munroe acknowledges this, and maintains that she doesn't see a "successful transition" as a surgical one. "I don't want people to think that I'm equating being a woman to having surgery to look more like an idea of what a woman should be," she explains, adding that it was for these reasons she chose not to make the surgery the emphasis of the show, just a point of departure.
For the rest of the hour, she asks various people that million dollar question: What Makes A Woman?, including someone called Venice Allan, a radical feminist who has anti-trans views. "For that part I took some convincing," Munroe says wryly, "but I think it's important that we don't just speak within our own spaces. I wanted to at least try to have a discussion with Venice, to see if I could see where she was coming from, but she wouldn't even refer to me as my preferred pronouns. She said she would to my face but not on the internet, which is rude. If there's not even a base level of respect, you can't go anywhere from there."
The scene with Venice feels familiar, given that last week Munroe took part in a controversial live show on Channel 4 called Genderquake: The Debate, featuring feminist writer Germaine Greer and writer Sarah Ditum (who have both been slammed for making transphobic comments). The topics up for discussion in the debate reflected those currently flooding the UK press, like: are trans rights compatible with feminism? Are kids transitioning too young? And should people be able to self-determine their gender?
It made for difficult viewing. Panelists argued over one another, and audience members shouted transphobic abuse at Munroe, such as, "You have a penis" (at which point co-panelist Ash Sarkar stepped in). Headlines called the debate a failure, OffCom received over 200 complaints about the program, and it was reported that several LGBTQ people who had been asked to take part in the show had decided to boycott it, arguing that people's right to identify as their desired gender shouldn't be up for debate to begin with. Throughout the chaos, you had to wonder… Why did Munroe agree to be involved?
"I was annoyed at that email chain [boycotting the show] because it was the strongest voices in our community essentially not wanting to provide key, nuanced representation on a mainstream platform," she explains. "Saying 'disengage' isn't going to stop it from happening. There were certain people who were meant to be involved that did pull out and fair enough if you're not strong enough to be involved and take that pressure, but if you can, then you should."
As for the heckling, perhaps surprisingly, Munroe thinks it's a good thing that it played out on such a huge platform. "I think it was reflective of what's going on in society in terms of the abuse," she muses. "I think it shows people where transphobia is coming from, and a big portion of it is coming from middle-class, middle-aged cisgender women taking to the internet, talking to the right wing press and trying to stand in the way of trans people progressing in terms of the spaces we are allowed into. I think it's very concerning."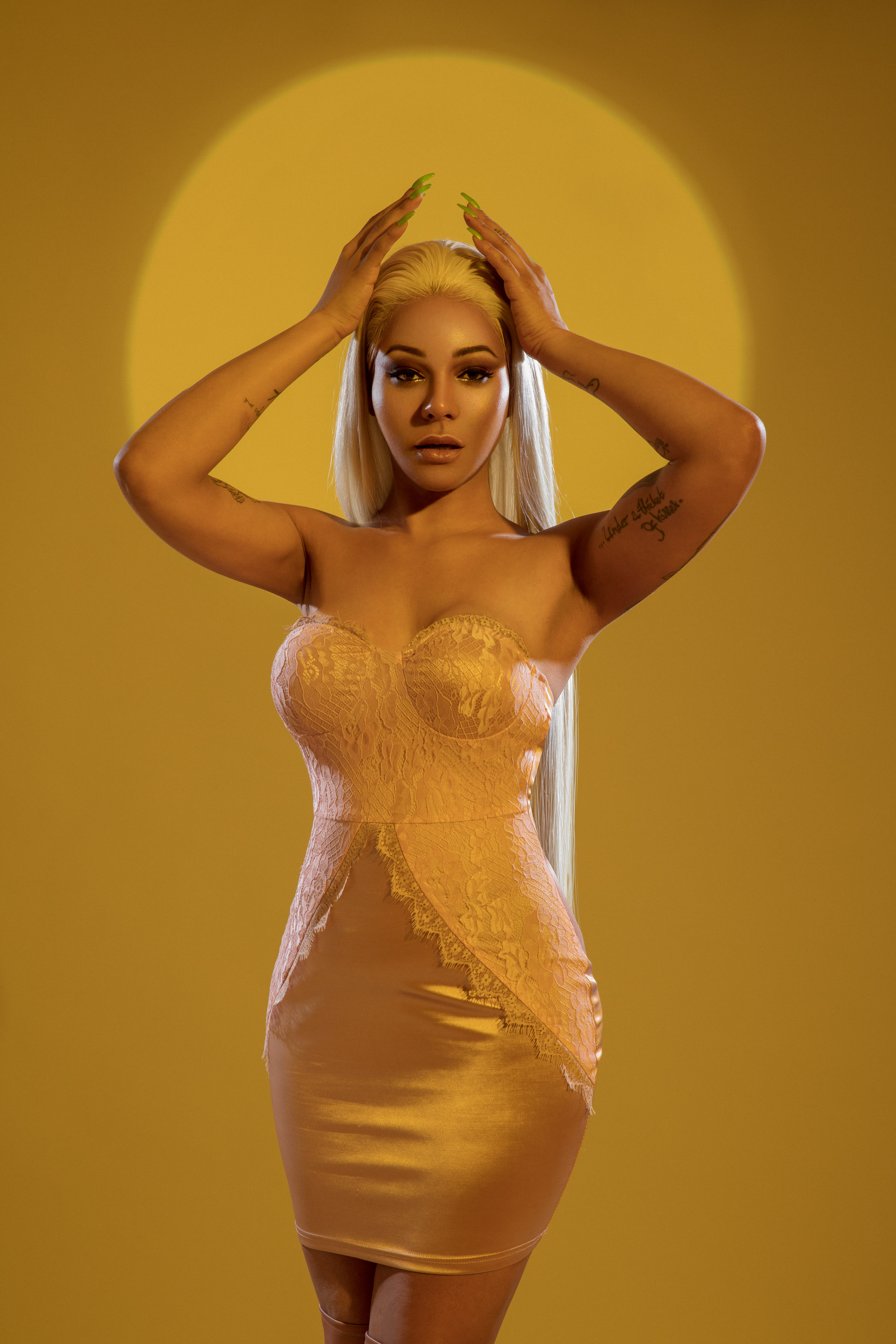 Also concerning was the criticism she received for posting a picture on Instagram of herself with Caitlyn Jenner, who was also on the debate, only this time it came from the LGBTQ community. At this point, Munroe sounds truly disappointed. "The problem with the 'woke community' is I feel like we can be quite unforgiving," she says, referring to anger over uninformed comments Jenner has made about the trans community in the past.
"If we're realistic, Caitlyn came out when she was around 65 years old, is of the older generation, and been exposed to a certain kind of life that is quite at odds with her identity now," she continues. "If someone comes from a place of misunderstanding or holds bigoted views or internalized hate but now shows that they're doing better, which she is, then shouldn't we give them a chance?"
Ultimately, Munroe hopes that What Makes a Woman? will influence both people who have never met a trans person and members of the LGBT community when it airs on Wednesday night, as well as comforting trans people who "might be living alone on a farm in the middle of nowhere."
When it comes to speaking to people who throw her outside of her comfort zone, she'll take the challenge, she says, because that's how she believes change happens. "Me and Caitlyn coming together as two very different women, it shows a united front against that bigotry and hate," she concludes. "I think about it like how Michelle Obama doesn't always want to talk to Donald Trump, but if it's necessary to find a solution to a problem then she will."
Is she comparing herself to Michelle Obama though? "Naturally," she laughs. "Aim high."
What Makes a Woman? Airs on Channel 4 on Wednesday 16th May at 10pm. If you miss it, you can watch it once it's aired on 4Catch Up
Credits
---
Photography Luke Nugent
Hair Edmund Bossman
Makeup Gavin Pickle
This article originally appeared on i-D UK.