this brand wants to take watches into the 21st century
By being affordable, sustainable, customisable, and unisex, Baume hope to appeal to the next generation of conscious consumer.
Image courtesy of Baume.
The Swiss conglomerate Richemont -- with flagship brands including Cartier, Montblanc and Van Cleef & Arpels -- has long dominated the luxury watch market by using the most precious materials and precise engineering that money can buy. And we're talking serious money here: a quick glance at Van Cleef & Arpels' website shows watches retailing for up to £500k, while Cartier's Secret Phoenix watch, slathered in pear-shaped diamonds, sells for over £2 million.
Most of the watch houses in Richemont's stable date back to the 19th century, so launching an entirely new brand required serious consideration. Their new venture, Baume, is in many ways a response to a new generation of watch buyers who are looking for more than just unrestrained luxury. While it might have been risky for this centuries-old business to take such a boldly different approach, Baume certainly ticks all of the boxes.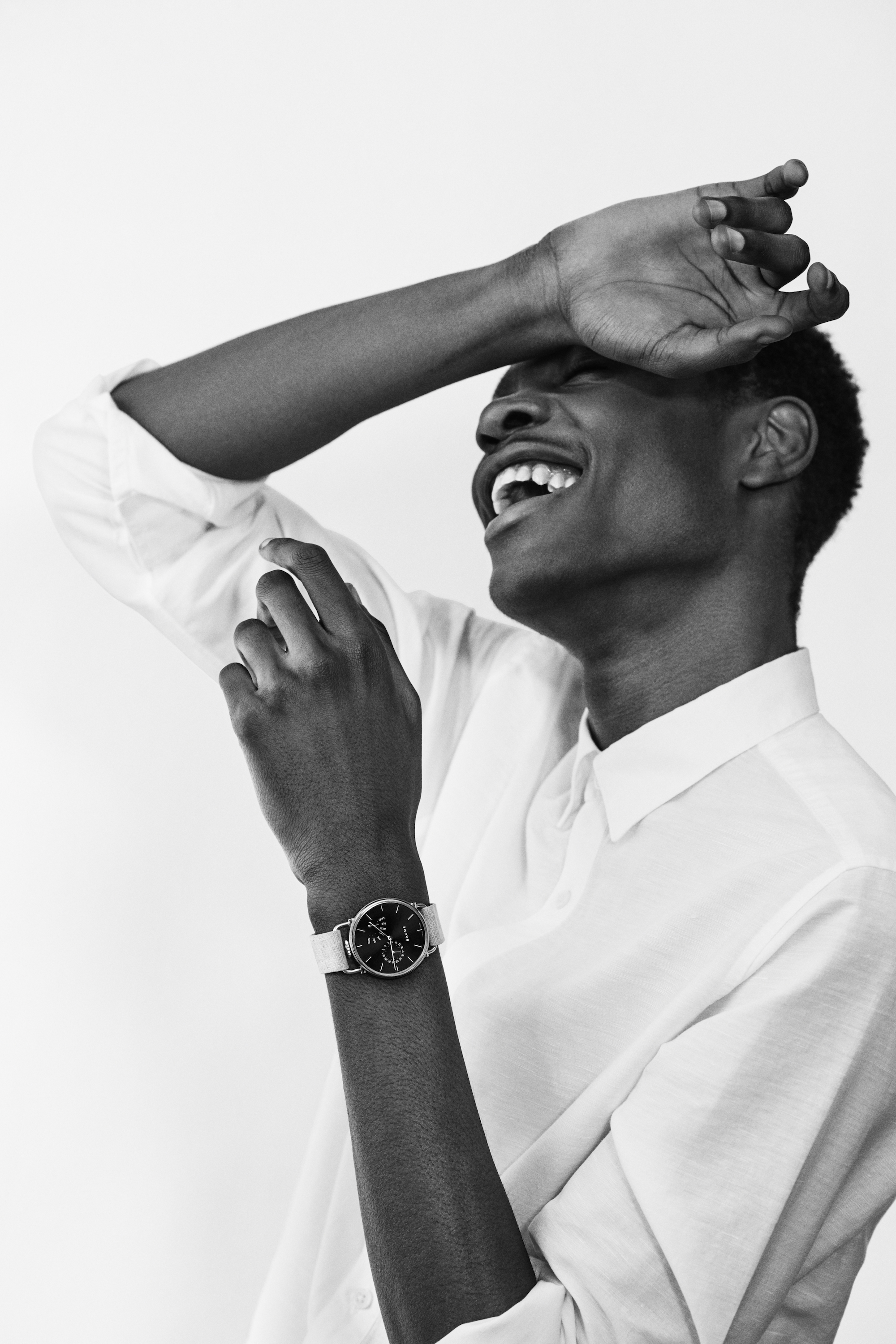 As many luxury watch brands struggle to find room in the millennial marketplace -- edged out for their eye-watering prices and the smartphone revolution that have taken over our daily lives -- Baume's appeal lies in its lower price point (they retail from £450 upwards) and environmentally friendly credentials. "Watches are no longer a necessity now that we're constantly plugged in to our phones and computers," explains brand leader Marie Chassot. "If we're going to continue making them, we have to rethink -- we can't keep contributing to the production of unnecessary materials."
So, the watch frames are constructed from aluminium (it's easier to recycle than steel), and the interchangeable straps are fabricated from sustainable materials such as cork, linen, cotton and recycled plastic. "From the beginning we wanted to make sure no animal-based or precious materials were used, and that unused components can be recycled," adds Chassot.
Their commitment to sustainability is impressively thorough. The watches are manufactured in the Netherlands to reduce needless transportation from manufacturer to shipment, and rather than the extravagant boxes you might usually expect from a luxury watch (and are inevitably destined to sit collecting dust in your cupboard as you feel too guilty to throw it away), purchases from Baume arrive in recycled FSC-certified paper -- even made in a hexagonal shape that allows for efficient stacking, ensuring not an inch of space is wasted during transportation.

In terms of appearance, the watches are sleek and quietly showcase to the expertise of the design team, who have previously worked across Richemont on some of the world's most high-end timepieces. Inspired by a traditional pocket watch, the crown sits at 12 o'clock (as opposed to 3 o'clock like most modern watches), and there is little that visibly marks the watch out as eco-friendly. It's good for those who prefer to wear their sustainable fashion quietly: you want to do your bit for the environment, but would prefer to wear something other than hemp and tie-dye. As pioneers of high-end eco fashion like Stella McCartney and Edun realised years ago, there's no point producing clothing ethically if nobody's going to buy it -- contemporary design has to be just as much of a priority in order for the product to succeed.
In addition to this eco-friendly and ethical mindset, Baume have tapped into the allure of customisation for tomorrow's luxury consumer. Using an online configurator, there are over 2000 different permutations to be made and bespoke engraving opportunities on the back of the watch. Be warned: it's weirdly addictive. Again, the price points are targeted for a younger consumer, ranging from £450 to £850 depending on the size and materials selected -- not exactly loose change, but for the quality and low environmental impact, it's justified. As more and more designers move towards ethical production, Baume's intelligently designed products hint at new definition of luxury.

Tagged: