belfast pro-choice activists take 'abortion pills' in front of police at handmaid's tale-style protest
Currently, having an abortion in Northern Ireland is punishable with up to 14 years in prison.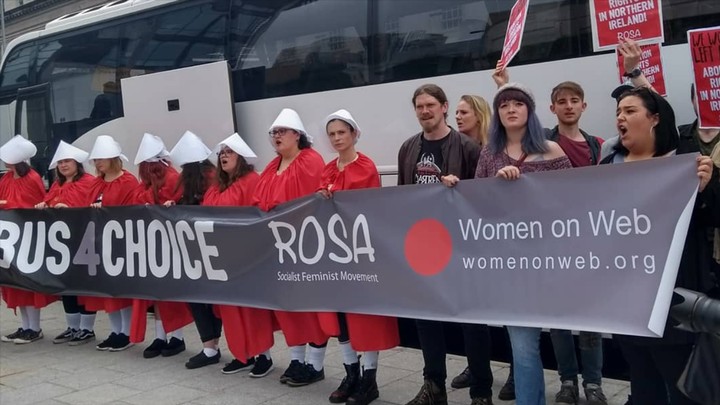 Via ROSA NI.
While Saturday's referendum saw a landslide victory for abortion rights, as the 8th Amendment was repealed in the Republic of Ireland, it also shone a light on the plight of women in Northern Ireland, who still cannot access safe abortions.
Currently, Northern Ireland is the only place in the UK and Ireland where abortion is still illegal. The 1967 Abortion Act was never extended to the province, meaning women are forced to travel to England for the medical procedure, and if they choose instead to access abortion pills online, they face up to 14 years in prison. Now, activists are using the media attention on Ireland's 8th Amendment referendum to try to exert pressure on Stormont and Parliament, to change laws in Northern Ireland too.
Yesterday, a group of protesters gathered outside Belfast's Laganside Courts dressed in The Handmaid's Tale costumes. At the demonstration, some of the women took tablets labelled 'abortion pills', which they were later forced to hand over to police.
The PSNI also attempted to remove one of the women who had been taking the pills from the scene, leading to a stand-off between activists and the police, before they abandoned the attempt. A mini-robot distributing the pills, remotely controlled from the Netherlands, was also surrendered to police.

One protester told onlookers: "I have taken this in defiance of the extremely outdated, medieval, anti-choice laws that exist in Northern Ireland. We are not willing in the wake of the repeal referendum to be left behind any longer.
"Northern Ireland after repeal will be one of only two jurisdictions remaining in Europe to criminalise women effectively for having abortions. We are not willing to accept it anymore."