the trailer for 'suspiria' is so scary it might send you to therapy
Dakota Johnson had to seek professional help while filming Luca Guadagnino's remake.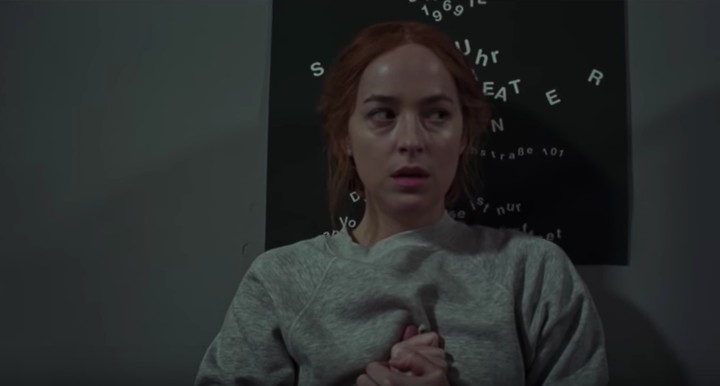 Still via YouTube
It's only been a year since Luca Guadagnino's Call Me By Your Name hit theaters, but Oliver and Elio's tranquil countryside romance is well in the director's past. The trailer for Guadagnino's follow-up film is an homage to Dario Argento's supernatural horror Suspiria, and it looks just as pants-shittingly terrifying as the 1997 original. Guadagnino's film stars Dakota Johnson as an aspiring American dancer attending a prestigious institution in Berlin. She soon finds out — naturally — that all is not what it seems at the dance school. Also appearing in the remake are Mia Goth, Chloë Grace Moretz, and longtime Guadagnino fave Tilda Swinton, who worked with Johnson and Guadagnino on A Bigger Splash. O.G. Suspiria's legendary synth score, by Italian prog rock band Goblin, gets an update courtesy of Radiohead frontman Thom Yorke.
Filming Suspiria was apparently so traumatic for Johnson that it sent it her to therapy, she revealed to Elle earlier this year. It also prompted extreme reactions from an unsuspecting CinemaCon audience subjected to gristly footage. Dance has proven a hot horror topic in recent years — Black Swan's toe scene is harrowing to this day, while Red Sparrow saw Jennifer Lawrence transform into a pirouetting Russian spy. Maybe don't bring snacks into the cinema for the latest contribution to the canon.