alexander wang explores the immigrant experience
Pusha-T sat front row at the designer's first show outside fashion week.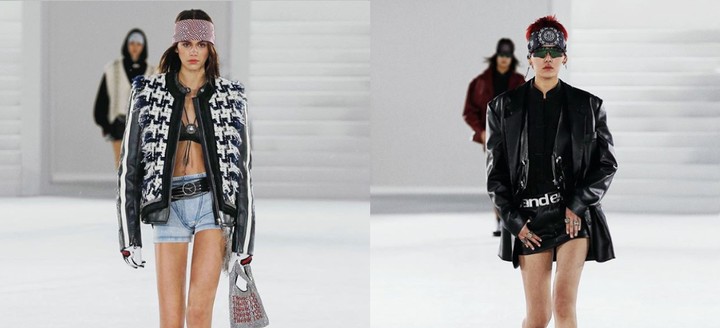 Image courtesy Alexander Wang
Last night at Manhattan's South Street Seaport, Alexander Wang showed his winter collection, breaking free of the decidedly pre-internet shackles of the fashion week schedule. Well, it will technically be in stores at the same time as resort, and we've certainly seen a lot of resort shows in the past few weeks. But it felt like a declaration of sorts for Wang, his new branding (a sleek alexanderwang, all one word, all lowercase) announcing his newest iteration.

Who?
The collection took immigration as its theme, specifically the immigrant experience in America. This is new territory for Wang, who typically sticks to glamorous, night-time inspirations. It had real, heartfelt origins however — this year, he took a roadtrip with his parents and siblings, and en route asked his long-divorced mom and dad how exactly they emigrated here in 1972. This gave an unexpected soul to the proceedings, an "I love New York" moment amidst a rainy summer.
What?
The clothes themselves were Wang at his best, mixing his hard edged, slightly goth aesthetic with a newfound appreciation for Americana. Wide shouldered blazers were cinched with multiple belts, tiny leather shorts peeked out from under oversized plaid, and ice hockey jerseys were worn as dresses. All of the above were paired with bandanas, which gave the collection a kind of Axl Rose meets The Warriors vibe — the Wang Gang rides again. It's still one of New York's coolest tribes, especially when this season (whatever season it was) included supermodels Lara Stone and Liu Wen, and Pusha-T was sat front-row. Evidently, we know where Wang sits on the Drake beef.
Wow!
When New York nightlife is seemingly under threat from all angles, it seems right that the city's premiere dealer in after dark looks should have a comeback. This was a show for everyone that grew up wanting to be a vampire, à la Angelina Jolie, rather than wear florals in spring. It was called "Collection 1", in reference to its break from the traditional seasons, and heralding Wang's new outlook — one aligned with his customer, rather than the fashion industry's various machinations. May it be the first collection of many.
Tagged: