björk just played her first tv show in eight years
There were lots of plants and flutes.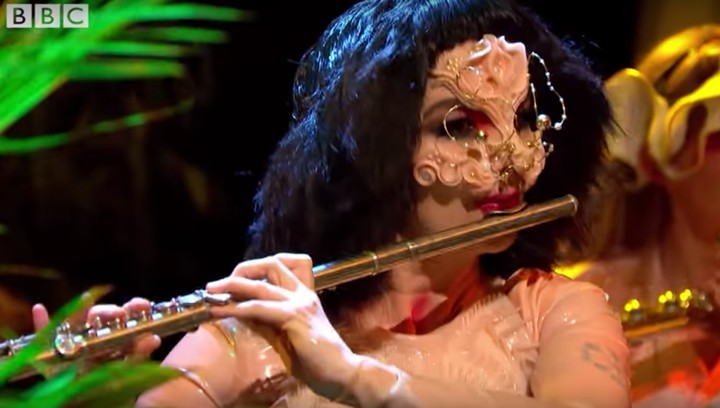 Image via Youtube
Yes, that is Björk. Björk in a mask. Björk playing a flute. Björk nestled among more plants than your average East London cafe. That is Björk, on Later… with Jools Holland, doing her first TV performance in eight years.
And look, the delay's not surprising. It would be quite hard to translate Björk's fantastical world onto a stage that needs to look good on a screen. But she succeeded — probably because she had a lot of time to think about it and also because she's Björk. The set she went for was a sort of disjointed fairytale aesthetic, featuring a throne, a flute band, and some staccato dance moves.
She played two songs from each end of her career — the first being " Courtship" from her latest album, Utopia, released last year (hence the rare TV spot — it's promo time!). At the time of release, Michael Cragg was altogether quite enthusiastic about " Courtship," saying, "The flutes are back! While their appearance on Utopia was almost distracting, they weave their way through the springy fantasia of " Courtship" much more easily."
The flutes also came back for her rendition of " The Anchor Song" from her aptly titled 1993 debut album, Debut. It was weird but wonderful and it worked because, well, that's Björk.
This article originally appeared on i-D UK.
Tagged: