gucci models carried their own severed heads down the runway
Be yourself, love yourself. Fashion's mad professor Alessandro Michele unveils his Gucci Cyborg; featuring sleeping dragon babies, faun horns, and eyes on hands.
|
21 February 2018, 4:40pm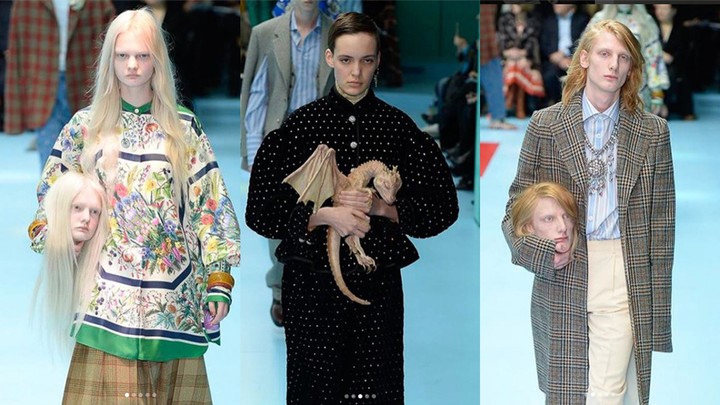 Images via Instagram
This article was originally published by i-D UK.
As Alessandro Michele invited us deeper inside his Gucci pluriverse, he played fashion's mad professor and created the most mega and most fun collection for the house we've ever seen. Season after season, Alessandro's far-reaching encyclopedia of references take us that bit deeper in his carefully cultivated world but this season he turned the fashion dial up to 11.
Taking inspiration from Donna Haraway's 1984 book A Cyborg Manifesto, Michele rejected rigid boundaries and offered a creative call-to-arms for us mere mortals to overcome the duality and dichotomy of identity. Within the operating theatre set, he used his fashion scalpel to carve out new possibilities, splicing and reconstructing materials and fabrics to create truly free dressing. Against the sterile backdrop, the collection popped as these shapeshifting hybrids blended influences, imaginations, and sheer inventiveness.
From the sheer garment bag capes to lace balaclavas to quilt dresses, the collection expanded on Michele's baroque punk aesthetic by taking it to outer space, and commenting on our identities right here on earth. "The Gucci Cyborg is post-human," the show notes explained. "It has eyes on its hands, faun horns, dragon's puppies, and doubling heads. It's a biologically indefinite and culturally aware creature. The last and extreme sign of a mongrel identity under constant transformation. The symbol of an emancipatory possibility through we can decide to become what we are."
Simply put, the Gucci fall/winter 18 message was: be who you want to be. Whether that means wearing clashing prints, a pagoda for a hat, some NY Yankees tailoring, or cradling a cute lil baby dragon in your arms. Aw.