Gucci spring/summer 16. Photography Glen Luchford
how gucci won over gen z
As Gucci's sales continue to rise, we look at the method in the kitch-baroque madness of decapitated heads and dragon babies.
Gucci spring/summer 16. Photography Glen Luchford
On Tuesday evening Kering announced another quarter of "strong revenue growth" with Gucci. The brand's "comparable sales" grew 49% in the first part of 2018, and shares in its parent luxury group rose over 70% in the last 12 months, with investors "watching to see how long flagship brand Gucci can maintain its rapid growth," according to the Business of Fashion.
Usually when you start talking about a fashion house through the lens of pure profit and its ability to "maintain growth," you lessen the creativity that fuels it. After all, there's little that does more to dispel the magic of design — nor the rebellion of purchasing a very expensive, radical deconstructed jacket that mum and dad would not approve of — like discussion of the profit margins of multinational conglomerates. But with Gucci — the jewel in Kering's financial crown right now — one can't help but feel this isn't a successful culmination of stakeholder board meetings, but rather the clear vision of brand under Alessandro Michele, and an understanding of the kids that covet the brand.
Firstly — fashion coverage cliché claxon — in his three year tenure as creative director, Alessandro Michele has created a brand that extends much further than the runway. Creating a world that the clothes inhabit isn't a revolutionary strategy. Hedi Slimane did it at Saint Laurent, casting grungy rock kids in its campaigns, commissioning original show soundtracks from the coolest young indie bands, and moving its HQ to LA, crafting a lifestyle around Saint Laurent in such detail that it fueled its era-defining look. More recently Demna's Balenciaga has reimagined cheap everyday items into highly covetable wares, mixed them with paparazzi-style campaigns and brilliantly unconventional casting. He has tapped into, or created, an appetite for self-aware fashion.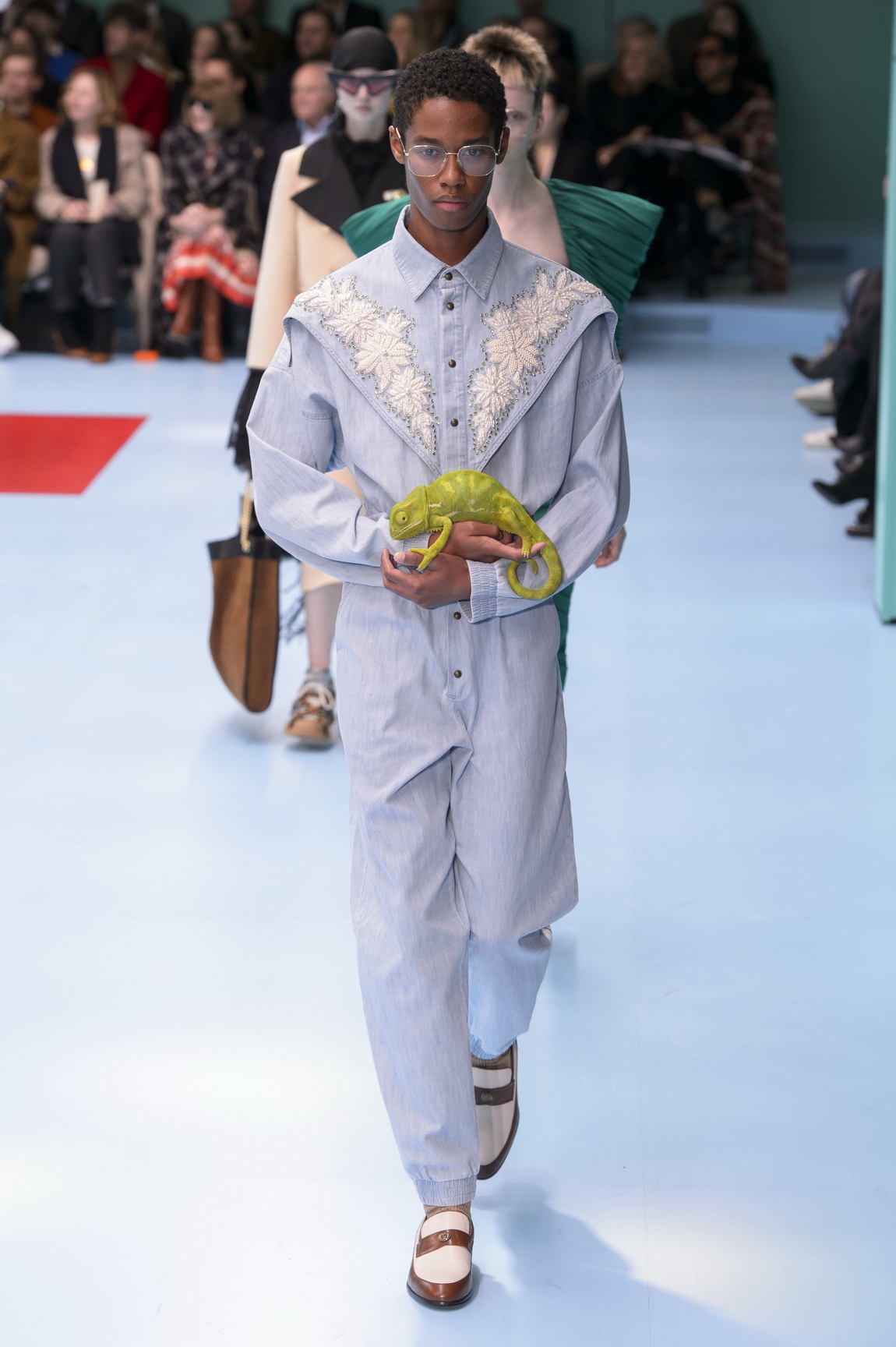 But on Gucci's journey to becoming Kering's flagship brand — one that has seen Michele consult with a board of millennials — the brand has gone a step further, broadening its appeal to a much younger audience than its contemporaries, and utilizing the internet to great effect.
"Generations Y and Z are already the main growth engine of the luxury goods market, driving 85 percent of luxury expansion last year," BoF reported last year. "By 2025, they are expected to account for 45 percent of total luxury goods spending." It bodes well then that, in 2017, 55% of Gucci's sales came from under-35s — a percentage much higher than has traditionally been the case for luxury houses.
Beyond its whimsy and wonder, in each collection (and crucially, limited edition capsule collection drop) there's an awareness of what fashion needs to be to appeal to a young consumer. From Michele's first collection for fall/winter 15 — the brand's reinvention has been singular and swift. Drawing together many different influences to create one aesthetic that, from belts to T-shirts, boots to blazers, could only be Michele's Gucci.
The reimagined knock-off logo tees, the lurid orange tracksuits, those ubiquitous sliders -- clothing and branding are increasingly scrutinized by their social media-ization, so the unity of the overall aesthetic is key. It's less about the cut, the lining, the shape, the quiet details, and more about the logo, color-scheme, and attention-grabbing design — these are the qualities that'll best lend an item to looking amazing on Instagram. So, when you look at a breakdown of these numbers, the fact Gucci's growth is fueled massively by an increase in online sales is also of no surprise. E-commerce for the Italian house has more than doubled in the first quarter of 2018.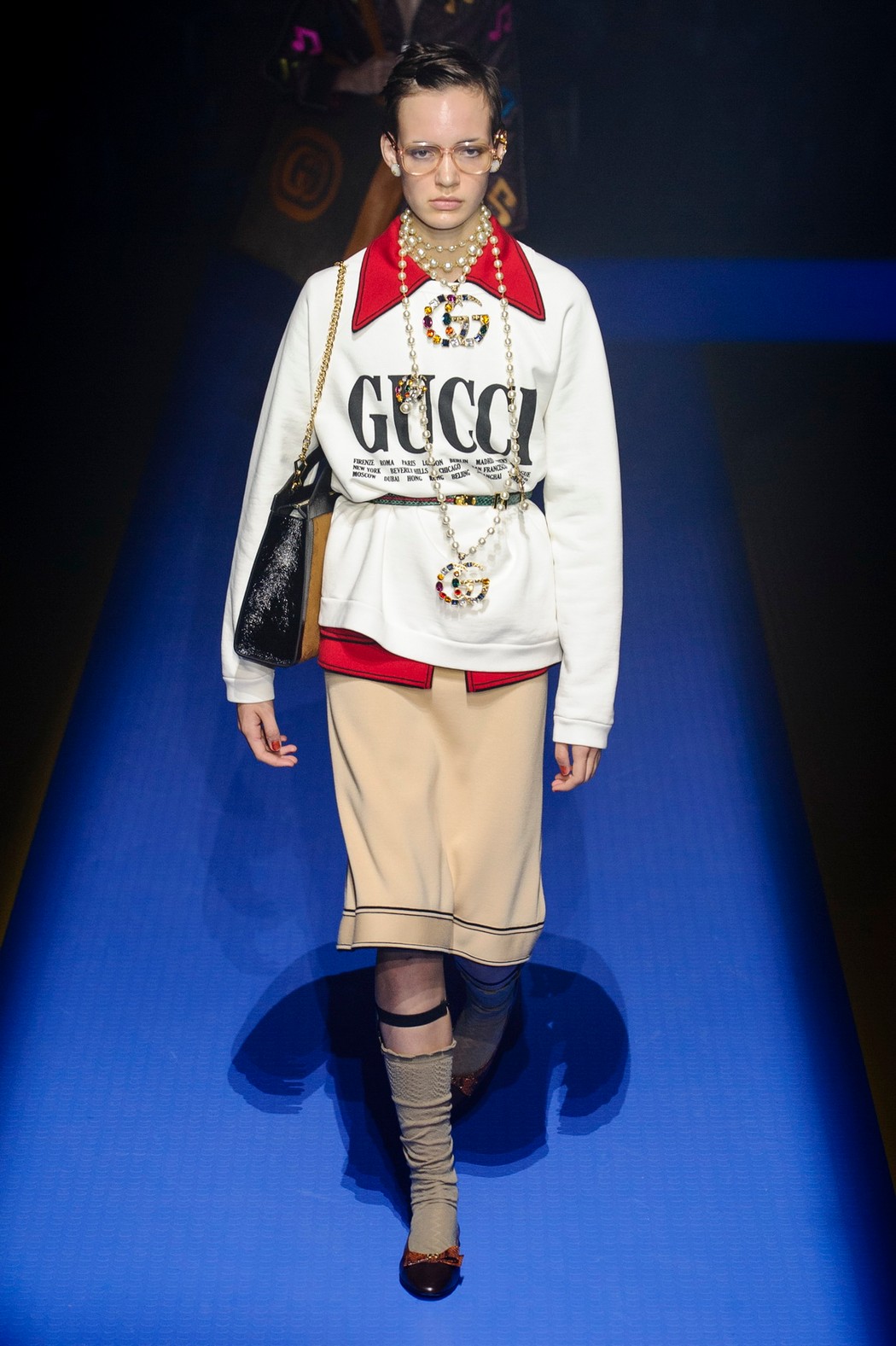 In fact, throughout 2017 online sales numbers tripled and, by no coincidence, it gained the second most followers for a brand on Instagram across the year, after Chanel. Yes the name Gucci holds its weight in gold stitching, and red and green stripes, and probably would otherwise be one of the most followed brands in the world, but there's more to their Insta-domination than heritage and legacy.
This isn't just campaigns and takeovers; high profile photographers and industry-leading models. The currency online right now is compelling, engaging content. For fall/winter 18, the brand sent models down the catwalk holding severed heads and dragons. These weren't just a theatrical extension of the clothes, or a message to be deconstructed, reinterpreted by the fashion press, these emblems of the Gucci brand made for a perfect social media moment, Instagram was soon awash with shots of the props, and by extension the clothes. A shrewd tactic that puts wearable clothes into realms of publicity only previously reached by celebrity cameo appearances.
Not to say Michele hasn't got a knack for choosing a celebrity brand ambassador; the kind that can reach vast numbers, without diluting the message of the brand. Petra Collins, whose youthful, analogue aesthetic lends itself so well to Gucci's style, has collaborated on a number of campaigns, and walked in its Milan Fashion Week show. Harry Styles slid seamlessly into a pair of Gucci boots after being announced as a brand ambassador last month, having spent much of his solo career strutting his stuff in their pastel-colored floral suits. And in Ignasi Monreal, the artist behind Gucci's surreal Renaissance-style campaign imagery, Michele has found an artist that can perfectly toe the line between modern and classic in a way the clothes themselves do.
Fashion is fickle and within any forecast you can never plan for disaster. The tide can turn quicker than ever before, and no one house, or enigmatic creative director, is immune from this. But in appealing to Gen Z and understanding that Instagram isn't a marketing tool, but an extension of your brand — offering kids what they want, rather than telling them what they need — Gucci has modernized luxury fashion and won the youth vote in the process.
This article originally appeared on i-D UK.