watch the video for poppy ajudha's spilling into you, ft. kojey radical
The southeast singer explores the complexity of life and relationships in a brand new clip, premiering exclusively on i-D.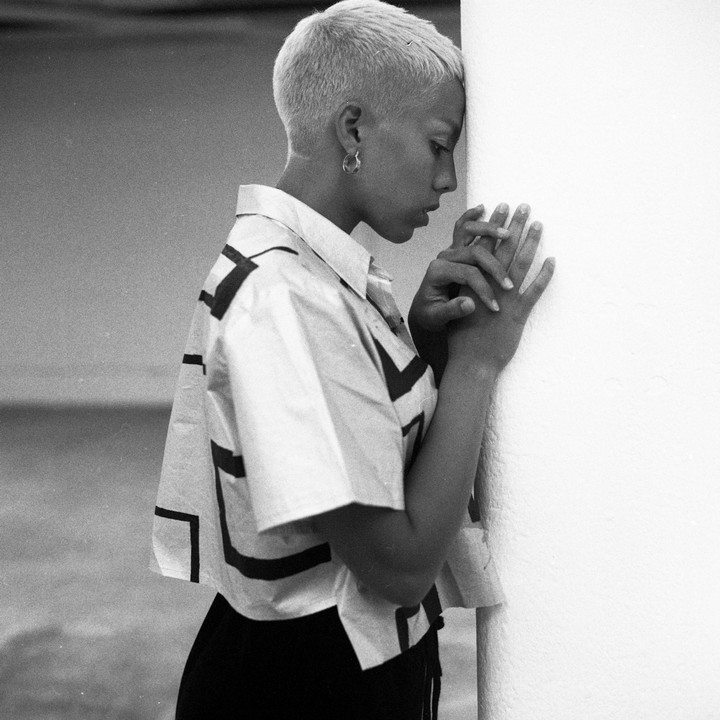 Photography Reuben Bastienne-Lewis
Poppy Ajudha was born on a Friday night and grew up in a nightclub -- the Paradise Bar in Deptford, to be precise, run by her father, and immersed in the dance, funk and soul that would blare out of the speakers every night until last orders. She's steeped in music, spending her formative years hanging out at the now legendary Steez club night, south of the river, and falling in with the burgeoning scene that grew out of its twisted, polymorphous sounds. Today, you could loosely describe what she does as jazz, although her tastes are much more varied than that. "I listen to such a vast amount of music -- grime, drum and bass, jungle, garage," she says. "Jazz is the middle ground. Once you have that feeling of experimentation and communication you can go in any direction."
For her latest release, Poppy has teamed up with poet-cum-rap artist Kojey Radical, for a winding, grinding deconstruction of life and relationships. The video, premiering exclusively below, sees the singer surround herself with a collective of people who represent ideas of solidarity: gal-dem founder Liv Little; jewellery designer Suhaiyla Shakuwra; model and writer Helene Kleih; Fortie Label founder Essie Buckman; and Moth, a young gay man who has recently been introduced to cross-dressing and drag performance through his art. Completed by a performance from former FKA twigs dancers Kaner Flex and Melamuder -- as well as their young daughter, Amethyst -- it sees Poppy trace the different narratives of the song: from the family as a traditional unit, to the beauty of a relationship that spans borders.
"I had some really strong themes I wanted to get across, so for me it was important for this to be illustrated not only in the cast, but the colour schemes and the locations as well," Poppy says. "Soaking the first scene in deep red light really elaborated on the heaviness that hangs over both WoC and queer figures in the many ways we're often misunderstood, misrepresented and hypersexualised. Here we are pictured gazing back, an idea to which we are so often the objects of." Watch the clip below.