your guide to daf, the godfathers of techno
The German duo behind your favourite sexy, sweaty dance floor bangers are coming for Melbourne Music Week 2019.
|
14 September 2017, 8:01am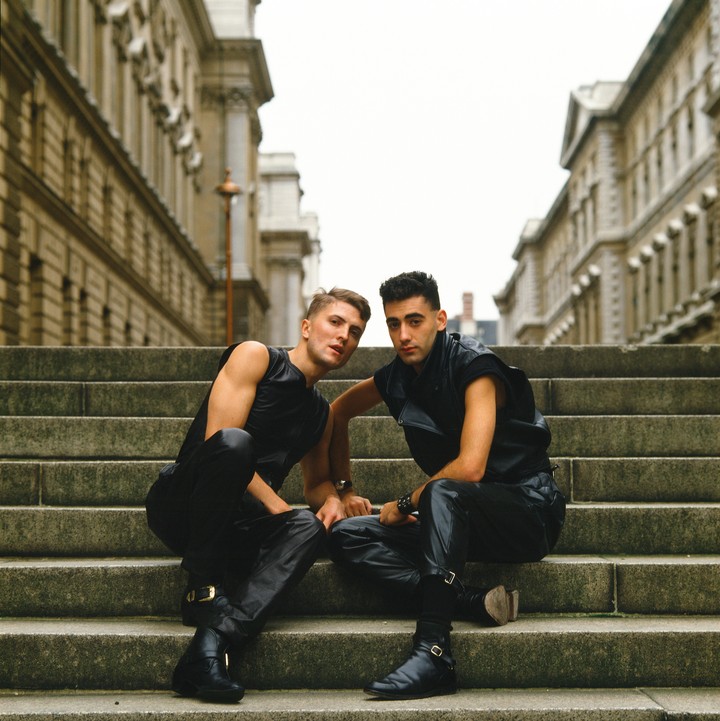 Whether you've spent 36 hours off your face in Berlin's temple of techno, Berghain, or not, everybody's had a night out stomping to some techno, good or bad, haven't they? But have you ever wondered where that techno comes from, like who actually invented techno? Seminal German band DAF (Deutsch Amerikanische Freundschaft) are a lean machine. Their sound is pure body music that pioneered the way for modern techno, EBM and electropunk. They basically invented techno. Armed with sequencers, synthesisers, militant percussion and staccato spoken-word German vocals, DAF made a sexy and sweaty sound that was precise dance music for intellectuals after an unforgiving workout.
DAF were an enigma, releasing four albums in machine gun succession between 1980 and 1982, before disbanding. These iconic and hard to get your hands on albums: Die kleinen und die Bösen, Alles ist Gut, Gold und Liebe and Für immer, have all been re-issued as part of their DAS IST DAF career-spanning box set. We spoke to the cult heroes and DAF originators Gabriel "Gabi" Delgado-López and Robert Görl about the origins of the band, flexing their electronic muscle and their lasting influence as the forefathers of German electronic music.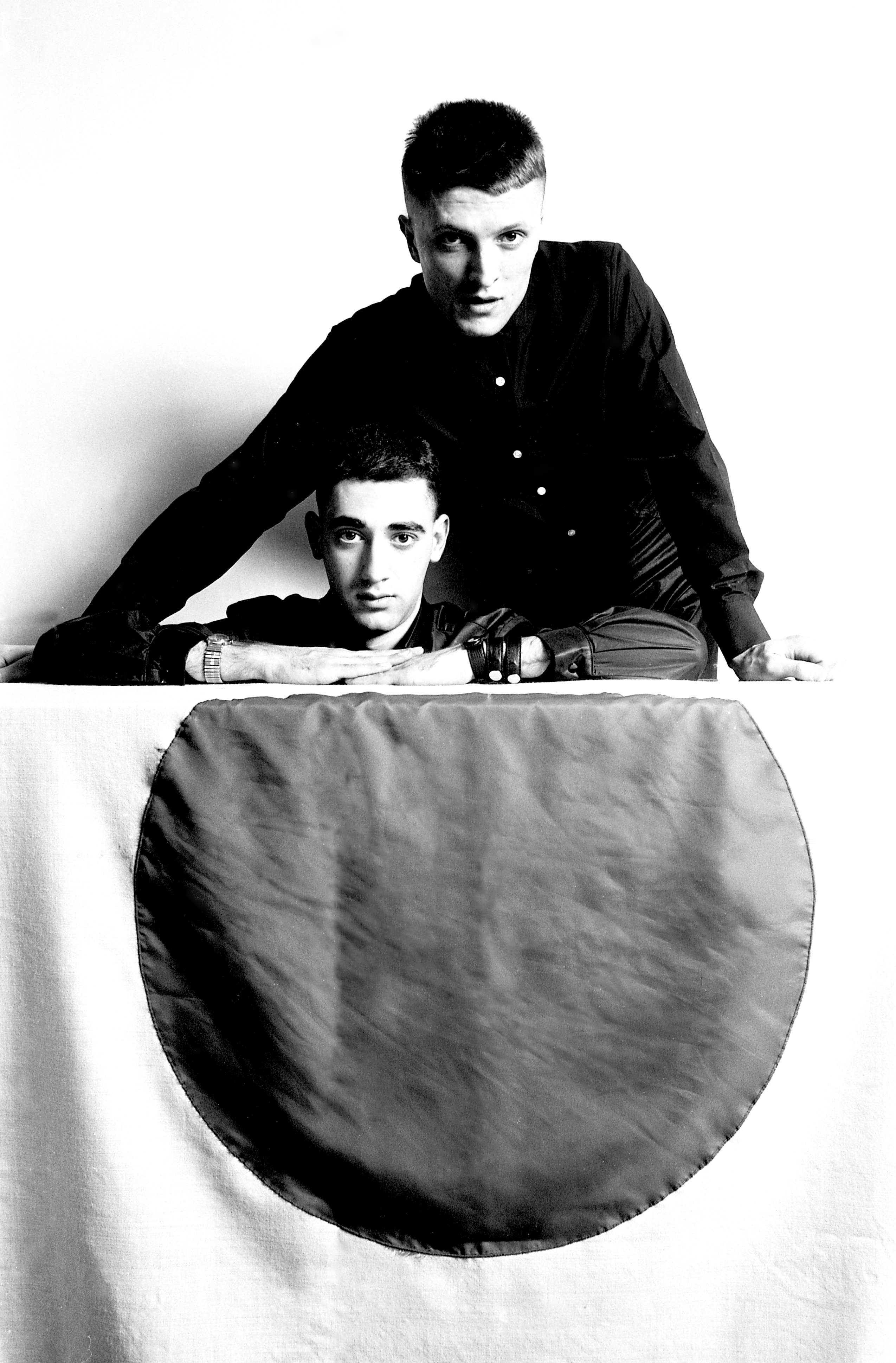 The Origins of DAF
Gabi and Robert first met in the Autumn of 78 at Düsseldorf's notorious punk club the Ratinger Hof. The spirit of punk was in full swing and everybody was up for doing something DIY. The pair crossed paths at the bar, Robert telling Gabi he wanted to start a band and Gabi telling Robert he wanted to become a singer.
The next day the duo headed down to Ratinger Hof's trashy basement slash rehearsal space, where Gabi played an electronic toy drum kit and shouted a few words. Robert says, "If anyone had seen what we had done in that dirty basement, they'd have asked 'What is this? Are they mad?'" High on the noise they made and the possibilities of youth, they emerged from the basement feeling wowed -- and DAF was born.
The Sound of DAF
DAF's primary objective was to create a totally new sound. They did this via a simple equation: sequencers + real drums + harsh German vocals = DAF. Turned on by the energy of punk, Robert and Gabi agreed that if they were to be successful they must do something innovative.
So DAF harnessed the energy of punk to create something new. Recruiting other members to expand the outfit to a five-piece band for their first album of 22 instrumental improvisations, Ein Produkt, later they would streamline back to a duo. Adhering to the strict DAF rules they'd laid out, if either Robert or Gabi disliked a track or felt it sounded derivative, then it would simply be deleted, no questions asked.
Before the late 70s synthesisers were ridiculously huge and insanely expensive, but that changed in 78 when Korg unleashed the affordable, compact MS-20 model. It allowed DAF to create music from the ground up, even manipulating the basic tones they were playing. Robert rejected the use of preset sound banks, because someone else had made them and anyone else could use them they're inherently anti-DAF. "DAF is doing your own thing with electronic creations and these electronic creations are original, they're not factory sounds, they're not perfect, they're even sometimes slightly out of tune, but this was what we liked," Gabi says.
The Politics of DAF
Gabi says "Fighting Anglo-American pop imperialism," was their modus operandi. Gabi applied a Dada and mid-20s Russian revolutionary art approach to his lyric writing. "You have to reduce language to be very precise and make it very minimal," Gabi explains, "to make your message really strong. The more concentrated it is the stronger it is. If you have a good wine you don't put water in it."
On tracks like their hit single Der Mussolini, seemingly nonsense phrases are deployed to masterful effect. Gabi would go into the studio with words he loved for how they sound, ideally without having heard the track before and through stream of consciousness writing, just experiment. "There are certain words that sound sexy, for example from a phonetic aspect, like Dada. For instance, Mussolini, when I went in to record the vocal track I only had this word because I liked it." This was Gabi's way of giving punk another context and attempting to break taboos (when Der Mussolini was released the ramifications of the Second World War were still very much present in Germany with the Berlin Wall still intact) not only musically but conceptually:
"Words can change the world and music can change your feelings; there's no other artform where you can evoke such long forgotten memories, smells, situations, than you can with music. So if you're able to evoke certain feelings and at the same time give people messages bringing together emotions and intellect, that's where body and brain come together."
The DAF Style
During their three-year relocation to London from 79, Robert and Gabi refined the DAF look, more or less dressing entirely in black and looking like they were going to Berghain before Berghain existed. Robert was into rockabilly style and Gabi went through phases as a punk, skinhead and mod.
"When I was a punk I had a leather jacket with safety pins and everything, on the back I wrote Yves Saint Laurent, to provoke the punks," says Gabi. "When the first shops started selling this fashion then I thought punk is over so I became a traditional skin with Doc Martens and sta-prest jeans and Fred Perry shirts and then I became a mod with a Fendi suit."
Once they started wearing a lot of black leather the DAF look got pretty homoerotic, coming on strong like a sweaty prototype Frankie Goes to Hollywood, but cold to the bone and sexy af.
The Influence of DAF
John Peel rightly dubbed them the "Godfathers of Techno" because the DAF sound is essentially a precursor to what would evolve into the techno we rave to today. DAF rejected the classic pop/rock verse chorus rules and made track-orientated music with sequences that run through the songs. "Nowadays if you go to a club eighty percent of the house and techno tracks are made using DAF rules. Just a sequence running through, no different parts," Gabi says. "No water in the wine."
Having previously reworked records for everyone from Snoop to Depeche Mode, next generation German producer and DAF fan Boys Noize has reworked DAF's Als wär's das letzte Mal available on limited edition 12-inch vinyl, with only 140 hand numbered units, to coincide with the band's DAS IST DAF release.
"DAF sort of paved the way for techno music. There has been a huge EBM-inspired techno sound throughout the 90s and it's back already big time. The sound of DAF's synth sequences has often been copied over to techno tracks, that classic Korg MS-20 sound really stands out from other synths. DAF is actually the existing bridge between punk, wave and techno."
DAF play with Total Control and Dark Water on Sunday 17th November at Melbourne Town Hall.They will also deliver a keynote speech in conversation with Kittin and Darren Sylvester on Saturday 16th at the NGV. Don't miss it. Further details and tickets here.