"come play with us": undercover unnerved with its celebration of the shining and cindy sherman
After Jonathan Anderson comforted us with the modern craftsmanship of Loewe, Jun Takahashi creeped out the fashion set.
|
30 September 2017, 2:02pm
Undercover
This article was originally published by i-D UK.
As the lights dimmed and The Shining's Wendy Carlos and Rachel Elkind soundtrack echoed through a ballroom, Jun Takahashi transformed the InterContinental Paris Le Grand into the Overlook Hotel. This was Stanley Kubrick's dark Americana seen through the warped imagination of Undercover. Look-a-like pairs of models walked in pairs, hand-in-hand, each look a quietly messed-with reflection of the other as the audience played spot-the-difference.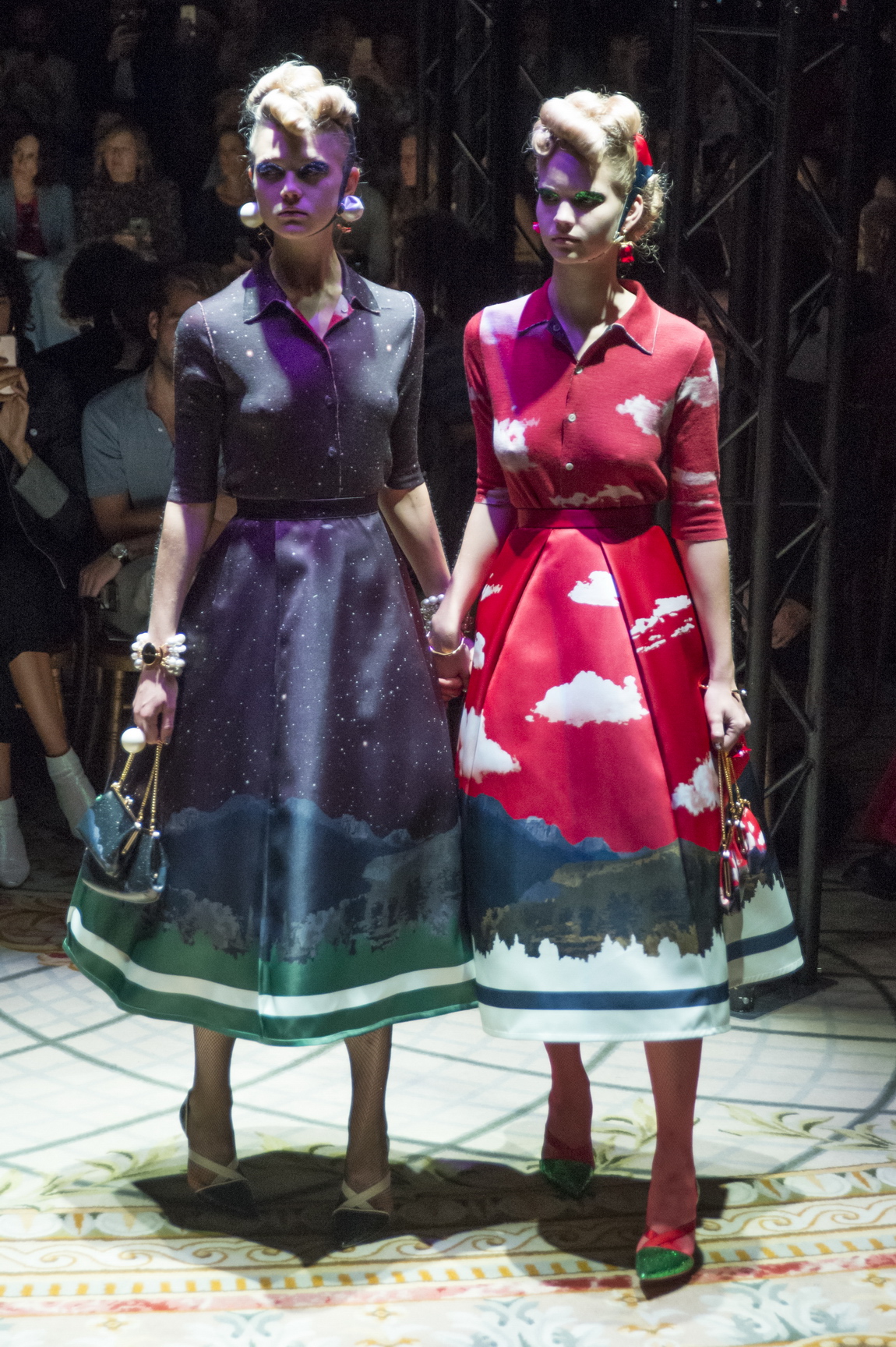 "People have two sides," Takahashi explained through an interpreter backstage. This duplicity was echoed in the designs, with each piece being fully reversible and looks mirrored — light met dark, yin met yang. From 50s prep to cocktail dresses, the familiar was reflected and refracted. The duplicity was also echoed in the collection's celebration of Cindy Sherman as the iconic American photographer and director's self-portraits were depicted in a number of printed pieces. After they met backstage at a show in Tokyo six years ago, Takahashi and Sherman became friends. Here, the Japanese designer explored her duality. "She has a normal life, but in her work she's like a totally different person," he explained. It was an unexpected collaboration that justifiably caused a ripple of excitement. This was our kind of merch.
If the show itself wasn't unnerving enough, Takahashi pushed it further for the finale and underlined the parallels with Kubrick's classic. Casting real identical twins, he dressed them in baby doll dresses similar to those worn by the Grady twins, with fringes of red crystal beads which represented the blood and gore of the Halloween favorite costume. "Come play with us," they said. Takahashi was asking us to do the same.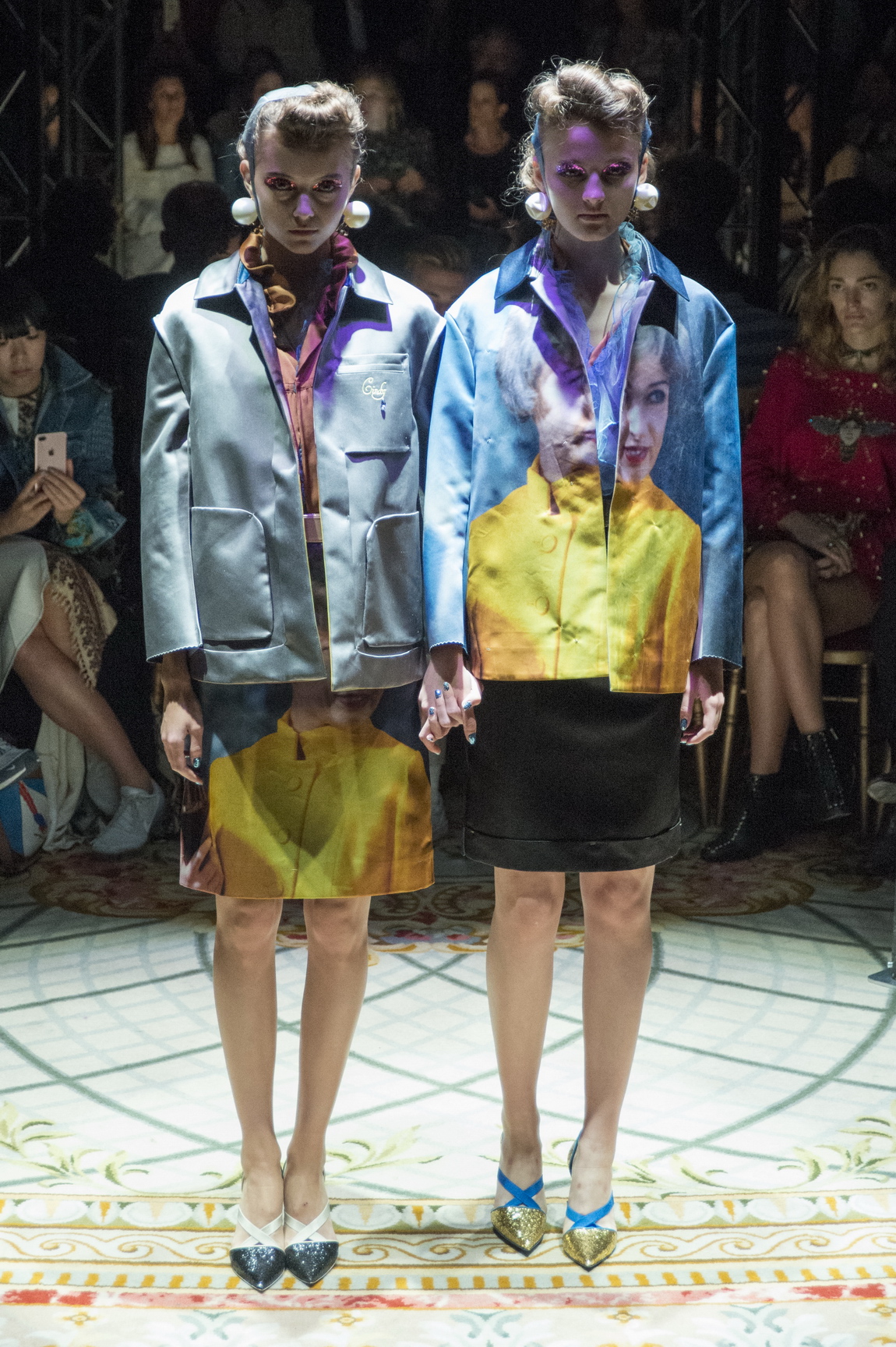 A world away from the sinister drama of Undercover, Loewe invited us to pause and consider its craftsmanship. Building on the mindful meditations of his eponymous line, Jonathan Anderson presented a quiet consideration a modern craft for Loewe spring/summer 18. "I carried this idea of calmness on," he explained backstage.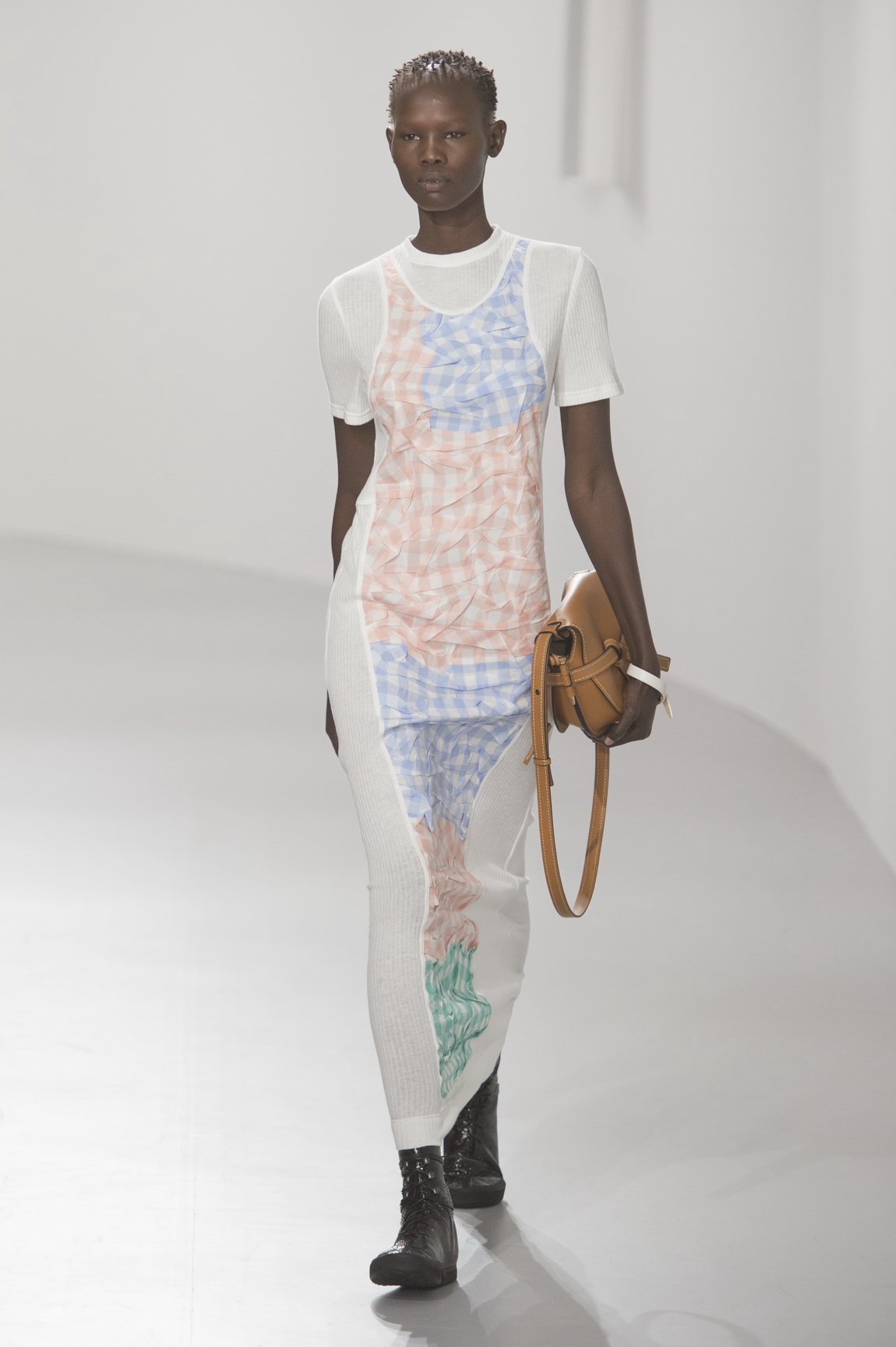 From the moment he was appointed Creative Director of Loewe in September 2013, his life has been a whirlwind of meetings, flights, Eurostars, and collections, and he's thrived off the pace. Between these two lines, the Derry-born, London-based designer creates fifteen collections a year and in the last twelve months alone, he has thrown in three collaborations and the curation of an art exhibition too. Despite his hectic schedule and the distractions each passing season brings, or possibly even because of them, these two collections side-by-side demonstrate that he hasn't lost sight of what truly matters to both. For the iconic Spanish luxury house, it has always been about craft and here, Anderson masterfully modernized traditions.
Inside the UNESCO building and a warren of oval-shaped spaces, the scene of craft meeting art and technology was set with imposing woven tapestries featuring vivid images from the house's recently unveiled Steven Meisel-shot campaign alongside black-and-white 19th and 20th century photographs, all carefully transposed — by means of advanced software — into thousands of threads before being woven into giant textiles by experts near Limoges, France. Anderson's insatiable desire to innovate was the energy that pushed the collection forward too. An interpretation of femininity informed a highly textured collection of classic garments that had been reconfigured for the here-and-now. The Loewe woman had "broken out of her domestic space, she's freer," Anderson explained. The character was a worldly and craft-savvy traveler, picking up souvenirs wherever she goes, from paisley textiles from India to handwoven fabrics from South America.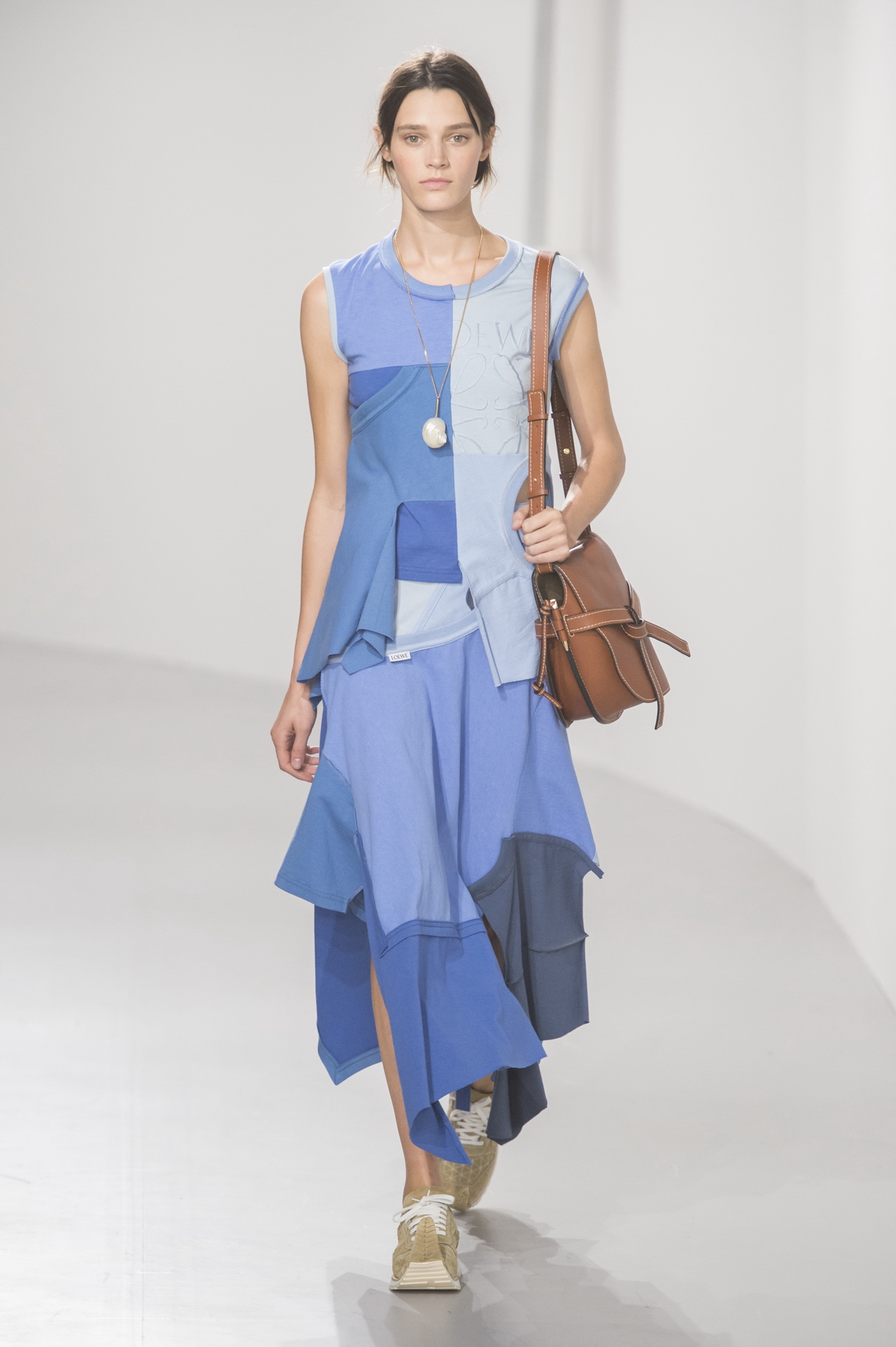 This was a collection that Anderson wanted us to touch and truly consider. "If you don't put the time into the craft behind the piece, then what's the difference for the consumer who is going to touch the product? I want something people will want to go in and touch." As the models flew past, we all leaned in and admired. Recurring asymmetry, cutouts, and form-accentuating elements sharpened a fluid silhouette, while hand embellishments showcased a range of special artisanal techniques. A textural treat. Among the tasteful elegance, there were a few incongruous elements that jarred. Most strikingly in the jester toed, updated folk footwear. This being J.W., he couldn't leave us too comfortable. Powered by the house's artisans, there's no stopping Jonathan Anderson.