Chanel, Miu Miu, Louis Vuitton
chanel, miu miu, louis vuitton: fashion's power players close spring/summer 18
As each house jostled for supremacy, Chanel, Miu Miu and Louis Vuitton brought fashion month to a grand close.
|
04 October 2017, 11:21am
Chanel, Miu Miu, Louis Vuitton
This article was originally published by i-D UK.
A timetable shift of Paris Fashion Week means that the final day now punches you with all the might of the heavyweight power players. When you begin the day confronted by a recreation of a 50ft tall waterfall and end the day inside the Louvre next to the ruins of a 12th century fortress, you imagine that behind-the-scenes, Parisian houses like to play a game of one-upping each other. My maison's balls are bigger than yours. However, there's no point in out-balling each other with grandiose sets and venues of historical magnitude if the clothes don't hold up though.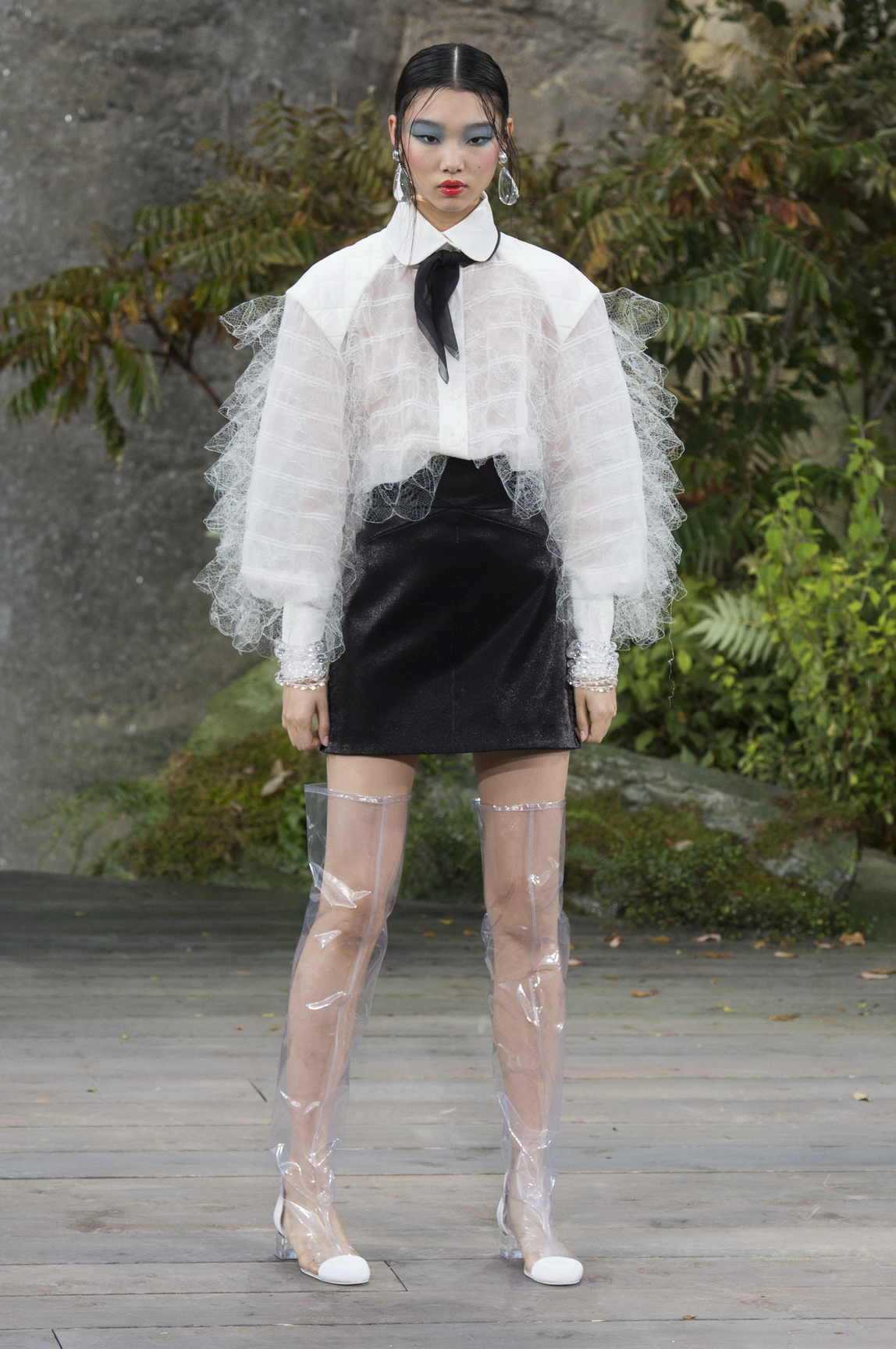 And so on the last day of Paris Fashion Week, you had the biggies jostling to have the final word, with the subtext being that they are fighting in a crowded field, one where brand loyalty is a thing of the past. It's no coincidence that there are financial wobbles or rumoured discordance floating adrift in each instance — and so what's their response? No-holds-barred fashion. #BasicBitch isn't going to cut it when you're trying to court a social media-fueled customer, cherry picking their way through luxury, contemporary, and beyond.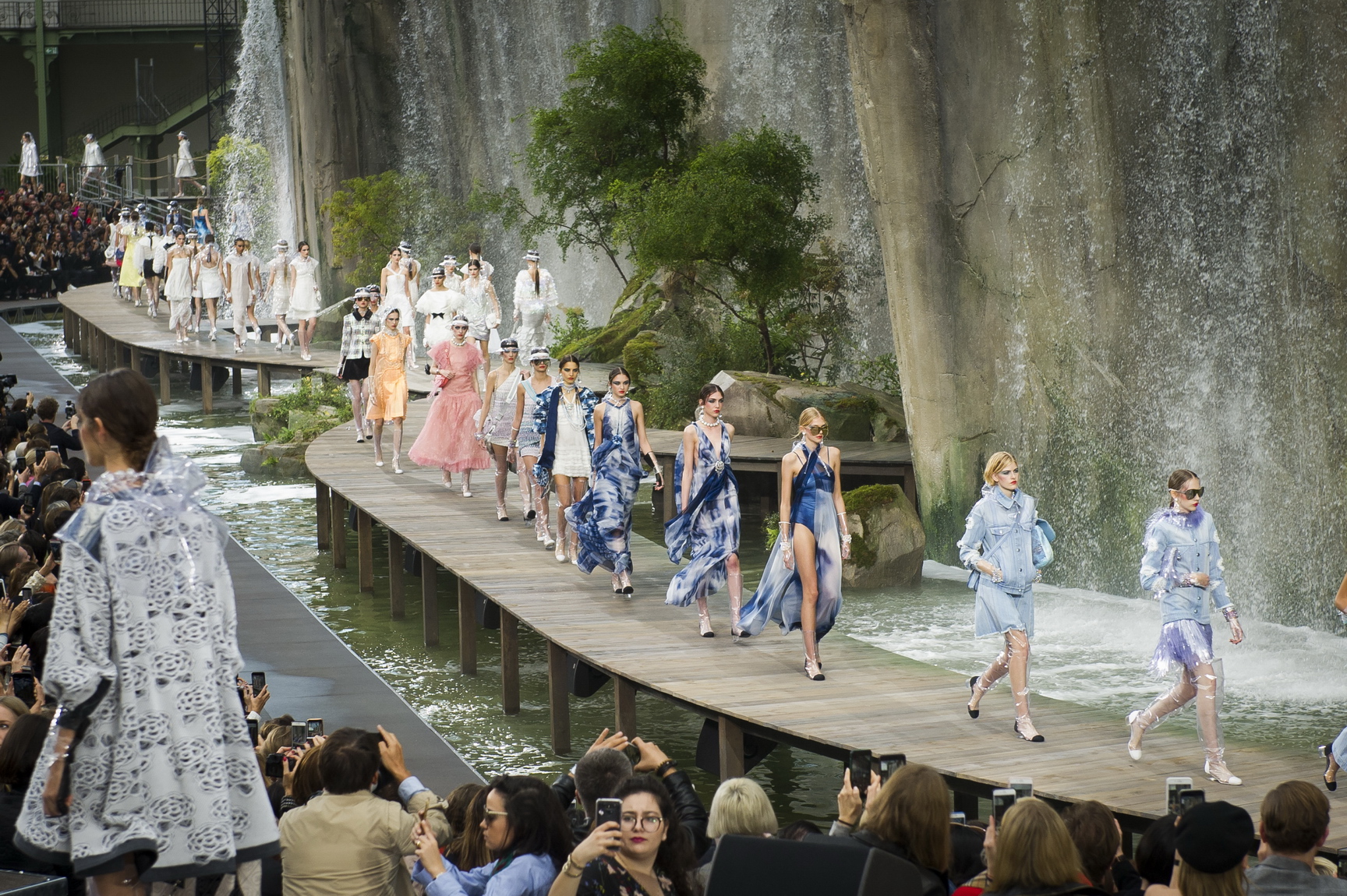 From last season's rocket blast, we volte faced to a soothing scene of the Gorges du Verdon, where a jaw-dropping 50-foot tall, 275-foot wide replica of a rocky cliff face complete with gushing falls, cave crevices, and alpine plantation. Chanel's net profits were down by 35% last year, but that hasn't stopped them from going all out on another logistic-defying set.
And similarly, the clothes were ambitious. Water is a giant force of nature and so Karl Lagerfeld harnessed its powerful fluidity in a collection that jetted and surged with textiles-driven verve. As the waterworks were amped up, creating a thunderous roar in the Grand Palais, so too did the mastery of only-at-Chanel fabrics – the lurex-shot denim, the sparsely woven tweeds fringed and frayed, the gossamer thin lace – all worked into an often midriff-baring silhouette that skewed younger than norm.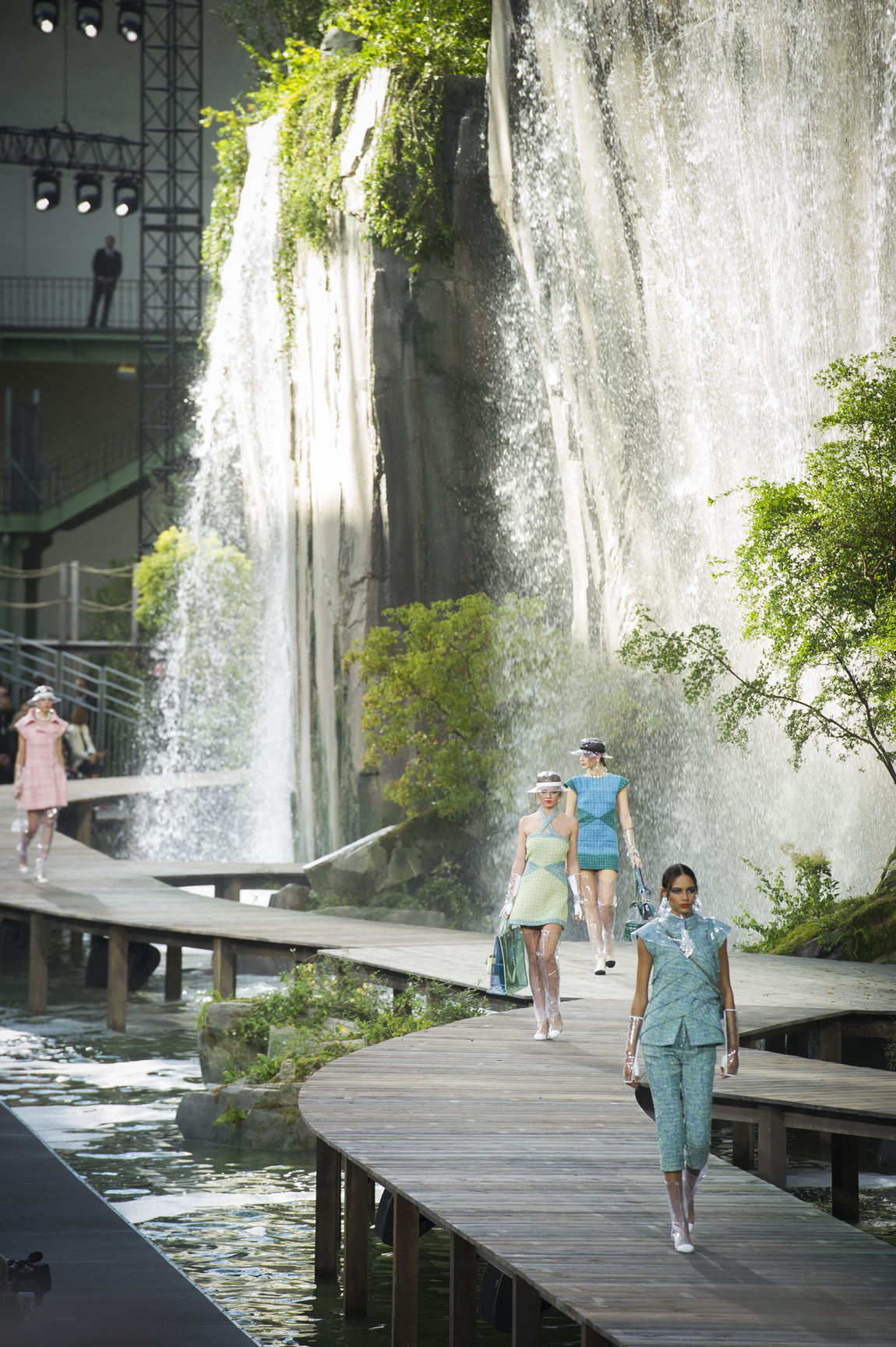 Then came the plastic, adding a water repellent layering device that's both practical (yes there was actual water spray from the Gorge du Chanel) and reminiscent of the Space Age fashions of André Courrèges or Pierre Cardin. By using unconventional materials, they were chiming in with a disaffected, rebellious youth. The sheen of transparent PVC glistening over Chanel's savoir faire in itself felt like a rebuke against convention. Chanel's current season glitter boots have been doing the street style rounds this season (with popularity propelled by the fashion set's obsession with the sparkletastic video app, KiraKira+) and they've followed it up with plastic fantastic thigh high waders and knee length boots that will sure to be snap fodder next season.
In contrast, Miuccia Prada's Miu Miu prioritised mood and feeling over lavish gestures. In a casting coup, Anita Bitton and Prada sent out a line-up, where over half of fifty-seven looks were worn by non-Caucasian models. It shouldn't have felt like such a milestone in 2017, but there can be no escaping the stats which show the majority of fashion show casting still skews heavily towards white models. This wasn't about diverse casting for diversity's sake though. Miuccia was thinking about characters inhabiting her clothes and a reflection of reality.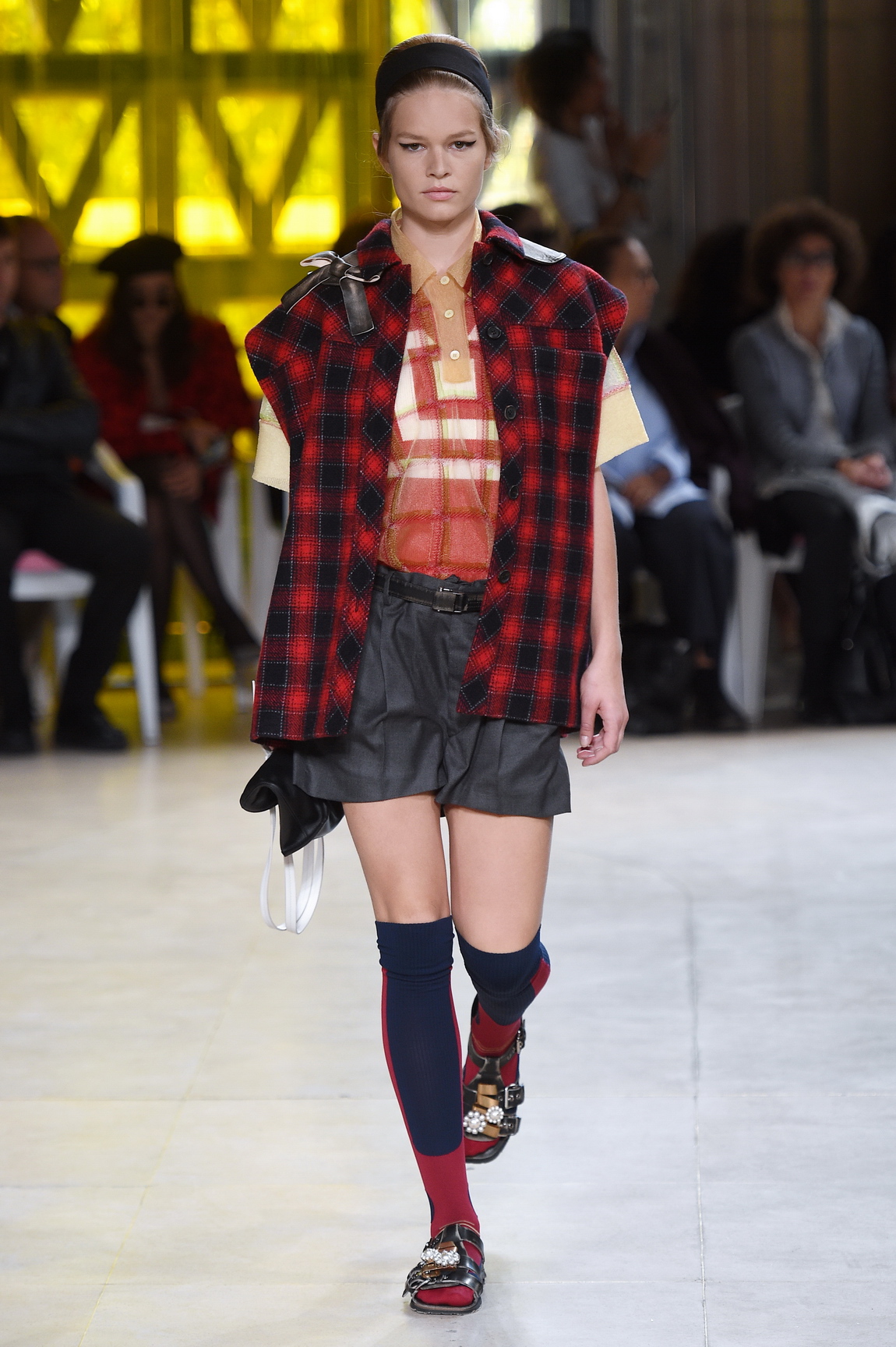 After the Prada show in Milan, an American journalist was overheard asking Mrs. P about whether the collection would boost the group's ailing profits, to which she bluntly replied, "I don't want to be judged by sales. My life is bigger than that. My job is bigger than that." That much was clear in the deliberately indecipherable layers of Miu Miu-isms – the domestic printed house coat, the memorable sock, the embellished slip dress, the frilly blouse – jumbled up into a wardrobe that was resolutely Miuccia through and through. The mission of Miuccia is to present a woman that doesn't just revel in surface and gloss. And so at Miu Miu, you had to dig deeper to find nuance. The celebratory casting was also part and parcel of Miuccia's refusal to tow the line.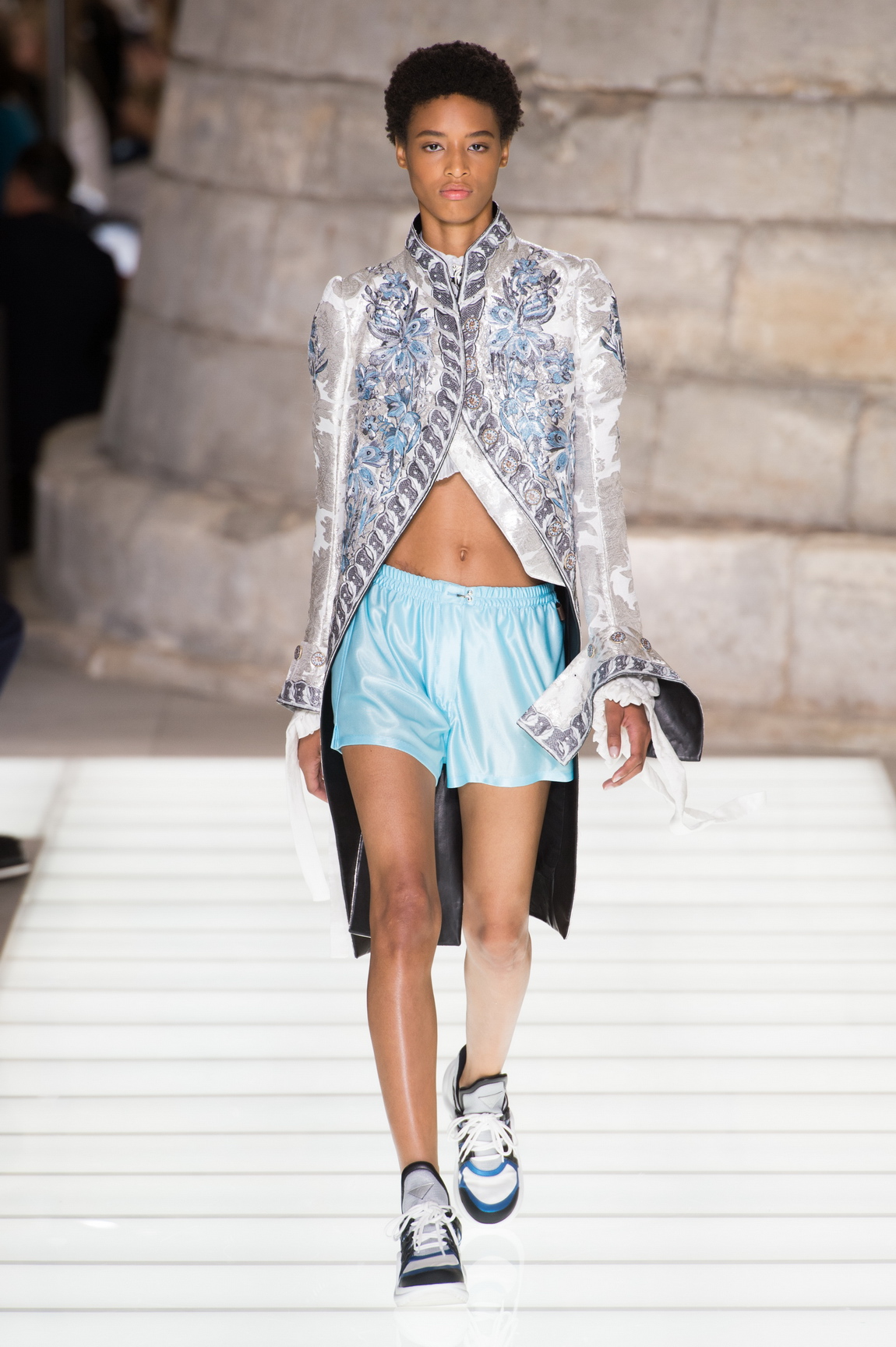 At Louis Vuitton, where rumours have long swirled around Nicolas Ghesquière's future at the house, we were brought to one of Paris's most iconic and resolutely permanent spots. To walk to the show space, we had to enter through I.M. Pei-designed Louvre Pyramid and worm our way through to the depths of Medieval Louvre, where the walls of the original 12th-14th century moat of the fortress lie. From modern glass to ancient stone — that was the path that Ghesquière was traversing in his latest, and quite possibly most freeing of collections yet for Louis Vuitton. The idea of travel is consistently impressed upon us at this maison but this season, Ghesquière took to time travel, where centuries felt like minutes. How do you effortlessly go from an 18th century embellished frock coat, replete with gold thread and the most delicate of embroideries to a pair of nylon running shorts and sculpted trainers in one fell swoop? The answer was in Ghesquière's obsession with patterns and construction. Coats and blouses were loosened with flailing straps and open backs. The ornate bustlines of Marie Antoinette's pannier dresses were extracted and lightened to be worn today with poet's blouses. And the firm foot in today? A Stranger Things T-shirt, heralding season two of the Netflix hit nestled in amongst the rococo era brocades and jacquards.
From rigid historical sources, Ghesquière was able to lift off and do what he does best, which is find an inexplicable beat that makes the fashion heart flutter. For Louis Vuitton, that ability to tap into clothes that are at once timeless and forward-thinking to marry up with the remit of their accessories is a boon. With one perfectly formed trainer-clad foot forward, Ghesquière silenced any doubt concerning his future, and had the final word on why Paris still reigns supreme.