a much-needed sarah lucas retrospective is this fall's must see exhibit
'Sarah Lucas: Au Naturel' is the first major American survey of the artist's work.
|
28 September 2018, 3:23pm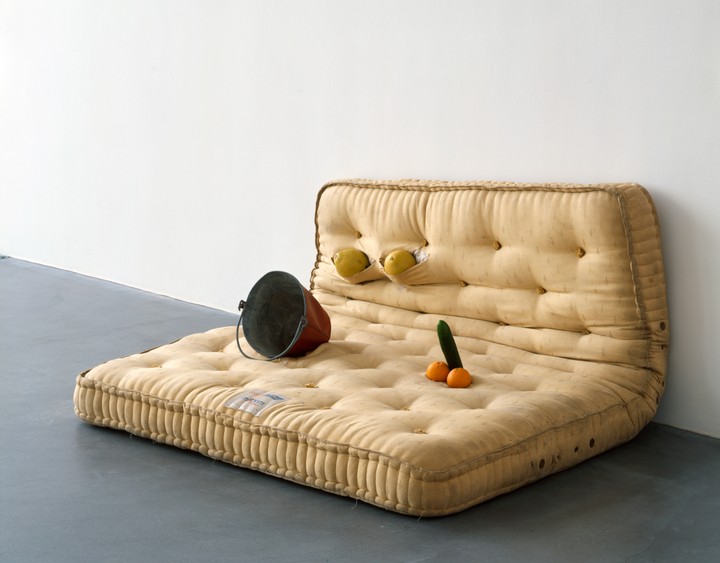 Sarah Lucas, Au Naturel, 1994. Mattress, melons, oranges, cucumber, and water bucket, 33 1/8 x 66 1/8 x 57 in (84 x 168.8 x 144.8 cm). © Sarah Lucas. Courtesy Sadie Coles HQ, London.
Sarah Lucas has been using her uncanny ability for putting things together to dismantle conventions of sexual propriety, taste, and culture for more than three decades.

Lucas emerged in the 1990s as one of the original Young British Artists, the infamous group of creatives that Damien Hirst heralded to international status with his 1988 "Freeze" exhibition. Staged in an abandoned Port Authority building during his second year at Goldsmiths University, Hirst's "Freeze" featured the work of fellow students like Lucas, Tracey Emin, Gary Hume, and Marc Quinn, a generation that went on to shape British art culture for a quarter of a century.
Three decades after Lucas's ascension to contemporary art stardom, New York will finally be graced with the first major American survey of her work. Sarah Lucas: Au Naturel opens on September 26 at the New Museum.
The YBAs were the first generation to violently push the idea that art should be young, brazen, and part of popular culture. They embraced Postmodernism's rejection of fine art materials and distinctions between high and low culture to focus on spectacle and shock. But while the male YBAs were busy getting most of the attention, Lucas was finding new and inventive ways for found and created objects to coexist. Like the rest of the group, Lucas's work favors an open approach to process and materiality. Her artwork is made up of domestic and familiar objects like old furniture, cigarette butts, stuffed pantyhose, and beer cans, a tribute of sorts to her working-class Islington roots.
The New Museum show, also the largest exhibition of Lucas's work to date, will feature more than 150 works made since 1989, among them photographs, video works, and her collages of subverted sexist Sport spreads, like "Fat, Forty and Fabulous."
Sarah Lucas was born in London in 1962. Her father was a milkman, her mother a cleaner, and Lucas held numerous part-time jobs from the age of 13 until she graduated from Goldsmiths — where she met many of the original YBAs — in 1987. When Charles Saatchi, the prominent ad man and business mogul, took over the patronage and publicity of the YBAs, Lucas was one of the only members of the group whose art wasn't overtaken by celebrity.
Amidst all the shock and entrepreneurship of her contemporaries, her work is the most raw, humorous, and difficult to understand. Take, for instance, Lucas's 1994 piece "Au Naturel," from which the exhibition takes its name. It irreverently depicts a man and a woman in bed using fruit, found objects, and a mattress. Her phallic obsession here manifests as obviously as with an upright cucumber held up between two oranges for the man, while a red, beat-up bucket beneath two grapefruits lodged in the mattress stand in for the woman. Deceptively simple like most of the Lucas's work, "Au Naturel" places us in a position of spectatorship before a scene of intimacy deeply informed by the artist's personal life, but with no attached implications of morality or social structures.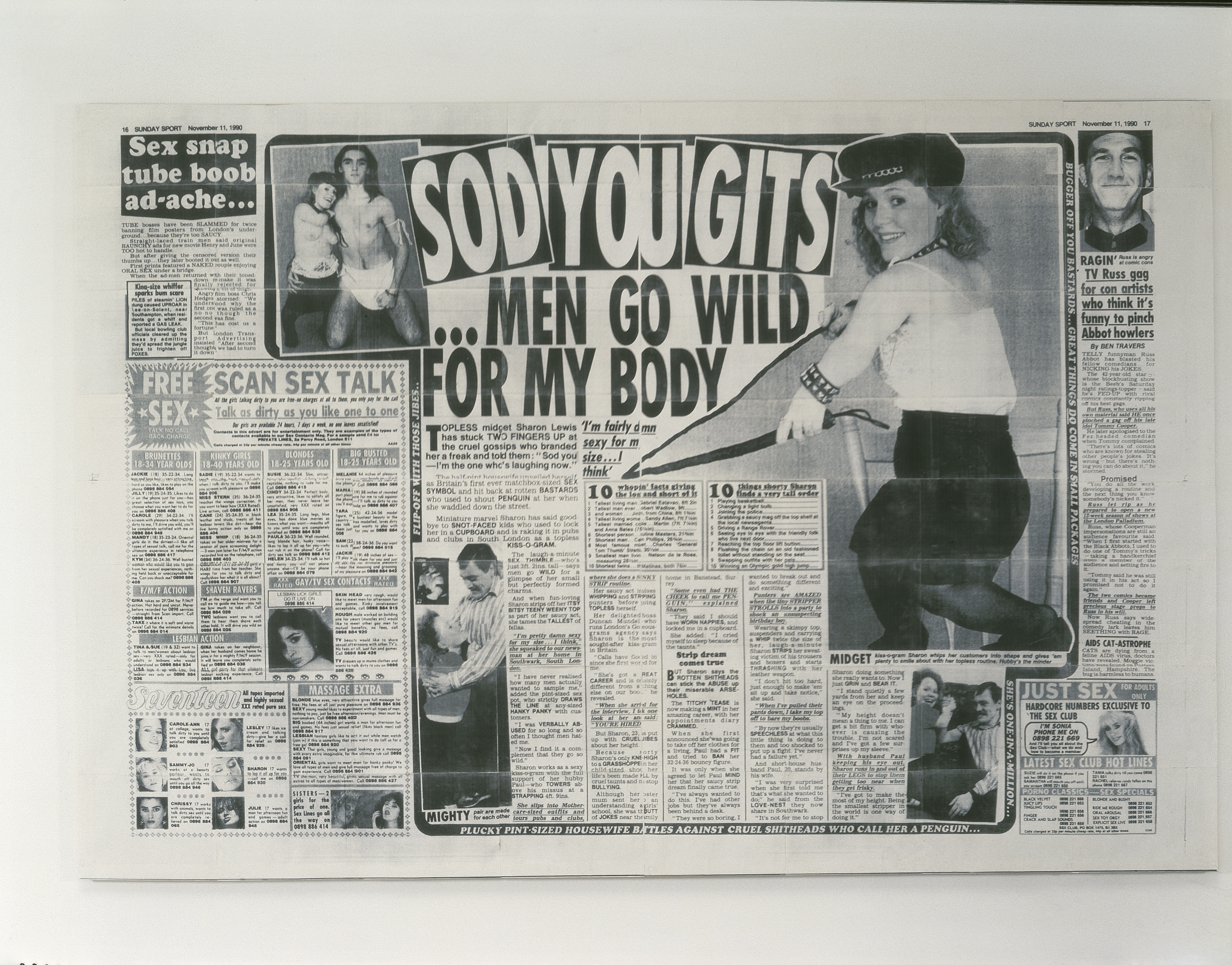 The New Museum show also includes her burned and cigarette-plastered number on a 2003 Jaguar, "This Jaguar's Going to Heaven" (a riff of the Pixies song, "This Monkey's Gone to Heaven"), and (my favorite), her "NUD" pieces, old tights stuffed with kapok twisted into shapes that sometimes allude to perversions of Henry Moore or Matisse.
In spite of Lucas's influence in abandoning the segregation of artistic disciplines in favor of mixed media experimentation, her work and enduring legacy remains largely underrepresented outside of the U.K. The New Museum retrospective is a much-needed celebration of an artist that has deftly defied conformism — one especially refreshing in this era of self-congratulatory art.
Sarah Lucas: Au Naturel is on view at the New Museum through January 20.