inside browns' los angeles pop-up
Browns and Fred Segal collaborate on an LA pop-up to spotlight and support young designers.
|
13 September 2018, 4:26pm
As legend has it, John Galliano sold his graduate collection to Browns on South Molton Street, the boutique founded by Joan Bernstein in 1970. Who happened to walk past one day? Diana Ross. She became Galliano's first-ever customer right then and there. Almost half a century later, and Browns is still a patron of emerging designers from around the world. In addition to the roster of megabrands such as Gucci, Balenciaga, Prada and Burberry, the retailer has invested heavily in a new generation: designers such as Supriya Lele, Conner Ives, Kiko Kostadinov, Wales Bonner, Halpern and Liam Hodges.
For the first time, Browns -- or Browns Fashion as it's now known after being acquired by Farfetch in 2015 -- has gone global with a shop-in-shop in Fred Segal in Los Angeles, so far its only non-UK territory. In Hollywood, Fred Segal is somewhat a cult phenomenon. "Last week I saw Cameron Diaz at Fred Segal and I talked her out of buying this truly heinous angora sweater," Elle Woods famously declared upon arriving at Harvard in Legally Blonde. Or perhaps you might remember Cher Horowitz searching through a pile of clothes for her white collarless shirt from Fred Segal.
In essence, it's to LA what Browns is to London; a legendary go-to boutique at the heart of its centre. Except the two couldn't further apart. Fred Segal was started in 1961 and began as a purveyor of blue denim -- The Beatles and Elvis went there for their jeans. Its Sunset Boulevard space, which opened in September 2017, also boasts a boxing gym, florist and restaurant. Browns was the first boutique to bring over designers such as Ralph Lauren, Missoni, Comme des Garçons, Donna Karan and Calvin Klein to the UK, and its roots are in personalised retail centred on high fashion and luxury.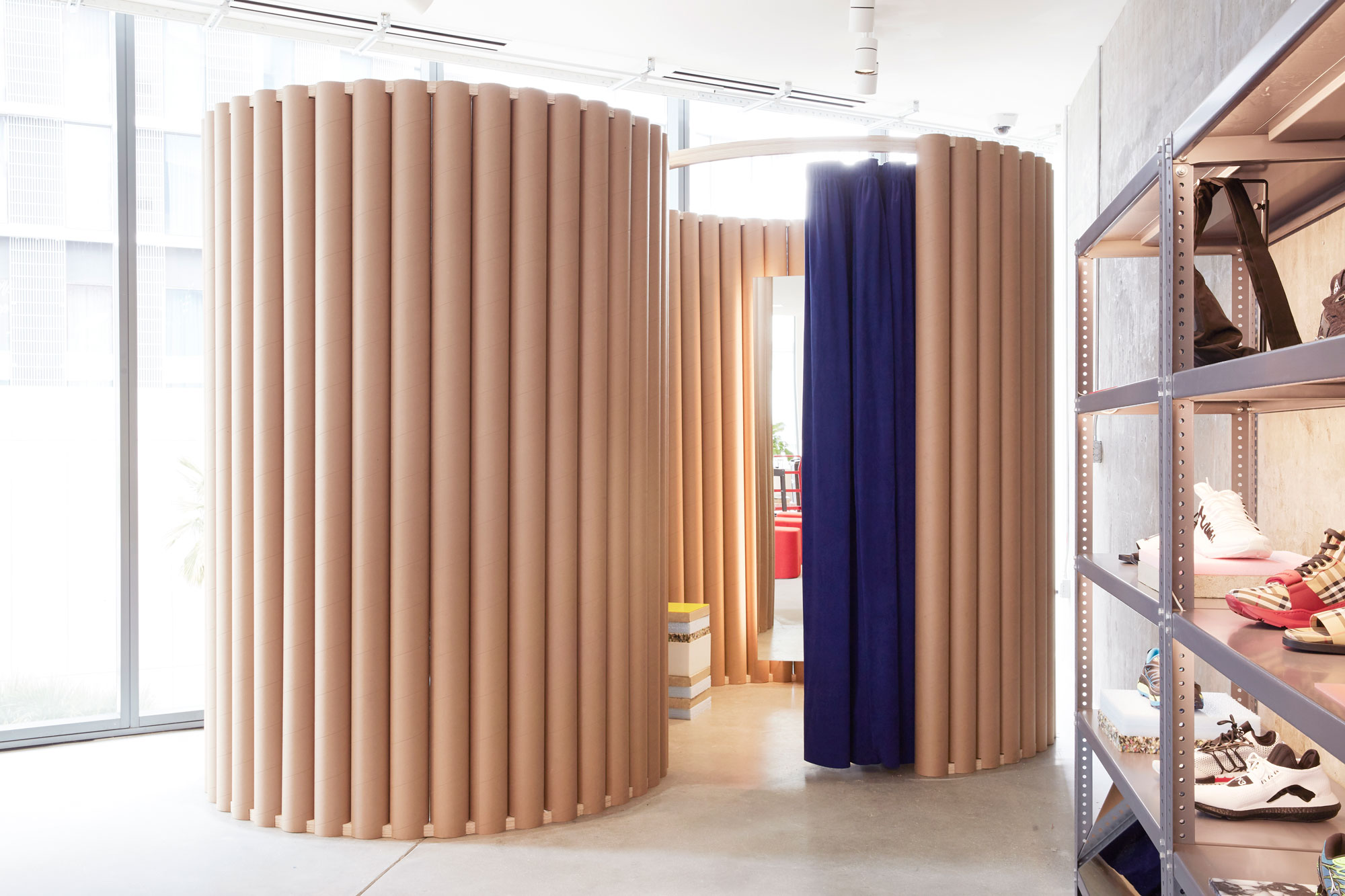 The collaboration marks an unprecedented collaboration between two retailers. "People said 'You're crazy, why would you do that?'" Browns CEO Holli Rogers says. "'You're a retailer, so why would you want to work with another retailer?' That goes against all the conventions." What set the project apart, however, was its focus on supporting emerging talent rather than the traditional blue-chip brands.
"It was about having those younger designers and getting them seen by a different audience," explains Ida Petersson, Browns' womenswear buying director. "If we bought all the big guys, they wouldn't be exciting and people would walk in and yawn. All those brands are here, so why bring them something they've already seen?" The rails lined with Conner Ives's sustainable surfer dresses, Alexia Hentsch leotards and GmBH denim and tailoring are testament to that. The occasional Off-White or Burberry check can be spotted, but it is essentially a platform dedicated to younger designers, including ones from South Korea such as Low Classic and Charm's.
The eight-week pop-up is the second iteration of Browns' Nomad project -- a series of roaming retail concepts, which began with its Shoreditch-based Browns East space last October. The space itself is designed by London-based interior designers Brinkworth and consists of entirely moveable fixtures and rails, devised to accommodate its schedule of in-store experiences.
It also comes at a time that Los Angeles is becoming an increasingly significant fashion destination, although the city has been defined by its casualwear and denim. "For us, it is a really big deal," Rogers continues. "This is the first time outside the UK, which has been our cradle of goodness for so long. We had to really think about what we stand for and it came down to supporting new talent. It seemed a natural fit."