a$ap mob is bringing back posse rap
The collective discusses its new mixtape 'Cozy Tapes Vol. 2: Too Cozy,' featuring Frank Ocean, Jaden Smith, Playboi Carti, and 15-year-old prodigy Smooky MarGielaa.
"I hope y'all like the music," exclaimed A$AP Rocky standing in front of a DJ in a Midtown Manhattan recording studio. "It's eccentric, futuristic — some mob shit," he said, hair braided back, pairing track shorts with a long white graphic tee and a blue-and-yellow bandana tied around his neck. It was the rapper's way of introducing the just-released mixtape Cozy Tapes Vol. 2: Too Cozy, by his rap clique, A$AP Mob. With A$AP Ant, Lou, and Ferg standing beside him (the latter in long leather shorts and a scarlet durag, a motif featured on the cover of Ferg's new mixtape, Still Striving), Rocky introduced the first track. "This is 'Perry Aye,'" he said, puffing on a blunt that was thick like a cigar. "Featuring me, A$AP Nast, Jaden Smith, and Playboi Carti."
Cozy Tapes Vol. 2: Too Cozy is the follow-up to 2016's Cozy Tapes Vol. 1: Friends. The 17-track second installment features appearances by Gucci Mane and Frank Ocean and a crop of up-and-coming rap talents like Chief Keef, Lil Yachty, and Joey Bada$$. "It's all familiar family," explained Ferg of the numerous collaborations. "These are relationships we been had before rap. The most exciting is the one with Chief Keef because we came up at the same time," he added of the Chicago rapper's verse on "Blowin' Minds (Skateboard)." Asked how they will continue the late A$AP Yams's vision, Rocky said, "A$AP's vision is his vision."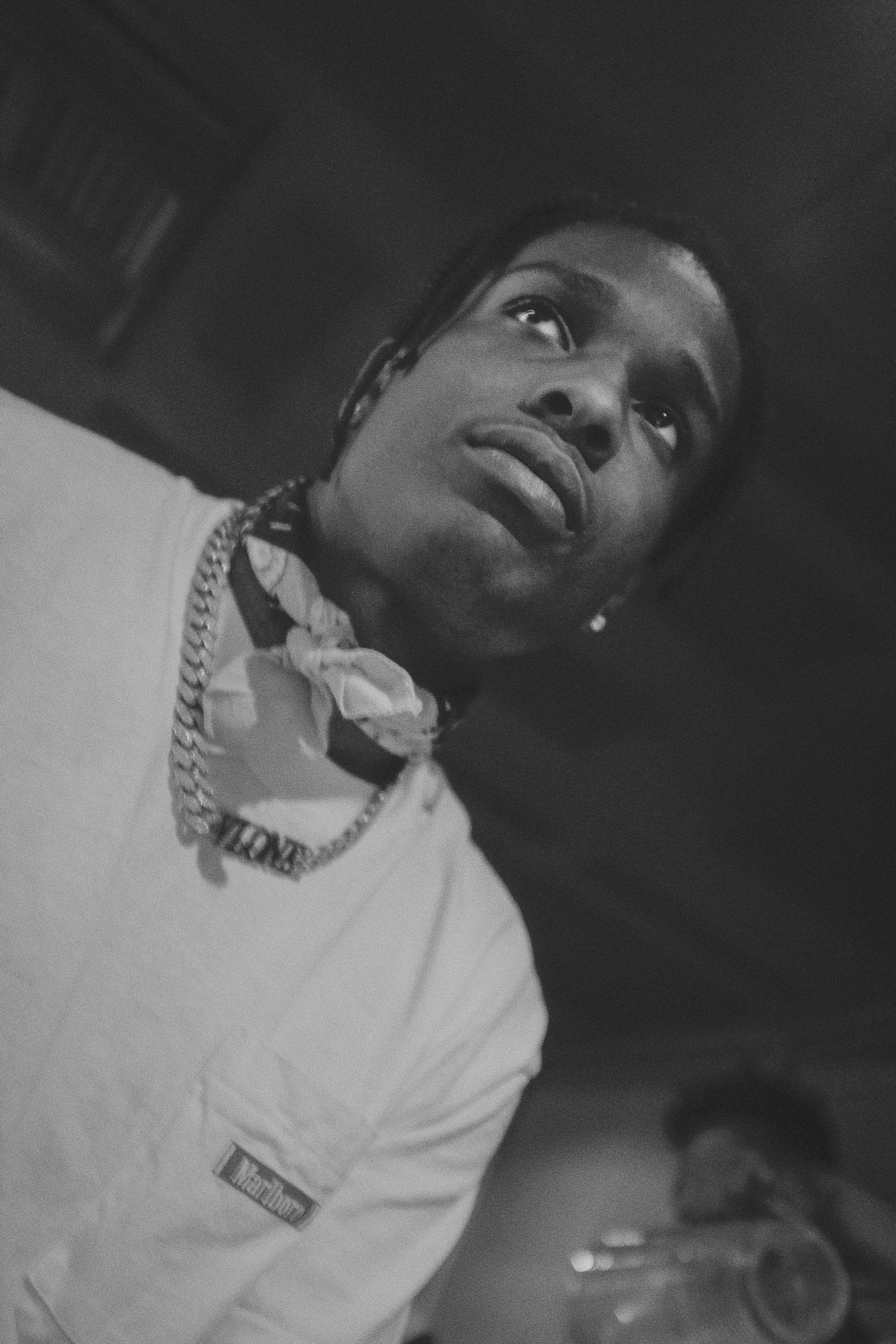 Too Cozy Vol. 2 can be considered a catch-up mixtape for the mob. After seeking success as solo artists — Twelvyy and Ferg both released independent projects this month — the collective went back into the studio in Los Angeles and recorded all that has changed since we first heard them spit together. "The whole point is to bring back posse rap. That shit died in the 90s," explained Rocky. "It always feel good when we together," said Ant, standing inside the recording booth, "We chillin', we partyin', we mobbin', that shit feel good because that's somethin' we be missin'." "They bring a certain type of music out of me," interjected Ferg. "When I'm by myself making music you can hear the difference."
Volume two, filled with trappy, clubby vibes, features the previously released singles "Feels So Good" and "RAF," the mob's homage to the legendary Belgian fashion designer and current chief creative officer of Calvin Klein. "I'm a student of this shit and I give credit where credit's due," Rocky said before admitting "Frank Ocean is a singer but he bodied everybody on this track." He played the record. The crowd surrounded him and Ferg, Ant, and other members of the crew chanted softly: "Please don't touch my Raf/ Please don't touch my Raf."
Seeing the mob reunite at the listening party, another mob came to mind. Two weeks ago, a group of white supremacists and neo-Nazis carrying tiki torches and bellowing racist chants marched through the streets of Charlottesville, Virginia. On Thursday night in the studio, a group of young black men, a self-described mob, spat defiantly triumphant raps over trappy, airy, and bombastic beats, quieting the sounds of white racists.
"Black card / Black card /Black card / Like black American Express / Black man tryna flex," rapped Rocky in the third verse of "Black Card." Standing in the studio — made festive with bottles of rosé, beer, weed, and colorful strobe lights — the mob weren't exactly big pimpin' but their tracks included many mentions of how much money they make and spoke of sexual fantasies. Twin "metaphors and similes type shit," to borrow a phrase from Rocky, of victory that alluded to what the writer James Baldwin, another Harlemite, once said: "Money, it turned out, was exactly like sex. You thought of nothing else if you didn't have it and thought of other things if you did."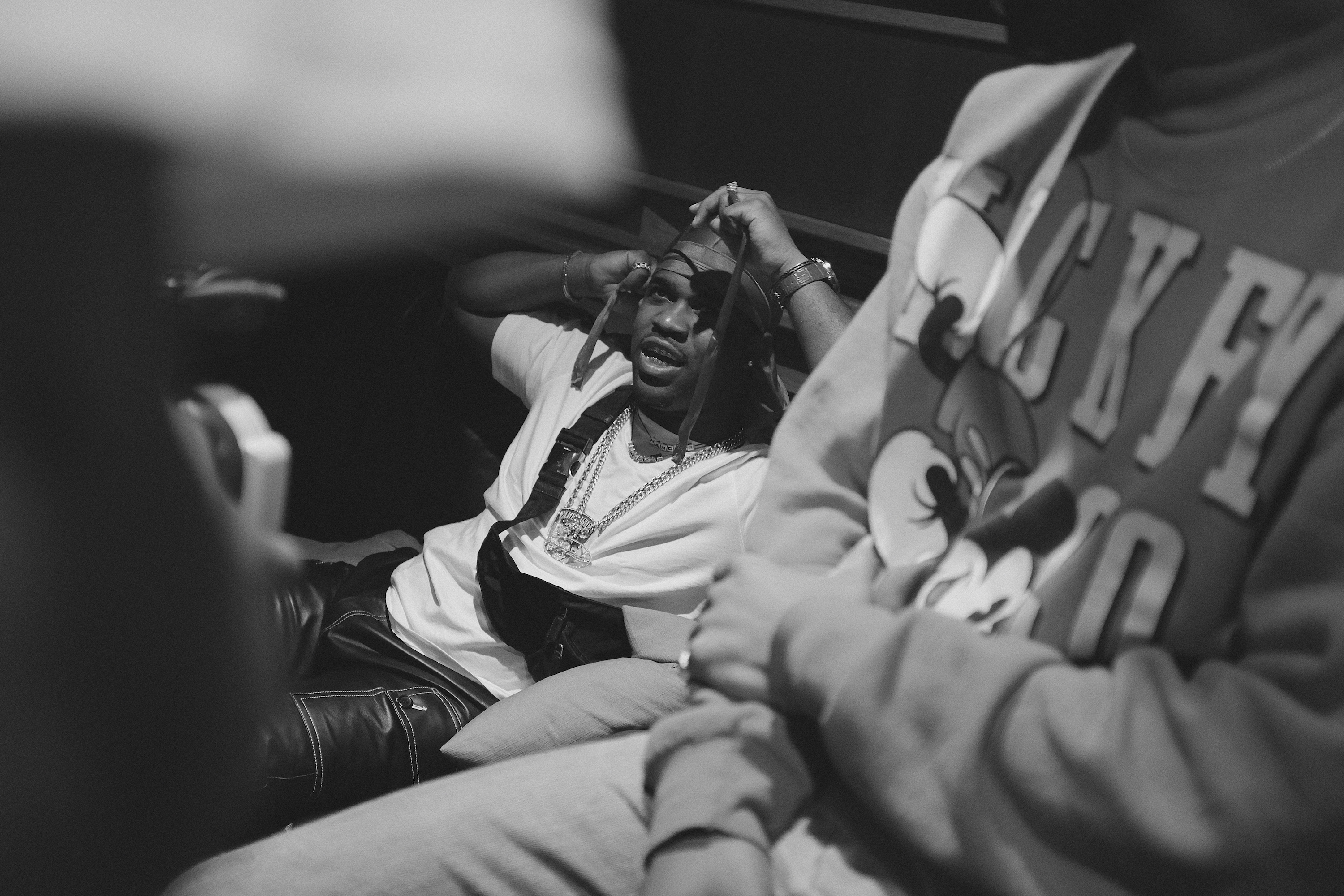 At one point, Ferg, who has been calling himself "the hood Pope," stopped dancing with Rocky to pose for a picture. He held up his iced-out watch and pulled open his mouth with his pinky finger to reveal diamond-encrusted grills covering his teeth. It was his way of saying "cheeeeese." Young, carefree, with diamond-and-gold chains around their necks, they were celebrating by flaunting a singular wealth. And why shouldn't they celebrate? The original crew grew up poor in Harlem with the odds, all of them, stacked neatly against them, and won. "Rocky do you remember when you were broke?" asked Ferg, "Yeah, not that long ago!" In the face of white power and revisionists longing to return America back to a discriminating past, life, for the mob, is too cozy. As we debate the symbols and images that should represent America, why not include theirs?
"Aight look at this point, I'ma need all y'all to put your phones away," said Rocky after playing "Black Card," featuring the rapper and 15-year-old newcomer Smooky MarGielaa. "If you not gonna vibe out and listen to the music then get the fuck out of the room," he said. "It ain't about that other type of shit. Listen to this music."