jay-z's manyfacedgod and the other new music vids you need to watch
As well as another brilliant video from Jay-Z, L.A. producer Logic shares an emotional rollercoaster in support of the National Suicide Prevention Lifeline, and Lil Peep is on fire – literally – in the visual for Awful Things.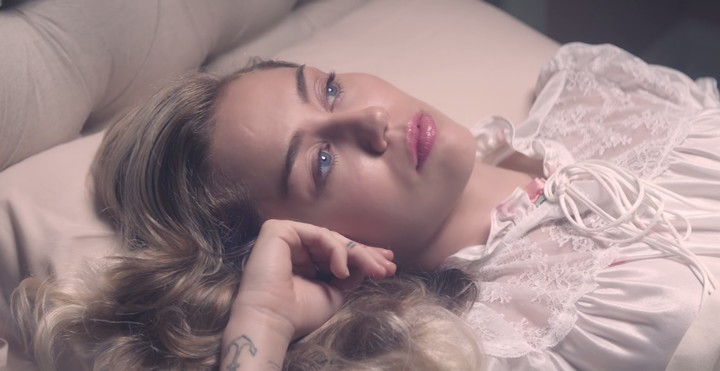 Jay-Z, MaNyfaCedGod ft. James Blake
First up, it's Jay's bonus track for 4:44, the keyboard-smashing MSN screenname worthy MaNyfaCedGod directed by Francesco Carrozzini, who brought us the romantic delights of Lana's Ultraviolence back in 2014. Shot in black and white, actress extraordinaire Lupita Nyong'o channels all the emotions of the track about Hov's relationship with Beyoncé, the Bonnie to his Clyde.
Miley Cyrus, Younger Now
Wow, MC's really going for it with this new country thing isn't she? All silk shirts and big quiffs, she takes on several characters and leaves us with the take home message that we all change and that's okay.
Lil Peep, Awful Things ft. Lil Tracy
There are a lot of awful things in this world and Lil Peep is not one of them. We can't help thinking that maybe he's overreacting a bit here though, when he sees his crush with another guy and sets himself on fire in the school corridor. Lil Tracy's moves at 2:48 are everything.
Lawrence Rothman, Ain't Afraid of Dying (ft. Marissa Nadler)
Taken from his deeply personal forthcoming album The Book of Law (due 13 October) on which Lawrence explores his nine different physical and emotional alter egos, Ain't Afraid of Dying
is very second-coming-of-Leonard-Cohen. The video, directed by Floria Sigismondi, is moody and intimate with multiple layers of the US artist hanging about a really nice house. He might not be afraid of dying, but we certainly haven't come to terms with the idea yet.
Rejjie Snow, Virgo ft. Pell
Our Rej headed home to Dublin to film this for the lead single from Dear Annie, his long awaited debut album due on Honeymoon later this year. It's full of cute kids, basketball on horses, and a small town Alasdair McLellan aesthetic that holds out until the day turns to night and shit gets fluorescent. Directed by Julien Soulier, it was shot on O'Devaney Estate where apparently only five families live these days. "It's the world we live in," Rejjie said of the video. "Colourful and magical in its own way."
Jamila Woods, LSD ft. Chance the Rapper
We recommend you get to know the work of Chicago poet and singer Jamila, who explores blackness and womanhood through her really special soul music. She called on Chicago Public School students to write treatments for this music video, with the winning student shadowing the directors throughout. Jamila rules.
Rich Chigga, Glow Like That
It's Indonesian teen rap dream Rich Chigga now and he's dancing through fields of sunflowers and telling tales of a special someone. Fun fact: he doesn't actually smoke. Or drink. Or dance through fields of flowers on the regular. Our fave things are the excessive use of harp and the Mac DeMarco line, wbu?
Logic - 1-800-273-8255 ft. Alessia Cara, Khalid
Wow. Alessia Cara just teamed up with Khalid on a track by Logic and the video is a beautiful emotional rollercoaster deserving of its own Netflix series. Following an adorable kid through to adulthood in the space of just a few minutes, we see him struggle with unaccepting parents while coming to terms with his sexuality. Overcoming a v low moment, he pulls through and life gets great. ICYMI, the track name is the number for the US National Suicide Prevention Lifeline (116 123 for the Samaritans in the UK) which is genius and so important.
Renz, Anyting
We'll end on something a little more light-hearted now with this, the first single to be released on the newly created New Gen imprint of XL Recordings. Maybe you heard their recent New Gen album and remember that it was Renz who exec. produced the entire thing, as well as contributing his own single, Flexin'. Clever clogs. Both audio and visual are pure late summer nights in London vibes and guaranteed to make you move. Catch Renz headline Koko on 6 October.