instagram is obsessed with mary-kate and ashley's noughties style
We spoke to the diehard stans running MKA fashion Instagrams with thousands of followers to find out why they do it, and why the internet is still so obsessed with Olsen twin fashion.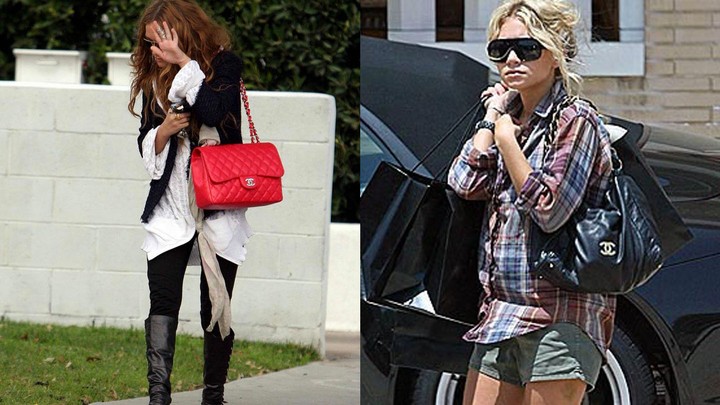 Mary-Kate and Ashley Olsen do not have Instagram. Their social media presence, like their real life presence, is minimalist, mute and mysterious. Nowadays, retired from acting and having shunned the media circus that comes with being a child star, if the Olsen twins need to make a statement they do it through their work at The Row. After 12 years at the helm of the brand, Mary-Kate and Ashley are known less for Two of a Kind and Passport to Paris and more for retreating from the limelight, creating understated, sophisticated clothing for modern women that they're often seen wearing themselves in endless smoke breaks outside their New York headquarters. But for legions of Olsen fans, their lack of social media presence and ever-changing personal style has inspired an Instagram subculture with hundreds of fan accounts, all boasting hundreds of thousands of followers.
Alyce Peeler, a paralegal from South Carolina, runs one of these popular accounts. With over 28,000 followers, Alyce refers to her account, @olsenoracle, as an "all consuming hobby". Without a personal Instagram, the 28-year-old dedicates her time on social media to researching and posting Olsen outfits from through the years, and creating 'look-for-less' Instagram stories, which allow her fans to recreate Mary-Kate and Ashley's luxury style. "I started my account because the twins are so under the radar and there weren't a lot of immediate updates on them. I put a lot of time and effort into constantly searching for new content and being the first to share it with the Olsen online community. I don't want to post photos of them from Full House or their childhood, I want to show you what they wore yesterday to visit an art gallery."
@olsenoracle focuses on the girls' most recent fashion, as Alyce says the past five years of The Row looks are her favourite, but as a rule many Olsen Instagrams are shrines to the twins' noughties style. There are endless photos of Mary-Kate, carrying her trademark mint green Balenciaga bag on her way to classes at NYU, or wearing leggings and flip-flops to a basketball game, or hobbling around in oversized sunglasses and her favourite Balenciaga harness boots.
Nostalgia is the main motivator behind these endless throwbacks, and many of the biggest Olsen accounts certainly play on that as an aesthetic. Alyce's bio calls her Instagram feed "nostalgic nirvana". "Seeing Mary-Kate with that mint green Balenciaga can transport anyone back to 2007," she tells i-D. "It can remind you of what you were doing back then as if no time at all has passed. I think nostalgia is a beautiful thing."
@olsenmoodboard is another fan account which posts nostalgic noughties looks. Run by 18-year-old Zuzana, a Slovakian high school student who uses the account to practice her English, it has nearly 8,000 followers despite the fact it was only created a year ago. "It sounds obvious but social media thrives on aesthetics," Zuzana explains. "I guess my favourite era of theirs would be the mid 00s -- being 18 makes me especially drawn to their NYU days, when they were the same age."
It's not a coincidence that many of the women behind MKA fan Instagram accounts are either a similar age to the throwback teen Olsen pics, or similar in age to the twins themselves now. Jessica McLaughlin, who runs @olseninspiration (a smaller account with around 6,000 followers) is a 30-year-old stay at home mum, who first encountered the Olsens when watching Full House as a child. "When I was little I had the talking Michelle Tanner doll and the movies and their Barbie dolls. I loved their first fashion line and still love them now," Jessica explains. Like Alyce, the fan account is her only Instagram, and she uses it as an outlet because she "didn't want to be the centre of attention" herself. For Zuzana and Jessica, their fan accounts are aspirational, but also a way to relate their own lives and experiences to two megastars they've never met.
Jessica's account in particular is full of noughties Olsen looks. "My favourite era of theirs is 2003-2010," she says. "I think they started so many trends in that era, like their obsession with oversized sunglasses." It makes sense that so many Olsen blogs are shrines to the noughties -- their creators, like many of Mary-Kate and Ashley's adult fans, were teenagers themselves in the early or mid 00s, when the twins were idols of young Hollywood and helped guide and inspire oft-copied fashion trends of the era. Their huge popularity on social media is partially related to our seemingly never-ending noughties revival. This year alone we've seen the return of thongs, Juicy Couture tracksuits, Dior saddle bags and (a Mary-Kate fave) the humble cowboy boot.
But unlike other noughties idols who have fallen out of the cultural conversation, like Lindsay Lohan, Mischa Barton or Lauren Conrad, the Olsens have endured. They owe their extreme Instagram (and IRL) popularity to more than just nostalgia. In a culture which demands constant access to our celebrities, the Olsen's refusal to engage with fans on social media, and the mystery which comes with that, sets them apart. Even when they founded The Row back in 2006, the twins were reluctant to attach their (very recognisable) names to the brand, and even to this day rarely give interviews. It's all very anti-social and inaccessible and, to be honest, pretty chic.
Because of their air of mystery, fans can pore over their outfits and obsess over their style and hail them as fashion icons without the extra complication of deciding whether they like the twins as celebrities or actual people. After all, in our milkshake duck culture, it's becoming increasingly the case that no sooner do we get to know a celebrity that they say or do something problematic and are immediately cancelled. No more listening to their music, watching their films, buying their clothes, no more Instagrams dedicated to them. While we're experiencing a noughties fashion revival right now, the same can't be said for many of the celebrities, musicians and actors we adored as teenagers. Looking back you can see that their opinions are dated and just don't stand up to criticism in the digital world. However much we love the film, it's certainly difficult to enjoy Stacey Dash's performance as Dionne in Clueless knowing she became a right wing pundit afterwards. The same goes for listening to bands that may have meant a lot to us as noughties teens, but are now difficult to stomach, like Brand New. Even celebrities who have stuck around have had to recontextualise their artistic decisions. Hayley Williams, for instance, has repeatedly apologised for her early misogynistic Paramore lyrics, which has led to the band cutting Misery Business from their setlist for the foreseeable future.
Of course, you can still like problematic celebrities, but after their endless interviews, tweets and Instagram stories have been pored over and collectively judged. And you wouldn't be able to run fan accounts for them without being dragged on Twitter. The more public a celebrity is, the more imperfect they are. The more private and mysterious a star is, the more fervour there is around them. Without a recognisable public face, we're able to indulge in nostalgia much more readily. We can project on them our own memories of an era like the noughties, and use them as a blank slate for our own creative imaginings without feeling bad about liking them. In their conscious choice to shun the limelight, the Olsen twins belong to the same world of eerie fanaticism that surrounds notoriously private, longtime celebrities like Beyonce or Kate Moss (who have inspired their own fair share of fan accounts too).
Rather than bowing to pressure to be constantly available to their audience, Ashley and MK have withdrawn from public life, fuelling an insatiable appetite for more content and legions of fan accounts. They retain influence in their refusal to be influencers.