swarovski announce the winner of their central saint martins jewellery design project
With a neck piece inspired by the fragrances of Christian Dior, first-year student Piran Caseley scooped the top prize.
Imagery courtesy of Swarovski
The Swarovski x Central Saint Martins Jewellery Design Project, first established 17 years ago in collaboration with the art school's BA jewellery design pathway, provides the opportunity for first-year students to work with some of the finest materials that Swarovski has to offer.
This year, the stakes were raised, with the team behind the prize working in collaboration with London's Victoria & Albert Museum. The brief for students was to produce a jewellery piece inspired by the museum's blockbuster Christian Dior: Designer of Dreams exhibition, recently extended to the beginning of September due to popular demand.
The winner? First-year student Piran Caseley, who beat out the 31 other submissions with a piece inspired by Christian Dior's lifelong obsession with fragrance. Monsieur Dior's passion for gardening is well known -- from his rose gardens at his holiday home in Granville to the floral prints that became one of his design signatures -- but he also translated the scents of his roses into perfume bottles. Dior was, after all, the first major luxury fashion house to recognise the commercial potential of fragrance with the launch of its inaugural perfume, Miss Dior, in 1947.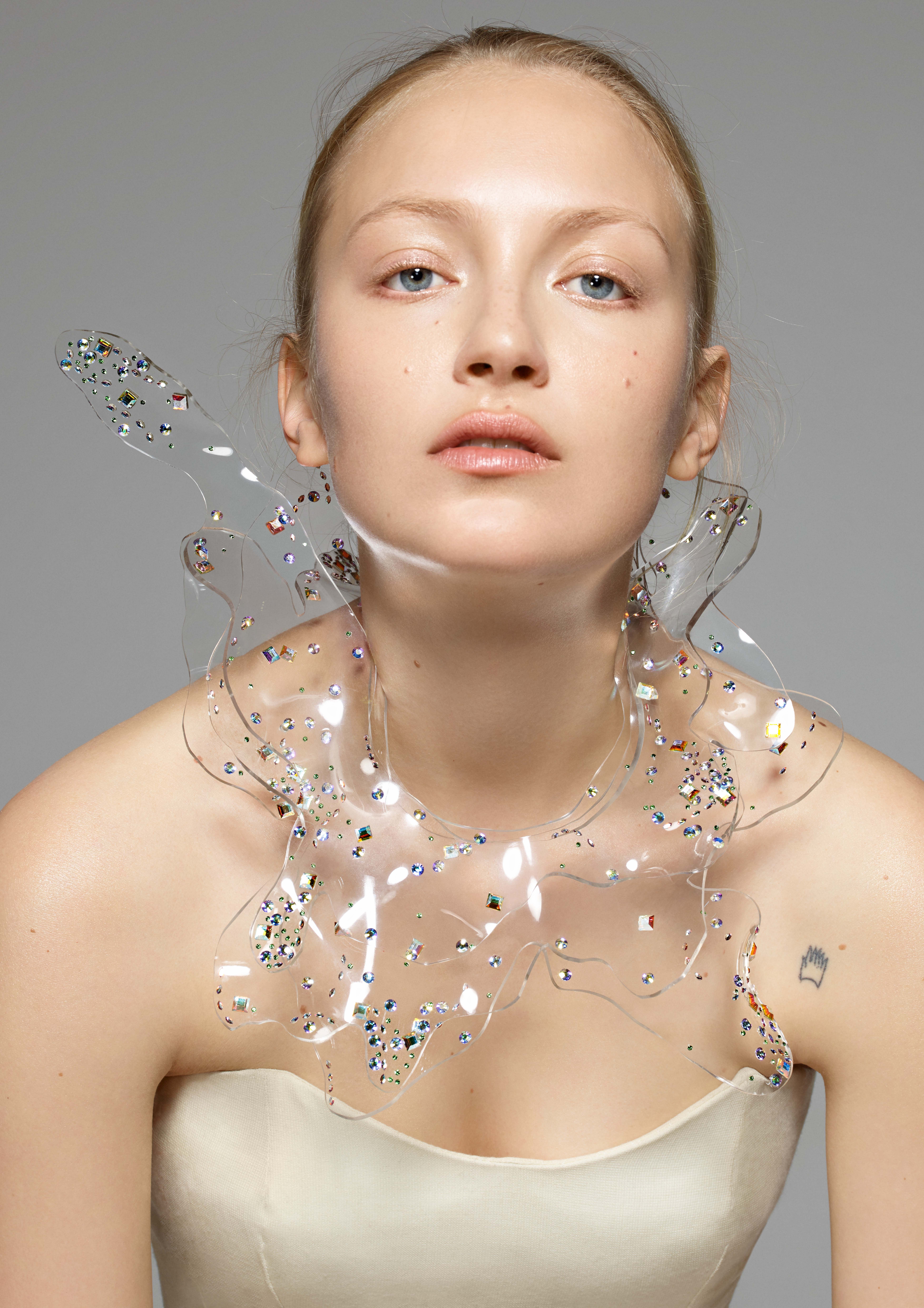 It's in this spirit that Piran crafted his sculptural neck piece that echoes the splash of fragrance on skin, or the aura of scent that surrounds the perfume wearer. Hand-sculpted with acrylic and studded with Swarovski Aurora Borealis crystals, it has all the shimmering delicacy of one of Dior's billowing tulle gowns.
"It is wonderful to see how these exciting young jewellers have responded to this theme," explained Nadja Swarovski, a member of the jewellery house's executive board, "and we are delighted to award Piran Caseley for his piece which displayed an imaginative interpretation of the project brief and an exceptional level of craftsmanship."