Left: Beyoncé, Antwerp, Belgium, 2015. Right: The Flowers, Aburi, Ghana, 2018.
this photo series documents the inner lives of sex workers around the world
Photographer Ulla Deventer spent 6 years living alongside her subjects in Europe and Africa.
Left: Beyoncé, Antwerp, Belgium, 2015. Right: The Flowers, Aburi, Ghana, 2018.
Ulla Deventer has taken a long-term look at sex-work — but you wouldn't necessarily guess it from looking at her images of girlish pink walls, floral still lives, and shimmering eyelids. The German-born photographer's approach mixes subjectivity and field work, actively resisting the guise of journalistic froideur about this fraught topic. Instead, photography becomes a way to tenderly evoke the inner lives of sex workers, and also inadvertently chronicles Deventer's blossoming friendships with the participants (she is still in contact with many of them).
The series "Butterflies Are A Sign Of A Good Thing" spans her time in Brussels, Athens, Paris, and Accra , visited between 2013 and 2019. The circumstances for sex workers in these places varied greatly: the profession is legal in certain countries (Germany, Belgium, Holland, Greece), regulated by punishing clients (Sweden, France), and illegal yet widespread (Ghana ). Sex work is a netherworld, yet it brings right to the surface perceptions of the female body as a locus of fantasy and contempt. Often relying on womens' memories, Deventer's symbolic depictions provide "alternative forms on the classic portrait," complemented by audio and text pieces, drawings created by sex workers, domestic textiles, and donated love letters received from clients.
A selection from the series is currently on view at Festival Circulation(s) in Paris (through July 21st), and the series was recently shortlisted for the 2019 ING Unseen Talent Award . We spoke with the photographer about how to contextualize storytelling, the importance — and unimportance — of location, and reevaluating stigmatization.
Is this the first such series you've done on sex work?
Yes, but I've always been interested in how people face not being accepted by certain norms, and often have to hide. I first did a series with friends who are gay; in some situations, they just couldn't say they're homosexual, because people would treat them differently. It's always about distinguishing between relationships where you can be entirely yourself versus situations in society — or sometimes in your family — where you have to hide what you really are.
Later on, I worked with young women in supervised living spaces for women with psychological problems. I started to use their personal interiors to portray their stories. I was always asking myself: what is appropriate, in order not to victimize, but to find another way where everyone can relate without being judgmental?
In Russia, I did a documentary on a rehabilitation center for drug-addicted women. It was the first time I was living with my participants — we were sleeping in the same room for a week. This changed my way of approaching people. I realized I want to be inside of their lives to understand them, instead of being the photographer who comes from outside, takes something, and leaves.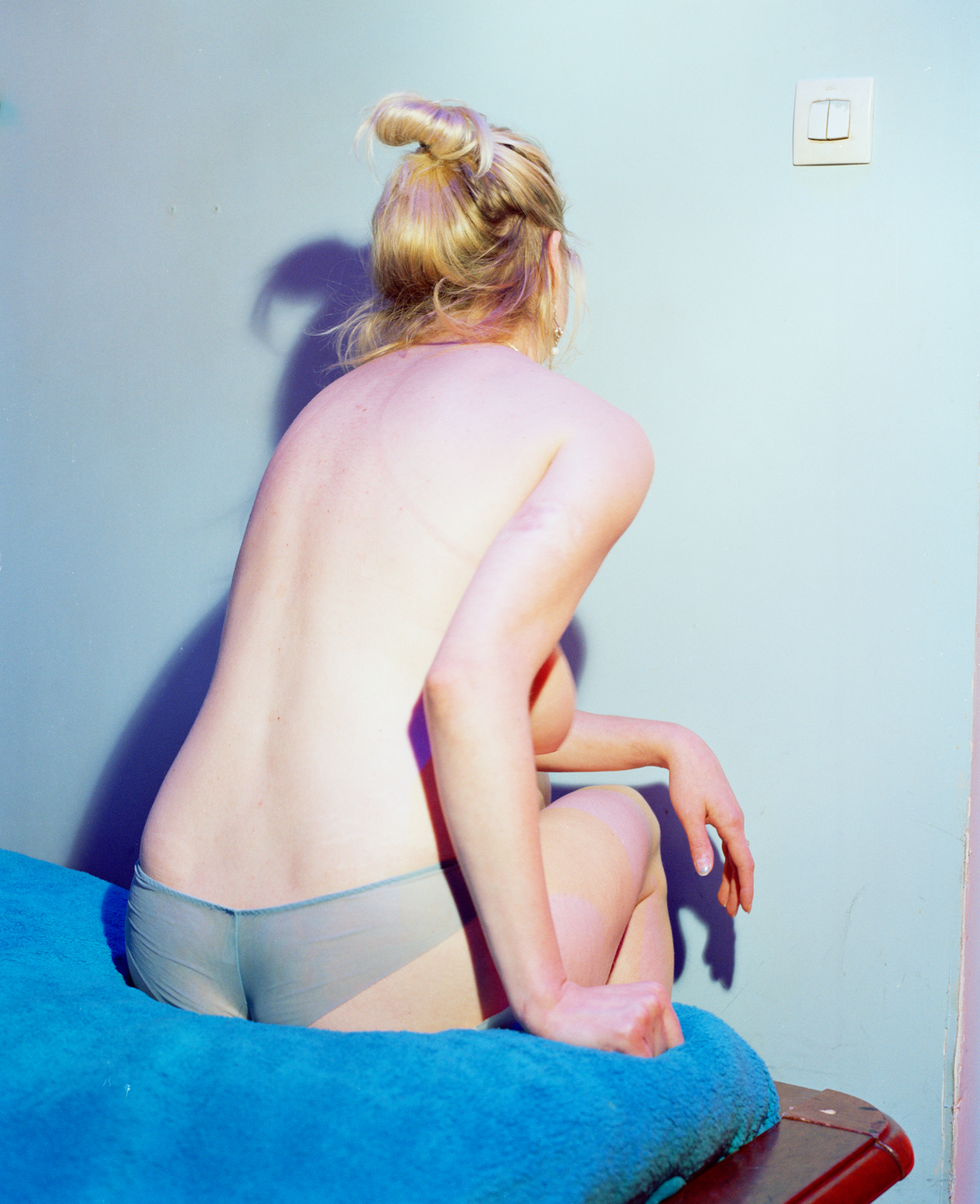 How did "Butterflies Are A Sign Of A Good Thing" start?
When I moved to Belgium to do my masters degree, I wanted to examine women not fitting the norms. In Belgium, sex work is very liberal. I grew up near Hamburg, where it's also very liberal, but there are certain streets where you're not allowed to go, because it's only for clients. In Belgium, and Holland, sex work is just part of everyday life. People walk where the sex workers are. Children play there. I liked this interaction with society. The women seem independent and don't have pimps. They rent their own rooms—how they decorate their rooms is very personal, and provides different ways of offering themselves to the clients.
What hesitations did you have about pursuing sex work as a topic?
I was thinking: how I could do this topic so loaded with clichés? How I could go beyond this? It was crucial for me to understand this red light milieu—the power strategies, who is controlling who, who's a colleague and who's competition. It was clear I had to collaborate with the women and to get their perspective. There has to be sympathy from both sides. I was asking them: how would you like to be represented? What is the picture you would like me to take, in order to tell your story? I became really close with the women and we became friends. I photographed their homes as well as their work spaces; they took me to church.
When did you decide to broaden the scope?
After a while, in Belgium, I had collected so much I didn't know what to add anymore. I was working with five women in Brussels. I went to other cities, like Amsterdam and elsewhere in Belgium, just to talk to women, collecting many more stories than what I'm representing in my project. I was thinking it would be interesting to open it up to other regions. I went to Athens, because the refugee crisis was really dominant and I felt it could reflect the whole kind of movement in Europe in an interesting way.
The working situation for the women was much worse there—you felt the crisis. Many Eastern European women, from Bulgaria or Romania, were there with pimps, strictly controlled. The brothels are hidden—if you didn't search for them, you wouldn't realize how present sex work is there, but it's everywhere.You don't have red lights, but tiny white lamps to indicate activity behind heavy doors. Once you have an eye for it, you find them everywhere. The women work with madams, mostly older women who used to work as nurses: they are the ones who are opening the doors, deciding which clients to let in. I always had to deal with them first, and they rarely spoke English so it was hard to get access. The psychological situation is horrible. It's not that they have been trafficked or kidnapped—it was the womens' choice to get to Greece—but they are under control of pimps. The pimps want to women to circulate, to avoid being noticed by the police. I couldn't really stay in touch with anyone; I wouldn't meet the same people again if I came back.
I was in Athens for three weeks. It's a huge mafia and there's camera surveillance. I returned to the same three brothels and the madams told me a good time to come and when better not. I always told friends in Athens where I was. The women sit underground, waiting; they don't see daylight, and they don't see the client coming in. They don't decide which client to take; it's the madam. Due to the crisis, they let in almost anyone with some money. Sometimes the clients were drunk or smelling, and there are no showers. This is totally different from Belgium where women are sitting as individuals behind windows and they have eye contact. In fact, a lot of women in Belgium said they gained self-esteem from, all day long, men complimenting them. The women in Athens were being rejected all day.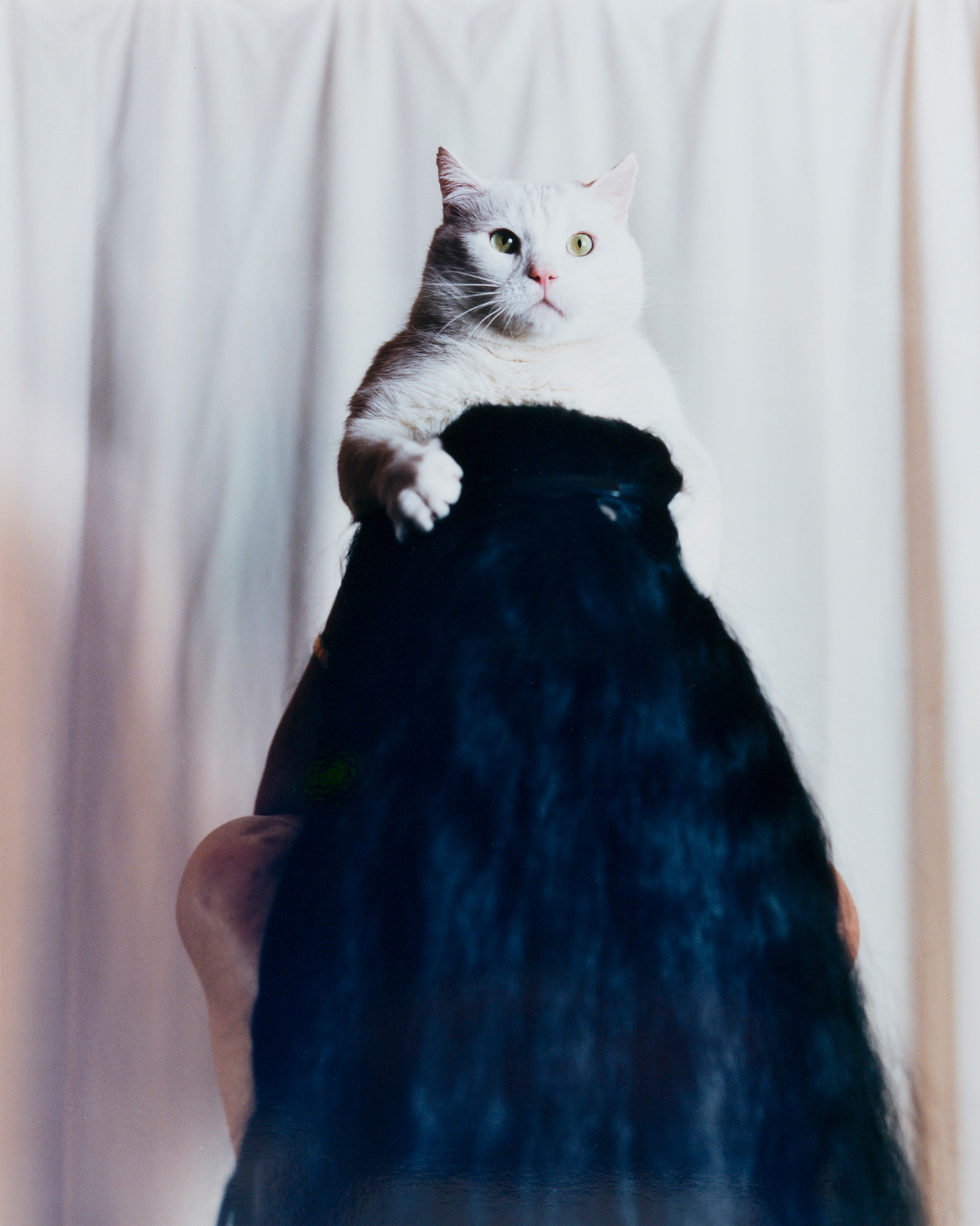 How did you decide to transition to Paris?
Due to the law of punishing the clients, it was one of the most difficult places to work. Women were all undercover. Bar owners kept saying 'sex work doesn't exist anymore'; of course that's not true. What is happening is that women are pushed out to really dangerous places: highways, the Bois de Boulogne. They have nowhere to live because they don't have official jobs, so they stay in the streets or share hotel rooms. That's how I could find them—guys working in hotels who opened up about the women living there. I was around Pigalle a lot and met people in striptease bars. Officially they're doing striptease, but still take clients. The problem is there are no safe places—there's no protection for these women. This law is really not the right way to empower them. It was interesting to compare the situations in European capitals, and to get a feeling for the system.
And then you went to Ghana.
I was interested in going there because I met many African women in Europe. It was important to get feedback from locals and really observe instead of trying to control situations. If they see you as a white woman coming, they think you're from an NGO bringing money or access to leave. I made sure from the beginning I told them I couldn't help; I was coming as an individual and I was interested in their stories and their lives. I could provide a platform to share stories. In countries with so little economic opportunity, it was always about taking my time and having a long-term relationship to understand each other. I'm asking them to open up, so I myself have to open up. I never take my camera for a first meeting, or the second meeting. The first meetings are just to get to know each other and to see if it makes sense to collaborate. I did model releases; I really wanted to make sure that they knew what I'm doing. It's about respect and how you'd like to be treated. None of them had visited an exhibition, but I wanted them to understand what it means for me to take their portrait.
In Ghana, I was living with a local participant in the project, Lizzie; she was my roommate and friend. Most of her friends are sex workers too. She kind of became my assistant; we went together to meet women as a duo. The project became part of my life because I was living with her. I got access to areas where I would never get access on my own. I was respected differently, because she was part of this community. I got access to highly criminal areas, but I felt safe because she knew the people controlling those area.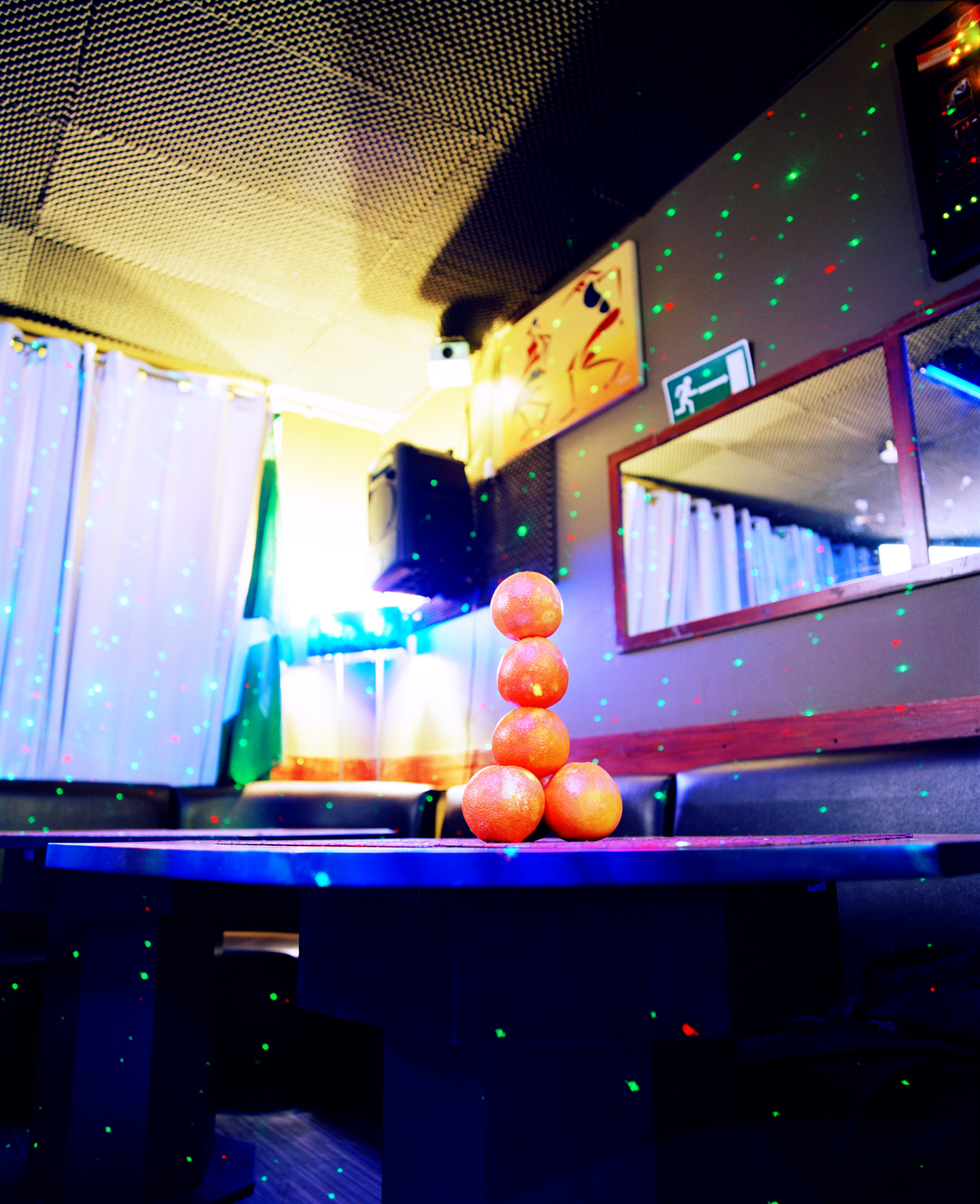 Did the racial component complicate the project in any way?
I'm still struggling with what it means to show those stories in Europe. It's always this question: where is an appropriate place to share stories, and where better not? To exhibit research in Ghana by itself doesn't work: I'm risking the work being limited to a white gaze looking on Africans. I never wanted to give my audience a feeling that I'm presenting an opposite. The work has never been a documentary about place; it's a subjective project and global issue that is happening everywhere and we're all involved. I never want to limit it as an issue that's happening locally. I do local research but it's meant to be read as a universal story. That's why I present selections from my whole body of work, from everywhere. This is how I want my work to be seen: as something that you can't really locate anymore.
What do you hope people take away from the series?
It's about the loneliness women are facing. This longing for being accepted. I hope I can create a certain empathy for the women, and make people reflect on why we are judging. The sex workers reflect us as a society: our taboos around understanding sexuality and the female body. People always ask me: 'how do you approach those women? Are you not afraid; is it not dangerous?' I never felt endangered, and it was never weird to talk to these women. Sex workers are so present. I wish people from different social backgrounds would talk to each other. They are afraid of I don't know what.