orange culture is the unisex brand challenging what it means to be a man in nigeria
"I was getting death threats -- people were telling me that what I was creating was demonic."
|
07 December 2017, 9:06am
When he was 17 years old, Adebayo Oke-Lawal wrote an essay for a writing class entitled An Orange Boy. Growing up in Lagos, Nigeria, and attending an all-boys high school, he had grown frustrated with the hyper-masculinity and prescribed identities surrounding him. He wanted to open a conversation about what it could mean to break with preconceived ideas of how a Nigerian man should be. An Orange Boy was his first tentative step in that direction, and his teacher asked if it could be published online. Oke-Lawal agreed and was soon inundated with people writing to him saying that the article had touched a nerve -- that they felt the same, or had experienced similar things growing up. The experience stuck with him, and after school he pursued a career in fashion, creating his own brand -- Orange Culture -- in 2011. Garnering international acclaim for its androgynous style and willingness to push boundaries, Orange Culture was a finalist for the LVMH prize in 2014 and the first Nigerian brand to show at London Collections Men.
Off the back of launching a capsule collection at Selfridges in collaboration with afrobeats star Davido, and releasing their new spring/summer 18 lookbook, we caught up with Adebayo to talk about the challenges of launching a unisex brand in Nigeria.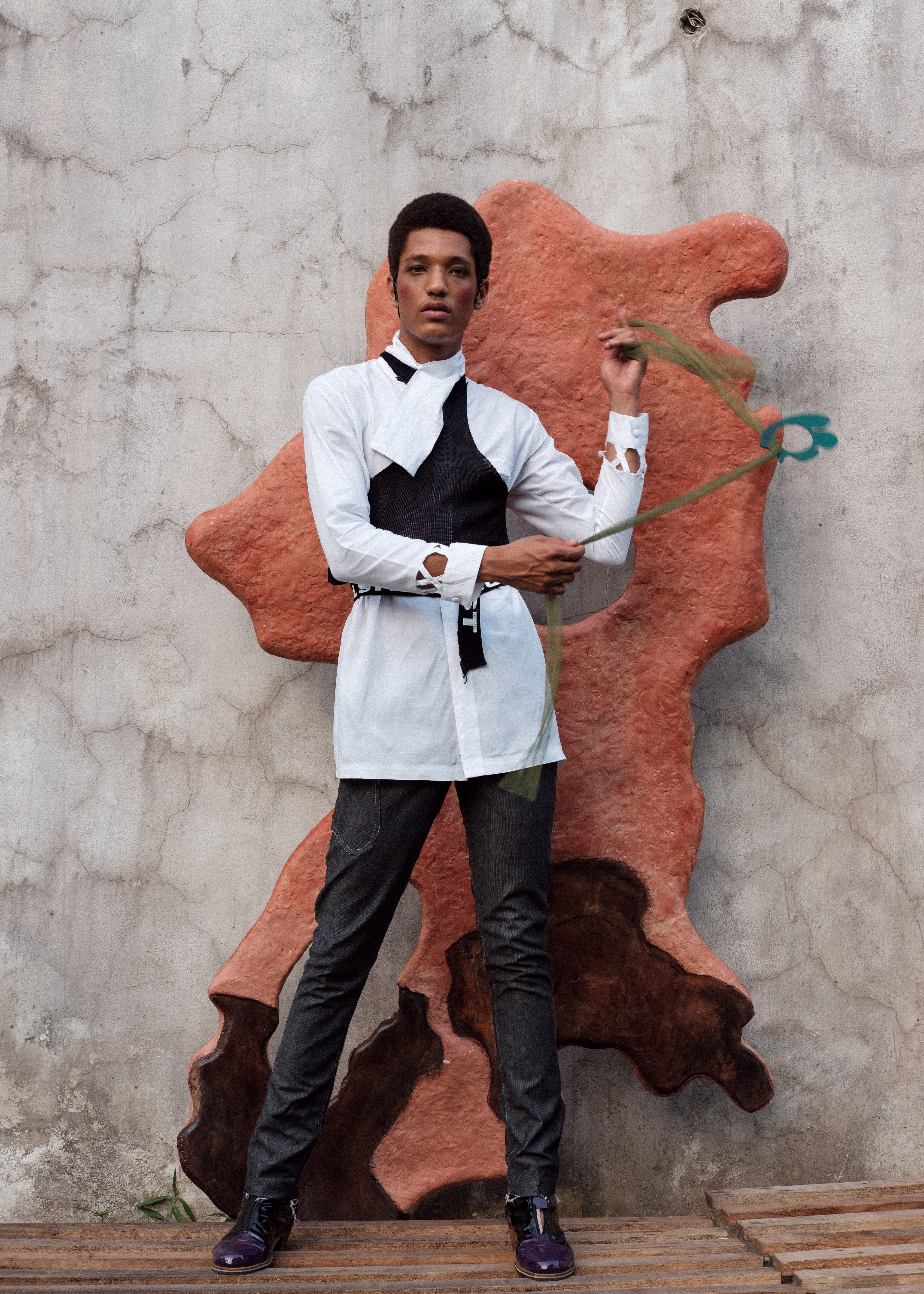 Your new season is called Don't You Trust Me. Was this influenced by the current political moment and post-truth, or was this something more personal?
For me designing is very personal so a lot of the time when I'm choosing what to create, it has to be based off of something that I've experienced or that I've seen. This year, personally, my biggest issue was trust. I had a lot of situations where things didn't go well in terms of investing emotions and trusting people. That flowed into where my mind and spirit was. I also felt like a lot of people around me were talking about trust issues, be it with the government or trusting in people or trusting in family. This meant that I kept hearing about trust and that made it something that I felt needed to be discussed.
Do you think that fashion is a good way to explore deeper themes?
Fashion is a way to have discussions that are deep, but also light hearted and relatable. Something like trust is heavy as a concept, and I think fashion can be a light hearted way to tackle issues and to make people think about them. It is about making people ask questions. When you do it right, it doesn't stop at the fashion, it forces you to want to know more. A lot of people can connect to creative ways of discussing issues and fashion is always a nice way to start those conversations about politics, emotional issues, mental issues. It's important to use whatever means you have to impact people.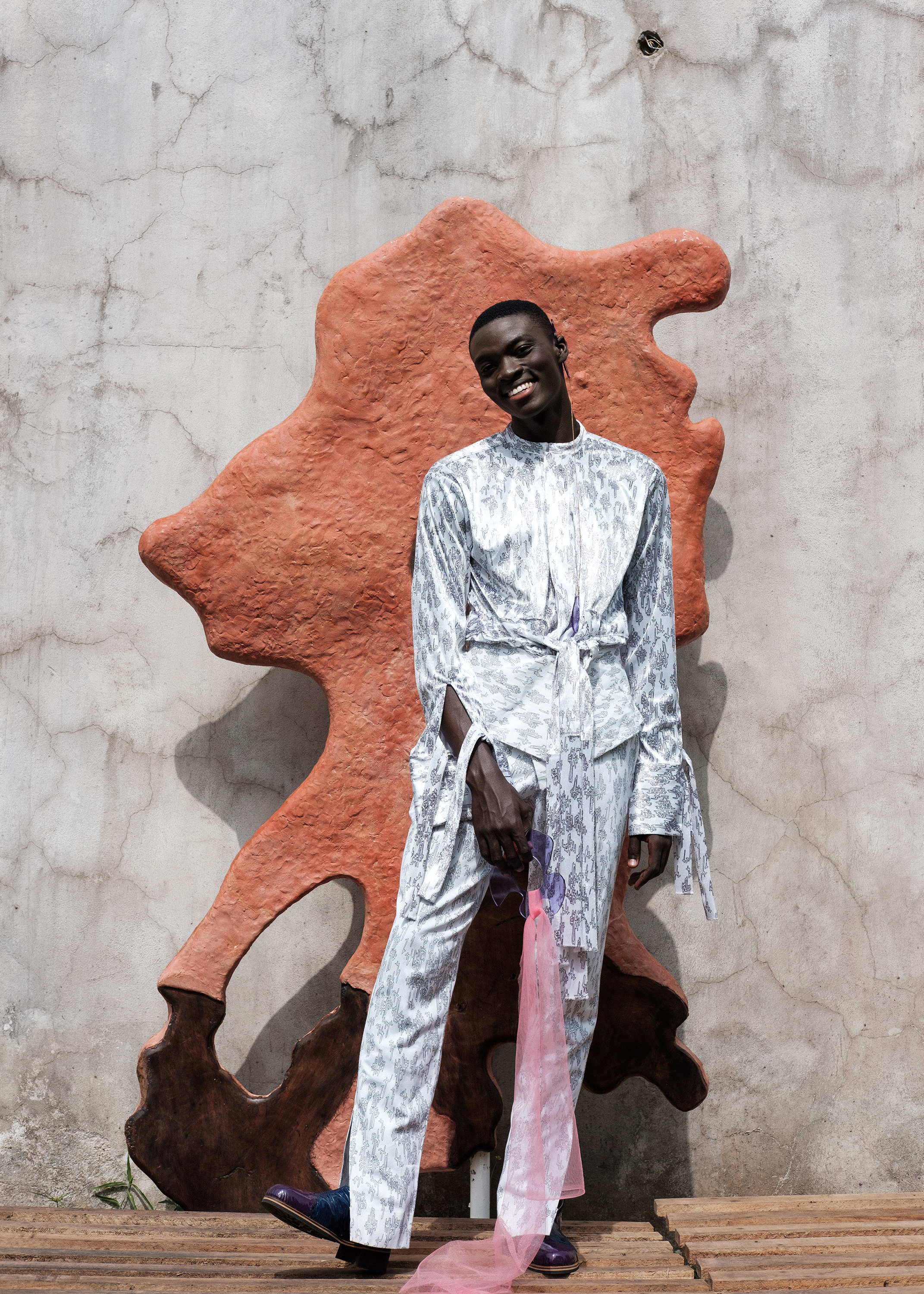 You've described Orange Culture as a movement before, and considering what you just said about the power of fashion to open a discussion, what kind of conversations are you trying to generate through the brand?
The story behind the brand was the issue of hyper-masculinity and how it affects man-to-man relationships, which is something I found challenging growing up. I wanted to create a brand that wasn't just making clothes but that was starting conversations and making people question their preconceived ideas about what a man was, what a man should wear or how a man should be seen. This was a brand designed to create an impact.
The way I tried to do that was by pushing boundaries. Not just in terms of shape and cut but in terms of mental processing and emotional intelligence. I wanted men, especially Nigerian men, to feel more when they saw the clothes. I wanted them to think more. That is why I think it is a movement. When you see the brand you should see that there is something we are trying to say. There is always a what, why, and how. There is an attempt to move people in the way they see Nigerian men, and to move how Nigerian men see themselves. I want men to emote in a new way and to be vulnerable.
How much of this drive comes from your experiences growing up?
When I was growing up in Nigeria a lot of people didn't understand who I was; I got a lot of questions like, oh why are you so soft? Why do you talk this way? Why do you do things this way? People would be like, you need to be a man, you need to be harder. There was always a question of my manhood because I was not the stereotypical definition of what a man should be. I went to an all boys school where there are precedents of masculinity and people have their masculinity tightly confined. I felt I was outside of this -- outside of these cliques -- and I found myself always being alone.
I found myself having all of these insecurities about not being man enough as well. I kept asking myself, where is this coming from? Lots of men don't feel, they don't emote, they don't connect with each other because it's not manly; it's not masculine to talk. There were all these things that I felt were wrong. I didn't want a new generation to feel this way, or to have a set idea of what a man should be like. I want them to be free to express themselves to connect with others emotionally. I never wanted anyone that I knew or cared about to feel like that.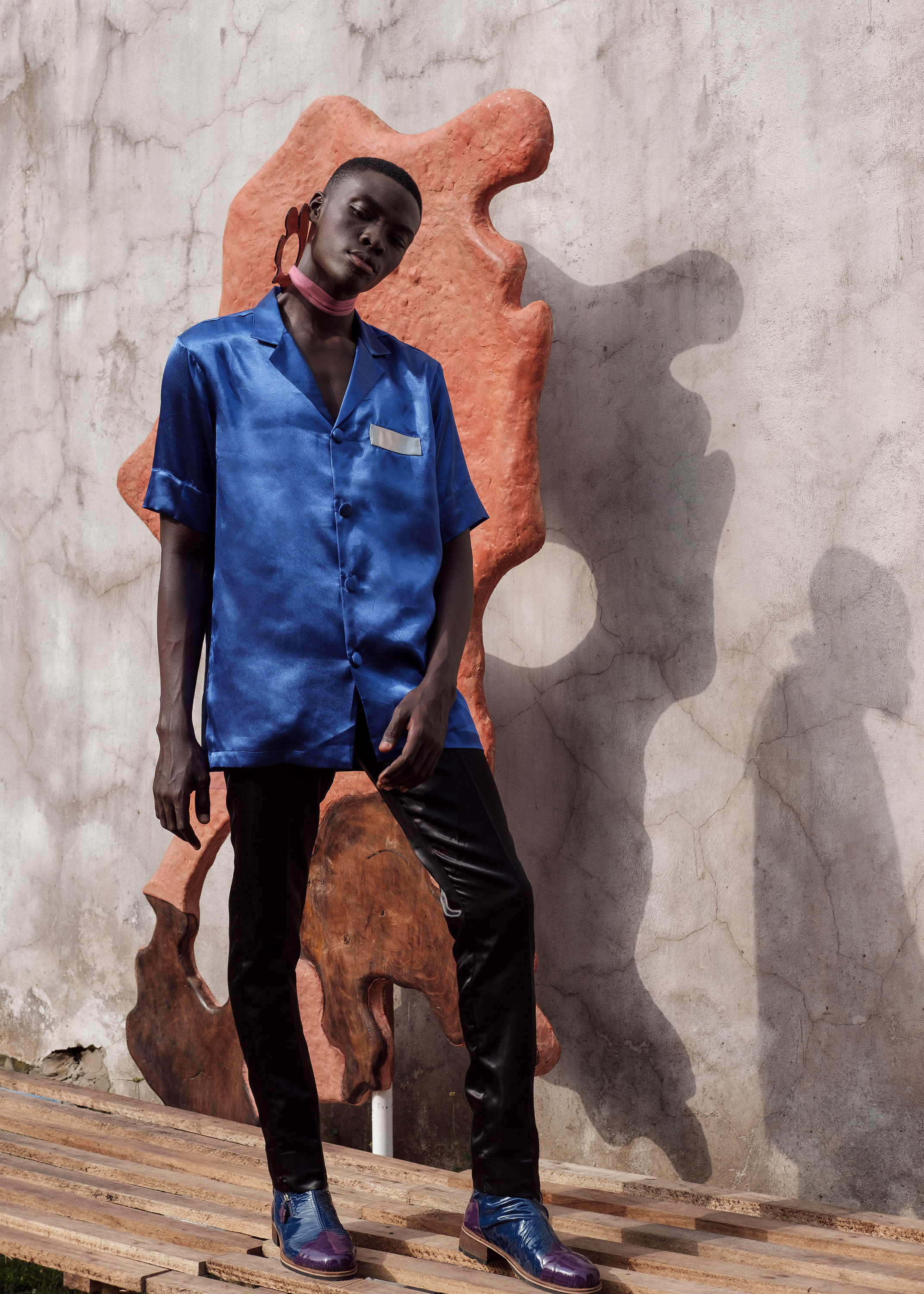 You don't come from a fashion background, so how did you end up starting your own brand?
I have a degree in banking and finance, but fashion was what I always wanted to do, even if I didn't have formal training in the sense of going to somewhere like Parsons or Central St Martins. Instead I just interned anywhere that I could -- if ever I heard of a fashion job being available I would run there. I took in as much information as I could from anyone who was willing to give it to me.
By 21 I had saved a bit and launched my own collection, but at the time the response was horrible. I was getting death threats -- people were telling me that what I was creating was demonic. My first collection had a lot of red, with people in coloured suits, and I had designs that featured a skirt over trousers. It was my first collection and everyone else at the time was just making suits, but that wasn't me. I wanted to create a brand that was what I wanted to represent. It got so much backlash.
I thought what am I going to do? Quit now? Or am I going to keep going and just not give a damn about what everyone is saying?
You then got a lot of international acclaim -- has that helped people to come around to the brand?
It has taken years for men here to buy into this brand without thinking anything farfetched. Many were afraid to wear the brand when we first started because they didn't want to come off looking or feeling a specific way. But now people are changing their minds.
I think it partly has to do with the fact that internationally we have got the tick. People are seeing us as a Nigerian brand which has gone global and that allows Nigerians to think oh, well, maybe it is actually something special. It is still a battle though.
Having said that, considering how it was when I started, the progress is visible. I remember two weeks ago we had a couple come in and the wife tried on this shirt and then the husband asked to try it on as well. This guy is a lawyer -- not an artist, or a creative. And he could see himself wearing it and his wife wearing it, and it wasn't a big deal. He was just feeling the shirt.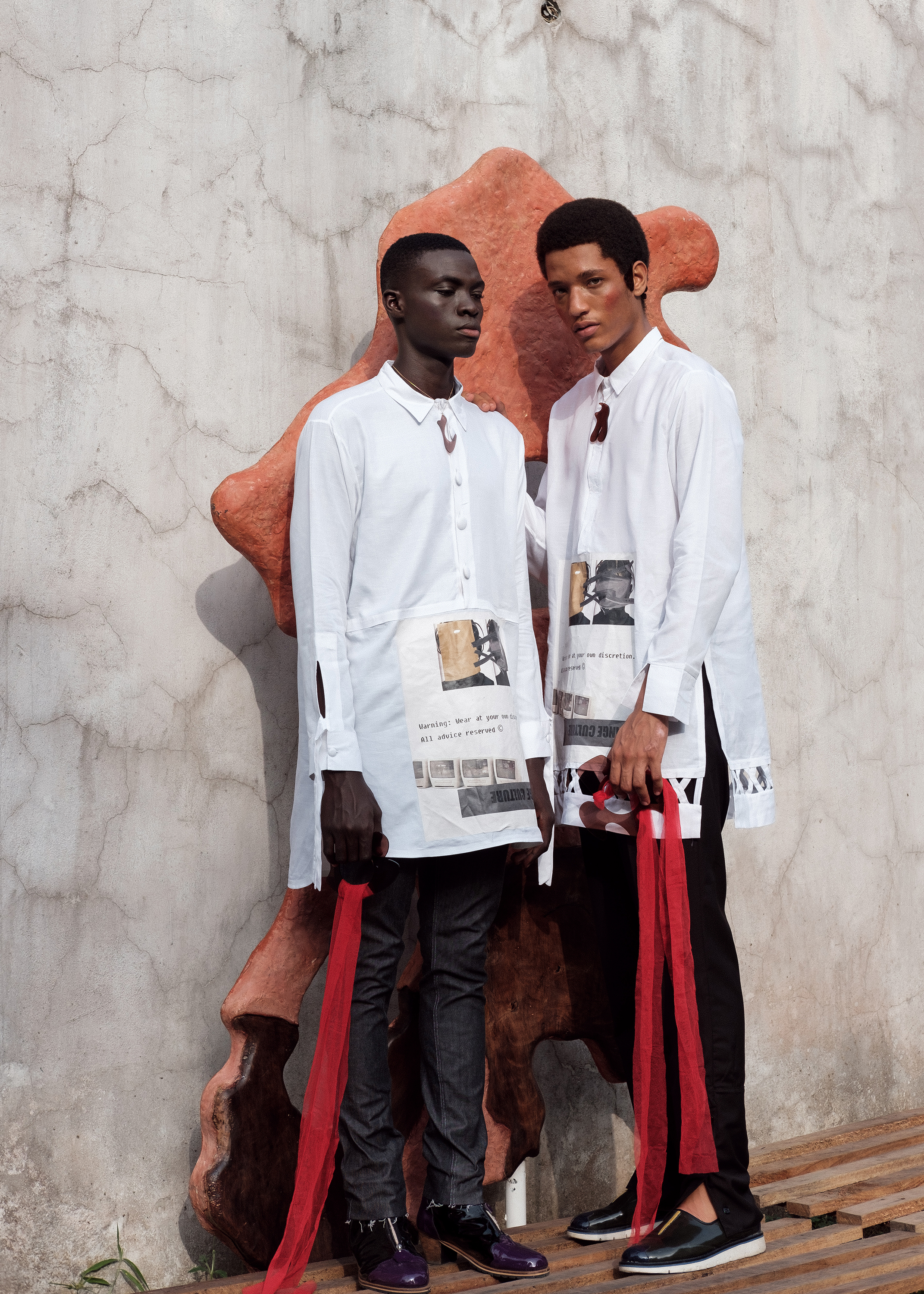 Read: A Nasty Boy magazine is challenging what masculinity means in Nigeria.
Credits
---
Photography William Ukoh
Styling and creative direction Daniel Obasi and Adebayo Okelawal
Logistics Precious Ugbe
Prop design Aga Concept
Make-up and grooming Michael