how memes made demi lovato
Poot Lovato was more than just a meme: it helped Demi reach pop nirvana.
|
12 December 2017, 12:51pm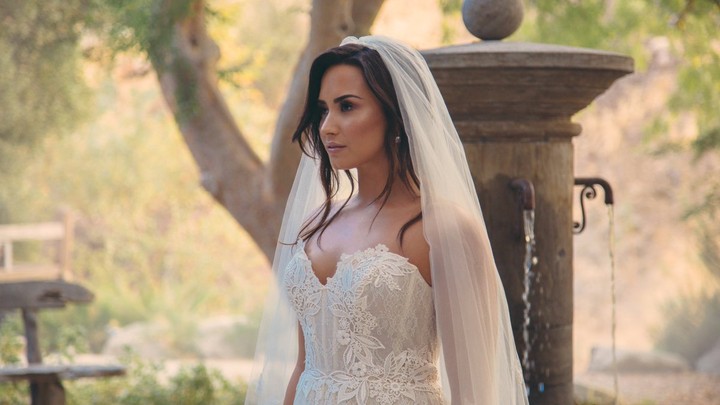 Image via Twitter
There's a moment in Demi Lovato's recent documentary, Simply Complicated , where she recalls an incident from 2010 where she beat up a dancer for telling her management she'd been doing drugs. "I remember thinking," Demi says, "I'm about to beat this bitch up." It was the catalyst for the singer's first stint in rehab, and is clearly an important story for her in terms of her recovery. Instead of inciting words of support, though, the emotionally charged tale was picked up by Twitter users and spread around with captions like "Solange before the elevator doors closed" and jokes about pop music Twitter. It was just another time in Demi Lovato's career where she'd inadvertently became a meme.
In music in 2017, memeability is pretty important. Pop stars have to be proficient with the way that the internet digests and spits out culture. Recently, Dua Lipa scored a massive Number 1 in the UK with New Rules -- a great song that was prime for meme making. But before that, she'd been sharing memes of herself back and forth with her fans on Twitter for years. Drake is another artist whose memeability is integral to his success; he creates content that he knows social media will devour and that will help propel his career. It seems that becoming a meme and also having music that stands on its own boosts your profile in a way that an interview or performance could never. The thing is, Demi Lovato's memes never seem to be intentional.
While Demi Lovatoast had been circulating around online for a while, it wasn't until 2015 that Demi's first proper meme came to fruition. Oh, and what a meme it was. Enter Poot Lovato.
Poot, the conspiracy theory went, was Demi's twin sister who had been kept locked in a basement and who had ventured outside for the first time only to be caught on camera. The picture of Poot that proliferated the internet was, in fact, just a terribly low-quality snap of Demi distorted by the flashing bulbs of the paparazzi on a red carpet. But that didn't stop the internet from having its fun, and cries of #FreePoot and Poot fanfiction emerged. Poot even found her way into reputable publications like The Guardian, who dubbed it "the best conspiracy theory to hit the internet ever".
Unfortunately, Demi had just released her fifth album Confident, and Poot overshadowed the whole thing. Furthermore, it wasn't the only time during that album cycle that fell foul to the internet's games. Prior to Poot's escape, the singer had sat down for a radio interview where she had been asked what her favourite "dish" was. The question was clearly referring to food, but Demi -- straight faced -- said "mugs". Yes, mugs. As in mugs, the drinking receptacles that you drink tea out of. Demi, after seeing some of the responses, brushed the whole thing off as just being her sense of humour and even shared a (now deleted) Instagram post with herself surrounded by her favourite dish. There were GIFs of the singer (repeatedly) falling over during performances of bi-curious banger Cool for the Summer circling the web.
The sensible thing to do would be to ignore the japery of social media users. At the time, though, Demi wasn't being too sensible. Cutting her teeth on the Disney Channel alongside the Jonas Brothers, Miley Cyrus and Selena Gomez, in 2015 Demi's musical career was trailing in last place commercially. Miley had become a pop culture phenomenon and twerking centrepiece, while Selena had found cool credibility. "Cool to see a shitty angle turn into a meme that circulates the internet to people's amusement ha," Demi said bitterly in a now deleted tweet, before adding incredulously: "Oh and make actual 'headlines'."
"Internet memes are tricky territory, and if you're not sure whether people are laughing with you or at you, a hostility is comprehensible."
This reaction was also understandable, though, mainly because of the online abuse that Demi Lovato has suffered. It's something she's addressed a multitude of times, most recently during her American Music Awards performance of recent single Sorry Not Sorry, and something that if you scroll below a tweet or Instagram post you'll see plainly. Anonymous trolls write the word "fat" or "die" constantly, and in 2015 Demi was forced to publicly acknowledge and deny a preposterous story about her flicking a fan's vagina during a meet and greet. Internet memes are tricky territory, and if you're not sure whether people are laughing with you or at you, a hostility is comprehensible.
Some misconstrued comments about Taylor Swift, squads and Mariah Carey in 2016 lead Demi to take a break from the media. However, it was a break that, thanks to a Grammy nomination for Confident, didn't last too long. It also signalled a sea change; the Grammy nomination was the validation that Demi Lovato seemed to have been waiting for. "As great as [Confident] turned out -- I'm really proud of it and I love all the songs on it -- it just wasn't, I feel like, who I am today and the artist I want to be," she told Noisey this year.
Soon after the Grammy nomination, Demi did the unthinkable: She embraced her memes. Sharing a GIF on a lowly Monday night, she appeared to finally #FreePoot.
Of course, embracing Poot was just one part of it. Her sixth album Tell Me You Love Me is perhaps the year's best pop album, filled with confessional and subtle songs about overcoming breakups, addiction, and bangers about being a bad bitch and her own daddy issues. The album was released the same day as Miley Cyrus's latest Younger Now, and outsold it by 30,000 copies. This could be a monumental reach, but there's something symbiotic in Demi's acknowledgement of her memeability and her newfound commercial success. Poot helped get Demi's name out where it might otherwise never have been, and by releasing an album brimming with bops and spine-tinglingly impressive vocals, Demi had arrived.
Unlike Drake, Demi's proliferation of memes doesn't feel calculated. Even those moments that feel designed for the picking, like this ridiculous video challenge where she puts on 100 T-shirts, this year's Halloween costume, and the stills from her latest music video Tell Me You Love Me where she gets jilted at the altar, have an innocence to them wherein Demi seems unaware that they're ripe for internet jokes.
As they say, Demi snapped with her latest album and the music speaks for itself (seriously, go and listen to sex bop Ruin the Friendship). But the acceptance and propagation of her memeability has clearly helped her by renewing interest in her as a musician. Poot, beating a bitch up and even the recent wedding dress pictures all have something in common -- they're relatable as hell. Who hasn't had a bad picture shared around online, stood in a rage thinking we're going to beat someone up or given away our hearts too easily? Demi's memeability, perhaps, says less about her and more about our now constant quest for relatable validation. In fact, Demi's quirks and sheer candour make her a perfect candidate for us to make sense of our own shit. That it took retweets, conspiracy theories and a bucket of lolz for us to realise that she was also a fucking awesome pop star is our own fault. But better late than never, eh?