chidera eggerue, aka 'the slumflower,' has released her first book
'What a Time to be Alone' deals with self love on a budget, existing as a black woman, and of course #saggyboobsmatter''
Photography Vicky Grout.
Like many people on the internet, Chidera Eggerue, 23-year-old blogger, writer, and creator of the #SaggyBoobsMatter movement, first turned to Twitter as a place to vent. Known as "The Slumflower" to her followers, she became notorious for writing long threads that were the product of her teenage angst. Now 23-years-old, the South Londoner has started her own hashtag #SaggyBoobsMatter, her own accessible and affordable street style blog The Slumflower, and has now released her first book, What a Time to Be Alone.

"I've been angsty for quite a while. And angst is an emotion you're often told you will grow out of, but there were just so many things that were out of my control," she says. "Existing as a black woman in society means you're constantly having to make sure that you're safe. So I began by using my profile to vent to people."
While she's technically a body-positive writer, Chidera's message is far from the unachievable, vegan, yoga-loving, self-care message often found on social media. She wants to be an antidote to the "mostly white, privileged self-help scene".
Speaking with her is like speaking with your best friend. Bringing people's spirits up seems to just come naturally to her. That's why it's believable when Chidera says she had no plan to start a movement with the hashtag #SaggyBoobsMatter. Instead, she tells the story of her 18-year-old self feeling "fed up" with her "saggy" boobs, telling her Mom she's getting a boob job and then not being able to afford it so deciding to start a blog and love herself anyway.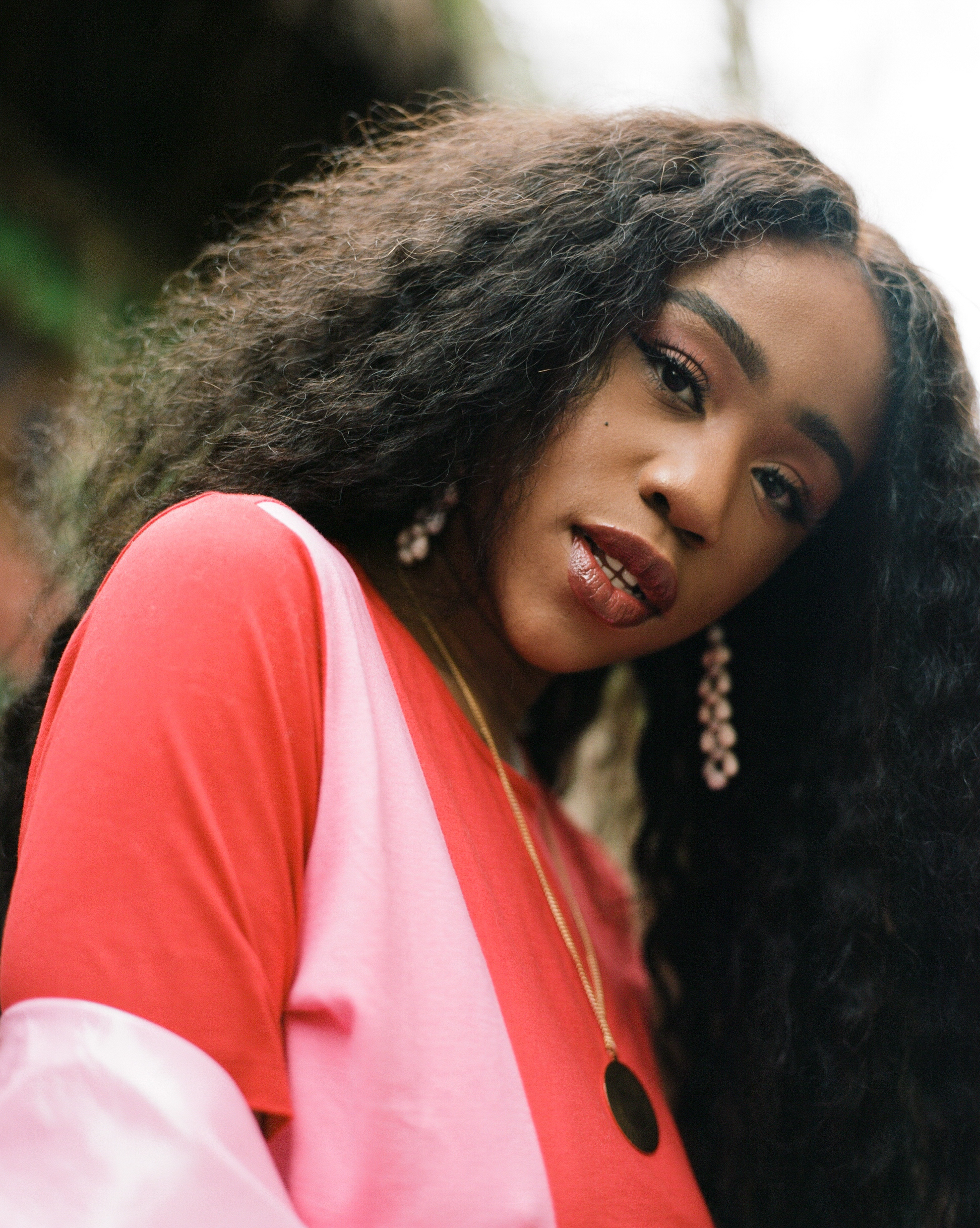 "One day I was just like, you know what? It's actually cheaper to just love myself so I'm going to find a way to love these boobs because there must be more to life than the posture of my boobs," she says. After that, Chidera ditched her bra in rebellion and would post photos of herself on social media and on The Slumflower blog. From there, a movement was born.
The reaction, she says, ranged from being called an "attention seeker" to breastfeeding mothers thanking her for encouraging them to love themselves. "My saggy boobs have in no way reduced the quality of my life so it allows people to see a whole different reality for themselves," she says. "I've had women in their fifties saying it's the first time in 20 years that they've gone out without a bra."
These kinds of messages are what gradually influenced Chidera to become an author. Making the transition from Twitter to paper was not something that Chidera imagined, and rather the product of her followers begging her to do so. After being told constantly told over the years that she should write a book, her response moved from "no, we're not doing that" to "maybe I could be a writer".
She initially had concerns because she felt like she "wasn't like other writers" she knew of who had gone to universities like Oxford. But after she got over what she calls her "mind blocks", Chidera did what she does best – did it herself. She created a zine using her own money and sold it for "a fiver each". Designed in Adobe InDesign with her own illustrations (she's multi-talented), she first posted it on Twitter.
Her followers then reacted with what she calls "loving harassment", urging her to get it published. It also attracted her now literary agent to reach out to her and set up a meeting. Two years later and her first book is released.
The book itself is the ultimate self-love manual, and it's for everyone. It's broken up into three chapters, "you", "them" and us", with illustrations by Chidera throughout. It's also tied together with Igbo proverbs from her Nigerian mother. Her personal favorite being "When the rat follows the lizard out into the rain, it is only the rat that gets soaked".
The idea of thinking about your "four year old self" crops up multiple times in the book, something Chidera uses to remind us we are all just wanting to be loved, held, reassured and confident. Four year old Chidera was "never one of the cool kids", she says. Instead, she tried to get along with everyone and felt like she didn't belong. "I'm really really proud that she [her younger self] believed in herself long enough to reach this point," she says.
It would be almost impossible to be around Chidera and not also be proud. Notable milestones, aside from What a Time to Be Alone becoming a Sunday Times bestseller one week after its UK release, include her TED talk and meeting Oprah. But she's mostly just interested in talking about Oprah. "Oh my gosh. She held my left hand and I just felt like I've transcended what it means to be human," she says. Chidera's hoping Oprah will read her book also, something she says would be "the total highlight" of her life so far.
But she hasn't always felt this hopeful about her future. While in her final year of studying fashion design, Chidera battled with depression and was unable to finish her degree. While at the time she was devastated, in hindsight she uses this as a learning opportunity. "Whatever is meant for you will come to you," she explains, her budding writing career totally unaffected from her lack of degree.
Now focused on "dominating ever cravis of the media" with her book, her next dream is to be on television. "I can imagine this kind of conversation being on television where we can talk about wellness in a way that's actual accessible to people," she says.
It's an idea that's not hard to imagine when thinking about Chidera. Her no bullshit attitude has been tearing down perceptions on social media, so no doubt it will continue to tear down others by inspiring people to be themselves. "It's so dangerous to look at someone's life and aspire to be like them, because they are probably looking at someone else and aspiring to be like them," she says. "The person you were aspiring to be probably doesn't even want to be themselves."
Though Chidera tackles hefty topics including racism, sexism and body image issues, she does it with such confidence and wisdom that you almost forget you're talking to someone in their early twenties. That is until she starts laughing hysterically at her own joke. Finishing our conversation by discussing social media pressures, Chidera started laughing about the common fitness phrase "getting your body back". "Where'd your body go?" She asks. "Who's got my body?" "Where do I get it from?" She continues. "Do I download it? Do I follow it? Do I buy it?"
While you can't, and don't need to, purchase a new body. What a Time to Be Alone is a available for purchase in the US now.