watch ebenezer's cinematic new video for 53 sundays, shot in new orleans
Religious iconography and baby alligators abound in this stunning visual.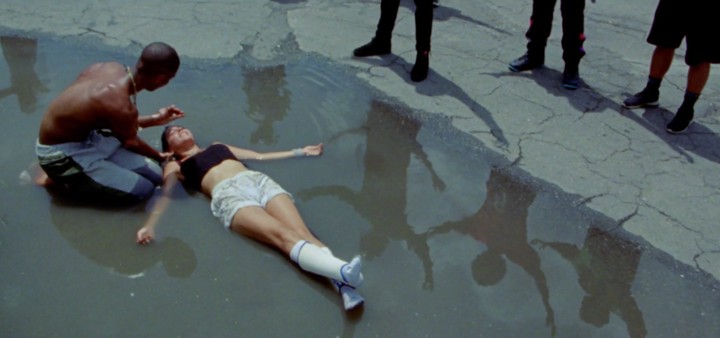 Still from Ebenezer, 53 Sundays
Raised in north-east London with an MC brother, Ebenezer was immersed in the grime scene from the off. Though he credits this for influencing his sound and the way he articulates himself through music, with his trap-leaning emotional R&B he has carved out a space away from his peers in the London scene.
Having already racked up an impressive CV working alongside Craig David, Jeremih, Ty Dolla $ign and Rejjie Snow, the anime-fan appropriately released his well-received debut solo EP, Bad Romantic, on the eve of Valentine's Day 2018. The follow-up single, 53 Sundays — the title track from his forthcoming project — is an organ-topped tale inspired by a questioning of his religious upbringing and a drive to make money by any means.
"53 Sundays is about me being at one of my lowest points in life, with not a penny to my name," Ebenezer told i-D over email. "My mum was trying to get me to go to church but all that was going through my head is: church ain't gonna put food on my table." 'I ain't been to church in about 53 Sundays, sinner, I'm doing road / Mommy still prays for me,' go the lyrics. 'You could blow smoke, snort coke, we could even bang a weapon / just go church in the morning.'
The song delves into the hypocrisy that he witnessed in church; from drug-dealing members of the choir to a sex-offender pastor. The accompanying visual — directed by Louis De Caunes, shot on location in New Orleans and premiered here today — builds on that. "We tried to depict the members of a church congregation blindly following the pastor and asking no questions," Ebenezer explained, "almost worshiping the pastor like he himself is the messiah."
Filled with religious iconography — a figure walking on water, baptisms in puddles and references to Michelangelo's The Creation of Adam — the story of a false prophet and his "disciples of the 53rd Sunday" sees Ebenezer as a wavering worshipper. All low lights, porch swings and baby alligators, it's pure NOLA. Turns out there was one downside during filming though. "The mosquitoes were huge!" he added. "Seriously, they looked like they could pay rent and had a field day biting me as we shot."
---
read more