Photo by Jim Smeal/Ron Galella Collection via Getty Images.
7 of Drew Barrymore's most iconic outfits
The actress, director, model and i-D cover star has a long history of serving 90s grunge and hippie styles.
|
24 September 2020, 9:00am
Photo by Jim Smeal/Ron Galella Collection via Getty Images.
Drew Barrymore is inarguably a 90s icon. The star, who rocketed to fame at age six in Steven Spielberg's 80s classic E.T, spent the next two decades curating an incredible legacy from the loveable Josie Grossie in the cult classic Never Been Kissed and the effortlessly cool and empowered Poison Ivy to a bad-ass Charlie's Angel, and a plant-killing songwriter in Music and Lyrics. Despite a rocky childhood of partying, drug addiction and a large amount of press scrutiny; Drew has spent her career never taking herself too seriously, playing up to her 'bad-girl' and 'sex-symbol' portrayals whilst bringing a sense of fun to the fashion world. In honour of our grunge queen, we looked back at some of Drew's most iconic looks through the years.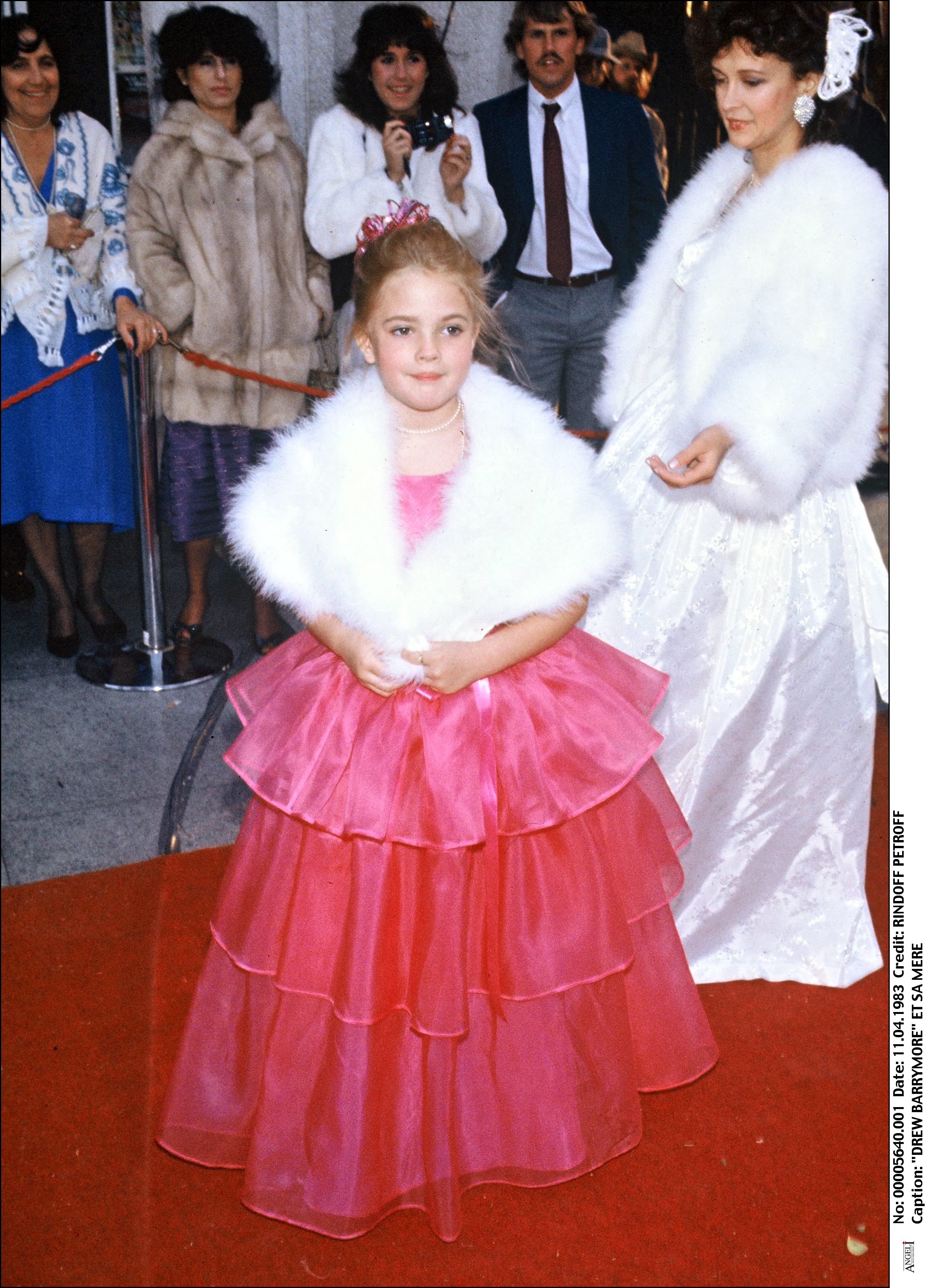 Attending the Academy Awards, 1983
The story goes that a 6-year-old, baby-faced Drew told Spielberg during an audition for Poltergeist (1982) that she was a drummer in a punk rock band, having performed to a crowd of thousands just the night before. Although the yarn didn't land her the role, her vivid imagination and mischievous personality impressed the director enough that he felt she was perfect to star as Gertie in E.T. The Extra-Terrestrial (1982). The film quickly made her a household name. As she celebrated its nine nominations at the 1983 Oscars, her pageant-worthy, ruffled magenta dress with matching hair bow and pristine furry white shrug were an early sign of the star she was destined to become.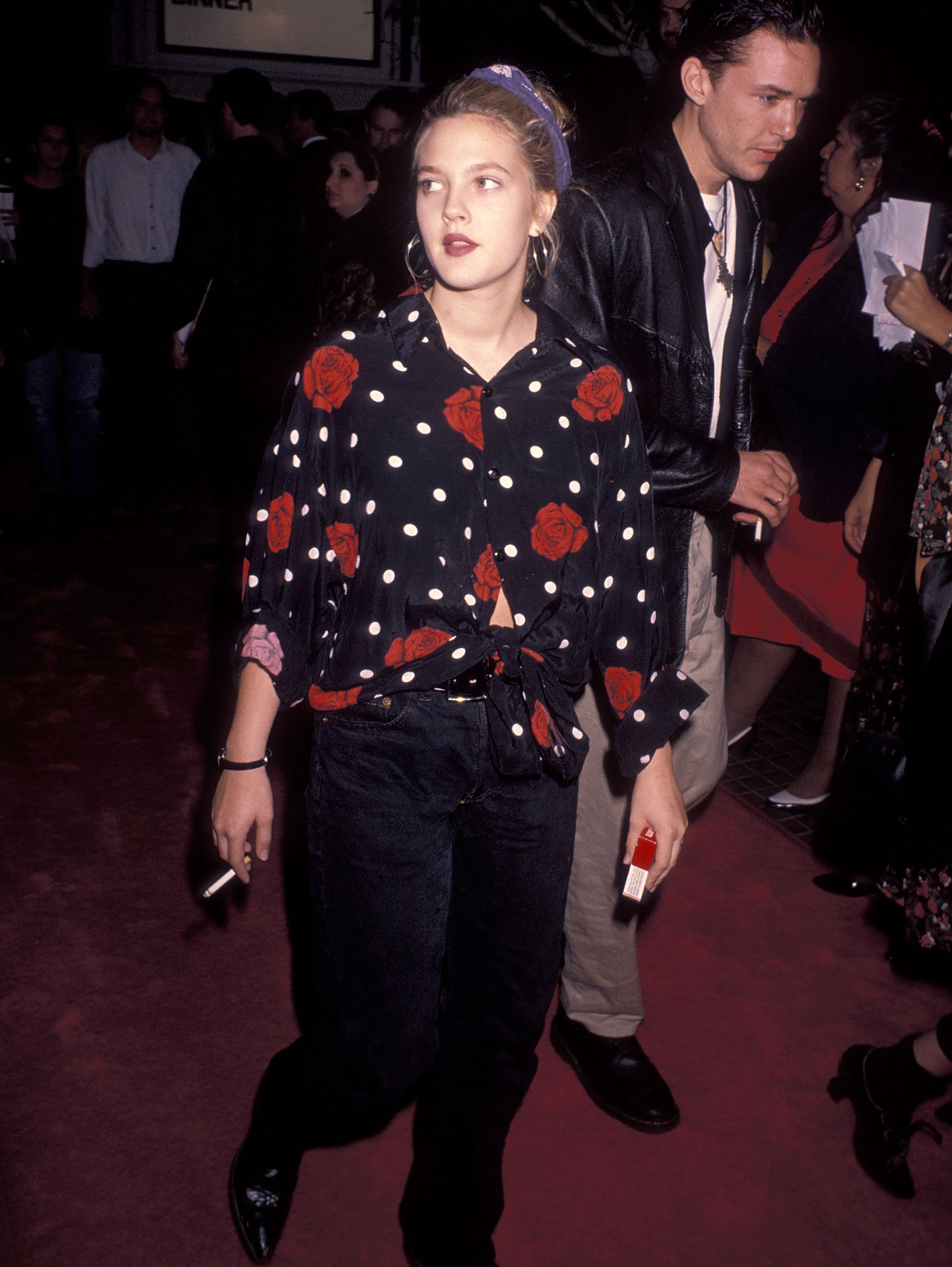 At the Pacific Heights premiere, 1990
There's a famous image of a pre-teen Drew holding a packet of cigarettes at a party. At the time the media was focussed on this image of the young actress ,who was frequenting Studio 54, entering rehab and getting emancipated from her parents all before the age of 14. In her public outings, Drew's fashion sense played up to this image whilst pioneering the infamous grunge and androgynous styles of the new decade with leather jackets, crucifix necklaces and cigarette in hand. At the Pacific Heights movie premiere, she played with gender — mixing baggy jeans and masculine black leather tailored shoes with the image of war-time feminist icon Rosie the Riveter, the roses on her polka-dotted, front knotted blouse perfectly matching her lipstick.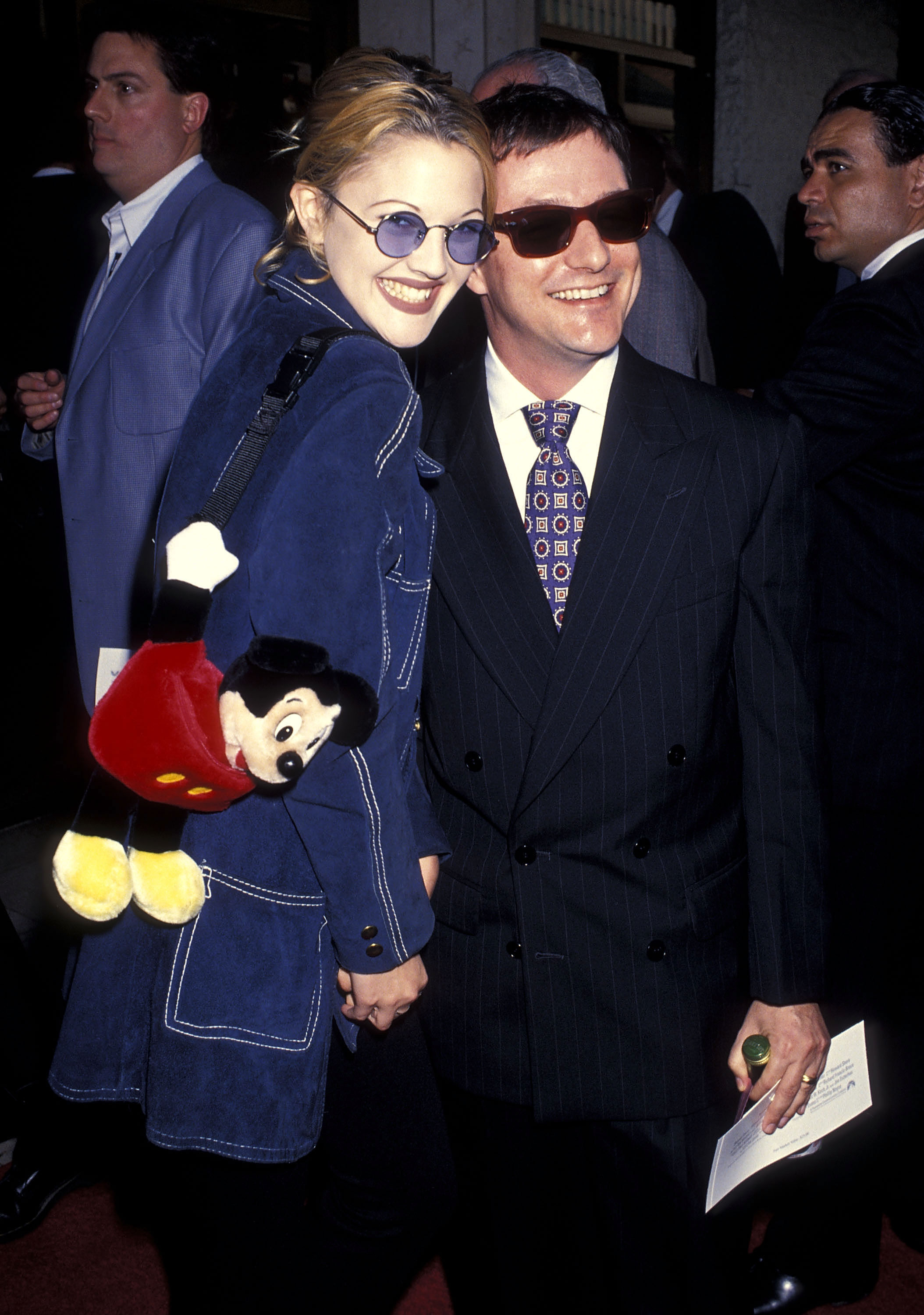 At the premiere of Silver_**, 1993**
One of the things that makes Drew's fashion sense so iconic is her ability to just have fun with it. Always being on trend whilst also throwing in a little whimsy, whether it's wearing bum bags covered in expletives, rocking shrunken jumpers or posing with a rubber duck. As she attended the premiere of the Sharon Stone-led erotic thriller _Silver in 1993, Drew stole the show wearing a casual jean jacket and Elton John- style coloured sunglasses, a stuffed Mickey Mouse backpack swung over her shoulder.
Miu Miu Campaign, 1995
In 1995, Drew continued to revel in her tongue-in-cheek 'bad girl' image and the sex-symbol status that had been bestowed upon her after playing the seductive Poison Ivy; she then brought it to the fashion world with sultry campaigns for Guess, a nude Playboy shoot and even as a winking, juice-drinking cover-star on i-D's pin-up issue. In these ads for Miu Miu's SS95 and AW95 collections, Drew is fun and flirty, pairing pure whites with deep reds and toying with traditional concepts of femininity whilst owning her sexuality.
In _Scream_**, 1996**
In what is Drew's most famous look, the actress — in a sleek blonde bob, cosy autumnal jumper, 90s blue jeans and signature dark lipstick — plays the ill-fated Casey Becker in Wes Craven's seminal 1996 slasher film Scream. This scene was ground-breaking within the horror genre, being one of the first to have an established major star within it's cast — Drew called the production specifically requesting a role — and then shocking audiences by killing her off within the opening scenes.
At the Charlie's Angels 2 premiere, 2003
By the early 00s Drew gained mainstream success with roles in the Cinderella period drama Ever After (1998), sci-fi cult classic Donnie Darko (2001) and the campy action comedy Charlie's Angels (2000). Yet at the premiere of the latter's sequel, wearing matching all-white with her co-stars, Drew showed the world that grunge and androgyny weren't dead. Standing between the elegant Lucy Liu and the sweetly dressed Cameron Diaz, Drew's tailored crystal-white suit, black bra peeking out from underneath and her blonde hair in beachy tousled waves, was still every bit the unorthodox icon we stanned in the 90s.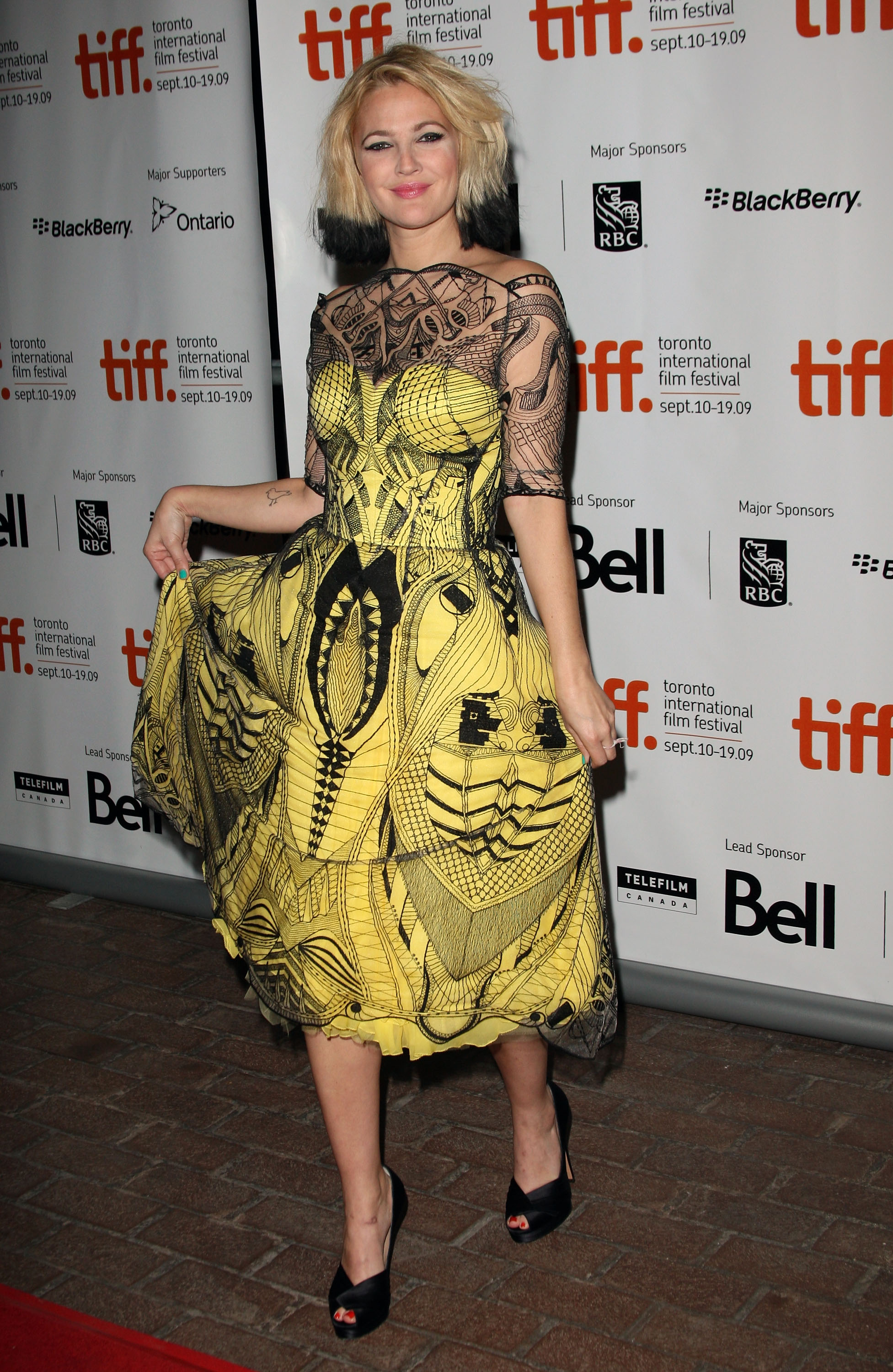 In Alexander McQueen at the premiere of Whip It_**, 2009**
Never has there been a more fitting designer to dress Drew Barrymore as she celebrated the release of her directorial debut in the Ellen Page-led Roller-Derby drama _Whip It (2009), than the late, great Alexander McQueen. Both talents who turned their darkness and trauma into beauty and art were a perfect pairing as Drew took to the red-carpet in the show-stopping, billowing yellow dress with a tattoo-inspired lace overlay from McQueen's Resort 10 collection. She paired the ensemble with a bold, dip-dyed bob.