Moschino puts on a puppet show for SS21
Jeremy Scott's latest collection for the house was a celebration of couture techniques and craftsmanship.
|
27 September 2020, 5:06pm
Courtesy Moschino
You can always rely on Jeremy Scott, the King of Kitsch, for fashion that puts a smile on your face. This season, he directed a film in lieu of a physical Moschino show at Milan Fashion Week — or at least a film of an old-school couture-style show in a Louis XV salon, the intimate audience sat on gilded opera chairs and models dressed in princess pinks, pale golds and macaron hues. So far, so traditional. The twist (because there's always a twist at Moschino) is that every model is miniature marionette, every outfit a miniature replica of the full-sized creation, every guest a doll-sized avatar of the usual front row. Welcome to the wacky, whimsical show that never was. "This isn't a puppet show, this is a fashion show!" marionette Jeremy tells full-sized Jeremy in the opening scene. Another boring fashion film, this is certainly not.
The marionettes were made by Jim Henson's Creature Shop, a Hollywood-based specialist from the creator of The Muppets. Every outfit was replicated in miniature, down to the bags and jewellery. Every audience member — Anna, Edward, Hamish, Vanessa et al — nod along with their mini notebooks and finale-snapping iPhones. It's so delightfully naïve and playful that it immediately warms your heart. "You know those strings are being pulled by humans," Jeremy pointed out over a Zoom preview. No stranger to working remotely (he is based in Los Angeles, Moschino in Milan) this marked the first season he wasn't able to work on the collection at all physically. Hence why everything became a celebration of the human and the physical, albeit with non-human dolls. "People don't care about craftsmanship in that way, but they're very human — done by humans and made by humans. I wanted to find a beautiful, elegant way to do it and tell the story about the creation and history of fashion — instead of something like a digital liquid bleurgh!"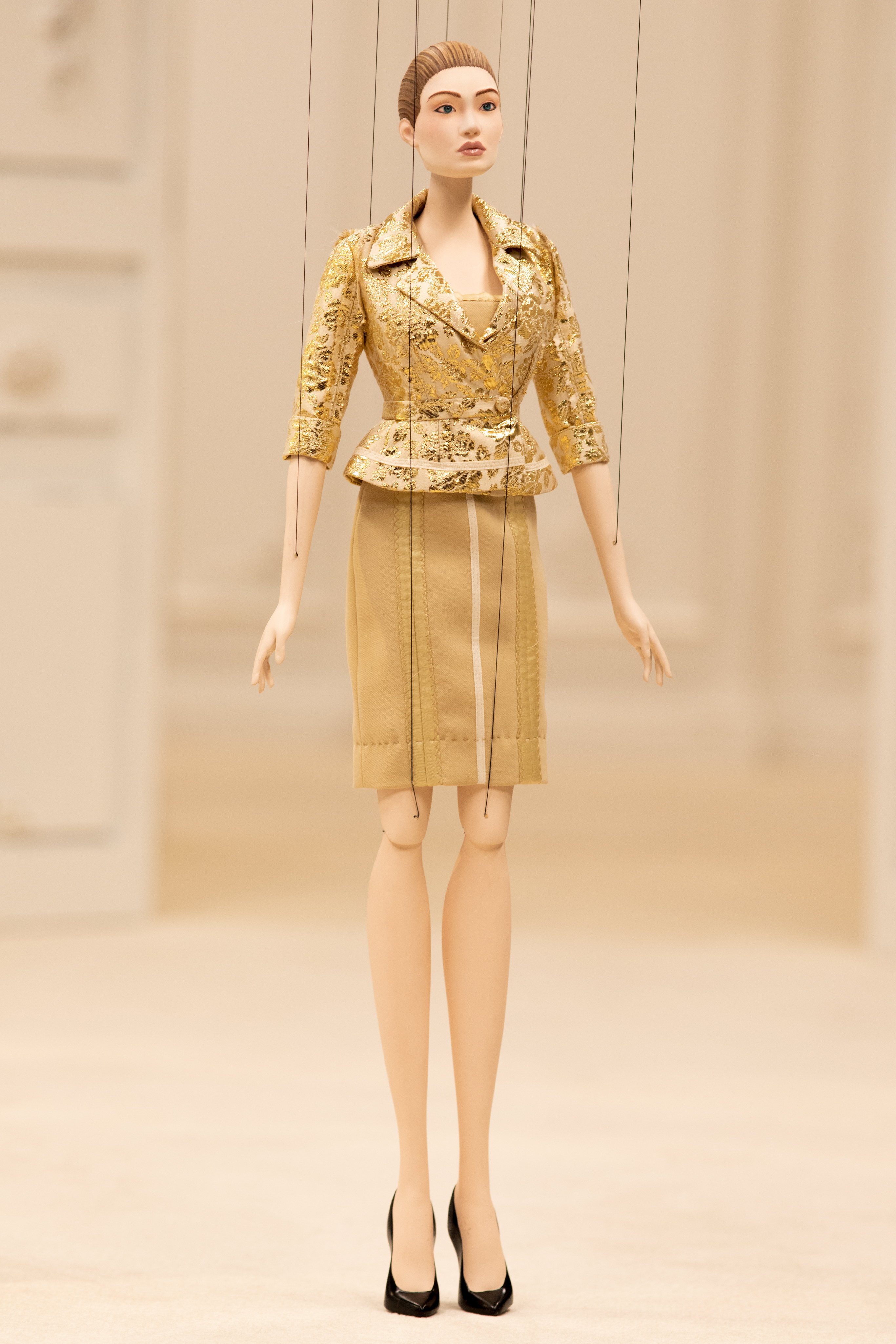 Just as the marionettes were a celebration of craftsmanship, so was the collection. "As the world seems to be splitting along the seams, the bare inner workings of something new will be exposed," read the designer's opening statement for the collection. Indeed, the world is upside down, inside-out — so the clothes were a celebration of bygone dressmaking techniques. Intricate edges, complex seams, corsetry boning, panels, darts – all the sartorial details that would previously been hidden on the inside of garments — became the stars of the show, badges of handmade honour in favour of bling.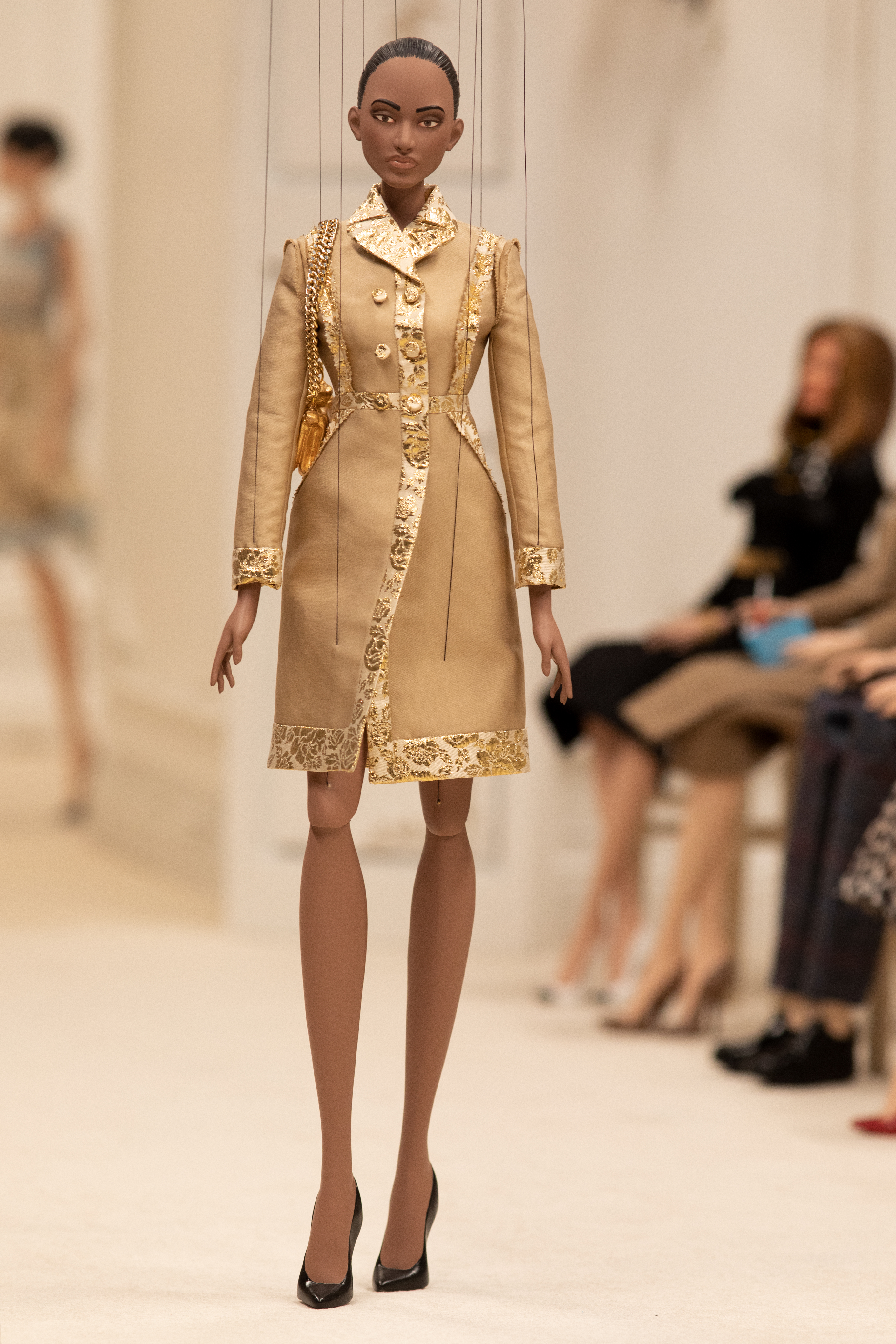 It felt like a poignant ode to the Théàtre de la Mode, the 1945 public exhibition orchestrated to showcase the work of 60 of Paris' best couturiers after the devastation of WWII. Back then, leading couturiers of the day created tiny outfits entirely from rationed fabric, worn by Lilliputian dolls with little jewels, gloves, handbags and even lingerie. At the time, the exhibition drew in more than 100,000 visitors — each one eager to catch a glimpse of beauty and glamour at a time of mourning and low morale. "I totally thought about them, and how could I make that come alive for today," admitted Jeremy. His collection certainly echoed the hallmarks of post-war couture: exposed corsetry, gold brocade trims, pink taffeta ballgowns, pale-blue satin bows, even a white wedding dress. "And it was so much more work," he added — not only did he have to design a real collection, but also scale it down, fit it to mini marionettes and produce a short movie in time for Milan Fashion Week.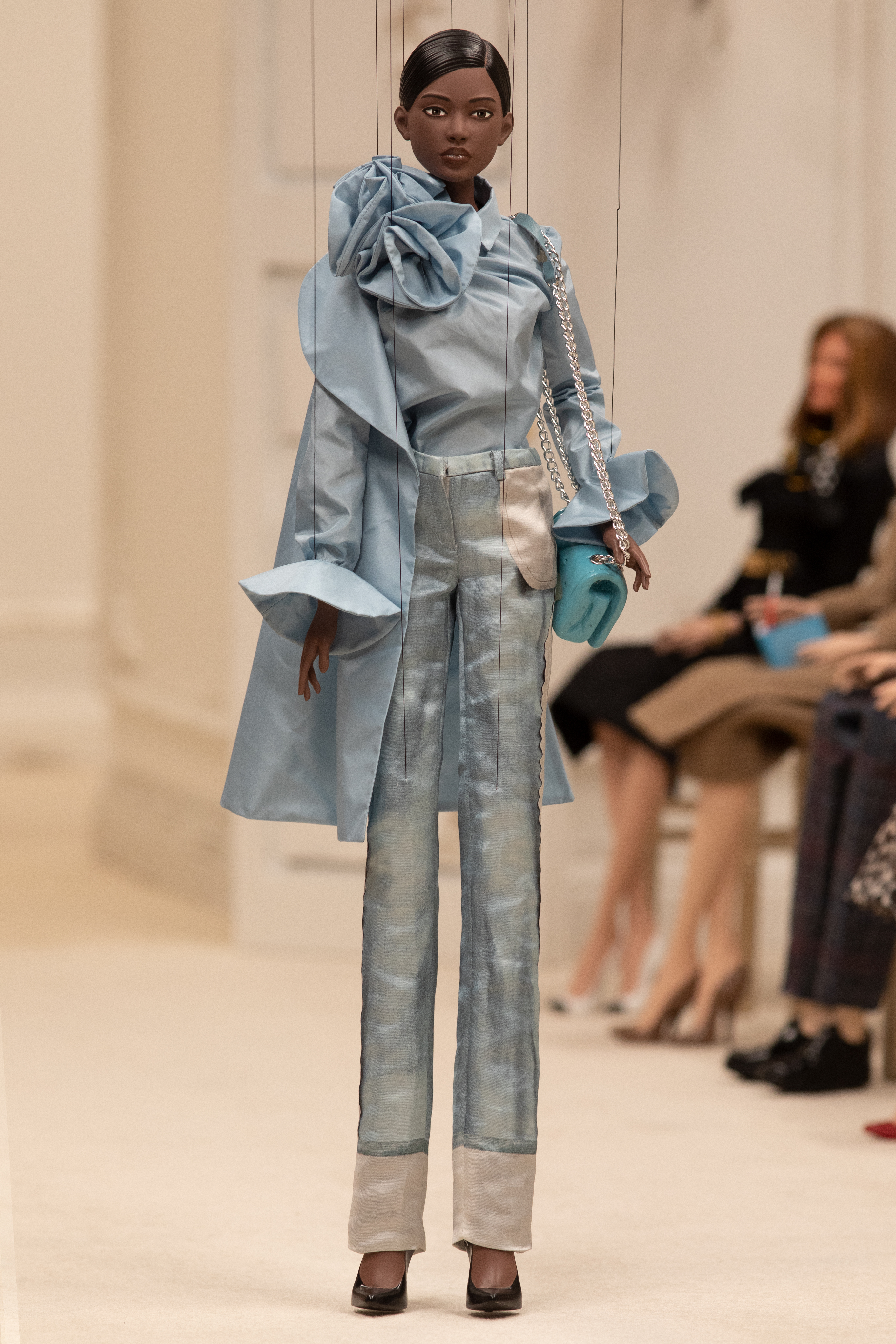 And we love him for it. If there was ever a remedy for the doldrums of 2020, the nostalgia of fashion shows and their power to transport us, then let it be Jeremy's childlike sense of escapism. "I feel that is more necessary and urgent right now," he said of his need to create uplifting fashion. "That's the best thing I can offer people, and its truest to who I am as a designer and the house of Moschino."