7 of Béatrice Dalle's most iconic outfits
From her sensual style in 'Betty Blue', to her Saint Laurent goth looks on the red carpet, there's no one like the cult French star.
The summer holidays are imminent and, although Miss Rona has thrown a spanner in the works, there is still only one way we want to spend it: in a little stilted beach house on the Côte d'Azur. A place where time has stood still since the 60s and where you can drink chilled rosé looking over a dusky ocean every evening. Sounds familiar? OK, this is the setting to Betty Blue, the 1986 French cult classic that chronicles a passionate affair between lovers played by Jean-Hugues Anglade and Béatrice Dalle. It's a movie that anyone with a nostalgic disposition needs to watch -- not only because of its visually-intoxicating cinematography but mainly for Béatrice, the sultry indie actor who has held the attention of audiences in France and beyond ever since that break-out role.
Béatrice never set out to become an actor -- it just sort of happened. Born in the French city of Brest as Béatrice Cabarrou, she married painter Jean-Francois Dalle in 1985 and divorced two years later, keeping his surname. She was working as a model until filmmaker Jean-Jacques Beineix cast her as the lead in 37° 2 le Matin -- known as Betty Blue in the Anglo world. The movie, which was nominated for an Oscar and a BAFTA, launched her acting career and, with her wide gap-toothed smile, voluptuous beauty and eclectic style, she soon became a film industry darling. English star Rupert Everett once described her as "Joan of Arc -- the suicide-bomber version". Never one to be afraid of stirring a little controversy, she even once admitted to eating a dead man's ear while on acid. Mood? Who knows. Either way, here we pay due homage to seven of her most iconic looks.

In character for Betty Blue, 1986
It's impossible to speak about Béatrice without starting with Betty Blue. Good God, isn't she lush? Her character an untameable spirit, who you can't help but fall head over heels for, despite knowing full well she may be no good for you. From denim dungarees with not much else beneath, to a seductive off-shoulder red dress, to an unbuttoned man's shirt, Betty Blue is a movie full of style highlights. No wonder the whole word became infatuated with her. Since then the character has become something of a cult phenomenon. Apparently there's even a pornstar who made a porn version of Betty Blue and goes by the name Béatrice Valle. Iconic, much?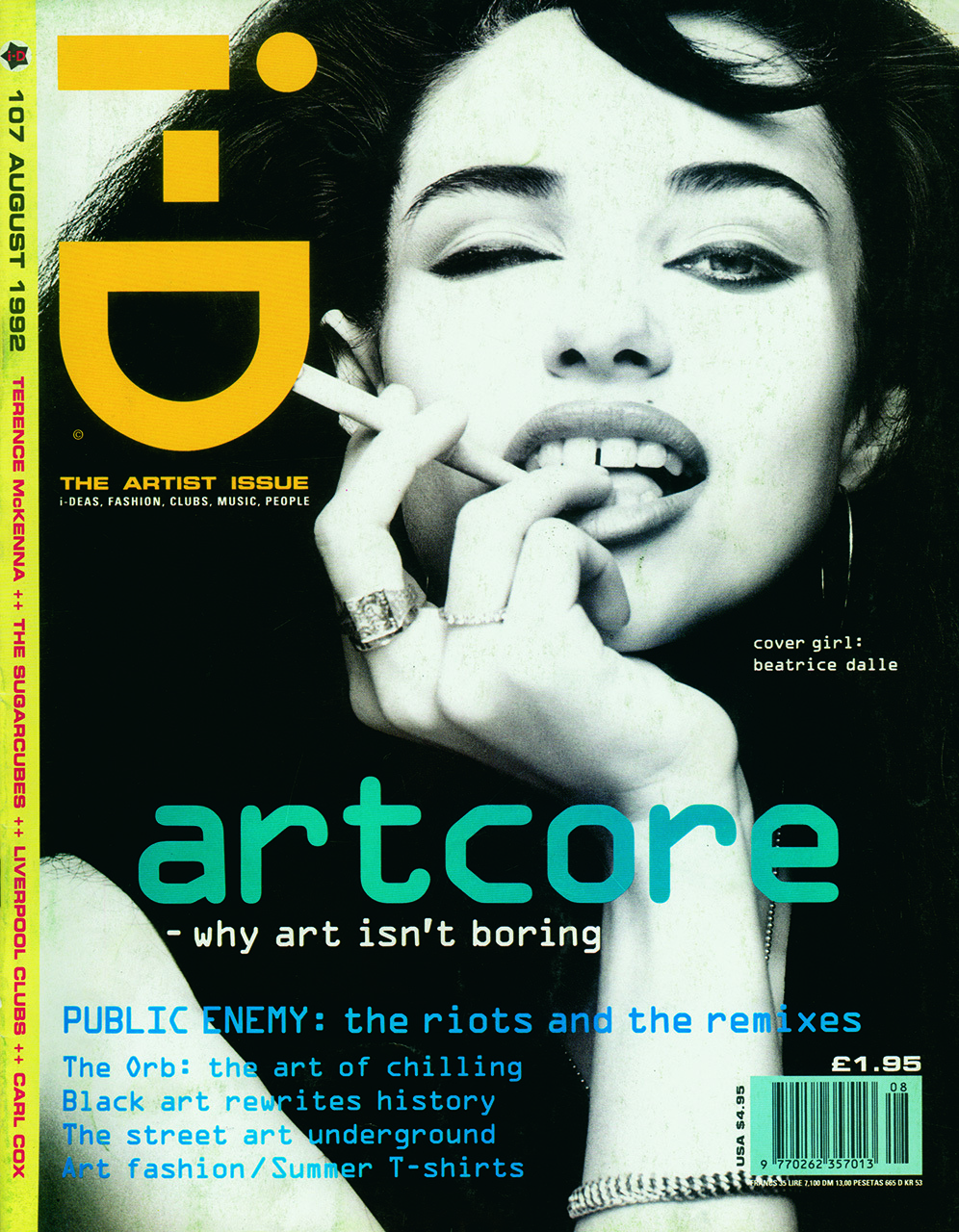 On the cover of i-D, 1992
Okay, so technically, you can't see much of her outfit here, but how could we not mention the iconic cover Craig McDean shot for The Artist Issue. She flaunts diamonds, she smokes, she reveals that iconic gap. Inside the issue, we posed the question whether she was "Too sexy for her career"? Answer: no, of course not.
At Azzedine Alaïa's Autumn/Winter 1992 show
Seeing this paparazzi shot, the obvious temptation is to shout the clichéd catchphrase 'squad goals!' so we won't. But it still is. Azzedine Alaïa, Vivienne Westwood, Kylie Minogue and Béatrice are having a ball at the king of cling's AW92 runway show, and we wish we could transport ourselves back in time and be there. Béatrice is embracing big 60s Brigitte Bardot energy at this point, with a carefully coiffed blonde beehive. Her outfit screams pure early 90s Versace joy. A pair of stone-washed high-waisted jeans with a studded belt and a gold spaghetti-strapped bodice top. To finish it all off she's wearing a golden crucifix necklace, which -- judging from recent interviews -- she hasn't taken off ever since. "I love Christ because he invented bondage," she told The Guardian in 2018. Guess that explains it all.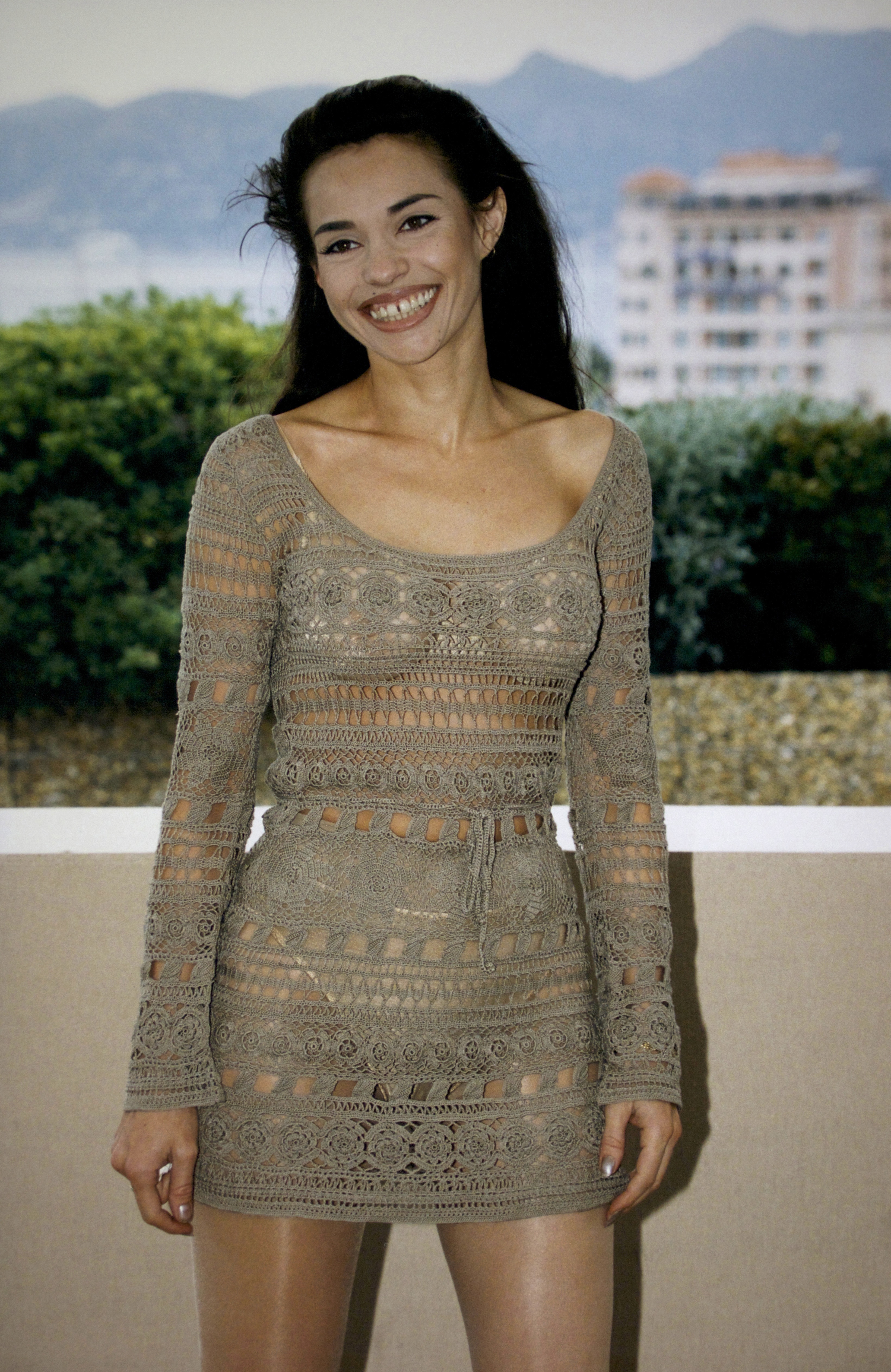 At Cannes Film Festival, 1997
The naked dress -- whether sheer, flesh-toned, skin-tight or else -- is a phenomenon that dates back as early as Marilyn Monroe. There have been numerous famous wearers over the years: Rihanna's Swarovski number which she wore to the Met Gala, Rose McGowan's infamous beaded one, Kate Moss's slipdress worn to the 1993 Elite Model Management party. But anyone really bettered the the version Béatrice Dalle wore to the Cannes Film Festival of 1997? A lace tunic dress, with nothing but a skin-toned thong underneath. Simply incredible.
At Les Bains in Paris, year unknown
Béatrice left her parents' place at the tender age of 14 after attending a Dead Kennedys gig that left her intent on making sure her life was exciting from that moment onwards. She headed for Paris and quickly became part of an indie rock scene, where she lived off shoplifting. That love of music never left her and, even now, she claims to have a passion for punk, rap and more. Back in the 90s -- assuming that's when this paparazzi shot was taken -- she appears to be hanging out with French rockstar Serge Gainsbourg. Béatrice doesn't seem to be too impressed by Serge here, casually draped over a sofa in a weathered leather jacket and high-waisted black jeans. We stan.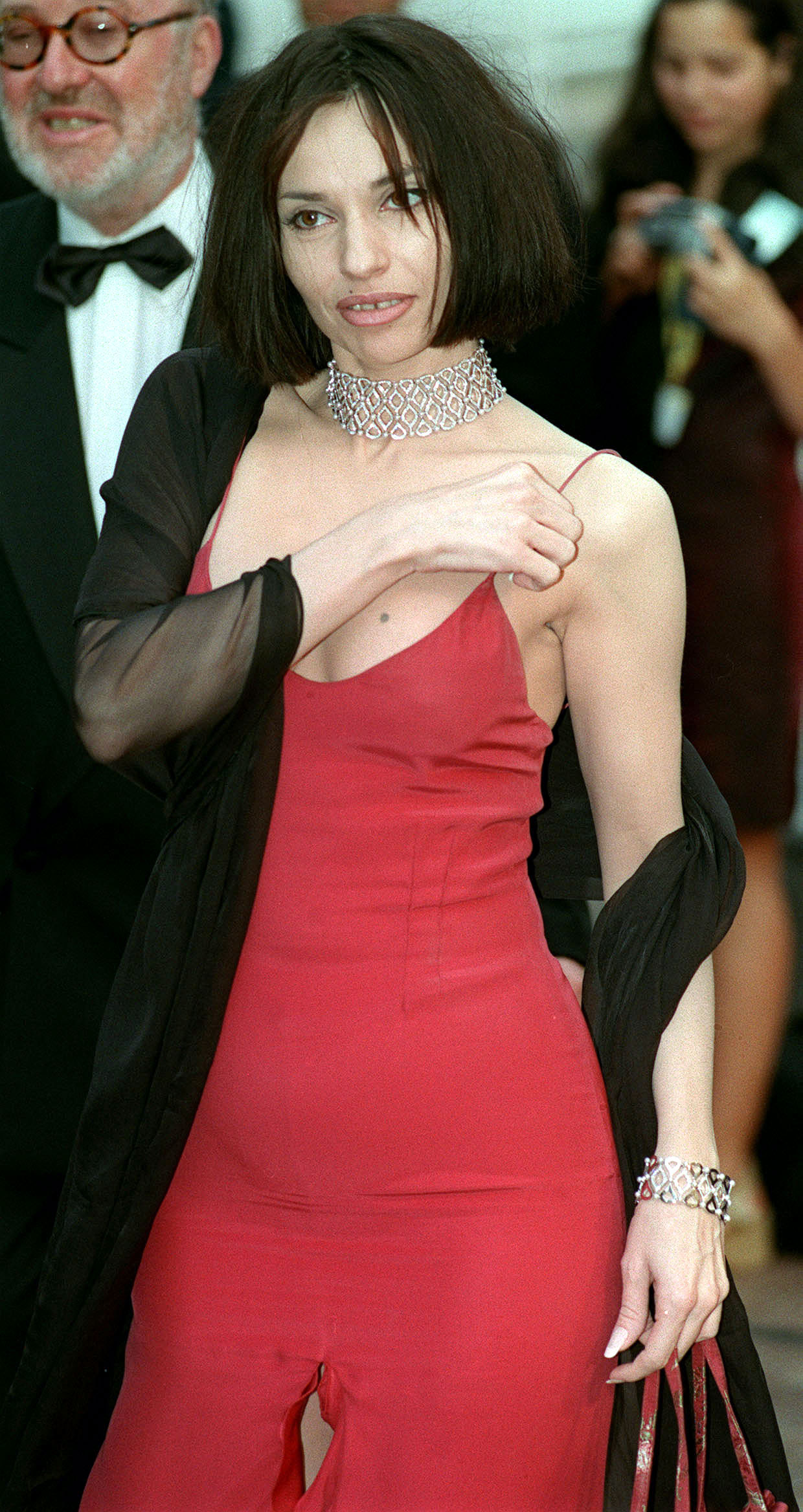 At Cannes Film Festival, 1999
If there is an entire Instagram page dedicated to Connell's chain, something similar should be done for Béatrice's cleavage mole, because quite frankly, that thing deserves more recognition. When you scroll through her numerous fabulous red carpet moments, there's always one consistency: a mole, peeking up from a low-cut dress. Apart from her teeth gap, it might just be her best accessory. Here at the 1999 edition of the Cannes Film Festival she accentuated it with a slinky red dress and a diamond choker -- a prime 90s combination that has seen many resurrections in recent years.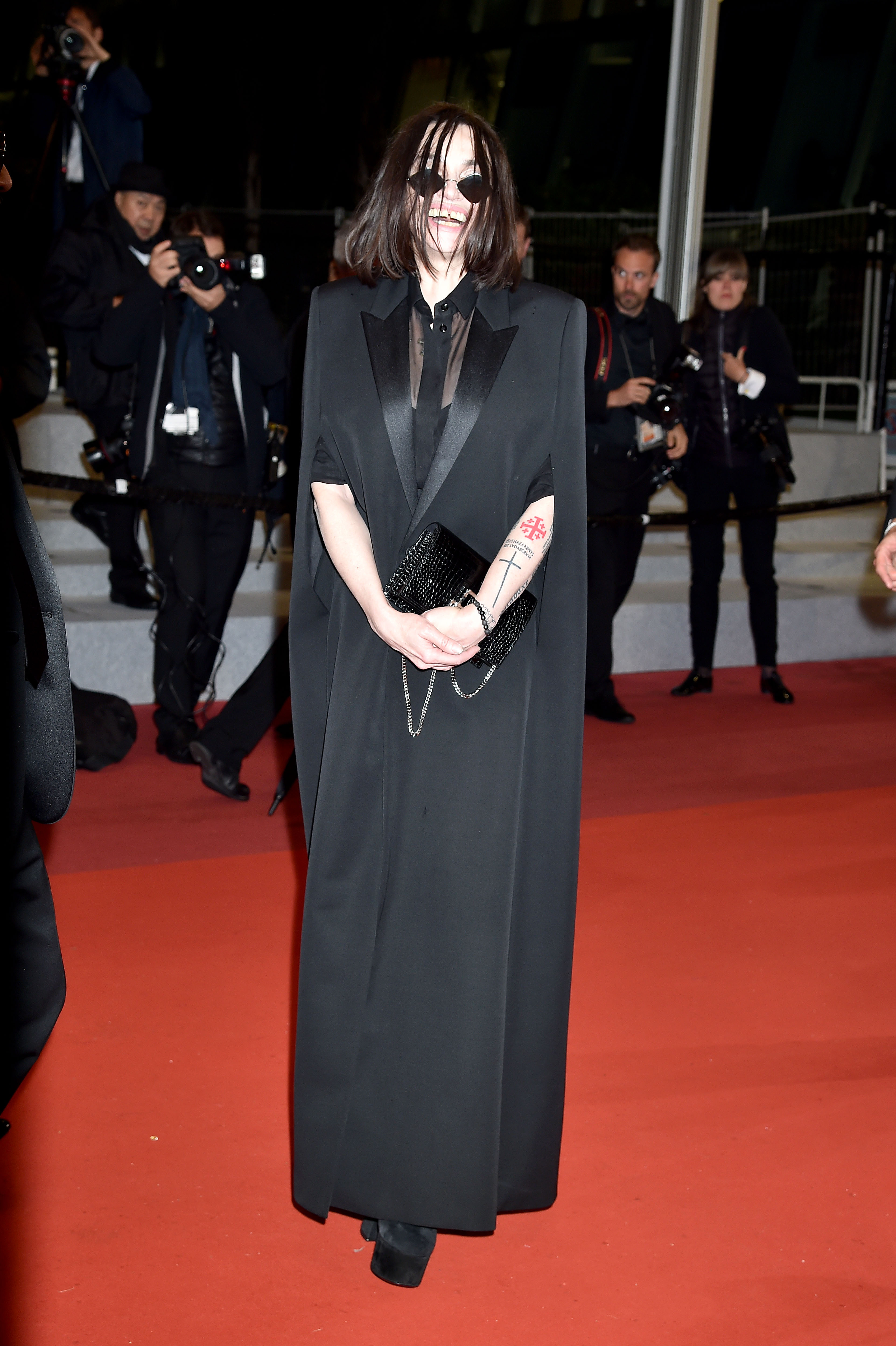 At Cannes Film Festival, 2019
Béatrice has had an eclectic style journey throughout the years: from 60s-inspired dresses, to punky leather ensembles, to Victorian corsetry. Recently she seems to have arrived at a goth-meets-Matrix-meets-dominatrix kind of junction and is often spotted on the red carpet wearing dramatic black gowns and round sunglasses (complete with cigarette dangling between her lips). Very French, very Saint Laurent. We're here for it!