Photography Laurence Ellis
6 London menswear designers' thoughts on digital fashion week
"We are the new generation, and it's our responsibility to rewrite the industry's rules."
Photography Laurence Ellis
Let's not mince our words -- coronavirus has hit fashion hard. From photographers to PRs, and from stylists to the designers themselves, the pandemic has ground typical industry operations to a halt across the board. It is, by no means, business as usual.

Still, no matter how bleak our immediate prospects may seem, fashion has a proud history of phoenix-like rebounds from situations few thought it could endure. Just what things will look like post-pandemic remains, of course, unknown, but what is clear is that the gears in the industry are shifting, likely for the long term.
Given the current embargo on group meetings and international travel, the British Fashion Council's decision to cancel the physical SS21 editions of London Fashion Week Men's in June and London Fashion Week in September was entirely expected. Their proposed replacement? Perhaps less so. Rather than host separate showcases for menswear and womenswear on alternative dates, the two are to be combined on a single digital platform.
The proposal, though widely welcomed when faced with the prospect of no presentation opportunities at all, isn't uncontroversial. On the one hand, members of the menswear community fear that the move, if permanent, could cause menswear to fall to the sidelines of the longer established womenswear weeks. On the other, calls to unite the two have been heard from many different corners for some time, stressing the prevalence of non-gendered work on runways today, as well as the dampened environmental impact of holding the events concurrently.
Presented with such an unfamiliar model, sceptical reactions are understandable. Still, when opportunities to rethink fashion's most basic operations present themselves so readily, it would be foolish not to approach them with an open mind. To learn more about how the city's menswear community is reacting to the announcement, we spoke to six emerging talents, each previously preparing to show their work physically in June.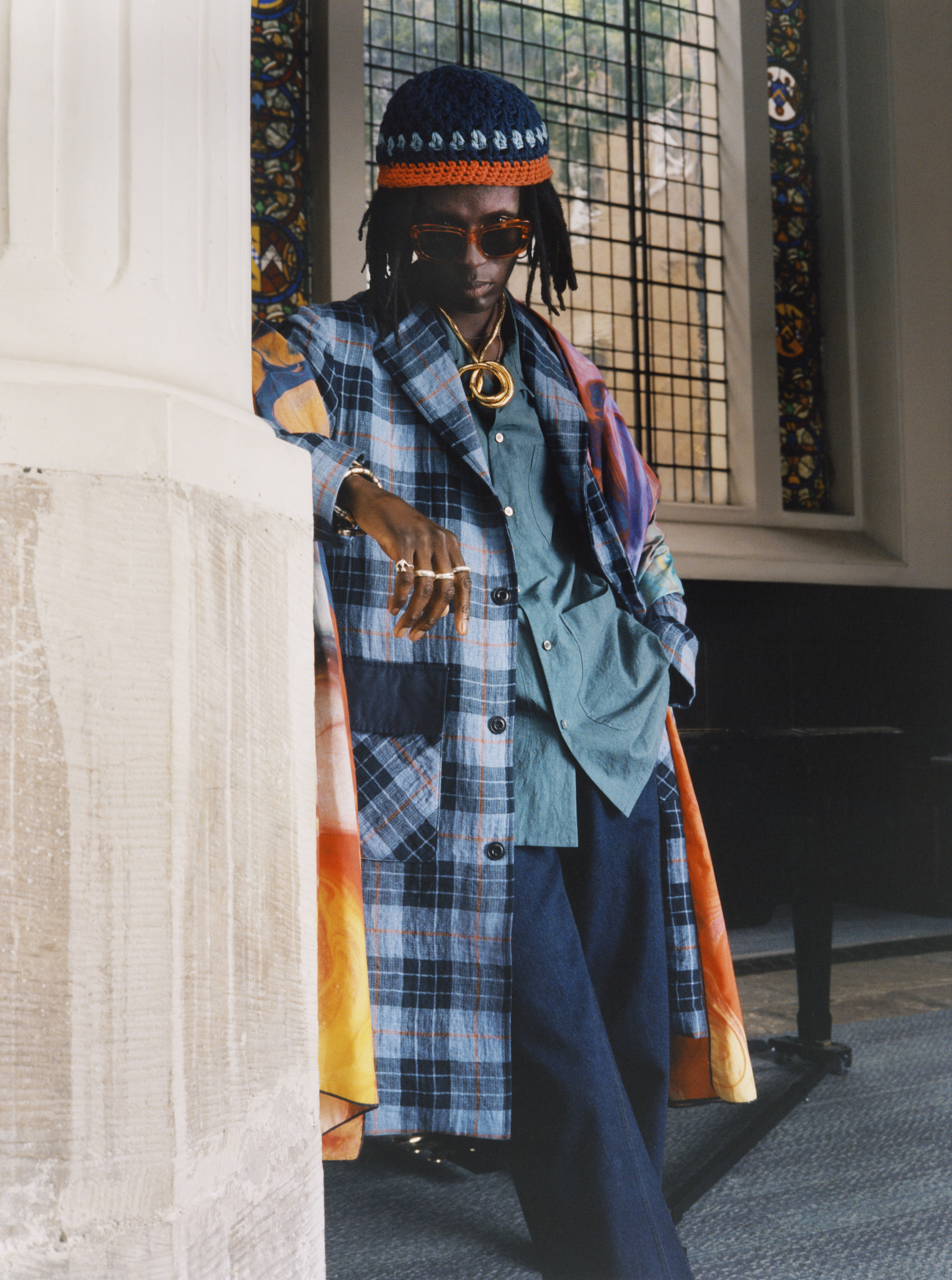 "I think that the BFC holding a digital fashion week for June is something really positive. Bringing together the British fashion community is so important during this period of uncertainty, and we need to continue to showcase our collections on a global stage. I was originally planning to showcase my SS21 collection at London Fashion Week Men's as well as in my Paris showroom, both of which are now cancelled due to the pandemic. I was a bit dispirited at first, but I've continued working on my SS21 collection and plan to make digital creative assets to coincide.
I'm looking into reaching out to my collaborators and cross-pollinating between different creative mediums, which is something my brand has showcased over the last few seasons whether it's with musicians, DJs, poets or illustrators. The strength of my brand is the community I have been building and celebrating within my previous work, so I'm looking into all of this to find different ways of presenting my next collection.
Obviously, each brand will need to decide if the new format is suited to their business but having the BFC support structure there is really encouraging to see. Still, I do feel it's very important that men's fashion weeks still have their moment across the global fashion calendar. Supporting both established and emerging menswear brands still needs to continue within some capacity moving forward. As an industry, we will have to come together and think of new ways of how to present both men's and women's weeks."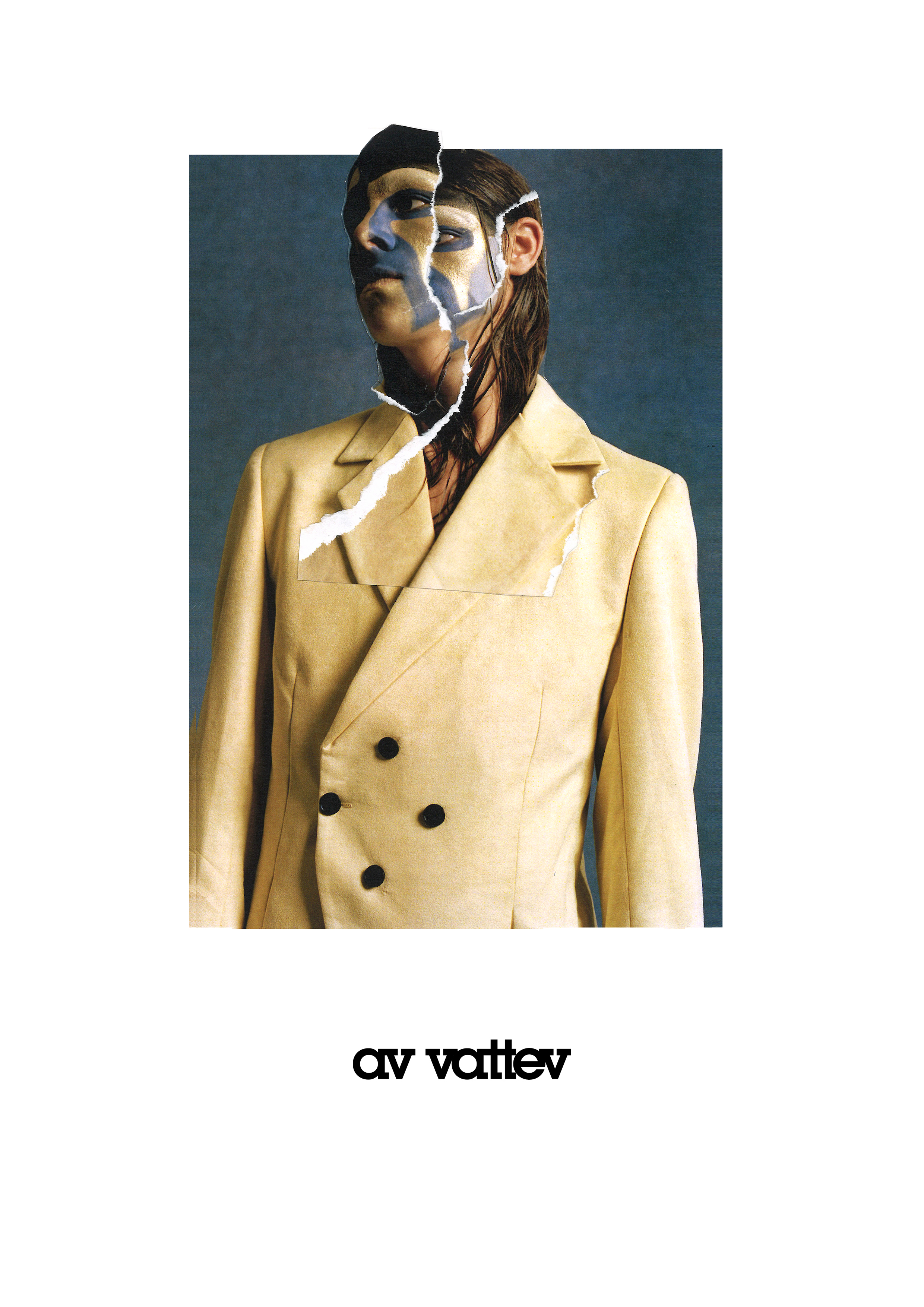 "It's taken a good amount of time and energy -- mentally and physically -- to reschedule, adapt and restart working on SS21. It's really hard to concentrate and create beauty during a time of such great human agony and sadness. At the same time, I want to create something that brings joy and happiness, something that will distract people from the current bleakness of reality. Remembering that Christian Dior's Bar Suit arrived just after the Second World War is something that keeps me going. I've also tried to keep inspired through a social distancing gallery initiative I set up, inviting fellow young creatives to share what keeps them going in these tough times.
The current situation for young designers is both scary and confusing -- at the same time, though, we are the new generation, and it's our responsibility to rewrite the industry's rules. A restart has been needed for a while, and the pandemic could trigger just that. We need to adapt the industry to our needs instead of us adapting to it. In that respect, I'm really excited about the future.
Through their recent decision, it's clear that the BFC is leading London Fashion Week without fearing the unknown, and we're really looking forward to taking part. June was originally meant to be my first time staging a physical presentation, but I'm comfortable presenting digitally. This time though, I want to be sure that it makes sense with respect to the new world we now find ourselves living in. Fashion has to adapt to this 'new normal' and the BFC's proposal just might be the future of fashion presentation. I don't think it'll be an easy shift -- especially where buying and production are concerned -- but if it works we need to stick to it."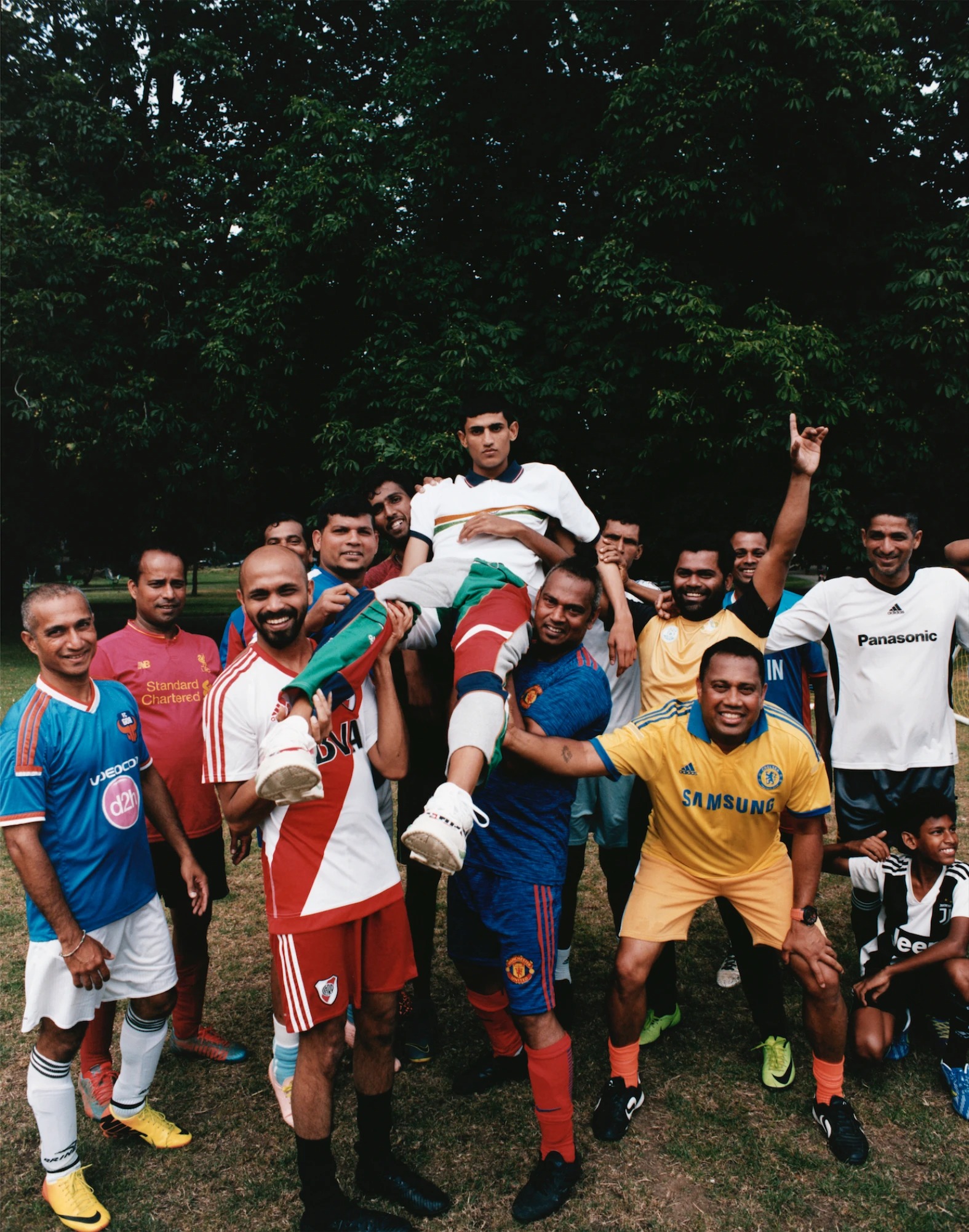 "Before lockdown, I was preparing for fashion week in June, but have since decided to let SS21 preparations take a back seat for a little bit. Suppliers and manufacturers are closed, and I still have the production of AW20 to contend with. That said, I am glad I now have longer to research and develop for SS21, so I am hoping I can make it a really enjoyable and in-depth process. I may still produce some content, but it will focus more on creativity than on product.
I really love putting on a show -- I love the energy and I have a huge grin on my face the whole day, but I completely understand why the physical fashion weeks in both June and September have had to be called off. I think it's great that the BFC are trying to think of ways that creativity and ideas can still be shared. I definitely think everyone needs some escapism through the arts right now, so I'm trying to be positive and think of new ways to communicate my work.
I'm typically quite analogue in the way that I communicate though, and I love human interaction. I'll really have to embrace digital communication this time, which is a new challenge for me. Still, it's beneficial for designers and artists to push the parameters in which they show and to be creatively challenged. As a designer, my job is to 'solve problems' and I guess this is another one for me to have a crack at."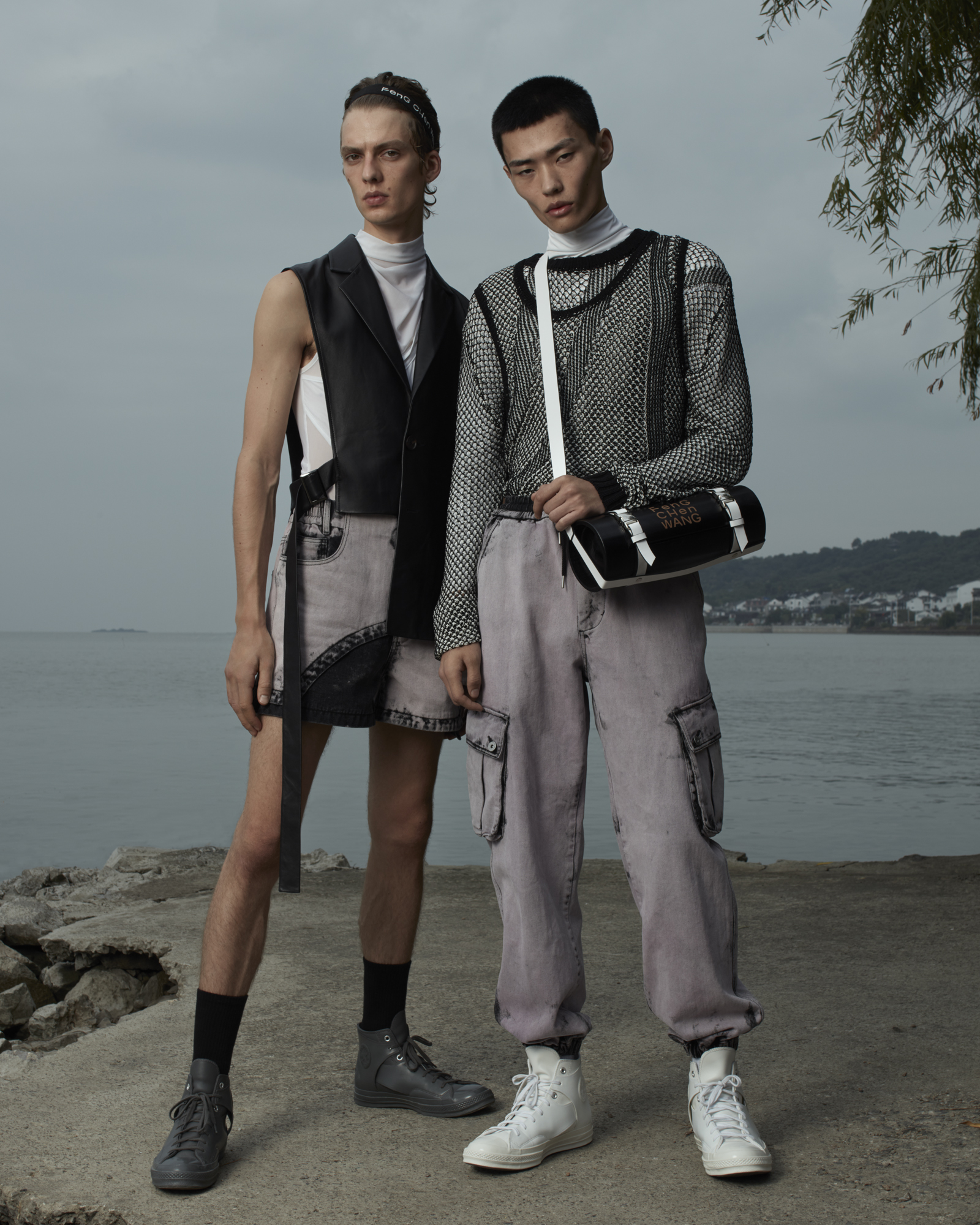 "After seeing the rapid closure of retail, cultural and sporting events in China, and witnessing the spread of the virus to the West, it was inevitable that fashion weeks across the world were going to be affected, too. With most of our team working from home and our European suppliers still closed, it has affected our timeline. However, we are fortunate that our Shanghai office and suppliers are now back to work so we can continue working on the SS21 collection, which we now expect to finish in August.
We've had to think creatively about what we focus on showcasing, how big the collection should be and the message behind it. Virtual showrooms and digital content will definitely play an important role in June, but I believe the physical is still very important. We can use digital to add new layers, but we still need the physical interaction to understand form, technique and fabric. I think that digital platforms can work when a retailer already knows the brand, understands its values and is confident in placing an order remotely. But, unfortunately, I don't see it working for brand new designers -- there's too much risk involved.
That said, I think putting men's and women's shows together as one season could be a very interesting prospect. Clothing is becoming more and more gender neutral and fashion needs to be more sustainable, not only in product but in the mobility of the people who work in it."
"I wasn't at all surprised when the BFC announced their digital fashion week initiative -- many brands aren't developing new samples for June, and it's important that everyone in the whole supply chain focuses on staying safe and working from home. My partner Husam El Odeh and I, for one, normally have separate studios, but now we're in each other's faces 24/7 -- next season will reveal if this is a good thing.
During lockdown, I feel I've become a little more tech savvy, which has been very good for product development. We have time to go over everything in detail, to think about what's been going well and taking the time to develop it. We're working on new timelines with our factory, but we're still planning a showcase for June as per usual, which will be something totally different!
At its best, fashion proposes ways forward to deal with the most relevant issues, and I think this platform will give the London fashion community a voice and an opportunity to make a statement. The BFC has been very open to what we want to do, and this platform will be shaped by the designers and how they want to participate, as it should be…"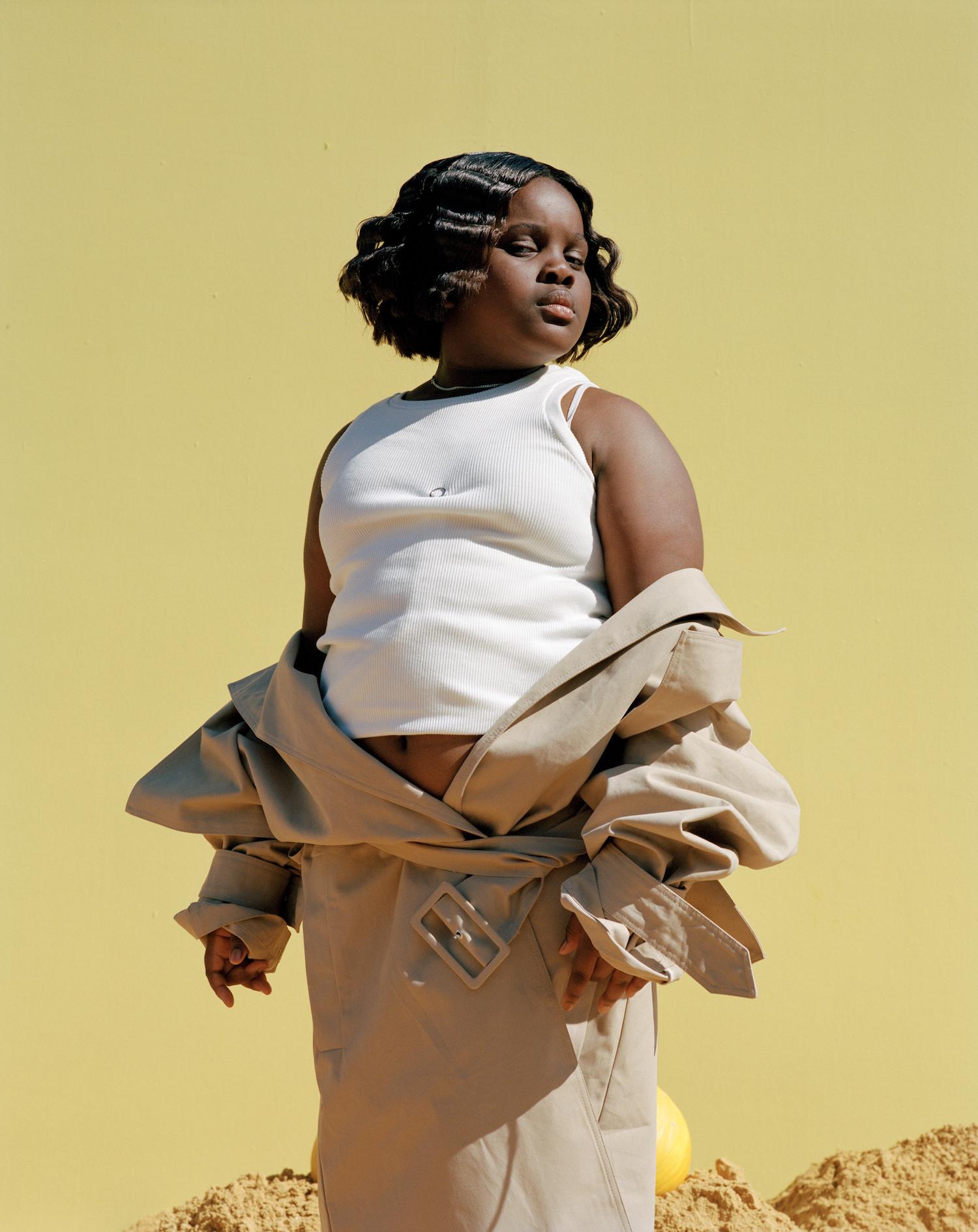 "When I'm usually thinking about the clothes, I'm thinking about them existing in a show, so I've slowed the pace of my preparations for SS21. This has been a good thing -- before, I never really saw the importance of slowing down, I just thought I had to work seven days a week, but now I've learnt the importance of taking time out to have a break. I feel much more creative and ready to go.
I think the BFC's idea to host a digital fashion week sounds pretty positive. I think it'll push people towards making more concise, considered collections, as it's quite difficult to present the 40 looks on a digital platform, other than by just posting the images online. That said, I was a little disappointed at first, as this was going to be my first catwalk show. However, I've always been pretty versatile when it comes to showcasing my work. Last season I was given a presentation slot and turned the concept on its head by creating a dancehall inspired peep show! Given that we have more time to think, I think it's really important that we offer visual stimulation to people at home, impactful imagery that will capture people's imaginations.
We're all going into this blindly, and it's difficult to tell what the end result will be. But one positive to take from all of this is that it's forced us all to look at what is really necessary. We've had to essentially rip up the rule book and come up with whole new ways of promoting what we do. I have no doubt that we'll see some exciting innovative ideas from designers come June. Out of adversity, comes creativity."