Male models recreate old photoshoots from years ago
In 'Then & Now', a diptych series by Doug Inglish, male models stand shoulder-to-shoulder with their past and present.
A stolen glance and a casual lean against a locker. An errant finger-comb across the scalp. Doug Inglish knows that just one small alluring motion can be so attractive it may ruin you for life. He's been reaching for those throwaway moments for more than 30 years.
Starting out as a flashy fashion photographer in Los Angeles, Doug found himself shooting actors and models in bedrooms and pools: from a manspreading Jake Gyllenhaal to a sopping wet David Beckham. There's a sexy wholesomeness to his subjects, virile and vulnerable. He blames his move to LA from Virginia on the film Down And Out In Beverly Hills, and a fixation on the ornamental maleness of his older brother's friends. "I just had crushes on all of them," he recalls. "There's definitely an aspect of that longing," he says of his photography.
Doug reenacts these boyhood fantasies as part of his Then & Now series, a show of 15 diptychs where male models revisit their younger selves in the same clothes, same location, a decade or two later. He dresses them in archetypes of masculinity — ARMY zip-ups, wrestling singlets, and star-spangled speedos — culled from his personal archive of vintage sports gear. They're playing our beloved himbos and heartbreakers, as boyish and suggestive as one can get away with.
For the series, Doug drew on another kind of collection: a massive treasury of retro beefcake photography acquired via eBay ever "since eBay was invented". Then & Now marks his official contribution to a queer fine art canon, drawing on studio work from Danny Fitzgerald, Karlheinz Weinberger, Bruce of Los Angeles., and most of all, Bob Mizer. Because there is no Robert Mapplethorpe, Herb Ritts, or Doug Inglish without Bob Mizer, the father of gay erotica who disguised his black-and-white home studio portraits of shirtless bodybuilders as "physique photography."
The series, shot in Doug's Hollywood Hills home, is a nod to those photographers who had to shoot in secrecy, one-on-one and behind-closed doors, he says. The sensual symmetry of jockstraps and happy trails are the result of a carefully created atmosphere of trust and attention. Some of the initial photo sessions were the first time the photographer and model met, random go-sees for newcomers to the city, "a casting call sort of moment," he says.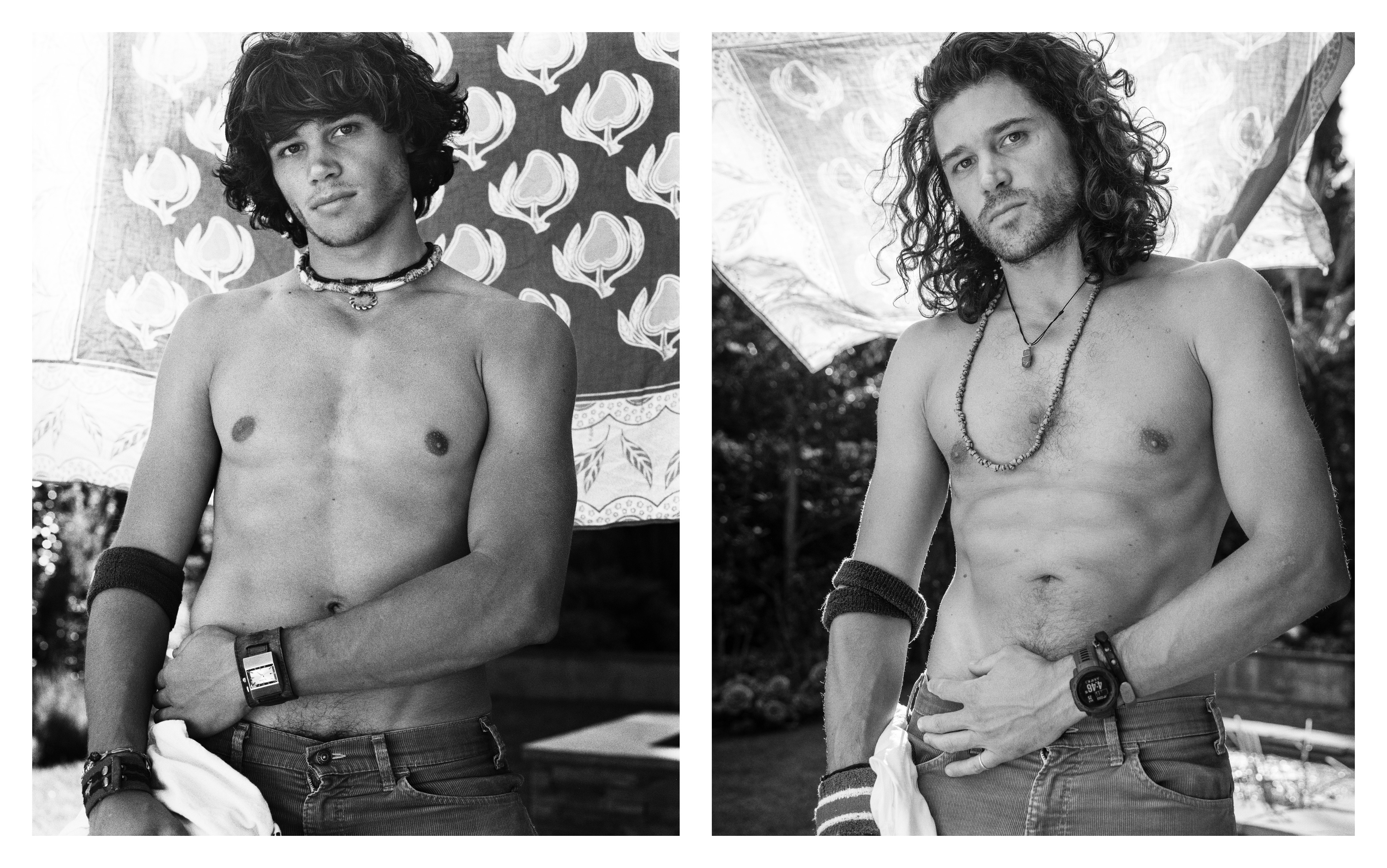 Each photo is displayed on a 8x10" print, the size of a headshot, those bygone talismans that actors used as business cards with an audition and a prayer. Many of his subjects moved to LA to act. The project started, like many recent projects, during the pandemic. He showed his actor-friend-muse Trent Garrett (New Girl) one of their original photos together and thought to recreate it. "I've been doing these private pictures for 25 years, and I realised I have this massive library that no one's ever seen," he says.
Taken as a whole, we learn more about these men than we knew before, which is to say nothing beyond their bodily changes and everything about our own projections about ageing and mortality. The skin matures just as the technology does. Back Then, the initial photos were shot on a Pentax 67 and are exhibited with the original border of analog film. The Now photos are digitals. Left to right, the two portraits become more than a fleshy fantasy — they evolve.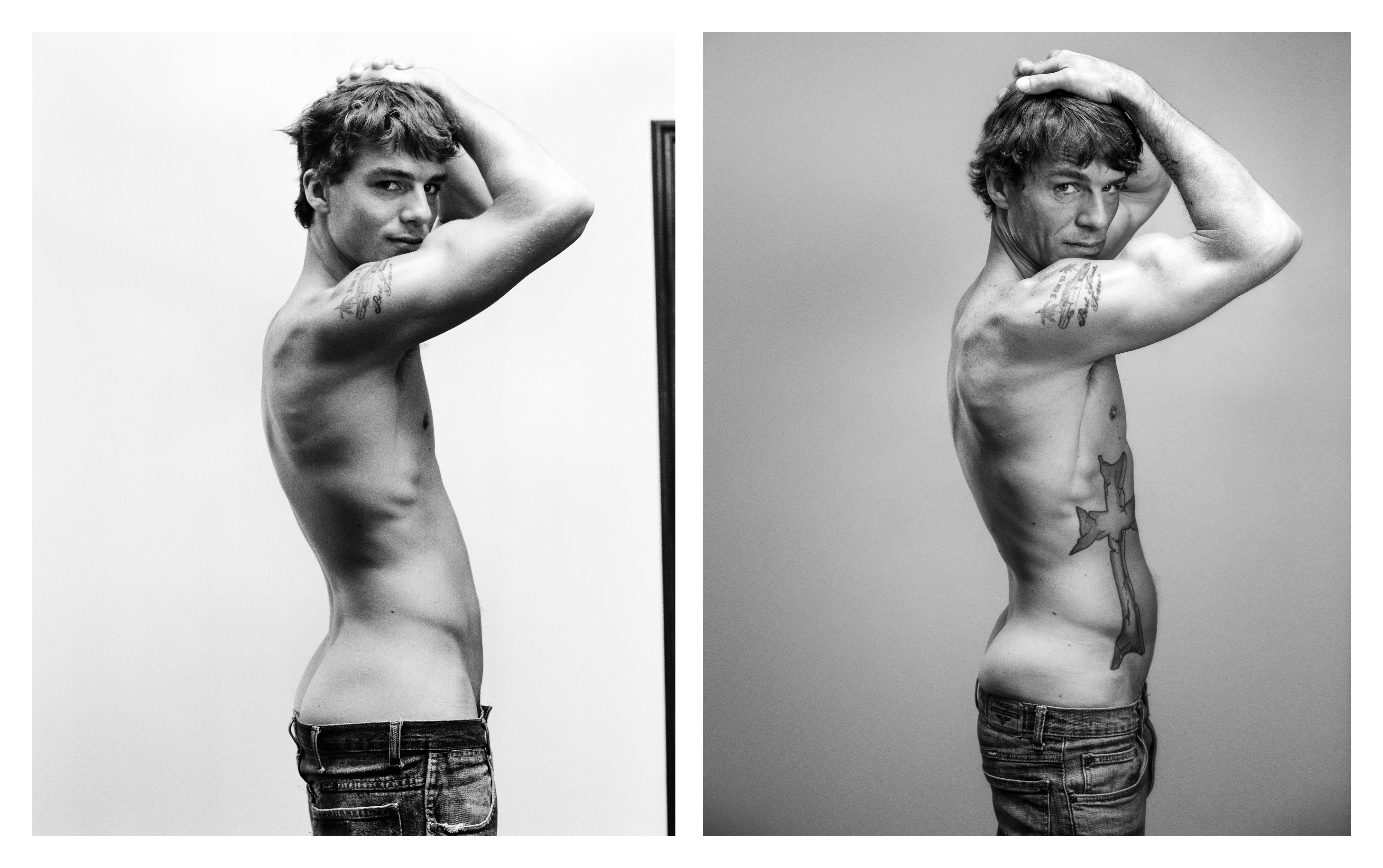 Doug has thought many times about The Brown Sisters, for which photographer Nicholas Nixon spent 40 years taking an annual photo of his wife and her three sisters as they subtly transform from teenagers to middle-aged. In the end, what emerges is an ineffable portrait of family dynamics, decades-shifting moods and trends, and genetics. "I was always moved by those images because as you grow older, you long for the past and think, 'I wish I was young again'," Doug says. "But the truth is that I'm a happier person now than I was then. It's like there's a trade-off. That happens somewhere along the way, I guess."
Like the sisters, Now & Then's black-and-white portraiture belie a timeless nostalgia to images meant to demonstrate the passage of time. The lack of colour also adds a layer of scrutiny. It's easy to fall into a "spot the difference" game, clocking every line and shadow not there before. And yet: everyone is still chiseled and hot; not better looking or worse, just different. They might lose some innocence and collagen, but they gain a sort of grace in ageing (and somehow, more muscle mass).
Doug's own Handsome Boy Modeling School pays off – some are still modelling, others found success in acting, and one moved to Washington to work as a contractor. "It's fun to see these guys change and grow up, and there's so much more to talk about now than there was then," he says. "All these guys are so much more fully formed now than they were."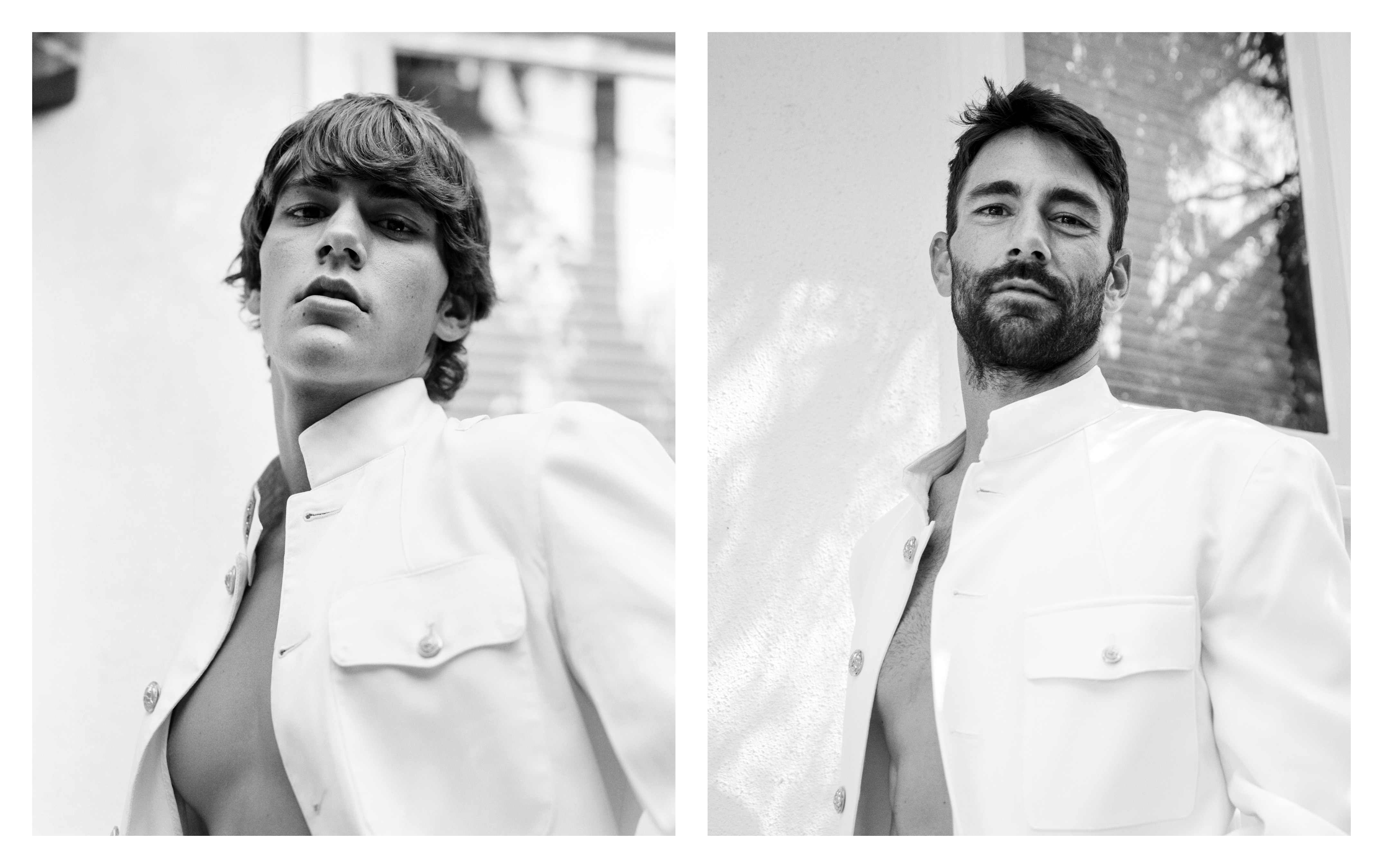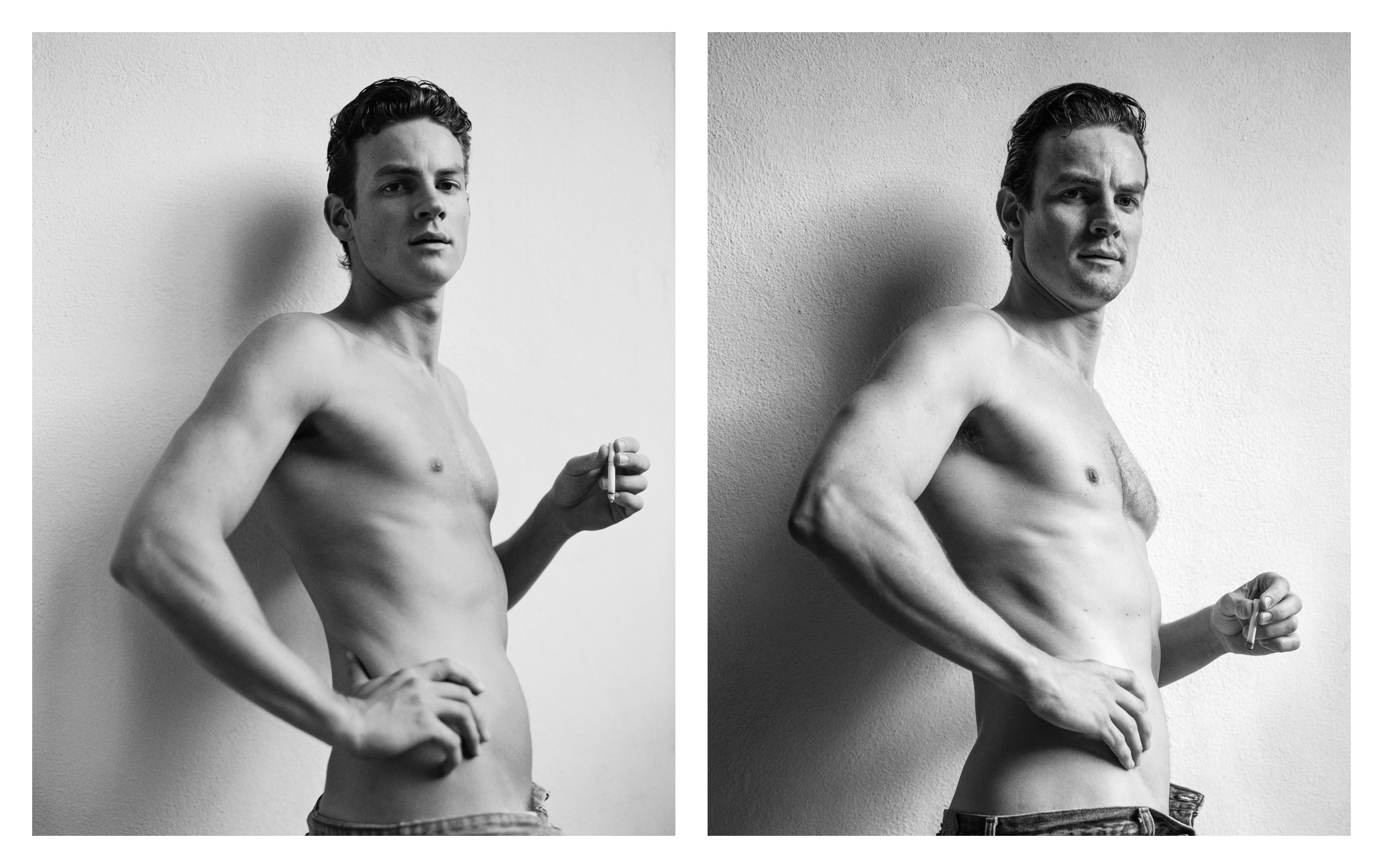 Credits
---