models walking for Jacquemus SS23 show
Jacquemus brings the fashion set to the salt marshes of Provence for SS23
Titled 'Le Papier', the French designer's latest collection served as a calm reset for the brand, and featured its much-hyped collaboration with Nike.
models walking for Jacquemus SS23 show
There have been many travelling shows over the last month — Monaco, Seville, Rome, LA etc — but few have matched the rustic charm of Jacquemus' SS23 show in the desert-like salt marshes in the Camargue, in the south of France. It was the latest in a long list of unexpected locations that Simon Porte Jacquemus has shown his collections in, often against the background of dramatically plain natural landscapes. Where other designers opt for ornate sets that are constructed for a fleeting moment, Simon prefers to let Mother Nature do the heavy lifting as simple backdrops for his equally clean-lined collections.
Following a show in Hawaii earlier this year, this one marked a homecoming for the Provence native. It wasn't evocative of Star Wars or Dune, as you may have expected for the moon-like surroundings — or even of the music video for Say You'll Be There (yes, Victoria Beckham trekked to her seat through the salty gravel in sky-high stilettos) — but rather of a desire for a blank canvas. Simon titled his collection 'Le Papier': "I started working on the collection with the obsession to restart from nothing, like a white page," he said after the show. "I wanted to come back to something super comfortable, super zen."
As simple as that may sound, the mood of the collection was highly romantic, perhaps because Simon is engaged and will be getting married nearby this summer. Models emerged in the distance from the top of the salty mountain, and trails of diaphanous tulle fluttered across the skyscape. As they made their way down to eye level, the details became clearer, and what Simon called "everyday couture" became more comprehensible. Sensually cut white dresses and voluminous black tailoring affirmed the nuptial undertones, leading the way for a handful of beige calicos dresses, earthy brown jackets, and sky blues striped shirting. Humble linens with raw edges, papery cotton, and liquid jerseys with frayed paisley-shaped patches affirmed the simplicity. But for the most part, silhouettes were more cocooned, swaddling the body like "a grandmother's duvet", as Simon said, worn with pillowing tote bags and puffy shearling jackets. Comfort was imperative, he kept repeating — and perhaps the best testament to that was that the cast of supermodels managed to walk in the glaring afternoon sunlight across a literal mountain without any casualties.
As one of the few independent houses in Paris, it was important for Simon to remind the world of his roots with the kind of sexy, simple dresses that earned him a devoted clientele of young women across the world. "I want to be the name of my generation," he declared, adding that though he has been offered creative directorships at bigger houses, he will not be swayed. Remarkably, Jacquemus now has headquarters spanning three buildings in Paris and over 200 employees. "I still have the same dream that I had when I started: I want to work for Jacquemus— and Jacquemus is a big house."
Case in point: the show marked a new partnership with Nike, for which Jacquemus joins the ranks of Sacai and Martine Rose as the latest designer to bring an elevated approach to sportswear. Pieces from his upcoming collection were dotted throughout the show, like a knitted polo dress, fencing gloves, Nike-logo-strapped bralettes and Simon's take on the Humara sneaker, originally released in 1997, in a palette of neutral, earthy tones. The long-term partnership is sort of like another marriage for Simon, who will be bringing his brand of sensual feminity to Nike's women's sportswear for years to come. Not bad for an independent brand. If anything was clear from this show, it is that Jacqeumus is here to stay — and now, whether it's for the dancefloor or the gym, his ardent fan base of women will have plenty to choose from for any occasion. Even a hike across a salty mountain.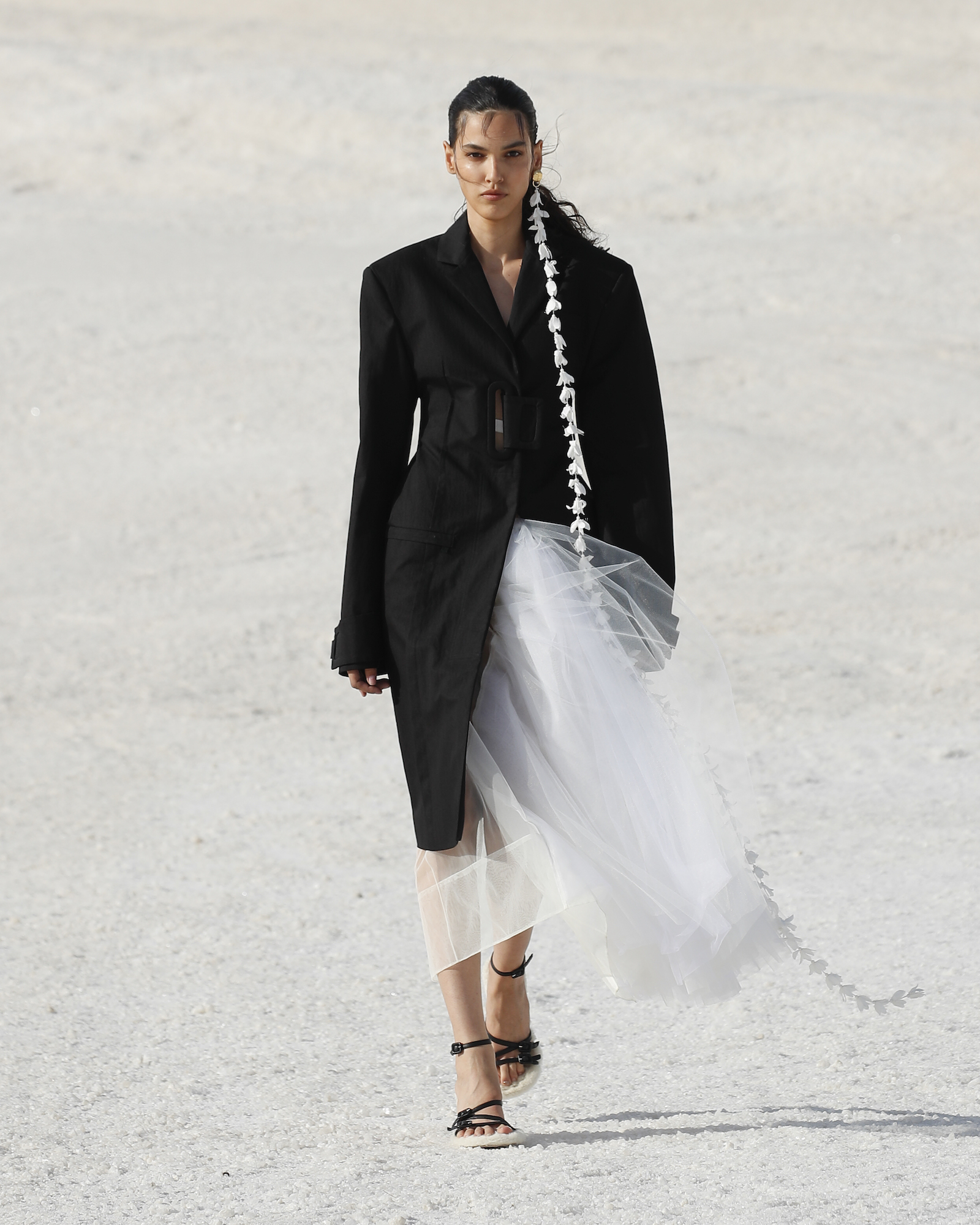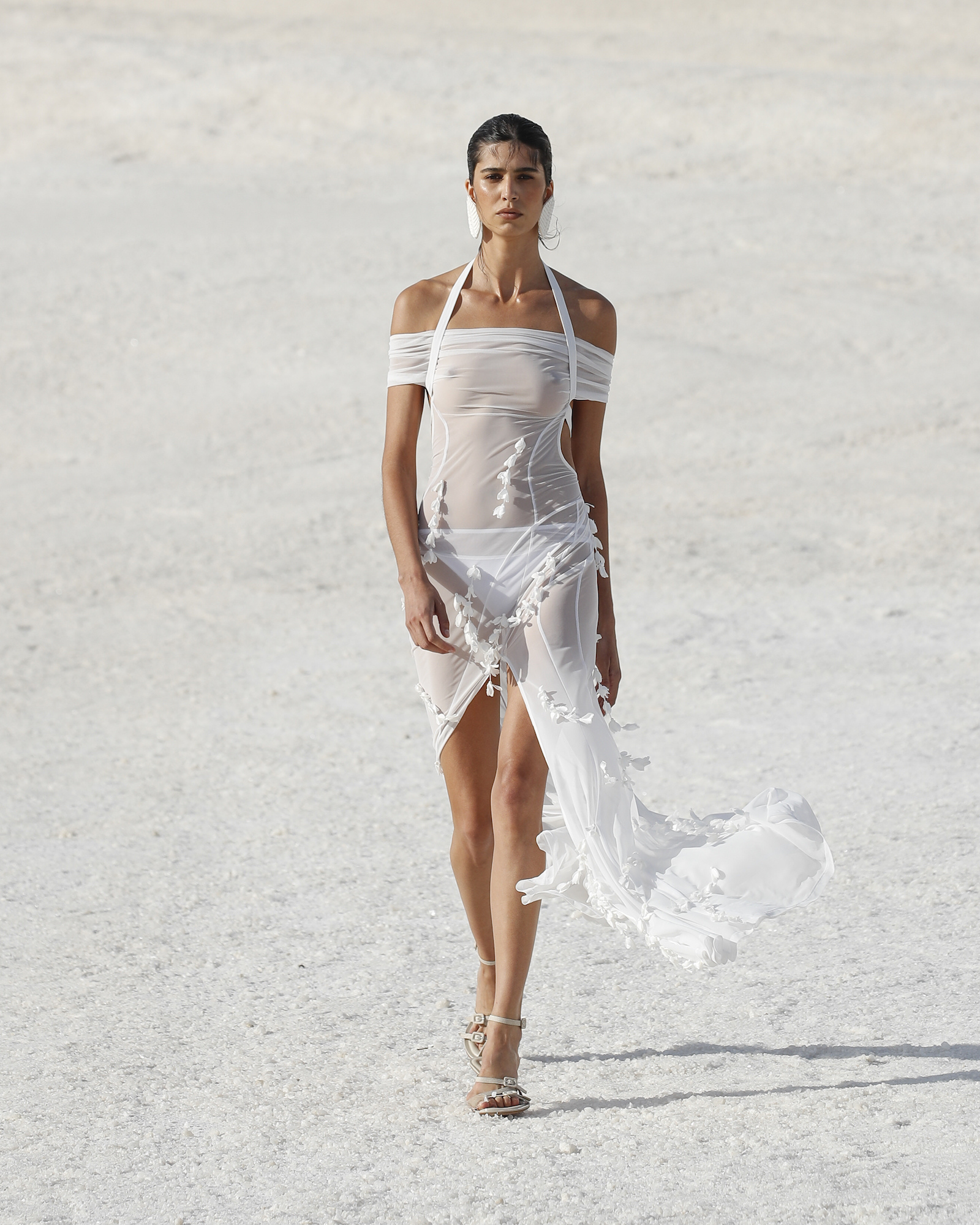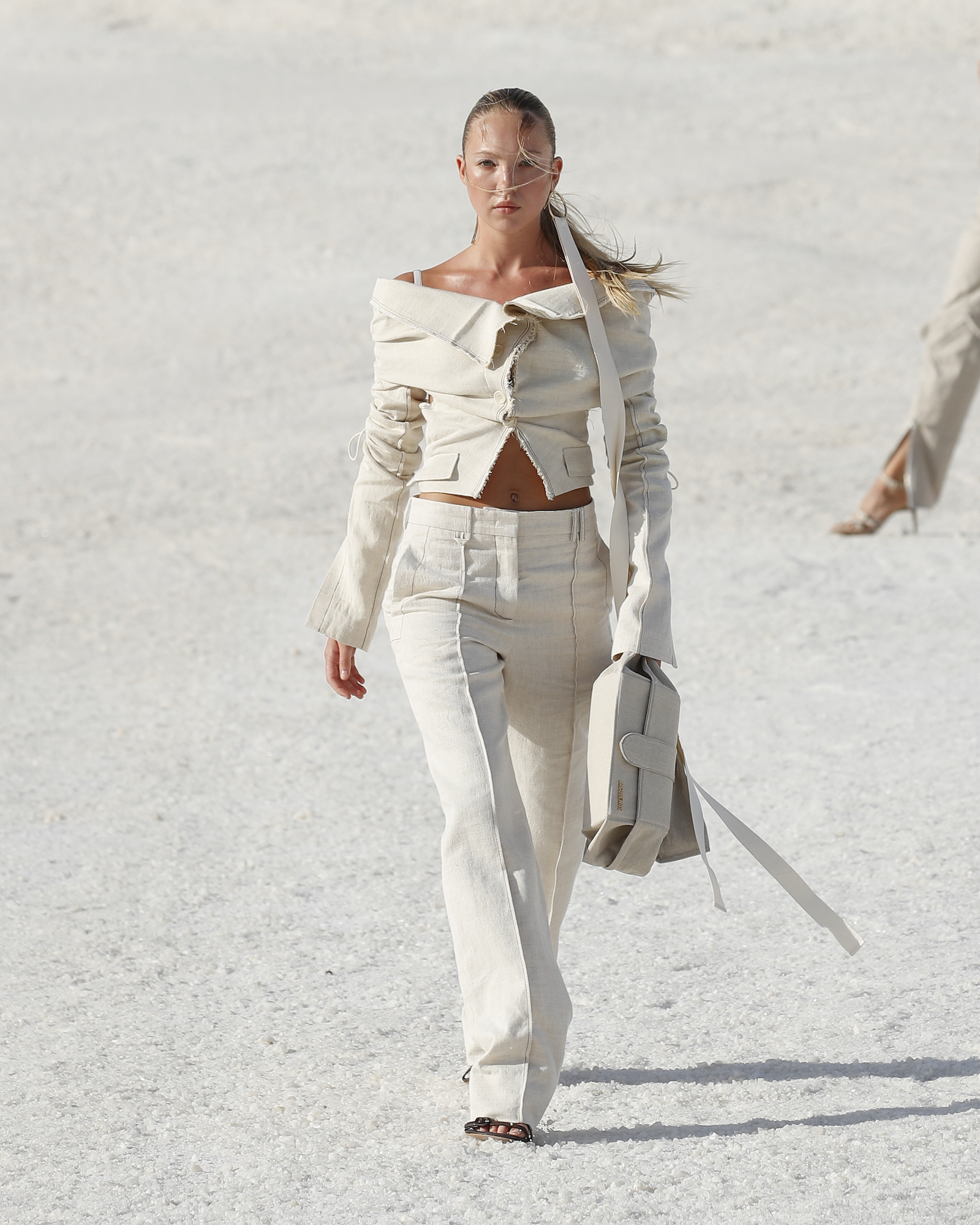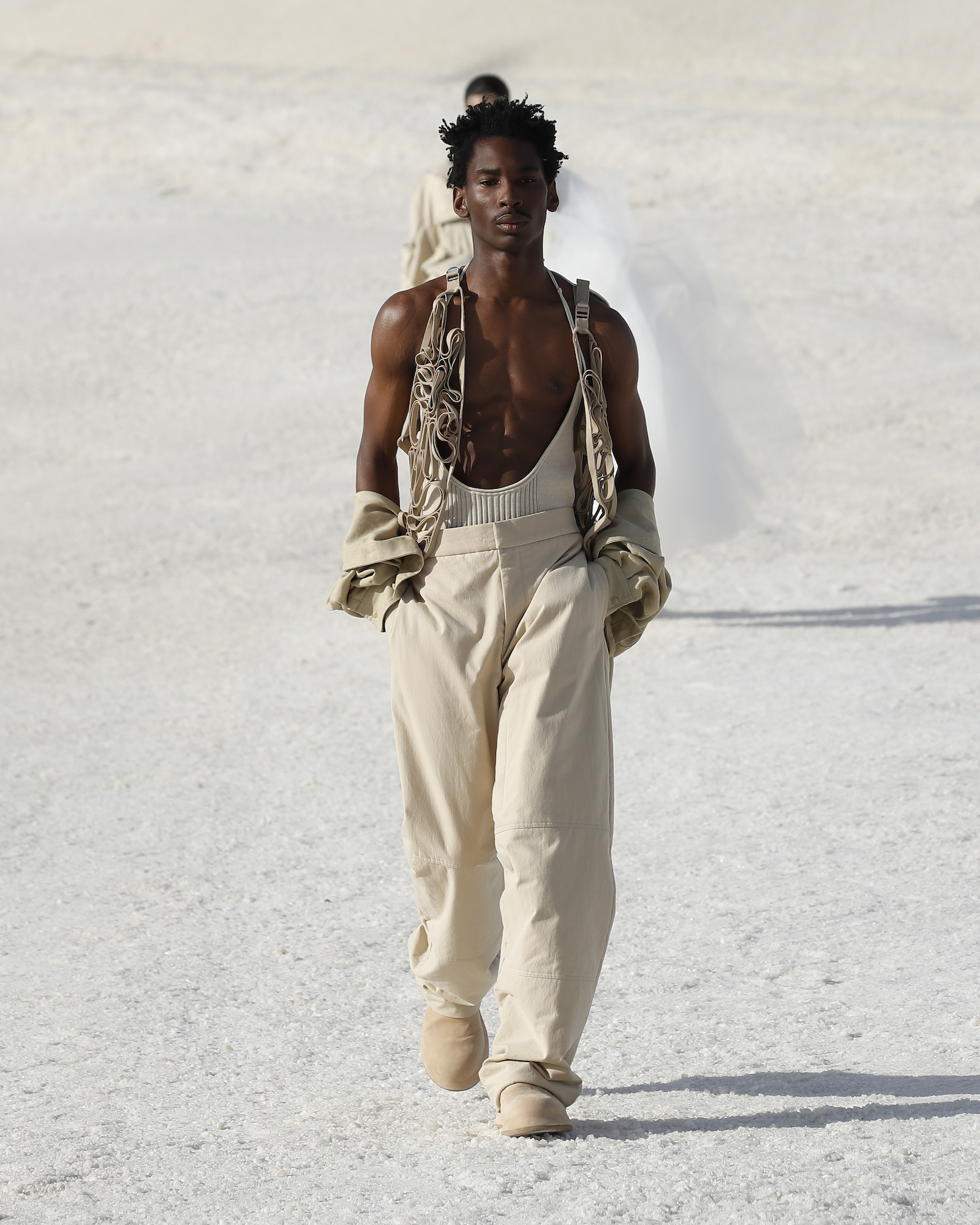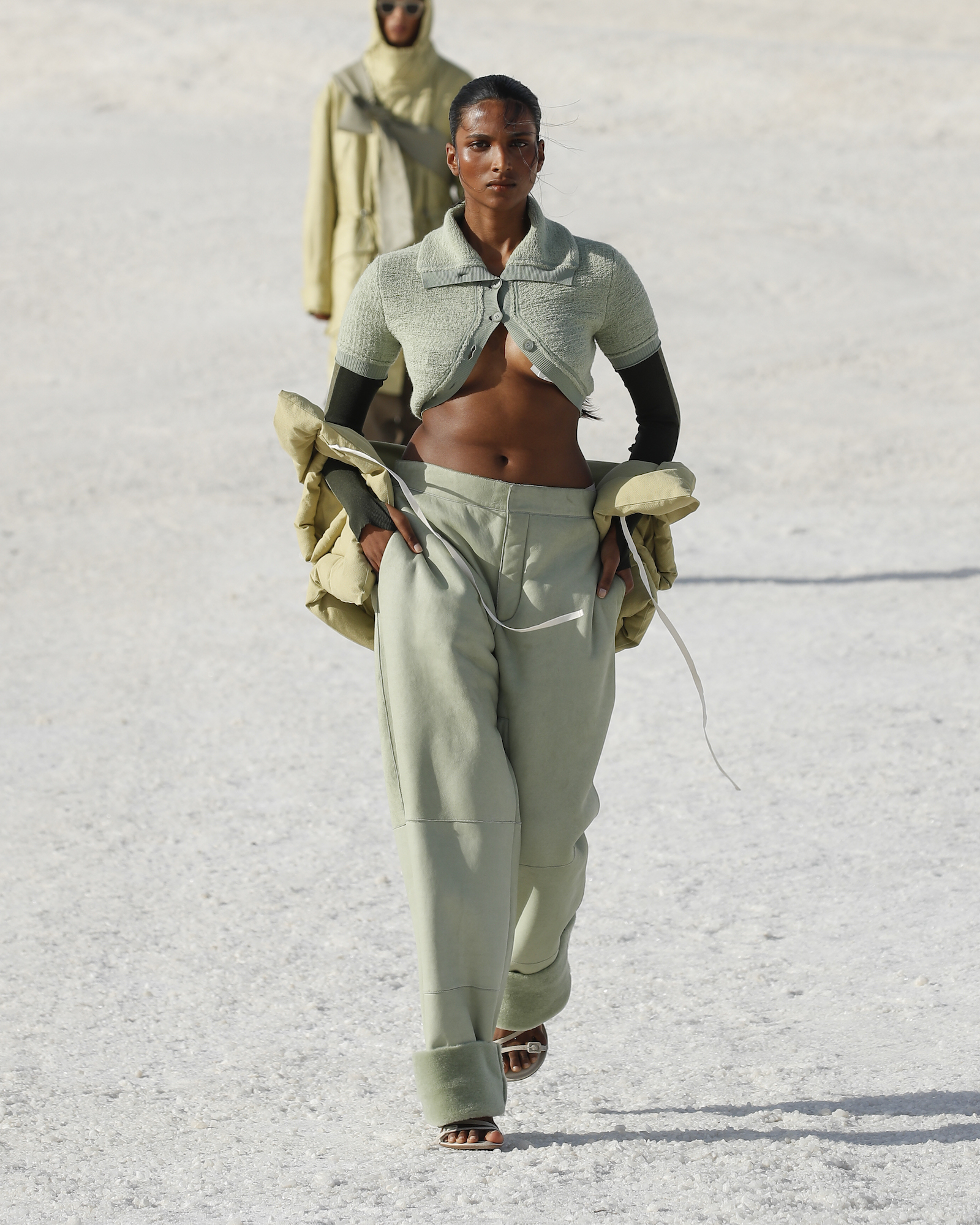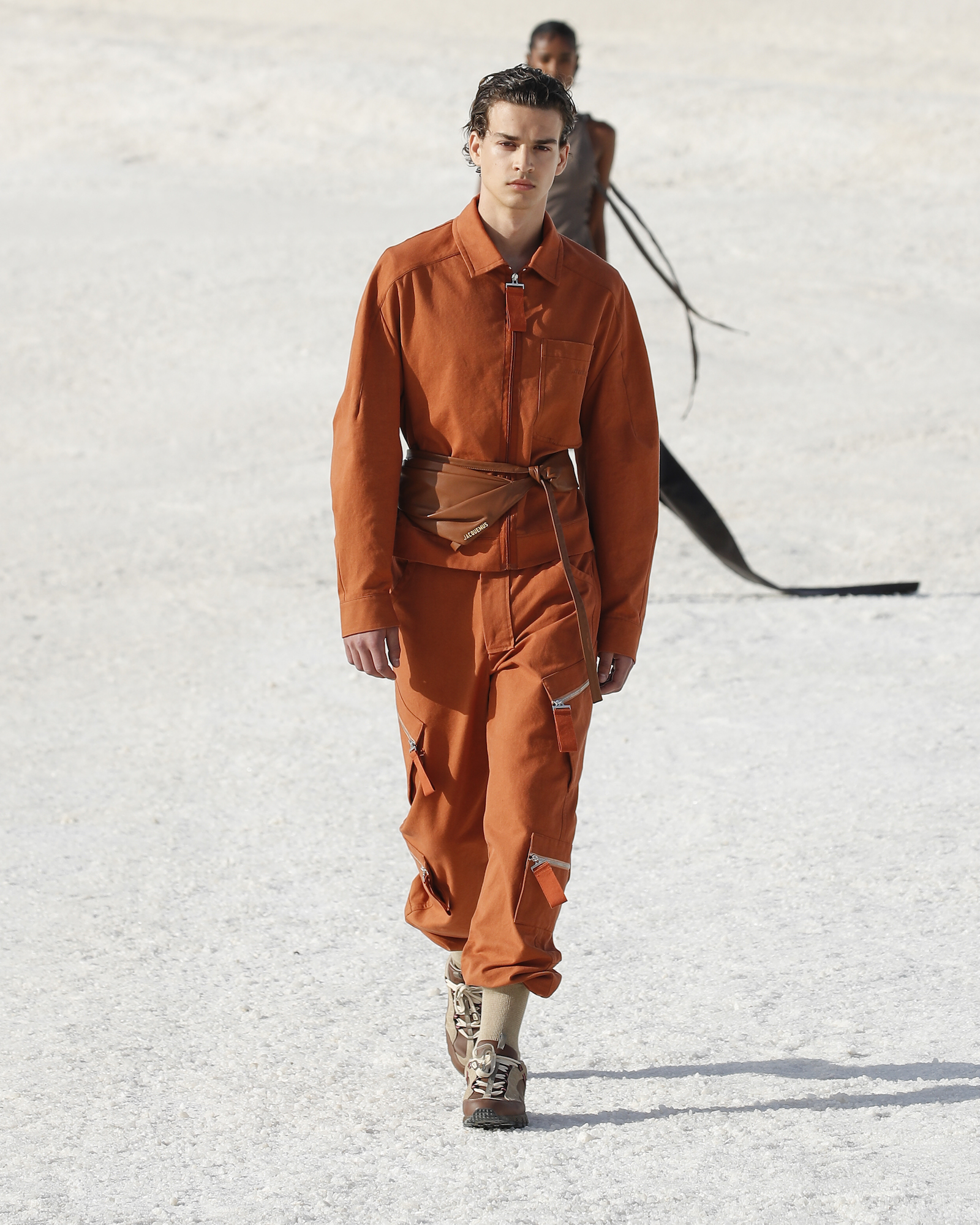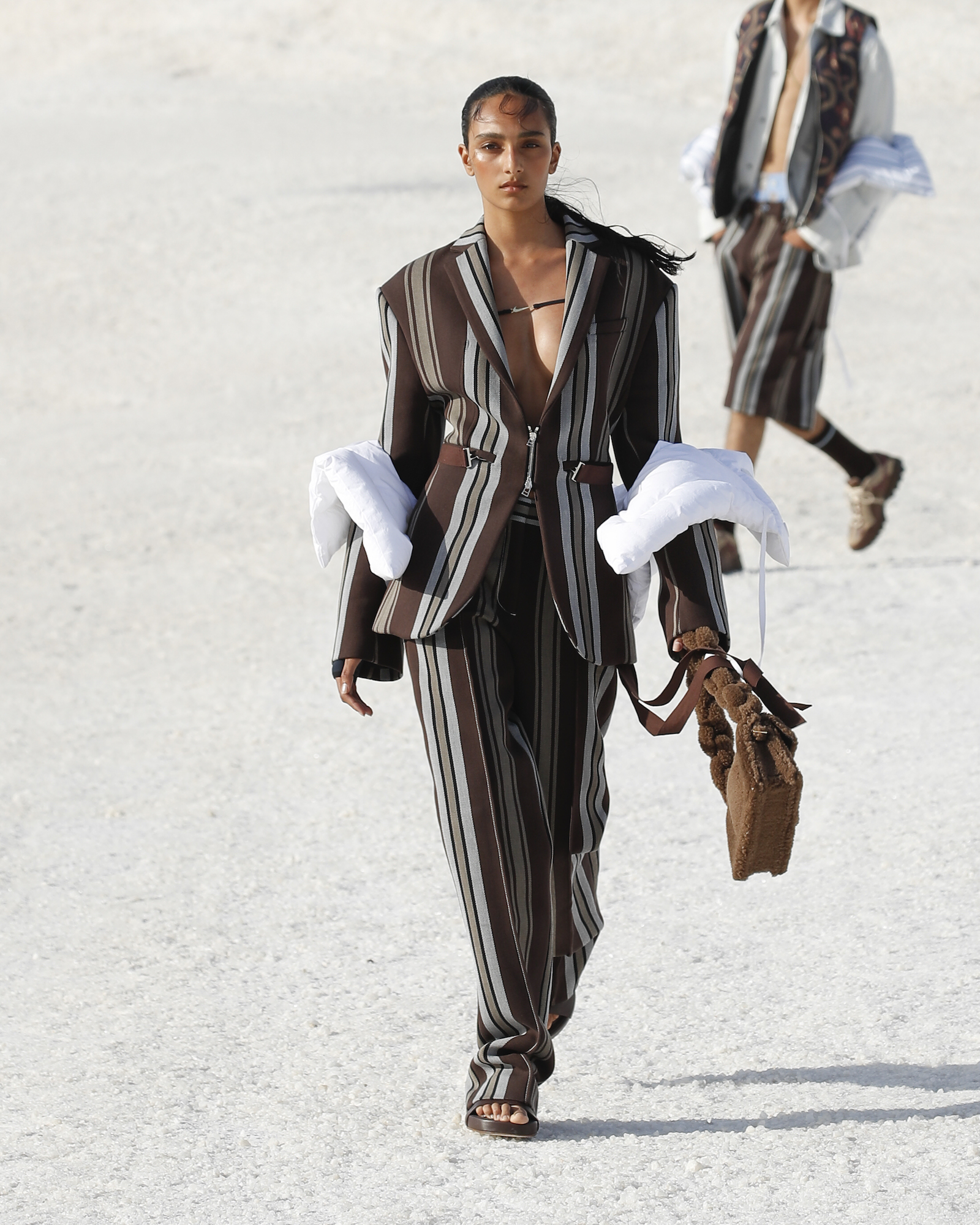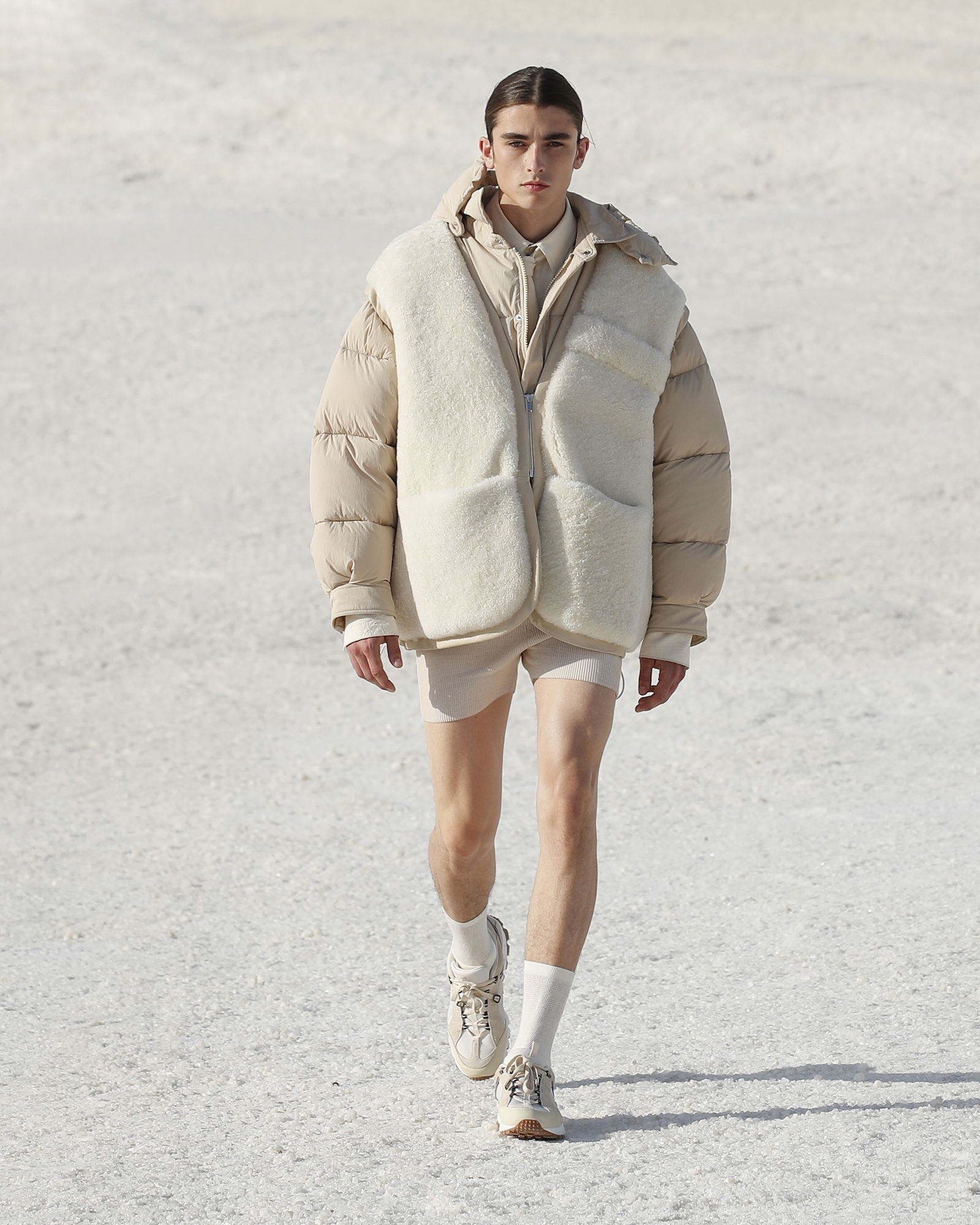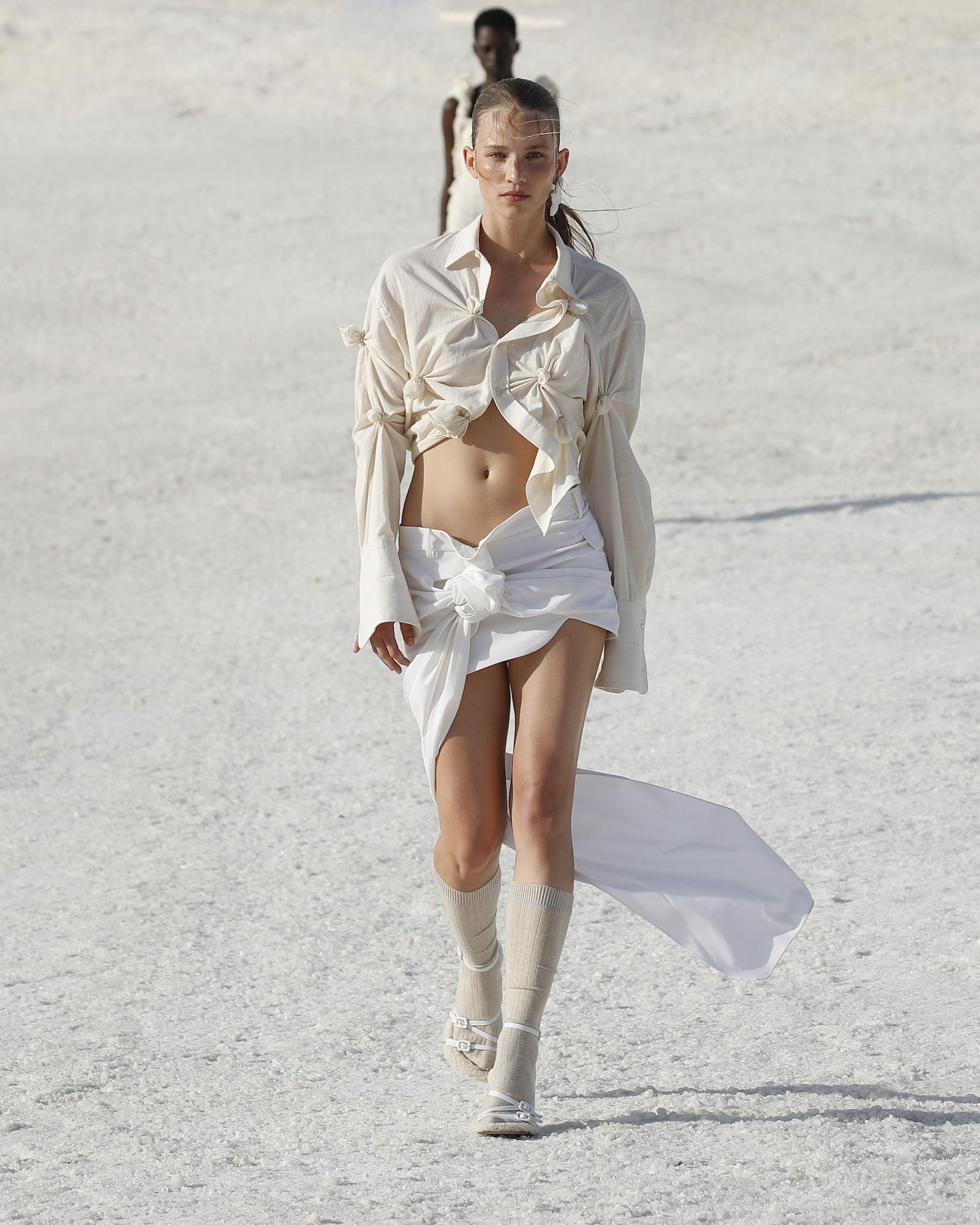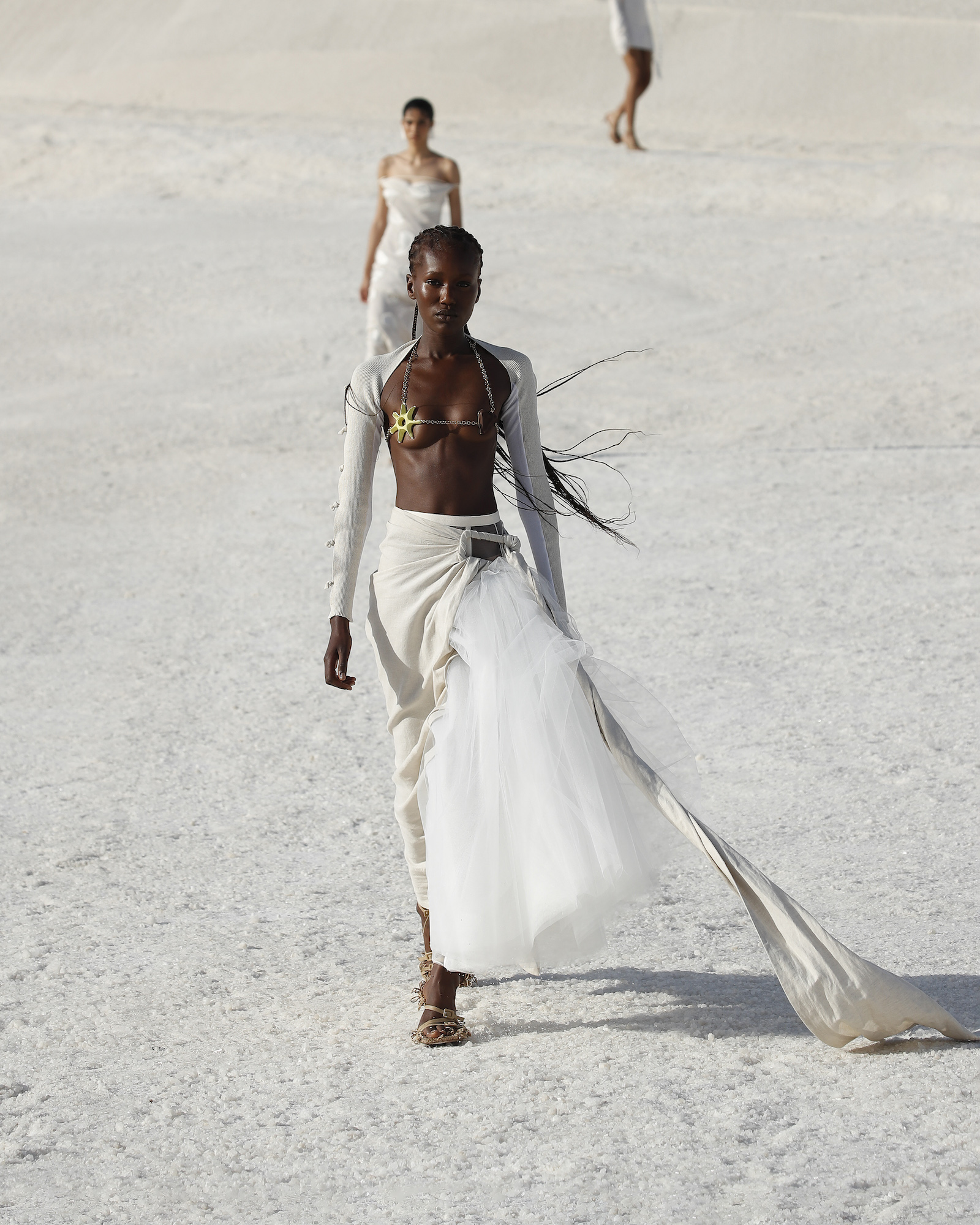 Follow i-D on Instagram and TikTok for more from the SS23 shows.
Credits
---
All images courtesy of Jacquemus