Stills from Buffy the Vampire Slayer (1997)
9 of Buffy the Vampire Slayer's most iconic fashion moments
To mark 25 years since the cult 90s show first aired, here are the best vampy leather looks, witchy couture and Cali chic from Buffy and her besties.
Stills from Buffy the Vampire Slayer (1997)
Fashion didn't play a major role in Buffy the Vampire Slayer, and yet, it's arguably one of the most stylish shows of the late 90s and early 00s. The wardrobe mixed 90s grunge fashions with the fun navel-grazing baby tees, mini skirts, colourful flares and obsessive accessorising of the new decade. Now, as the show becomes popular again amidst a y2k cultural renaissance, the cute vampy styles are inspiring new generations with Buffy-esque looks taking over TikTok and nostalgic Instagram accounts popping up with names like @buffytheoutfitslayer and @buffyfashion.
Hired at the beginning of season two in order to style a newly-rebirthed Buffy, Scream costume designer Cynthia Bergstrom revamped the show's earlier girly vintage style. The result is Buffy and Faith's lines of leather trousers and trench coats, Cordelia's impeccable preppy style and Willow's campy and kitsch turned earthy and witchy looks. Below we note the moments when Buffy and the Scooby Gang slayed looks whilst slaying vampires.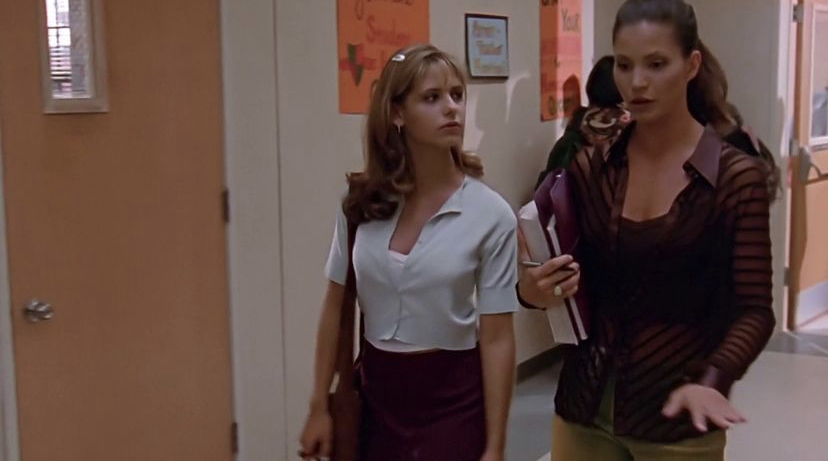 Buffy's first day at school attire
Everyone knows your first impression at a new school is key and Buffy made a killer one. She navigated Sunnydale High's hallways in a burgundy mini-skirt, a strappy white vest covered by a cute cropped baby blue cardi, and finished with a pair of tan knee-high boots and an adorable barrette pushing back her beachy blonde curls. It was the perfect look for a girl hoping to make a fresh start after burning down her previous school's entire gym. Giving a strong Bratz doll vibe, the ensemble still holds up today, with Buffy fashion fans on TikTok recreating the look.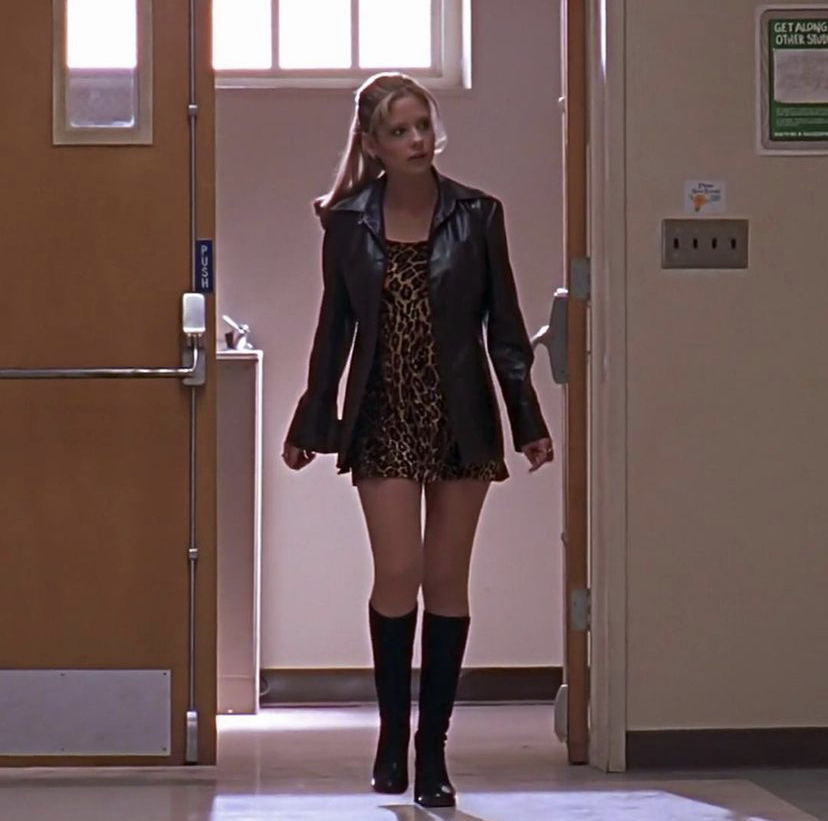 Buffy's leopard print dress
The same year Alexander McQueen took over London's Borough Market with his dark animalistic "It's a Jungle Out There" show, Buffy Summers was sporting her own leopard-print looks as she fought against the forces of darkness -- this time a malevolent ventriloquist dummy (those early season monsters were wild). Pairing the printed dress with a leather coat and knee high boots, this particularly fun ensemble just had to have been on the moodboard for The Cheetah Girls six years later.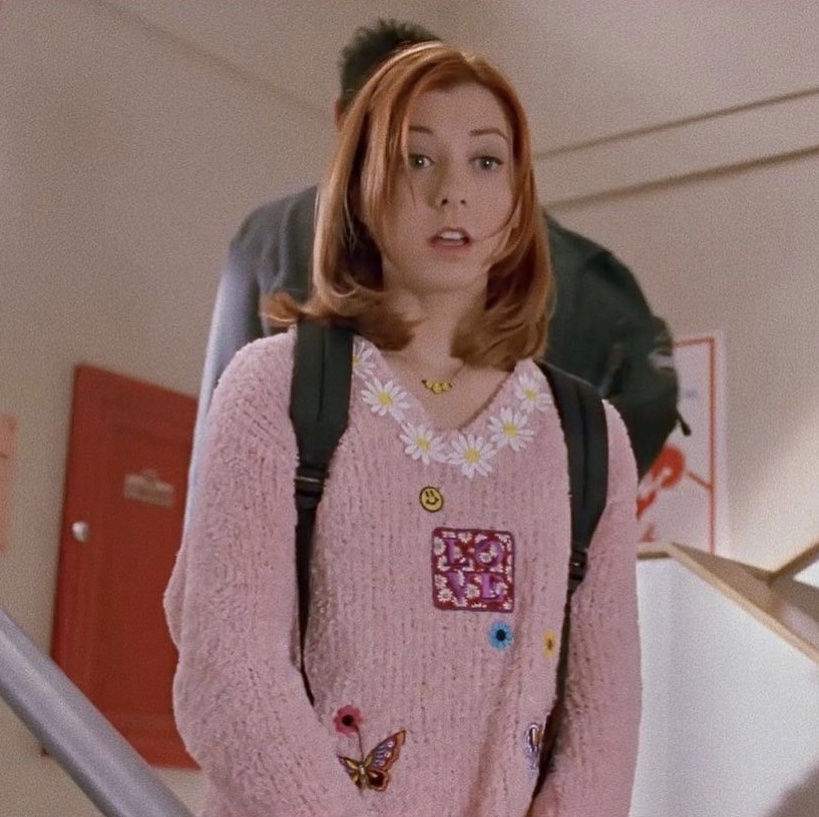 Willow's cute pink jumper
Early seasons of Buffy had her BFF Willow in what can only be described as kindergarten chic. With bunches and plaits, block primary colour dungarees and rainbow striped T-shirts, sometimes her fashion gave off a Chucky energy, but they also represented her dorky, sweetly-innocent pre-witch vibes. Of all her high school outfits though the fan favourite is her chunky bubblegum pink jumper from the season three episode "Doppelgangland". With a daisy chain print around the sleeves and neckline and randomly placed kitsch butterfly, flower and smiley patches adorning the front, the look was the perfect antithesis to Willow's leather-corseted vampire doppelgänger. The sweater is still so popular in fact, that when Hot Topic recreated the look, it completely sold out.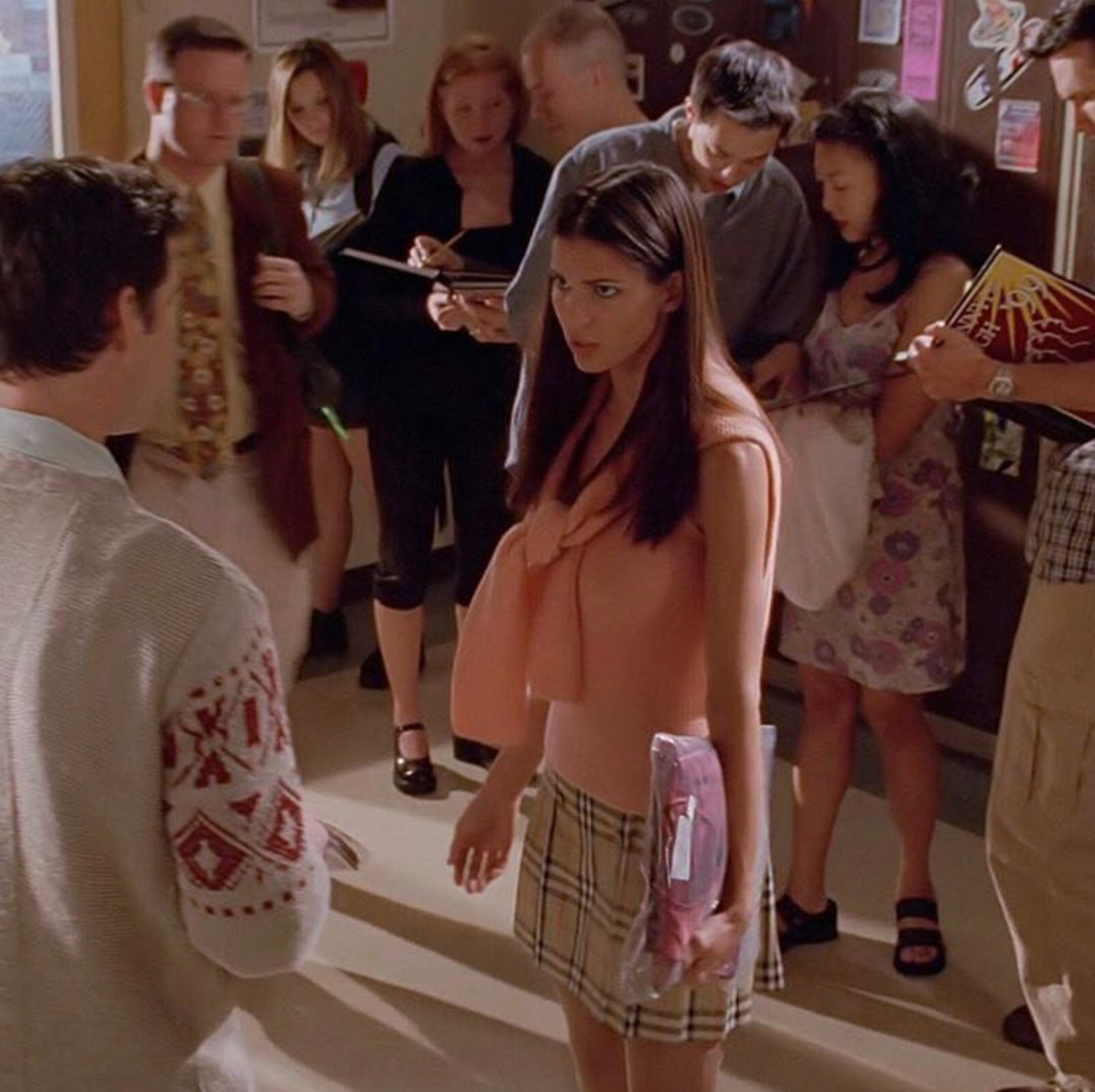 Cordelia's preppy chic
Whether it's Cher in Clueless, Britney in Baby One More Time or Blair Waldorf in Gossip Girl, preppy was the style of all our favourite y2k It Girls. Sunnydale High Queen Bee Cordelia Chase was no exception, and her daily wardrobe of tartan skirts, oversized collars and sweaters draped over her shoulders and knotted around her neck, all screamed "my daddy owns your daddy". Though her style did change a bit as she made the crossover from self-obsessed cheerleader to supernatural-force-fighting detective in the spin-off show Angel, this icon never once turned up anywhere looking less than 110%. If she was at high school today we can guarantee she would be storming the hallways in Miu Miu SS22.
Buffy's spring fling dress
How many of us can look back and say we actually like what we wore to our school dance? Well, Buffy Summers can. While the rest of us picked badly fitted suits and dresses that colour coordinated our braces, Buffy gave the sleek white evening gown (a present from her mother for the Spring Fling) a gothic alt twist with a leather jacket, her signature oversized crucifix necklace and a giant crossbow to stake some vamps along the way with. We can't think of a better look to fatefully die in before being resurrected. Jesus could never.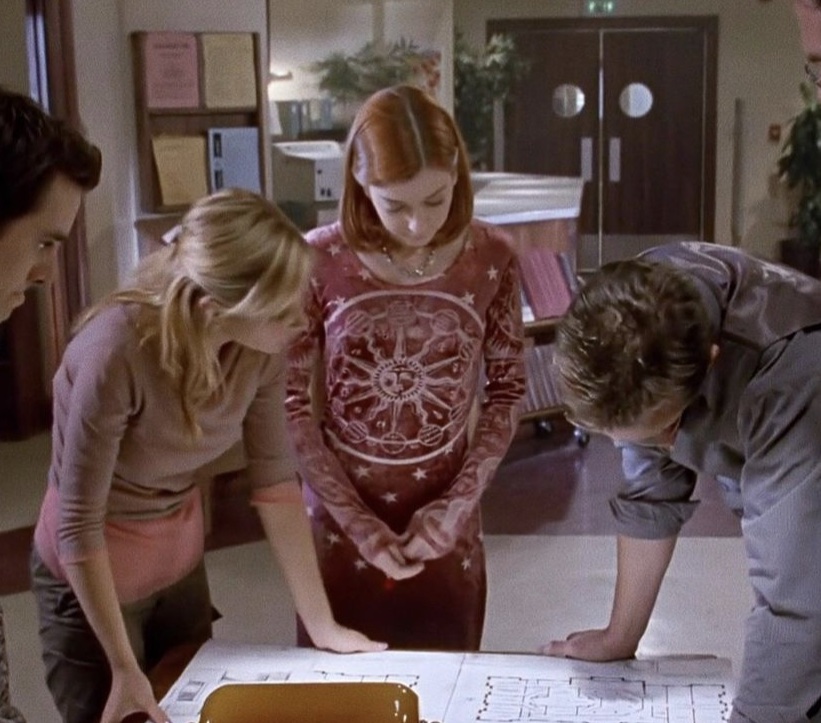 Willow's astrology dress
As Willow began to explore her wicca talents, her fashion sense began to change too. Long-flowy sleeves, boho maxi skirts and cropped hair replaced the cutesy fashions of her past. In the late season three episode "Choices", Willow uses her magic to fight against Faith's betrayal of the Scooby Gang and in turn decides to stay in Sunnydale post-high school so that she can continue her witchy evolution. This vintage-style velour astrology dress, complete with stars and a zodiac circle and paired with a fun charm necklace, foreshadowed the incredibly powerful sorceress she was quickly becoming.
Spike's all-black everything
Originally intended as a brief antagonist for Buffy, Spike soon became a fan favourite and, resultantly, an anti-hero and romantic interest throughout the rest of Buffy the Vampire Slayer's tenure and its spin off Angel. With his peroxide blonde hair, sharp jawline, all-black clothes, black nail polish and trench coats stolen from slain slayers, the character became a sex symbol for young punk fans and was often compared to the English rockstar Billy Idol.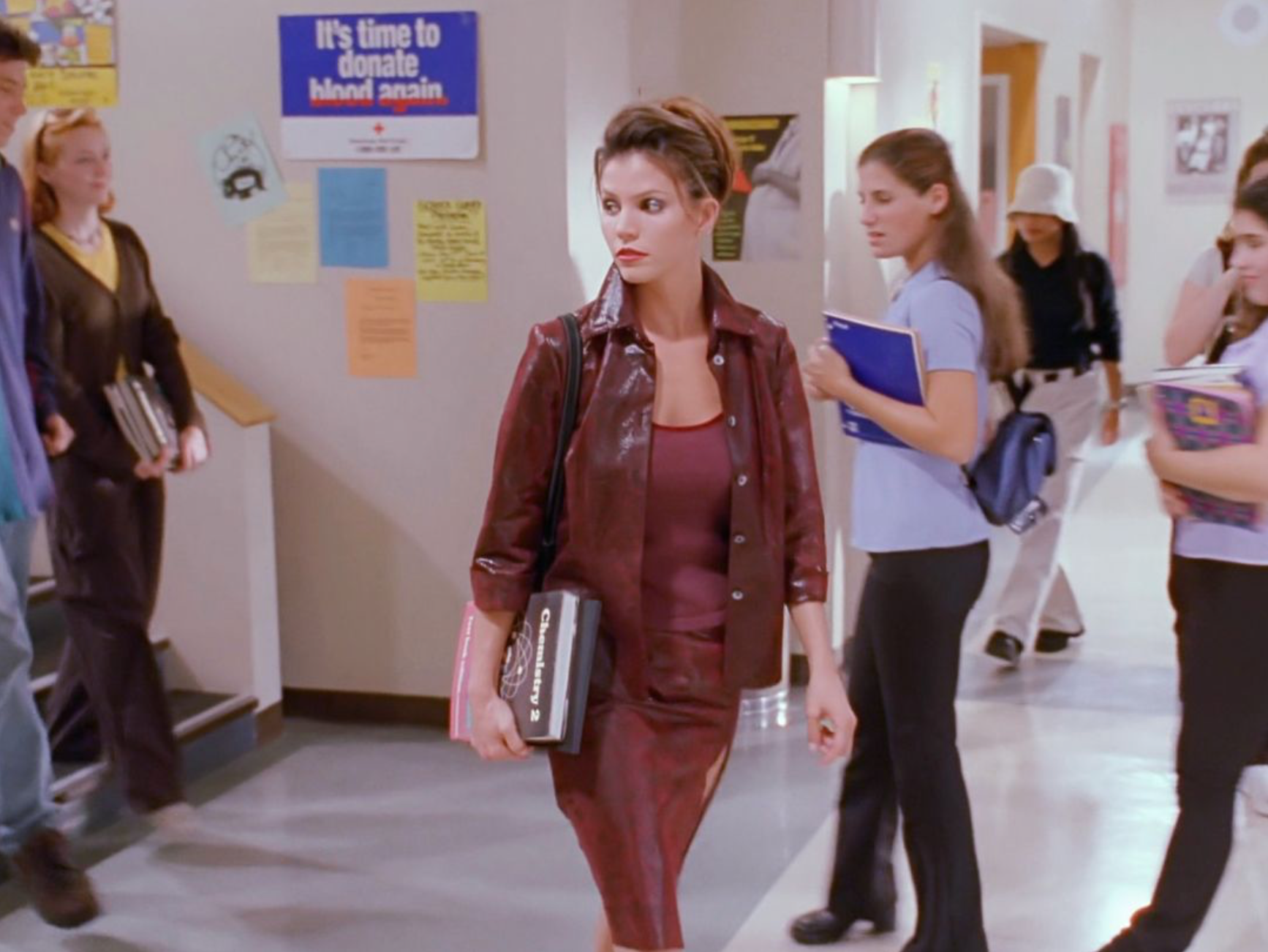 Cordelia's revenge dress
Four years after Princess Diana invented revenge dressing when her sultry LBD iconically took over the headlines the same evening a Prince Charles documentary was airing, Cordelia had her own moment. After her boyfriend Xander and his bestie Willow kissed in season three, Cordelia showed the world she wasn't heartbroken, stepping out of her car onto the school parking lot in a leggy mahogany dress accessorised with a sleek leather jacket and tonally matching lipstick and heels to boot. Not many people could look this good in shades of brown, and it set the stage for her return to Queen Bee status. Yes her vengeance, with the help of demon Anya, rewrites history so that Buffy never moved to Sunnydale, leading to the town being overrun by vampires as well as her own temporary demise; but hell, at least she looked fierce while doing it.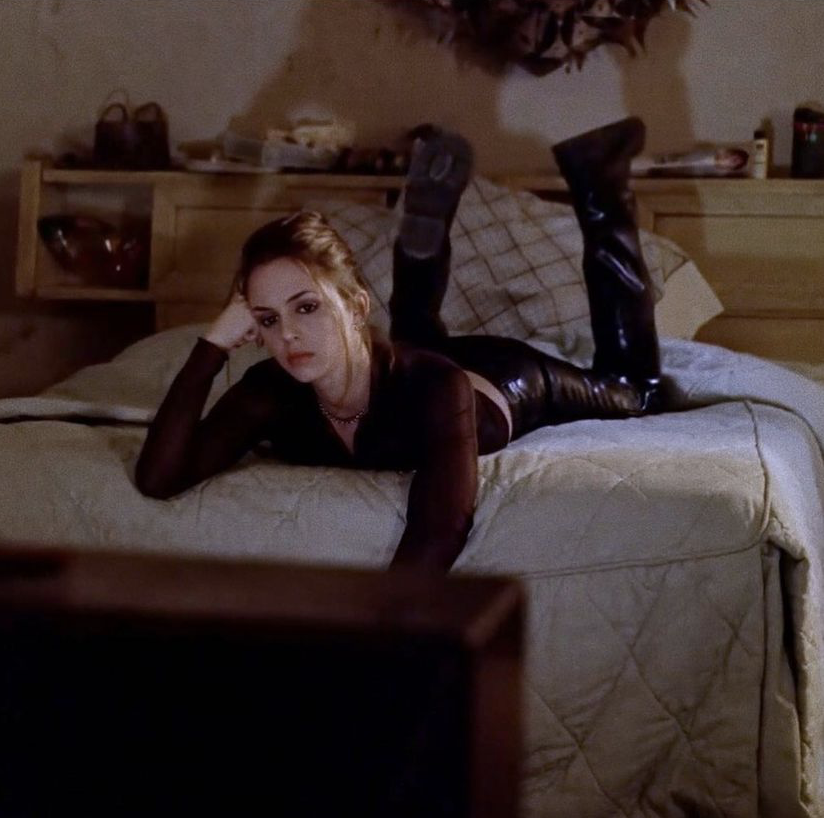 Everyone's leather trousers, but mainly Faith's
If there is one garment that Buffy the Vampire Slayer will be remembered as truly pioneering, it's leather trousers. A staple for slayers and vampires alike, the sleek choice in garment appeared throughout the series from Buffy's iconic blood-red pair, to the many black ones worn by Spike. It was bad girl slayer Faith though who truly rocked the style most naturally (and maybe inspired the writer of this article to buy his own pair). The grungy 90s style of dark leather trousers with Faith's black crop tops, denim jackets and vampy lipstick always looked effortlessly cool, even if they probably weren't the best choice of attire for graveyard fights with Buffy and defending the town from vampires.