Images courtesy of AKHL Studio,.
The young designers shattering stereotypes around Indian fashion
AKHL Studio, Bloni, Bodice and Āroka are proving how much more to the country's fashion culture there is than sari-draped clichés.
|
30 November 2021, 1:37pm
Images courtesy of AKHL Studio,.
In a country of 1.3 billion, diversity in dress is a given. Still, perceptions of Indian fashion — both within and beyond the country's borders — remain bound by stale visions of saris in blinding hues, traditional clothing and elephant, peacock and tiger motifs. These lazy assumptions are compounded by the fact that some of the largest players in the luxury fashion industry quietly contract thousands of the country's artisans to embroider eyewateringly-expensive products in factories that fail to meet basic safety standards, as reported by The New York Times. And while outside of India, members of the diaspora such as Supriya Lele, Kaushik Velendra, Priya Ahluwalia, and Ashish Gupta are among the names known for helping to dismantle stereotypes attached to 'Indian dress', it's time for the fashion world to acknowledge the young, India-based designers doing so, too.
These non-conformist minds deliberately refrain from dipping their feet into the nation's lucrative $50 billion wedding market (in India nuptials are typically extravagant affairs spread over multiple days, and the quest for the perfect bridal outfit stokes high demand for full-time couturiers). By refusing to jump on the bandwagon and taking the path less trodden, the designers behind AKHL Studio, Bloni, Bodice and Āroka are consciously bypassing staid exoticist perceptions of India to celebrate how far we've come. Rooted in tradition but not restricted by it, their clothes are proudly 'Made in India' but globally relevant.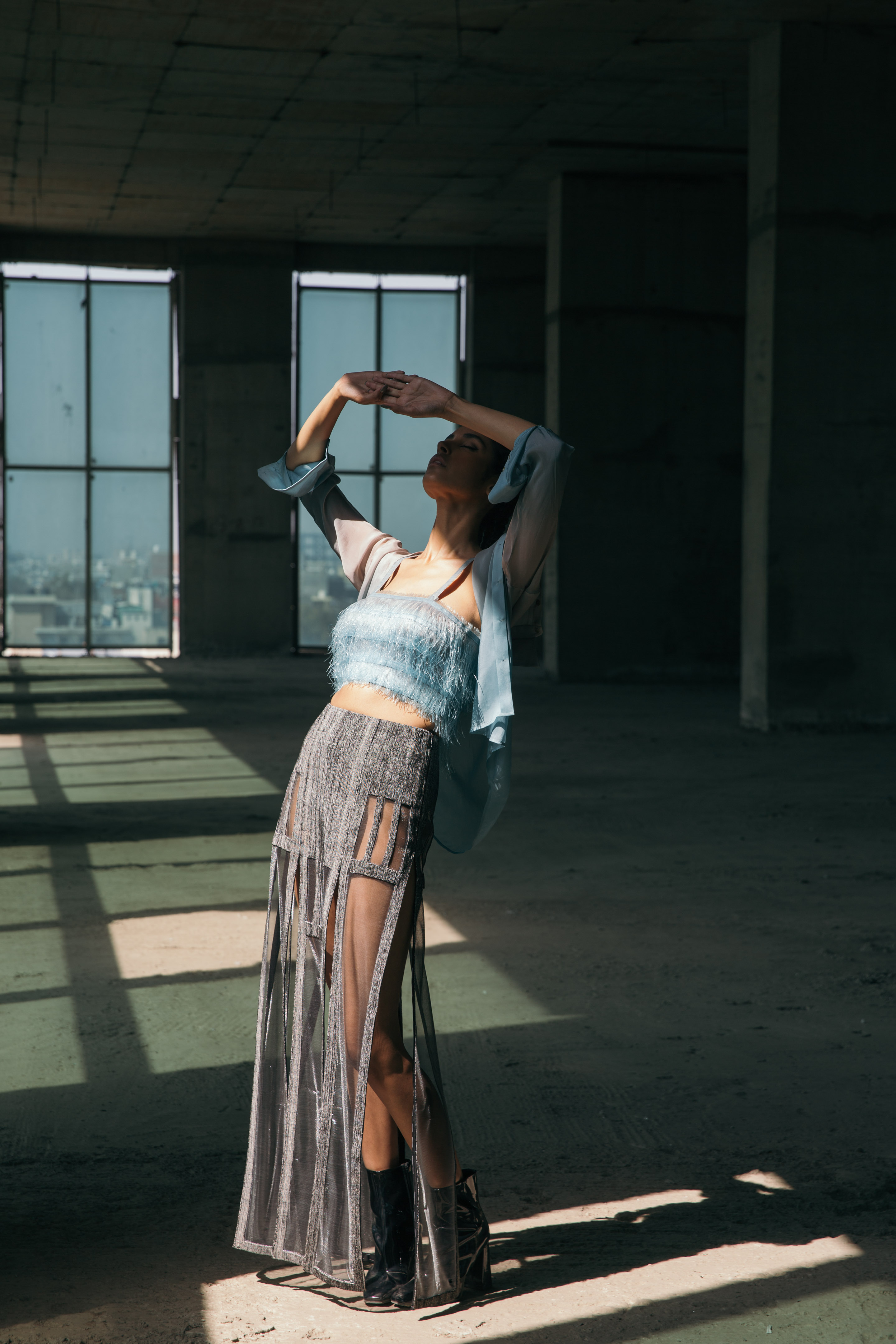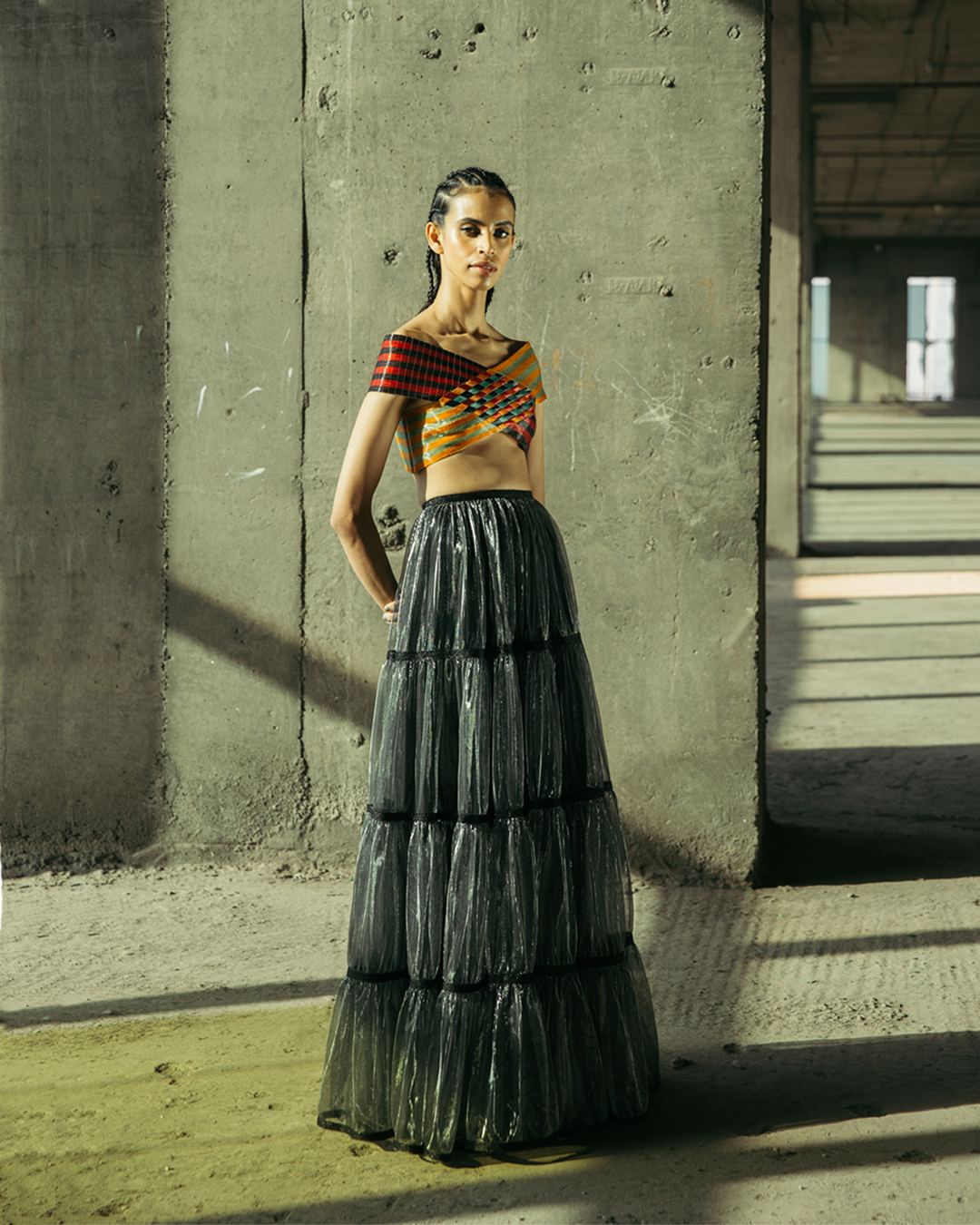 AKHL Studio
"We need to stop turning our craft into clichés just because we feel like the West will lap it up", is Akhil Nagpal's immediate response when asked to explain the premise of his Delhi-based avant-garde label. At first glance, AKHL Studio's iridescent, sculptural silhouettes may not seem like an average Indian fashion consumer's cup of chai (tea), but that's precisely the point – the CSM alum's driving motivation is to rewrite the narrative of what the global fashion community expects from the country's fashion designers; to "push the envelope with what can be achieved with the Indian hand".
With its metallic tulle dresses spliced with vivid lurex tapes, gradient-dyed silk organza tops and robust bustiers embellished with hand-embroidered glass yarn fringes, AKHL Studio's latest collection, 'Reflektor', embodies this vision. A clue for what makes the collection so appealing is right there in its title. "The key garments in this collection have first been handwoven on the loom and then interlaced with upcycled yarn to achieve interesting shapes. Some of the biodegradable materials used such as thermoplastic polyurethane are light-sensitive and thus the title Reflektor seemed apt", Akhil reveals.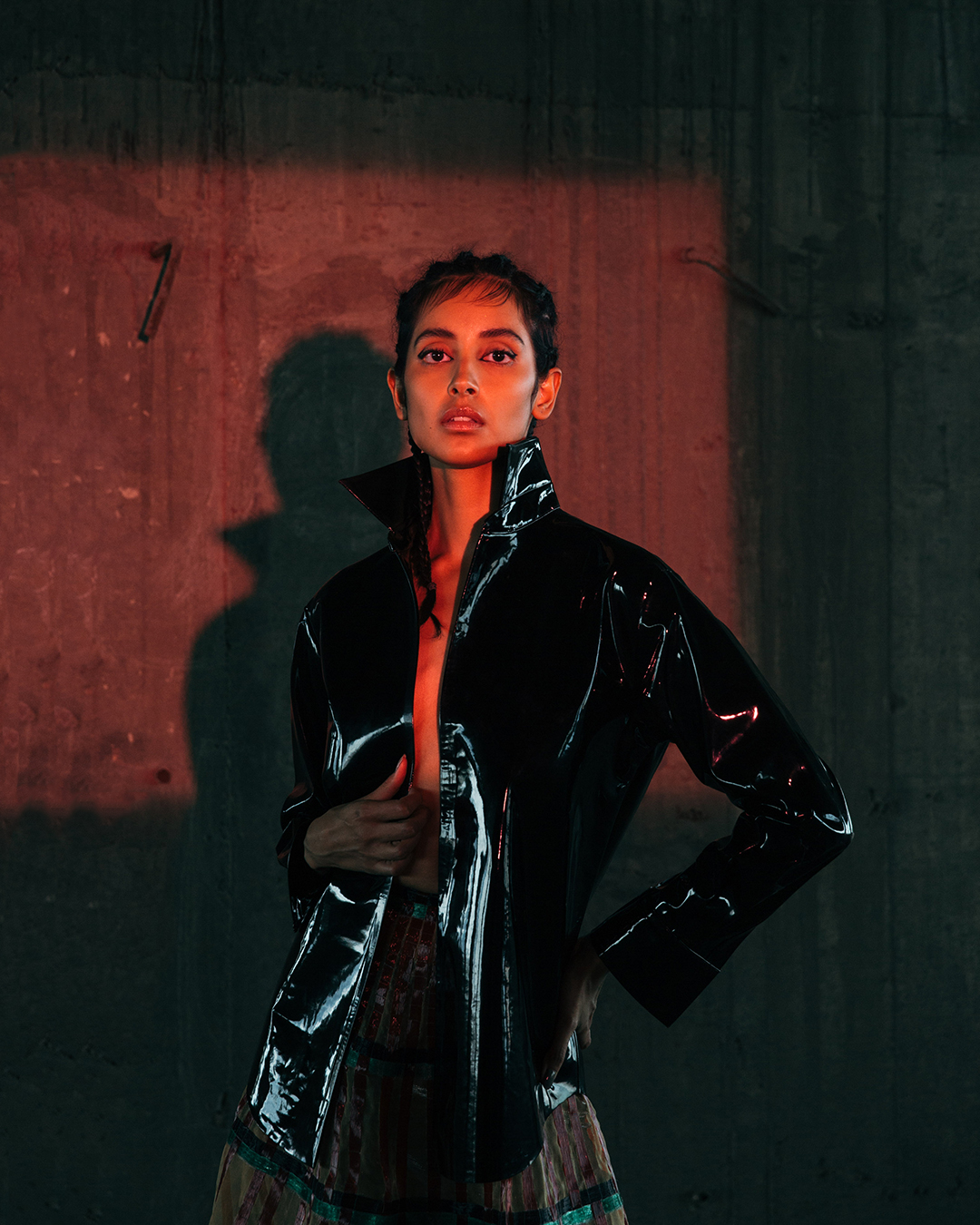 The designer's desire to create multidimensional pieces of wearable art was further consolidated by the support of his atelier, a group of weavers and artisans from villages across India, who shared a similar zeal for delivering the unexpected. "Our artisans can execute modern patterns and styles, however, it's up to designers to push them in that direction and lead the way in contemporising Indian craft", he says. What makes his practice yet more impressive is that he's able to do that without succumbing to the "hamster wheel" of the seasonal fashion calendar. Instead, Akhil has opted to preserve the value of slow, ethical Indian craft which his tight-knit community cherishes. An important guiding principle for the designer is "creating something new and letting it find its people", he notes. It's safe to say that AKHL Studio found theirs.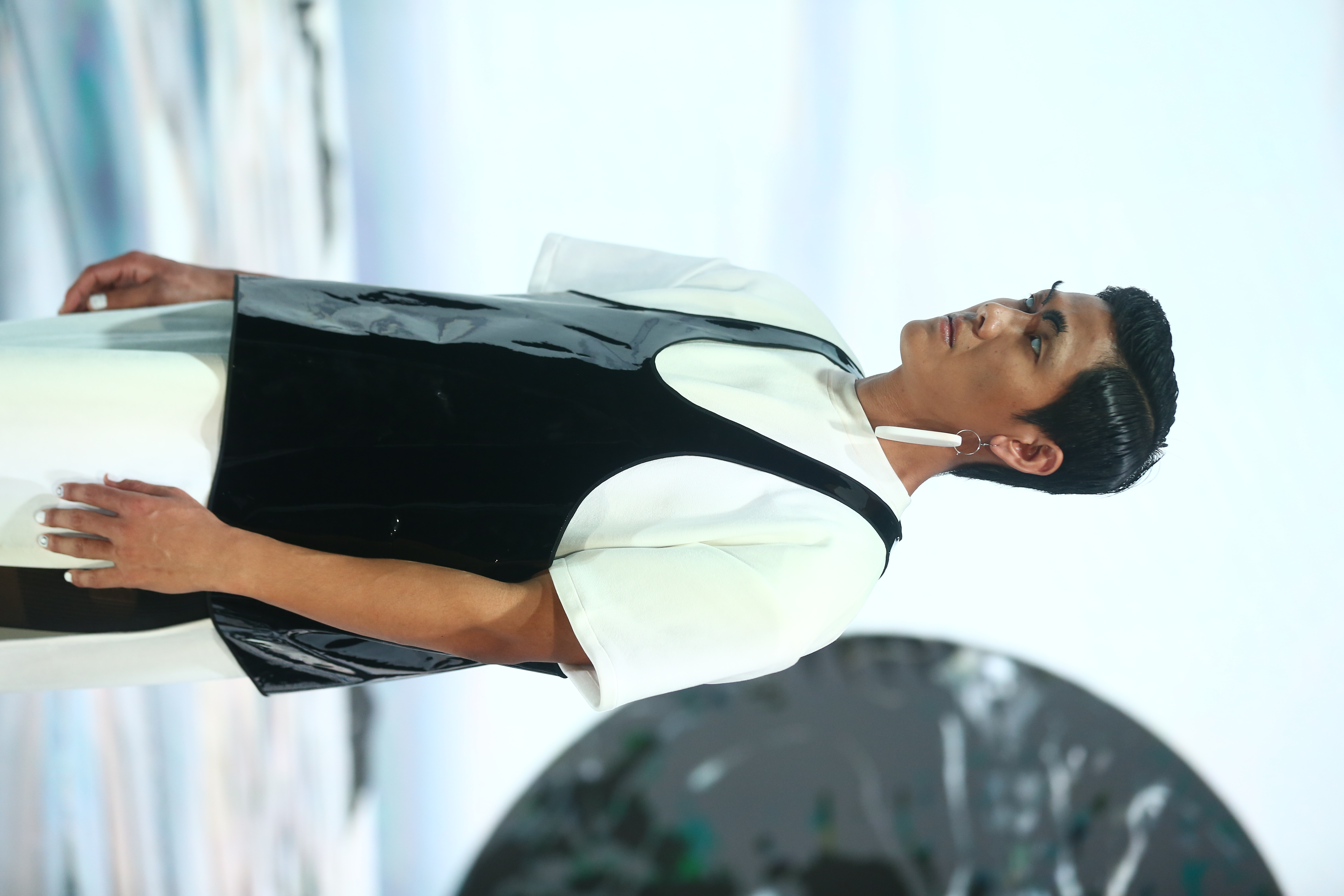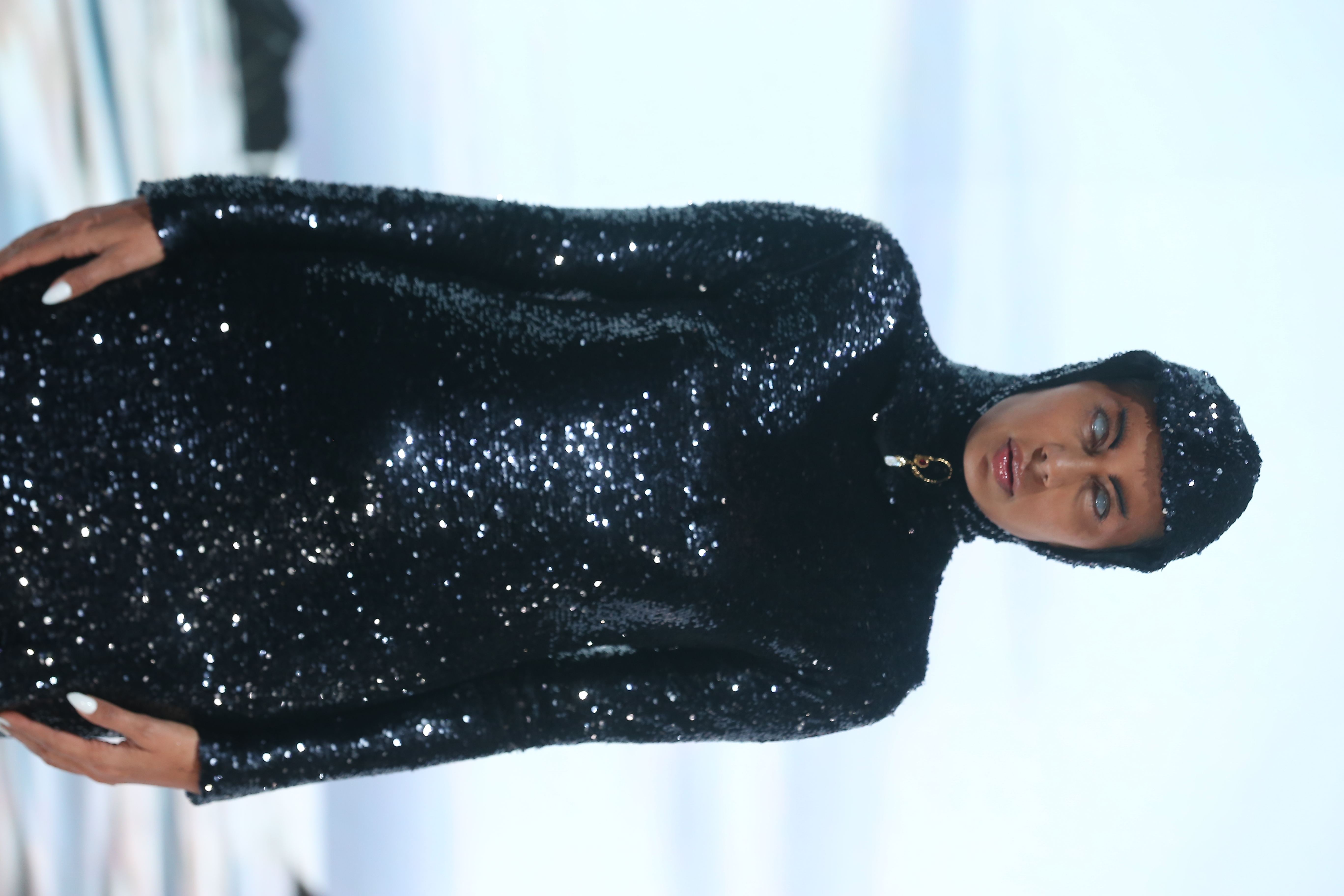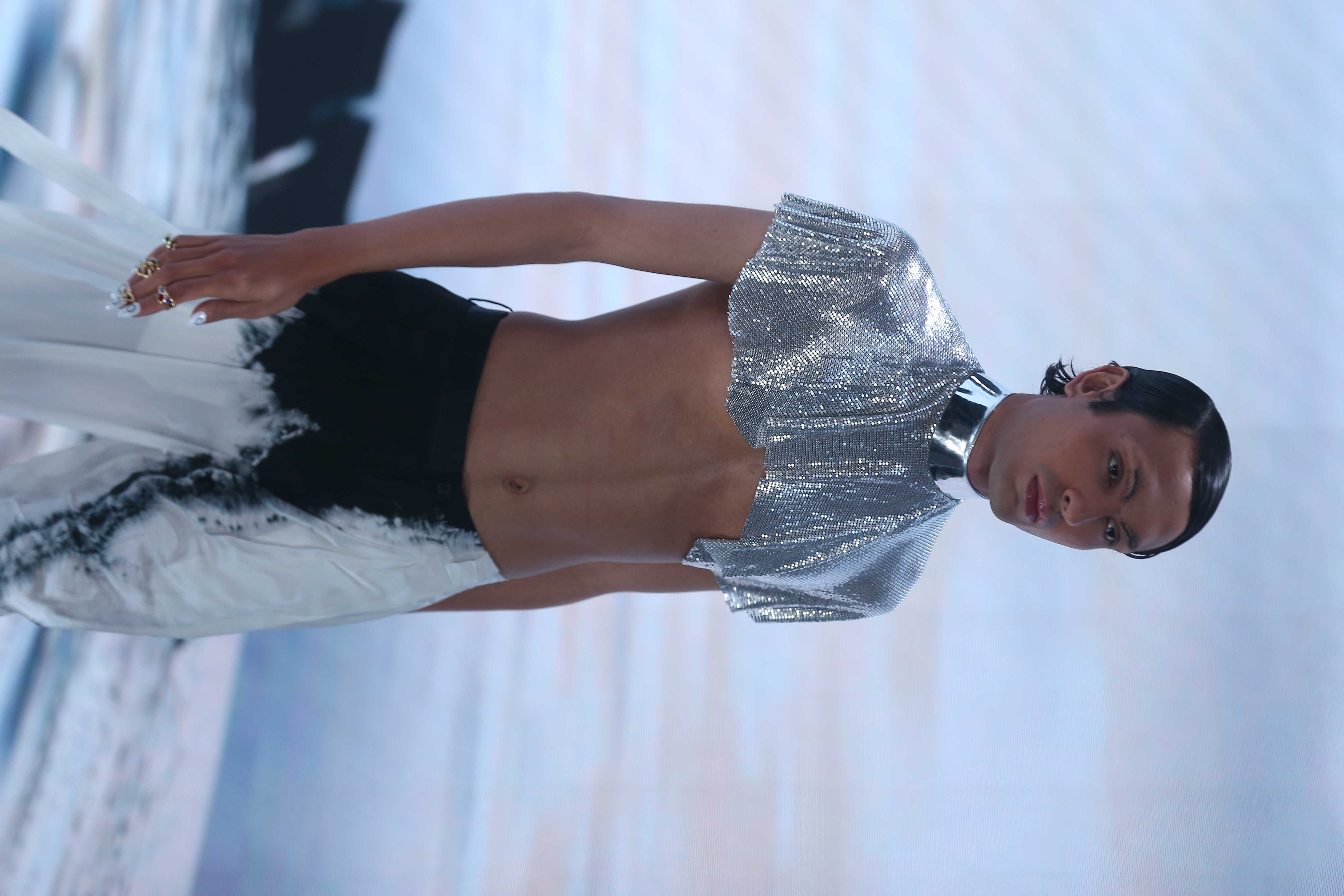 Bloni
While boys his age spent their days playing gully (street) cricket and football, Akshat Bansal pored over yards and yards of intricately printed fabrics in the back of his father's sari store. He wasn't just a mesmerised kid in a sartorial candy shop, however. Instead, the interest in textiles he demonstrated back then was an indication of things to come.
After completing a formal fashion education at National Institute of Fashion Technology (NIFT), Mumbai, before heading on to Central Saint Martins, he then landed a coveted apprenticeship at Cad & the Dandy on Savile Row. It was there that he received a year-long fastidious schooling in tailoring, learning to appreciate the importance of consistency, discipline and the accuracy of every stitch. Akshat then flew back to India only to realise the absence of homegrown brands catering to something other than the country's booming wedding and occasion-wear market.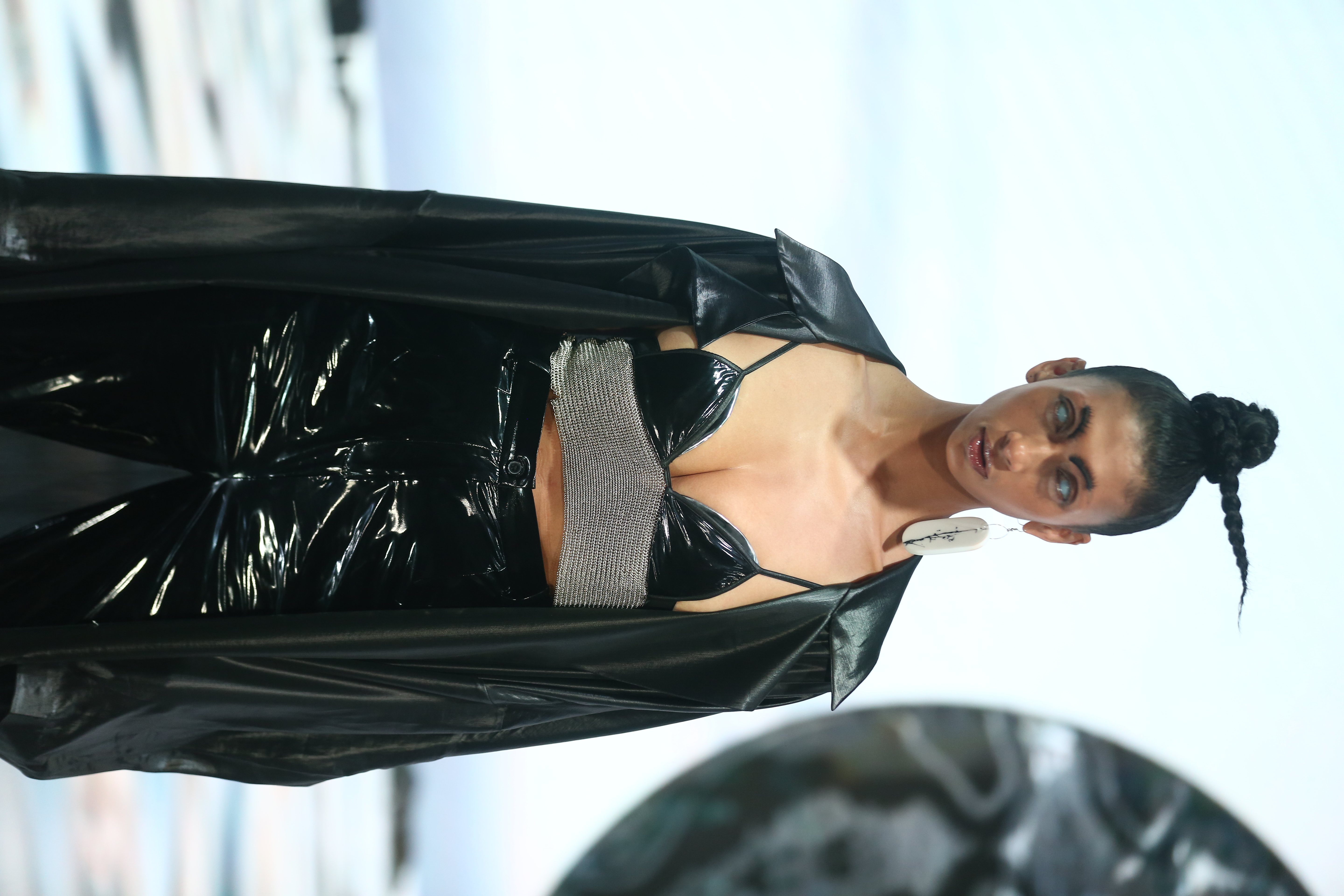 And so, in Delhi in 2017, Bloni was born – a demi-couture brand that questions fashion's norms through free-spirited storytelling and futuristic, genderless designs. "It's all about cross-pollination and fluidity right now. Thanks to social media, we are all hybrids of sorts who aren't limited by borders – our wardrobe needs to reflect that too," Akshat says. A quick look at the brand's previous collections – think jet black leather finished satin saris, flouncy skirts, fun tie-and-dye and cutout bodysuits made with nylon from ocean waste –is all it takes to confirm that.
If you're after further proof of the brand's sustainability credentials, step into Bloni's flagship store in Delhi's Dhan Mill compound. While you'll find plenty of peppy clothing on the rails, these aren't pieces you can pick up at whim. Be it their fluorescent tie-dye overcoats (hand-dyed by Akshat himself) or sequinned hoodie dresses, every garment is made-to-measure, and fitted to the body like a second skin. "I think the future of fashion comes down to this - if it's more personal, it's more sustainable," he says. "If it feels special to you, then you want to cherish it regardless of the trend cycle."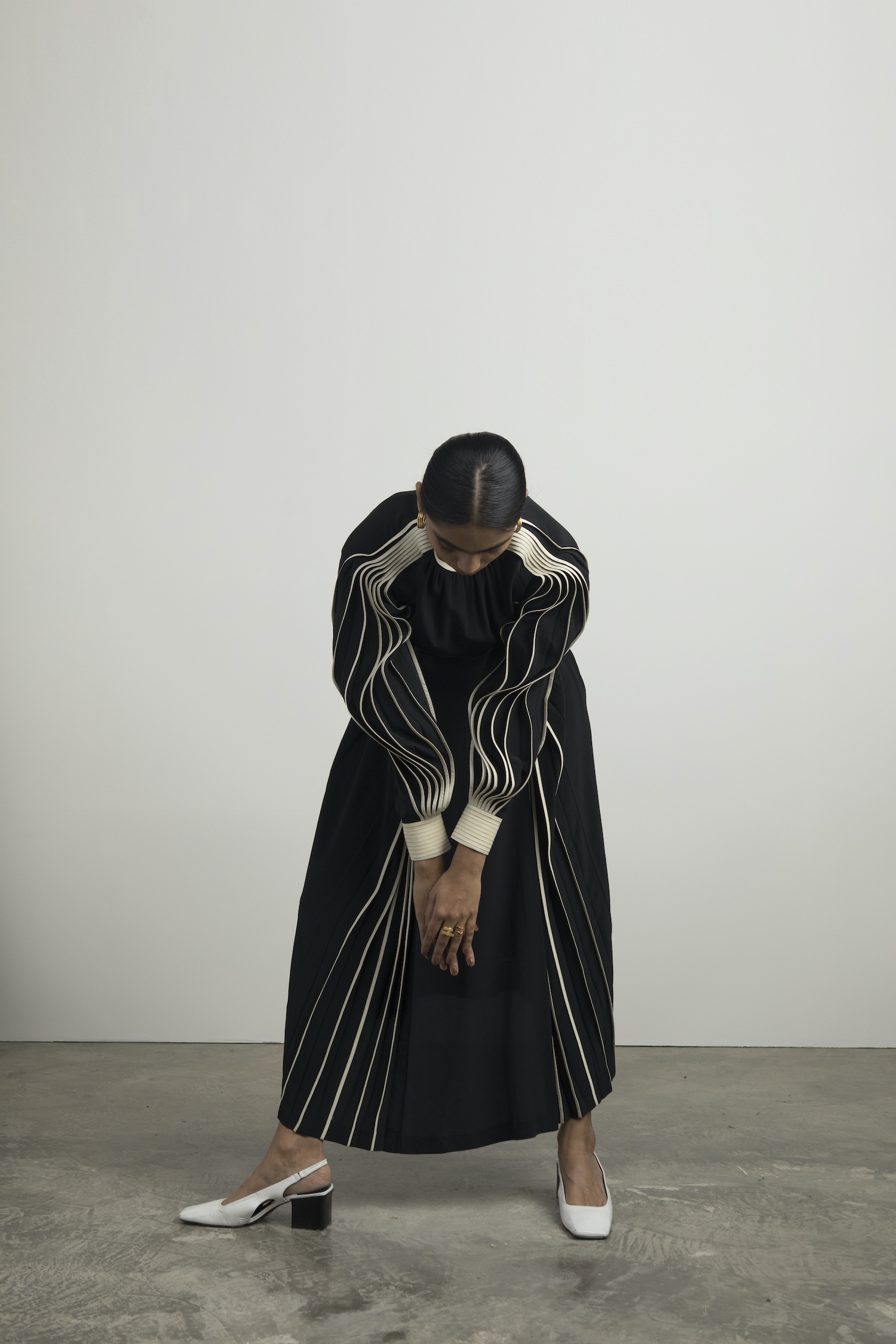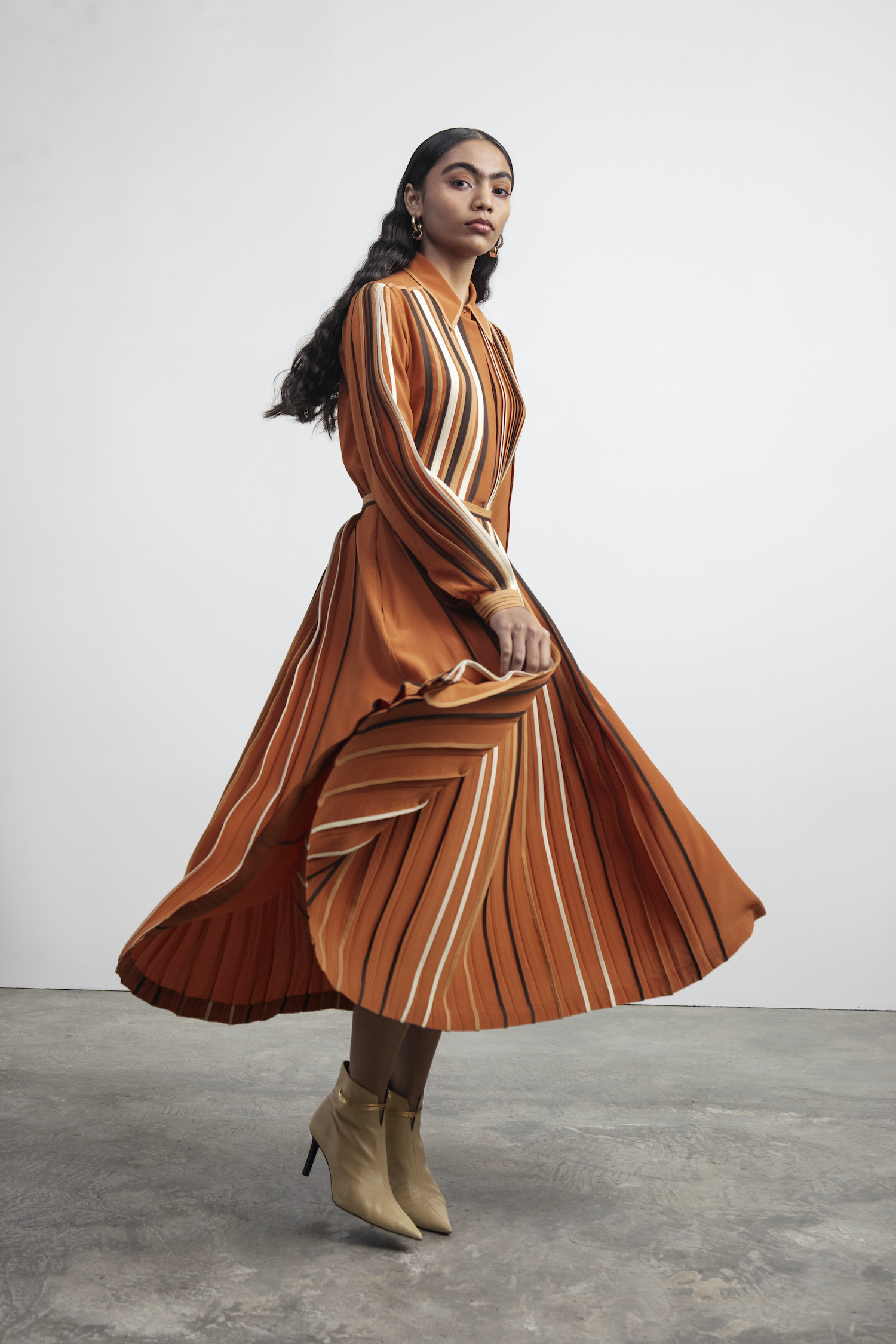 Bodice
"If I knew as much as I know today, there's no chance I would have started Bodice back in 2011. It takes a certain naivety to plunge into a completely new space", Delhi-based designer Ruchika Sachdeva admits. With the aim of challenging externally imposed distinctions between Indian and Western fashion, the London College of Fashion alum drew up the blueprint for her textile-driven contemporary label within a year of graduating. This line of thought may not be perceived as radical today, but it certainly was 10 years ago when Ruchika arrived back home to find a lack of options that celebrated India's wealth of craftsmanship without succumbing to conventions of flamboyance, colours and bling galore.
Armed with enthusiasm for offering minimalist ensembles for the modern Indian woman, Ruchika built Bodice to highlight the nuances of Indian fashion that often get buried beneath all the glitz. "It might look pared down on the outside, but there's so much going on inside – the seams, the cut and the fall need to come together perfectly so that a dress is tucked in just the right places and highlights a woman's curves", she says.
Just as crucial to Ruchika as the construction of her garments is minimising the environmental impact involved in making them and forming long-lasting relationships with artisans in different corners of the country. Bodice's garments are made exclusively using locally procured natural fibres such as recycled cotton from Kolkata, silk and wool directly sourced from Bhutti weavers in the Kullu region of Himachal Pradesh, all in a bid to support India's fibre producers. "Being in Delhi, the air you breathe is a constant reminder of the fact that you've got to be conscious and do your bit – if not now, then when?", Ruchika says. Keeping in mind that India's capital tops the list in having the worst air quality in the world and recently went into lockdown, not because of coronavirus, but because of the toxic smog that engulfed the city - it's imperative for brands, now more than ever, to be mindful about the environment.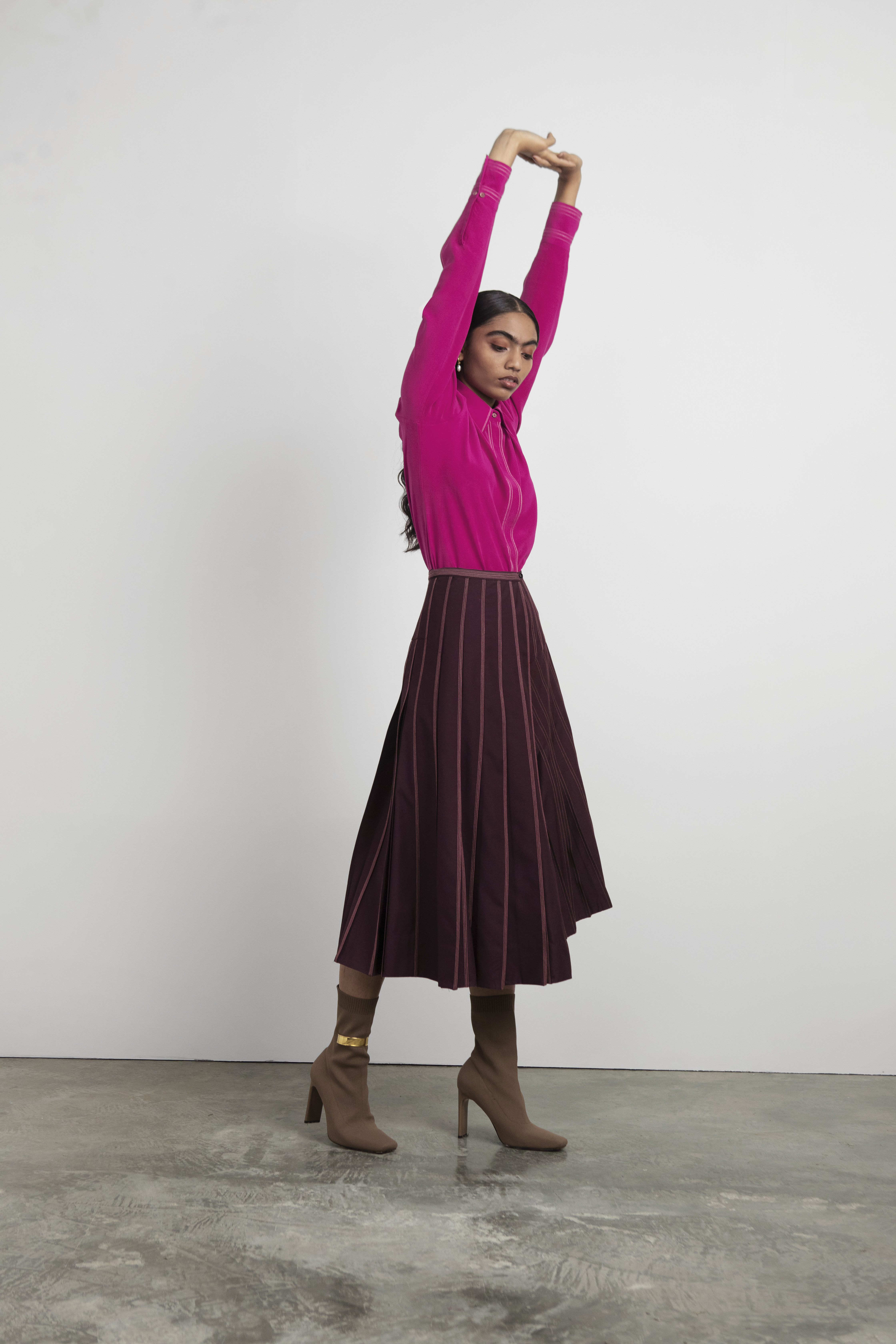 Apart from having a strong focus on sustainability and versatility, there's another defining feature of Bodice's trans-seasonal apparel – pleats. Giving fluid silhouettes a "powerful" structure, she says, her yen for the technique was a reactionary result to her daily environment. "Being born and brought up in India, I'm used to an overload of sensory experiences; there's a million things happening and it's so chaotic. Sometimes I think my love for pleating stems as an innate response to that, almost like a need to streamline things and indulge in some sort of repetitive practice."
Despite it being a time-consuming technique that requires mathematical precision, Ruchika relishes the challenge. What helps? Visualising the woman she designs for: "I like the fact that my customer is me – in her early 30s, independent and finally able to put her foot down. At Bodice, we are always striving to help this woman occupy space quietly but with a steadfast attitude. I believe that clothes are the first conversation you have with anybody without even opening your mouth; it's a form of art that's the closest to your body", she says. Who knew pleats could be the new pillar of power-dressing?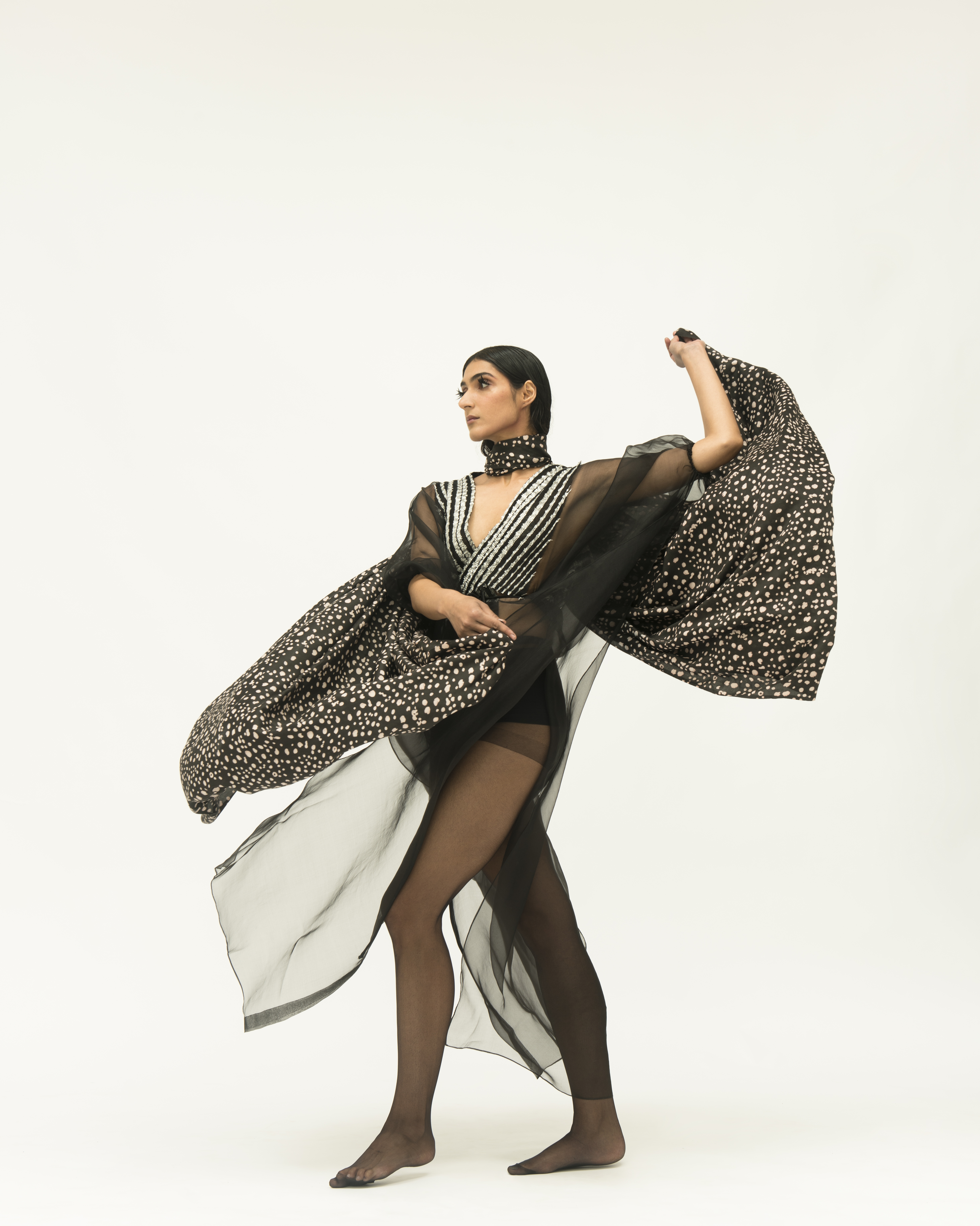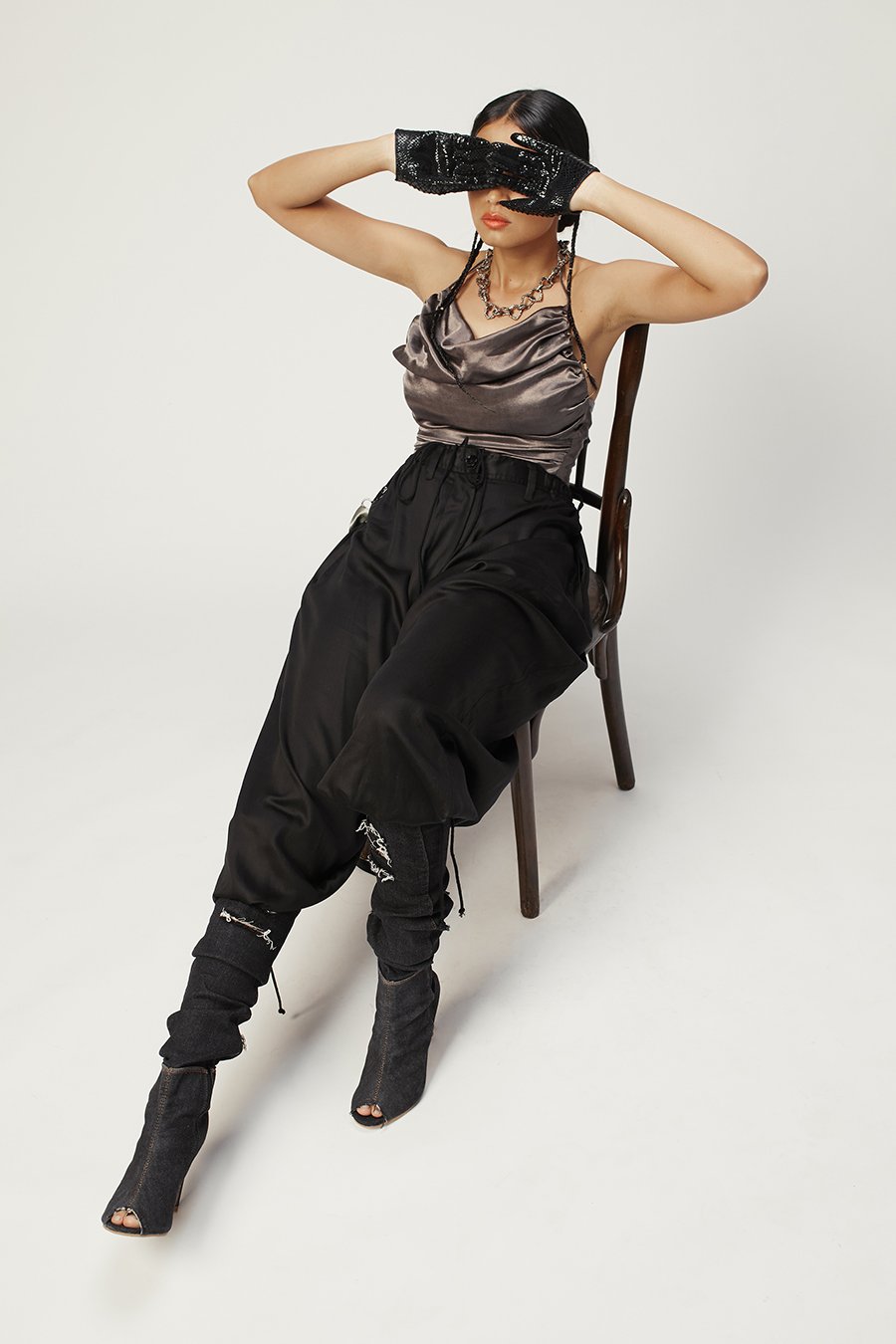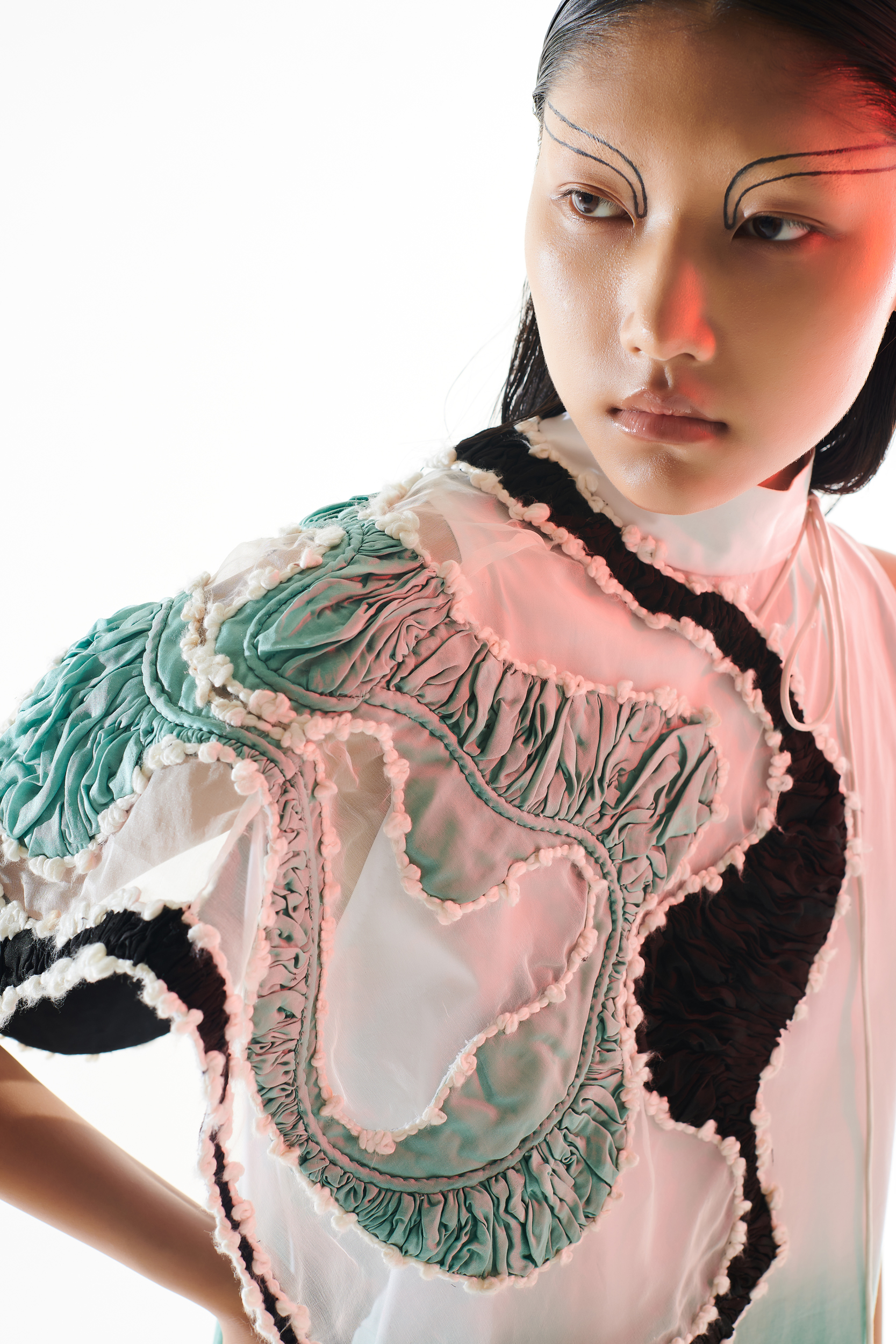 Āroka
Āroka's (a Sanskrit word that translates to light shining through woven threads) debut collection of vibrant pieces interspersed with traditional silhouettes like the lehenga and sari played it safe and won hearts. However, it wasn't close to the paradigm shift that its co-founders Karan Ahuja and Shweta Aggarwal wanted to accomplish. The duo yearned to cut through the existing noise and experiment with Indian textiles to present them in a globally relevant light. Despite the looming risk of losing its existing customer base and entering uncharted territory, they decided to push ahead with a complete revamp of Āroka's design philosophy in 2019.
"I enjoy challenging the usual use of local fabrics. For example, we have re-introduced handwoven muslin with ruching techniques to create slinky halter necks and crop tops. India is well-known for its khadi (handloom cotton), but I give it a textural treatment by incorporating raw, frayed edges", says Shweta, an Instituto Marangoni graduate who is also Āroka's creative director. The Mumbai-based label's repository now consists of understated jewel-toned slip dresses, funky asymmetrical outerwear they tag as 'half and half jackets', sultry bandeau tops and easy-breezy kaftans that gained a cult following which continued to grow even during the pandemic.
Shedding light on social issues that plague today's society is the foundation upon which they built their proposal. Inducing conversations around sustainability, fair trade and mental health, where Āroka's garments do all the talking, is pivotal to its DNA. Notice the subtle yet hopeful messaging embroidered onto the sleeves of its linen tops, belts and bomber jackets such as 'This too shall pass', 'Still, I rise', and 'It's okay to not be okay'.
When the nation was hit by a devastating second wave of the pandemic in April earlier this year, Āroka launched 'Quote Your Price', an initiative to recognize the unwavering efforts of its artisanal community. "Our karigars (artisans) can create something no one else can anywhere in the world. Yet, most of them are severely underpaid, exploited by middlemen and subjected to unethical working conditions – even more so during the pandemic. Through this initiative, we wanted consumers to become conscious of the handiwork and attention to detail our artisans pour into the making of each garment and then quote the amount they wished to pay for the same", the duo explains. Proceeds from those sales were donated to Dastkar – a non-profit organization supporting Indian craftspeople.