Saint Laurent was softer, sexier and (faux) furrier then ever
Sensuality seemed to be the order of the day for Anthony Vaccarello and the brand's AW22 collection.
Would you rather go naked than wear fur? Fear not. At Saint Laurent — which last year announced it was going fur-free — you needn't be presented with an ultimatum anymore. If Anthony Vaccarello's AW22 collection was anything to go by, you can showcase the silhouette of your body in long, slinky bias-cut gowns and luscious pelts of faux fur — or simply wear nothing but a big chubby coat to seduce whomever you please. Therein laid the glorious sexual tension of this collection: there were hyper-streamlined dresses, borrowed from the pattern-cutting of just under a century ago, with generous lashings of fluffy textures and lapels so wide they frame the face like old Van Dyke paintings.
Sensuality — rather than an overt, skin-baring sexuality — seemed to be the order of the day. Or night, considering the nocturnal spirit of the collection. Plenty was left to the imagination, courtesy of covered-up silhouettes with the exception of the occasional plunging neckline, and heavyweight coats seductively clutched by the bare-faced models. Without pointing out the obvious, this collection felt softer and more generous than its predecessors — and not just because of the myriad fluffy textures on display. Here were longer lengths in ostensibly stretchier fabrics, and lower heels that allowed for the models to glide down the catwalk with the assured coolness that Anthony loves. The overall result was ease — not a word often associated with Saint Laurent — with a side order of bang-for-your-buck opulence. In other words, a guilt-free version of the glory days of fashion in the 80s and 90s — when richness and luxury were things to be proud of, rather than ashamed of, and you couldn't hail a cab in New York without a ginormous fur coat as a clear sartorial deposit.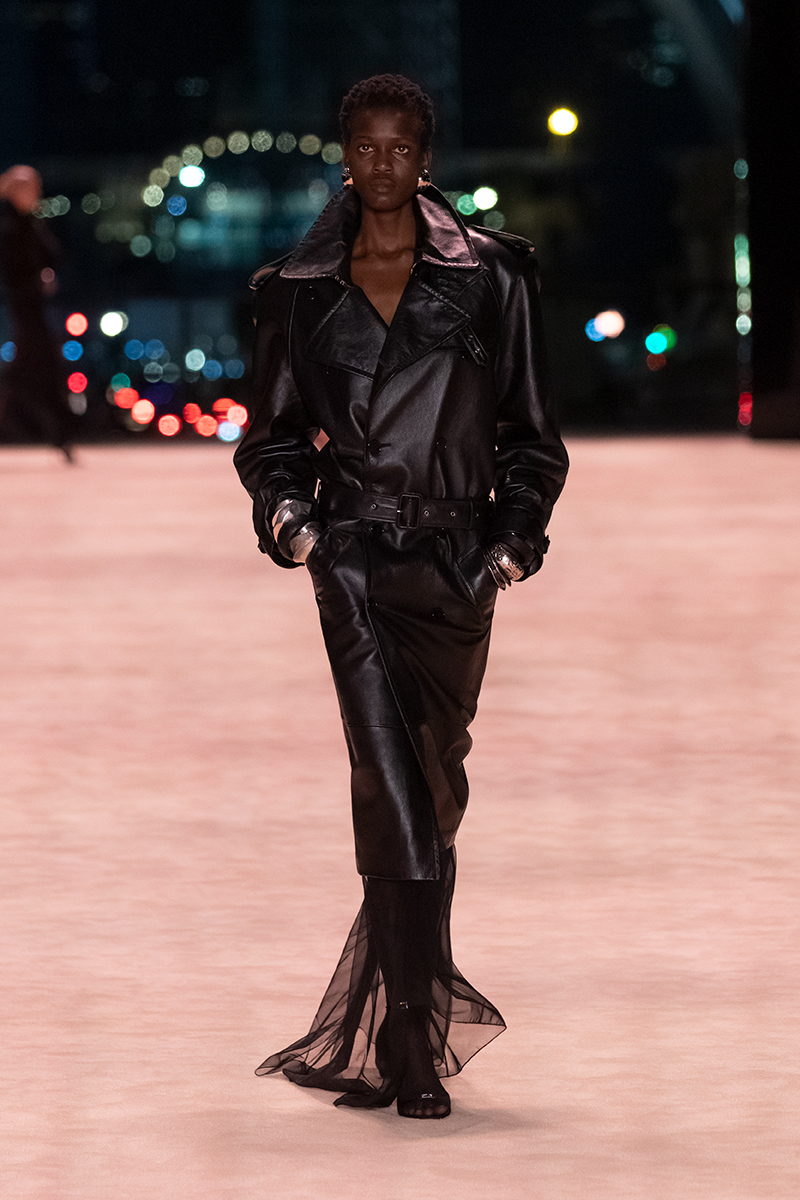 As for those furs, or faux furs rather, they were made by the skilled artisans who usually work with the real deal. Hence why they looked better than the lazily-cut ersatz skins we see on so many catwalks. Many of them also didn't have the plastic-y sheen that so often comes with synthetic fabrics, instead having the supple bounce and ombré colour that makes fur so sensuous, worn with the innate confidence of the women who can afford to wear it. And by that, we mean draped across a single shoulder or dragged across the floor. This was the kind of woman who will throw a drink on your face, bitch-slap you for disrespecting her, and steal your husband. And isn't she just fabulous?
In his show notes, Anthony pointed out that he had been looking to the Art Deco period, the art and interiors of which Yves was an avid collector. You wouldn't be able to tell from the collection itself, because the references were subtle and discrete. The cream carpets and perpendicularly-arranged mirrors that comprised the set offered a hint, but beyond that there were few ciphers for that period, other than the mismatched piles of Nancy Cunard bangles, in resin and wood and gold, some of the only accessories. Roses recreated in delicate silk petals and high-shine metal were worn as corsages on dresses and coats for that touch of Yves. It signified a self-confidence on Anthony's part. He doesn't need to shout about this being Saint Laurent any more with bombastic gestures. Instead, he can whisper it so softly that you just know it is. He may be the creative director, but ultimately Anthony knows that it's the Saint Laurent women who wear the trousers.
Literally! To finish, the show closed with a trio of slightly slouchier, slightly pagoda-shouldered Le Smoking tuxedos. Given the show was mostly gowns and outerwear, here was a reminder that this is very much Saint Laurent, arguably the most important fashion house of the 20th century. If the concept behind the collection was simple, then this serves as a reminder that there is little that Yves did not pioneer — and that there is plenty from his genre-defying canon that Anthony can continue to magnify and expand upon in collections to come.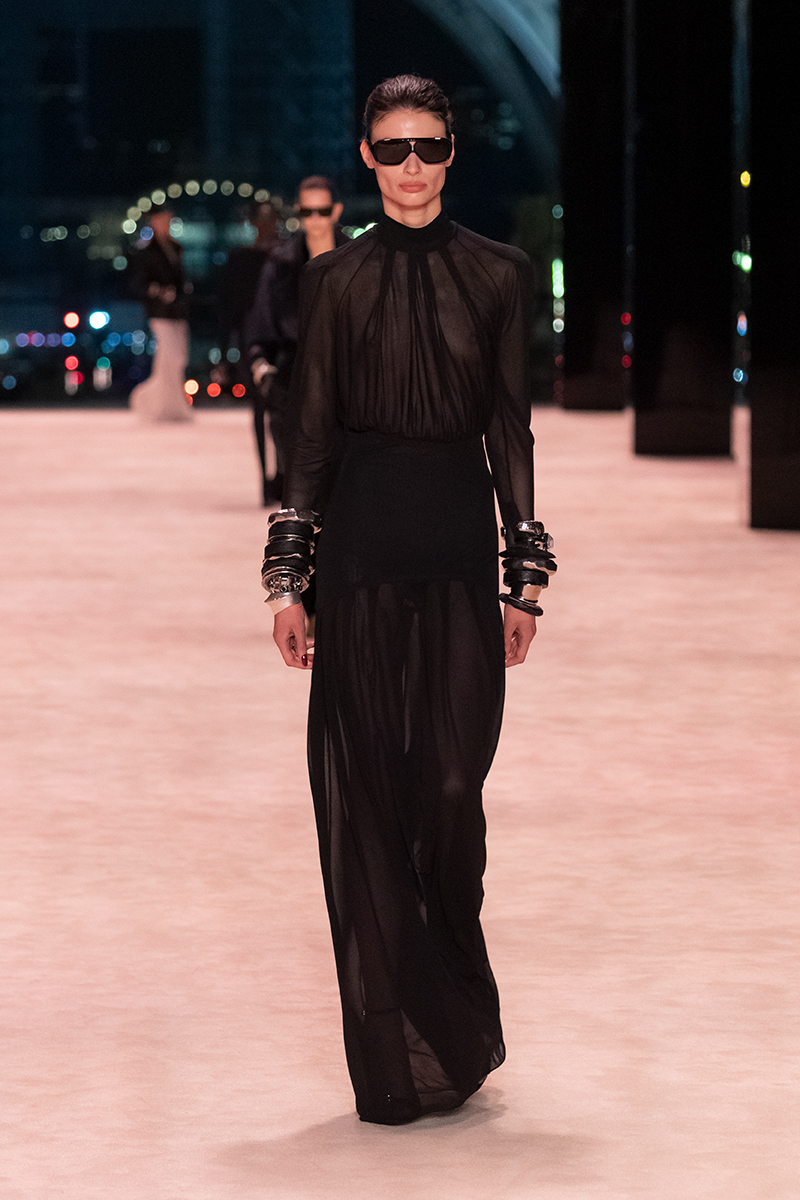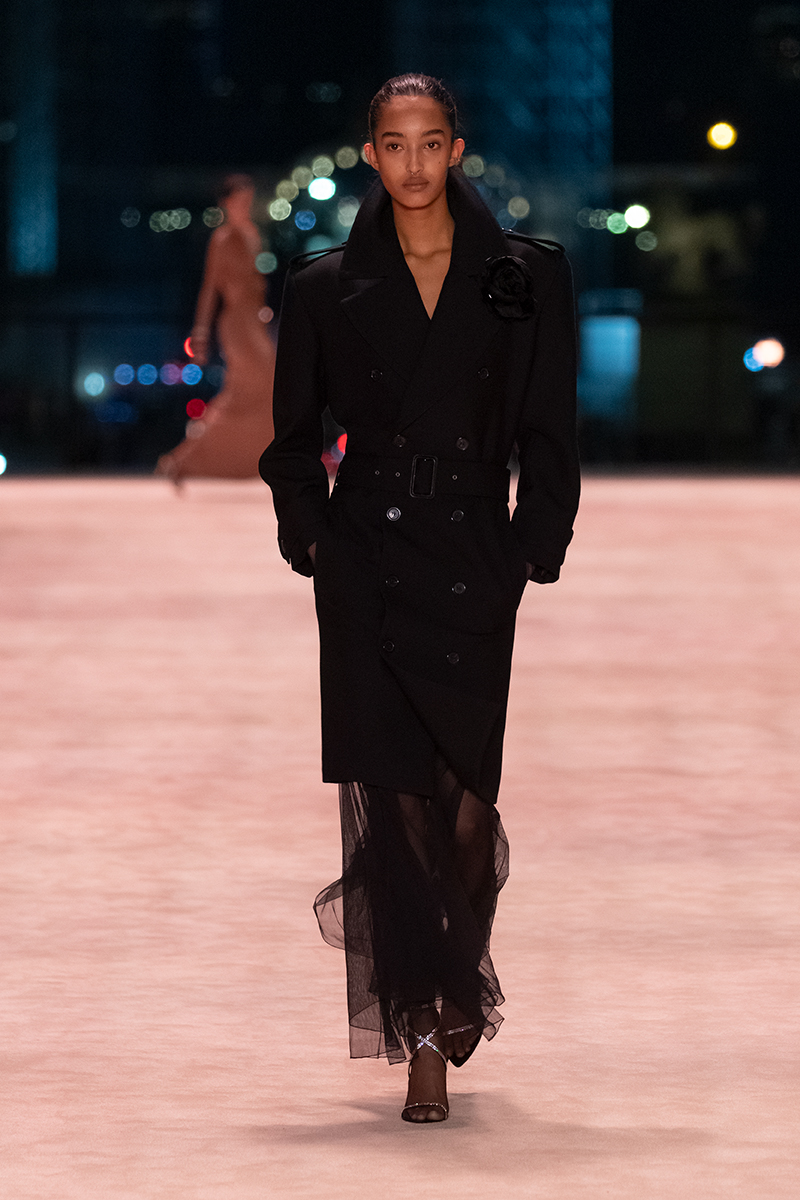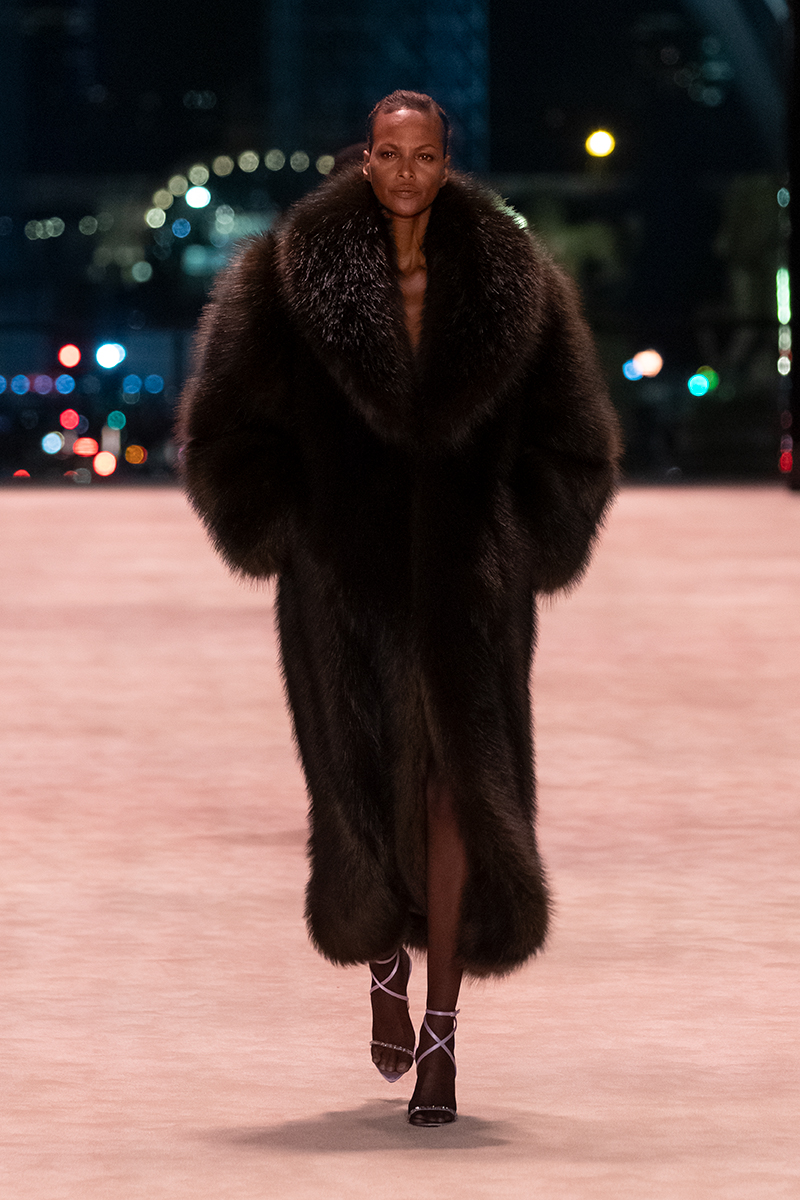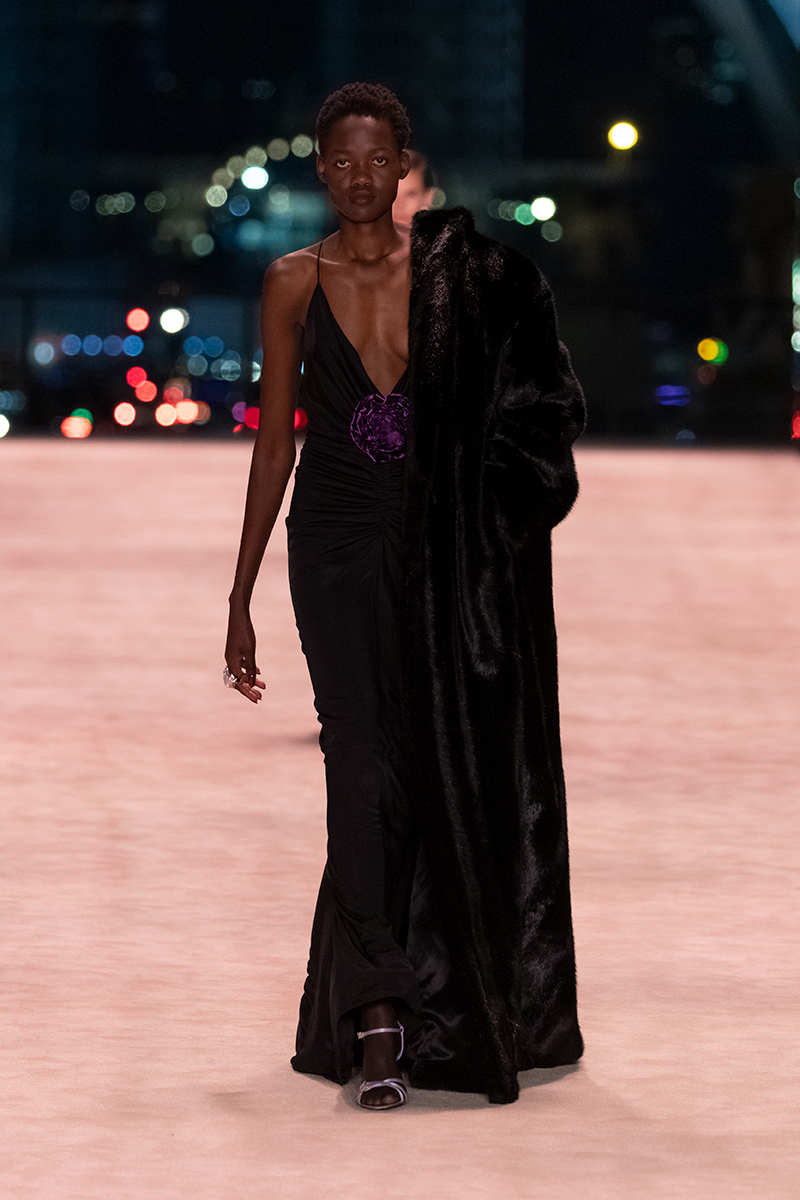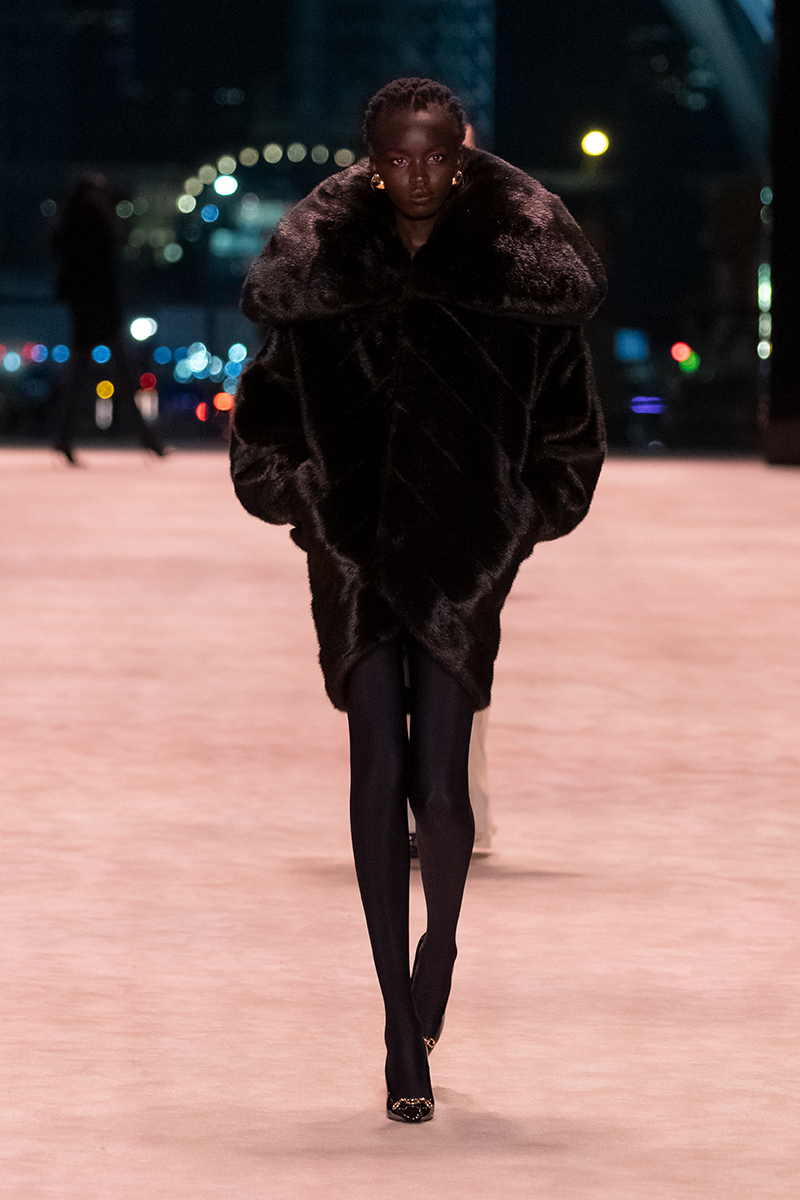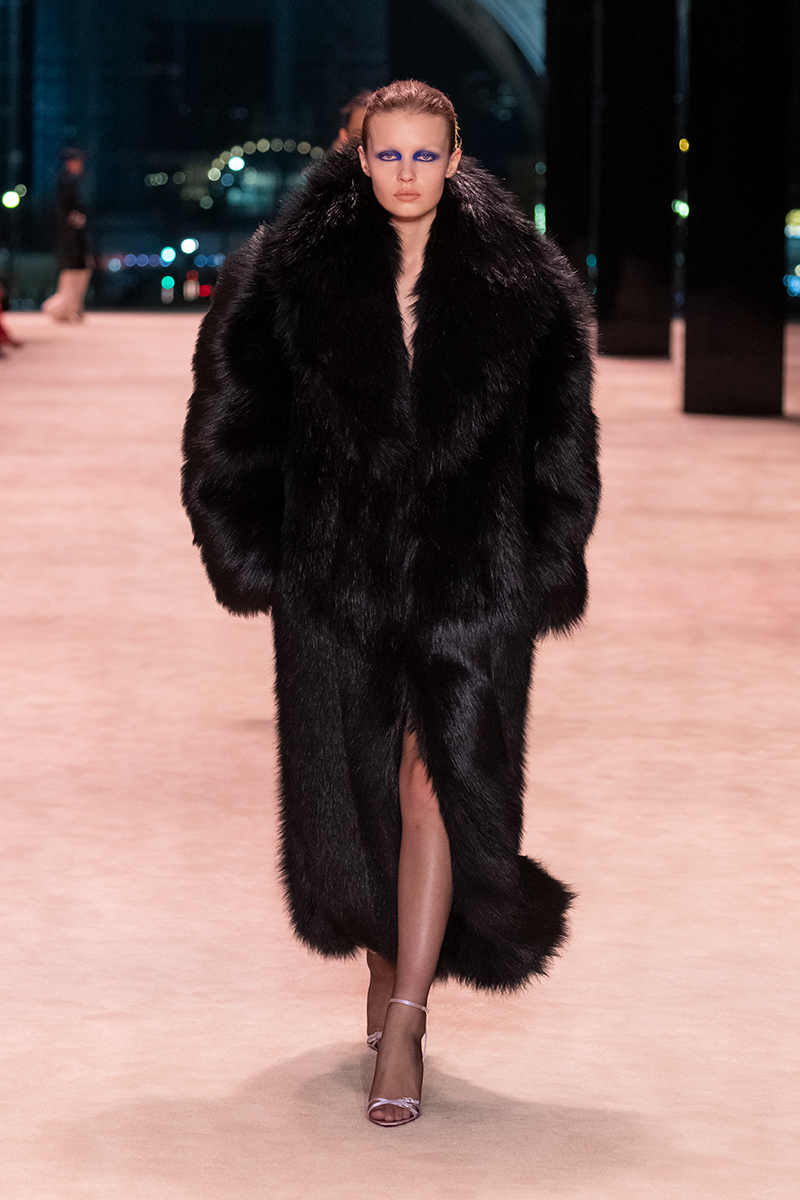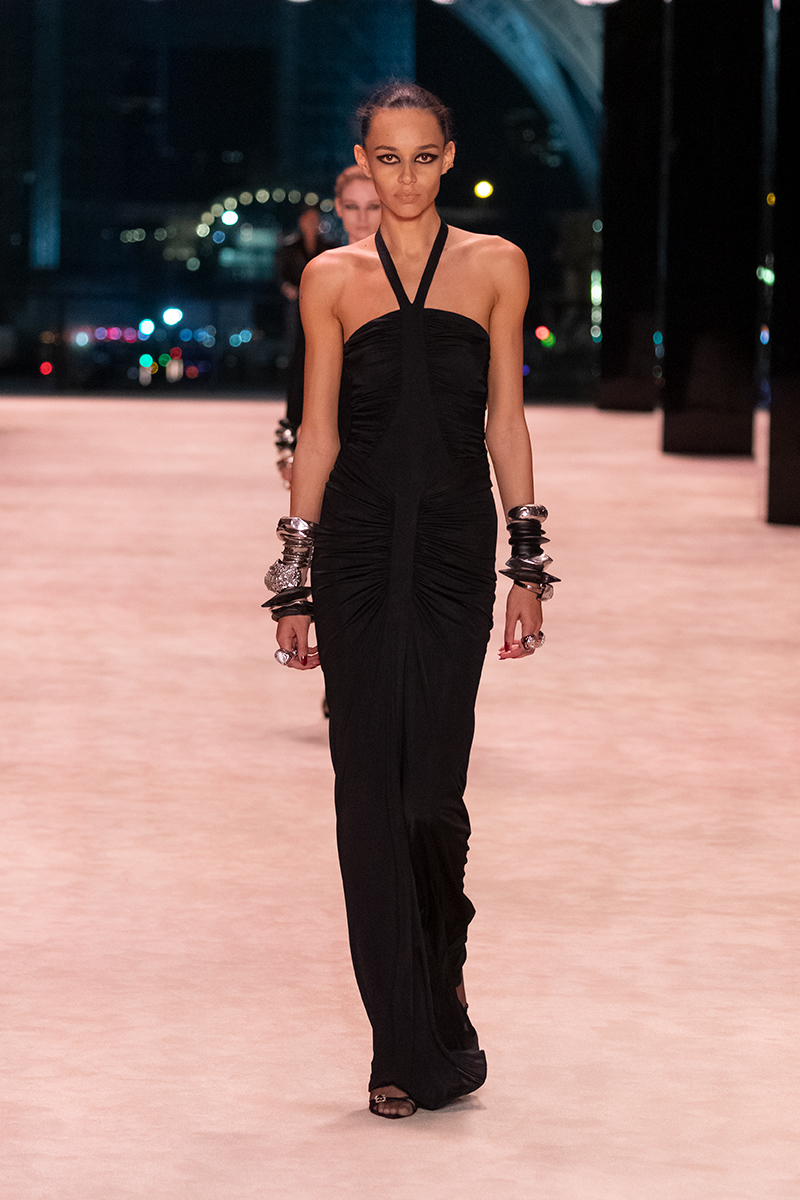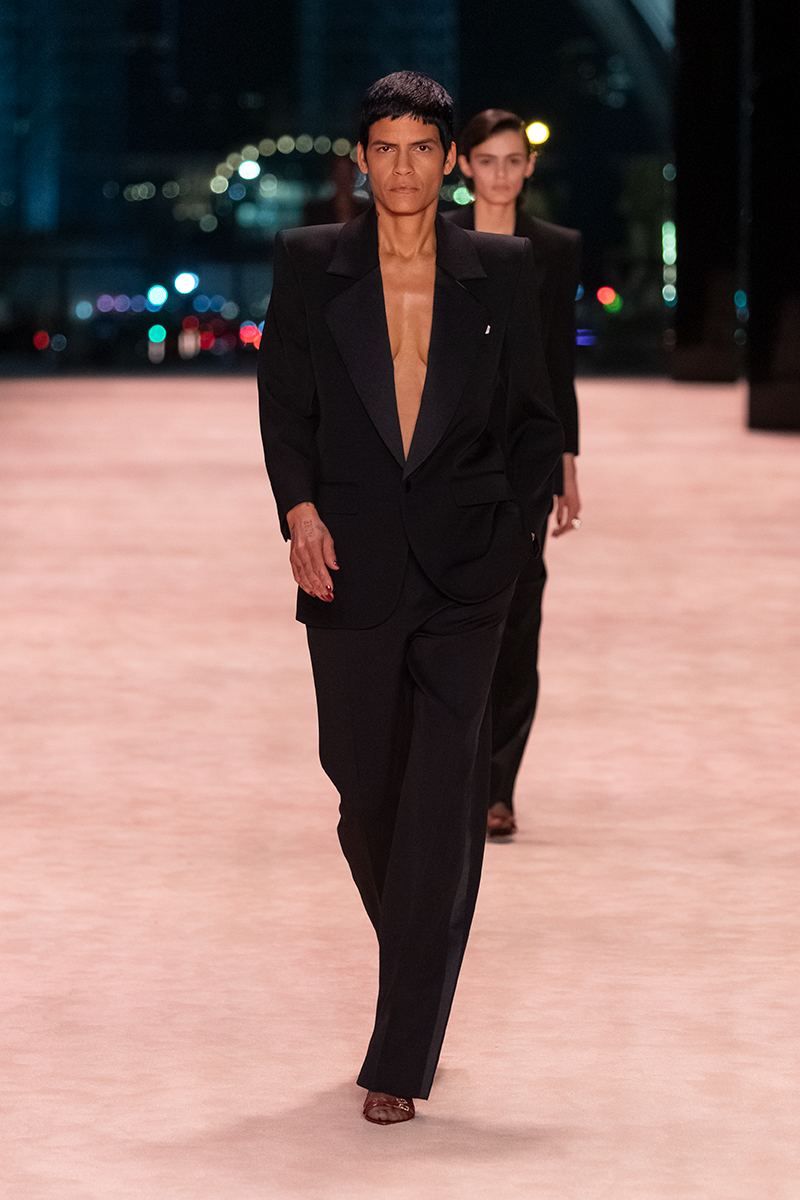 Credits
---
All images courtesy Saint Laurent