7 queer coming-of-age shows and movies to watch after Heartstopper
Netflix's latest hit is not the only LGBTQ+ high school love story you can stream.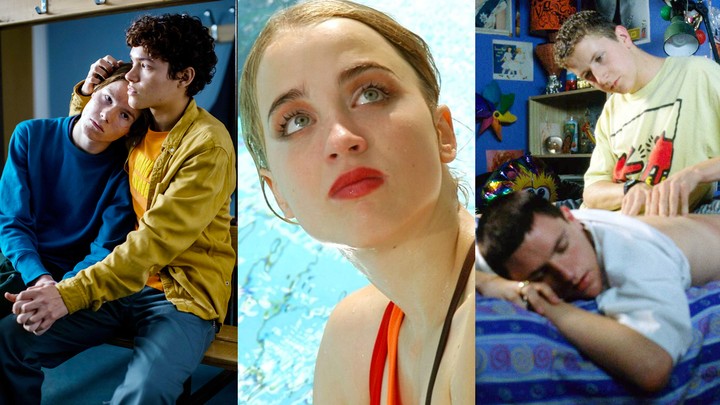 Heartstopper has been the talk of the internet since its release on Netflix last week. Everyone's been in their feels about Alice Oseman's graphic novel adaptation that chronicles the PG romance of two British high schoolers, bookish Charlie and sportsy Nick. It premiered to rave reviews (and a rare 100% Rotten Tomatoes score), with many applauding the show for its heartwarming depiction of LGBTQ+ youth, as well as its meaningful conversations about coming out and mental health.

There's no denying Heartstopper is extremely lovely and that it will inevitably act as a source of validation for its Gen Z audience – with high schoolers played by appropriately-aged actors, most of whom also align with their character's identity: a lesbian couple who are proud of the label (happy Lesbian Visibility Week!); a Black trans woman untethered from a traumatic subplot. And while it's a rarity, it's not the only uplifting tale of being young and queer available.

Some have described Heartstopper as the first of its kind. That isn't strictly the case. Such a statement discredits the many shows and movies preceding Heartstopper that have handled their queer coming-of-age stories with similar levels of sensitivity. On Twitter, people have been sharing their 'My Heartstopper' equivalents – characters that, intentionally or not, provided LGBTQ+ visibility for them when growing up. Ultimately, Heartstopper shouldn't be where your viewing starts and ends. So if you're looking for more wholesome queer goodness, we've got you sorted.

1. Beautiful Thing (1996)
With its characters -- shy Jamie (Glen Berry) and football mad Ste (Scott Neal) -- the same age as Heartstopper's Charlie and Nick -- Beautiful Thing is an example of feel-good representation of queer youth that existed over 25 years before Heartstopper. Set in the sun-soaked summer of 1996 on a South London housing estate, this gentle coming-of-ager has become a darling British rite of passage ​​film. Director Hettie Macdonald (later one of the filmmakers behind Normal People) made this touching exploration of self-discovery, a hopeful depiction of young gay love that offered a watershed moment for queer viewers in the 90s. It still holds up today.

2. Water Lilies (2007)
Before Portrait of a Lady on Fire, there was Water Lilies. Céline Sciamma's debut feature is a burgeoning portrait of adolescent love that depicts Marie's (Pauline Acquart) growing infatuation with the older, teen synchronised swimmer Floriane (Adèle Haenel). During a summer of sapphic desire, the French couple's blossoming queer longing is sensitively captured with sparing dialogue. Instead, the quietude of this delicate drama echoes Heartstopper's tentative romance with a reliance on heady gazes of teenage fixation. Capturing the vulnerabilities of their relationship, cut with the sting of chlorine in the air, Water Lilies is a stylish and moving depiction of young lesbian love.

3. The Way He Looks (2014)
In Daniel Ribeiro's gleaming Brazilian film, The Way He Looks, the image of two young gay men riding the same bike downhill, wind blowing through their hair and smiles plastered on their faces, encapsulates the levity of youthful queer freedom. This warm story, structured around positive messages about teen body image and sexuality, is the filmic embodiment of niceness. Centred on blind teen Leonardo (Ghilherme Lobo), The Way He Looks follows his life-changing meeting with charming new student Gabriel (Fabio Audi) and the process of self-acceptance that follows.

4. Skam (2015-2017)
Being part of the Skam fandom was practically a full-time job. Julie Andem's Norwegian teen drama, whose title translates to 'shame', tackled the taboos impacting the lives of Oslo's high schoolers — from religion and eating disorders to sexuality. Isak (Tarjei Sandvik Moe) and Even's (Henrik Holm) relationship is the focus of Skam's third season, ripe with teen angst in its depiction of coming out. The show was heralded not only for its authentic storylines but the ingenious nature of its interactive format: characters regularly posted on dedicated social media accounts, and a new episode clip appeared with little to no prior warning. If you loved Heartstopper, you have to hunt down Skam too.

5. Hearts Beat Loud (2018)
Another enjoyable watch to fill the Heartstopper-sized hole in your life is Hearts Beat Loud. This American comedy-drama centres on a father-daughter (Nick Offerman and Kiersey Clemons) relationship, and how their bonding develops as they form a musical duo. It's a cosy movie, one that doesn't make a big deal about the fact the daughter character Sam falls for another woman (Sasha Lane). The low-key framing of sapphic yearning is soundtracked to the ethereal melodies of Mitski, another reason to love this charming film. It's deeply fulfilling; about making the most of what you have and finding happiness in the here and now.

6. The Half of It (2020)
Alice Wu's Netflix teen rom-com is a tender and earnest take on the high school romance. This tactful depiction of the ache of lesbian pining is both singular and universal in feeling. The Half of It sees Chinese-American straight-A student Ellie (Leah Lewis) — who possesses the same studious bookishness as Heartstopper's Charlie Spring — face her feelings when she agrees to ghostwrite love letters to Aster (Alexxis Lemire) for the high school jock. While Ellie pours her heart onto the page, The Half of It subverts the gay best friend stereotype. Paul (Daniel Diemer), who Ellie is writing on behalf of, and Ellie develop a close friendship in a reversal of the usual GBF trope.

7. Young Royals (2021-)
The closest recent comparison to Heartstopper has to be Netflix's Young Royals, another gay high school drama on the platform orbiting a character's first gay romance. However, Lisa Ambjörn's TV drama features considerably more drugs and alcohol in its hedonistic examination of young men and raging hormones. The class-focused show follows Sweden's Prince Wilhelm (Edvin Ryding) being sent to a prestigious boarding school to tidy up his reputation. It is here he meets the captivating Simon (Omar Rudberg) and sparks fly. Young Royals is grounded in intense emotion that allows the unique scenario of its protagonists to appear surprisingly believable. The Netflix show has begun filming for its second season, so as we await news of Heartstopper round two, Young Royals is a great show to tide you over.

Follow i-D on Instagram and TikTok for more TV and movie recommendations.