TikTok trainspotter Francis Bourgeois spies a wild Rosalía in Kings Cross
One can only assume the 'MOTOMAMI' singer and i-D cover star was also there to see the Class 91 locomotive.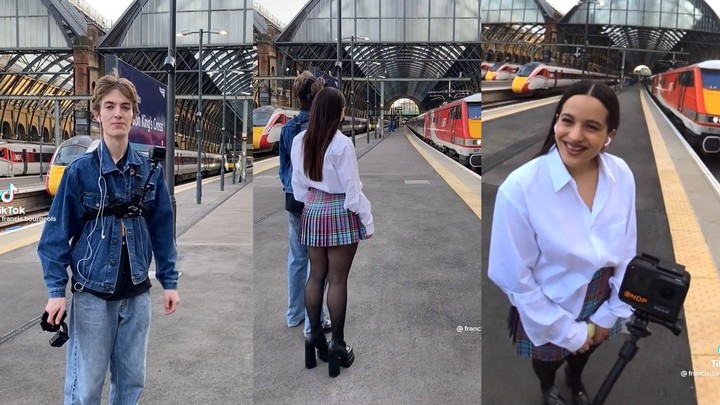 TikTok @francis.bourgeois
Spanish megastar Rosalía is a woman of many sounds, talents and guises. One of those guises, it seems, is lover of all things locomotive. Or, at least, like us, lover of Francis Bourgeois. Francis, the TikTok star, became best known for wholesome trainspotting videos filmed across the British countryside. He now shares his eccentric hobby with an audience of over two million followers — a number which was recently revealed to include one Joe Jonas. But as it transpires, Joe isn't the only A-list singer-songwriter whose attention Francis has captured.
In his latest video, Francis tells his viewers that he has taken his trainspotting operation to Kings Cross station, "to check out the Class 91s." Looking further down the platform, he pauses. "Hang on a minute, isn't that Rosalía?" he says, starting to make his way over to the dark-haired figure, dressed in black killer heels and a plaid mini. "I'm gonna go say hello to her. I love her music."
Polite and British as ever, Francis makes his introduction with an apology. "Sorry to bother you," he says, then asking (in fewer words) what has brought one of the world's biggest popstars — the mind behind a new album that "can leave you bouncing off the walls or ruinous with tears, depending on which track you listen to" — to a grey train platform in London. In typical Rosalía fashion, the singer-songwriter opts for a subversive answer: "What are you doing here?". Francis replies, pointing at the brightly-coloured train, "I'm checking out the Class 91s."
The pair then excitedly watch the LNER train as it departs the station, waving it off as its horn (whistle? We're not experts) blares loudly. "Thank you!" Francis shouts over the din, laughing maniacally.
"TRAINMAMI," one commenter observes. "I NEED CONTEXT SO BAD," says another. Unfortunately for that person, this is a cultural moment that defies explanation. You can check out the chaos for yourself via TikTok below, as well as a stellar Class 91 locomotive.
Follow i-D on Instagram and TikTok for more on iconic crossovers.