Images courtesy of Dior, Balmain, Alexander McQueen and Alaïa. Collage by Douglas Greenwood
Buckle up! How biker style shifted into gear for AW22 
From Dior to Balmain, Alexander McQueen to Alaïa, fashion's getting all revved up.
Images courtesy of Dior, Balmain, Alexander McQueen and Alaïa. Collage by Douglas Greenwood
Nothing evokes more feelings of freedom, escapism, and coolness than a motorcycle. Think of Zoë Kravitz and Robert Pattinson riding away in The Batman (2022), or of Tom Hardy and Charlize Theron in Mad Max: Fury Road (2015) with their dangerous stunts and freewheeling selves — both very cool and very hot. Remember Ryan Gosling in The Place Beyond the Pines (2012) and Pam Anderson in Barb Wire (1996)? Hot! Well, if you're into any of that, then you'll love bikercore, the freewheeling trend that skidded across the Paris runways this season. A delicious fusion of the soft butch energy we saw as an undercurrent for much of AW22 with womenswear designers' abiding obsession with the dichotomy between daintiness and toughness, it is, to put it plainly, the moment.
Of course, there's a rich history behind the deployment of biker and moto-motifs in fashion. The story behind the moto jacket – an iconic piece deserving of in-depth study in and of itself – can be traced back to 1928, when American manufacturer Schott NYC created their Perfecto jacket, the first of its kind to have the exposed zip closure that is now so recognisable in moto styles, plus the snap details on the collar and belt at the waist. Bomber and aviator jackets were already popular after WWI, and the Perfecto was the equivalent for riders, plus its snug fit and easy opening made it popular amongst them. It became a pop-cultural staple after Hollywood heartthrob Marlon Brando wore it in his hit film The Wild One (1953), where he played an incredibly debonair and hot gang leader, forever establishing it as a talisman of coolness. The Ramones and the Sex Pistols (hey, Vivienne Westwood!) also wore the jacket repeatedly, turning it into a symbol of counterculture and subversion. And then in the 80s, Jean Paul Gaultier started playing with the jacket in his collections — something the house still does now — which permanently inducted the piece into the contemporary fashion vernacular.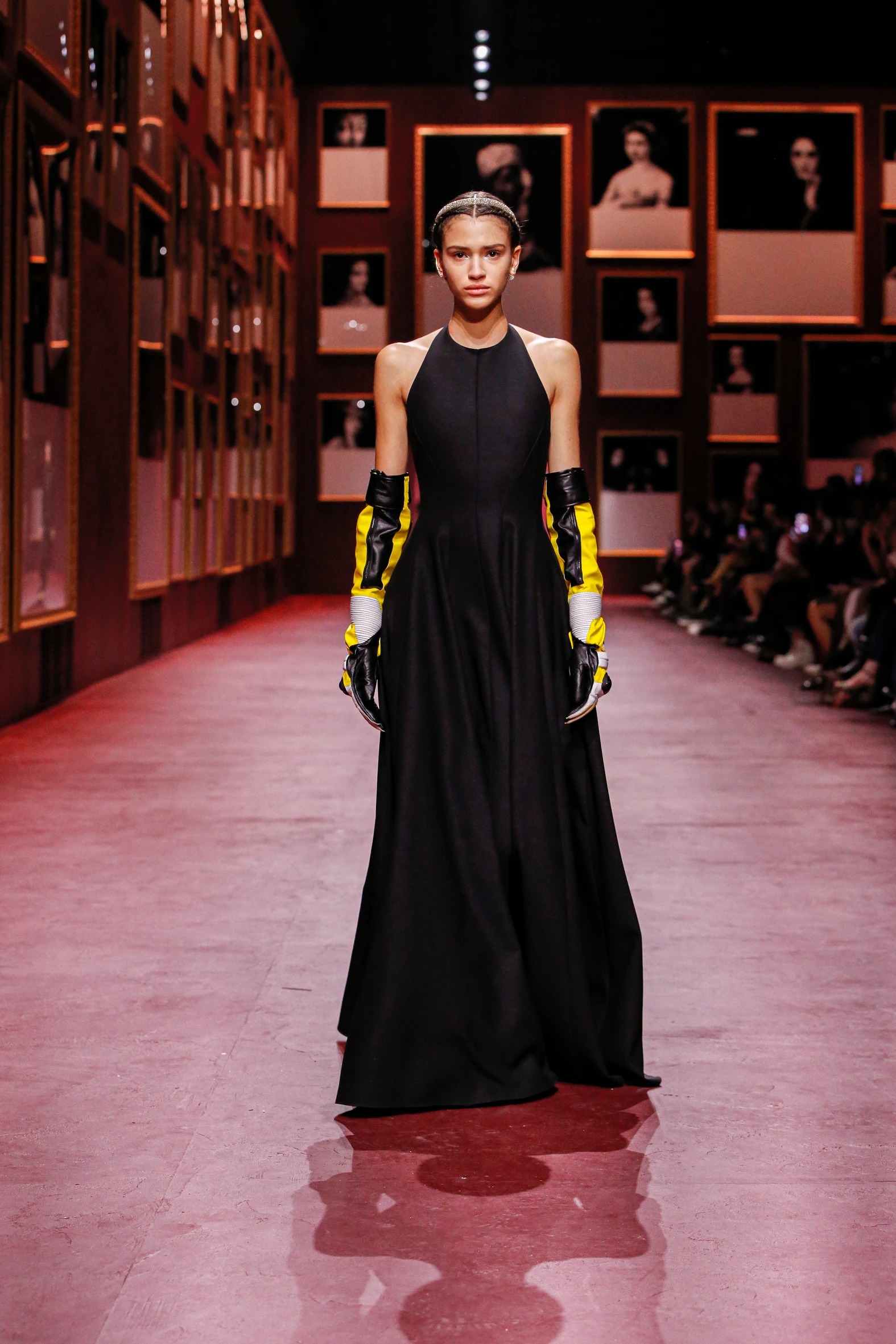 Flash forward to 2022, where the jacket had a solid run of appearances, showing up everywhere from Alexander McQueen to Chloé, Simone Rocha to Alaïa in a range of classic to conceptual iterations. At McQueen and Chloé, the jacket echoed the soft butch mood we saw across the board all season, perfectly merging the coolness of 50s Marlon Brando with the idea of an edgy, empowered woman eager to head out on the road, Jack Kerouac style, escaping the mundanity of everyday life.
And the jacket wasn't the only biker motif we saw repeated across this season. Both Dior and Balmain included overt motocross motifs in their collection — whether on jackets, dresses or accessories. These come at a time when fashion is looking more closely at technology (which was Maria Grazia Chiuri's reasoning behind the Tron-like vests, tights, shoes, and gloves she paired with her usual tailoring) and at clothing as protection, which was what Olivier Rousteing set out to explore at Balmain. We'd like to think, however, that they were both looking to find a new sport to fixate over – there's always one, isn't there? AW21 saw luxury fashion's obsession with ski, and there's always at least one horse girl that props up somewhere each season. Perhaps their motocross padding paired with femme silhouettes and fabrics was an attempt at re-contextualising the biker chick for today. They could also have all been inspired by recent i-D cover star Rosalía's latest album, MOTOMAMI (which literally translates from Spanish to bikermummy), which she says is the combination of aggressiveness (from the moto side) and vulnerability (from the mami side) – quite fitting for these collections, right?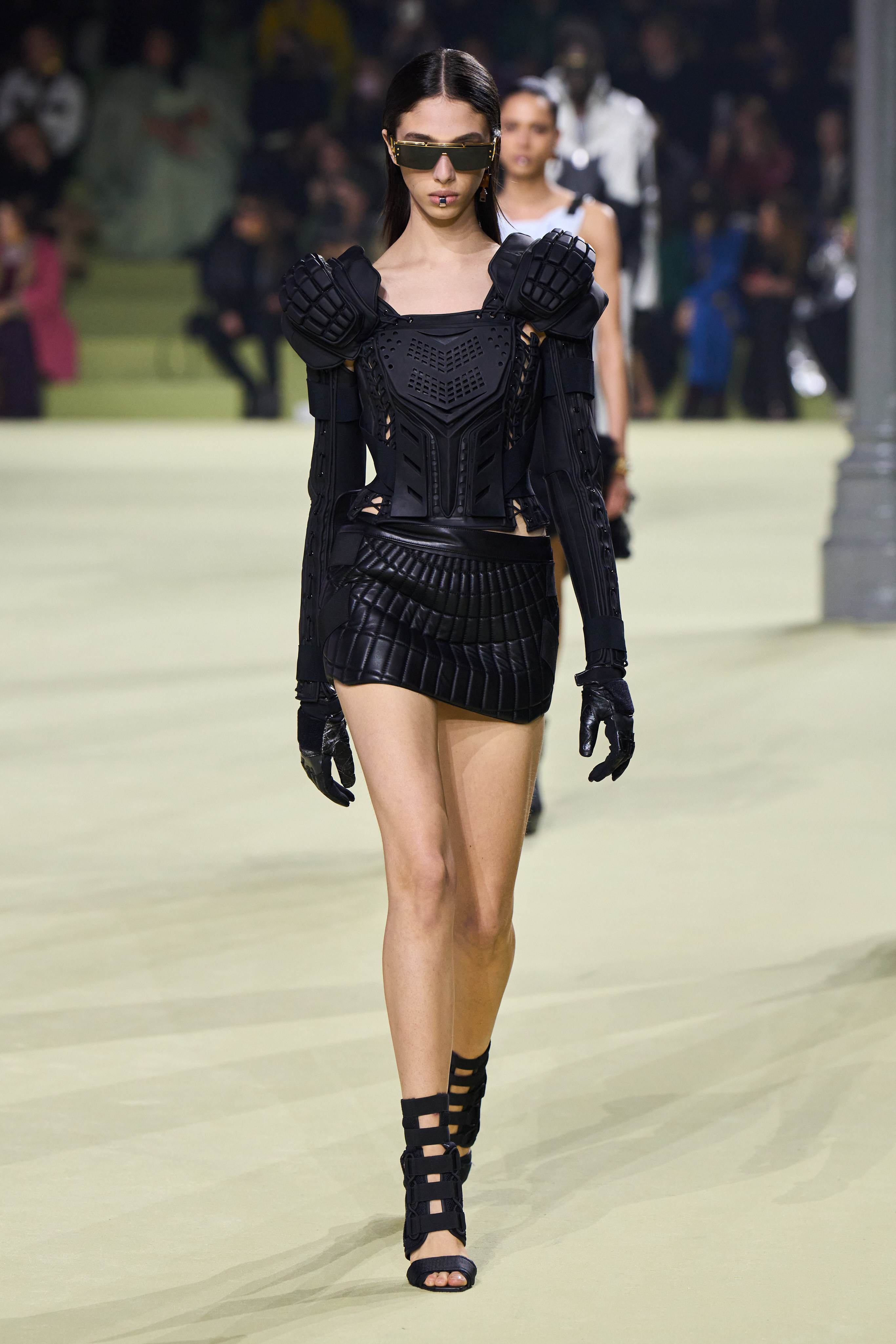 In any case, the resurgence of moto motifs dates back a bit before AW22. We saw a few not too long ago under the sexy Y2K lens of KNWLS for AW21 and SS22, at Louis Vuitton for AW20 (Nicolas Ghesquière loves a moto motif, but more on that later), and in some great motocross jackets at Celine SS22 menswear (Hedi Slimane is rarely seen without his own moto jacket) and Marni SS22. Back in AW20, Demna explored them extensively in Balenciaga's apocalyptic, sunken-world show, and they recurred again in Yeezy Gap x Balenciaga's first drop, particularly in a denim jacket Ye recently wore to Rolling Loud.
With the rise of vintage, some iconic moto pieces have returned to our collective radar. Think of Nicolas Ghesquiere's iconic Balenciaga Motorcycle Bag, which has once again become a downtown it-girl essential, or the many great leather and shearling jackets he gave us during his time at the brand that many designers are currently referencing. Balenciaga brought back the bag for AW20, making space for brands to capitalise on the return of bikercore and its cool-girl vibe. Who could also forget Christophe Decarnin's iconic Balmain biker jeans, which, while also once an it-girl wardrobe staple, could now only be described as cheugy? Watch this space though – as bikercore grows and Gen Z continues to revive trends from the 00s and early 2010s, they're bound to make an ironic return.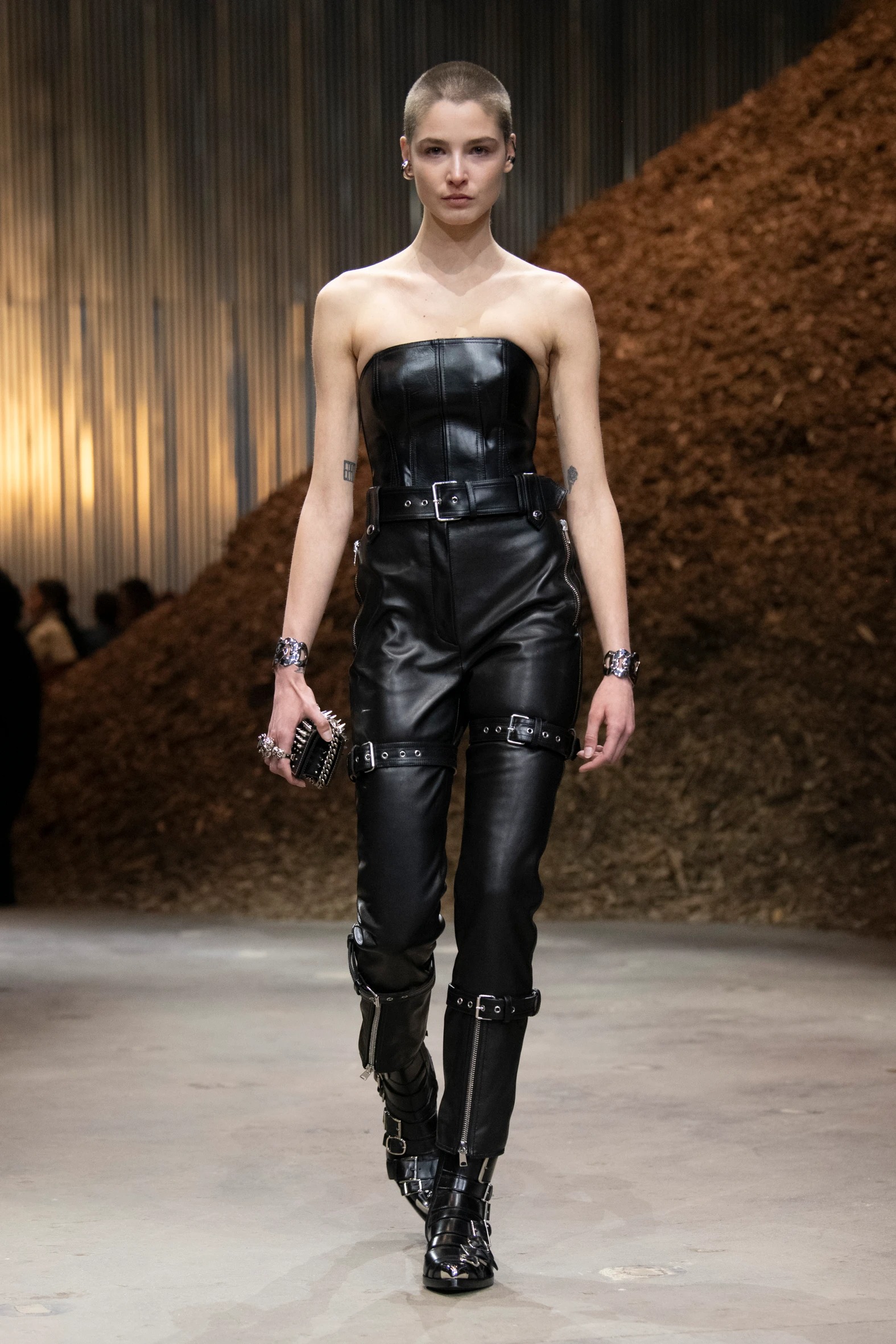 Indeed, bikercore might be another iteration of today's vintage and nostalgia-driven trends, or a side effect to our pandemic-powered need for escapism and freewheeling. It may also be a recontextualization of the biker chick as a soft butch femme –or simply all of the above! However you see it, take it as your cue to zip up your leather jackets, pull on your biker gloves, and blast MOTOMAMI while tearing up the road. Just remember, kids, always wear a helmet!