Photography Madison Voelkel and Hanna Tveite
The best collections of New York Fashion Week AW22
From Peter Do to Maryam Nassir Zadeh, the city's top designers are kicking off fashion month in style.
|
18 February 2022, 5:00pm
Photography Madison Voelkel and Hanna Tveite
Well, it's that time again. It's fashion month and we're kicking things off in the city that never sleeps, the big apple, that's right… New York City. Last season's IRL runway shows, the first in too many seasons to count, gave us new life and from what we've seen so far New York Fashion Week's AW22 schedule won't disappoint either
The city's mainstays like Proenza Schouler, Coach and the newly-minted hometown hero Peter Do are joined by buzzy newcomers Elena Velez and Saint Sintra, who's debut collections last season put them on the proverbial fashion map. Elsewhere we'll see what are sure to be standout collection from all our favourites — Maisie Wilen, Maryam Nassir Zadeh and Puppets and Puppets, just to name a few. It's a lot, we know, but the good news is you'll find everything you need to know about AW22's most exciting collections — including reviews and runway imagery — right here. Buckle up fashion fans, because we're just getting started!
Telfar
After putting runway shows on pause for the past two years, Telfar and brand co-leads Baback Radboy and Avena Gallagher presented an event on Wednesday entitled "WOW" at South Street Seaport's Pier 17. In part, this NYFW finale was the release of a trailer that documented the production of their "ongoing improvisational, non-extractive cinema practice" called Telfar TV, which launched last fall in collaboration with The Umma Chroma, "a Black cinema commune" led by Terence Nance. The screening was punctuated by user-generated content sent in by viewers, voiceovers from Black scholars, poets, and artists, and live video-call footage of exuberant customers gagging for new colorways and real-time product "drips". One woman squealed in jubilation after learning she'd just won a new shopping bag in chocolate brown during a game show interstitial simulating Wheel of Fortune. Another superfan, surrounded by the treasured Telfar wares she'd worked to collect over time, danced with abandon in a large Telfar dustbag stamped with his logo.
The clothes began with ideas initially developed for uniforms that the Liberian Olympic team wore to the 2020 Games, further exploring jersey and fleece in the form of colorful hoodies, retro dolphin shorts transformed into that familiar thigh-baring pant silhouette, basketball shorts reshaped as culottes, and "tall tees"—of early 2000s, Crime Mob-era ubiquity—worn as tunics. The show continued with classic Telfar rib knits, throwbacks to his "Customer" t-shirts, and lots of denim: from one look featuring daisy dukes styled over a bodysuit with red boots, evoking the Pan-African flag, to spacious, exaggerated skater jeans with experimental pocket placements. The collection also introduced a new bag, the Circle. At one point a model dressed in a fully masked black bodysuit ran around offering showgoers a QR code with a link to buy straight off the runway. It has already sold out.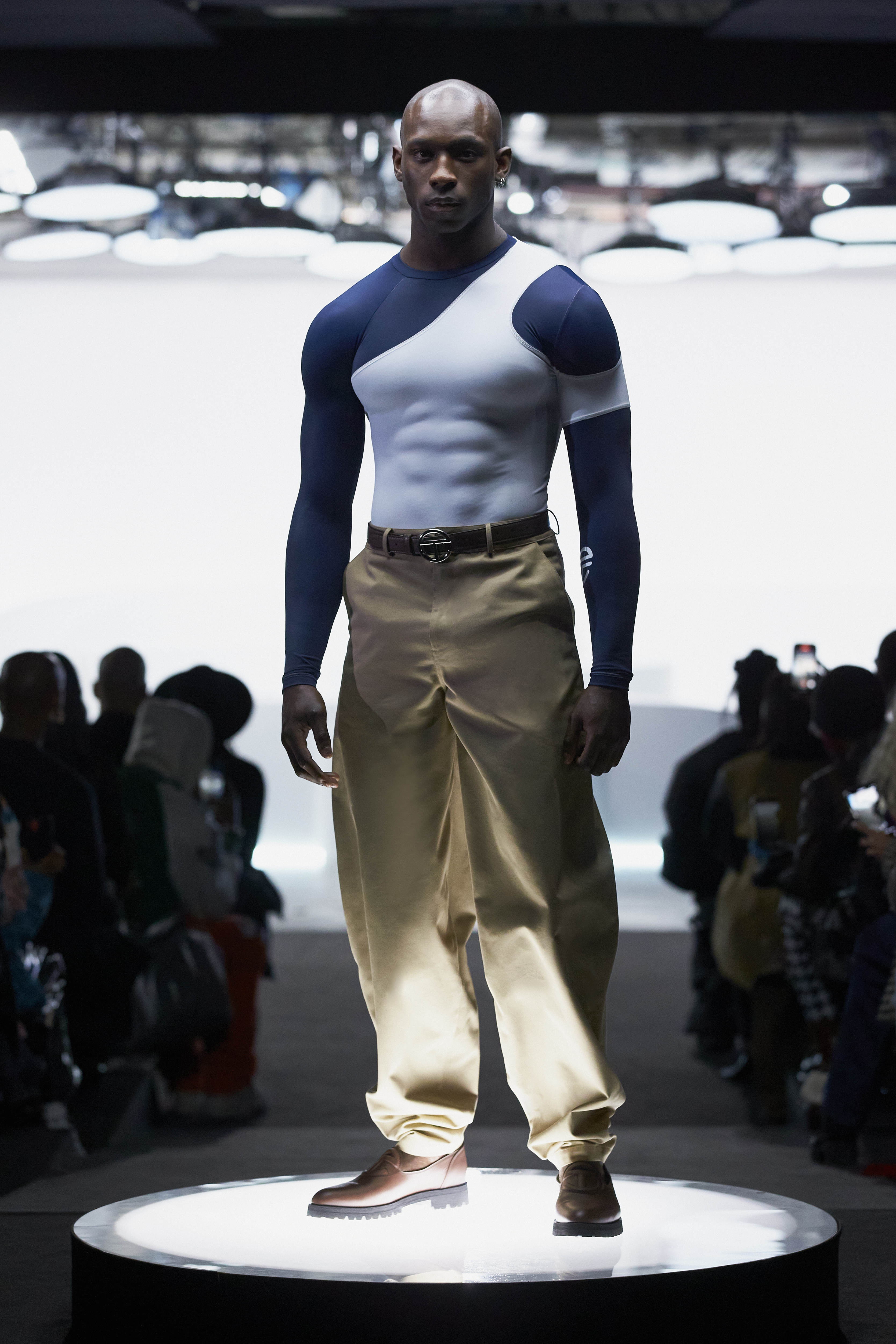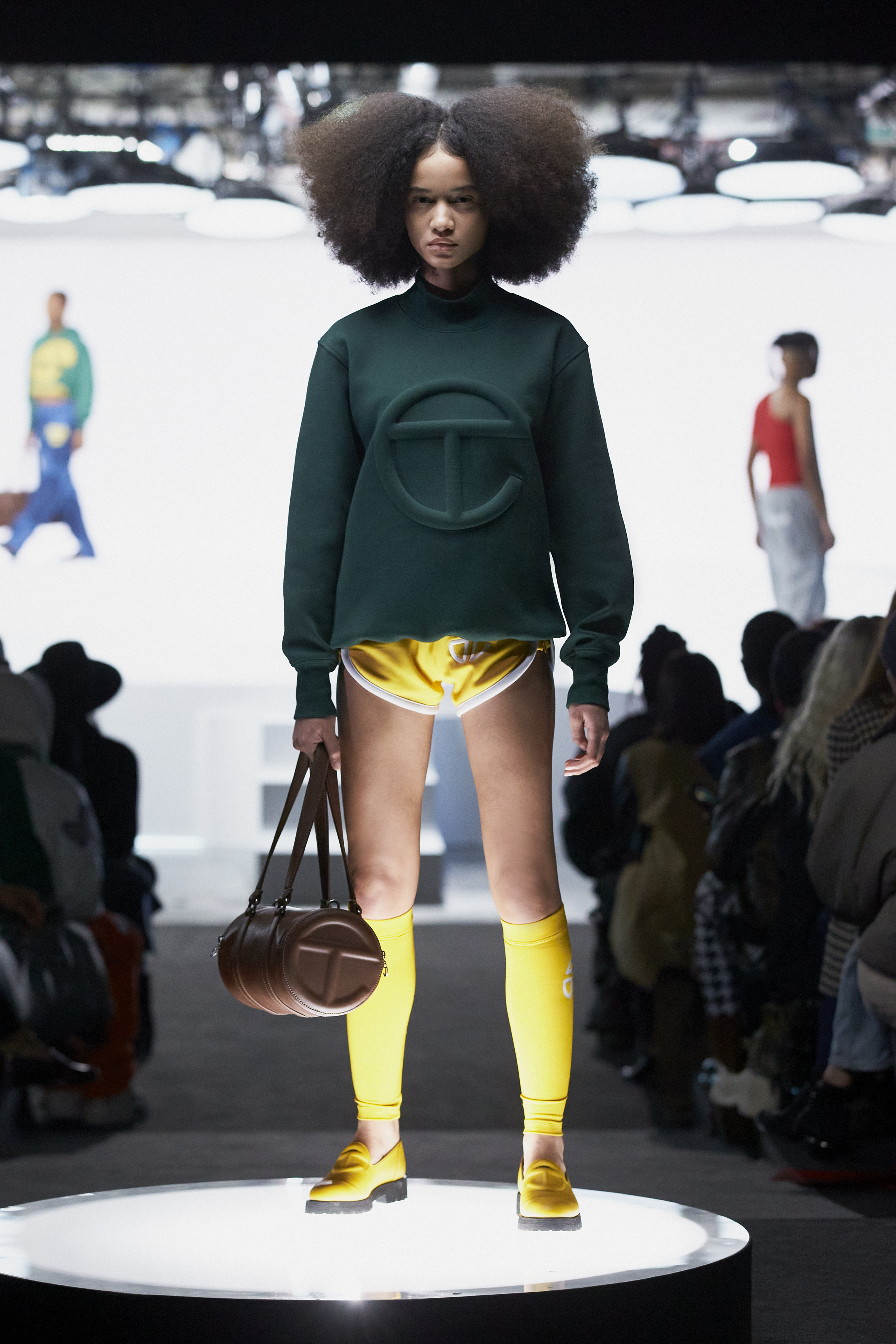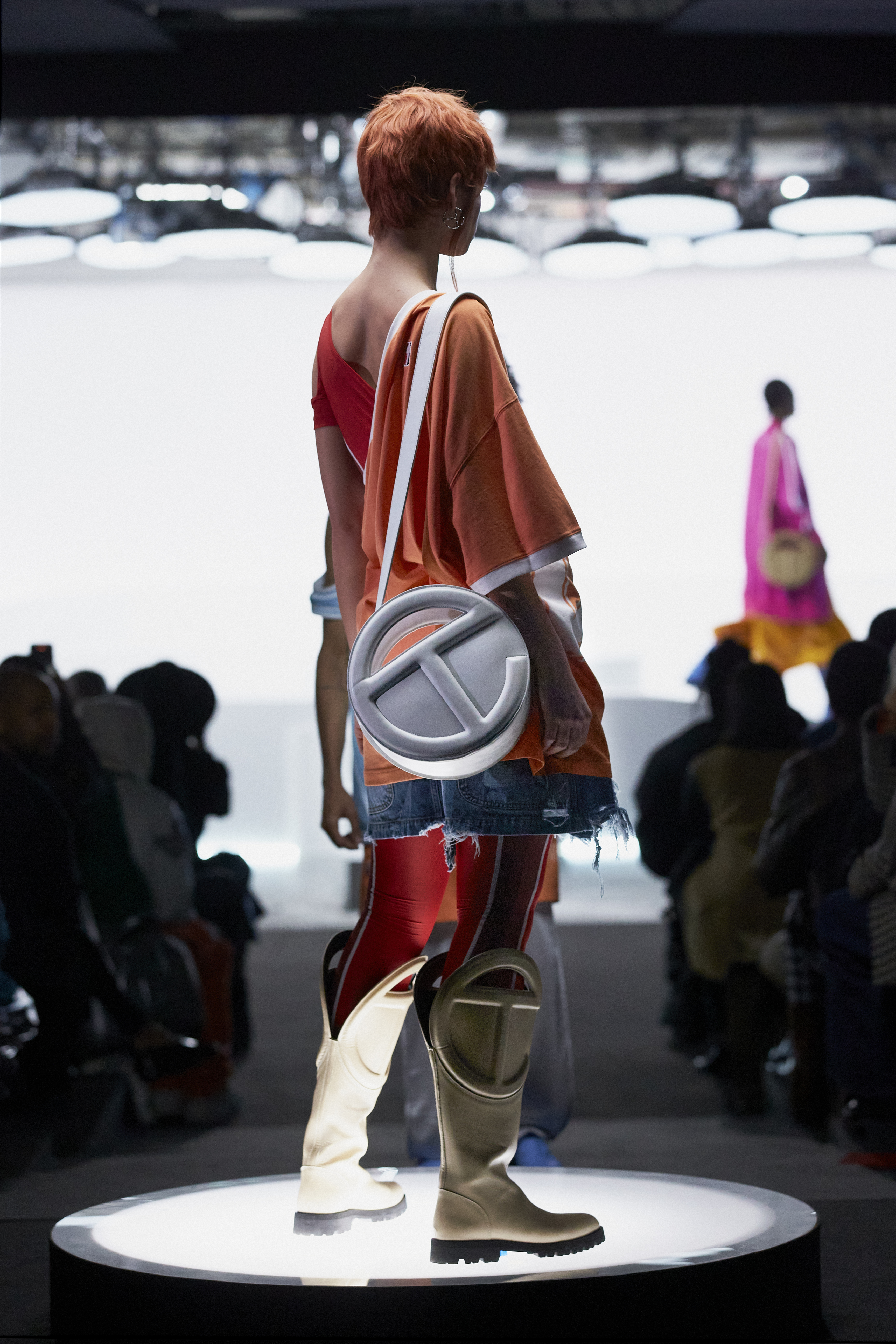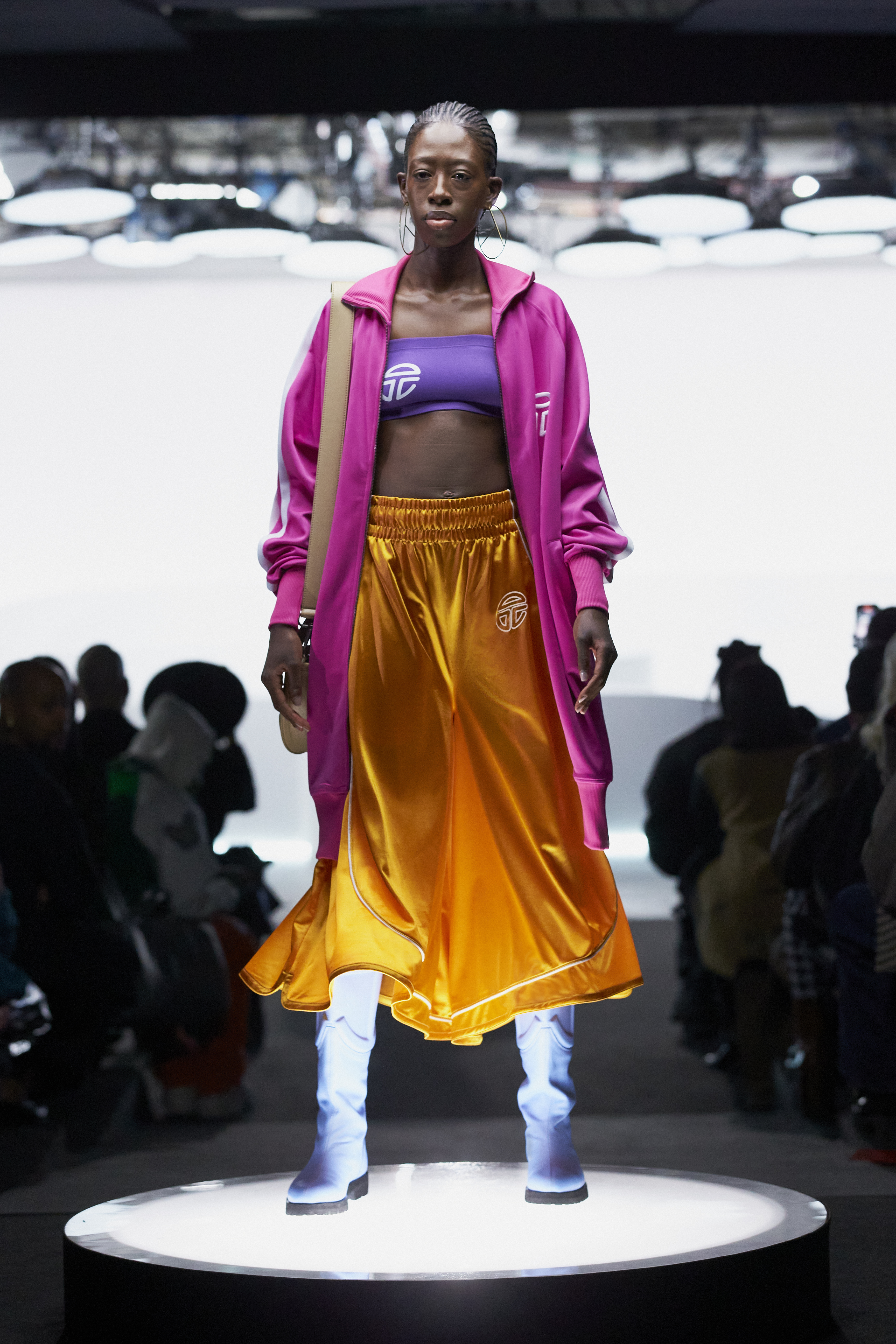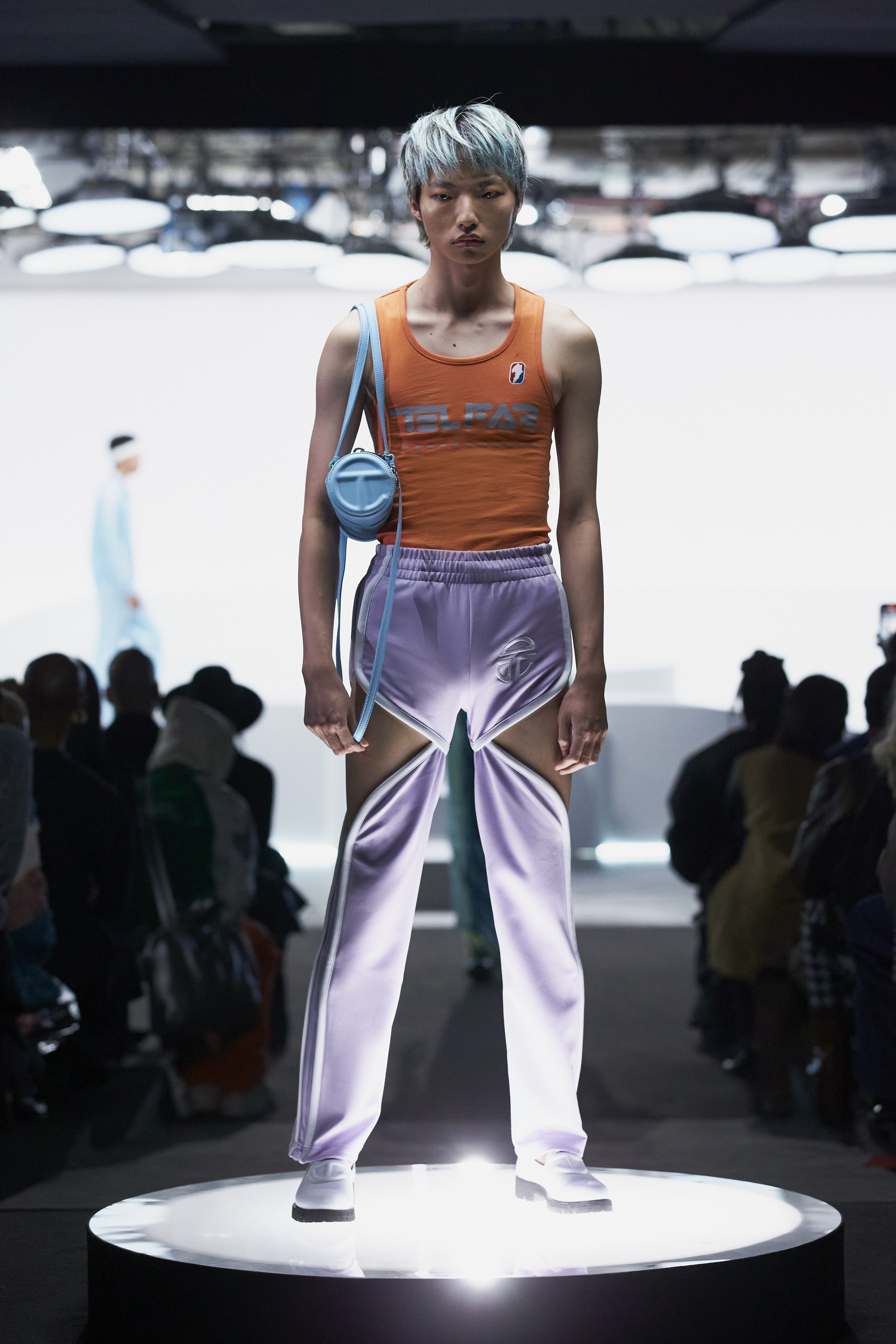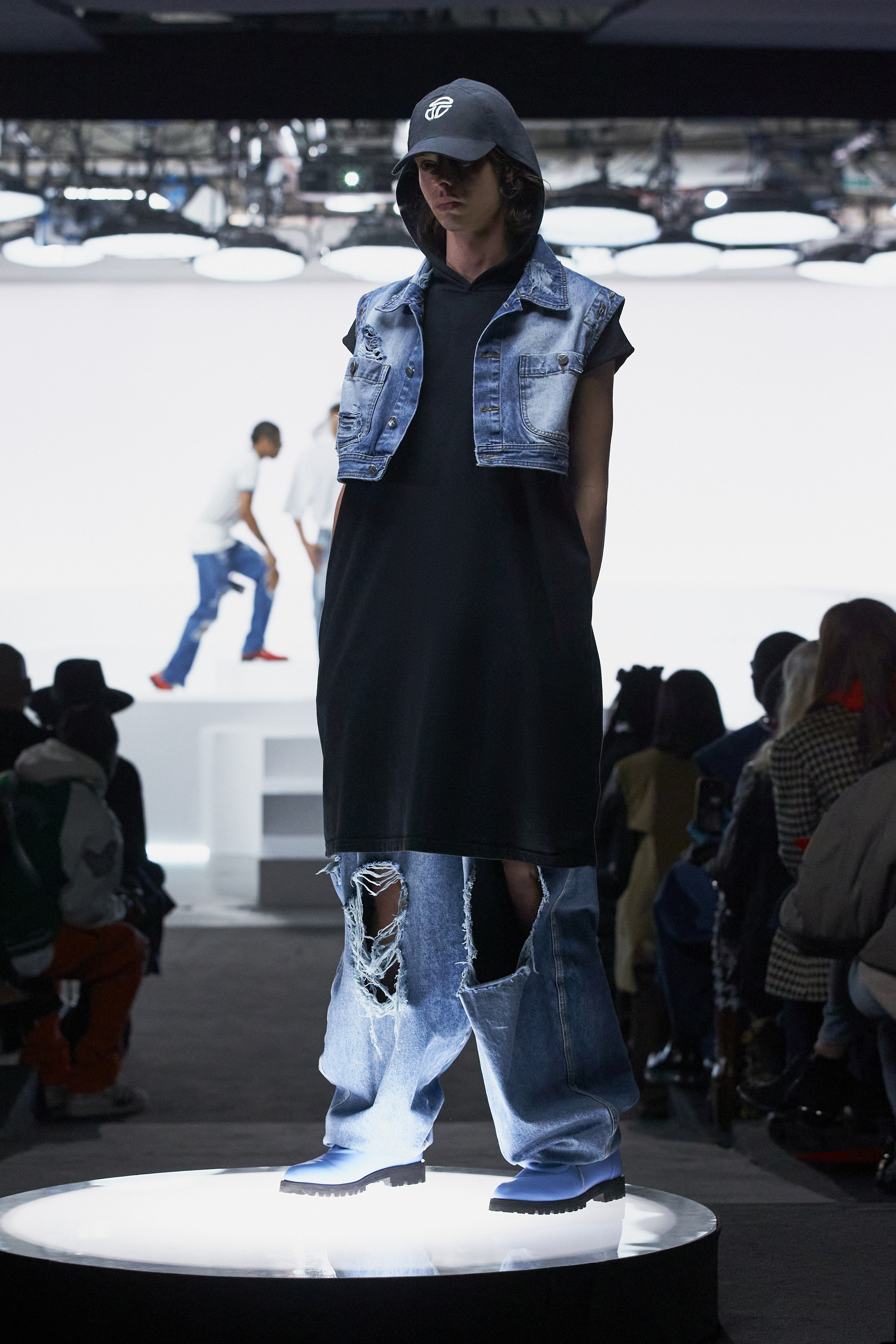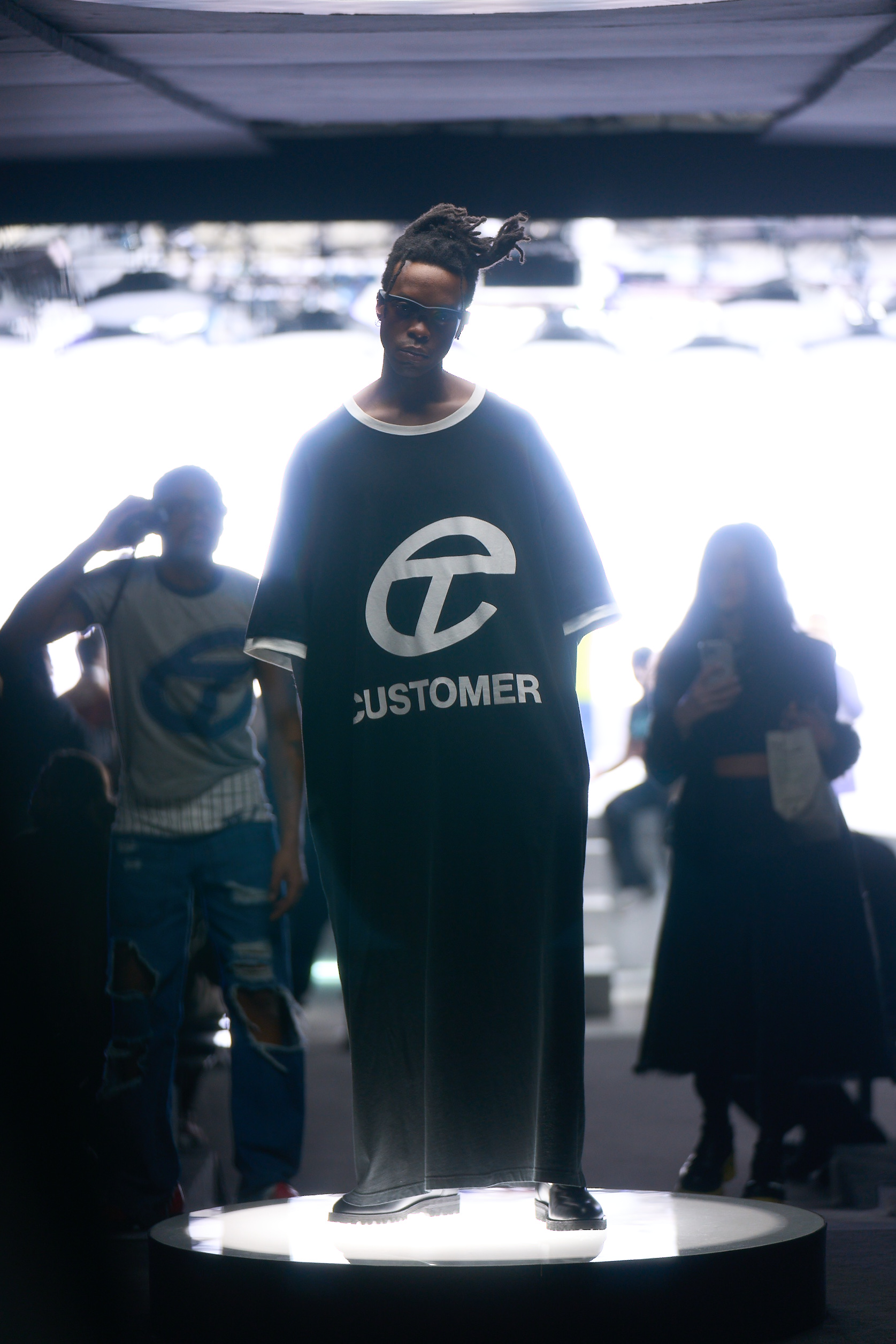 Commission
The designers behind Commission, Dylan Cao, Jin Kay and Huy Luong, have always taken a very personal approach to their clothing: their very first collection was an ode to the 80s East Asian working woman, and inspired by Huy's mom. He and Dylan grew up in Vietnam, and Jin in South Korea, and the collections that followed explored their collective heritage and developed their core offering of denim, silk dresses and separates, impeccable outerwear and deconstructed tailoring.
Now, seven seasons in, Commission feel more confident shaking up some of these signature silhouettes and blurring the lines a bit. The AW22 collection 'Fast Riders, Slow Dancers' explores American "classics" and sees a smooth crossover between mens and womenswear. Crisp, cut-out Oxford shirts and heavy workwear trousers are seen on all bodies, as are two-in-one tailored herringbone vests and blazers. There's no shortage of denim or leather, either, both used to elevate the everyday through shoppers, oversized buckled belts and what can only be the perfect pair of flared jeans.
"We think it's a challenge, as non-American designers, to see these classic pieces through our own lens," the team says. "The collection is a true mash-up of elements that are deemed 'representative' of Americana like sportswear, denim, the American West, cross-country motorcycling… But also tying in a bit of Ivy League dressing, goth elements and even a slight touch of Harajuku. This eclectic form of expression is very Commission."
Apparently, another thing that's "very Commission" is creating one of the most-buzzed about collections at NYFW, without staging a proper show or presentation. The appointment-only hype is spread by word of mouth like wildfire — that's how you know it's really good. ND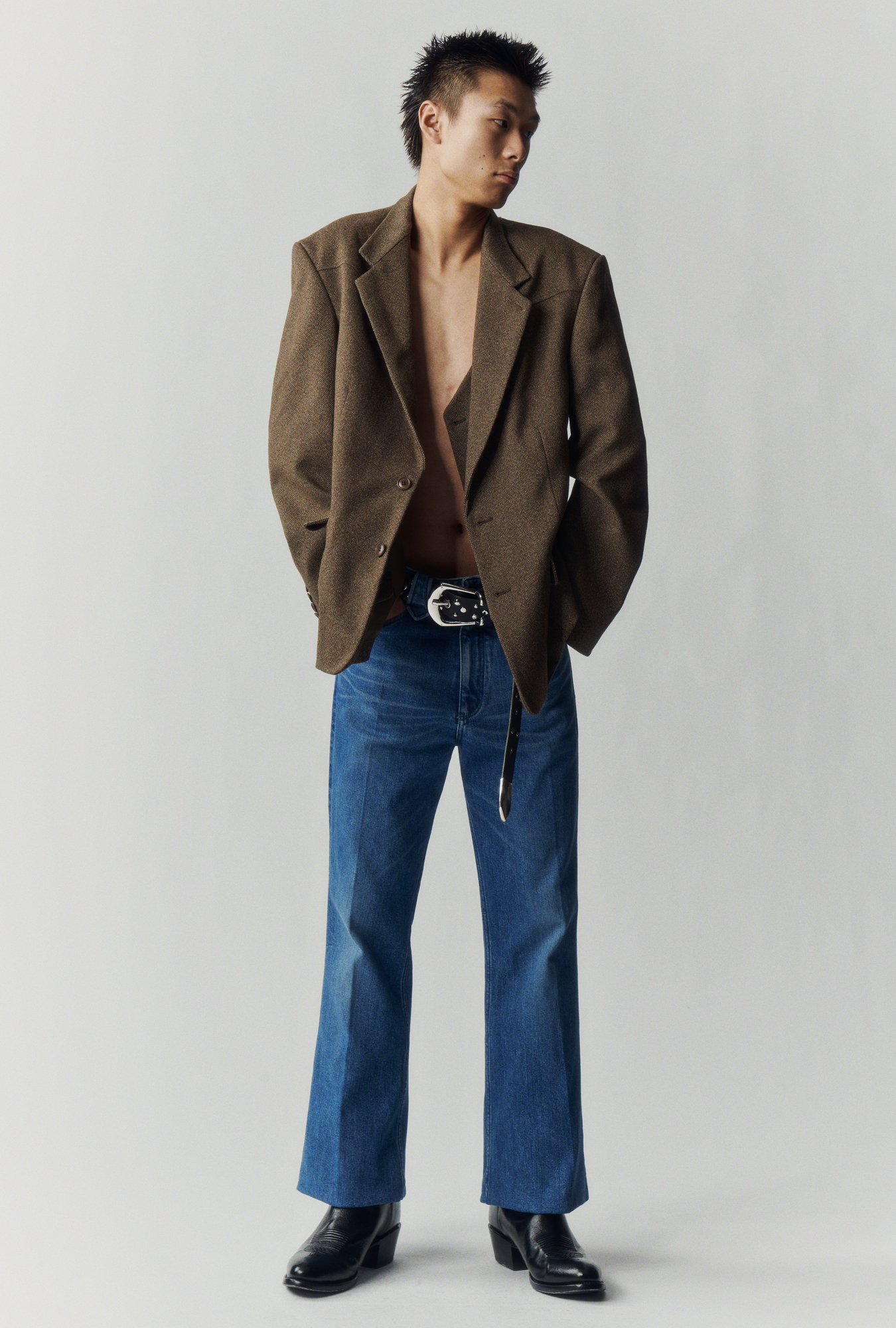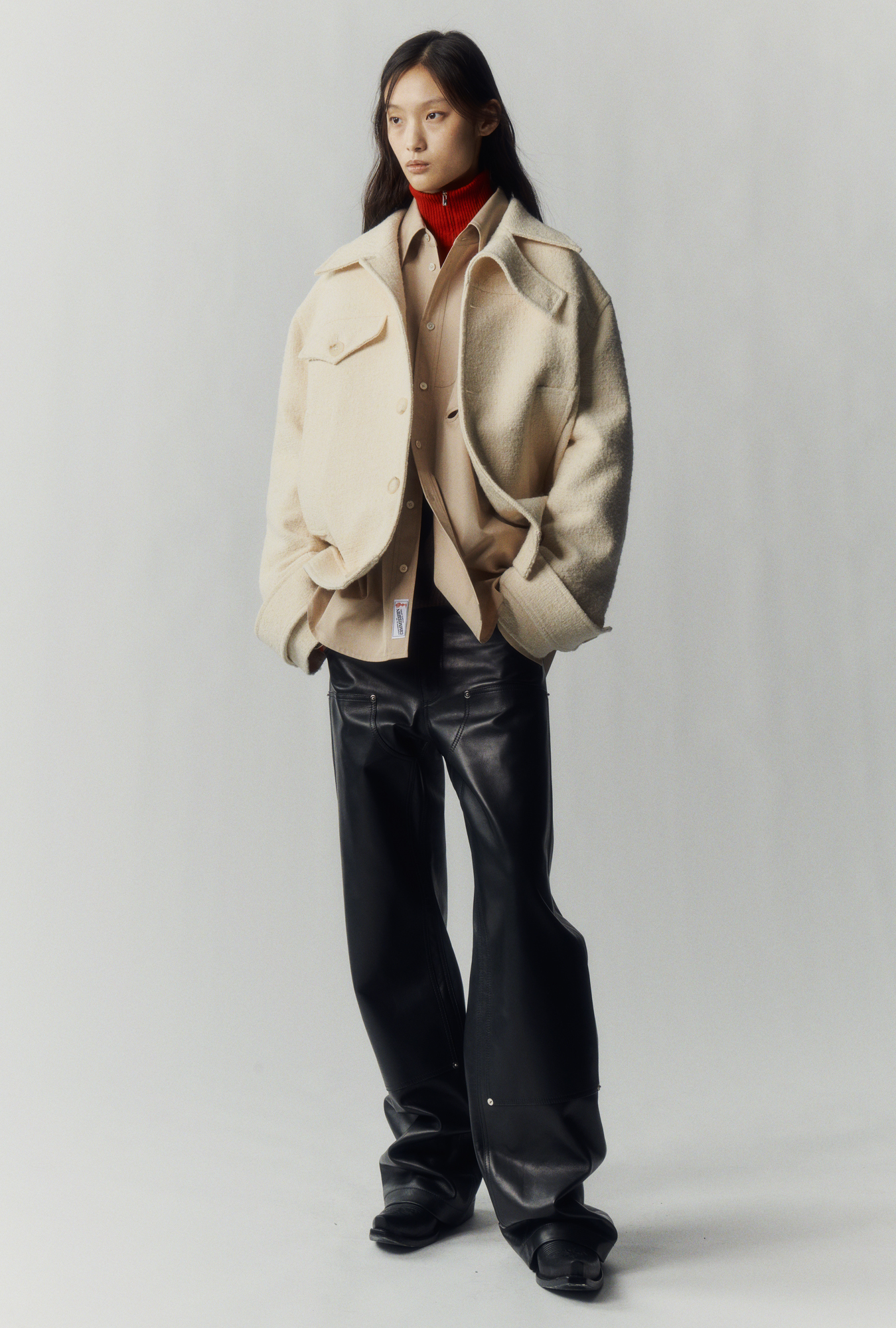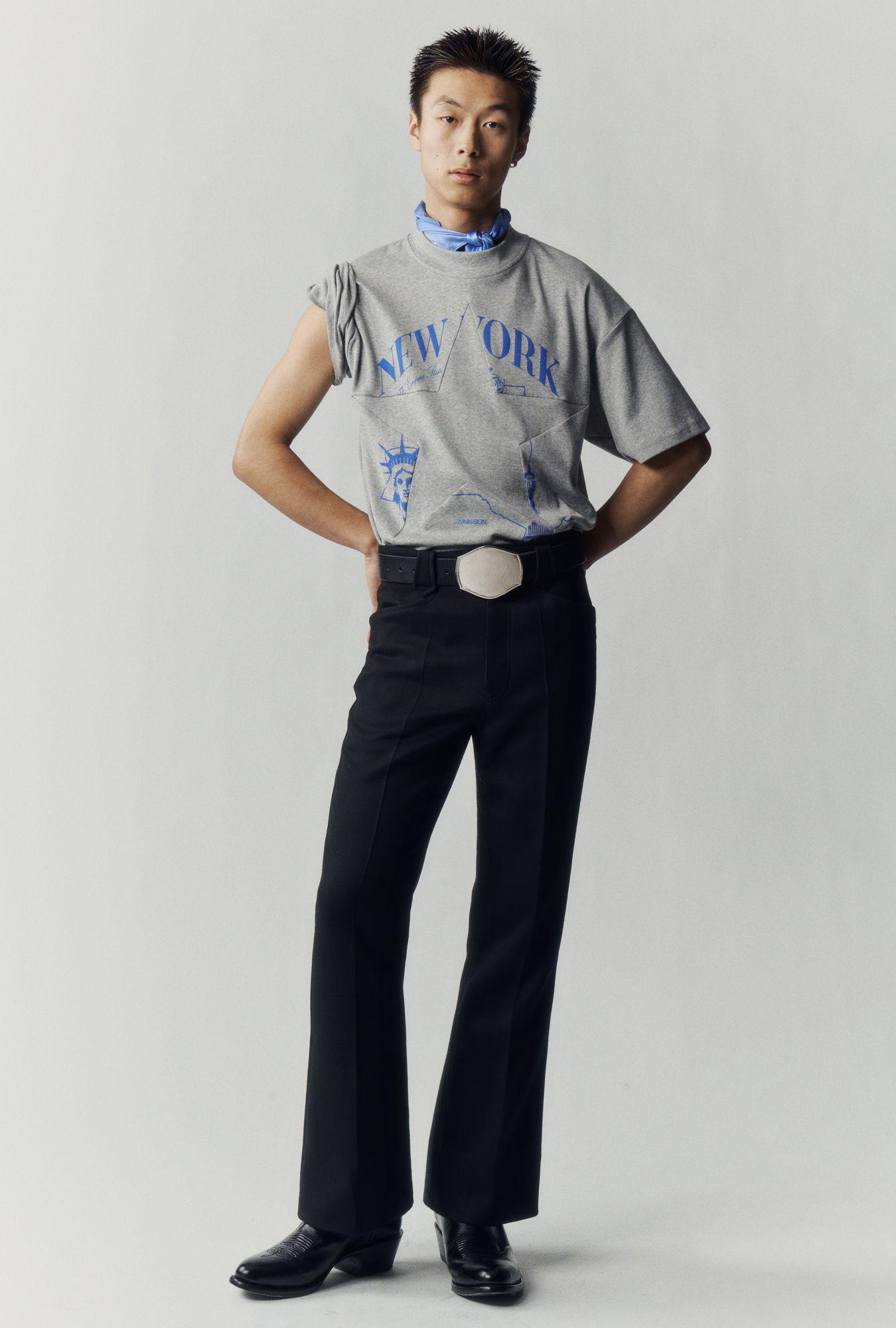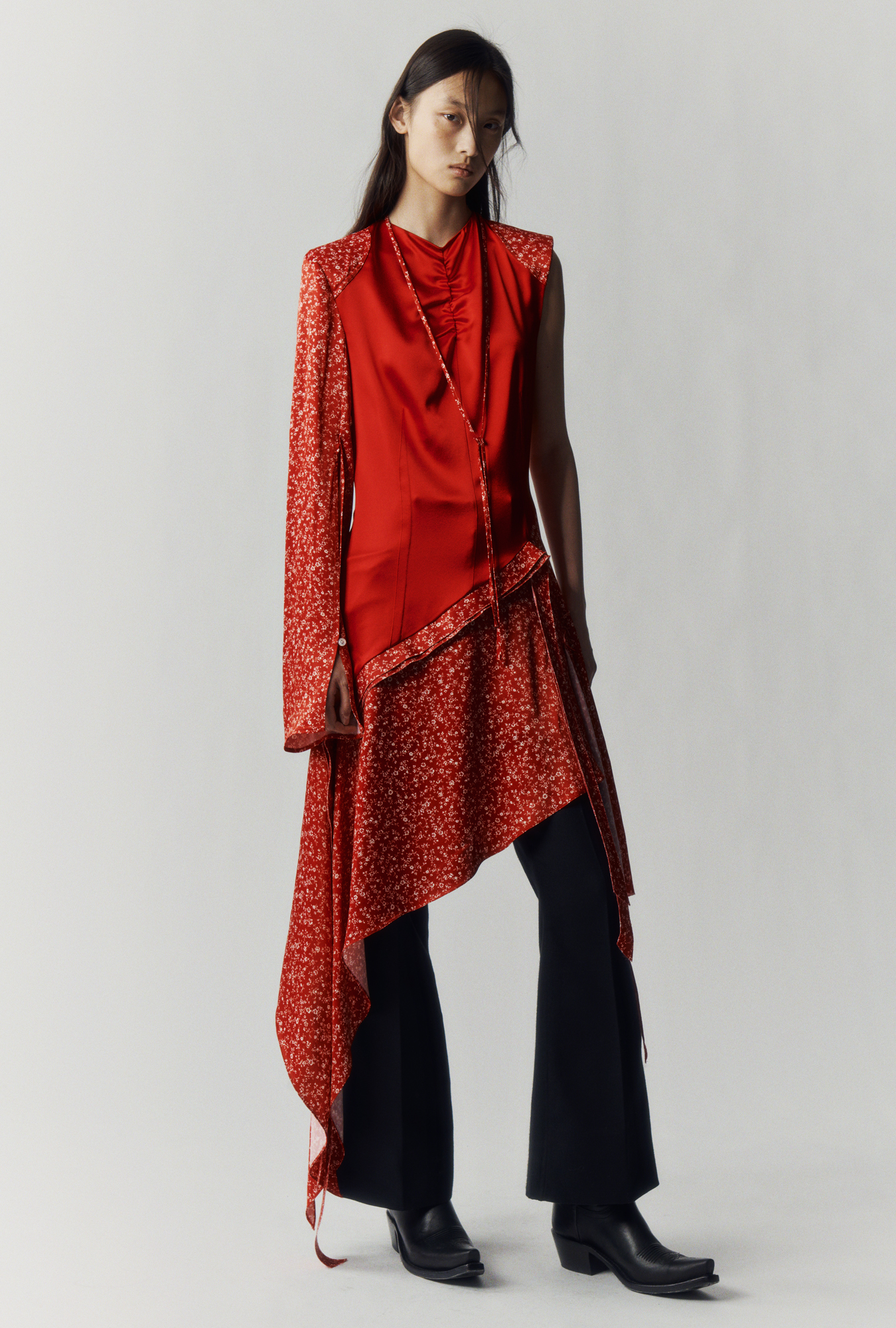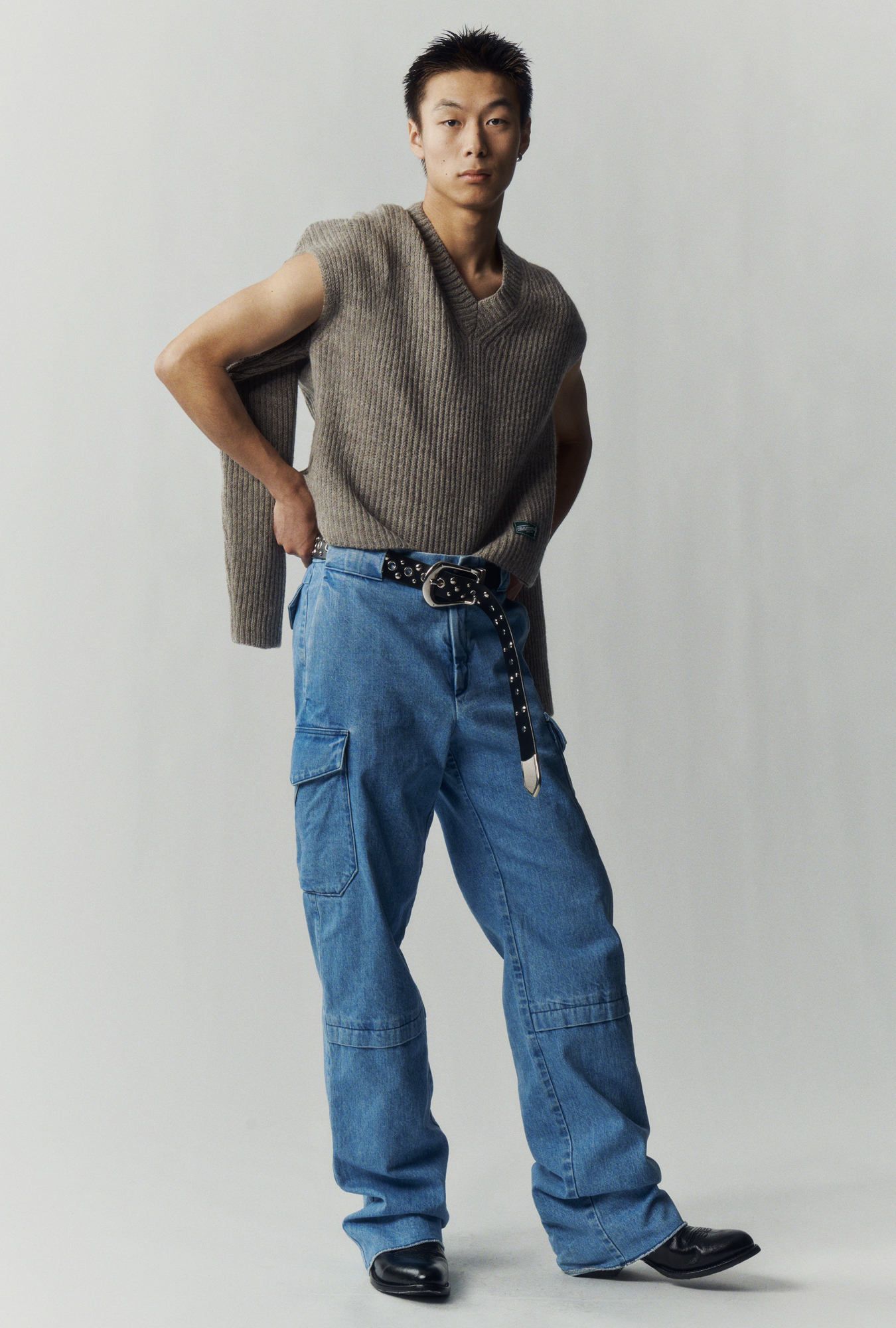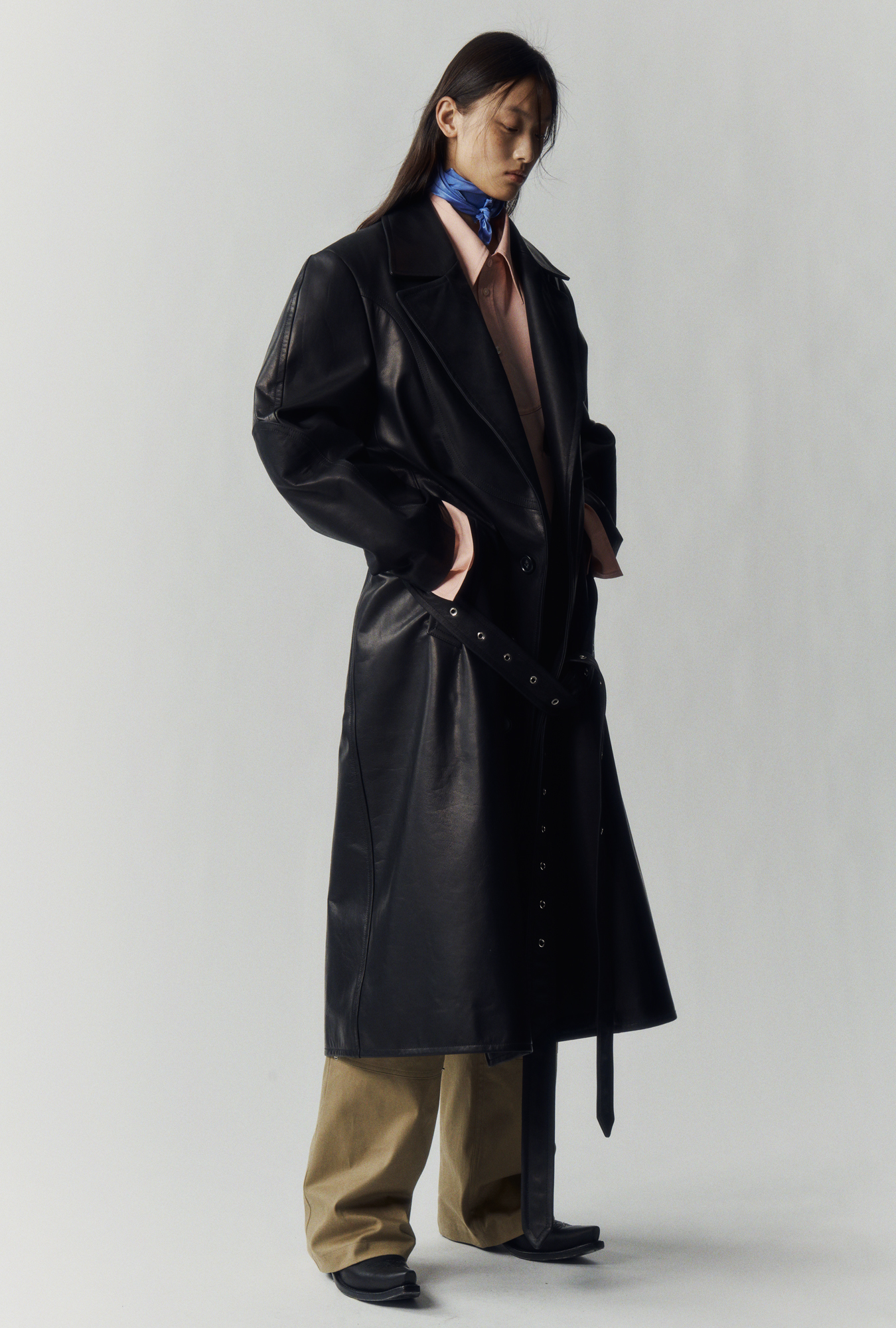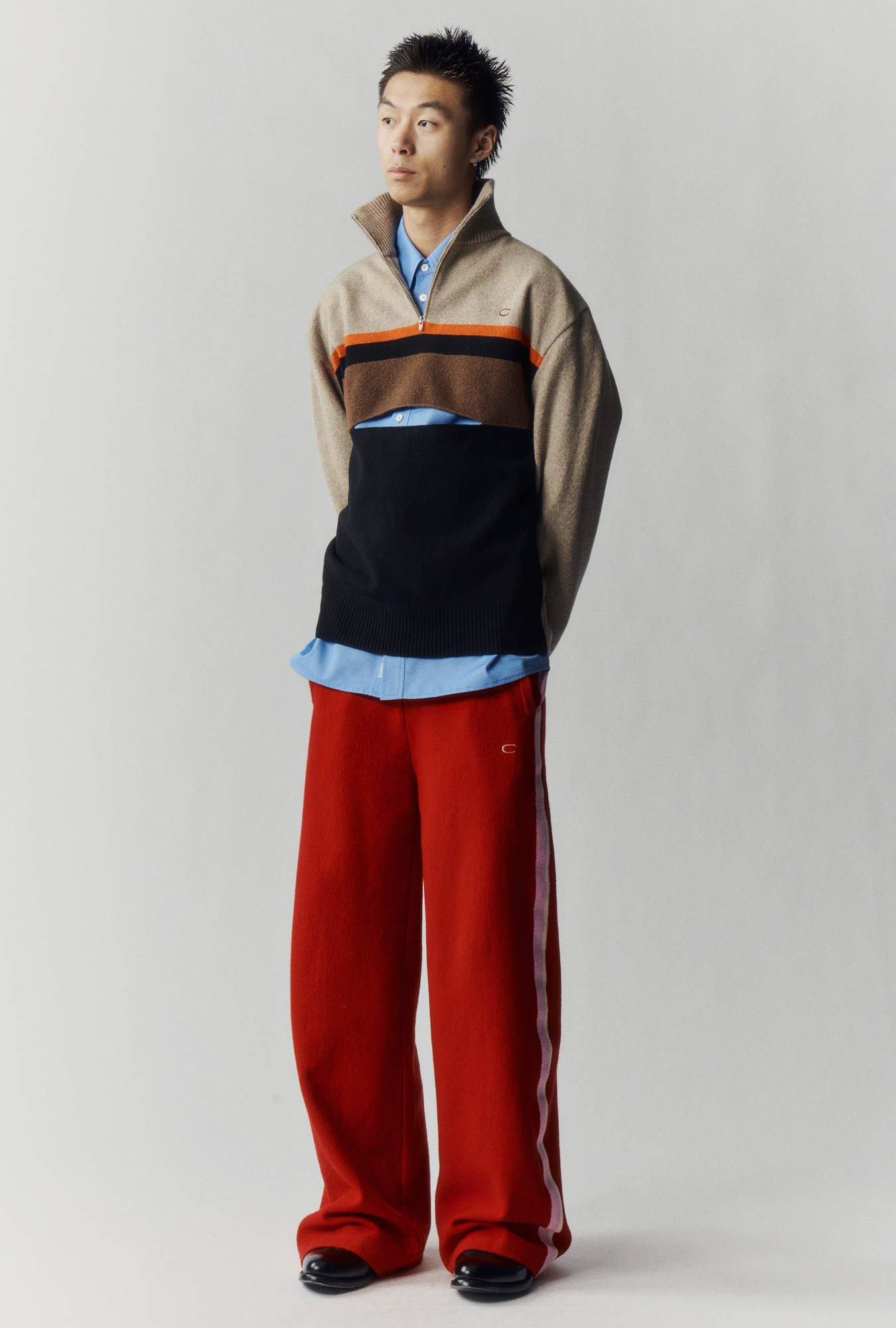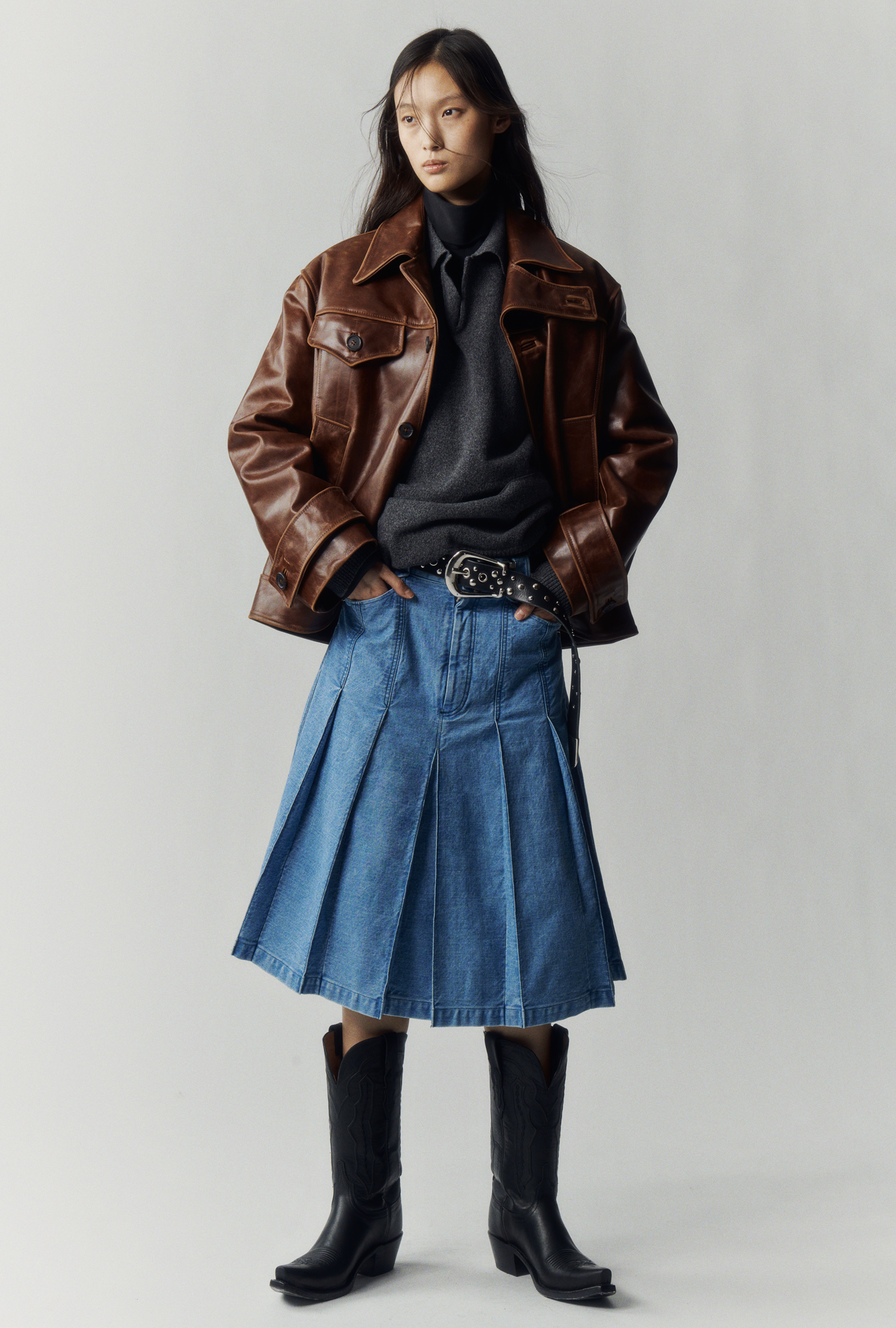 Collina Strada
Collina Strada's Hillary Taymour is no stranger to the experimental. From partnering with the illustrator of Animorphs on transforming her models into four-legged creatures, to consistently exploring innovative ways to produce environmentally sustainable collections, she's historically been interested in bridging the worlds of fashion and nature. This season began on the same note: as the audience filed into the Angelika theater to see her AW22 collection, footage of horses chomping grass, giraffes playing, ladybugs making love and parrots grooming one another played in the place of what might normally be a video of dancing popcorn.
The showcase then went in a different direction — playing out as an episode of The Collinas, a silly parody of The Hills starring Tommy Dorfman, Kimberly Drew, Aaron Phillip, Chloe Wise, Rowan Blanchard and many others from Hillary's social world. Tommy Dorfman was The Collinas answer to Lauren Conrad, fumbling through an internship at the brand, and learning the hard way the subtle do's and don't's of New York's downtown fashion scene. Don't take sneaky pics of models on set, and whatever you do don't eat a pastrami sandwich at company lunch. Do buy a sustainable Collina Strada water bottle!!
The self-deprecating jokes and cute antics of Tommy's journey were accentuated right and left with looks from the collection, most of which were most visible during the reality-TV-esque interstitials introducing each new character. The thematic homage to the aughts was reflected in the clothes, from varsity graphic tees and low-rise cargo pants to spiked grommet belts worn in multiples, and trousers or leggings worn under skirts. Tanks were layered on top of dresses and mesh tops, and fingerless gloves accentuated nearly every look. There was even more vintage shape on display, shown in bustled dresses that first made their debut last season. Honestly, if you're reading this Netflix, you should consider picking up episode two of The Collinas. We're here for it. AT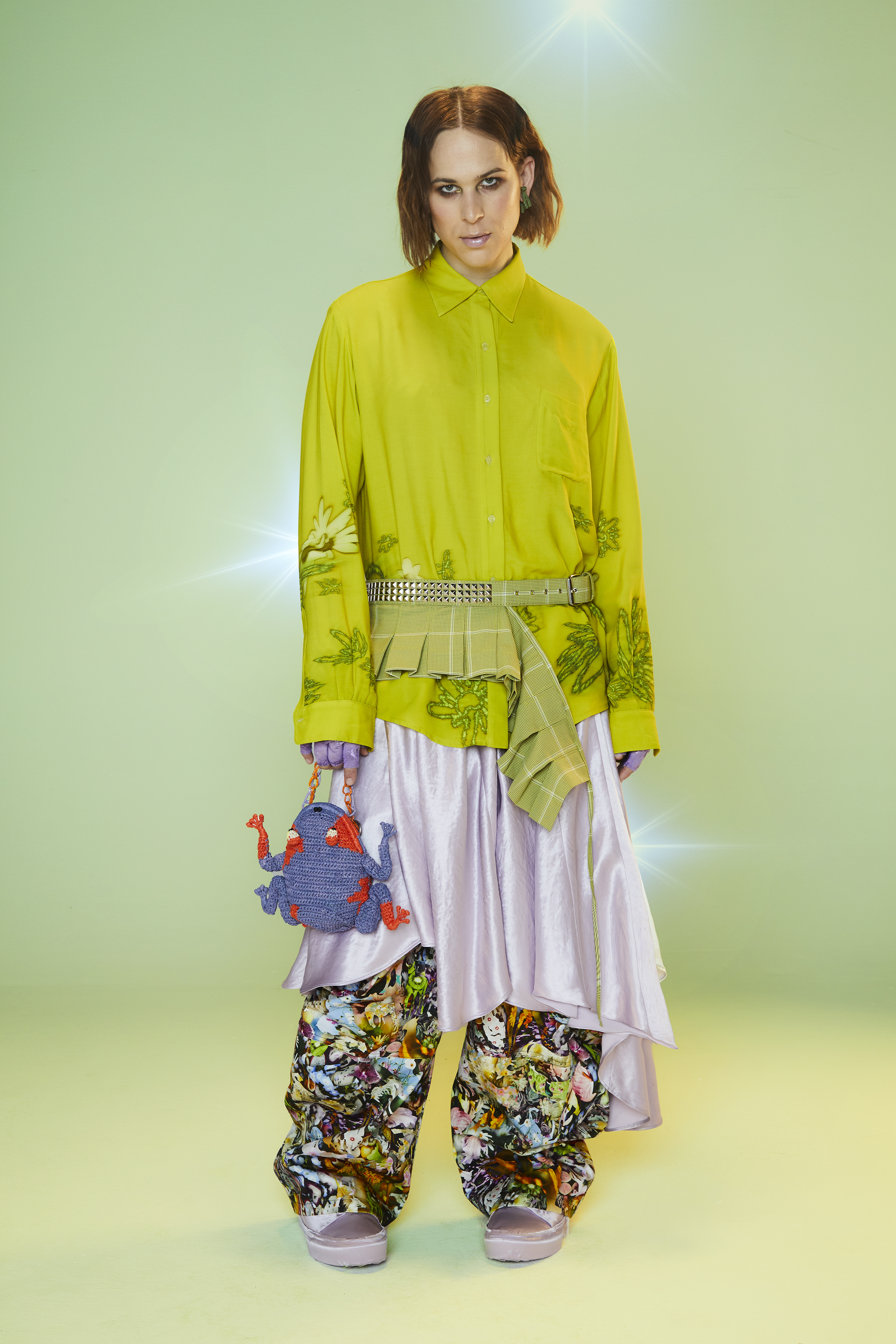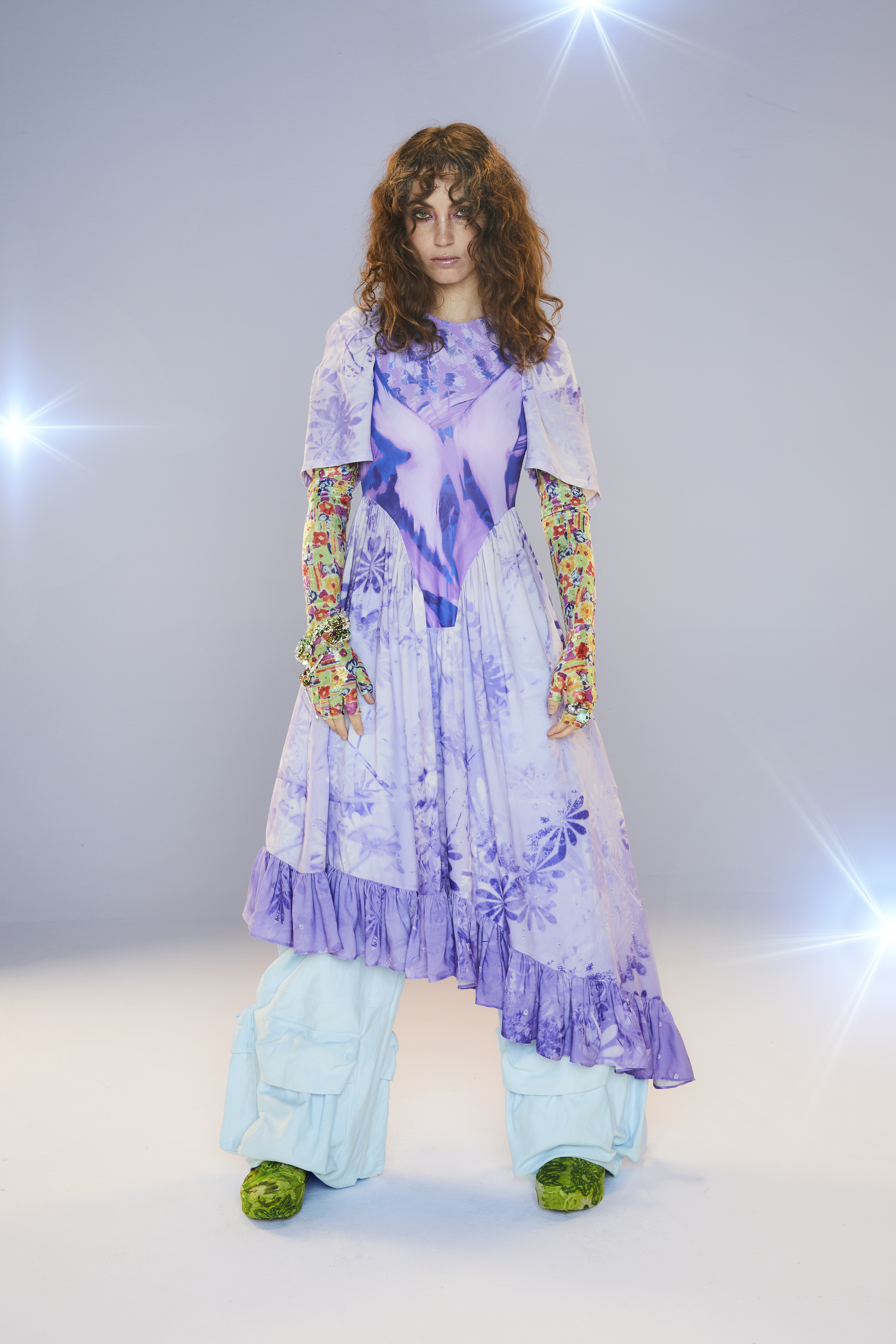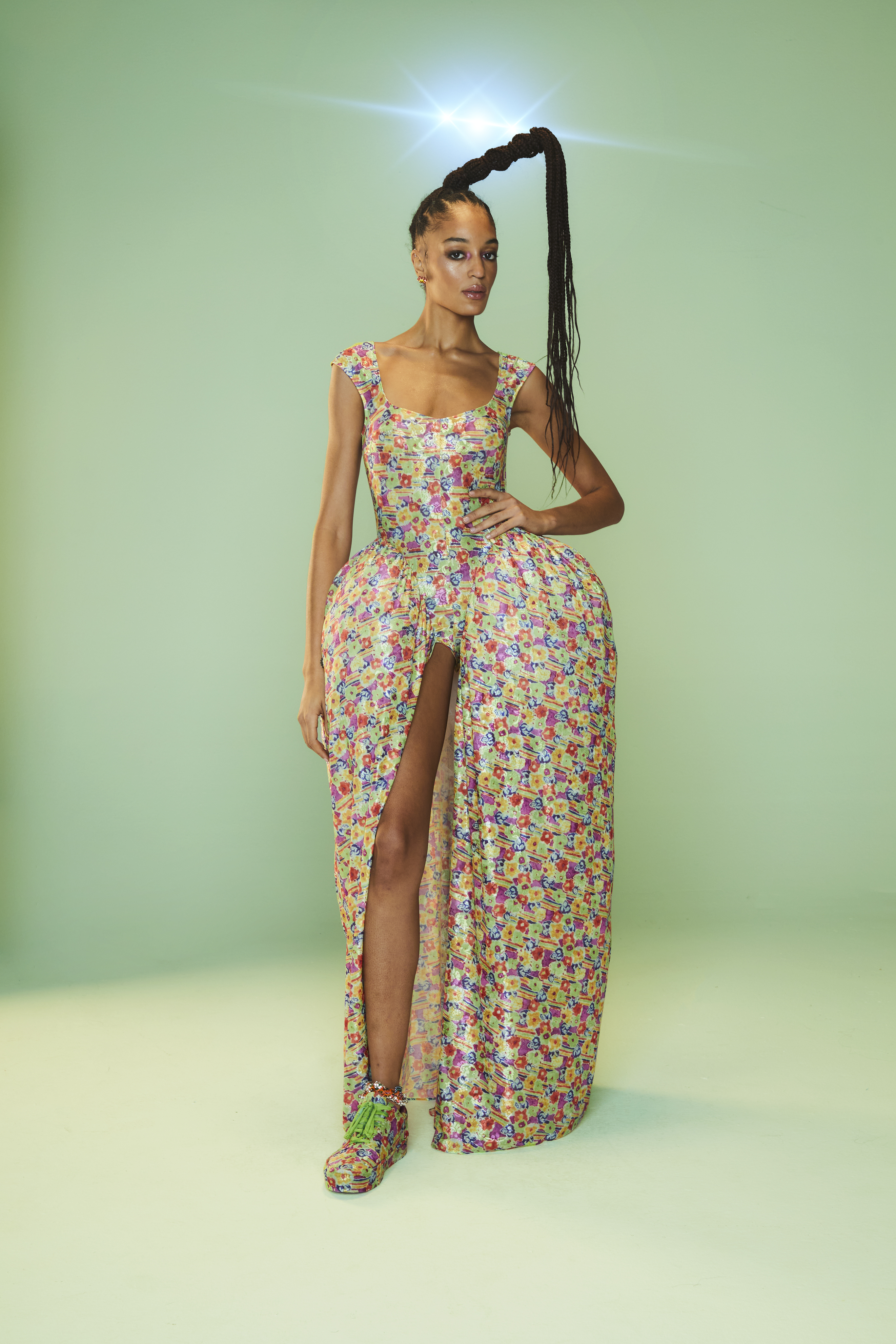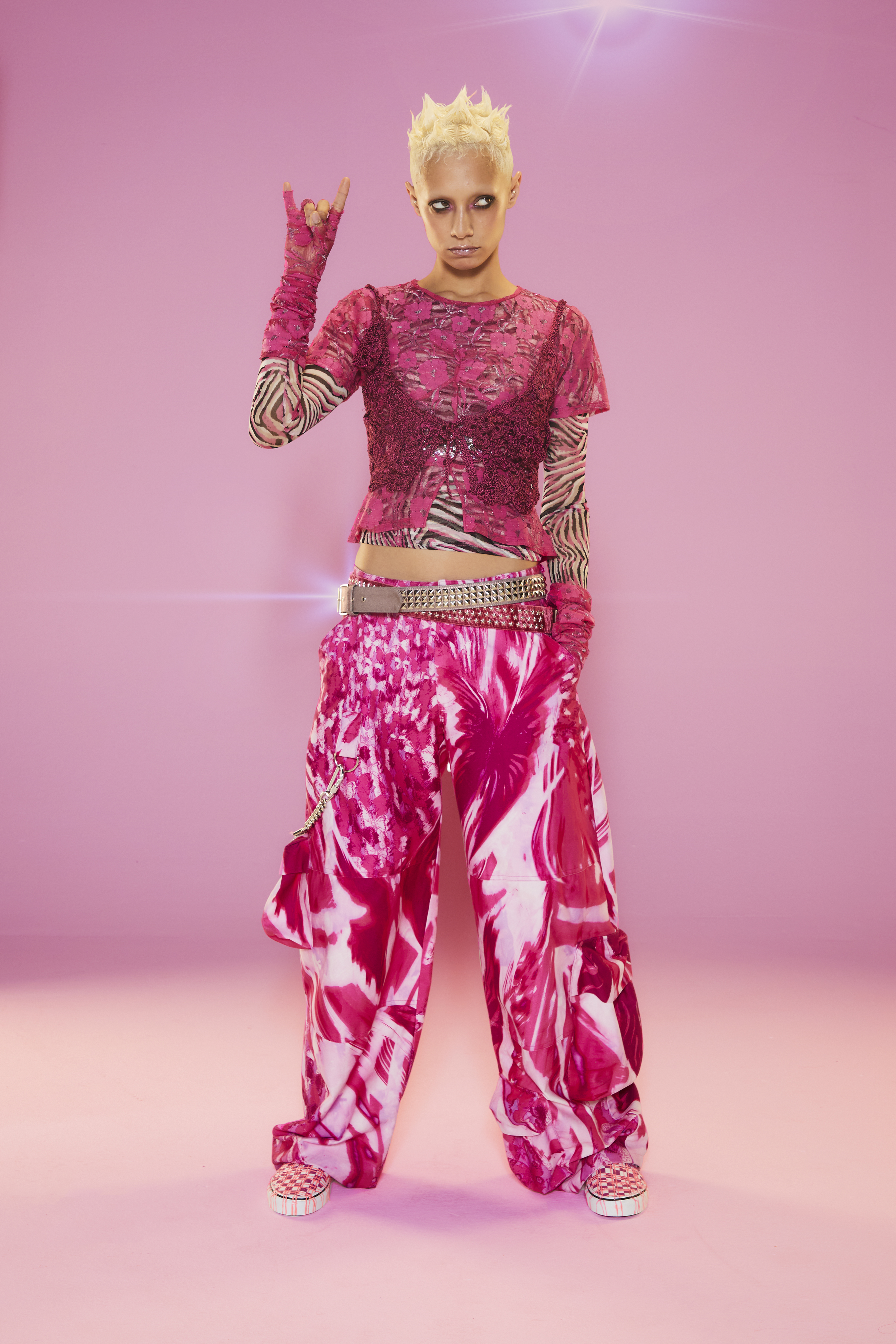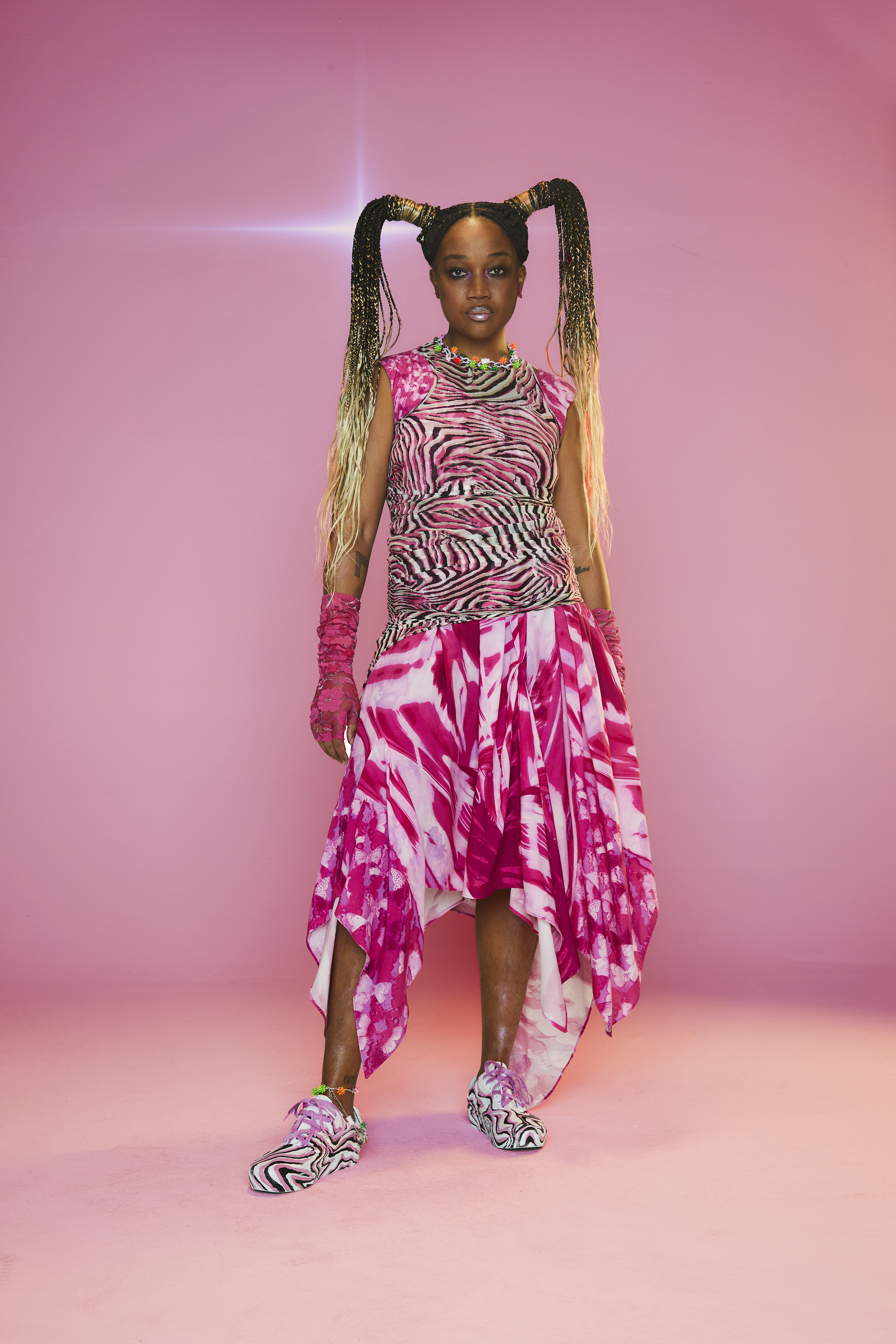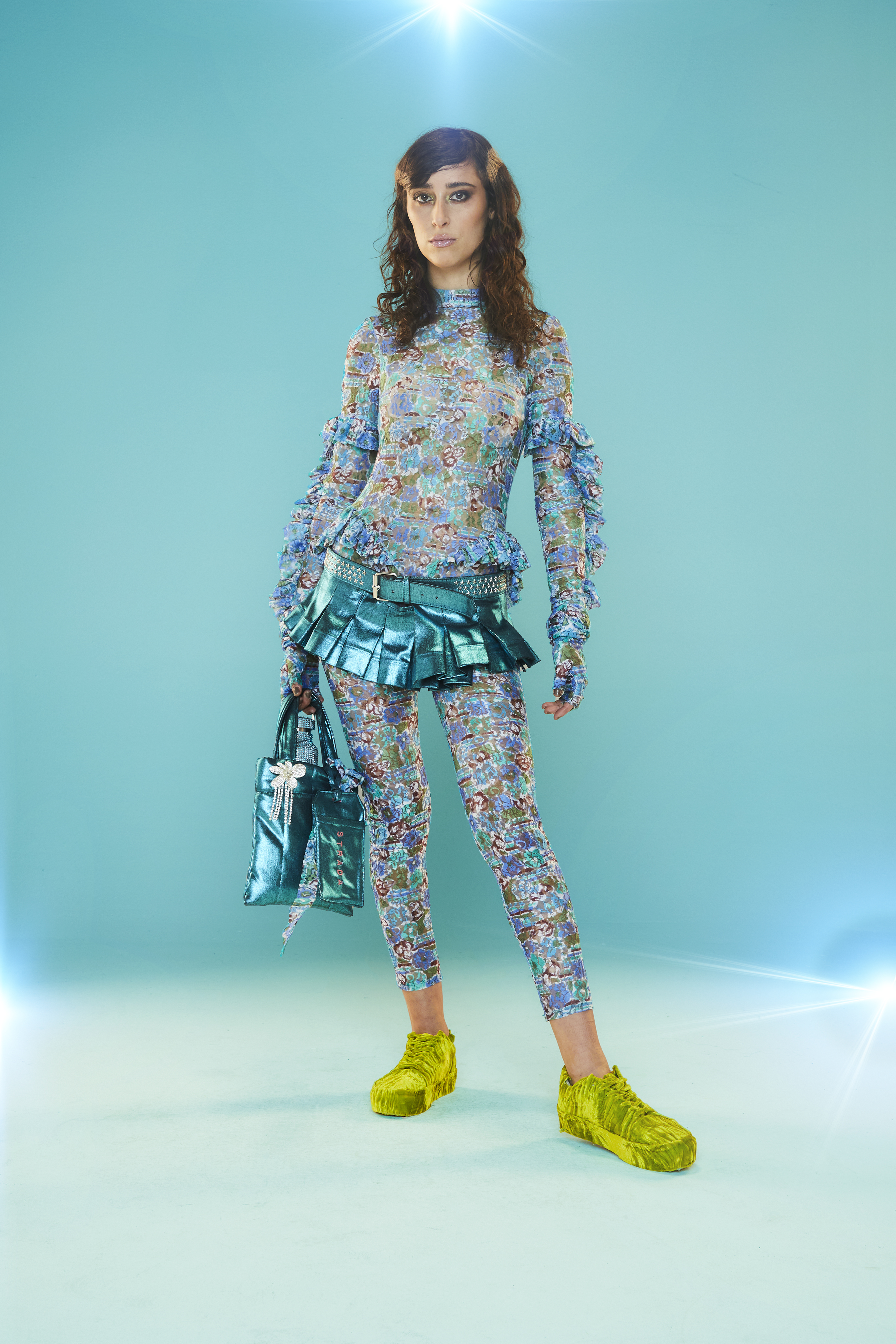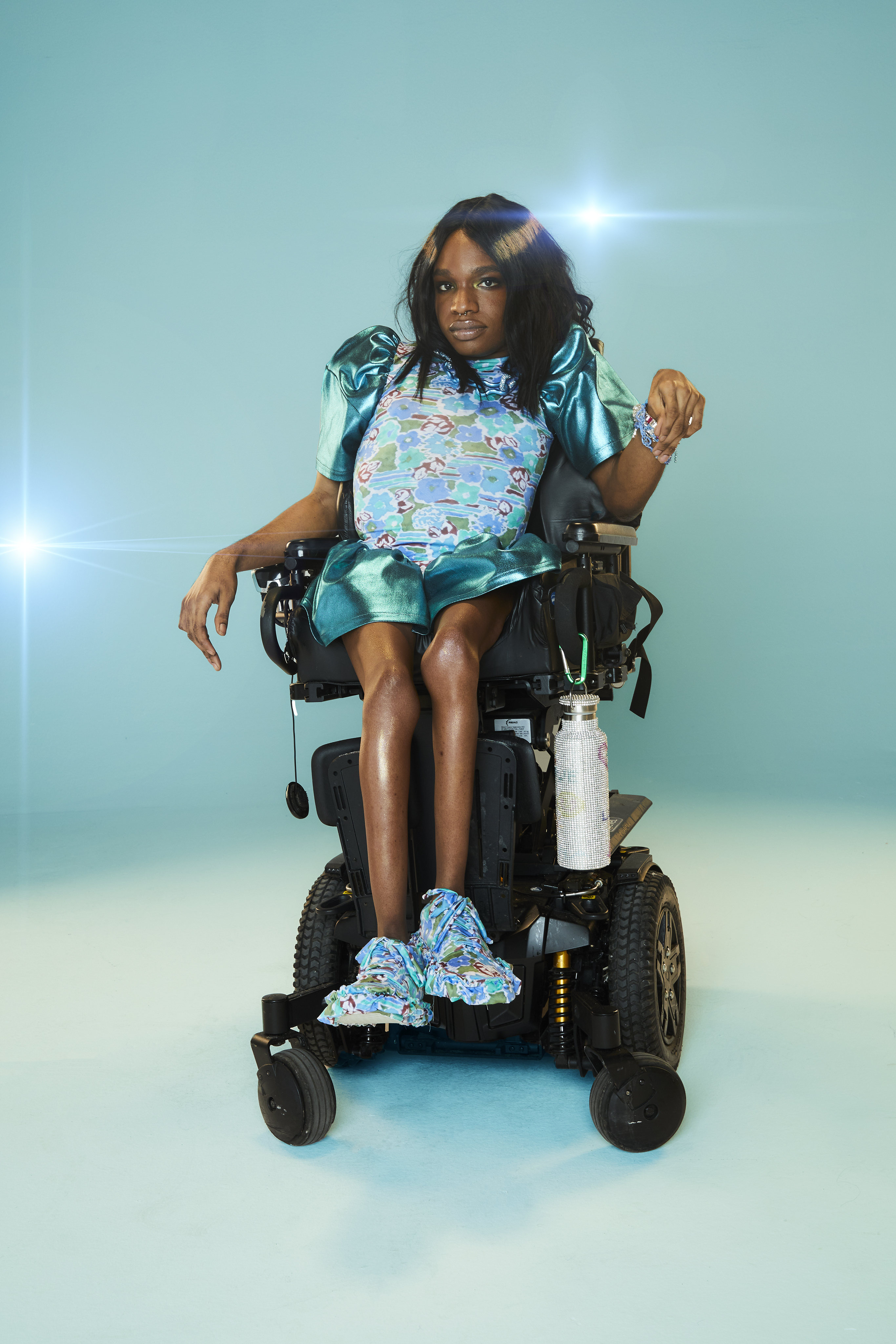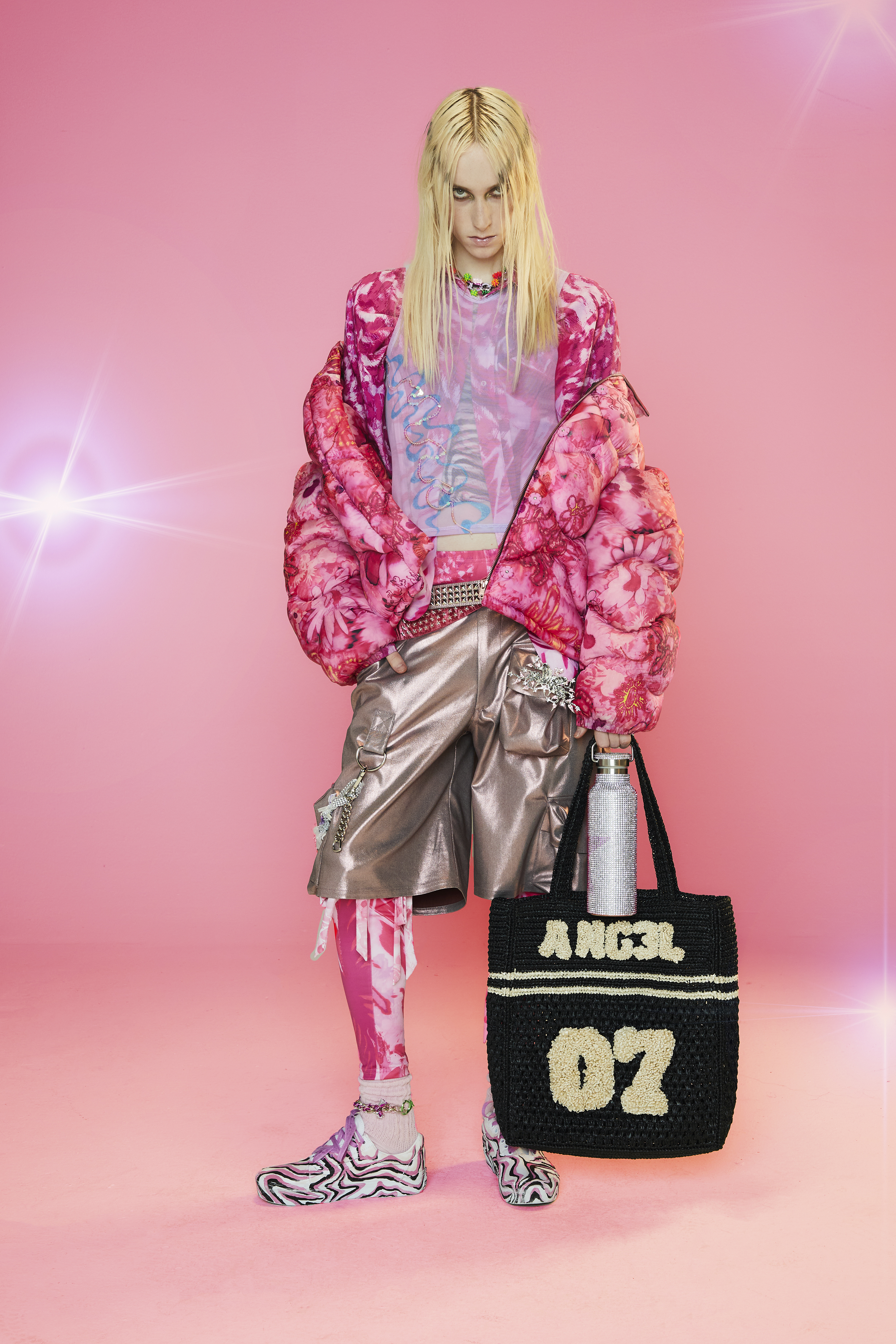 Gogo Graham
On Tuesday night, Gogo Graham transformed the outdoor patio of Brooklyn nightclub Nowadays into a playground to present her AW22 collection. Small, yurt-like tents were set up for hair and makeup, and the models — all of them trans and self-cast from Gogo's creative community — crammed inside fully-dressed before walking down the runway. Euphoria actress and model Hunter Schafer, who not only closed the show but sponsored it, captured the silly and joyful moment on her Instagram: "The dolls are dolling," she wrote.
Both trailblazers in their respective fields, Gogo and Hunter met a few years ago, on the set of a Vogue video shoot, and have since become good friends. The California-born and Brooklyn-based designer is known for her fantastical runway shows — an off-schedule staple at New York Fashion Week for over ten seasons now — but also her long-standing commitment to diversifying fashion: "representation of trans women by trans women," she told us in 2015. Hunter is certainly no stranger to the fashion world, but it was Gogo's prescient vision and unique aesthetic that made her want to support the label.
"Honestly, who else is exclusively using trans models to present their work? She's been doing it from the jump," Hunter says, explaining that Gogo is an inspiration to many who feel excluded from the industry. "That is world-building that I crave, and I imagine most of my community craves as well. It's nothing short of magic to see that in fashion right now."
This magic is instilled in Gogo's clothing, too. When the designer set out to create her latest collection, Home, Sweet, Home, the isolation that we've all experienced over the past two years was front of mind, as well as the things we've found comfort in — cosy at-home clothing, cheesy rom coms, et al. — and the way our current reality often feels surreal. "I like to make some kind of fantasy, always, with my collections," Gogo says, a few hours before her show. "[This season] the fantasy is everyday and ordinary because things are so not ordinary right now, but it's like we're supposed to be pretending it is." Read our full feature on the Gogo x Hunter here! ND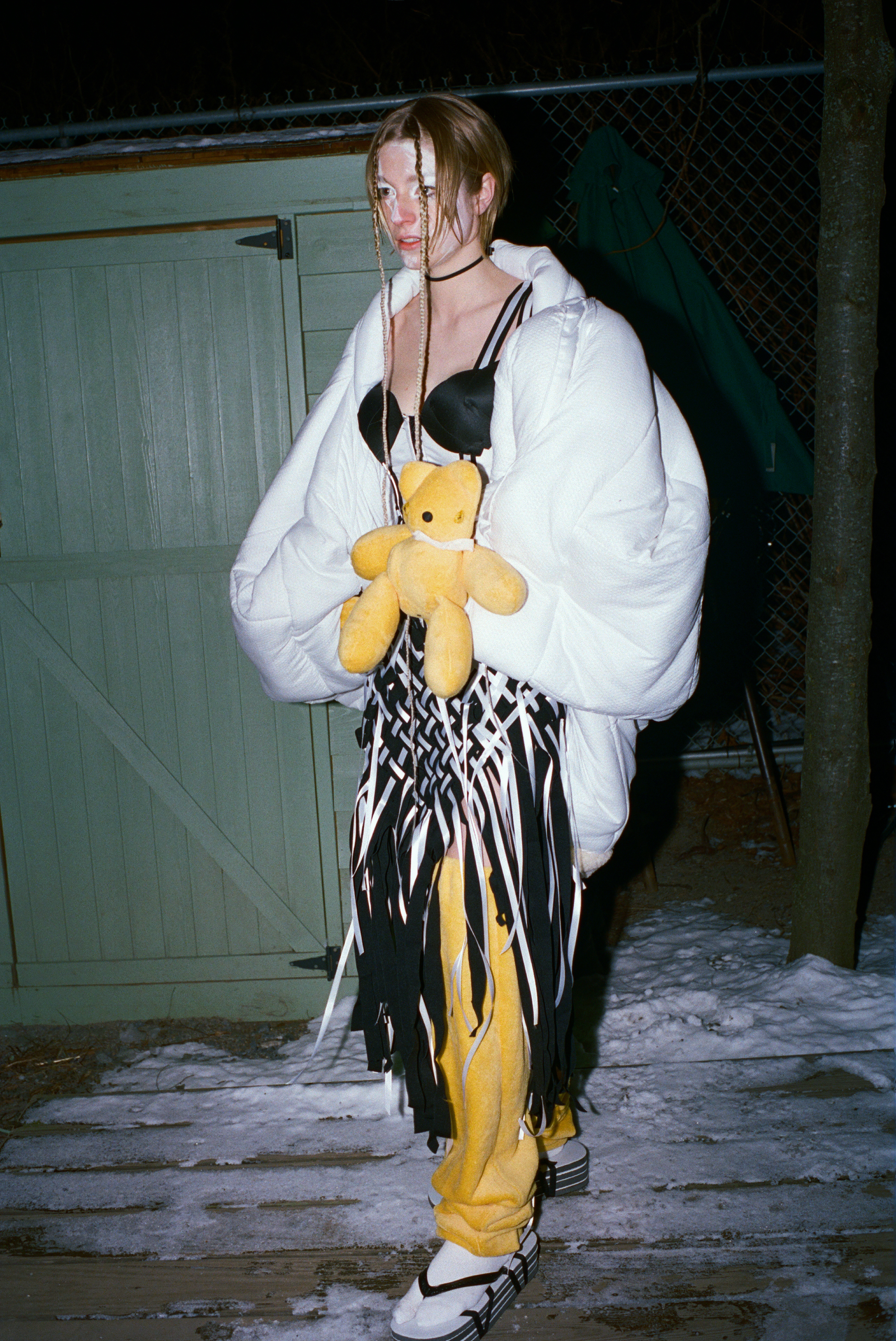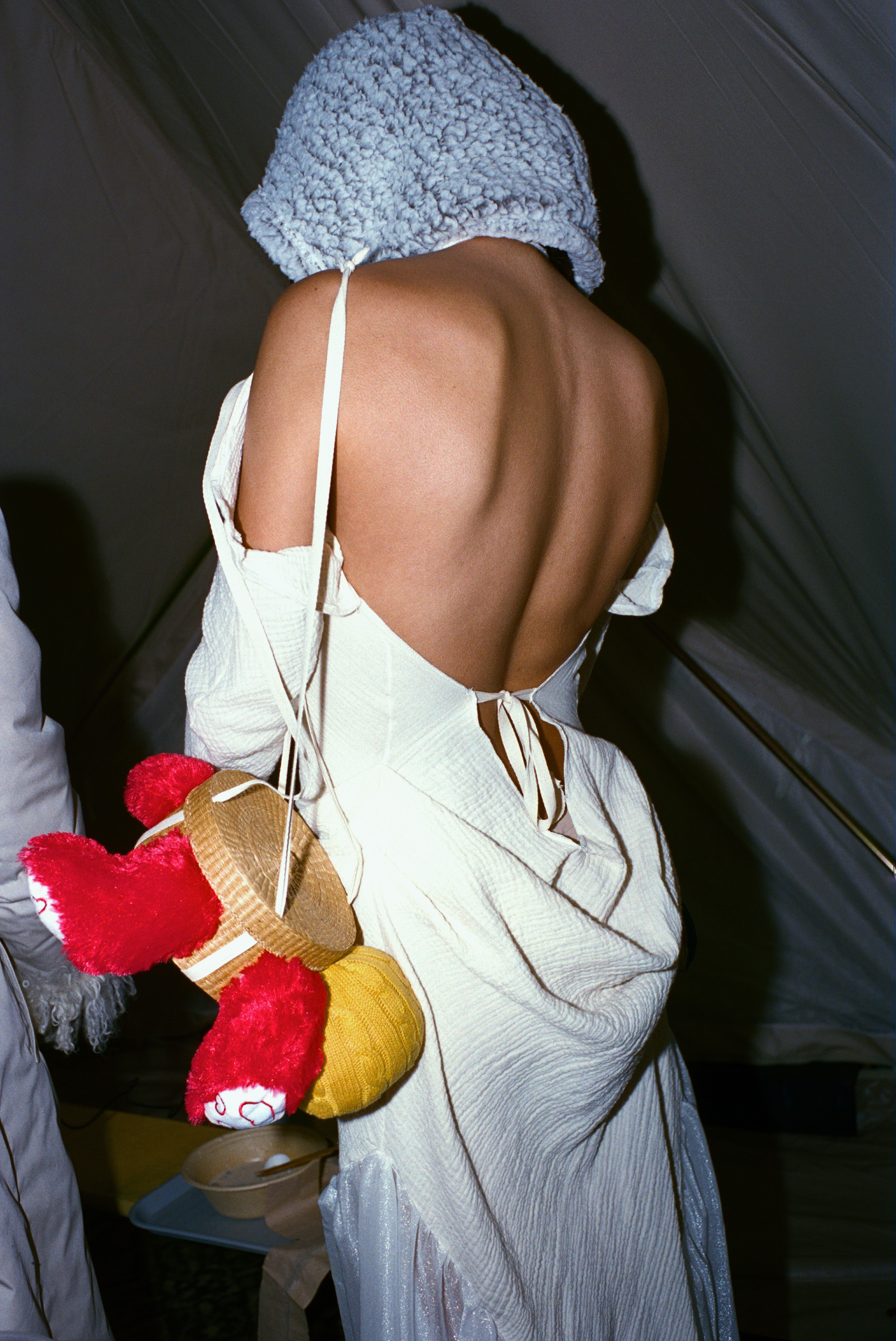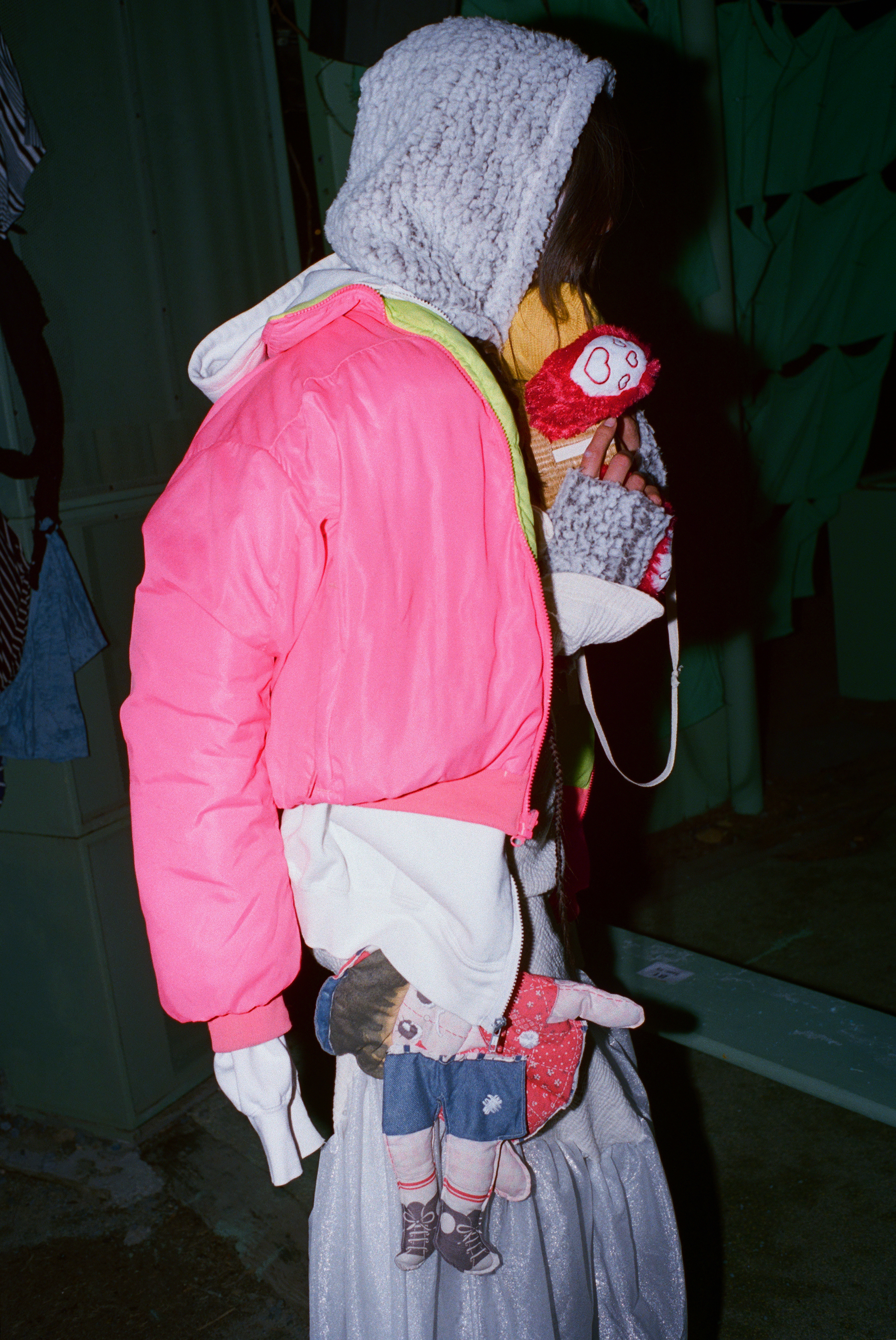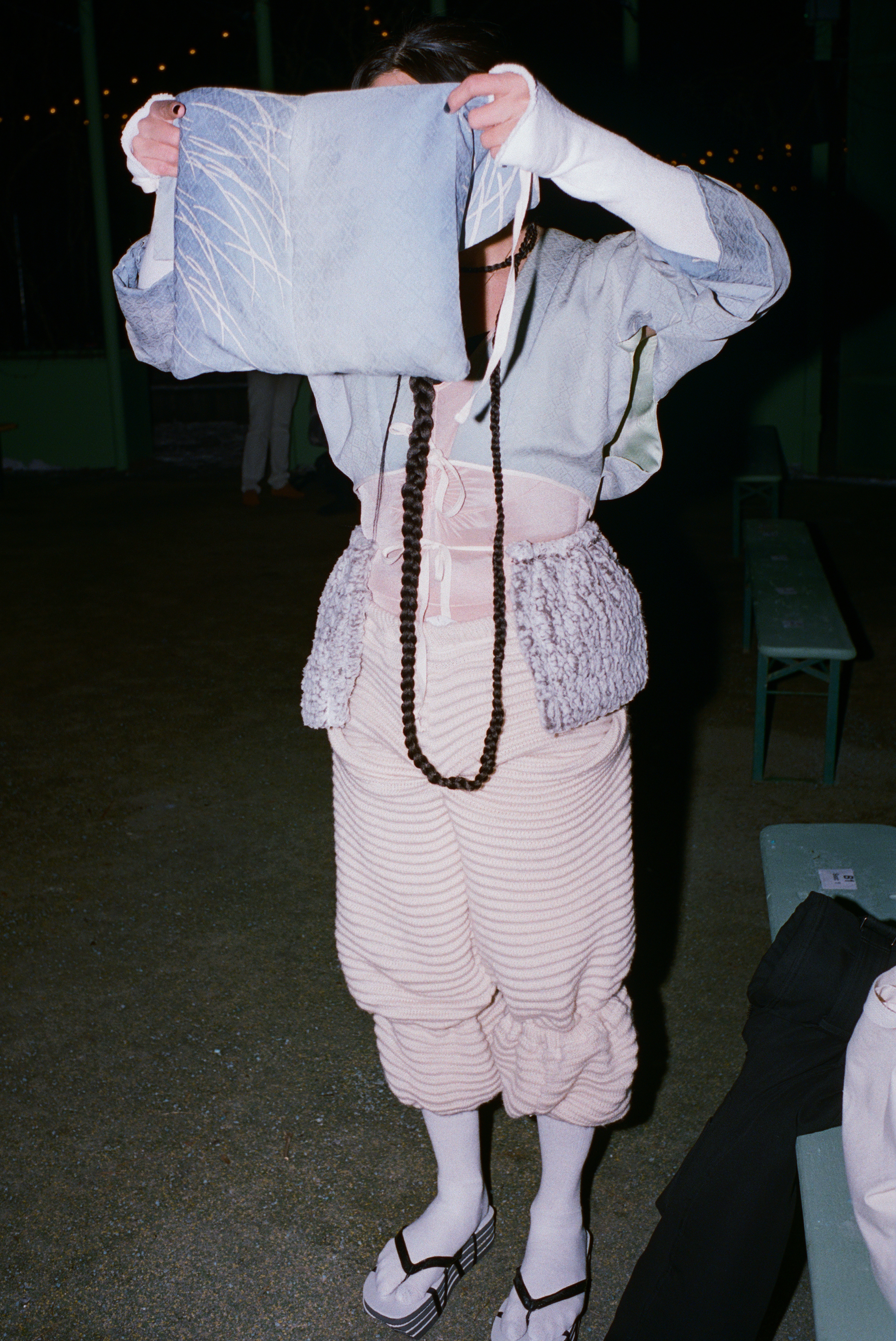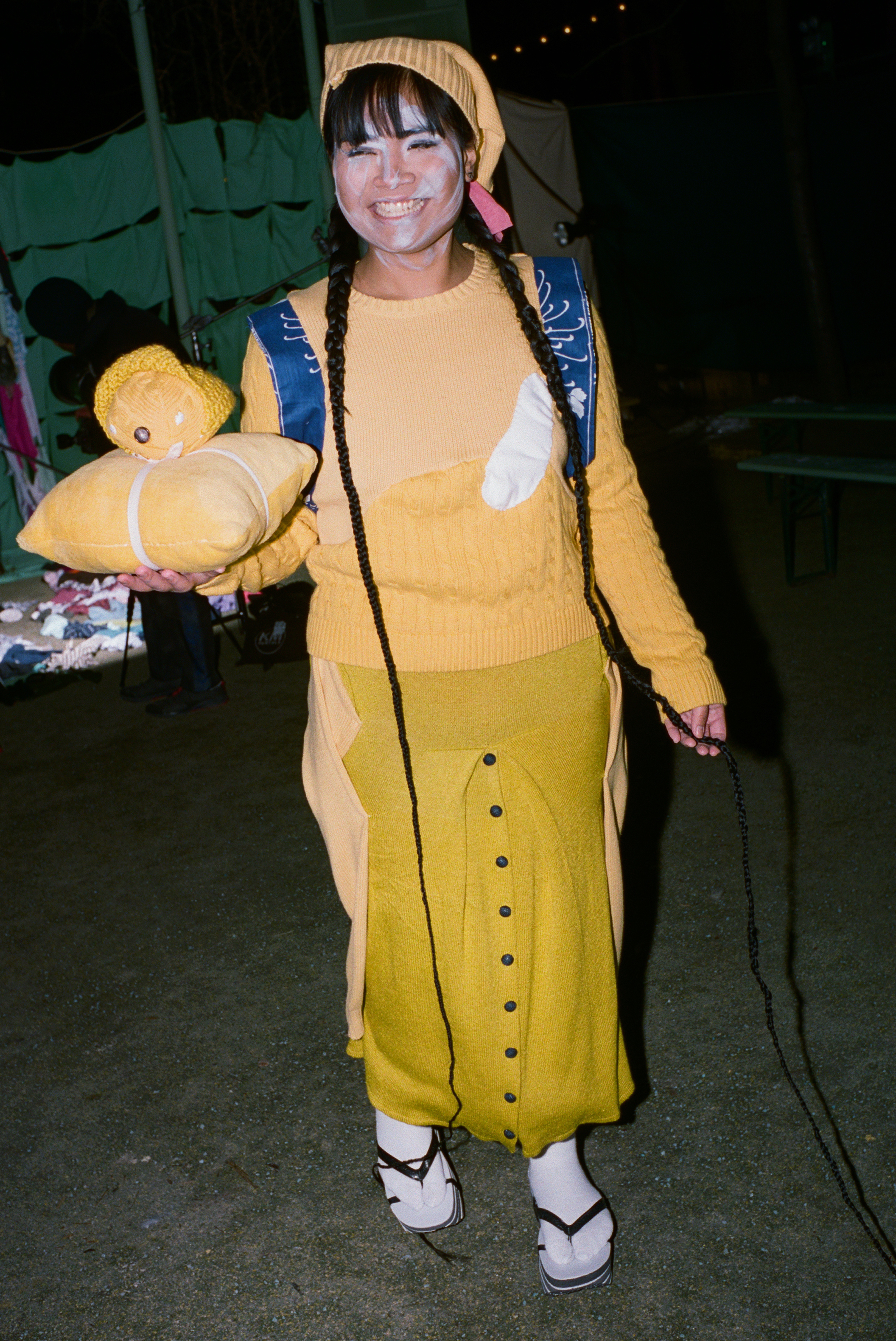 Peter Do
Peter Do is done with the past. That may sound like a stern about-turn from the mood that coloured his namesake label's SS22 show, a rumination on its stratospheric rise to becoming one of New York Fashion Week's young flagships, and nostalgic memories of family pho-making rituals and lost loved ones. For AW22, however, the designer's sights are set firmly ahead. "I wanted to cement last season as a moment of arrival," Peter said in a pre-show preview. "With this collection, though, I'm thinking about the future. I'm not looking backward."
Titled 'Foundation', the collection essentially serves as a grounding manifesto – the "preparations for building a house from the ground up," he says – reiterating the signatures that have earned the brand one of the most avid cult followings in fashion right now. Presented against a suite of ambient Rothko-hued giant screens at Genesis House – the New York flagship of the buzzy Korean electric car manufacturer – the show's set was a notable departure from the cinematic romance of the soaring Manhattan skyline that set last season's stage. "It almost feels very Blade Runner," Peter muses.
That techy, neo-noir spirit permeated the clothes themselves. Supplanting last season's blush-hued embroideries, the hand-placed crystals, the swooning contours were hard graphic lines, crisp, collarless pleat-fronted shirts styled with armour-like leather boleros, boxy tailoring in diagonally-placed black and white blocking, and chunky triple-belted waists. "This season was really about presenting who the Peter Do woman is for me," Peter said. There's a strong sense of self to her — a singular point of view." Read the full review here! MS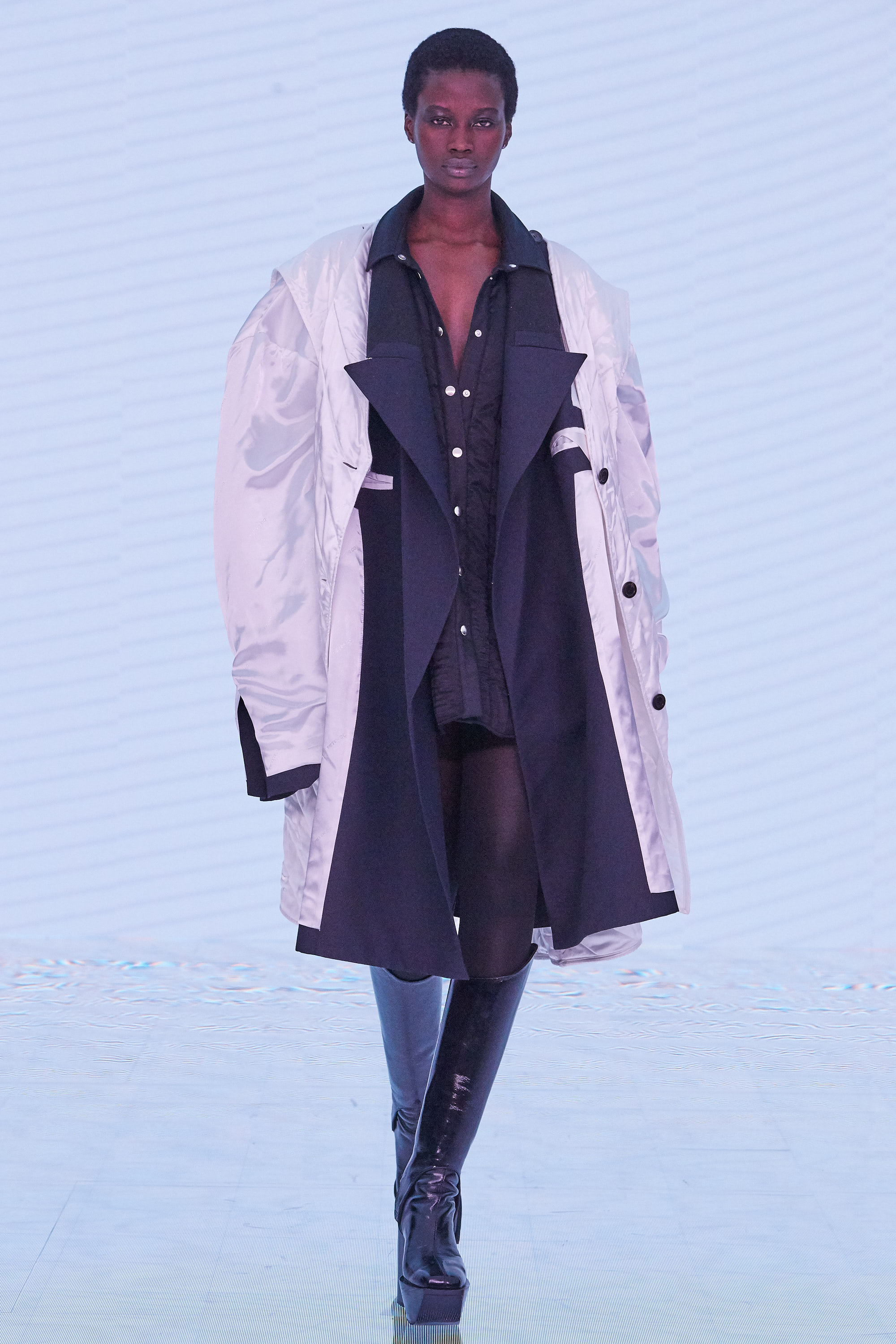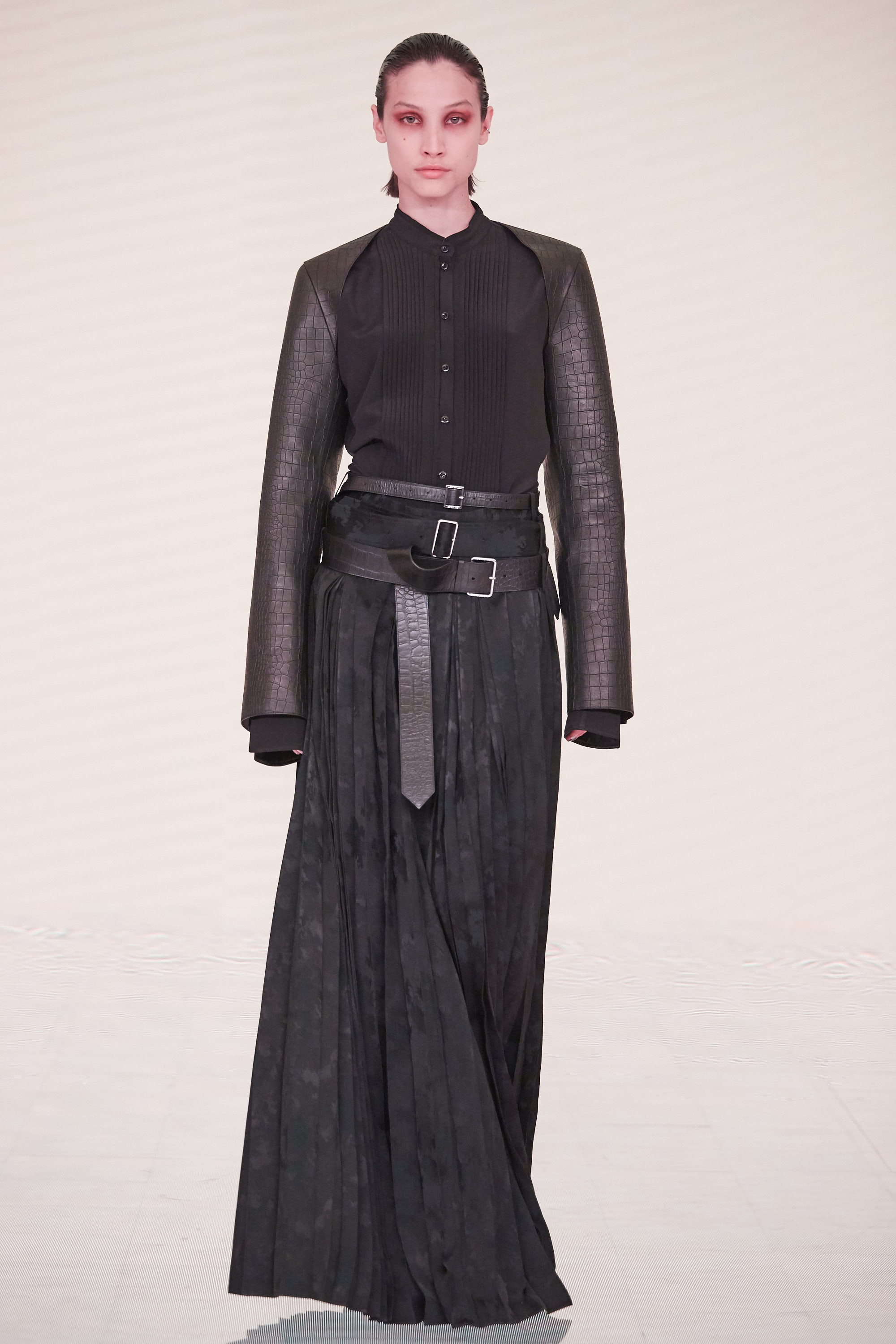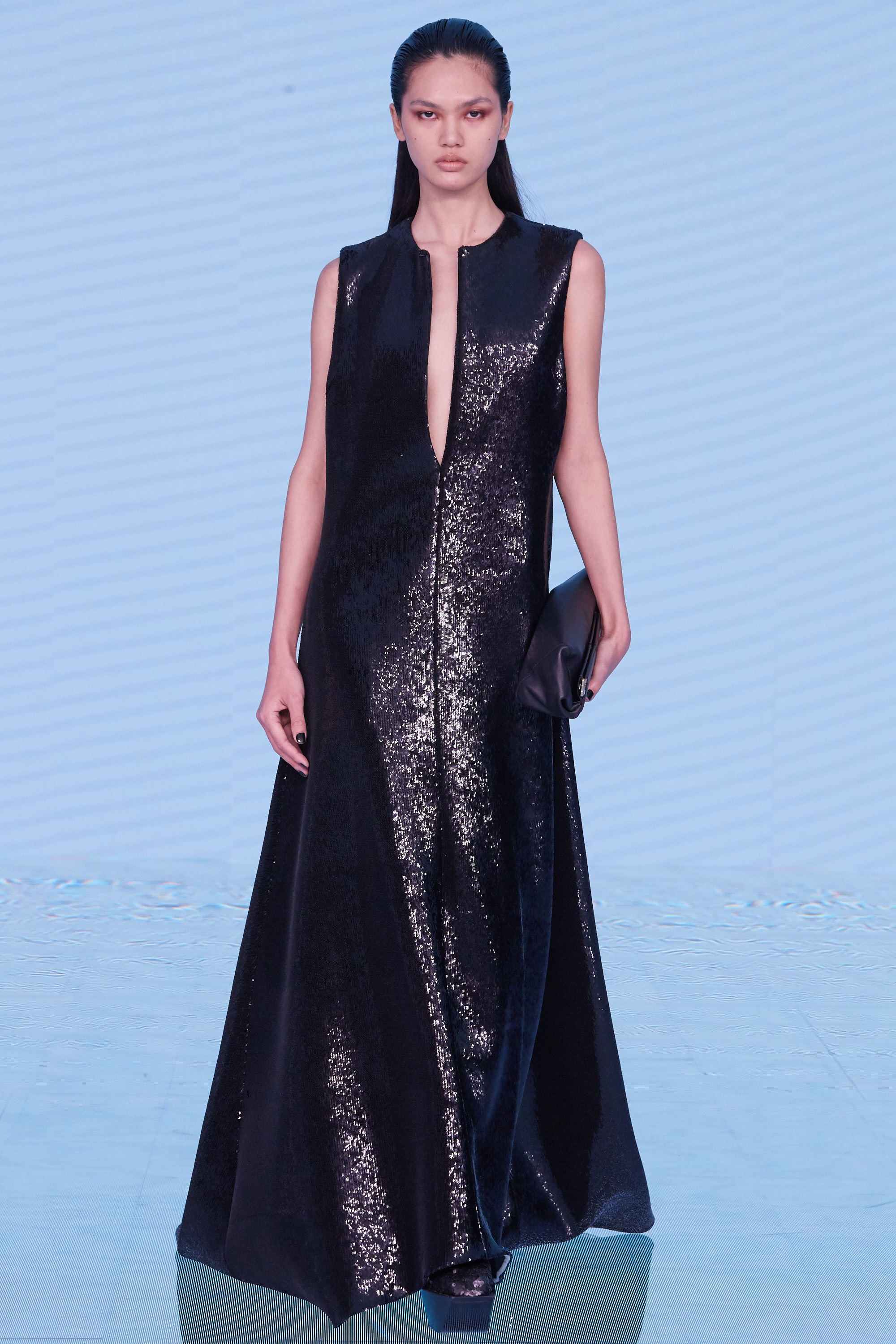 Dion Lee
With his AW22 collection, Dion Lee explored the complexity of the word "Facade." It's an architectural term—a consistent framing logic for the brand, now in its tenth year—while a play of exposure and suppression also probes at the core tensions underlying sexuality, also one of the designer's foundational threads. What is shown, and what is concealed? This season, plush shearling served to hide and reveal, trimming several pieces from oversized leather coats, to little motorcycle jackets paired with mini-skirts and mesh, gloves worn with matching corsets, and furry open-toe boots. Heavy, cut-out knits bared the shoulders, chests, elbows, and obliques, snaking around models wrists as they slipped their hands into trousers. There was a conversation between leather and lace, each working to dominate the other, alongside hooded outerwear and balaclavas that sometimes obscured the face, and sometimes did not. Bright, almost iridescent fabrics set a metatverse-y mood, evoking questions of what it means to be present without really being there at all. AT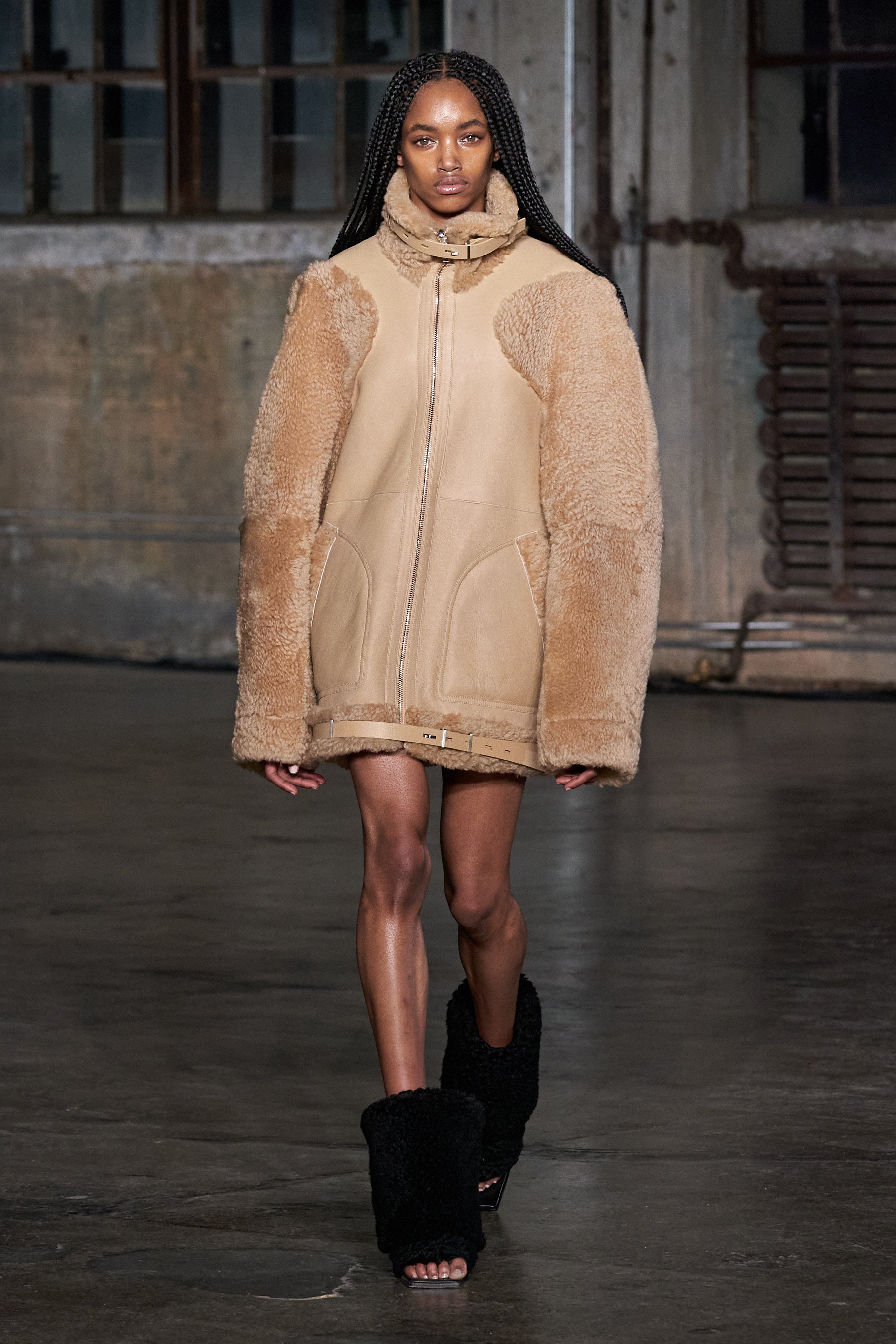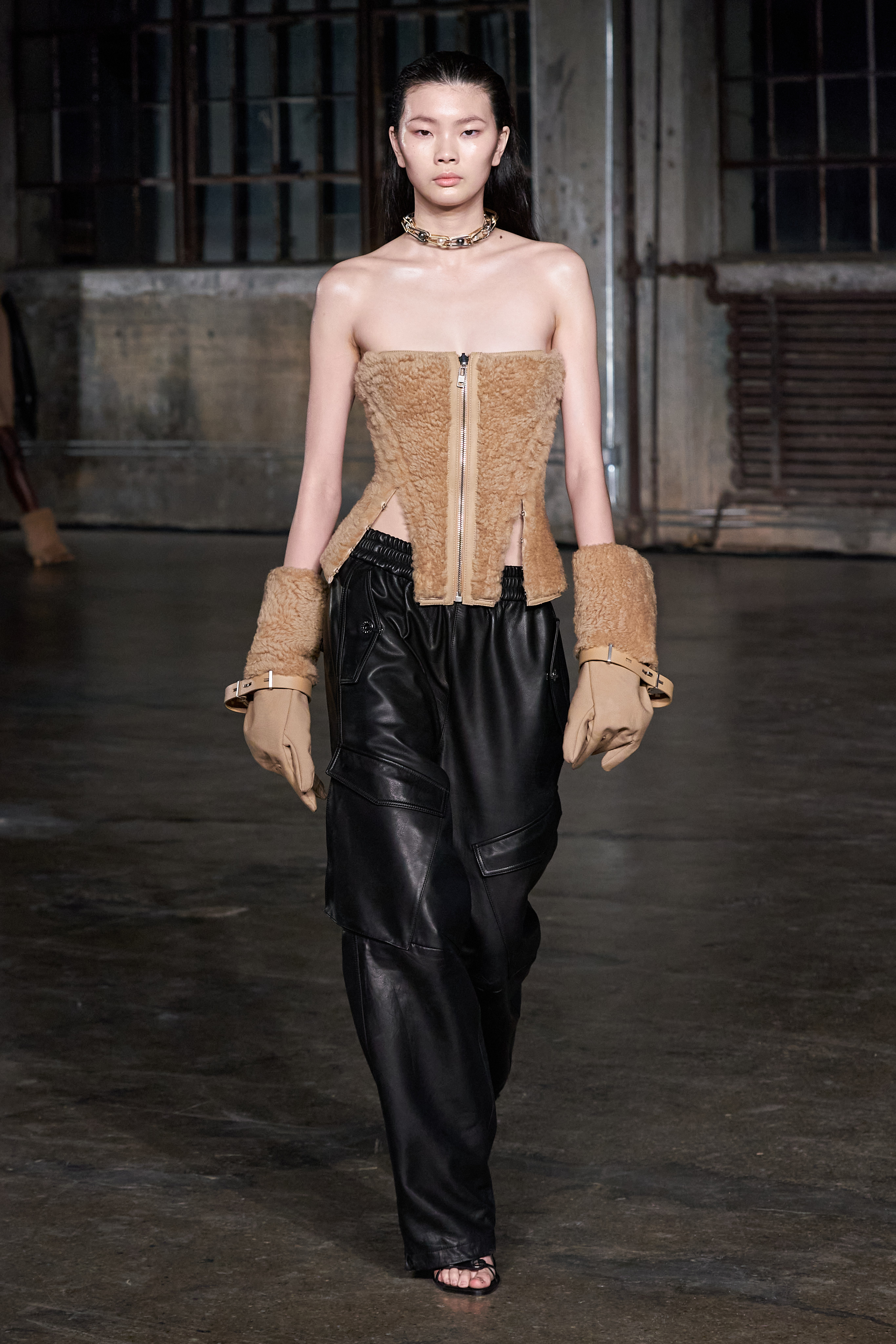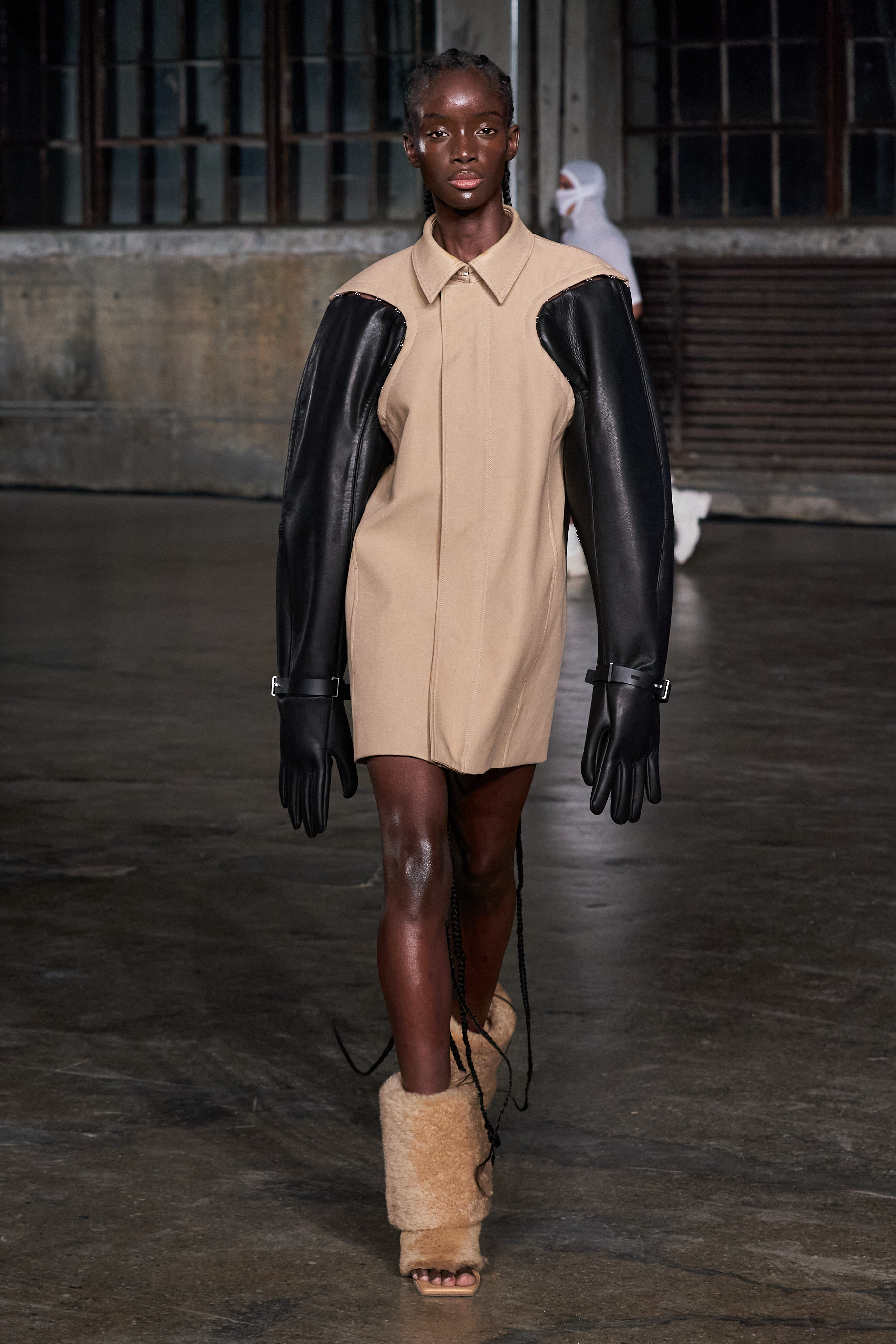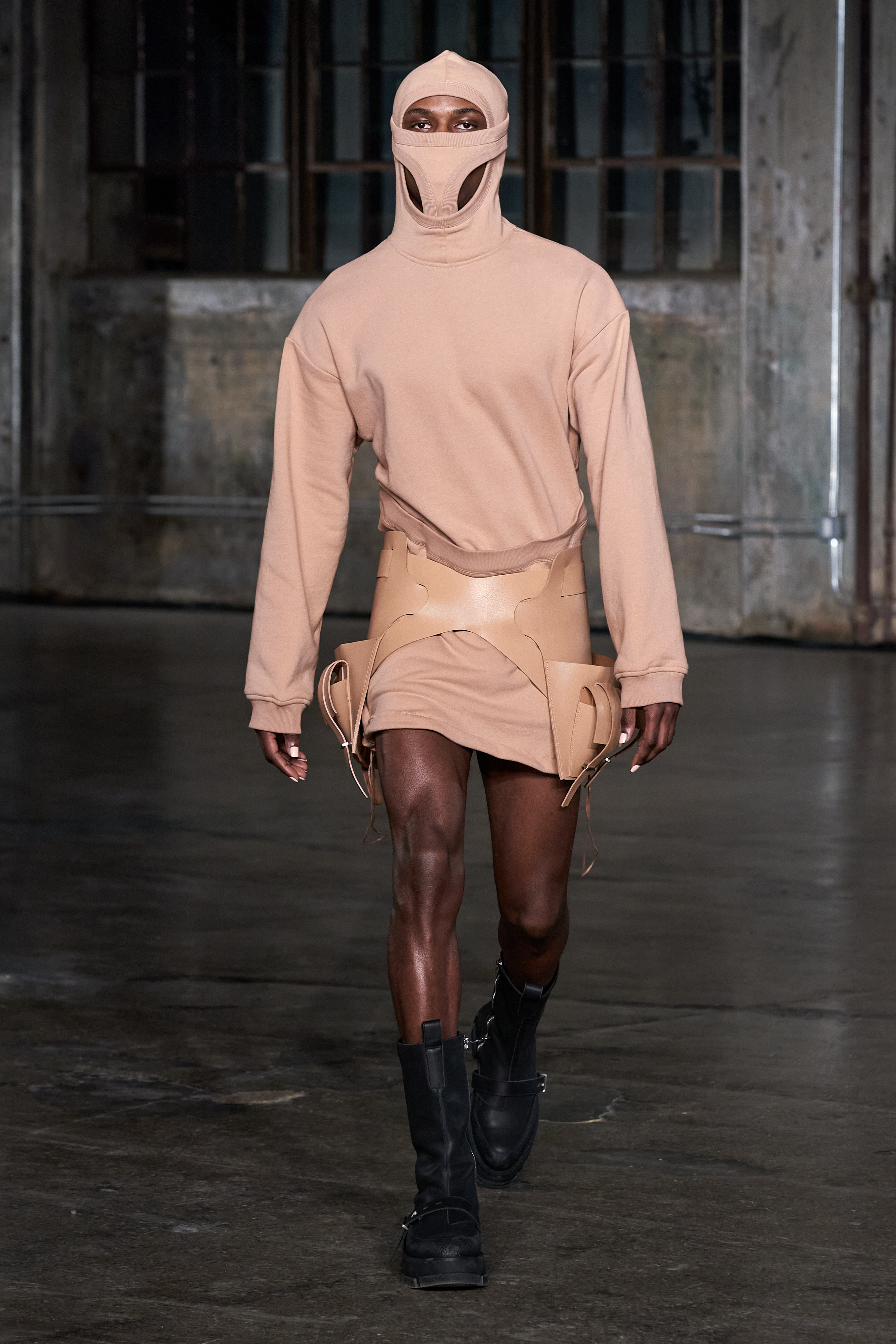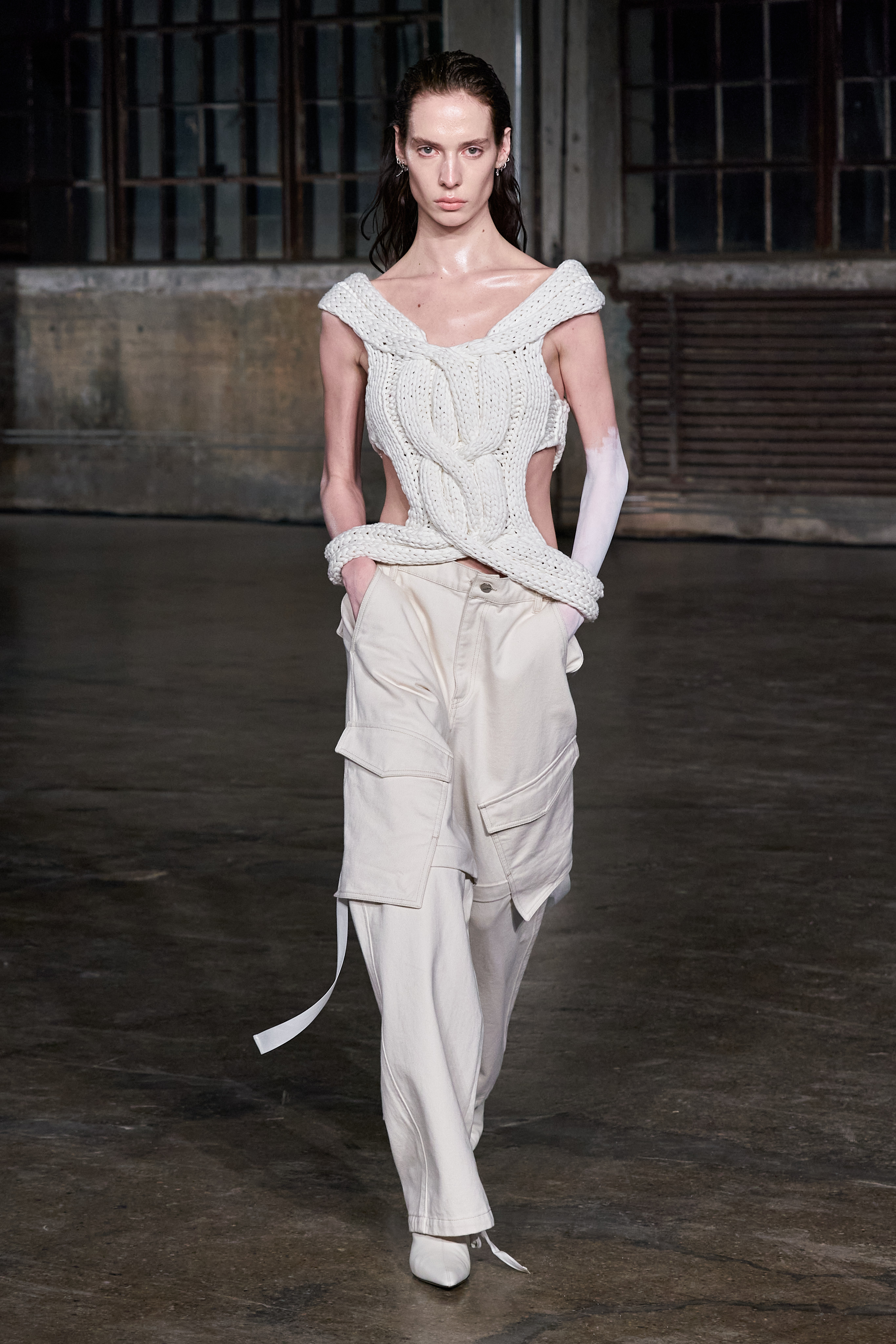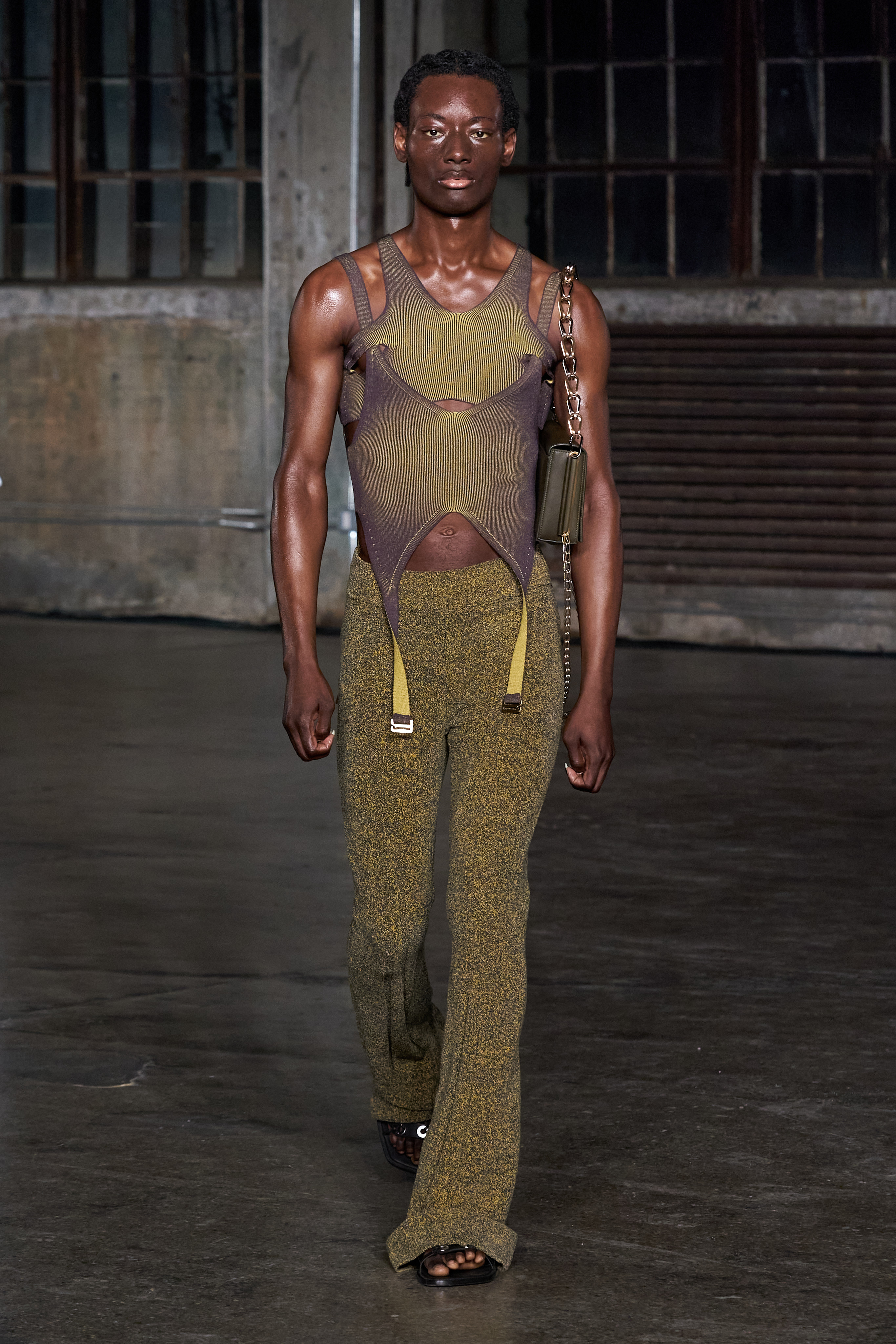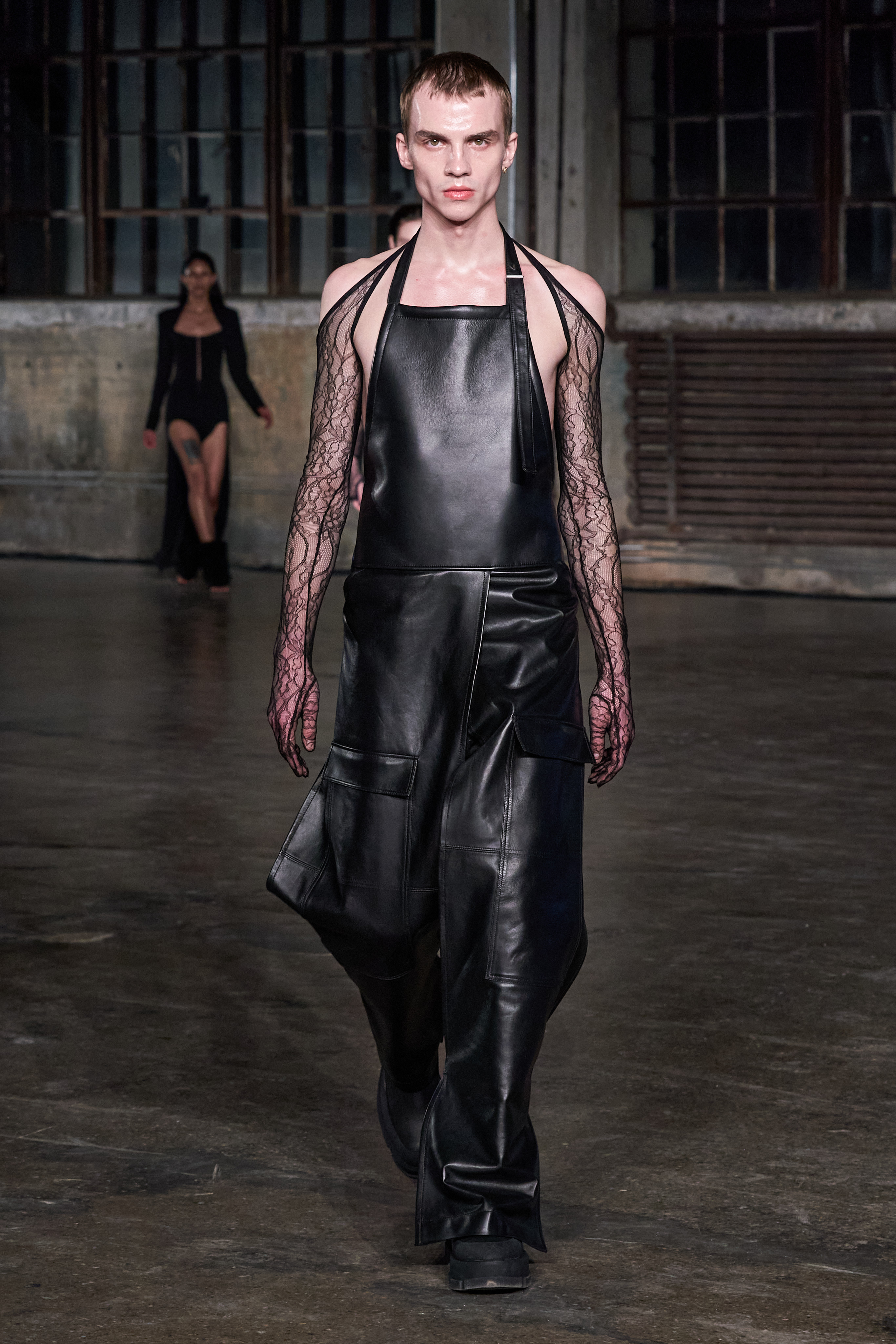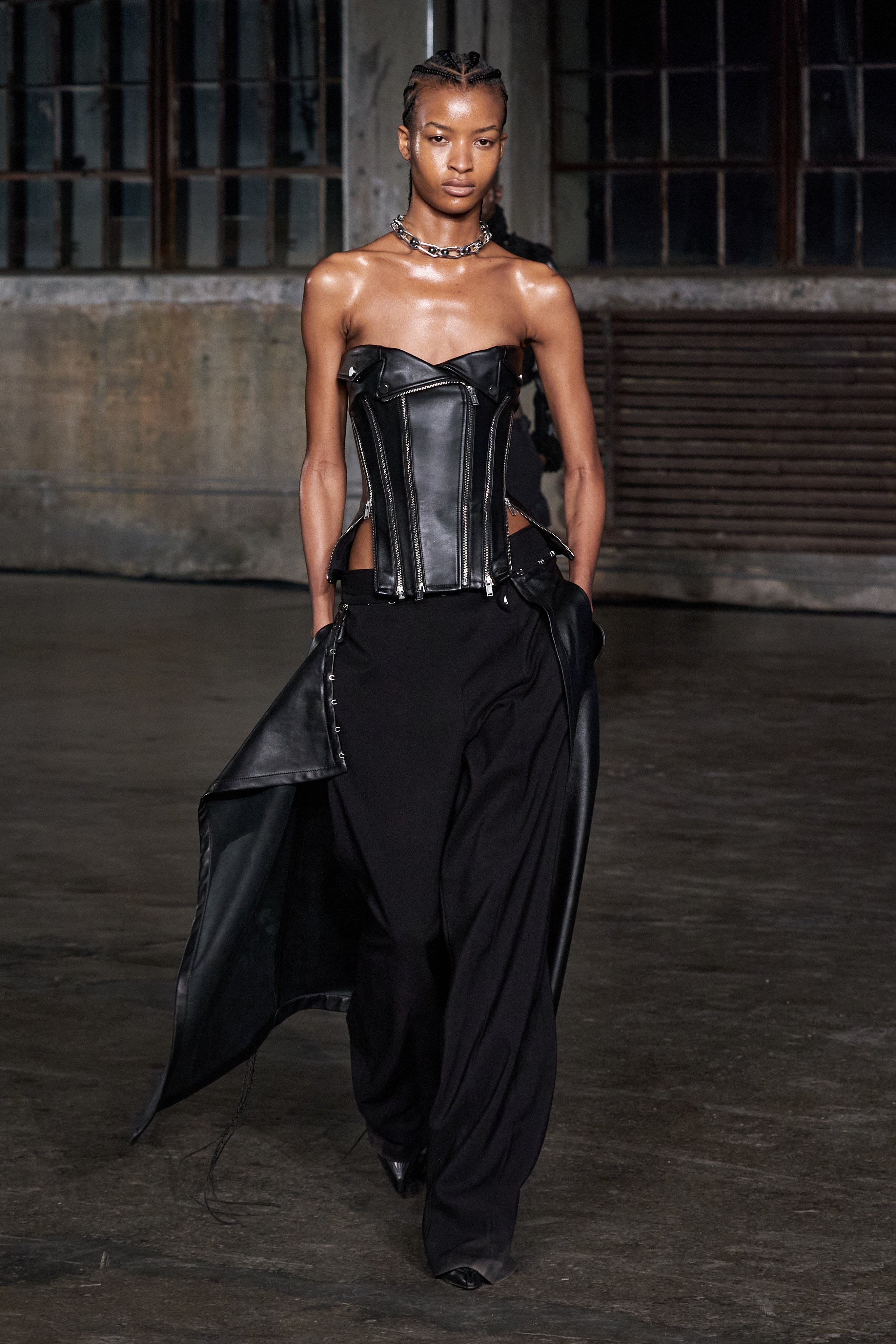 Connor McKnight
For AW22, Connor McKnight's thoughts turned to the Reconstruction era, a brief, pre-Jim Crow period when enslaved people were technically granted equal civil rights under the Constitution. It was a time where freed men and women sought out the dignity they deserved through paid labor — jobs that were permitted for Black folks, and thus considered 'Good Work,' the title of this collection.
Now in his third season, Connor translated his simple signatures into utilitarian shapes with a workwear feel. Inspired by fisherman's uniforms, there were chunky knits and cropped vests in mesh and nylon, alongside sturdy corduroy and denim jeans in retro silhouettes. He offered jumpsuits rendered in fleece, referencing the Tuskegee Airmen, Black pilots who flew American fighter planes in WWII. There were also femme pieces, including a black fleece corset laced with a bungee cord, modest sleeveless column dresses, and a stunning black gown honoring quilts made by the enslaved women of Gee's Bend, Alabama. Much of the collection was executed in muted thematically-aligned tones, which made it impossible to miss a tumeric-hued work jacket, decorated by hand with florals that looked like black tea stains; a quietly joyful moment punctuating a meaningful meditation. AT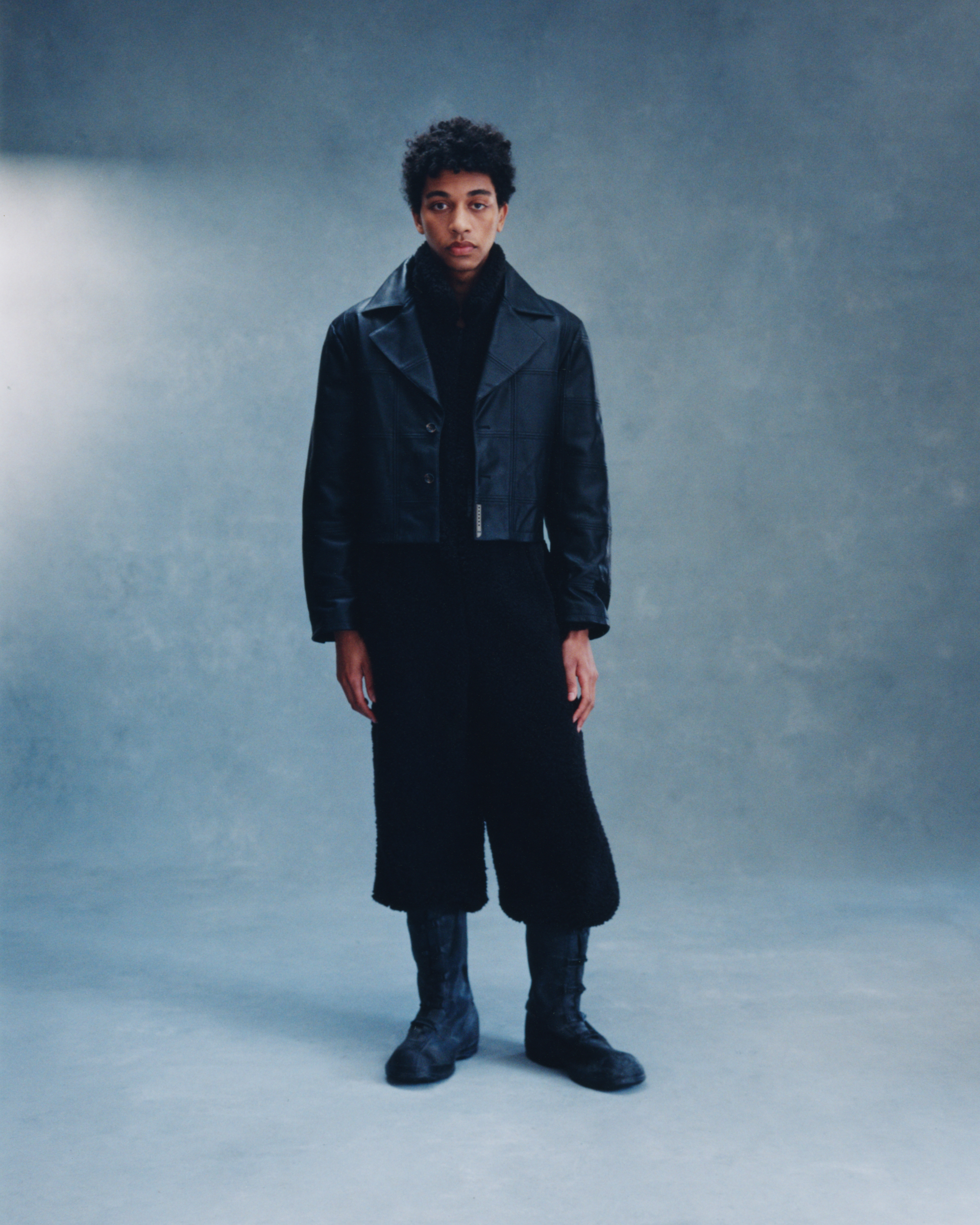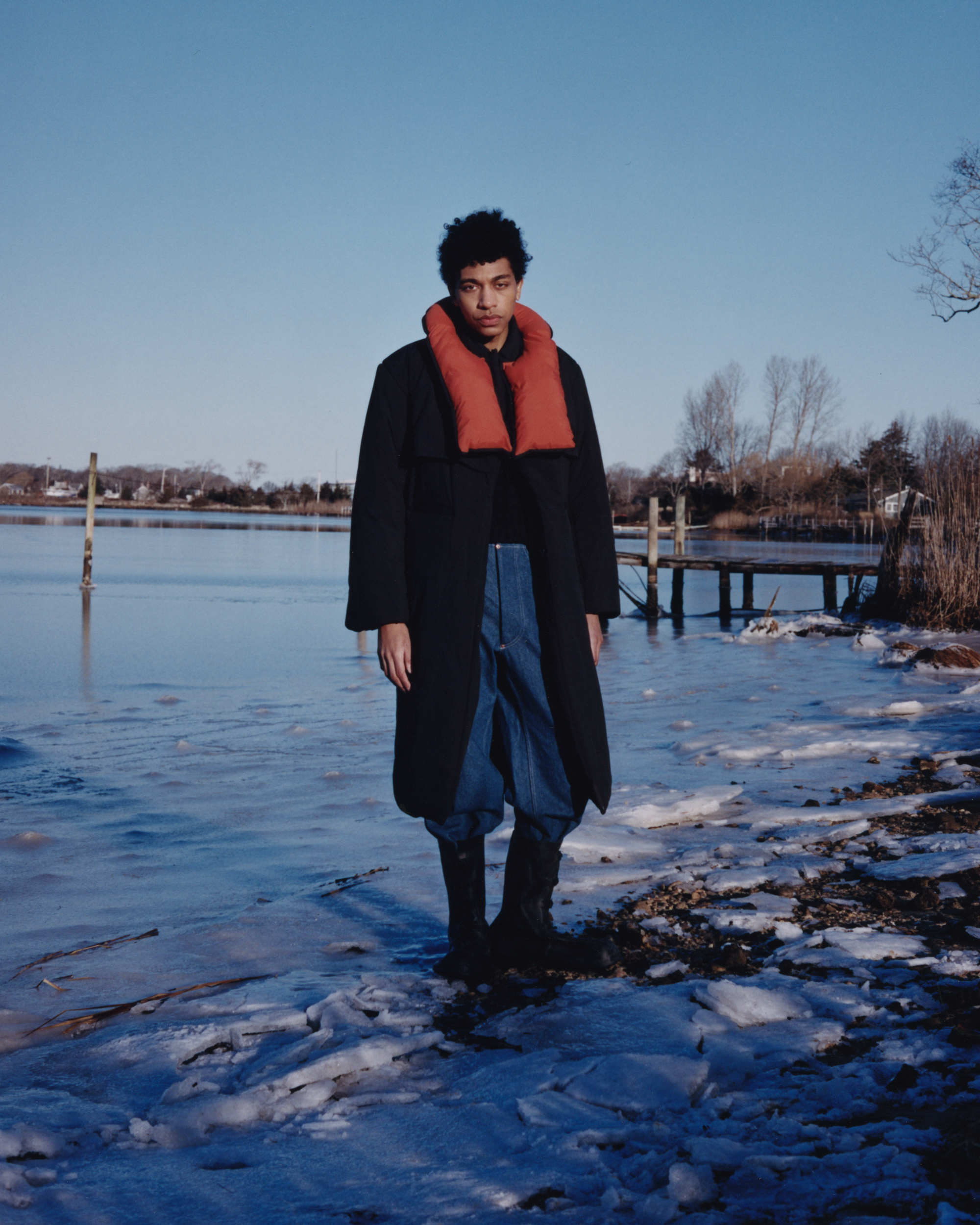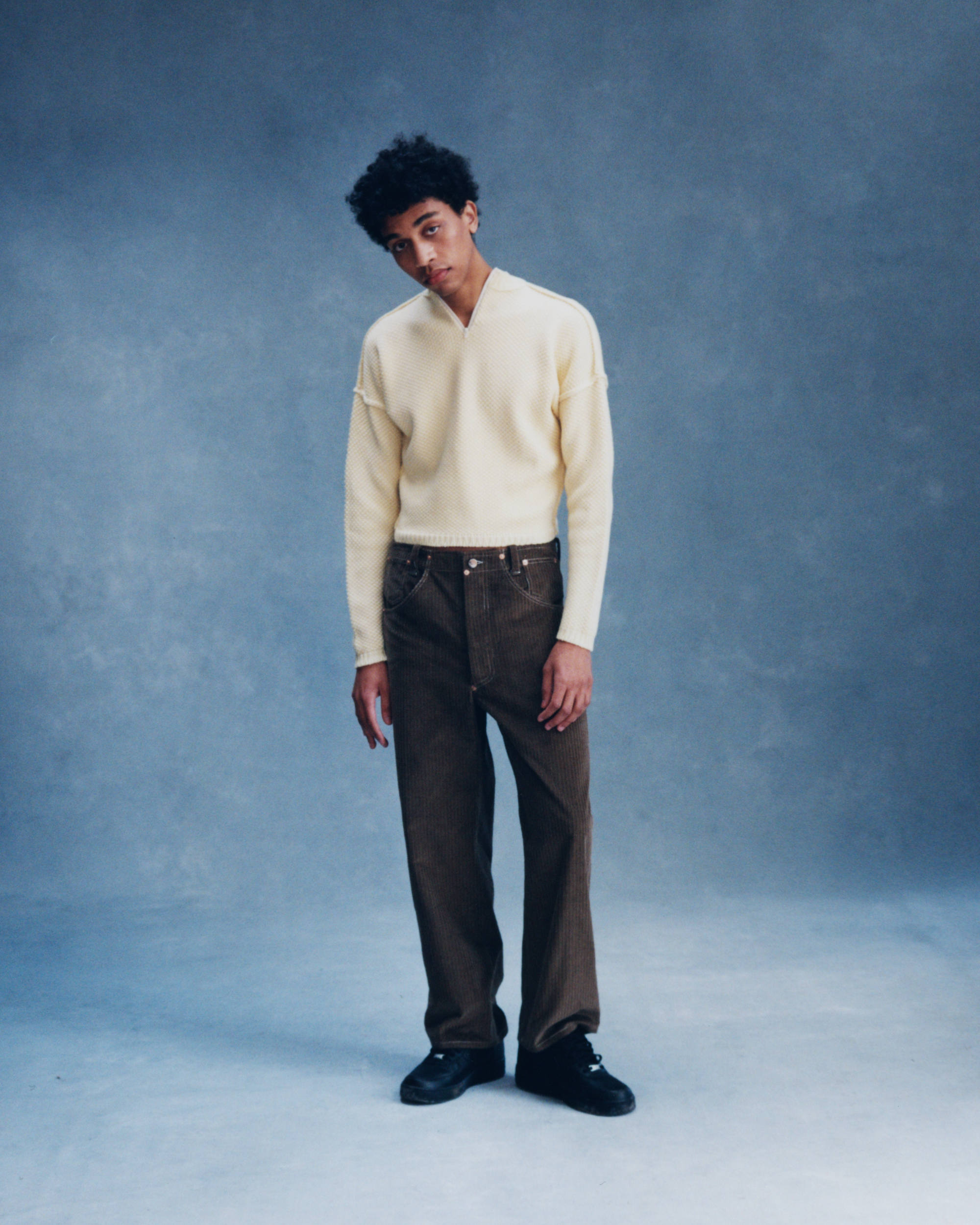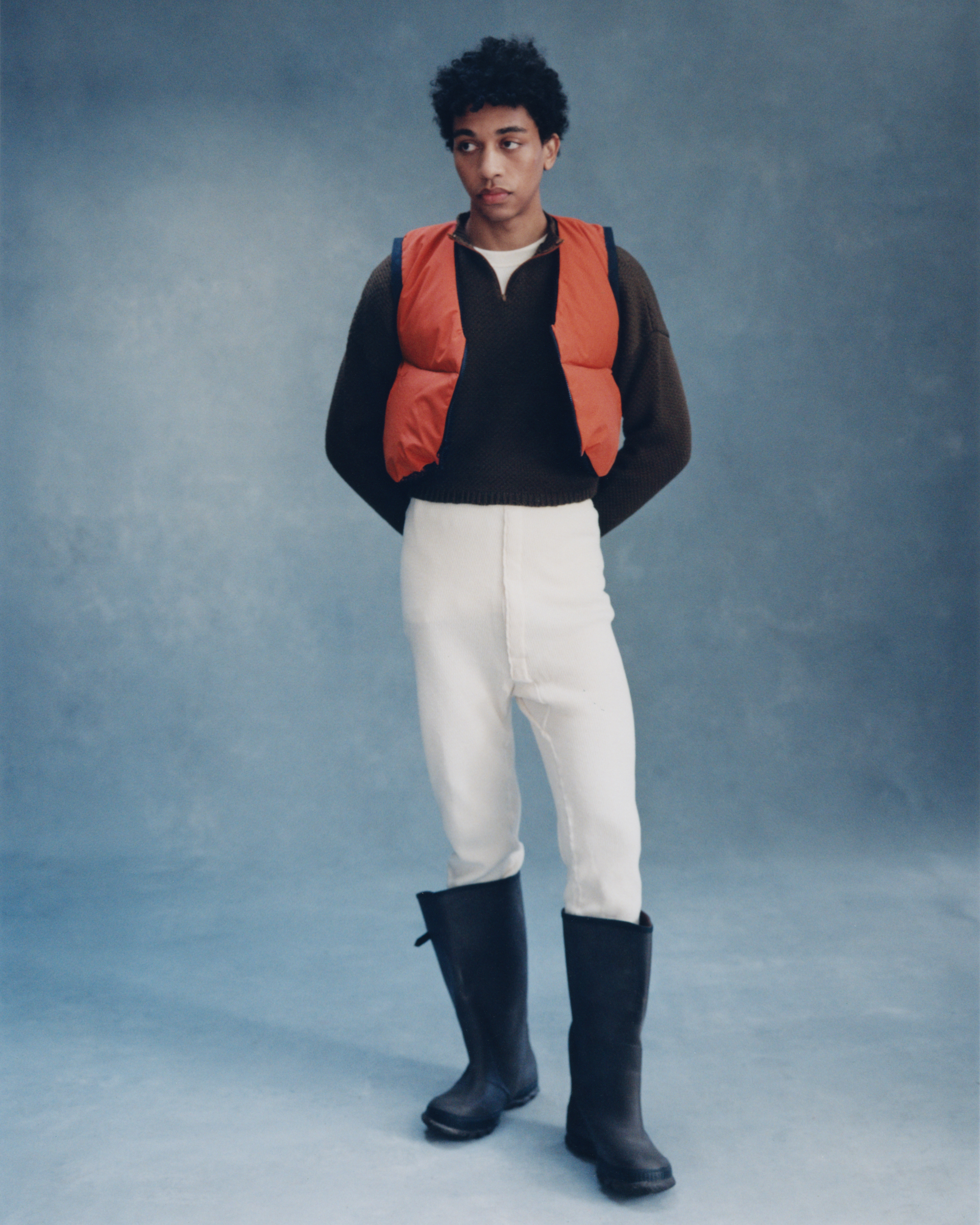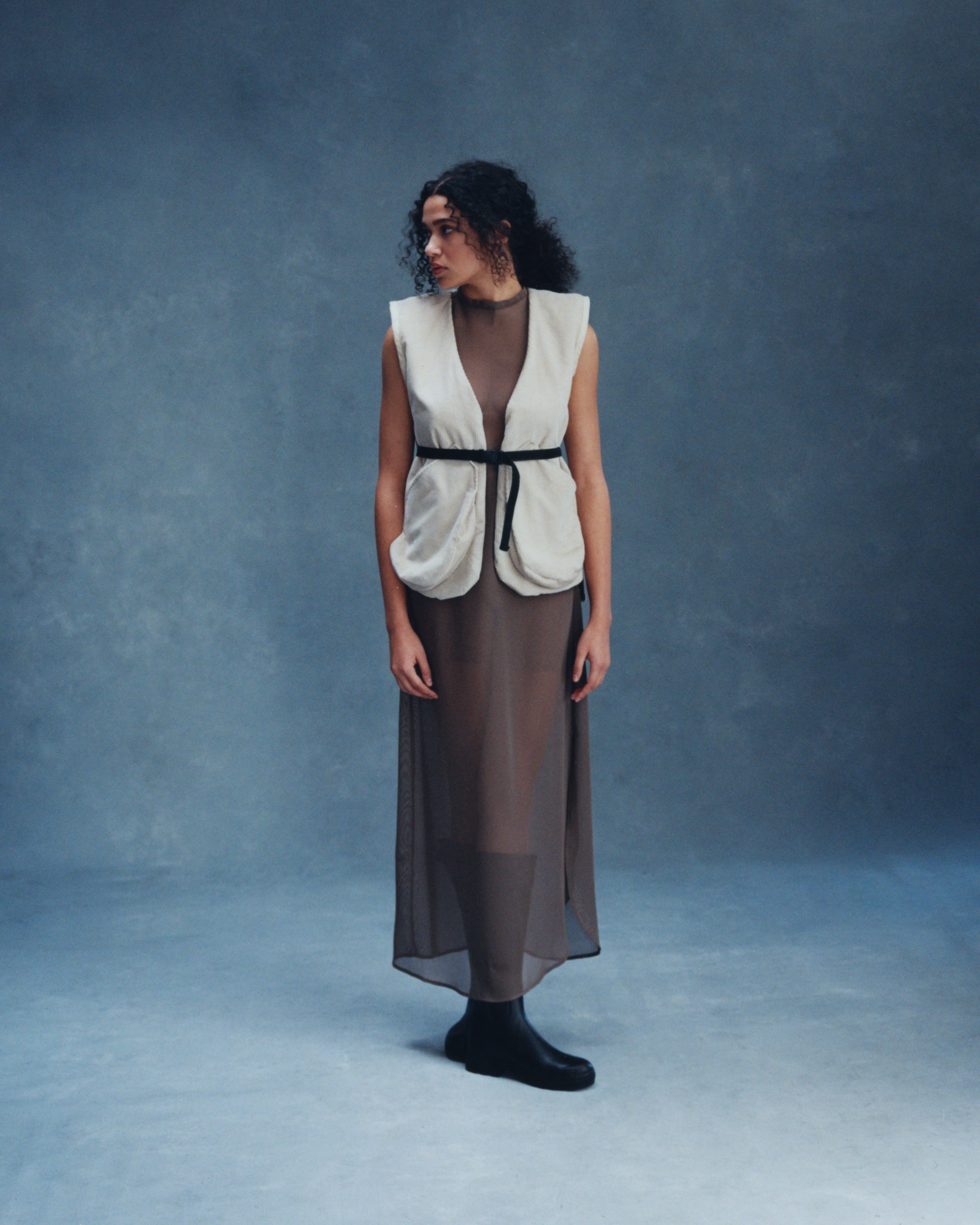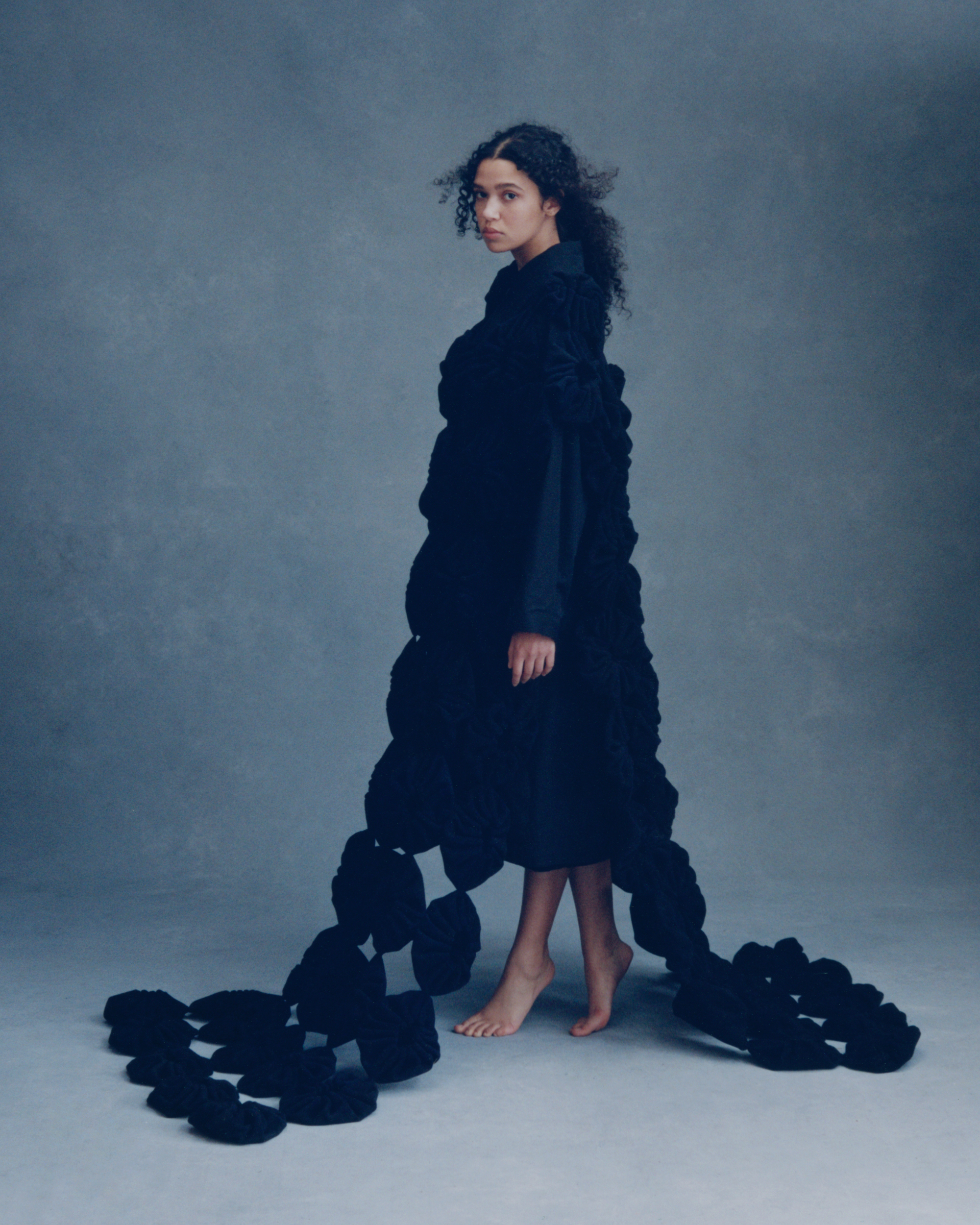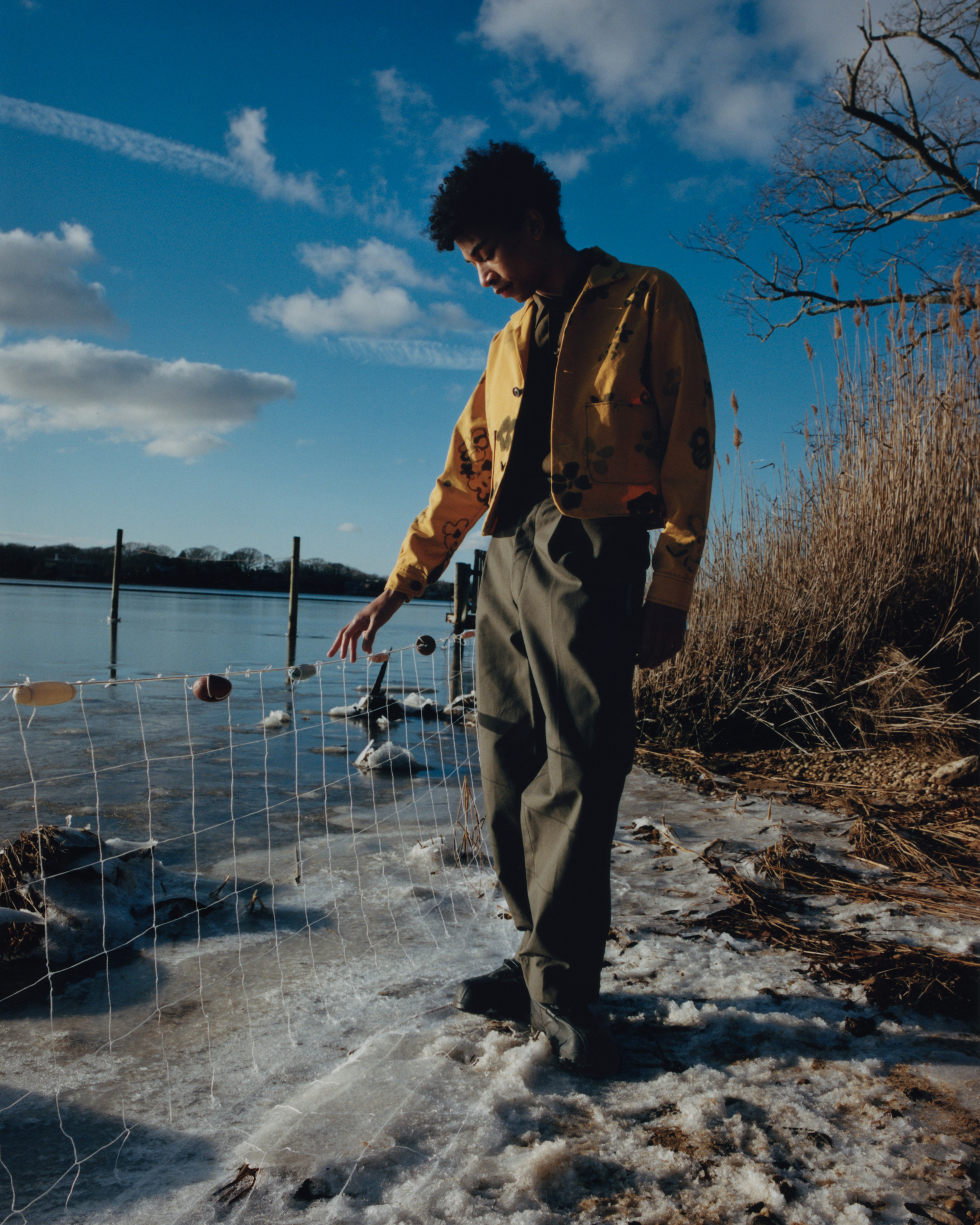 Maryam Nassir Zadeh
Maryam Nassir Zadeh showed her AW22 collection at The Clemente Theatre on the Lower East Side on Monday afternoon — just a block away from the designer's downtown shop on Norfolk Street, which she transformed into a snaking runway last season. This time around guests sat in bleachers as models entered the theatre stage right, creating an elevated atmosphere for the Iranian-American designer's "refined and elegant" offering. "I want to try to achieve a soulful elegance — a spirit within the garments," Maryam explained backstage. "I love clothing and I collect clothing, so I feel that there's an energy to garments."
Throughout the pandemic, and still, today, the designer finds herself gravitating towards basic shapes — "those are the things you want to pull out of your closet" — and hopes to create a timeless library of designs that can be revisited again and again. In working almost exclusively with a neutral colour palette for AW22, aside from calculated pops of red, royal blue and berry, Maryam built upon clean silhouettes from previous seasons by instilling them with a "punk rock" edge. This can be seen in the details: slashed up tops, sharp pointed collars and chunky layering across men's and womenswear, which takes inspiration from German New Wave films, makeup shades — like the 80s blue eyeshadow seen on Paloma Elsesser — and iconic fashion photography. As with each MNZ collection, it's a place in time, a mood, a feeling, but never a fleeting moment. ND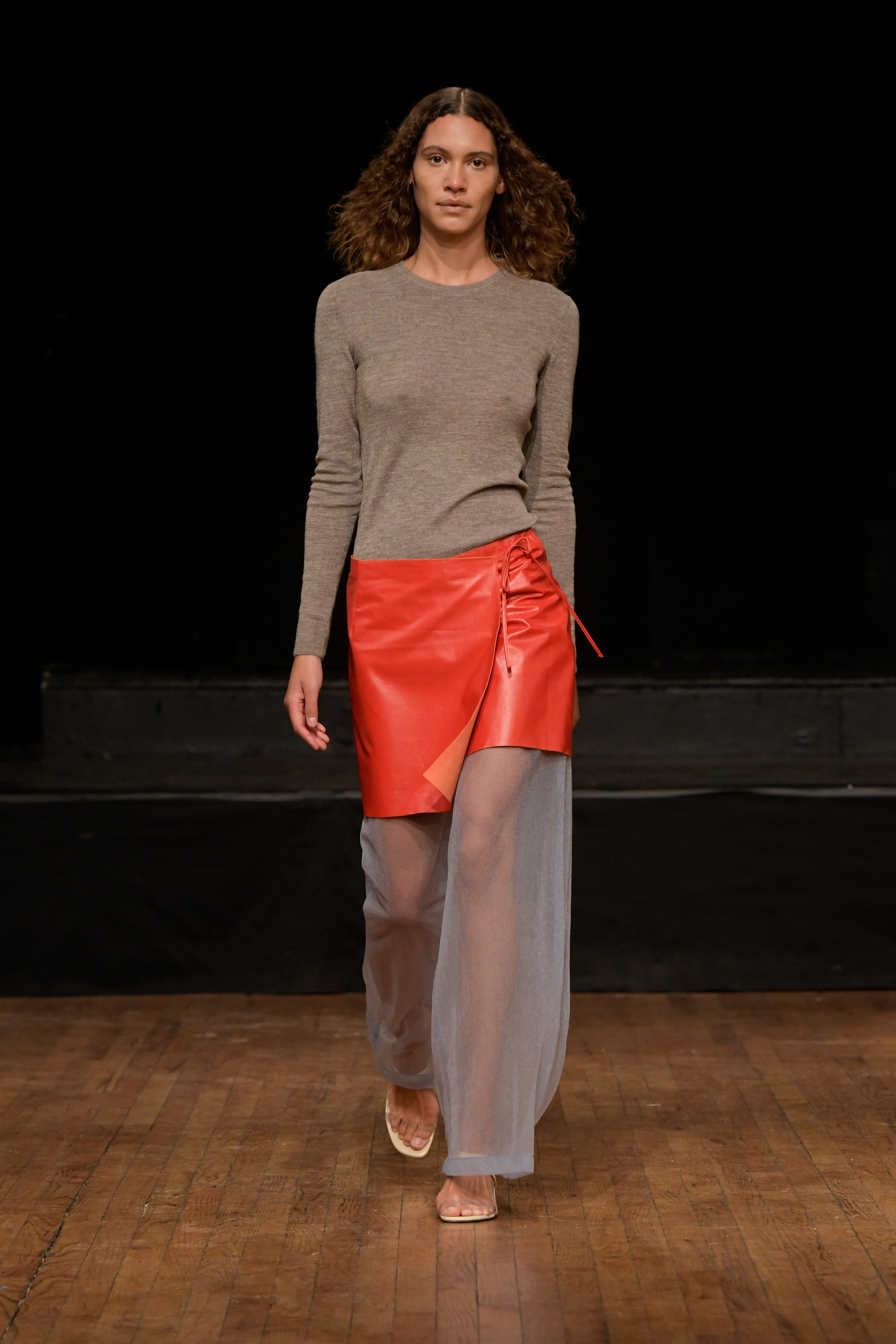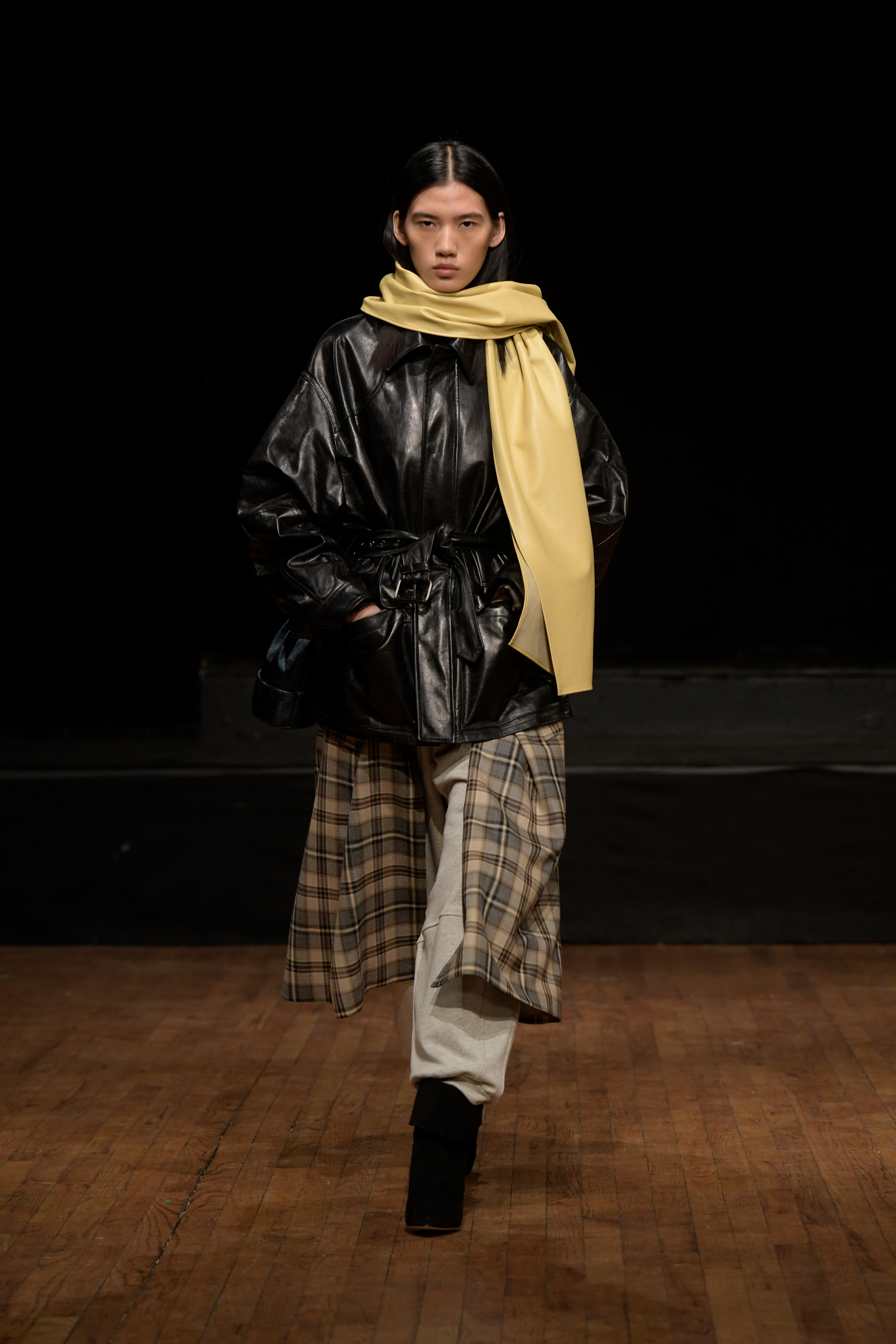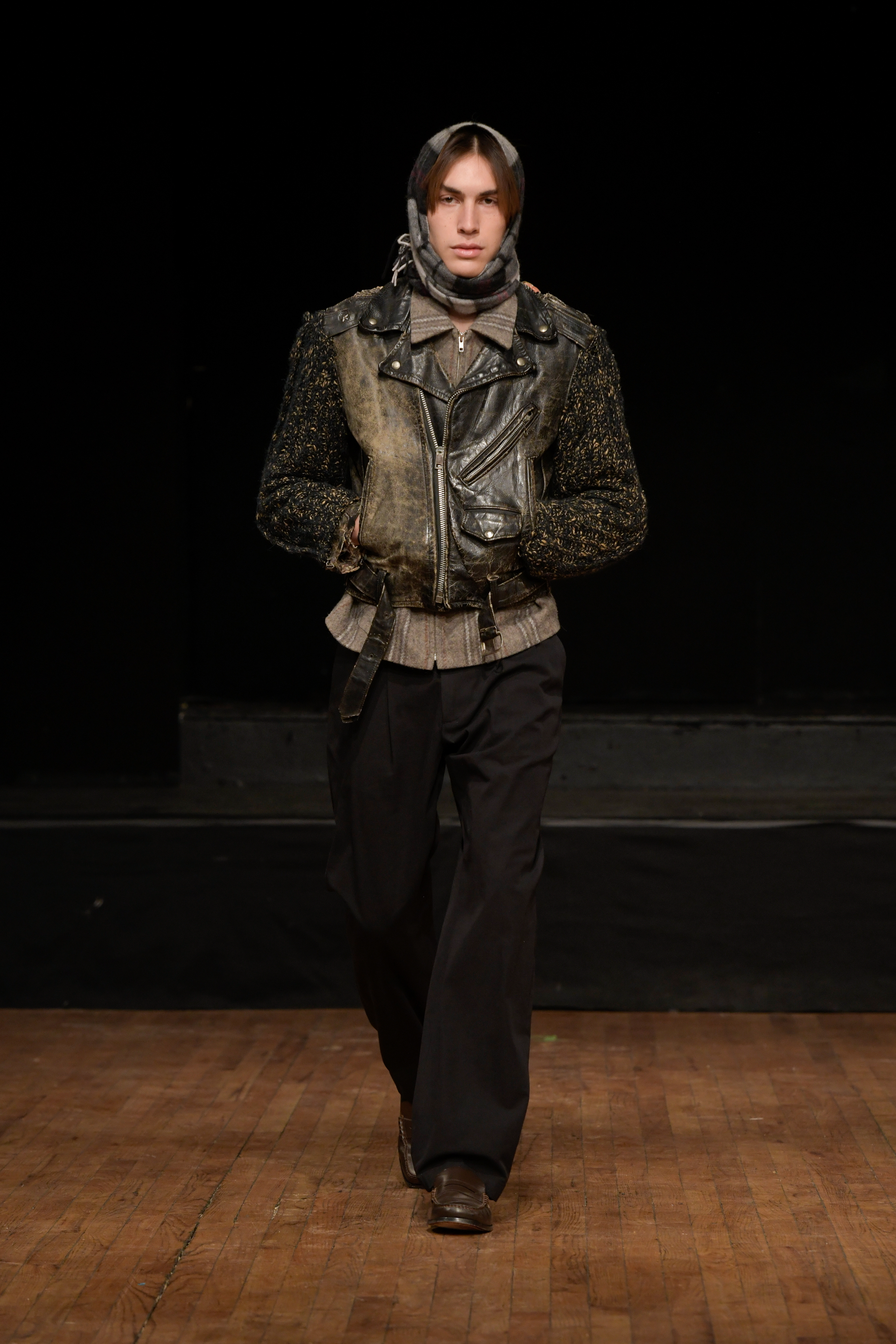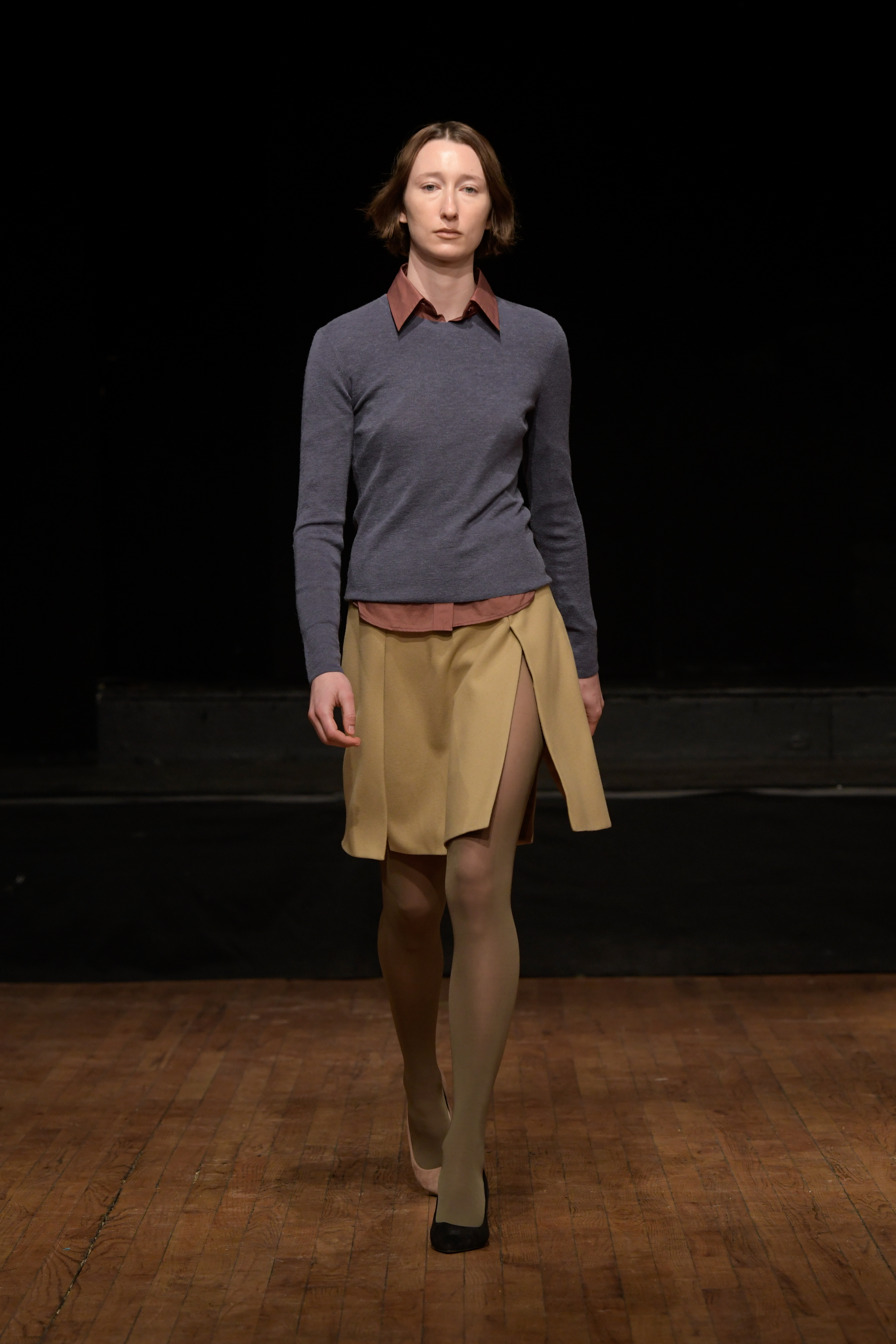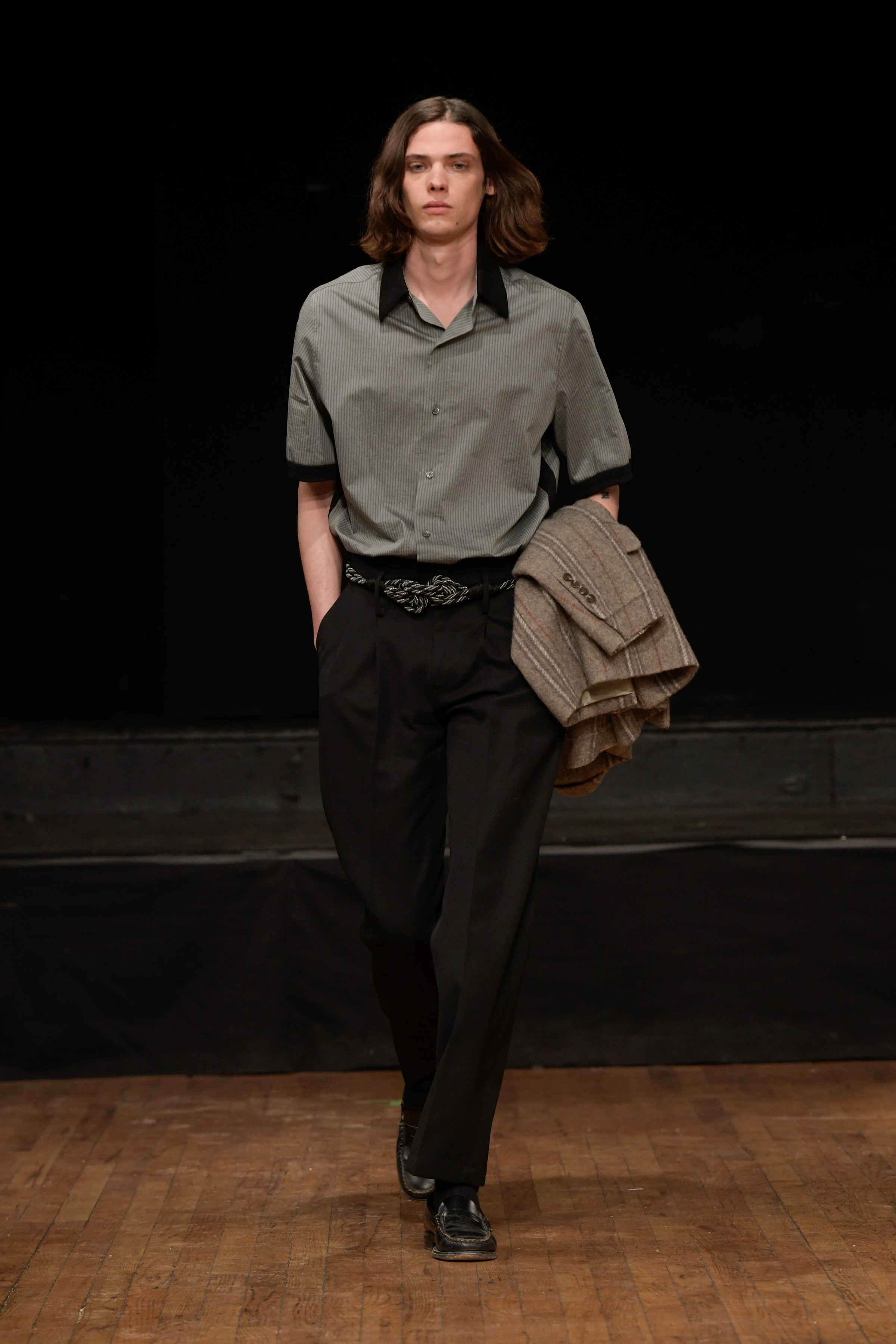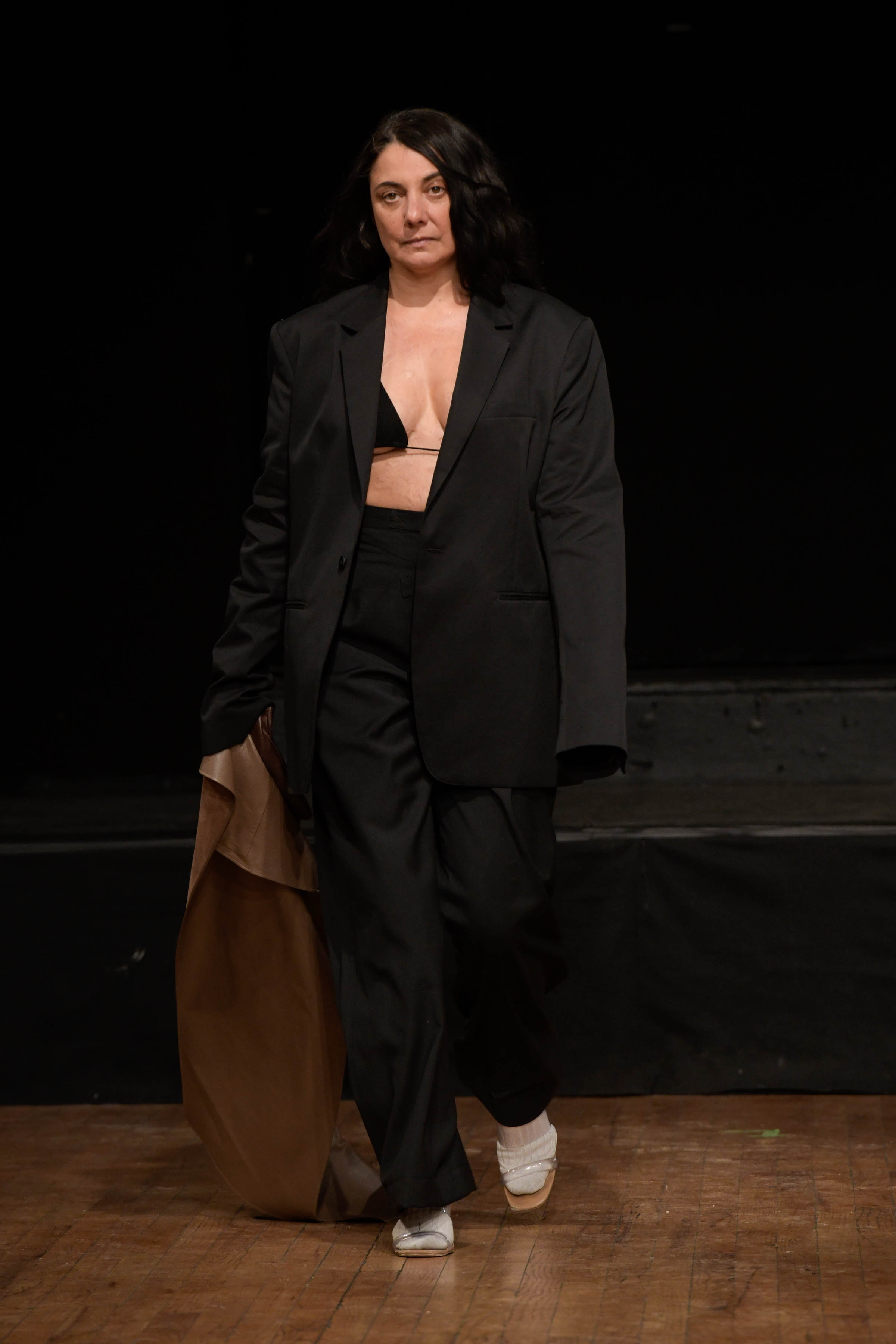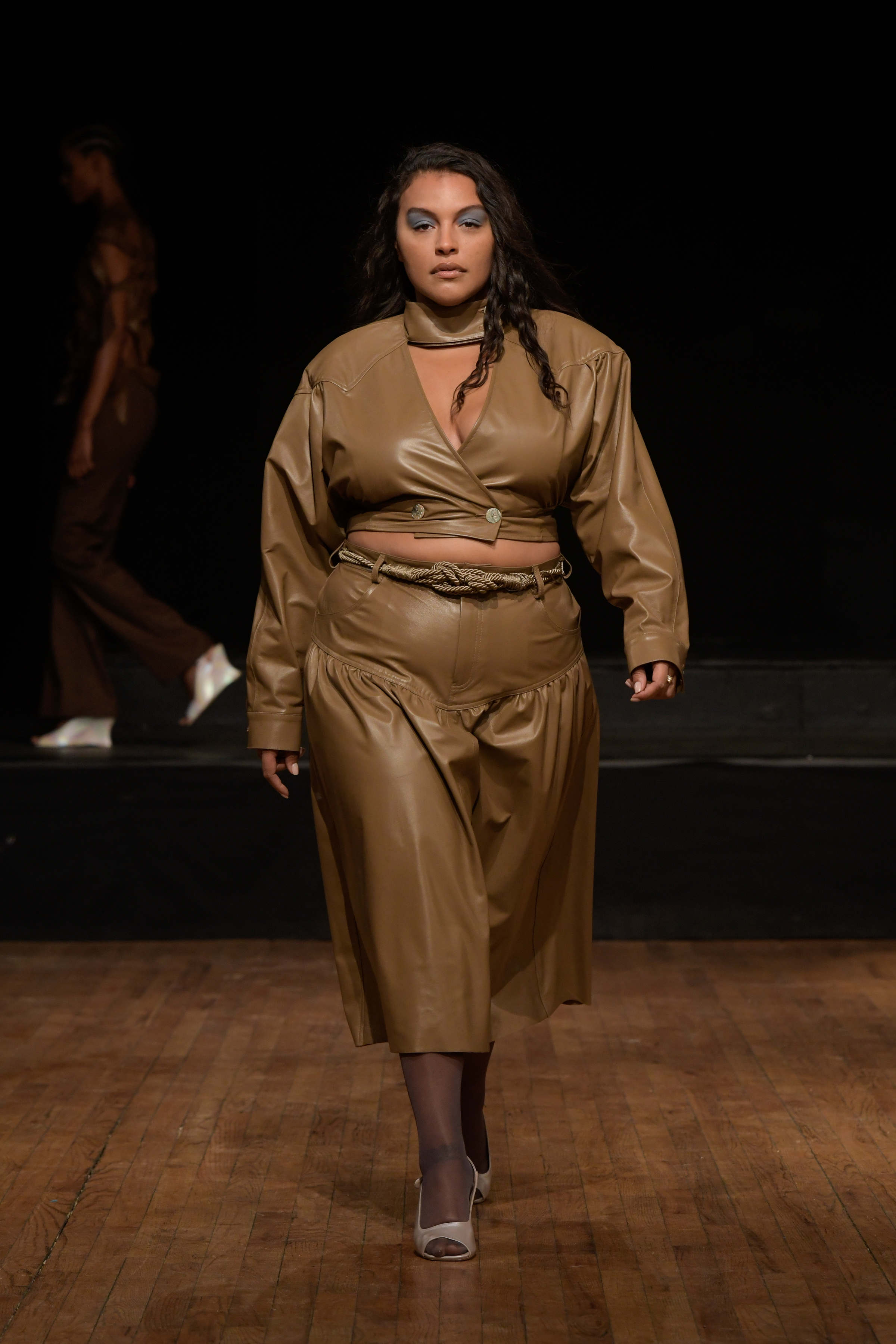 Coach
When you choose to show on Valentine's Day, a hefty dollop of romance comes with the territory. Not one to shy away from that duty was Stuart Vevers of Coach, who last night presented his AW22 collection for the American leather goods stalwart on Pier 36 of New York City's Lower East Side. Rather than broach the theme too literally — the line between sweet and cloying is, after all, a fine one — the British creative director forewent carpeting the runway with rose petals in favour of a more subtle, tinted perspective. Where that made itself most strongly felt, was in the show's setting — a reproduction of "a town somewhere in America," read the show notes, "where it's always the golden hour", conjuring images of a pristinely Stranger Things suburbia to mind — as well as by the fact that long-distance attendees were delivered all-American apple pies before the show.
Though the clothes that filed down the runway didn't directly echo the cinematic romance that coloured the context in which they were shown, they were nonetheless imbued with an endearing yesteryear appeal — almost like timeless hand-me-downs that look even more chic generations now than the day they were first bought. Pieces like the opening boxy shearling coats — worn with wide-cut mauve and lime cords — and an upcycled chocolate leather macintosh exuded strong 70s nostalgia, while leather vest-and-trouser separates brought a racy, Mapplethorpe-y edge to Stuart's study of the range of the material's potential. Elsewhere, there were looks that reeked of 90s grunge: subtly oversize tees bearing graffiti-ish graphics won with chunky dog-collar chokers, Peter-Pan-collar dresses, hefty wrap skirts, and leather coats printed with acid-hued houndstooth tartan motifs.
Rather than mawkish or regressive, however, they felt inflected with a contemporary, cool-girl spirit — an iconoclastic confidence that saw pieces often burdened by historical associations take on new significance for a new generation. Read the full review here! MS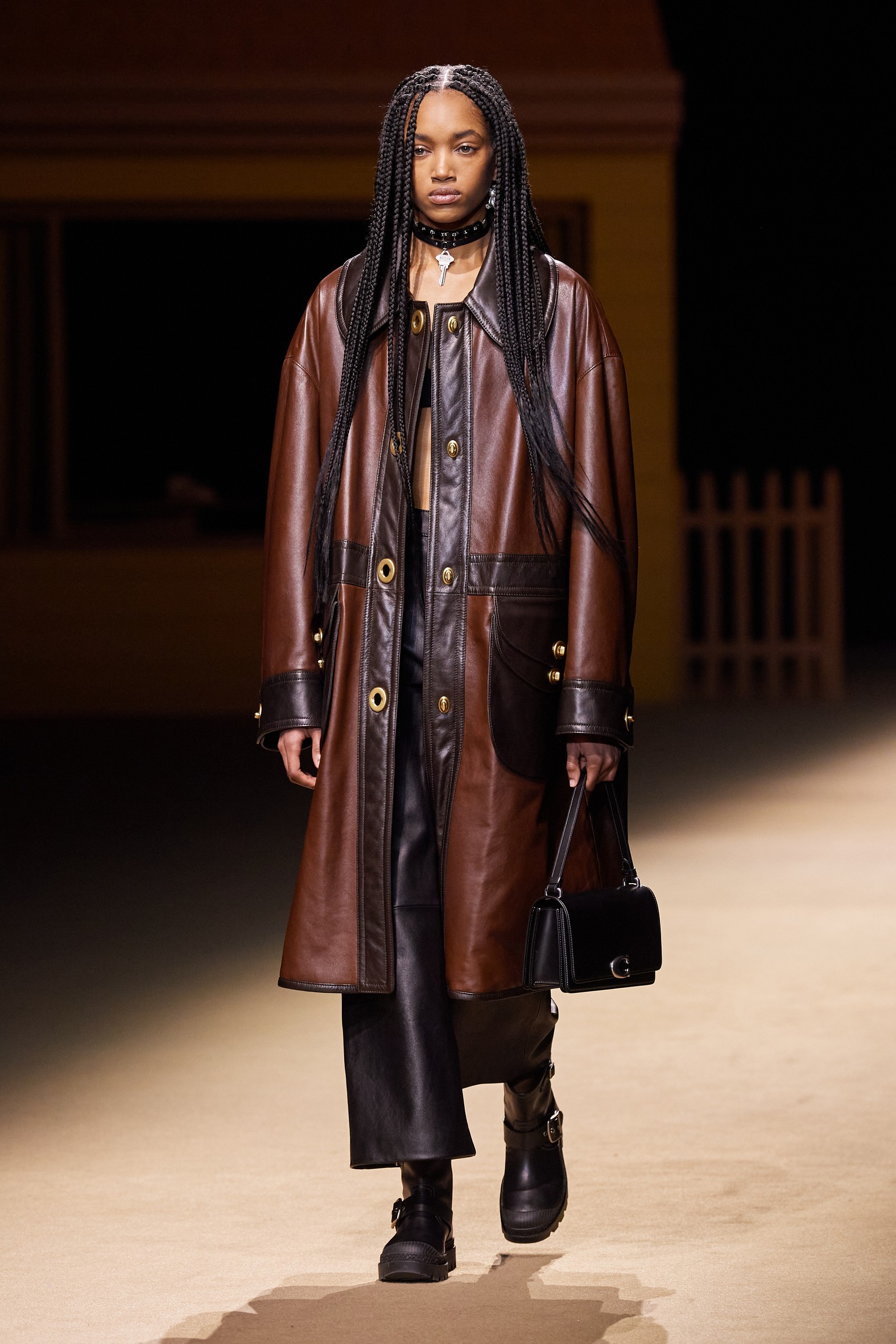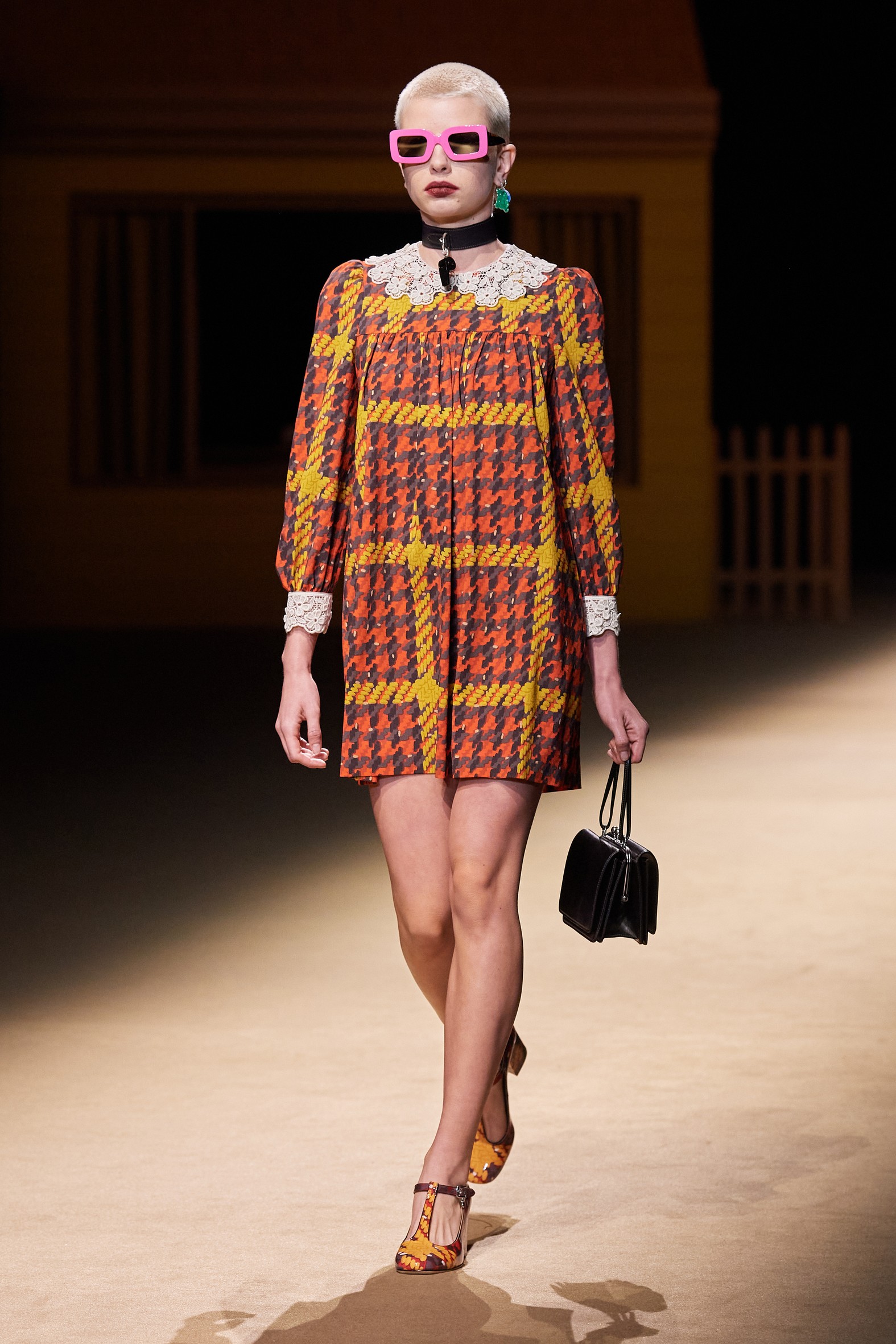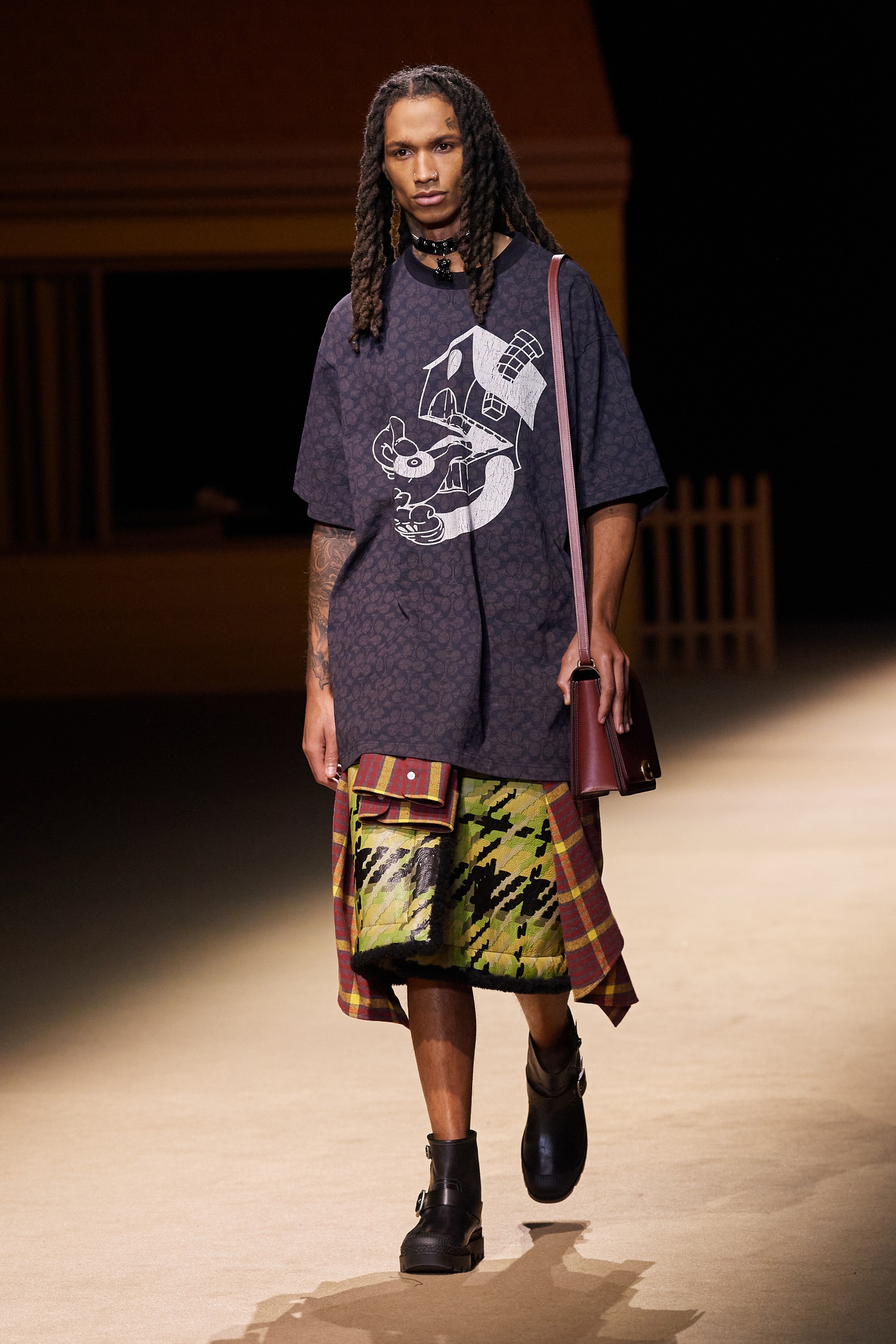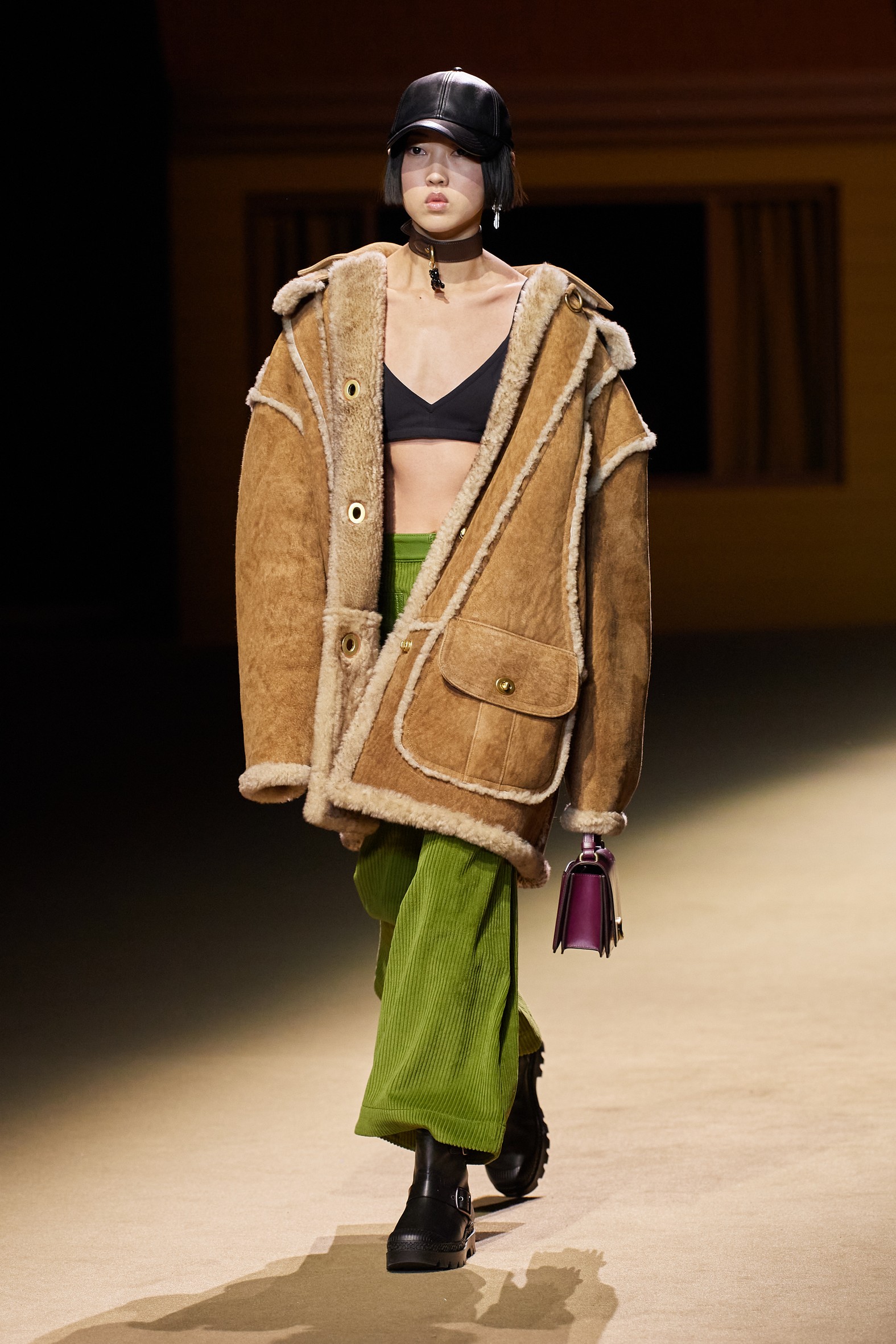 Puppets and Puppets
For AW22 Puppets and Puppets designer Carly Mark wanted to create a collection that felt dark, moody and very New York. The theme was coven. "I knew I wanted witches walking down the runway," she said over email. "I also focused on putting things down the runway I would wear myself — much more so than past seasons."
Now in their sixth, the indie label that gained popularity through its experimental, avant-garde designs — which referenced decadent royal court costuming and featured absurdist culinary accessories — managed to strike a balance between creativity and wearability. Sure, AW22 offers some of the quirky Puppets signatures we know and love like structural skirts and dresses, this time eerily pointed out at the sides, blouses with long trailing sleeves and a particularly spooky, resin bat-adorned cut-out dress that's worn by Sara Hiromi. But the collection, which was shown in the Ukrainian National Home while a tap dancer performed on stage, also built upon last season's made-for-purchase garments, like Puppets logo knitwear, bespoke leather bags and impeccably tailored trousers and suits, done in a dark palette of plaids, wools and snakeskin prints.
The closing look modelled by Richie Shazam is one that spoke to Carly's desire to translate the disruptive Puppets ethos into something easier, slightly more polished, for both her friends and retailers. "[It] was one of my favourites this season," she says of the look. "A perfectly tailored wool coat with those painterly royal blue breasts pigment printed on top. A mix of wearable classic and strange." ND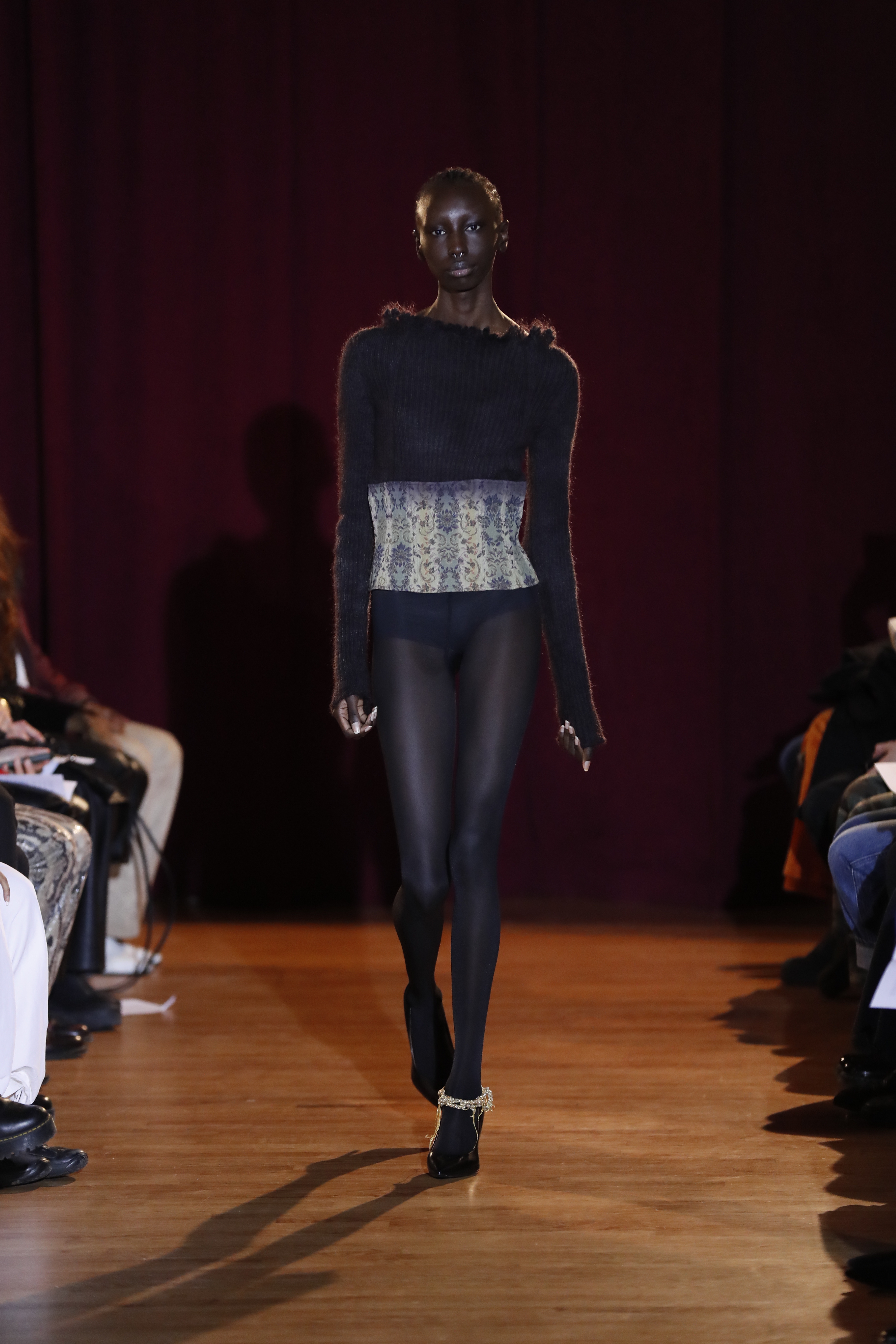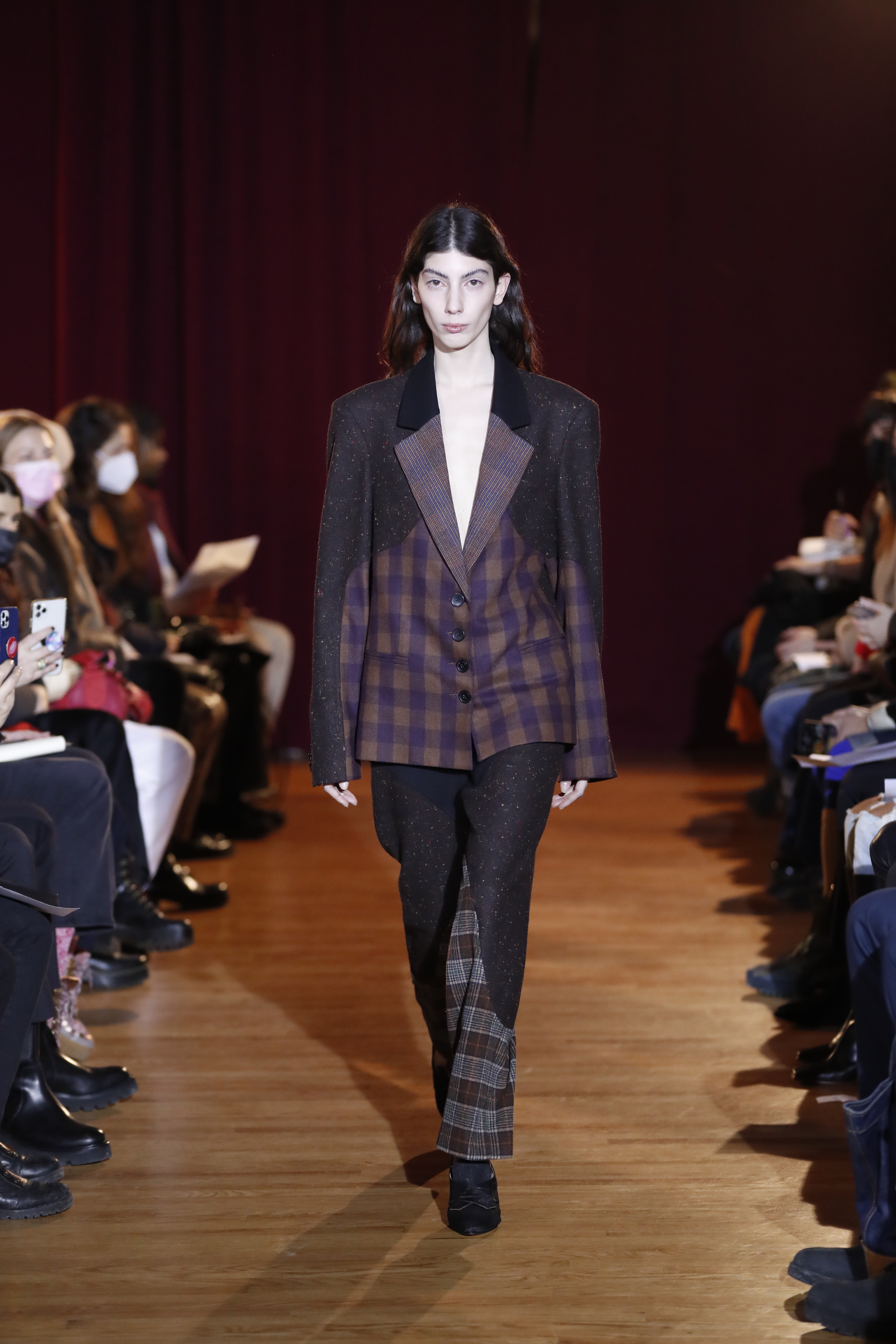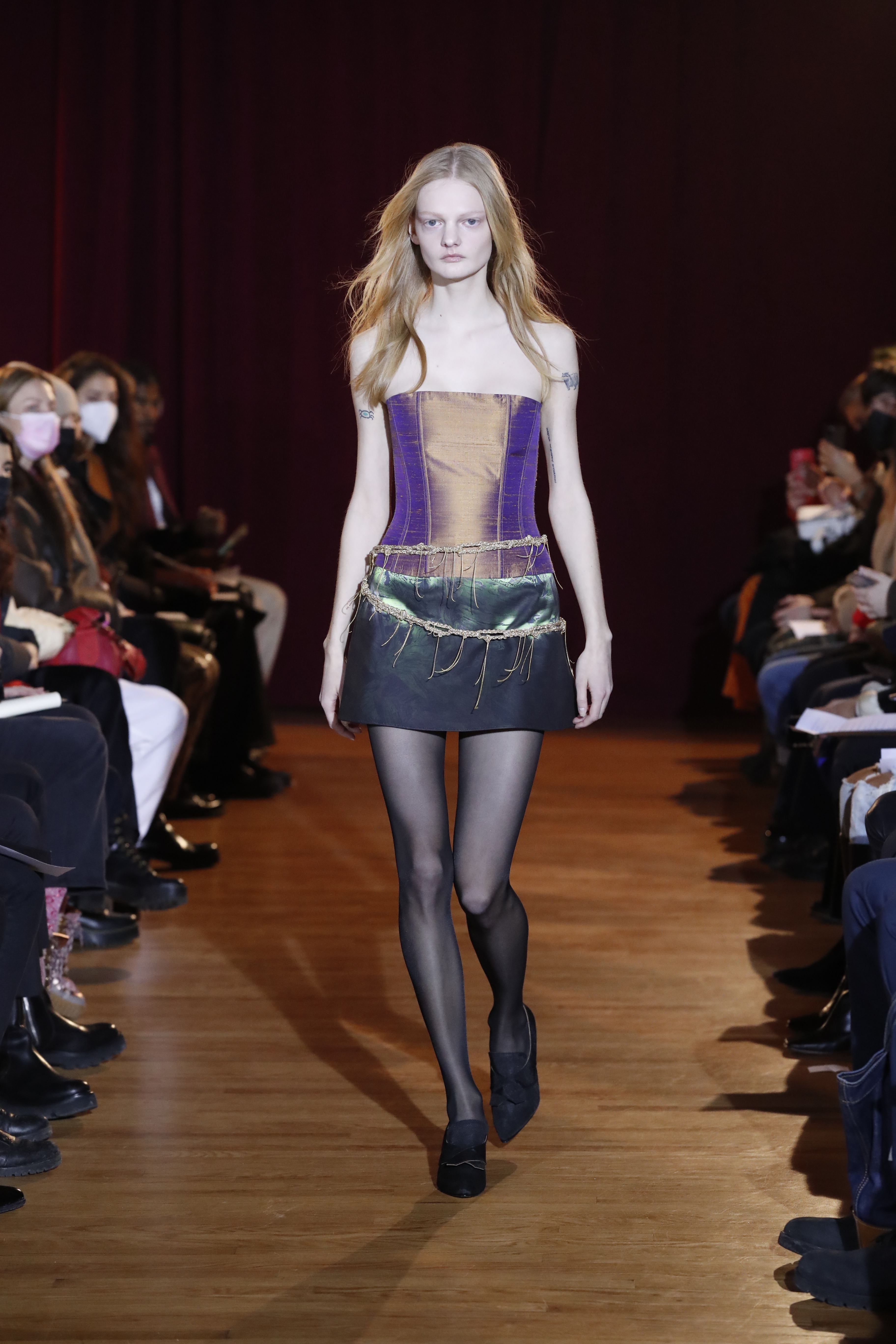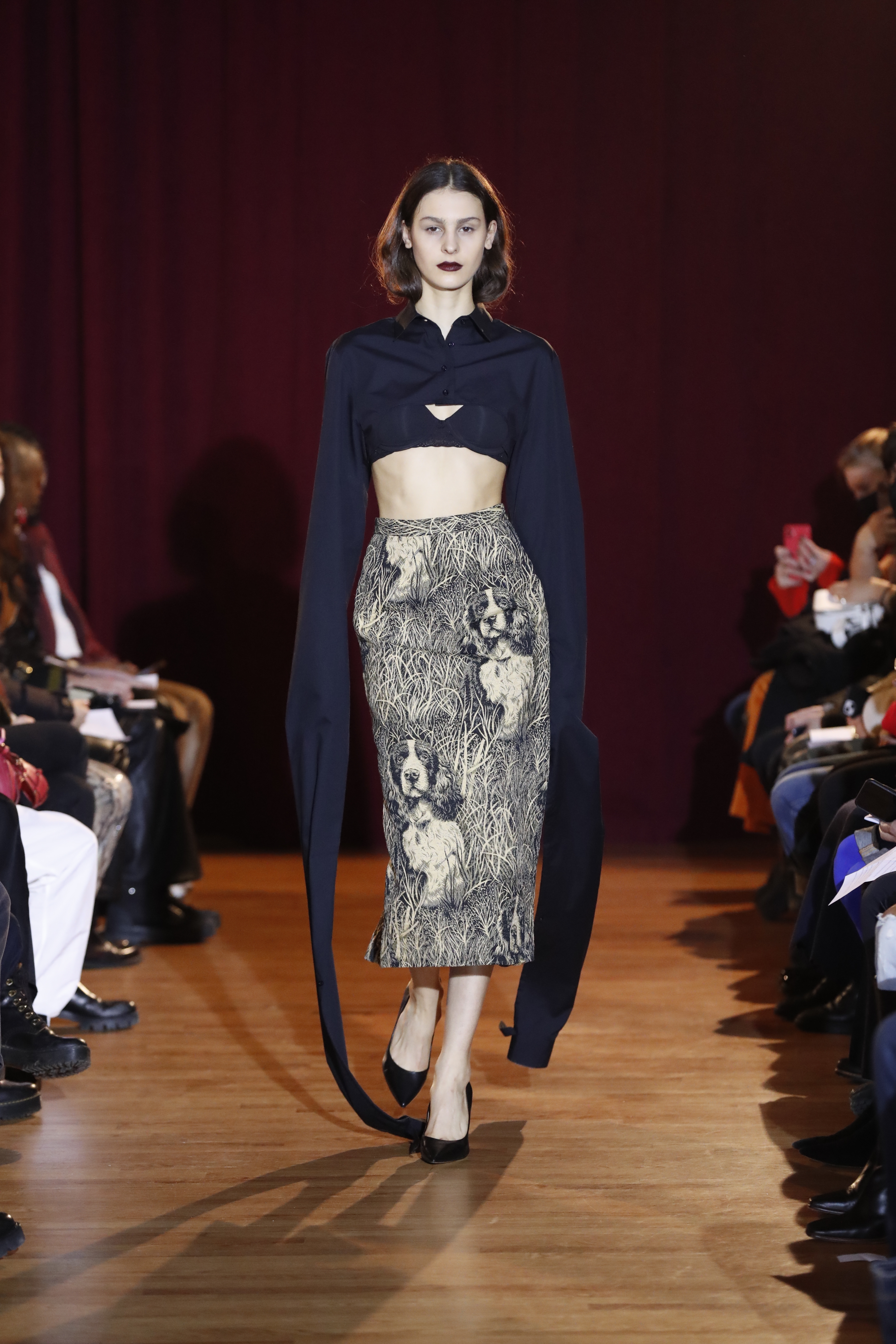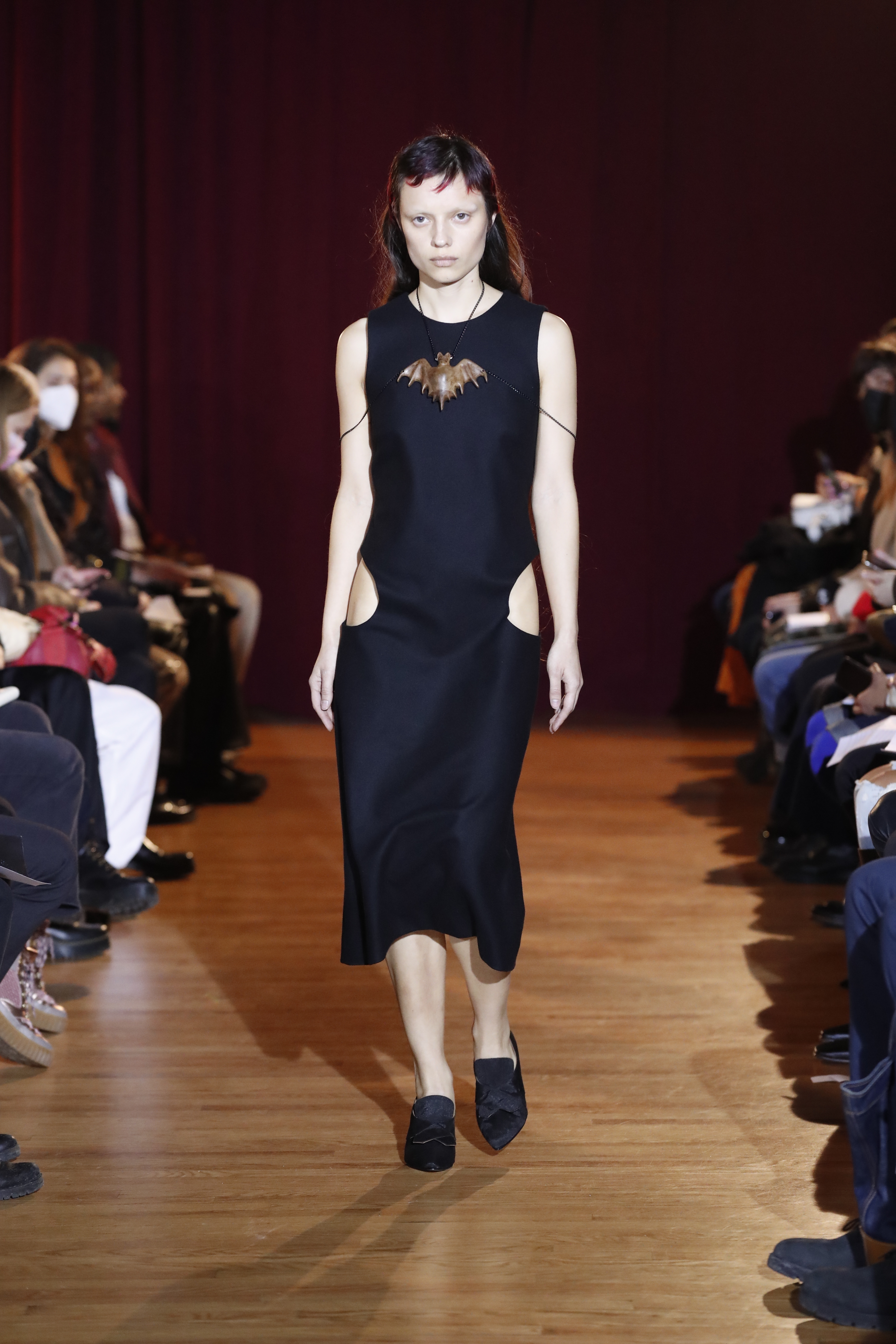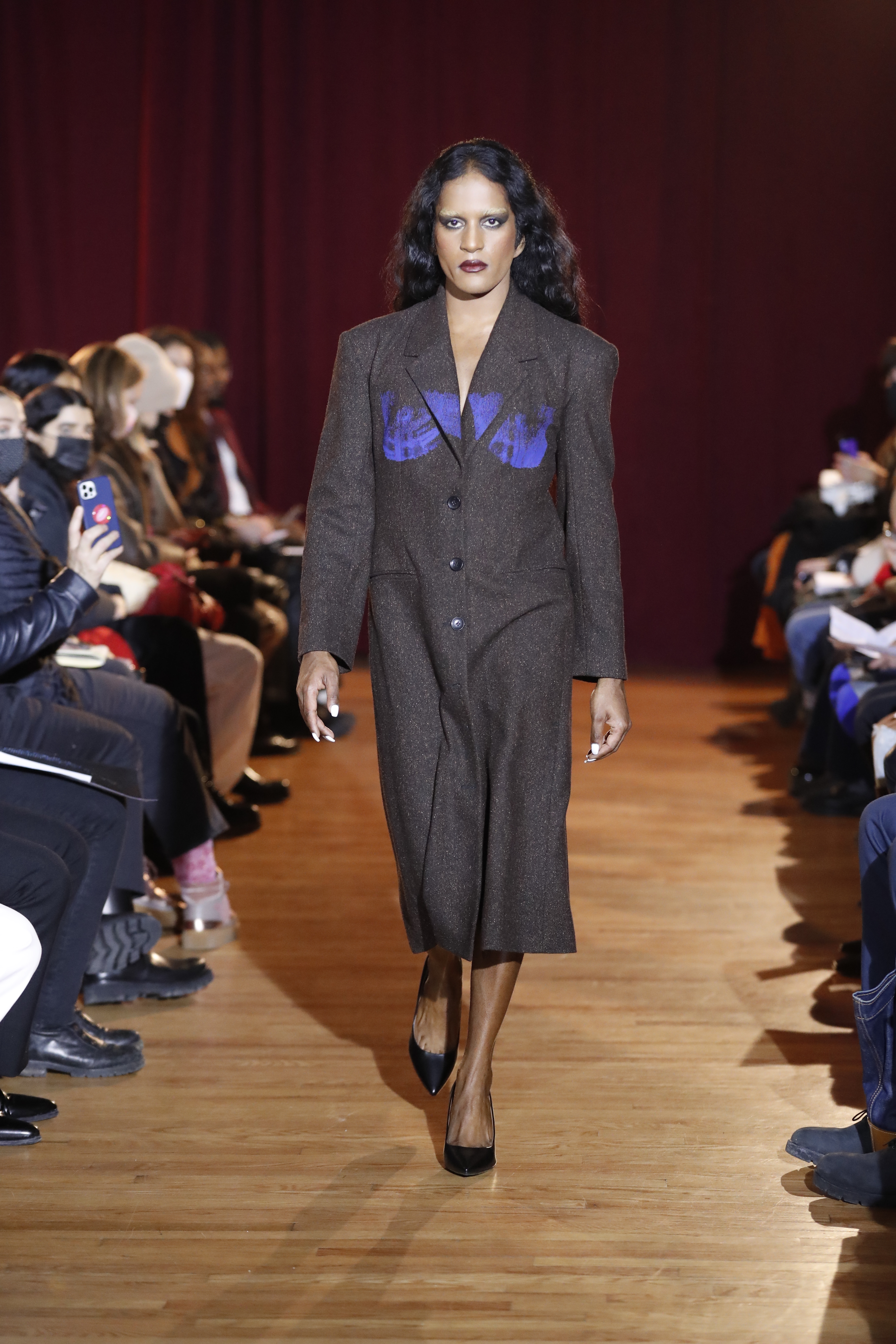 Khaite
Set in a large industrial warehouse on Little West 12th Street, Khaite's AW22 show opened with large robot-like mechanical lights, their twisting arms and flashbulbs taking over the space, and an ominous thumping sound that led into Nirvana's "Where Did You Sleep Last Night". While this might seem uncharacteristic for the New York-based womenswear label, founded by Catherine Holstein in 2016, and known for its clean lines, classic silhouettes and overall softness, this season sees Khaite adding a healthy dose of grit to its quintessential glam. Mica Argañaraz kicked things off in a full leather look — a cinched and zippered-up skirt and 80s-inspired jacket — the decade's influence seen in the oversized, shoulder-y blazers and tailored suit that followed. "Defying neat distinctions between past and future, reality and illusion, decadence and restraint, AW22 proposes a profoundly personal wardrobe of nuance and strength, designed to be cherished and made for now," the show notes read. "Its tempo is one of welcome acceleration: the pace of a waking global city that continues to seek comfort in nostalgia."
It's nostalgia that reigns in crocheted knitwear, sequinned gown slips, sculpted tunics and swagged miniskirts, flourished with ruffles and fringe. The more formal and flashy evening wear looks are sure to channel Jerry Hall at Studio 54, while the more edgy separates are designed with the modern New York woman in mind. What more could you ask for. ND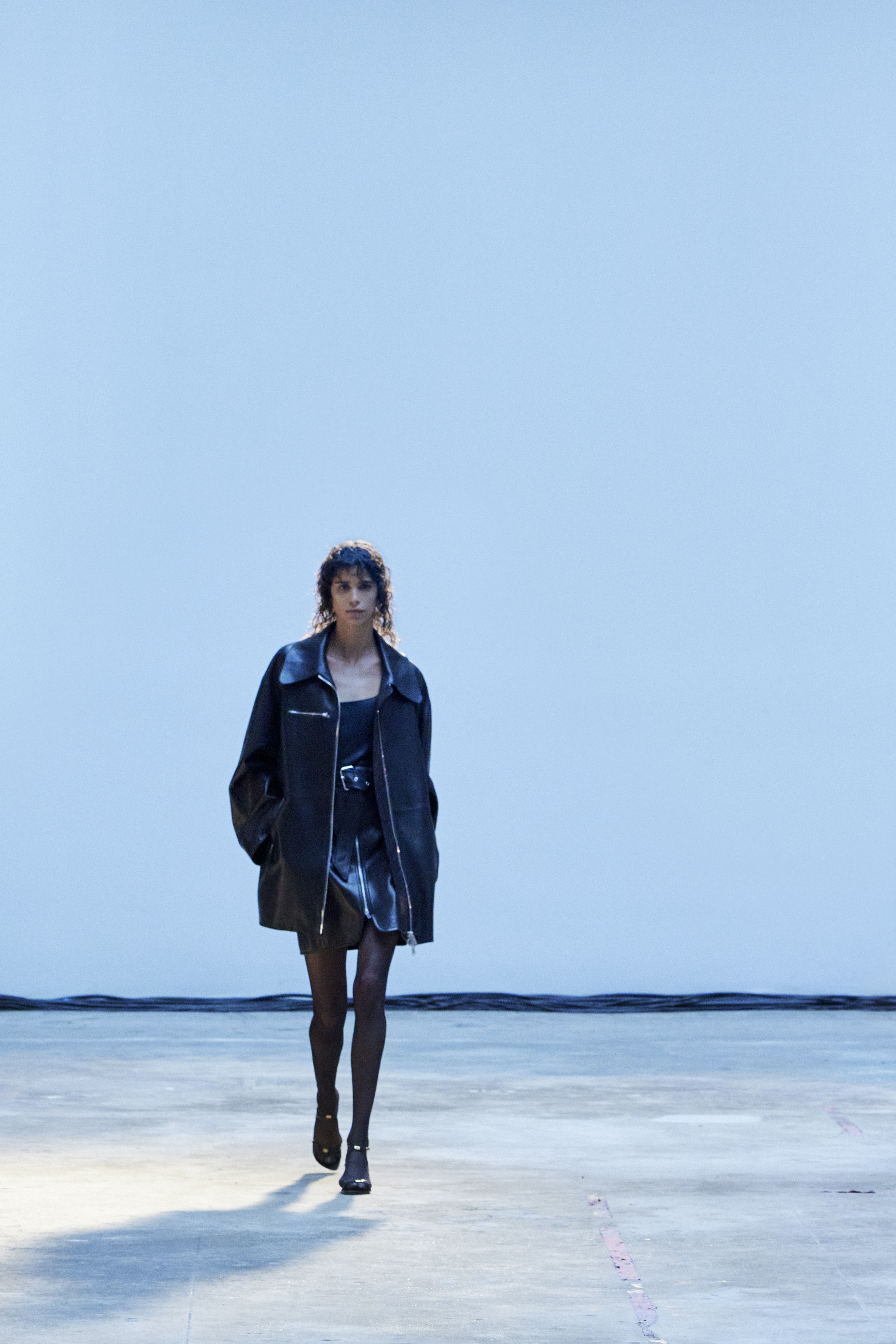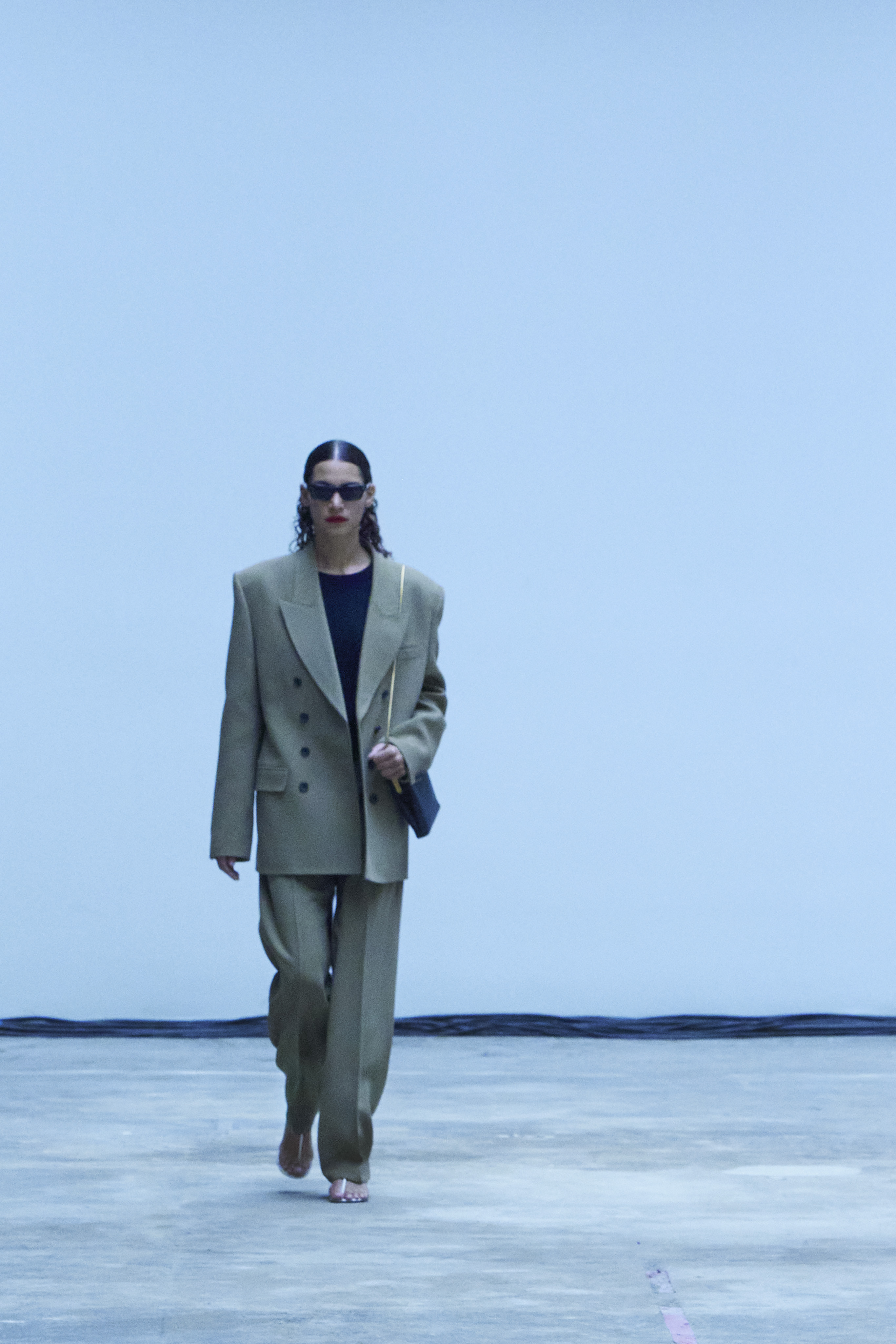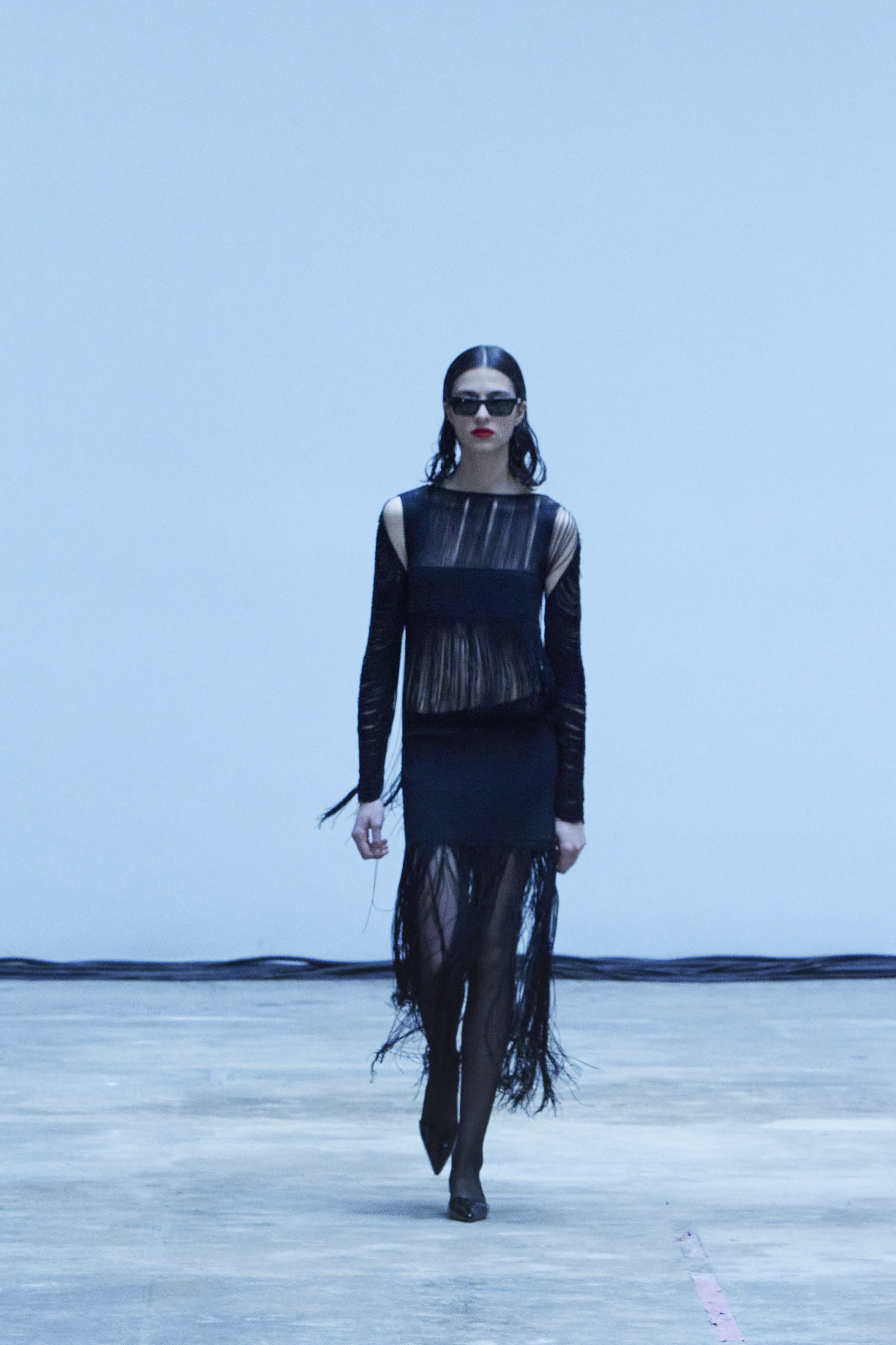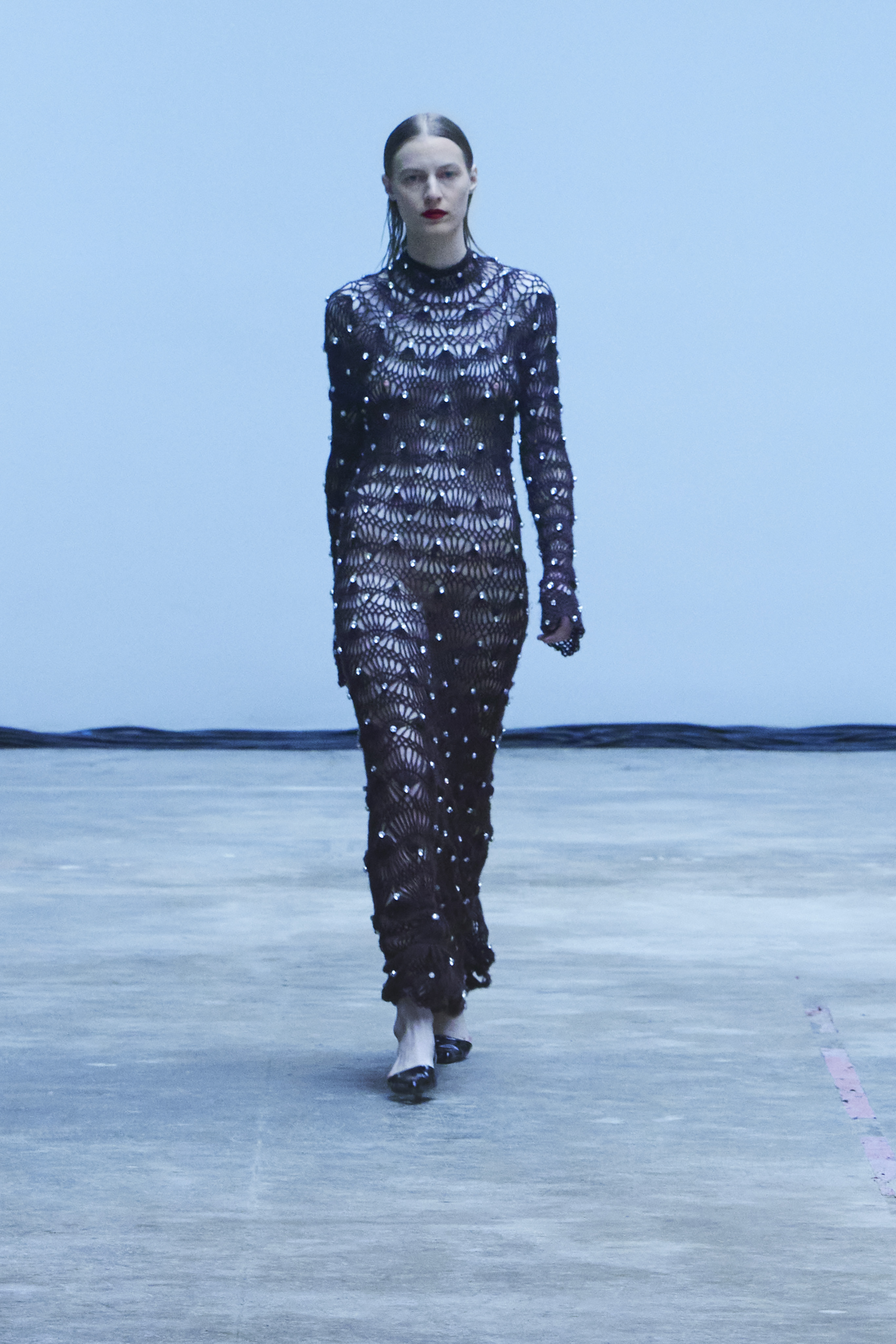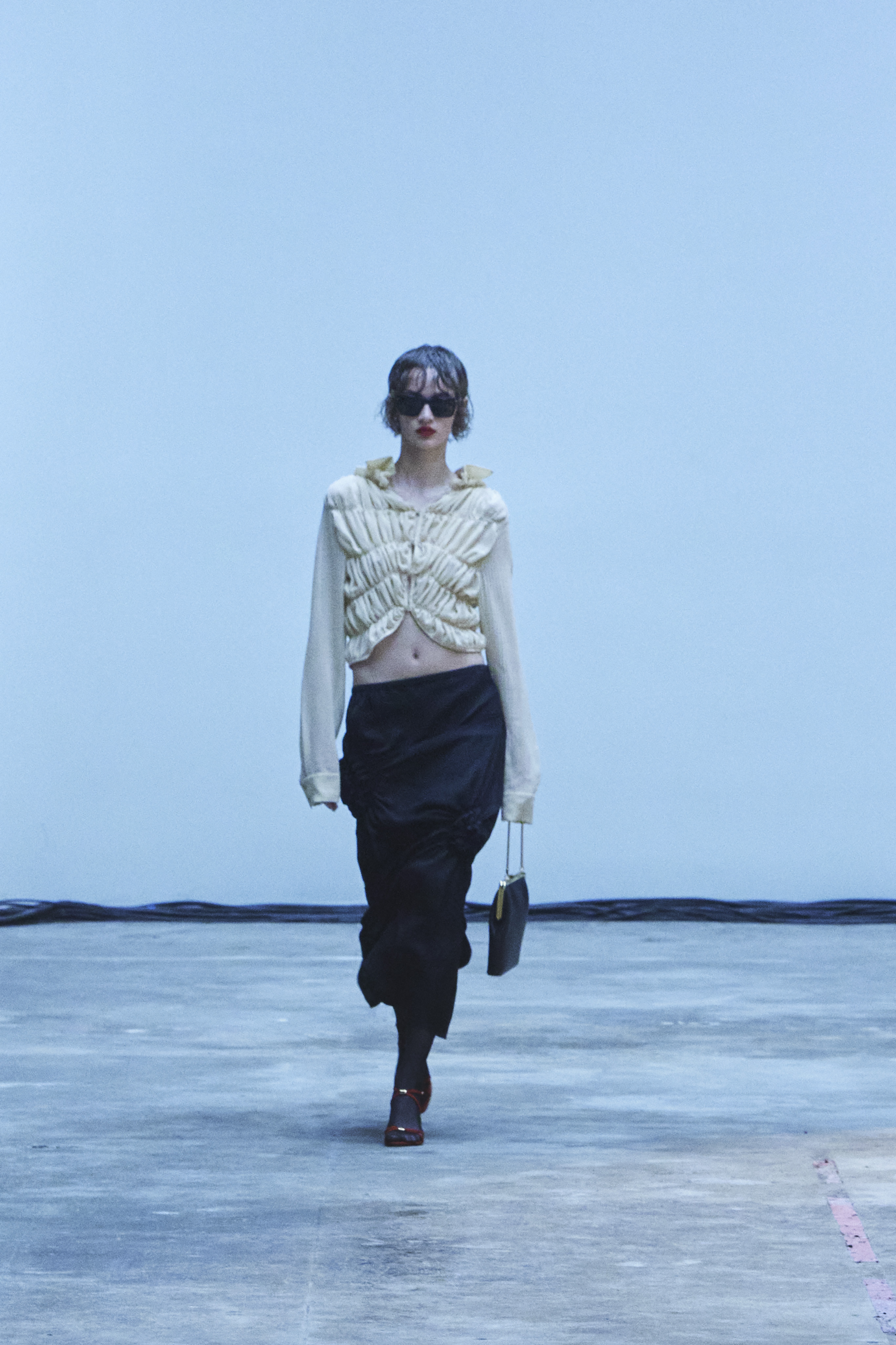 Eckhaus Latta
On Saturday night, Eckhaus Latta presented its AW22 collection in the halls of the Lower East Side's old Essex Market. Models — familiar faces including Okay Kaya, Hari Nef and Paloma Elsesser — stalked its former aisles, amidst abandoned stalls and old, empty refrigerators. Editors, buyers and critics sat tucked between wooden shelves, once replete with fresh produce (Sunkist oranges, 2 for $1; butternut squash, 99¢/lb.). It was the Brooklyn-based label's first Manhattan-held show in ten seasons and the evening's decampment, the choice of locale was anything but haphazard. The old Essex Market, an LES stalwart for over seven decades, closed its doors in early 2019; soon, its plain brick abode will be torn down, replaced with a block of condominiums. "We've been trying for a long time to secure this location. It's very timely, very New York City," says Mike, hours before curtain call. "It has that sense of history and time, something that's constantly evolving and changing. That sense that nothing is permanent here."
Like the venue of its AW22 outing, Eckhaus Latta is also an emblem of the city it calls home. Unlike the fate of the old Essex Market, however, the bi-coastal label is symbolic of a more hopeful, democratic form of progress. This season, Mike and Zoe celebrate ten years co-helming the label they created together. And for ten years, the duo have ushered American fashion into the present moment, their arty, avant-garde vision shifting the industry needle towards authenticity and inclusivity with pioneering genderless designs and non-model casting practices.
For AW22, ten years on from the label's 2012 debut, Mike and Zoe have fully refined their vision. "There's a familiarity to this collection," Mike says. This season, the duo continue to explore, expand and develop their hallmark themes — deconstruction and materiality; however, the offering is no retrospective. "We didn't want to make a #TBT collection because we're still genuinely excited about making clothing. But I will say, looking at the collection it does feel very self-referential," Zoe explains. Read on about how Eckhaus Latta made American fashion cool here! ZK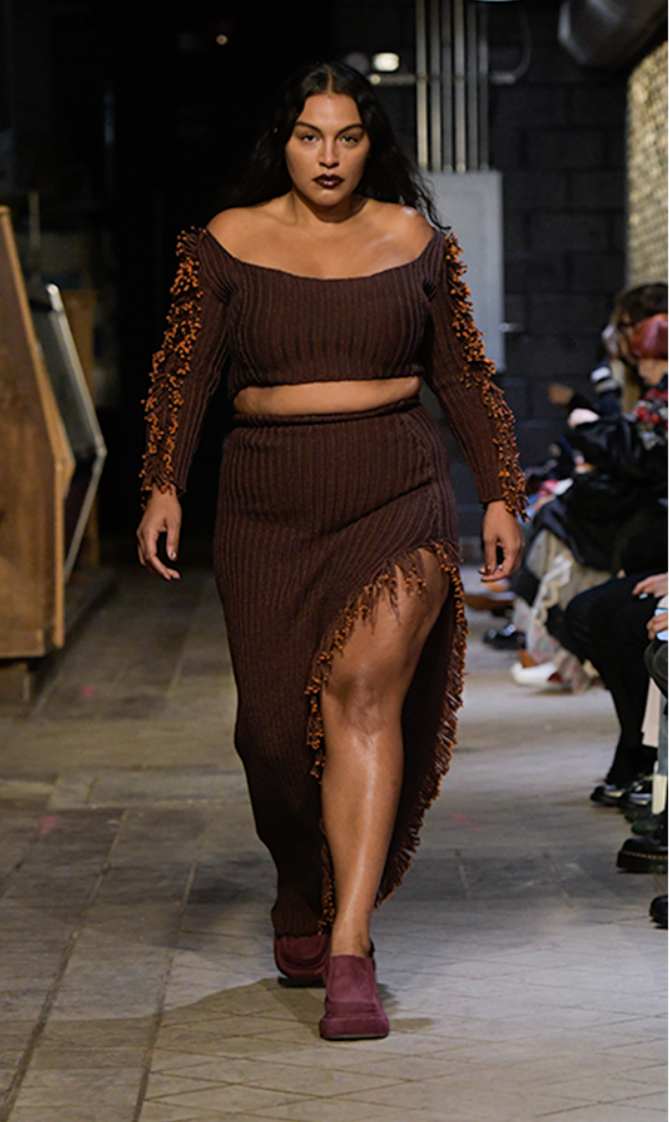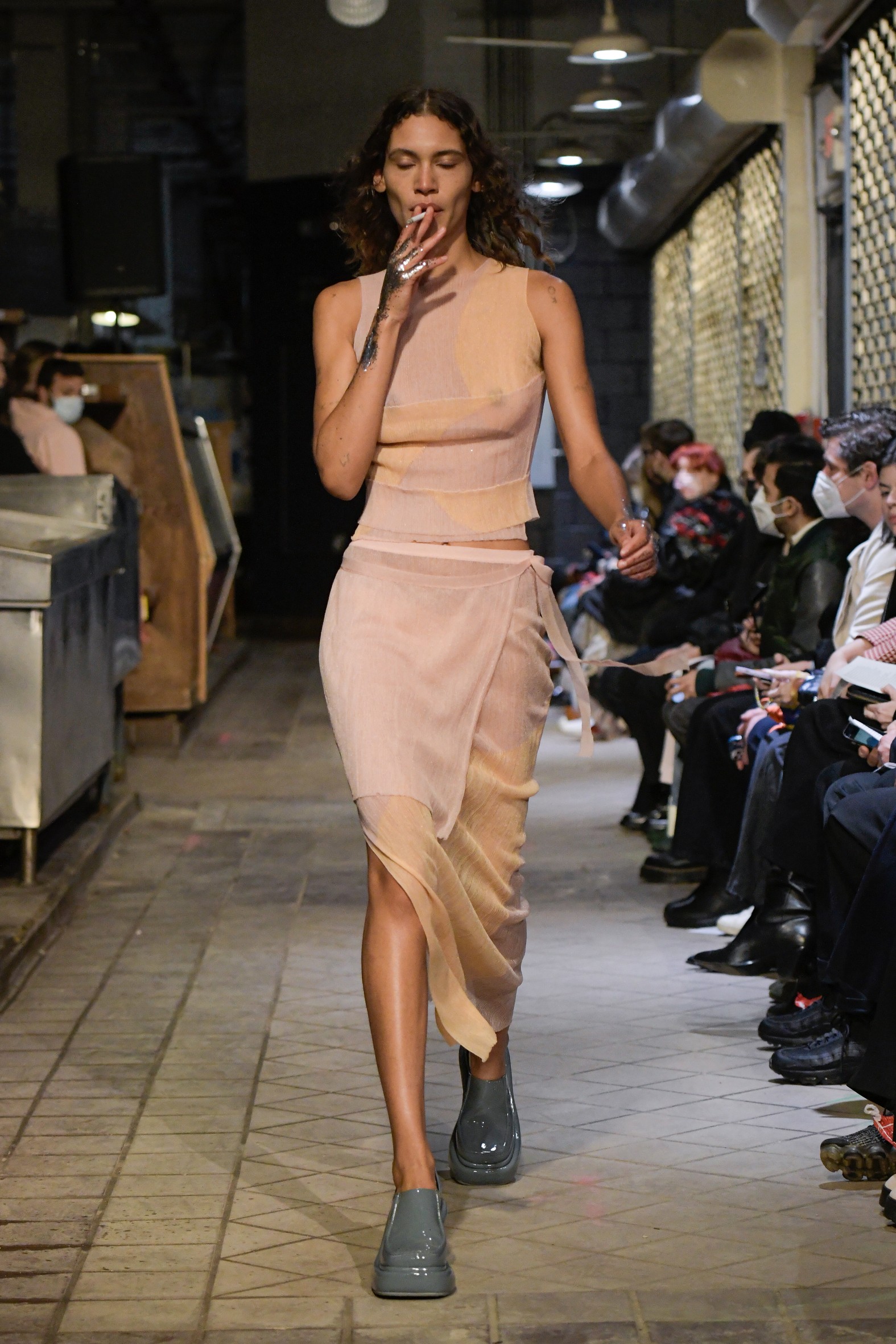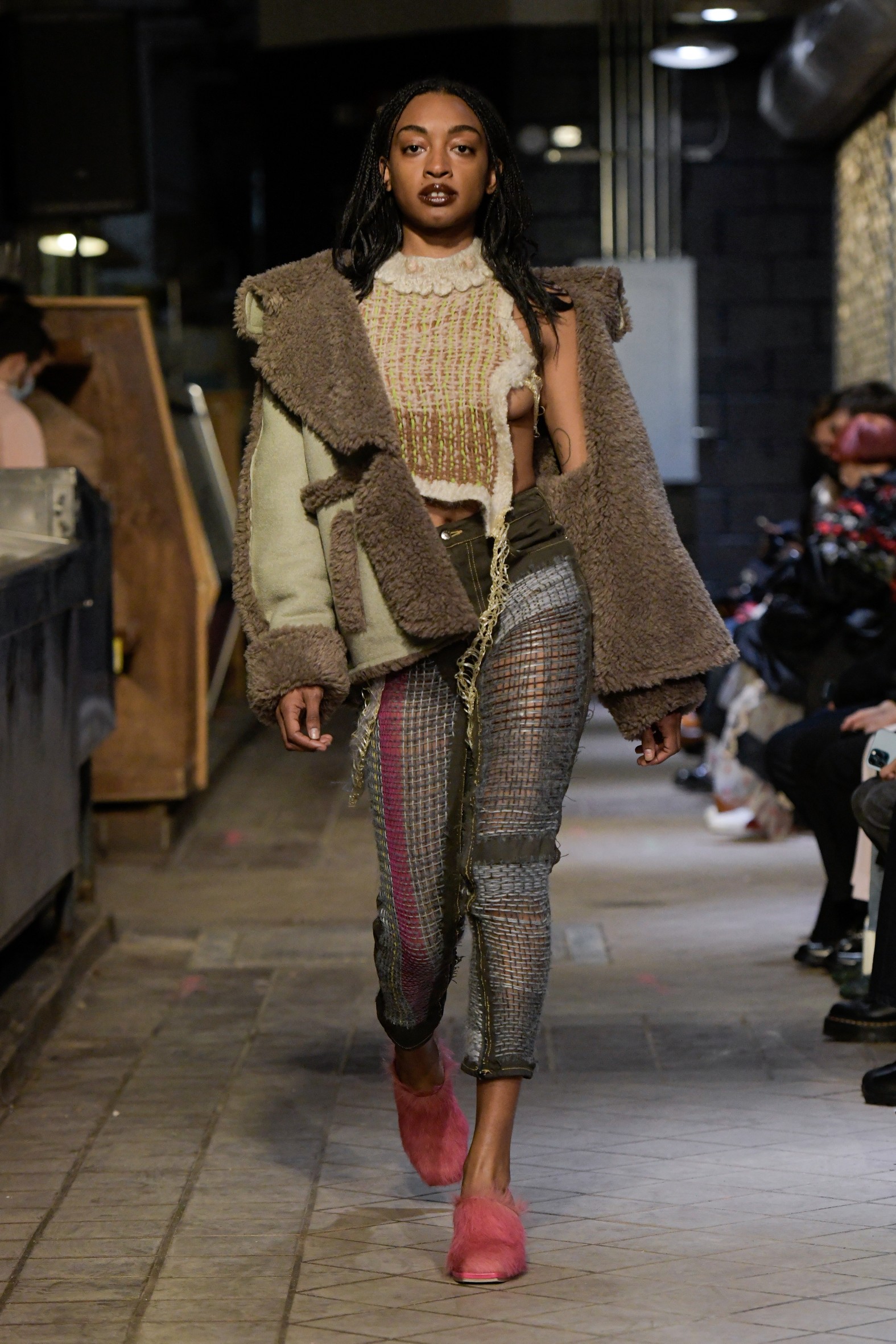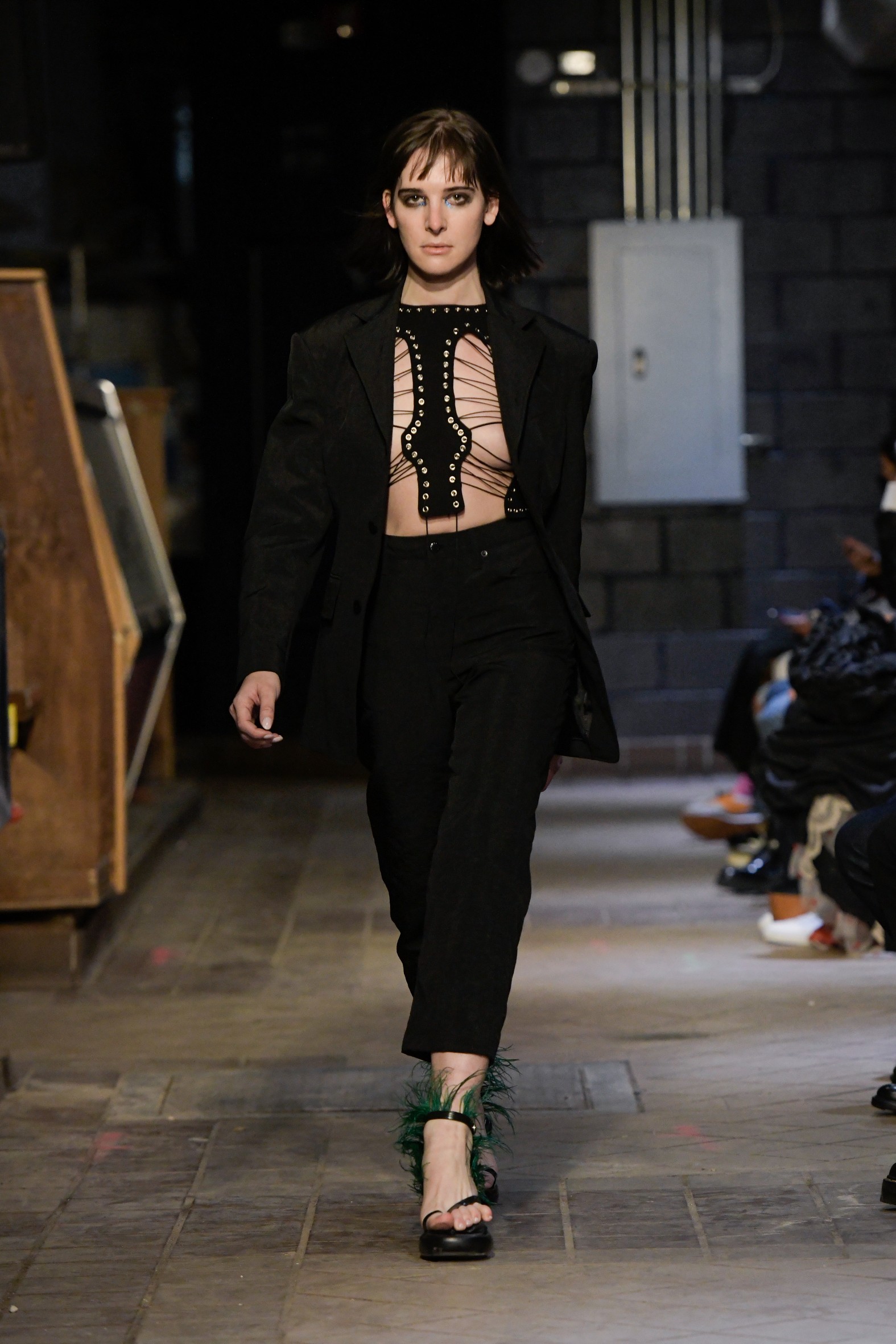 Kim Shui
We can always rely on Kim Shui for her seasons-long practice of giving us power-femme via sexy cutouts and mesh, but tweed marked an intriguing point of material difference for her AW22 collection, shown on the runway at Spring Studios. There were skirts and jackets evoking Chanel-driven thoughts of Clueless, The Nanny and Hillary Banks of the Fresh Prince of Bel Air, paired perfectly with sunglasses in pastel neons, fur-trimmed floppy hats and Barbie-girl bobs. New propositions came in the form of a tweed corset anchored to a cropped, collared bolero exposing flirtatious under-boob. Sensual sheer looks embroidered with sequined dragons were worn with black undies, thigh-high stockings, and crocodile trousers, ultimately drawing the most attention from the audience. These were visual cues the designer attributes to mocking the fetishisation of Asian women and "co-opted Western fantasies" from her own point of view, focusing on sexuality as a channel for empowerment, and women taking control of their own stories. AT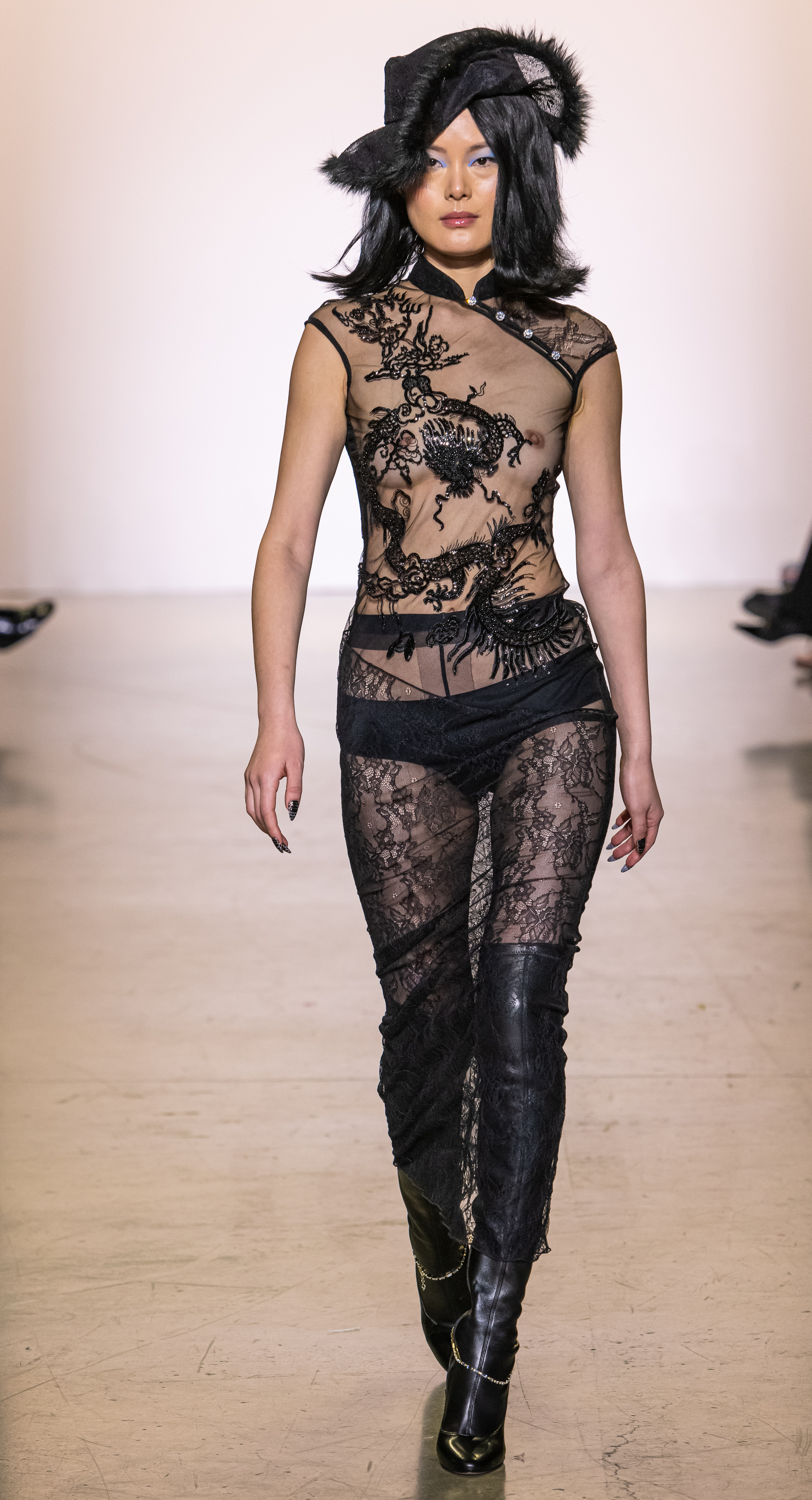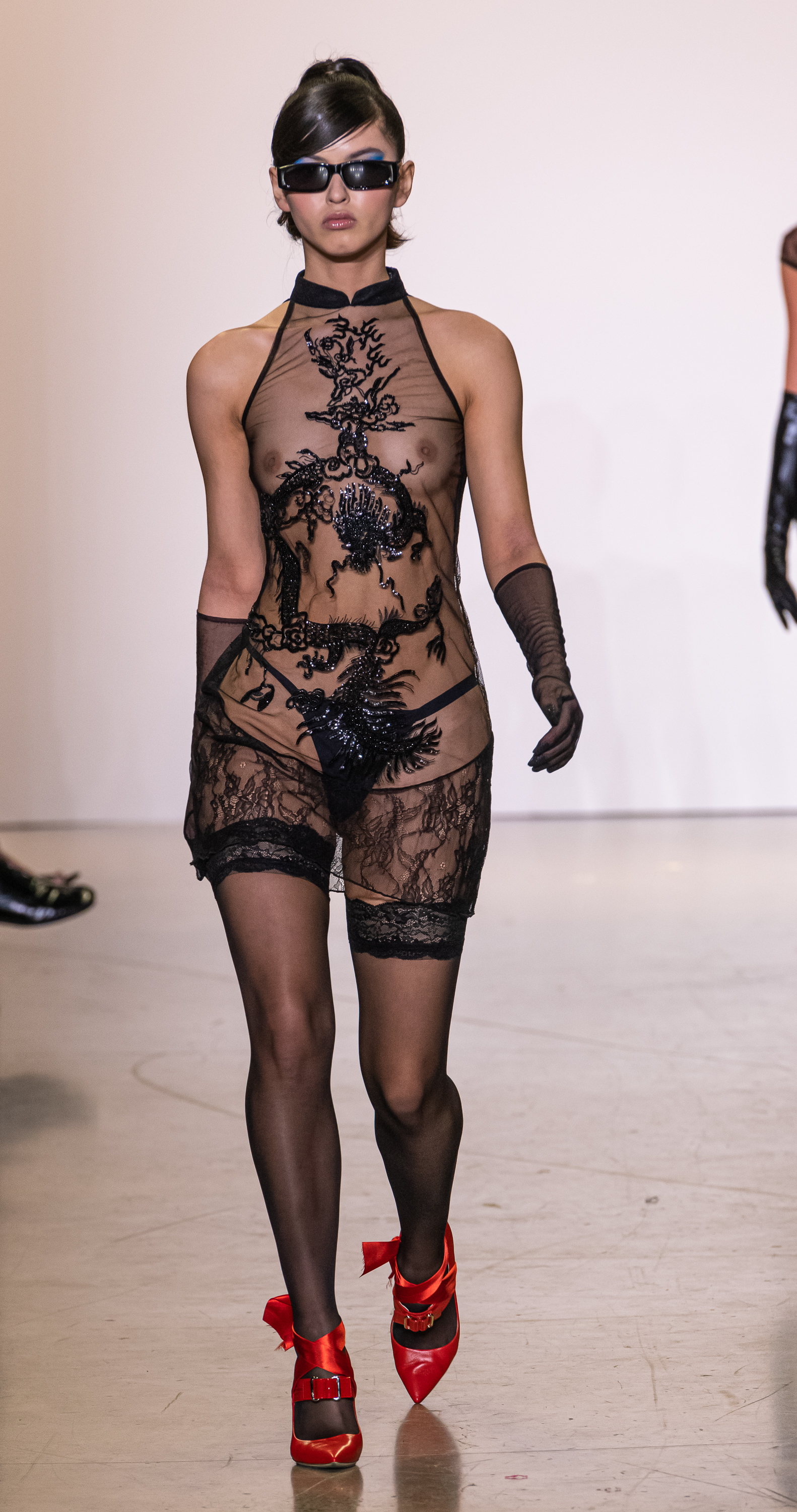 Shayne Oliver
Shayne Oliver's Anonymous Club — an expansive platform for collaboration with fellow artists, musicians, designers, and thought leaders across his global community — launched a residency at The Shed's Griffin Theatre called Headless: The Demonstration, a series of happenings spanning New York's first three days of AW22. Thursday, amidst steel scaffolding, smoke, and video screens, there was a ceremony honouring Shayne's mentor Andre Walker, with a musical tribute to Virgil Abloh by recording artist and former HBA Creative Director Ian Isiah. Friday was a preview of Shayne's eponymous new label, featuring models draped in familiarly sexy, spiky, sometimes grotesque shapes (many glittering with Swarovski crystals), and cartoonish shoes with stretched, exaggerated toes.
Pat McGrath dreamt up enchanted-forest-demon-fairy makeup moments, and accessories nodding to Telfar Clemens and Ugg "previewed collaborations in the works for the brand," according to a press release. Models walked through a standing audience, soundtracked by songs from Shayne and Arca's musical project Wench, crescendoing in a finale performance by industrial pop artist Eartheater.
Proceeding into the rest of fashion month, riding new post-pandemic wavelengths in a transformed city as we collectively finding our footing, it feels good to know he's back in transgressive action, surrounded by friends. Read more about Shayne's new platform here! AT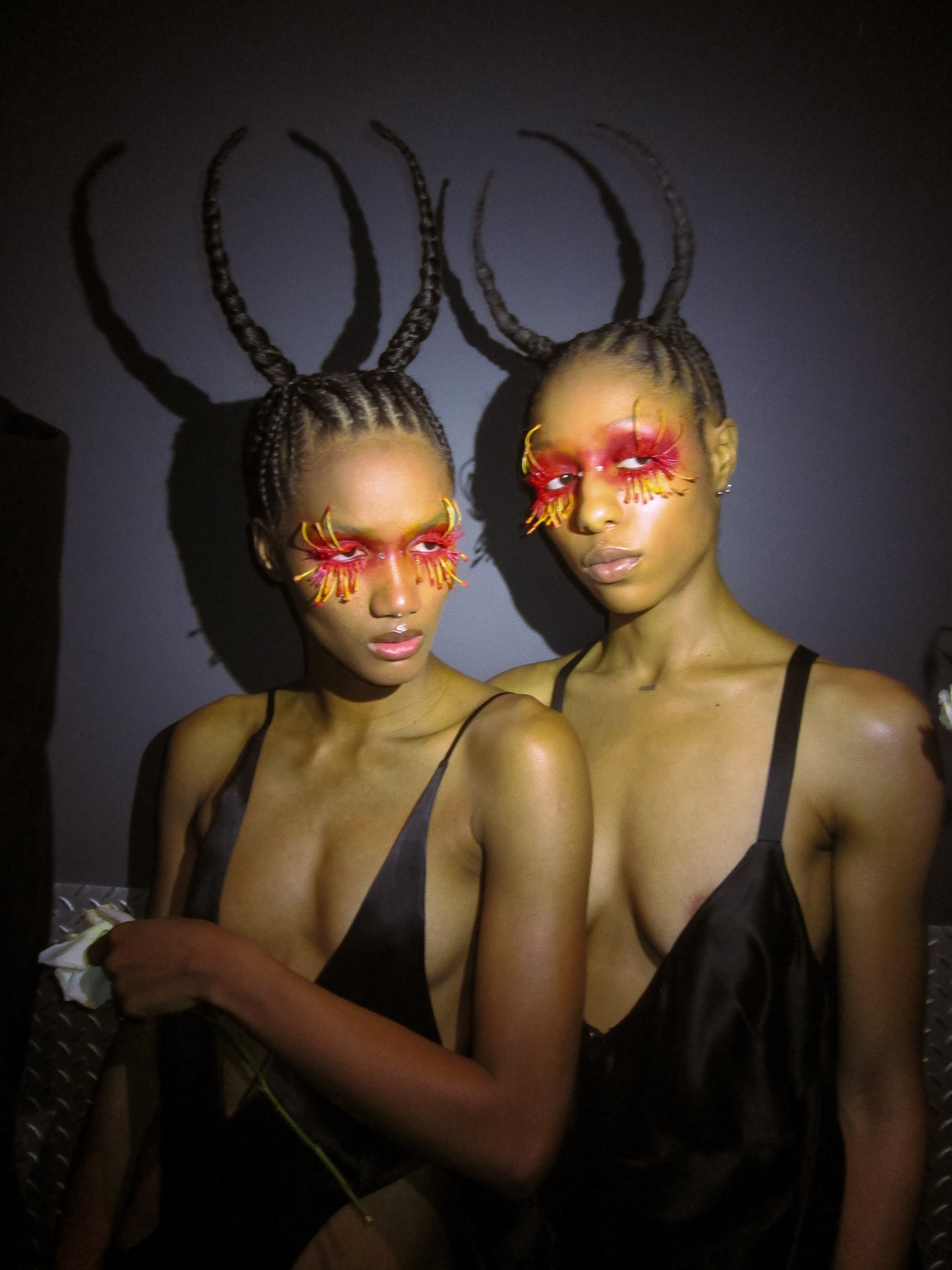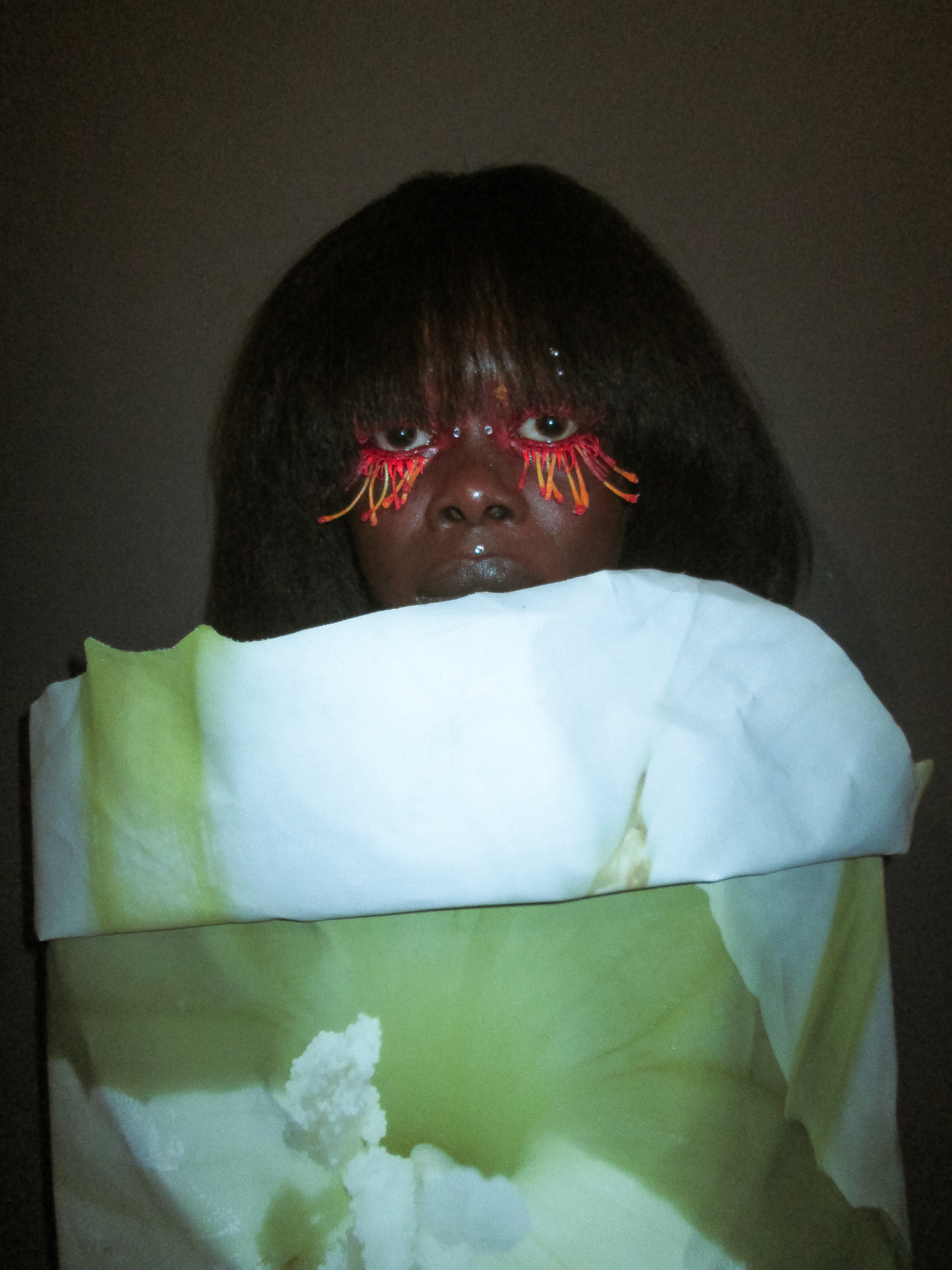 Maisie Wilen
Maisie Wilen is known for her colourful, slinky party dresses, often done in hypnotic, optical illusion prints that bridge fashion and the aesthetics of the tech world. While last season marked the LA-based designer's official New York Fashion Week debut, where she put a full range of 'going out' dresses, catsuits and activewear-inspired separates on display in The Boom Boom Room, AW22 saw the designer break ground in a new way. Maisie immersed critics, editors and fans of the brand in a first-of-its-kind holographic experience at a Chelsea gallery, where 7-foot-tall surreal projections of models came alive in the otherwise dark space. Inspired by the dolls of Mattel's Monster High, they performed disjointed dances, mocked viewers by laughing and flashed their fangs while maintaining eerie eye contact.
The clothes themselves denoted a Maisie Wilen girl somewhat grown up, dressed in oversized outerwear and silken two-pieces. The looks might've been paired with fishnets and Maisie's signature cutout body-con dresses were still a central feature, but this season they were shown in neutral knits as well as playful prints, creating "a wardrobe that is made as much for one's virtual presence as it is for your real-life self". Overall the digital presentation was spooky and unsettling in the best way, making Maisie's universe a world every girl surely wants to be a part of. ND
Saint Sintra
Designer Sintra Martin contains multitudes. "I always had the feeling of living between two worlds," she confides over Zoom, days before her AW22 show. She's referring to her childhood — born to a Portuguese father and an American mother, she grew up in Los Angeles, dreaming of Lisbon — however, the sentiment also serves to illuminate the New York designer's multifaceted inner world. "Growing up, I always felt I was outside of the gender spectrum. I never really identified with either femininity or masculinity. I didn't like that I felt like I needed to prescribe an identity," she explained. Sintra's designs evoke the same expansiveness, exploring spectrums, breathing life into the space beyond the binary. With her label Saint Sintra, the designer explodes, amplifies, distorts and conflates the trappings of mens and womenswear: a joyous, "gender-bending" alchemy.
Sintra's AW22 collection delves further into the notion of liminality, advancing a more nuanced expression of womanhood. "[With] the last collection, I was projecting what I think it should mean to be a woman. This collection is a bit more honest and less feminine. It's what I think it means to be a woman," she explains. This season, Sintra spotlighted shirting, twisting, turning and transforming menswear staples into iterations that are not quite masculine, nor feminine. A striped Oxford button up is knotted with bows. A gorgeous periwinkle satin gown resembled a shrugged-off shirt: from the back, its neckline twisted into a pointed collar, beneath the shoulder blade, a placket cascaded into a long, buttoned train. Read our feature on Saint Sintra and see backstage photos here! ZK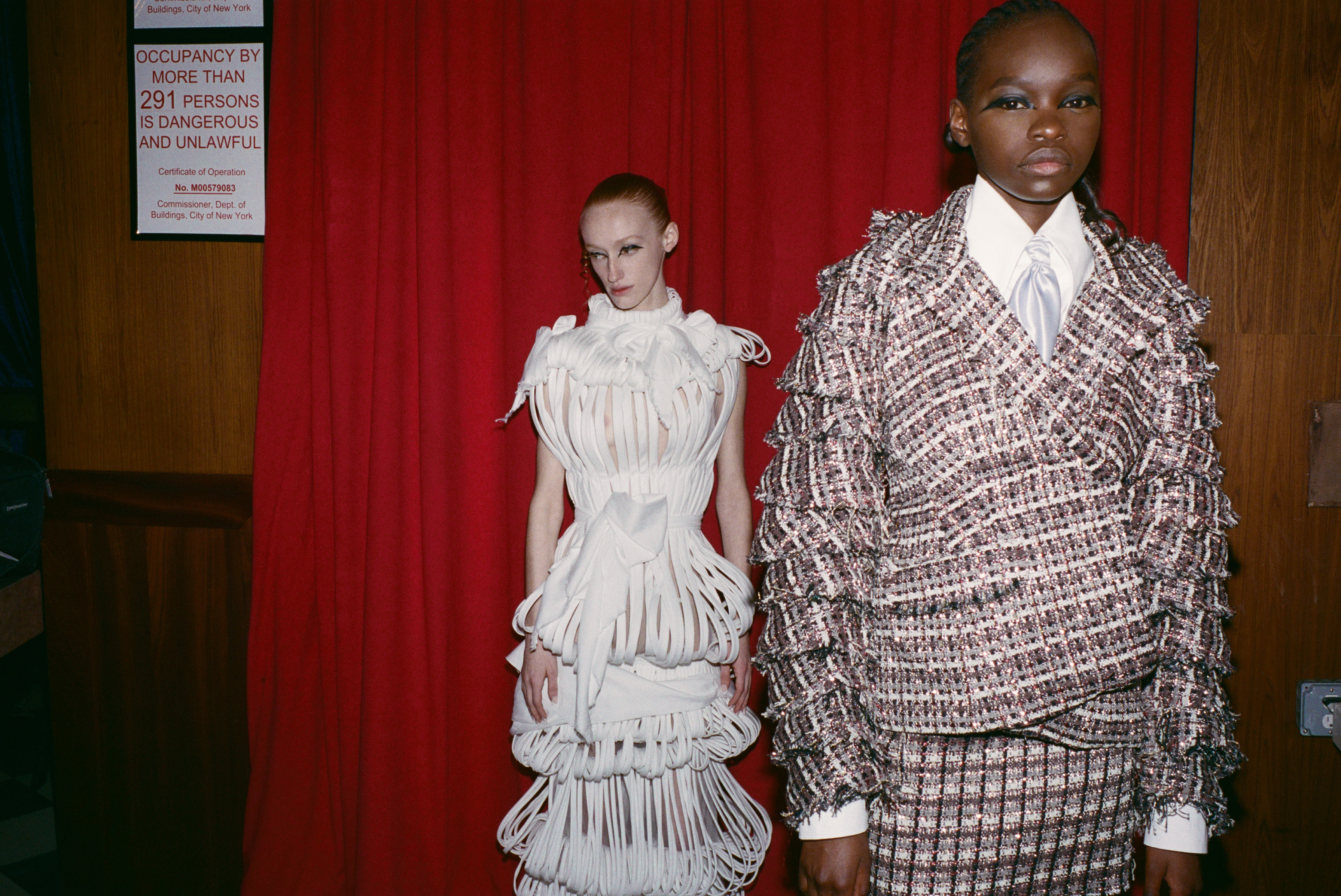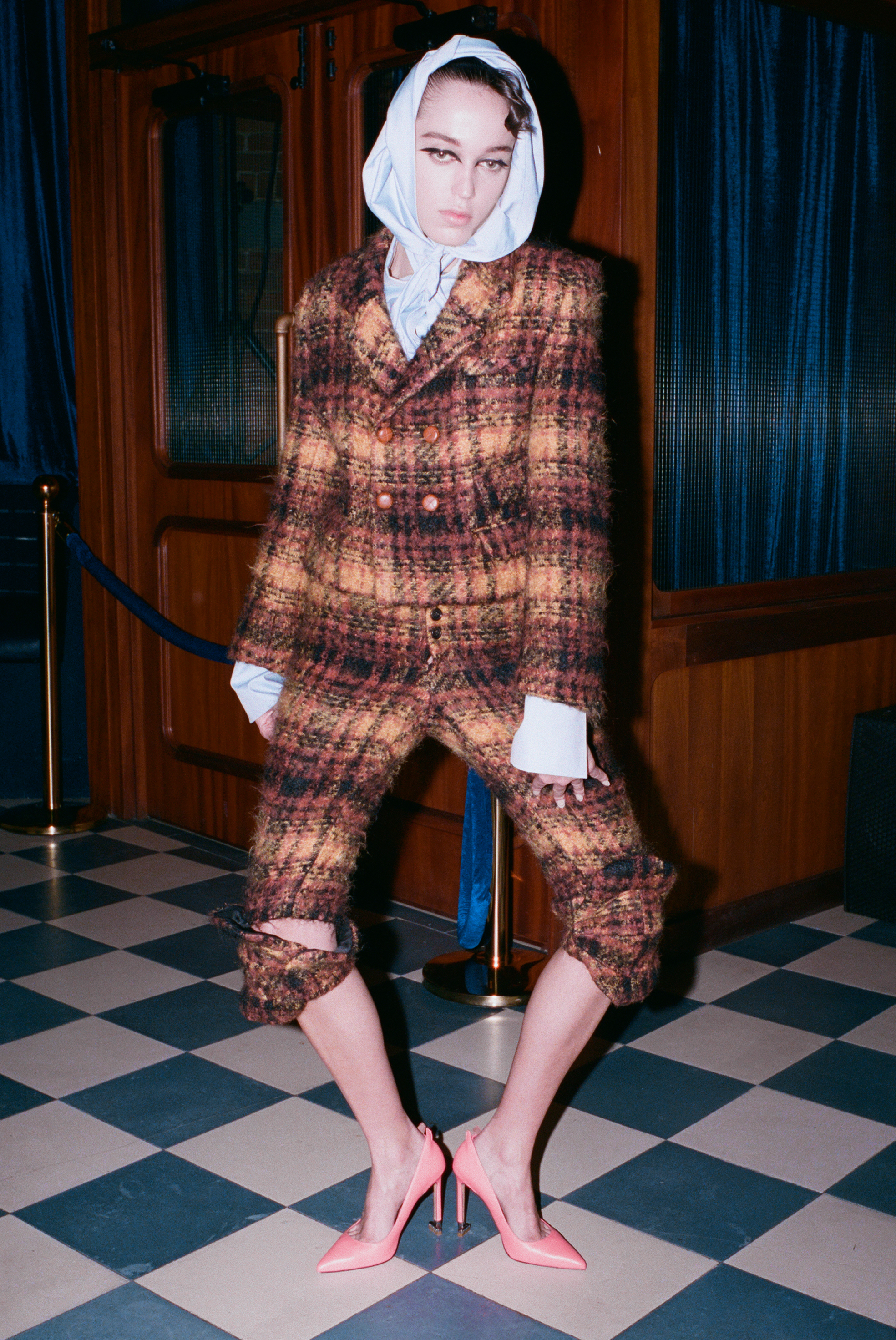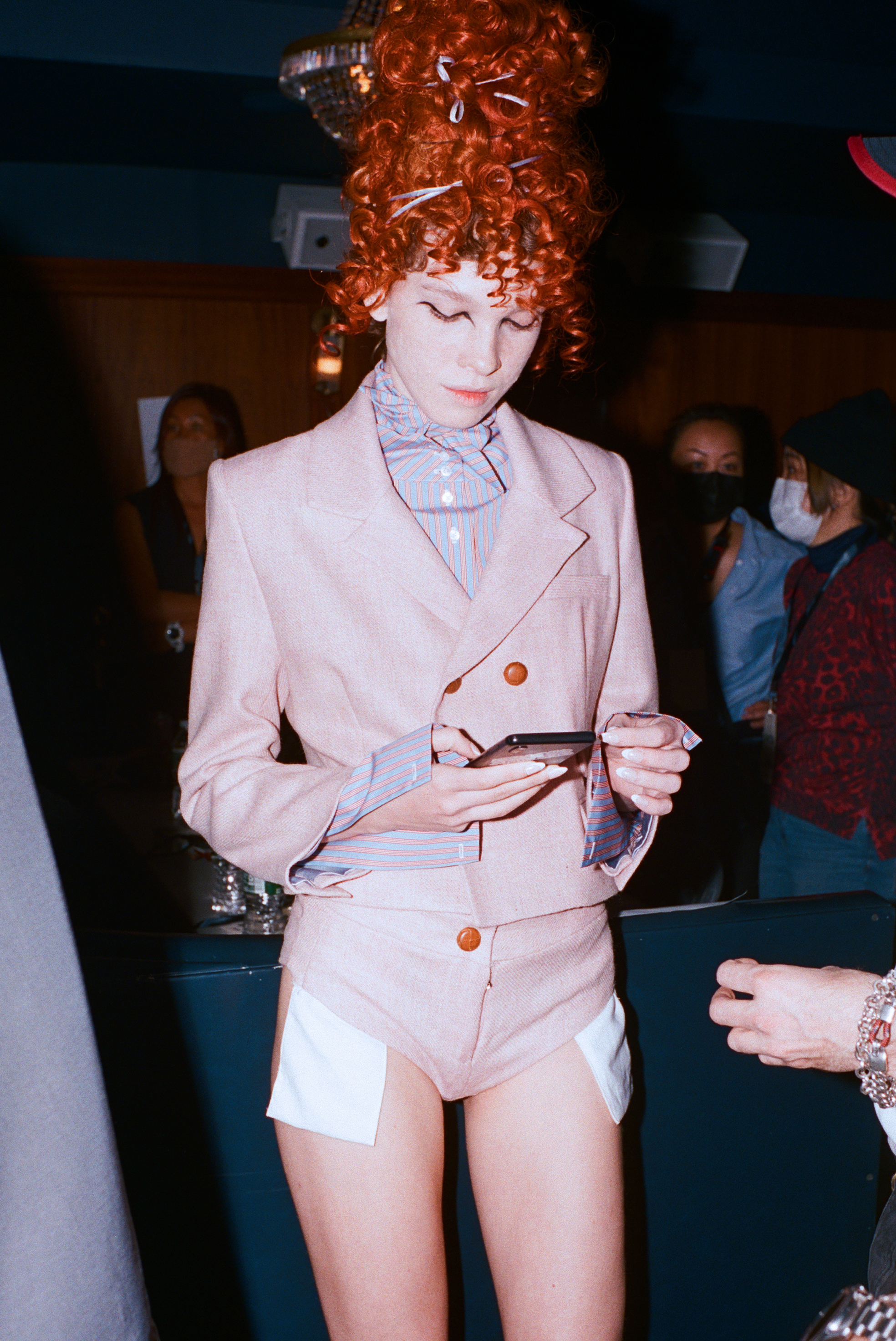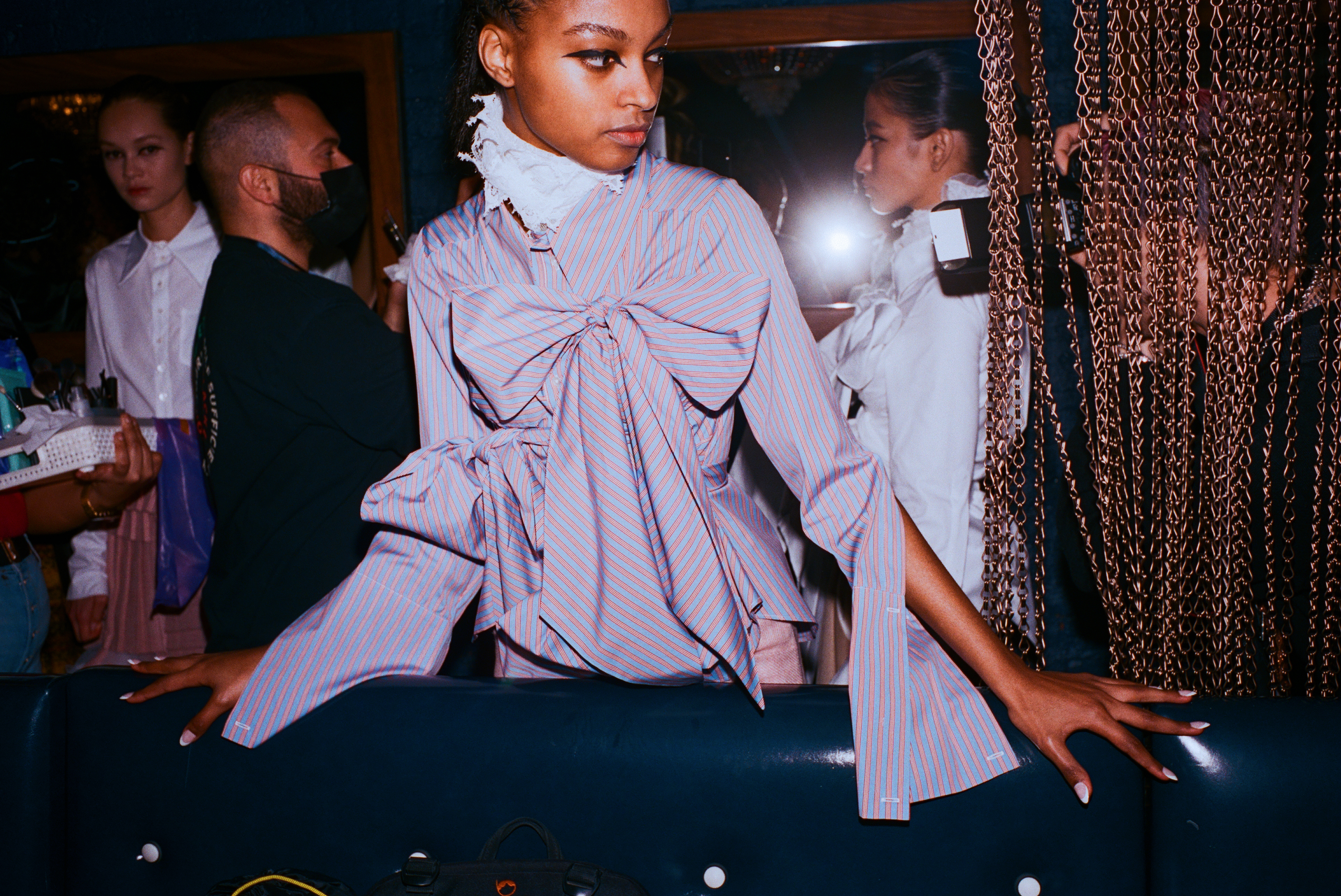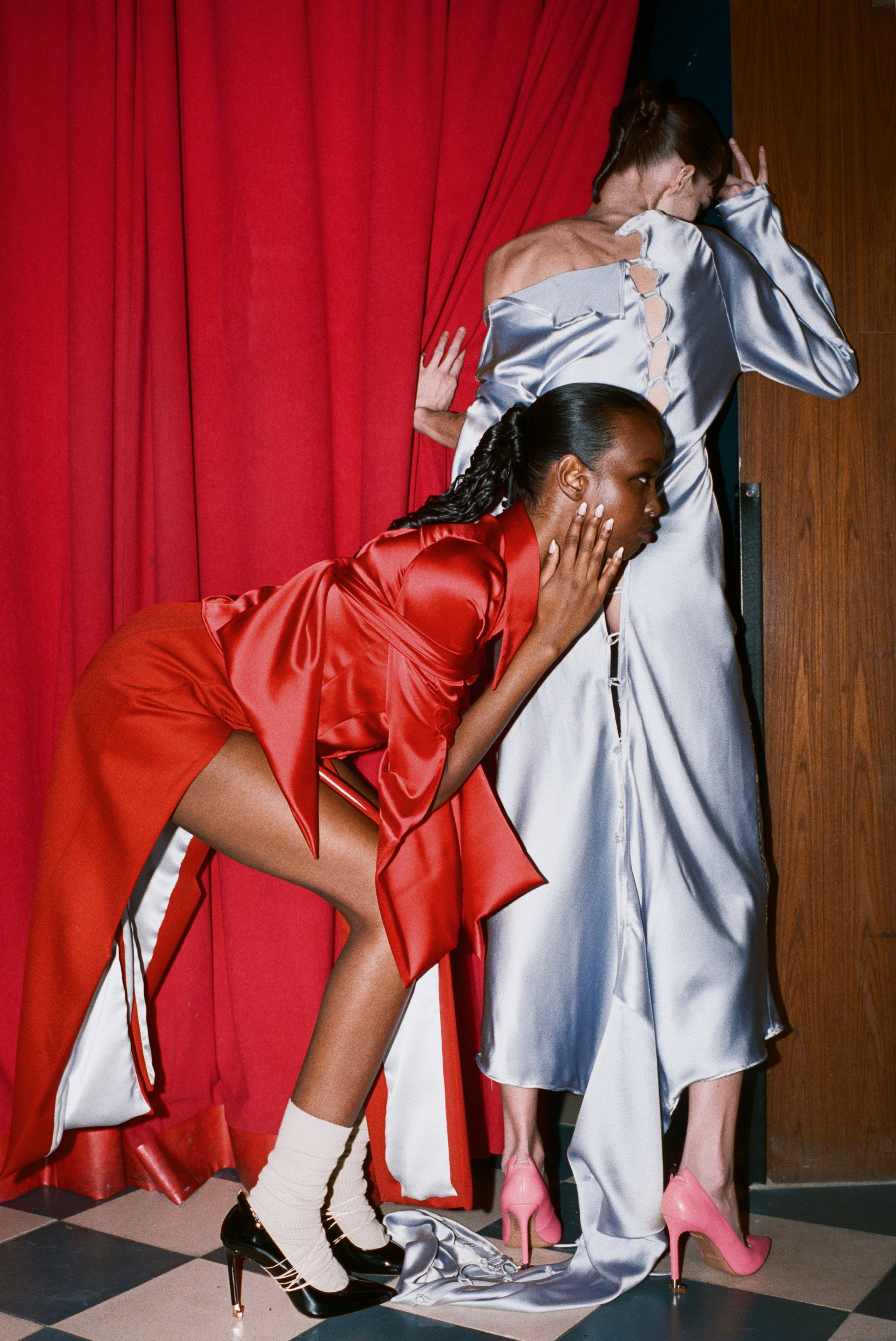 Elena Velez
Elena Velez's latest collection — titled Year 1: Maidenhood and Its Labors, and presented last night in her New York Fashion Week runway debut — builds on the notion of authentic femininity A character study on her quintessential woman, it's a rigorous treatise on "the obligations of womanhood, industry, and aphrodisia exploring the conflicting and symbiotic tensions of womanhood," she says – tensions that have taken on a personal significance in recent years – she's a new mother, a burgeoning designer and entrepreneur, and a partner, all roles she performs at once.
The more you talk to Elena, the more pressingly autobiographical her work feels. She designs with an urgency to create, which she attributes to the anxiety and pressure she felt to keep designing through what felt like a "societal collapse" during the pandemic, captured in her NYFW on-calendar debut last season. "After that collection, it just made sense to keep this as the essence of the brand," this gritty, industrial, and distressed aesthetic she projects onto deftly cut tailoring, beautifully draped dresses, and sculptural body-con looks. Pieces caught in the balance between a light, pretty, and youthful femininity, and a durable, empowered conception of womanhood.
It's a tension that she refers to as "aggressively delicate," a perfect example of this aesthetic ethos being a breathtaking white dress – that drew out audible gasps from the crowd when it appeared from – cut and pieced together so meticulously that it pours over the contours of the body while appearing to be on the brink of falling apart. Or perhaps is the patchworked laminated military canvas dress, draped organically on the body and sewn inside out, resulting in aggressively protruding seams. Read our full feature on Elena here! JCU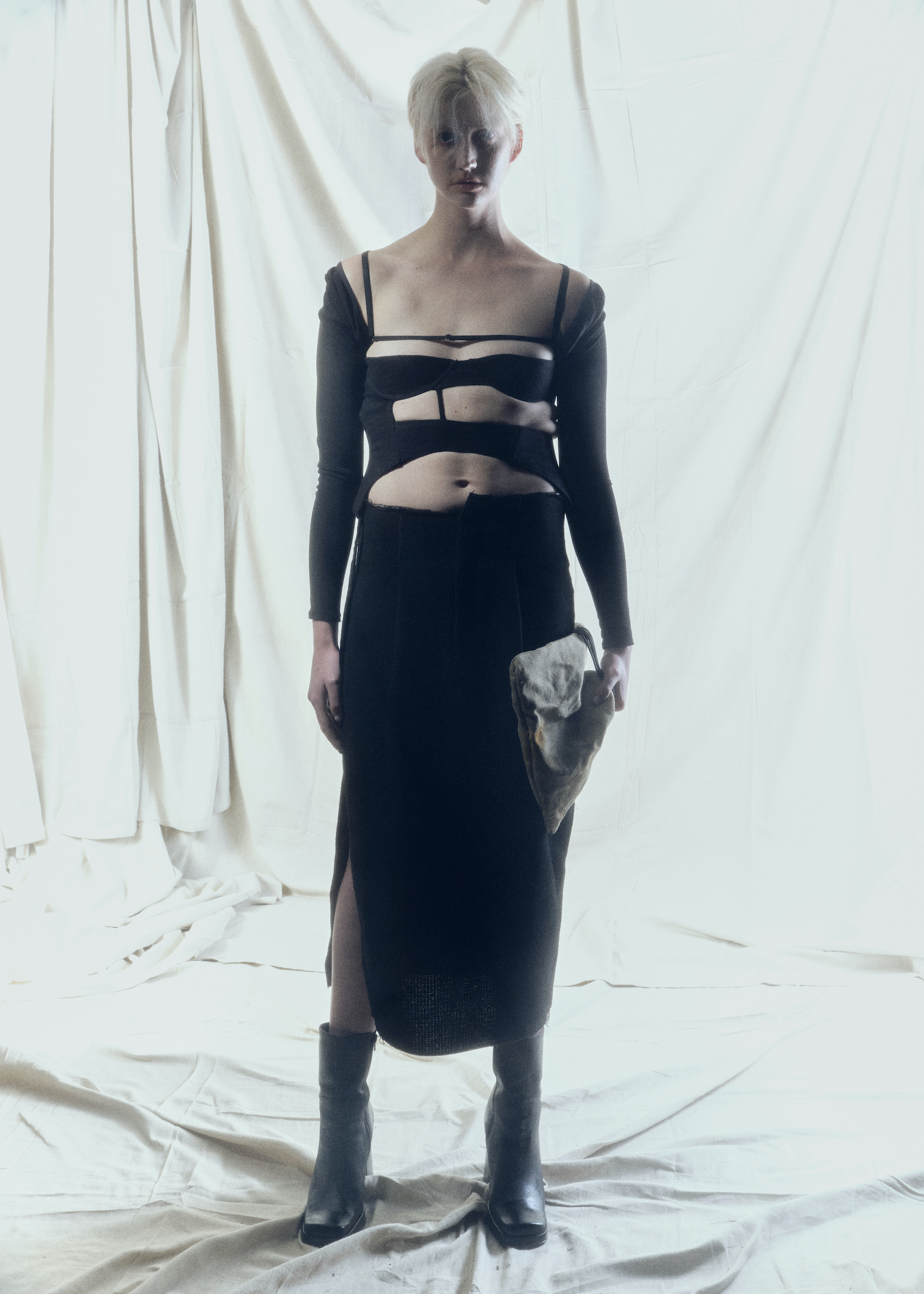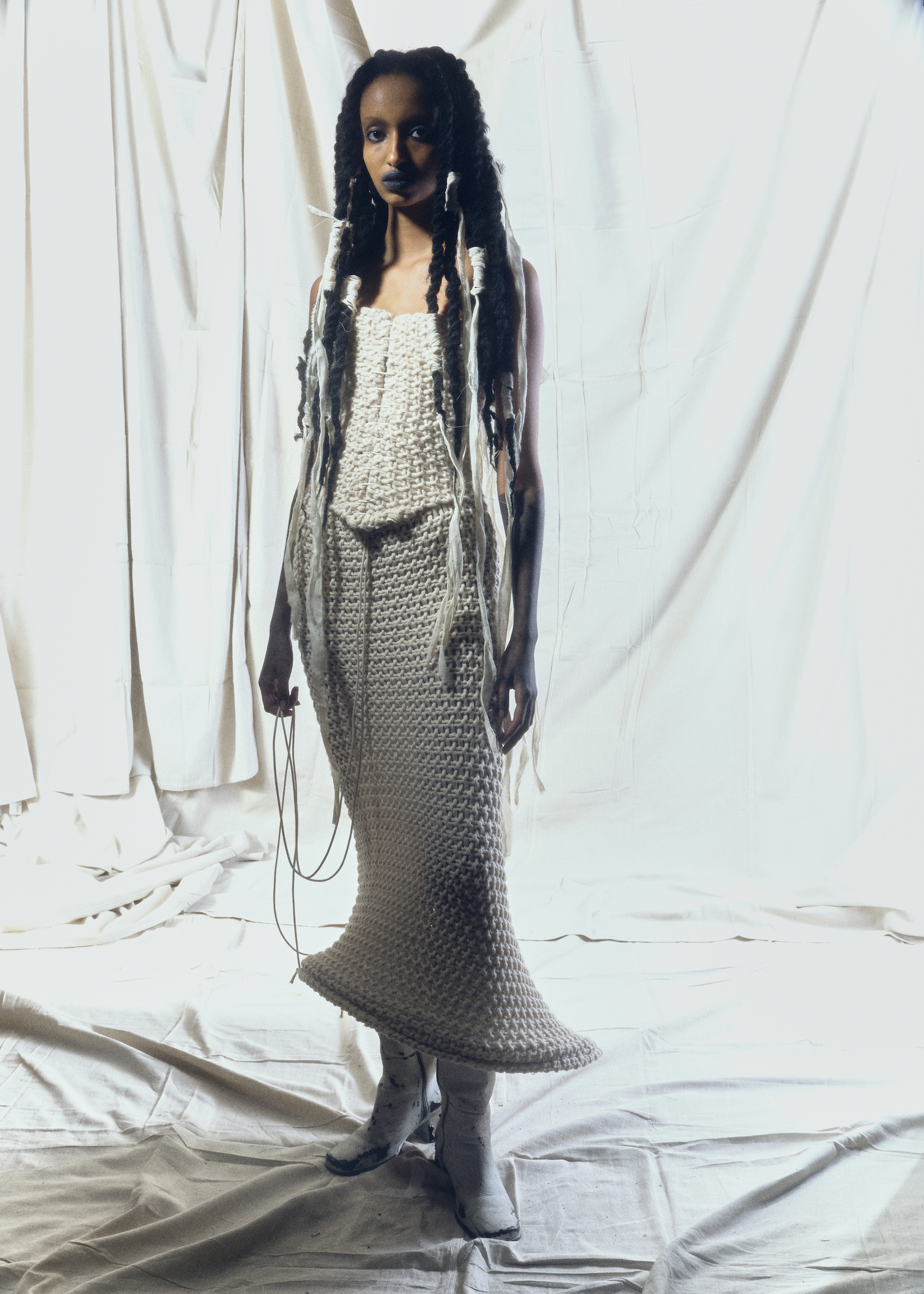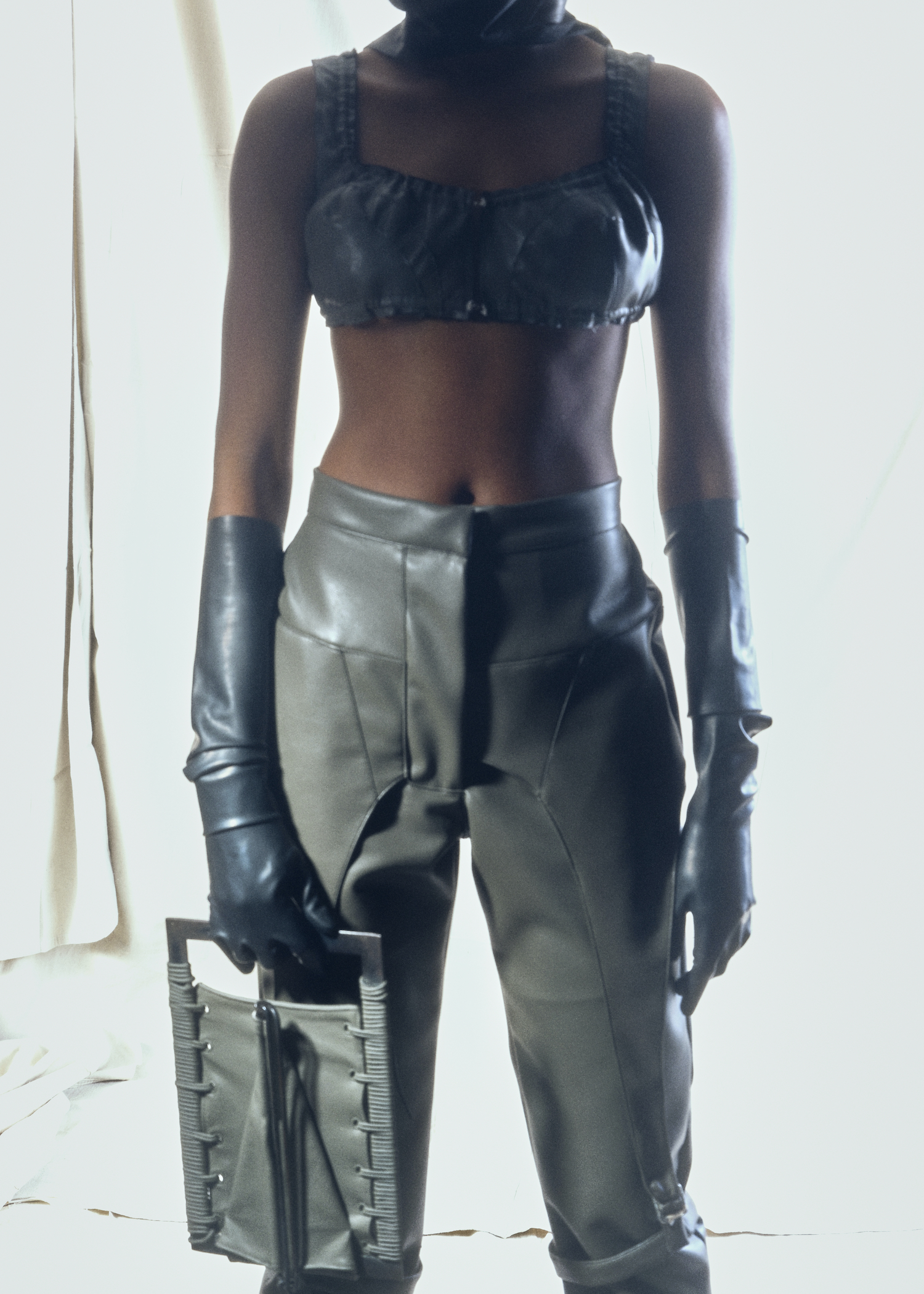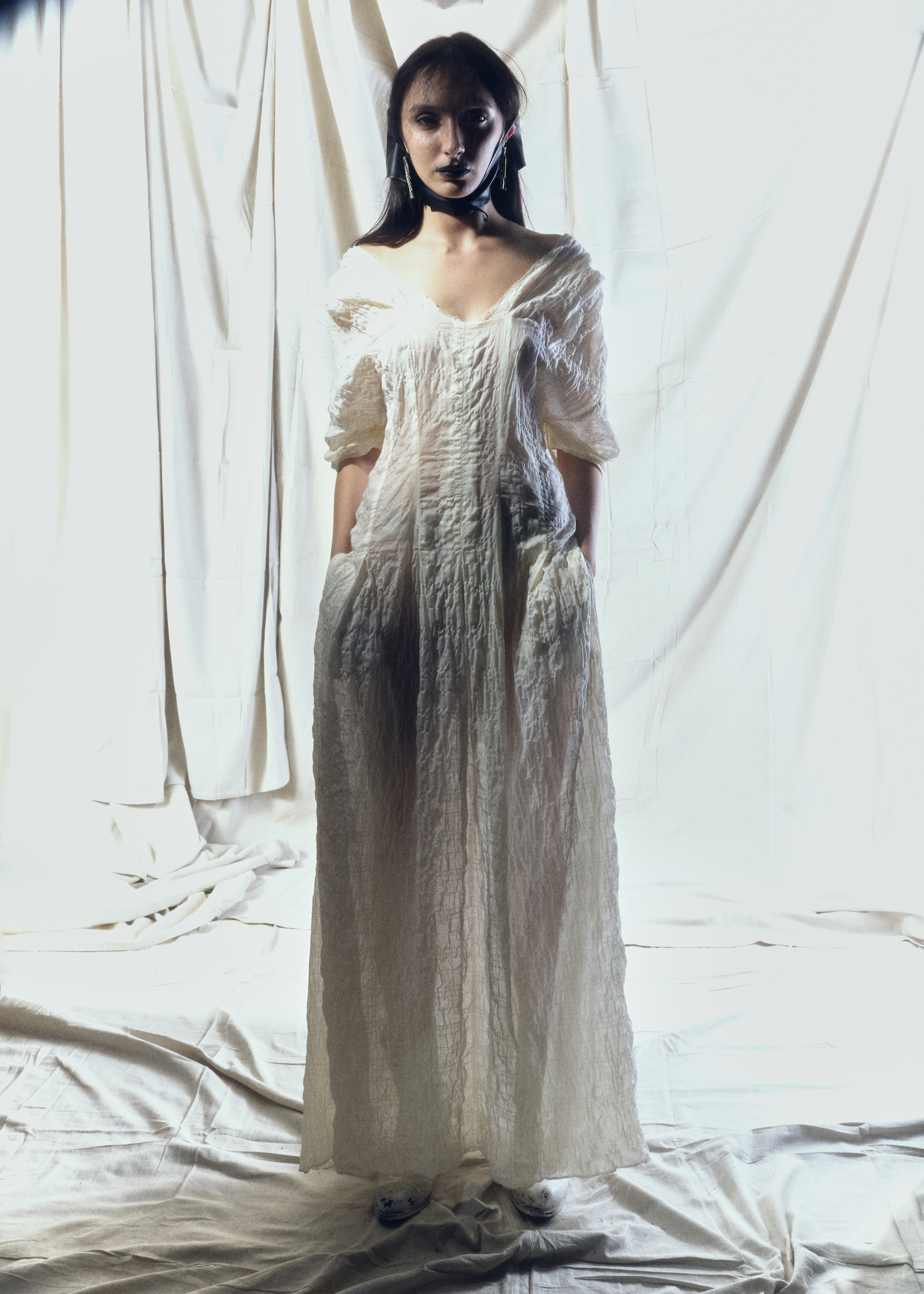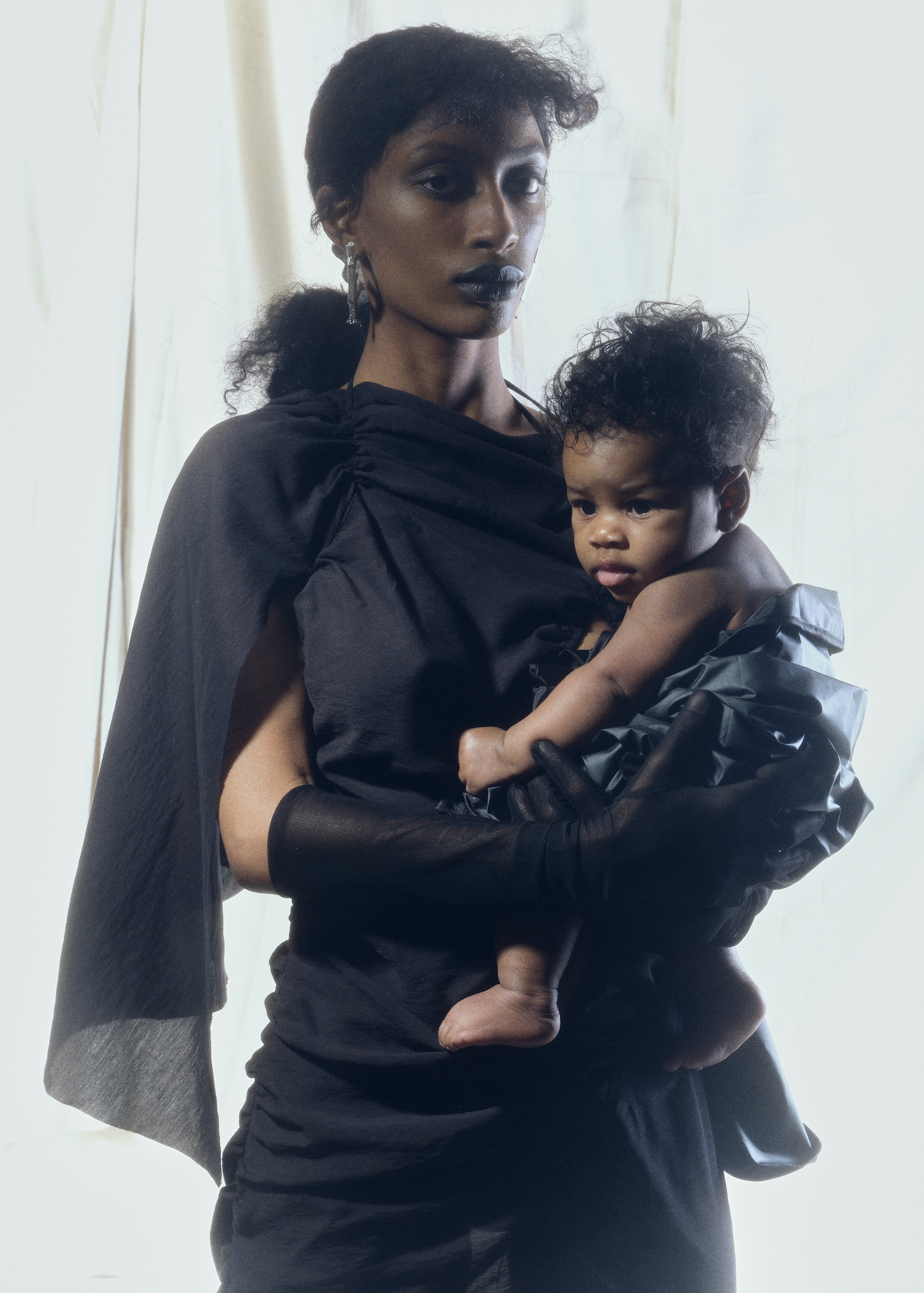 Proenza Schouler
Proenza Schouler presented their AW22 collection on Friday afternoon at The Brant Foundation, in the art centre's brightly-lit two-floor atrium to a live musical composition by Eartheater. After a rollercoaster few years, this felt like a tabula rasa moment — a chance to restate what lies at the core of Proenza Schouler: well-made clothes for the modern woman.
With this offering, designers Jack McCollough and Lazaro Hernandez sought to build upon their SS22 ready-to-wear collection, which captured the joy of the world opening back up again – the pleasure of stepping out into the summer sun after months of lockdown – and most importantly, what one wears for the momentous occasion. Yet five months and one season later, our present moment and future still feel uncertain. So, AW22 saw the designers asking the hard questions: "What we are all stepping into — what will it look like, feel like, and what qualities will define it? How do we find beauty in the chaos and use it as a creative starting point to build the future?"
These sentiments were expressed in the show notes — a special piece written by Ottessa Moshfegh, titled "Where Will We Go Next" — and throughout the collection as the designers experimented with shape, silhouette and the human form; they played with the way garments accentuate, frame and in some cases, rebel against the body. This can be seen in the first two looks — a pair of formal dresses in Proenza's trademark neutral colour palette that were at once form-fitting and bulbous, and the bias-cut knit circle skirts that followed. They were made using new machines, Jack and Lazaro explained backstage, which knit up and down as opposed to sideways in order to create added volume — jutting out from the waist and folding back in, billowing with each step.
"It's all about sensuality," Lazaro says. "We just love the idea of body, whether it's an exaggerated body or really twisted and wrapped. There's this whole obsession these days with social media, with everyone showing their body…" Read the full review here! ND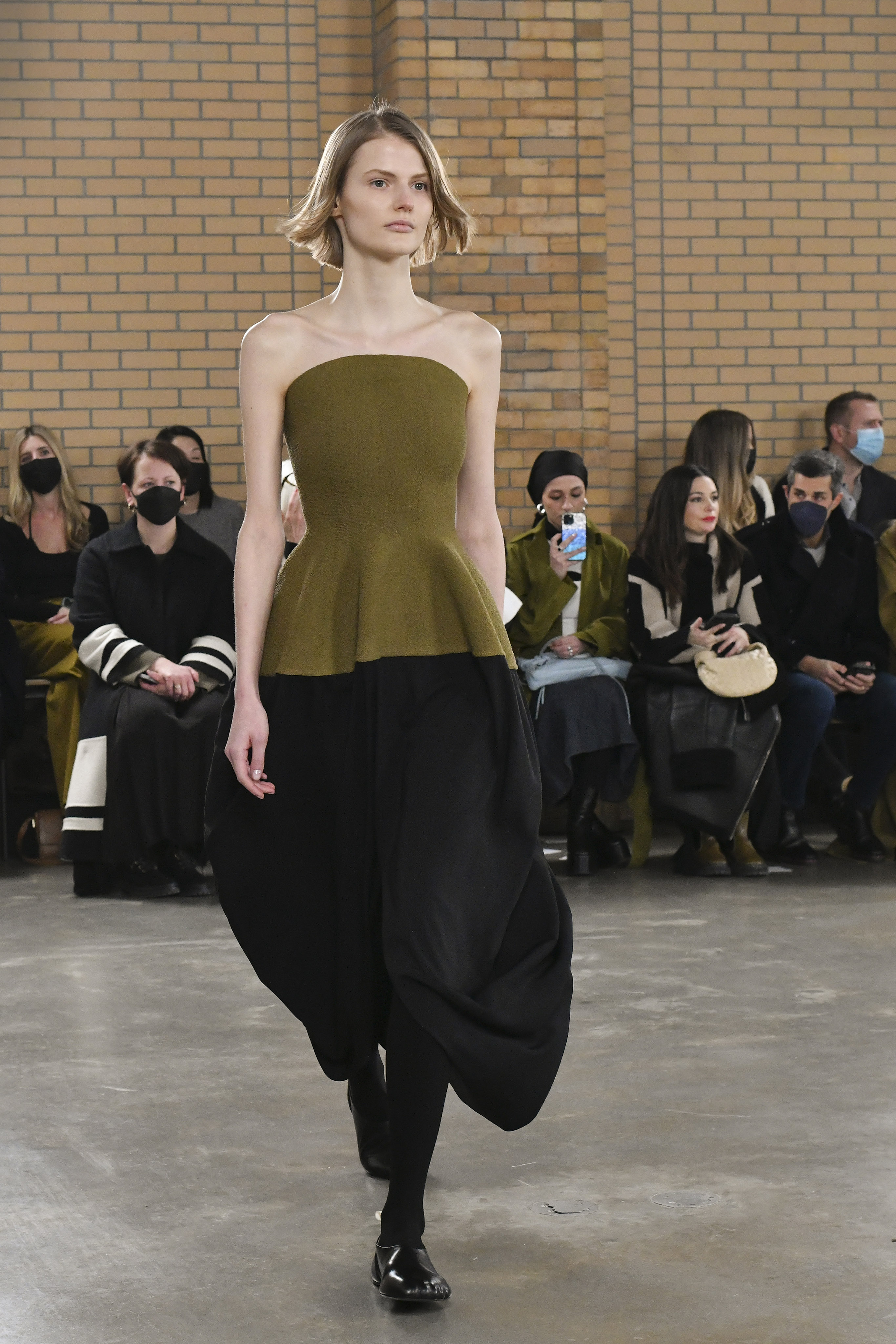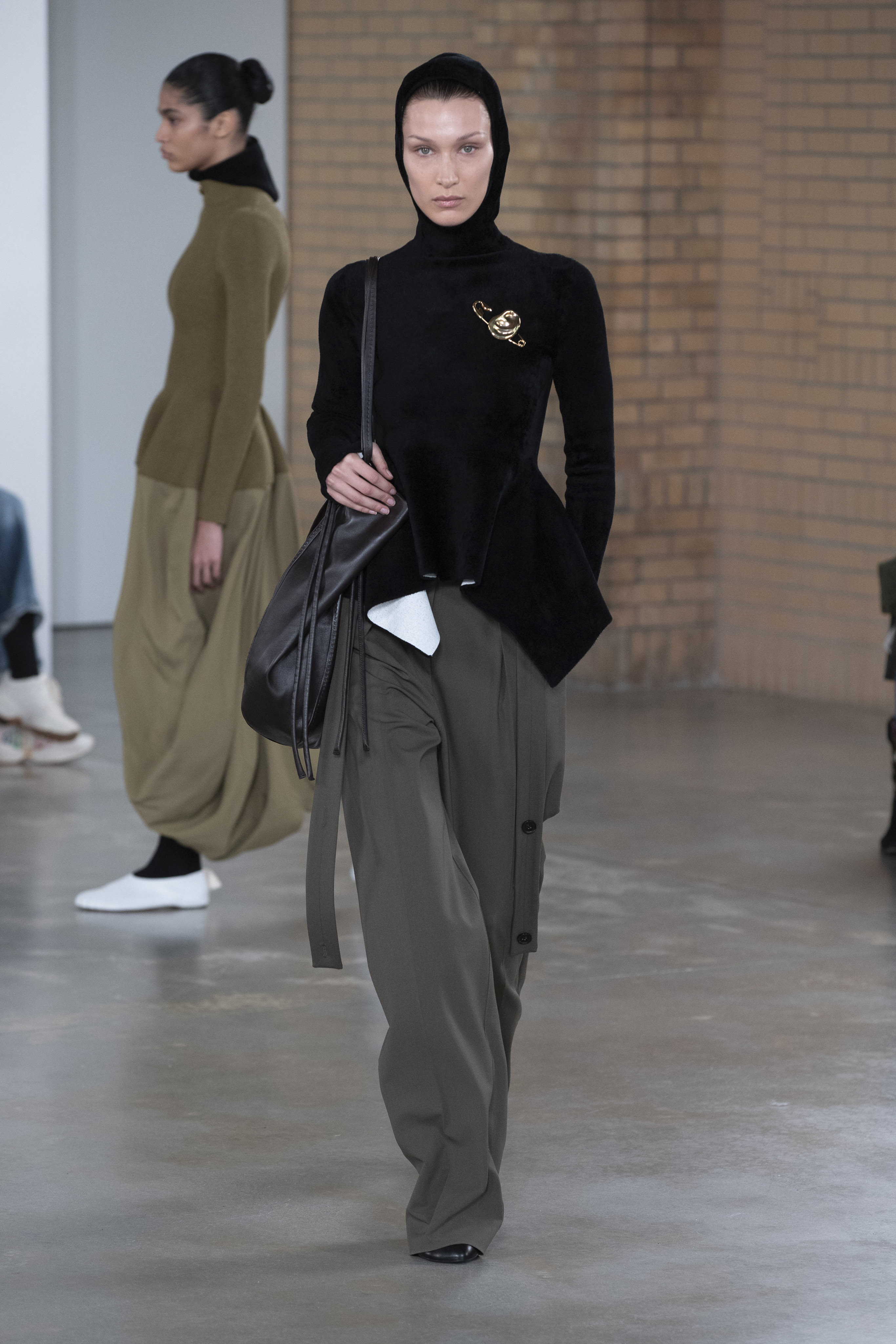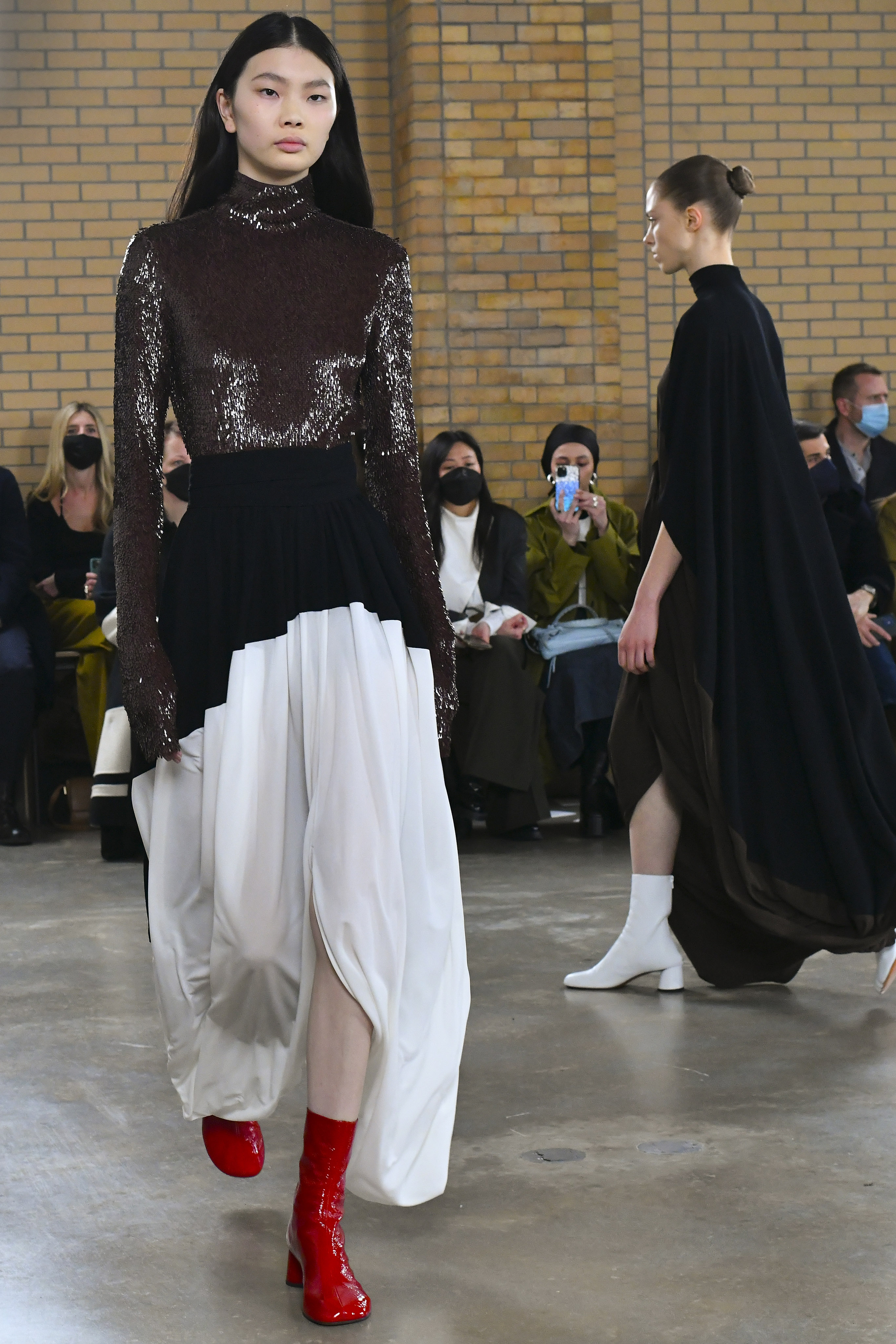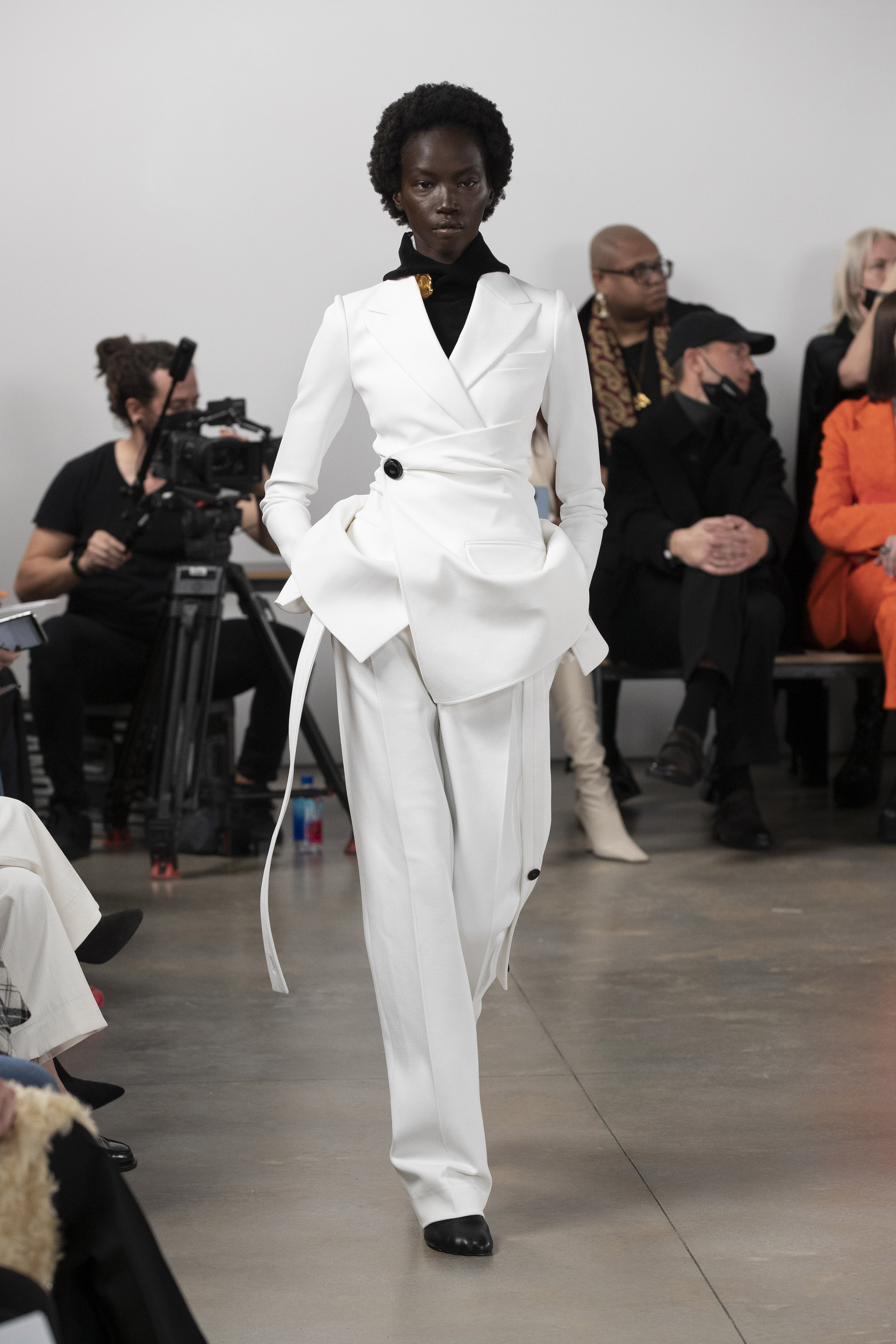 Follow i-D on Instagram and TikTok for more fashion show reviews.