7 of Faye Dunaway's most iconic outfits
From Bonnie Parker to Laura Mars, the Academy Award winner has played the fashion industry's most beloved icons.
Photo via Everett Collection, by Jean-Claude Deutsch/Paris Match via Getty Images and Instagram
Much more than a Hollywood star, Faye Dunaway is an American icon. With a filmography that includes all-American, ultra-classics, the actress' legacy has embedded itself in the American cultural consciousness, becoming an emblem not only of Golden-Age Hollywood but of the nation's mythology, too. In Bonnie & Clyde, Faye gave voice to one of America's most enduring love stories. With Eyes of Laura Mars, she launched the career of horror maestro — and national treasure — John Carpenter. Her turns in Chinatown, Network and the controversial Mommie Dearest are, in a word, legendary.
Beyond her impact on American cinema, Faye's style, both on and off-screen, has shaped the course of fashion at home and abroad. Her polished Thomas Crown Affair costumes defined late-60s elegance in skirt suits, shift dresses and trench coats. And into the 21st century, the reverberations of Bonnie Parker's iconic beret and neckerchief combo are still felt on the runways of Calvin Klein and Dior, among others. In celebration of Faye's sartorial legacy, we take a look back at some of her most iconic outfits of all time.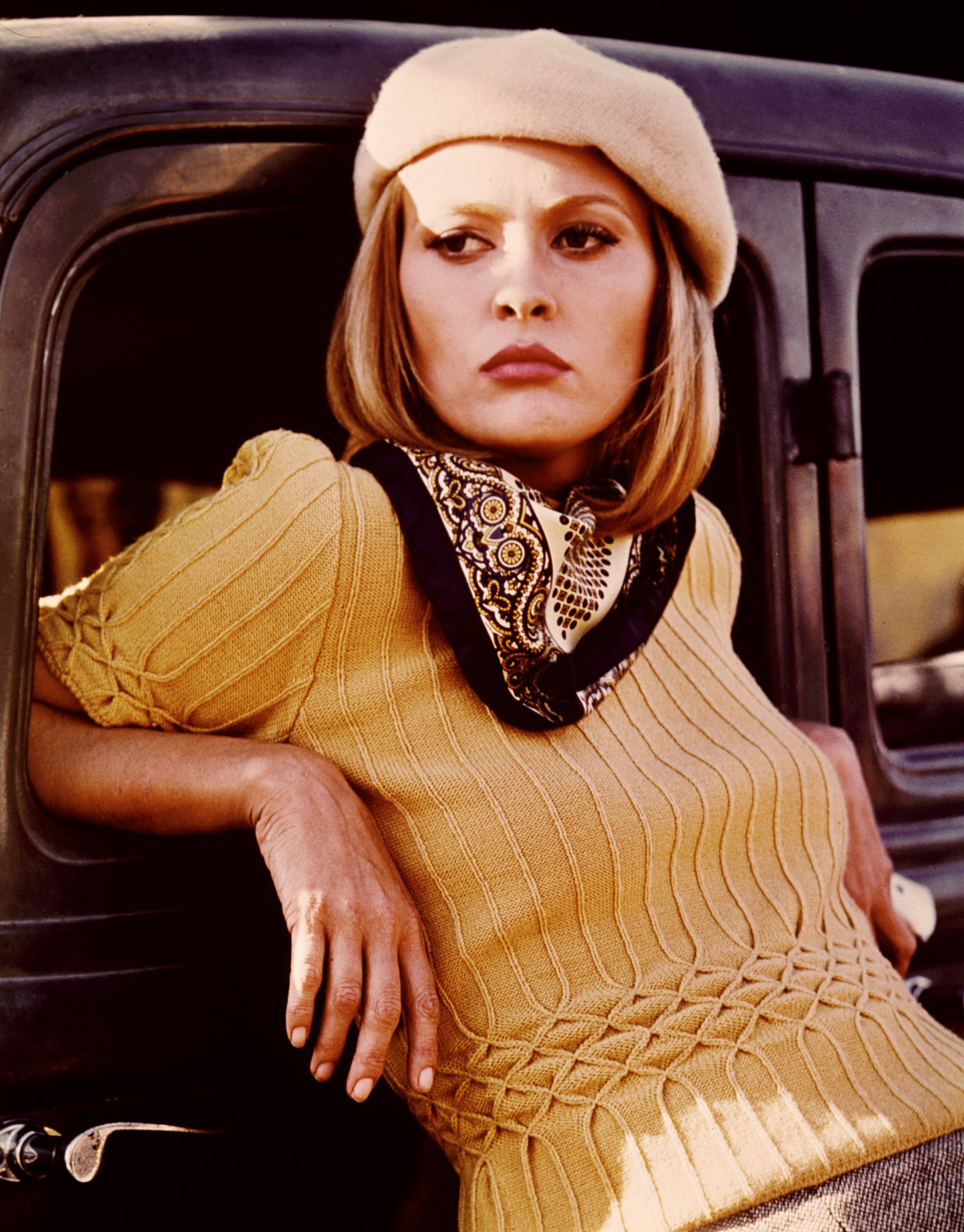 On the Set of Bonnie & Clyde, 1966
In 1966, Faye Dunaway — then, a relatively unknown actress — won out against Hollywood stars including Jane Fonda and Natalie Wood to be cast in Arthur Penn's true-crime drama Bonnie & Clyde. Faye's turn as bank robber Bonnie Parker launched the actress to instant stardom, earning her her first Academy Award nomination and even cementing the actress as a style icon within the annals of fashion. Over half a century since the film's release, Faye-as-Bonnie's singular look — puffy berets, neckerchiefs, knitted T-shirts and pencil skirts — has influenced innumerable fashion editorials alongside seasonal collections from designers including Raf Simons at Calvin Klein and Maria Grazia Chiuri at Dior. Here, in Faye's most iconic Bonnie & Clyde look, she wears just that: a yellow knitted vest with matching beret and tweed skirt.
Photographed by Jerry Schatzberg, 1968
Bonnie & Clyde made Faye a star and, as such, Bonnie's signature look became synonymous with the up-and-coming star. From press shoots to the pages of fashion glossies, Faye donned modern, high-fashion iterations on Bonnie's Depression-era outfitting. Here, Faye wears a sleek white trench and paisley neckerchief — topped with the requisite beret, of course — for a photocall shot by then-partner and photographer Jerry Schatzberg.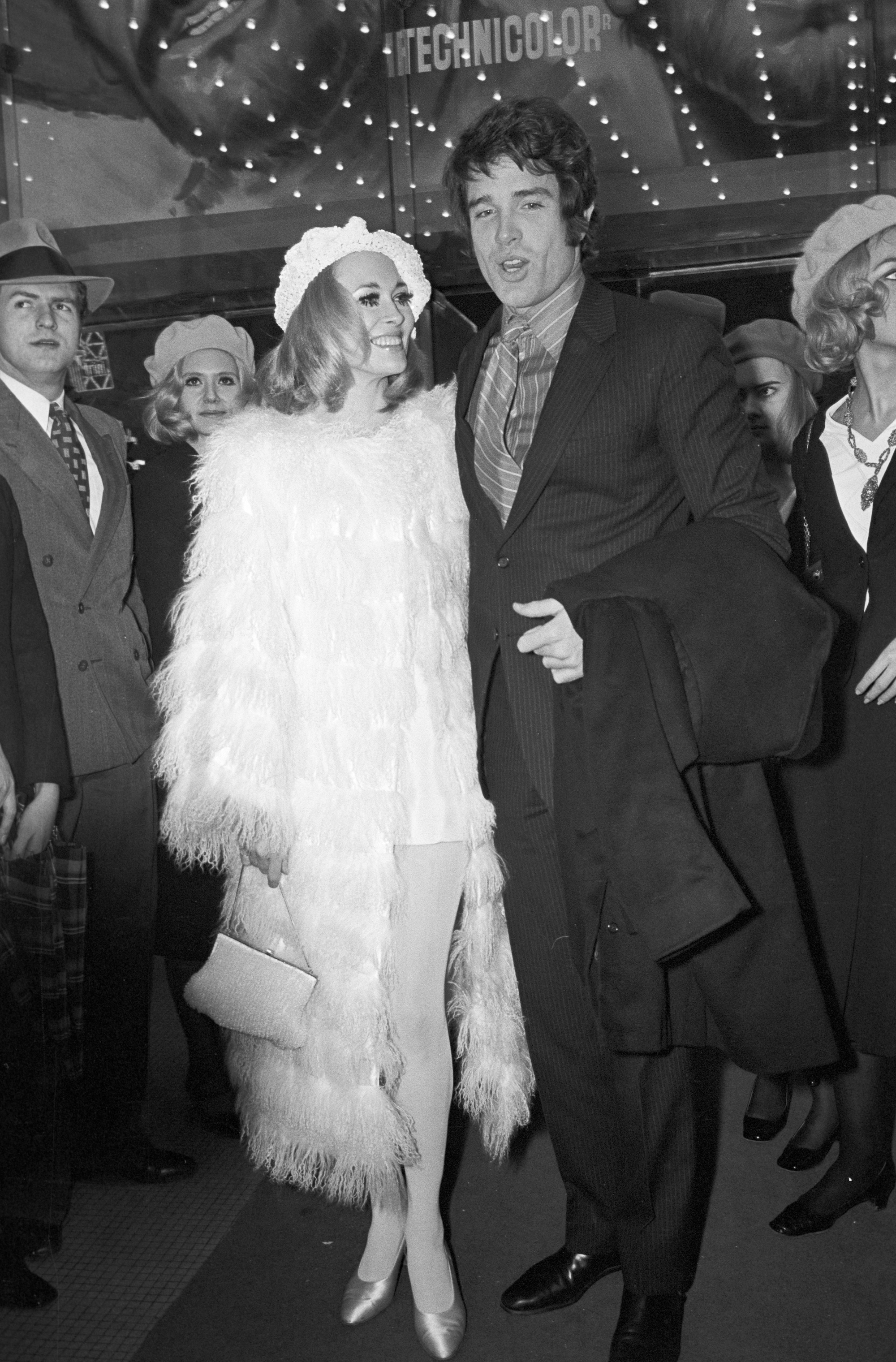 At Bonnie & Clyde's Paris premiere, 1968
To Bonnie & Clyde's Paris premiere, Faye wore her haute-est "Bonnie" look ever: an ethereal feather-trimmed coat with snow-white beret, kiss-lock clutch and silver pumps.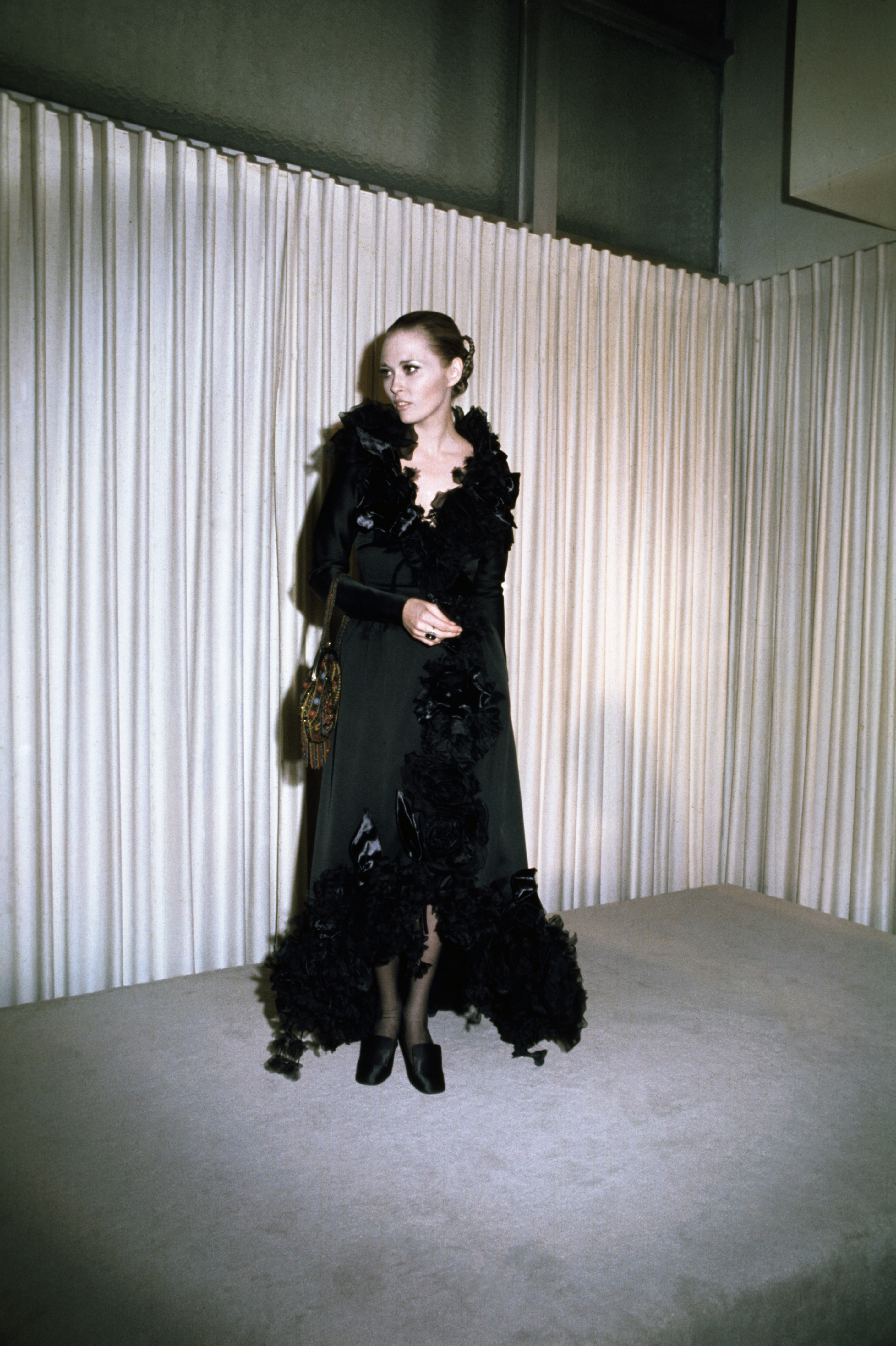 At the Academy Awards, 1968
In 1968, Faye was nominated for Best Actress for her turn as the iconic Bonnie Parker. To the ceremony, the actress wore a fabulous ostrich feather-trimmed coat designed by Bonnie & Clyde costume designer Theadora Van Runkle, who was also nominated for her work on the movie, as well.
Photoshoot for The Thomas Crown Affair, 1968
Not even a year later, Faye followed up her Bonnie & Clyde success with hit heist film The Thomas Crown Affair. Appearing opposite Steve McQueen, the actress starred as the stylish Vicki Anderson, a straight-and-narrow insurance investigator who becomes involved with titular millionaire criminal Thomas Crown. As she did with Bonnie & Clyde, costumier Theadora Van Runkle made The Thomas Crown Affair a fashion hit, outfitting Faye's Vicki in an array of covetable (and memorable) looks, including a chiffon trapeze dress, a pristine white skirt suit and this military-inspired 60s shift dress.
At the Beverly Hills Hotel, 1977
After two nominations (for Bonnie & Clyde and Chinatown), Faye won her first Academy Award for her turn in 1997 satire Network. Here, the morning after her big win, she sits poolside at the Beverly Hills Hotel wearing an ivory dressing gown — and the previous night's heels. The now-iconic shot was captured by Faye's then-boyfriend, Hollywood portraitist and fashion photographer Terry O'Neill.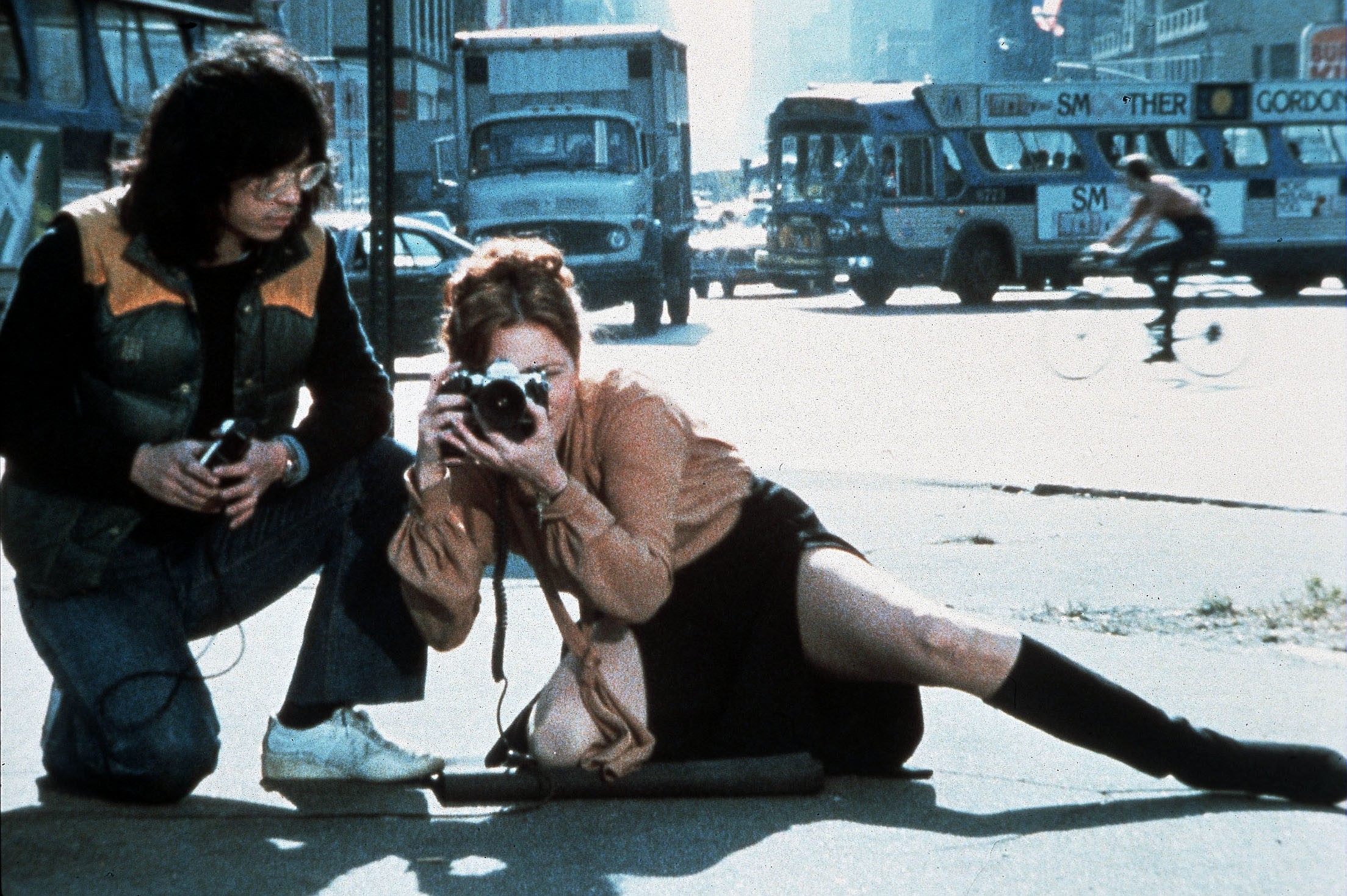 In Eyes of Laura Mars, 1978
With a filmography chock full of ultra-stylish heroines, it's no surprise that Faye was tapped to star in one of cinema's greatest fashion thrillers. In 1978's Eyes of Laura Mars, the actress stars as the titular Laura, a famous fashion photographer whose work is the subject of controversy for glorifying violence against women. Behind the camera, Laura's looks are just as stylish as her subjects': silky blouses, skinny scarves, loads of camel and, in one key scene, a flowing black cape. Over the decades, Laura Mars and its sleek 70s stylings have served as inspiration for many a tongue-in-cheek editorial and even a runway or two. All par for the course for a Faye Dunaway heroine.
Tagged: